Alfred Wainwright published his seven-volume 'Pictorial Guide to the Lakeland Fells' between 1955 and 1966. In doing so, the fellwalker and writer brought the 214 peaks of the lakes to the printed page. Wainwright's writing was both descriptive and beautiful, and his name remains synonymous with many of the best hikes in the Lake District today.
"Always there will be the lonely ridge, the dancing beck, the silent forest; always there will be the exhilaration of the summits," the fellwalker wrote in his seventh volume 'The Western Fells'. "These are for the seeking, and those who seek and find while there is still time will be blessed both in mind and body."
It's no wonder so many have been inspired to follow in the writer's footsteps, and that Wainwright bagging - in similar style to Scotland's munros - has taken off.
"These 'Wainwrights' have now become the definitive list for anyone wanting to visit the summits of all the fells in the Lake District," writes endurance athlete Steve Birkinshaw, who ran all of the Wainwrights in 2014, in the introduction to 'Peak Bagging: Wainwrights'. The new guidebook, written by Karen and Dan Parker (sister and brother-in-law of Steve) and published by Vertebrate Publishing is a complete guide to climbing all 214 of Wainwright's Lake District fells in the most efficient way - with 45 routes included in the book.
Karen and Dan have been running, walking and orienteering in the Lake District fells for over three decades now. "It's been part of my whole life," says Dan. We caught up with the Parkers to ask for five of their favourite Wainwrights routes.
Wainwright One: Gowbarrow Fell (481m)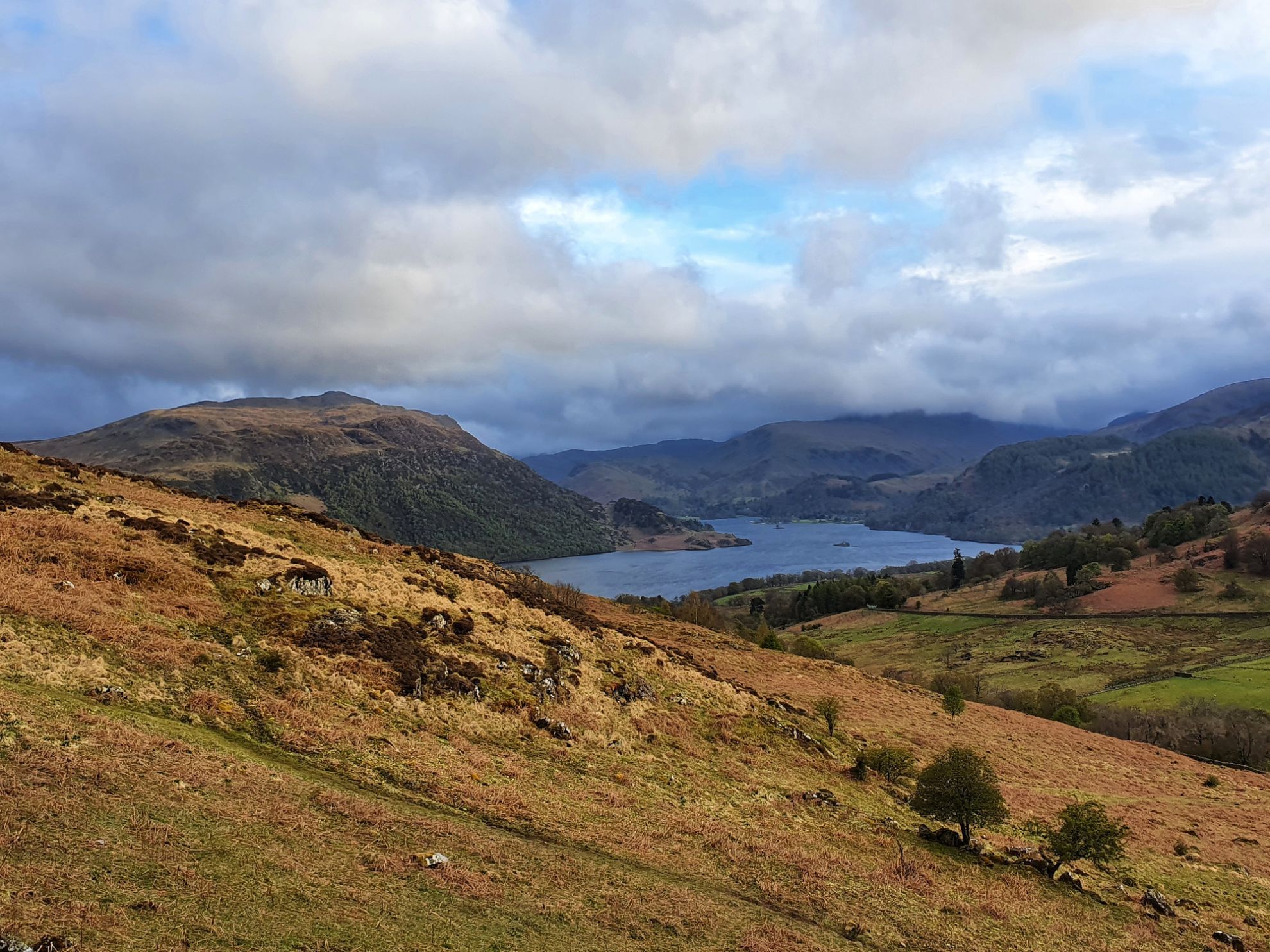 "Our first pick is Gowbarrow, which is a small hill on Ullswater" says Dan. The fell is included in a 16.1km tour of Matterdale in their new guidebook. "It sits above Ullswater on the north-west. It's quite low; only 481 metres, but it has a real feel to it. There are lots of rocky knolls and the views over Ullswater are spectacular.
"You've also got Aira Force at the bottom, which is one of the most popular waterfalls in the Lake District. So it's a great place to go, both as a short walk, or as part of a longer trek. In the book we do Gowbarrow and then a couple of the other, adjacent lower hills - Great Mell Fell and Little Mell Fell. But Gowbarrow is the nicest in the area.
"There's a path that goes along the south side, climbing up slowly to a fantastic viewpoint, over Ullswater. You're on top of a crag, and then as you climb further up around the back side, you're able to get these more expansive views over the hills on the south side of Ullswater."
Karen continues: "It's a good example of one of the fells that people probably wouldn't bother to go up if it wasn't a Wainwright. So it's great that it encourages people to get up something different."
Wainwright Two: Blencathra (868m)
"It's probably the fell that we've been up the most often in the Lakes," says Karen.
The five Wainwright of the Blencathra massif make up a 17.2km route in 'Peak Bagging: Wainwrights', which also highlights that the mountain was "once more commonly known as Saddleback due to its distinctive shape when viewed from the east." The name Blencathra, however, "was popularised by Wainwright and is now almost universally accepted."
"Blencathra is obviously a very popular hill," Dan says. "It's very accessible from the motorway, so a lot of people stop there en route to somewhere else, or go there because it's easy to get to. But it's also got so much variety. There's the standard five tongues leading off it, each of which you can go up, and there's the excitement of Sharp Edge and Hall's Fell. There's a bit of scrambling, too. Then there's the sort of northern routes; with a mix of smooth and bobbly terrain."
Their favoured path? "Hall's Fell is a good route," says Dan. "There's a bit of scrambling - though you can avoid it if you'd like - and then there's nothing too exposed. The key thing is that you pop out straight at the top. Then you're able to look south, along The Dodds towards Helvellyn."
Karen adds: "And you can run along the main ridge, the east-west ridge, and take a gentle route down. So it's a really good route."
The fell was a key summit for Karen and Dan when they completed the Bob Graham Round - the 66-mile circuit of 42 of the highest peaks in the English Lake District - over a decade ago. "We did the anti-clockwise route," says Dan. "So Blencathra was one of the last [fells we came to]. We reckoned once we were up Blencathra we'd almost made it. The weather was absolutely atrocious!"
Wainwright Three: Loadpot Hill (672m)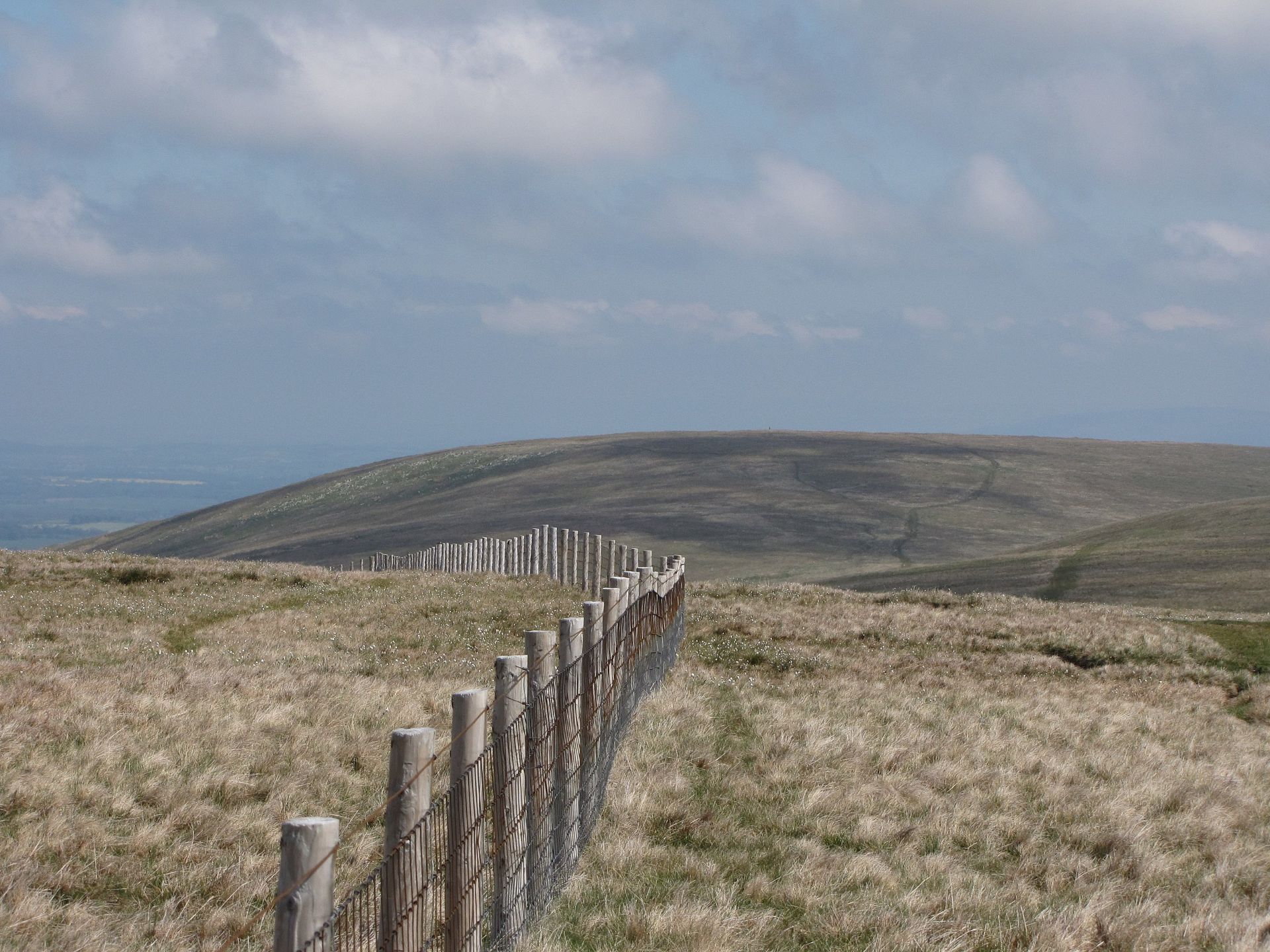 "Loadpot Hill probably doesn't rate that highly on most people's hills," says Dan, "but we partly chose it because it's actually the closest Wainwright to where we live. In the last two years especially, we've visited it more than any other hill.
"It's a beautiful hill to run up, and an especially good gradient for running down. It's not too steep or rocky. It also gives you good views over the Eden Valley towards the Pennines. Looking east, you can see Cross Fell and quite often the Eden Valley is immersed in clouds. You can be bathed in sunshine, and the Eden Valley will still full of clouds. Then, if you go a bit west from the summit you can get some great views into the heart of the Lake District as well."
Sitting in the far eastern fells, the hill is part of a 15.1km Fusedale Circuit which features in Karen and Dan's book, with 860m of ascent involved.
"We usually take the route straight from our house," says Dan. "That's from the east side; the Askham/Bampton side. There are several ridges that lead up. The central ridge is nice and gentle and it takes you to the top. There's a trig point at the top, but actually the trig point wasn't there when Wainwright wrote his books, so the Wainwright summit is about 50 metres south of there. Then to come down we would normally go north to Bonscale Pike. That's another interesting hill. There are some cairns, and towers, and good views out over Ullswater."
Wainwright Four: Fairfield (873m)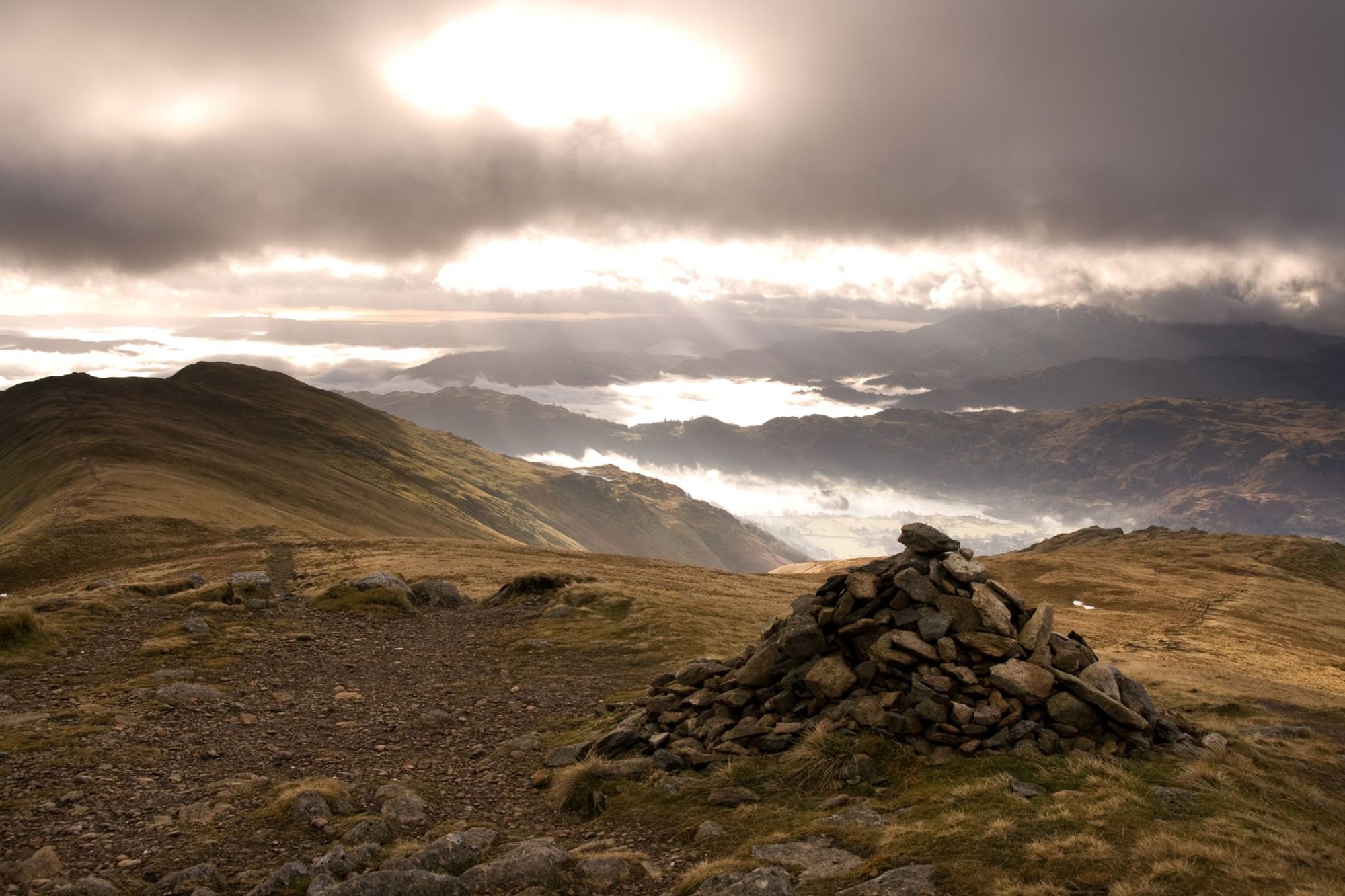 "When I first started winter fell walking with Dan and his family, we went up Fairfield," says Karen. "It was actually the first time I had ever been out and about in the winter. I almost didn't know that you were allowed to go up proper mountains at that time of year. It was just very memorable for that! There was snow everywhere, and I think that changed my view of walking in the mountains."
Dan continues: "We've had a few weather-related incidents on Fairfield! It's quite rocky around the outside in some areas, and so the 'escape routes' are quite limited and a lot of them are steep. We've learned our lesson now, but certainly in our earlier days, we'd set off and say 'oh there's no snow around' and then you'd get to the top and there would be a sheet of ice and it would be blowing a gale. It can be quite scary, actually. One time we actually had to crawl on our hands and knees just to get off. We carry crampons now but we didn't used to in those days!"
Of course, there are plenty more positive sides to the fell. Wainwright himself wrote that "From the south it appears as a great horseshoe of grassy slopes below a consistently high skyline [...] but lacking those dramatic qualities that appeal most to the lover of hills. But on the north side the Fairfield range is magnificent: here are dark precipices, long fans of scree […] desolate combes and deep valleys."
Dan continues: "The route, taken directly from our book, is the Deepdale Horseshoe. It's up over St Sunday Crag, and then up the north ridge to the summit of Fairfield. It's a slightly narrow ridge over Cofa Pike, which is a bit rocky, and then you turn east over Hart Crag and come down Hartsop Above How, which is another Wainwright - with a long ridge and a great descent.
"That round from Patterdale is a wonderful route. It's not the standard route either, so it's slightly quieter than certain other routes, even in the summer."
Wainwright Five: Glaramara (783m)
Karen and Dan's final pick is Glaramara, in the Southern Fells. The climb features in a 16.2km round of the Borrowdale Fells in their guidebook.
"It's one of the quieter hills," says Dan. "Even though it's in the heart of Lakeland, south of Ullswater and Borrowdale. So many people set off from Seathwaite and head up Scafell Pike, and don't really consider other options. You come up Thorneythwaite Fell from Seathwaite, and then you do a bit of a scramble up to the top. The descent, over Rosthwaite Fell, is also great. Again, it's a knobbly ridge."
"There's not even a proper path," says Karen. "You've got to find your own way around all of these knolls while keeping track of where you're going. In the mist it would really be quite hard to even find the top spot."
Dan continues: "Again, this is one of those ones where the top isn't actually the highest point. The highest point of Rosthwaite is Rosthwaite Cam, which is nice in itself. It's a rocky tor, which you can scramble up. The actual Wainwright top is called Bessyboot, which is about 50 metres lower and a bit further north. We always make sure to visit both! There's a beautiful tarn there as well - Tarn at Leaves. It's just a really nice place to be on a sunny day."
Inspired? Read Karen and Dan Parker's 'Peak Bagging: Wainwrights' or check out some of our adventures in the Lake District now!
This article contains affiliate links. Which basically means we make a little commission if you click through and buy something. It doesn't cost you anything, and it just means we can do more good things in good places.