In his new book 'The Munros: A History', Andrew Dempster writes that "in the great drama 'where men and mountains meet', the real star players are the hills and mountains. They are more than just the stage and background scenery, but the very reason for the unfolding drama; the heart and heroine of our experience". Dempster is a familiar character in the story of Scotland's mountains. He's completed two full rounds of the Munros - the 282 mountains across Scotland which exceed 3,000ft - and is well on his way to a third.
The quote above opens a chapter called 'Memorable Munros' in Dempster's book. It focuses "purely on the Munros themselves" - and in particular, those that seem to stick in the memory of the author. We caught up with Andrew to ask him to pick out five of these Munros - his favourites - and to talk us through their appeal. So, if you're stuck for which Munro you're going to bag next, or where to start, then here's your inspiration. These are five of the best Munros for a day out on the hills in Scotland. For even detail, grab a copy of Andrew's excellent book.
1. Ben Lomond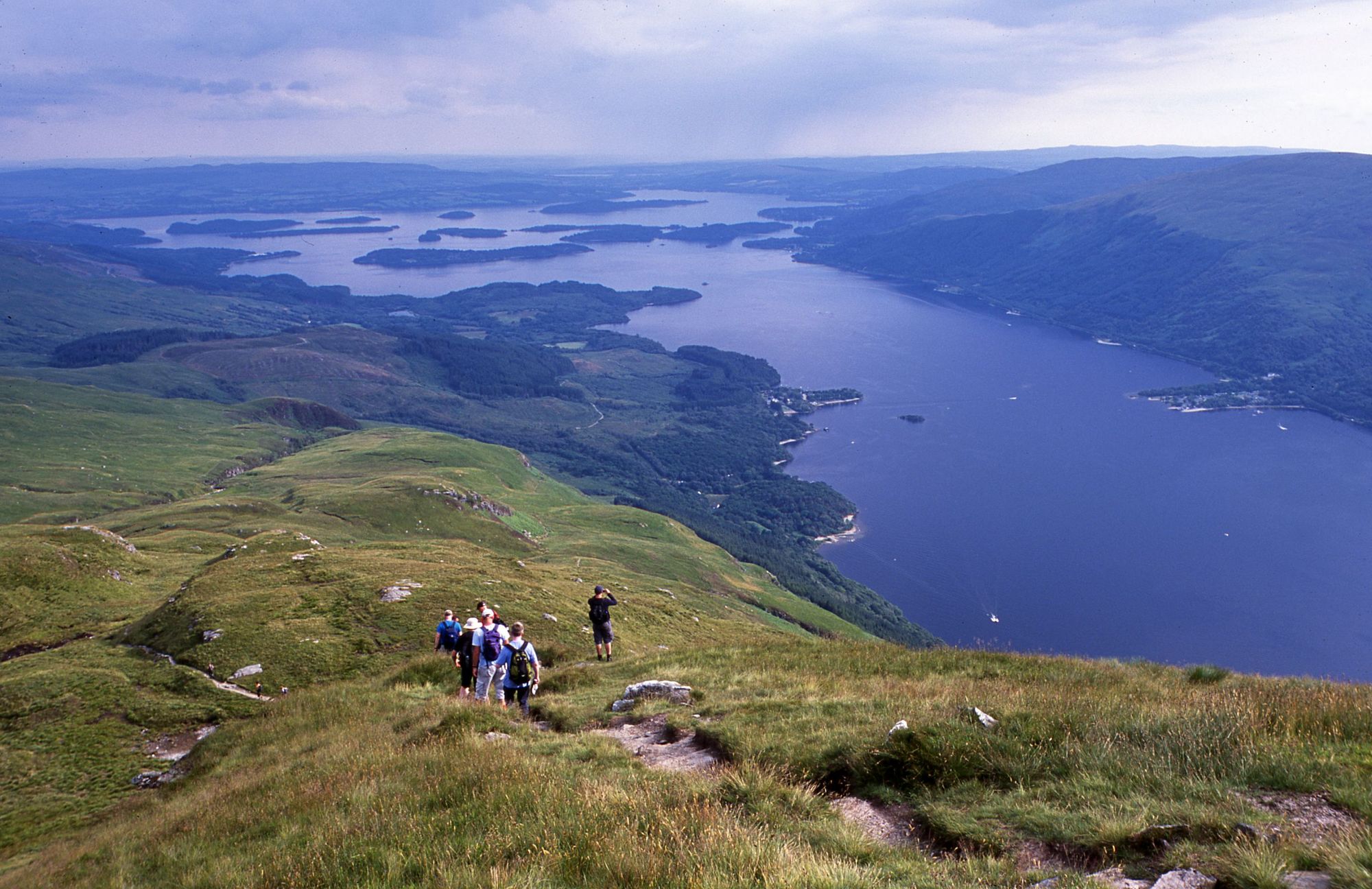 "This is the most southerly Munro, and it's probably the most popular Munro in Scotland," says Andrew. "If you want a wilderness experience… you wouldn't climb Ben Lomond. You're going to meet people up there at any time of the year - especially Glaswegians!"
The Munro is about an hour's drive northwest of Glasgow. It also sits just off the West Highland Way route, with Rowardennan Youth Hostel - a common stop on the famous long-distance hiking route - providing a great base for hiking Ben Lomond. Still, most hikers climb it as a day trip, and thanks to the close proximity to the southern cities, it's many people's first Munro climb.
"It was my first Munro," says Andrew. "And I've done it on and off over the last 40-odd years. I think I've done 10 ascents of Ben Lomond. It's just one of these Munros that I keep coming back to again and again. There's a homely feel to it, and there's a lovely path all the way up to the top. You can then vary the descent by coming down the Ptarmigan Ridge, and there's a great high-level horseshoe route that's one of the finest high level walks in Scotland - if you do the complete circuit of the Tourist Path and then the Ptarmigan Ridge.
That's the beauty of the Munros - they're different every time. They never get boring.
"There are other routes of ascent, but most people do it by that main route. You can also climb from the northeast by Cromer Farm. I think they're trying to discourage walkers from going in there, but it's a lovely route. I think because it was my first Munro, I've still got a particular fondness for Ben Lomond. It always comes up with the goods every time you do it - no matter what the weather! I've been up in total mist, on summer days and in crampons.
"That's the beauty of the Munros - they're different every time. They never get boring. Especially not Ben Lomond. Of course, you're arriving above Loch Lomond as well too; probably one of the most well known lochs in Scotland."
2. Slioch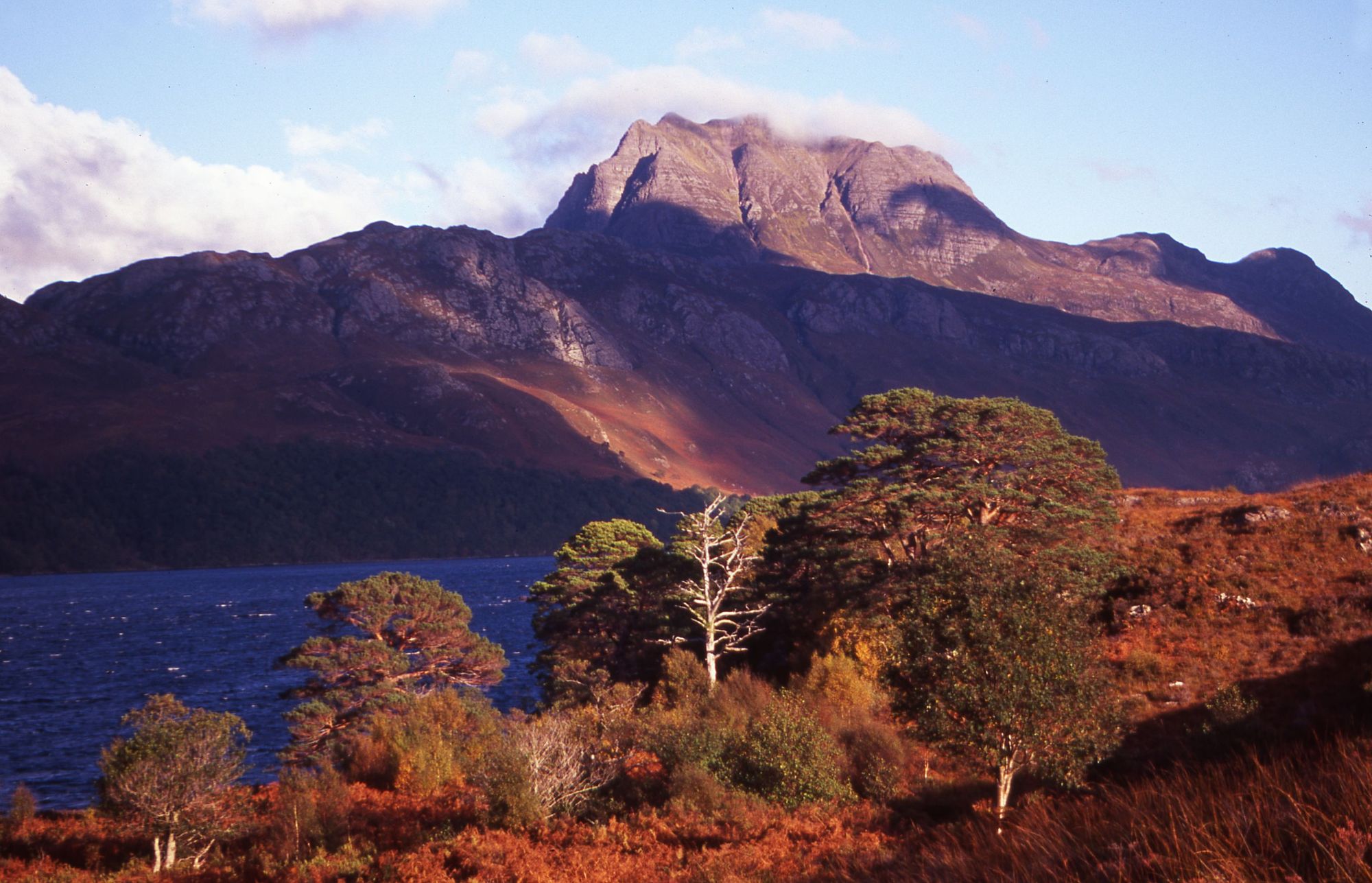 "To me, Slioch is a little like the highland equivalent of Ben Lomond," says Andrew. "It rises above Loch Maree, which is one of the most beautiful lochs in Scotland. Slioch is totally different in character, though. It's much more rugged than Ben Lomond, and it looks incredibly forbidding when you see it from Loch Maree. There's these steep buttresses which rise up to this castellated summit. It gives that impression of impregnability, but of course, there is a lovely, easy path if you go around the other side - from Kinlochewe."
In his book, Dempster writes that the Munro forms "an effective barrier between Torridon to the south and the 'Great Wilderness of Fisherfield to the north," and that "in stature and nature, it possesses that distinctive Torridon 'feel'."
Andrew continues: "You're able to look across to all of these other remote Munros, and you're really looking into this total wilderness. You wouldn't meet the same number of people on Slioch as you would on Ben Lomond, obviously. It's not that it's necessarily more remote, but it's more difficult to reach.
"Both days I've been up Slioch I've had incredible views from the top. I think it would be a waste doing Slioch on a poor day. The view from Loch Maree is the quintessential Highland image. If you wanted a picture which just typifies Highland scenery, the view of Slioch from Loch Maree would be the picture you would take. With the right light, it's just incredible."
3. A' Mhaighdean
A' Mhaighdean is commonly regarded as the most remote Munro in Scotland. The name translates from Scottish Gaelic as "the maiden", with the opening 'Mh' being pronounced like the English 'v'. It sits eight miles from Kinlochewe, in the heart of Fisherfield Forest.
You feel like you're embarking on a real adventure when you get to A' Mhaighdean.
"As soon as you say to someone that A' Mhaighdean is the most remote Munro in Scotland, of course it has an appeal," says Andrew. "The fact that it requires an overnight camp or bothy stay in order to climb it gives the ascent an extra, adventurous flavour that you don't necessarily get from the Munros that you can climb from your car. It gives it that magic.
"Of course there are people that have come in and done A' Mhaighdean in a day, but you're talking about 26-30 miles of walking or mountain biking. Most people would camp.
"It's a brilliant Munro. There's a lovely, long rocky ridge going to the top and there's some scrambling - but nothing too difficult. It's surrounded by rock and hill lochans, and then there's nothing for miles. I think the view from A' Mhaighdean is probably the finest of any Munro. It's one of those mountains that gets into your soul. It's craggy, it's wild and it's so far from anywhere. You feel like you're embarking on a real adventure when you get to A' Mhaighdean."
4. Sgùrr nan Gillean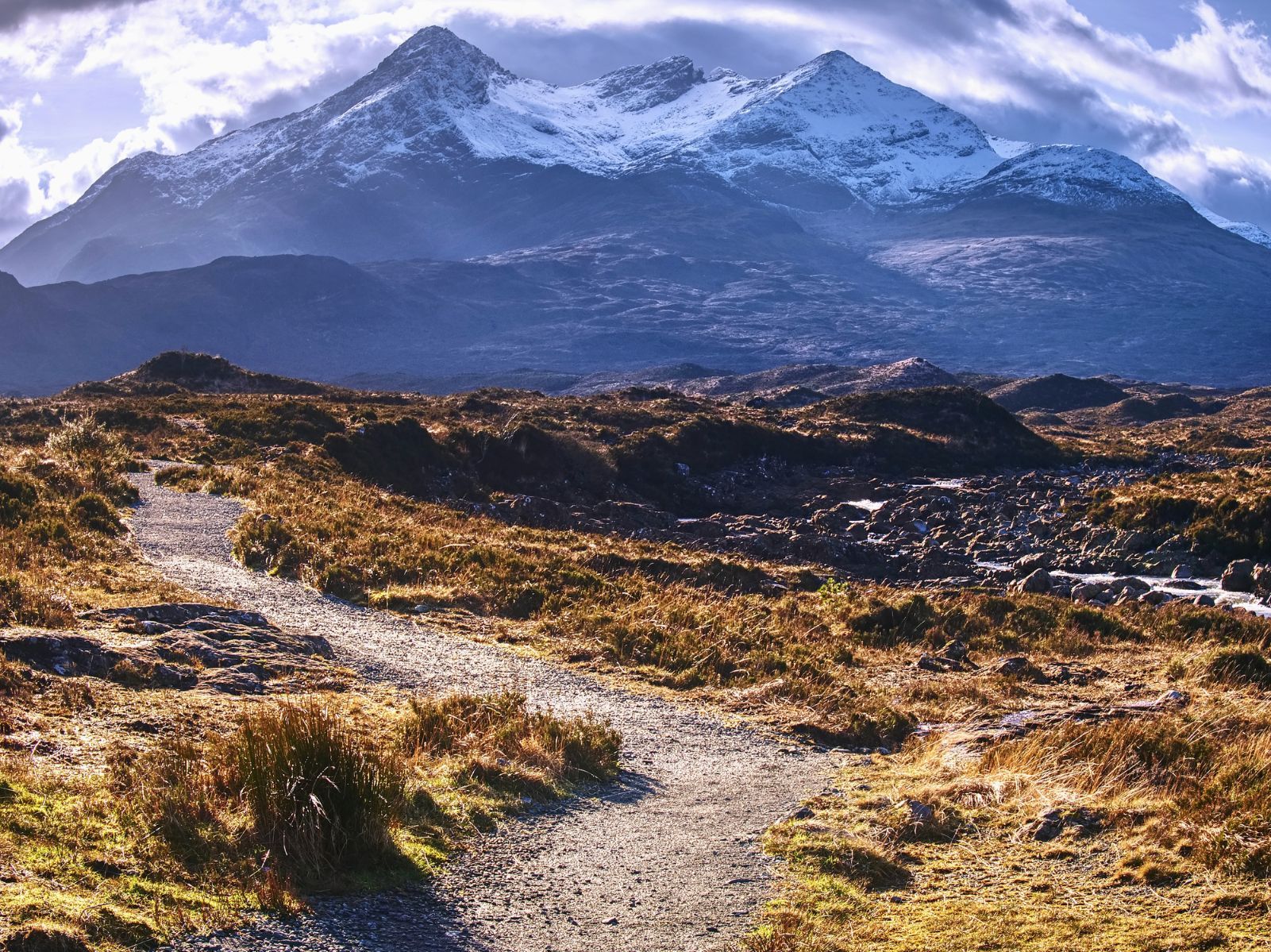 "When I was young, I was mesmerised by the Cuillin Ridge," says Andrew. "It seemed to be the ultimate place in Scotland for walking and climbing. I was desperate to get at least one Munro on the Cuillin mountains done. I joined the Highland Hillwalking Club, because at that time I felt that I didn't have the experience to go into the Cuillin without people who knew what they were doing!"
Dempster has climbed the famous mountains on Skye many times since. "I think I've been up Sgùrr nan Gillean 12 times now. It's one of the few peaks in the Cuillin you really get a good view of from Sligachan. The individual form of Sgùrr nan Gillean is really recognisable. There are these three ridges which form a lovely pointed summit. If you asked a child to draw a picture of a mountain they would probably draw a pyramid, and it's exactly like that."
The Cuillin are known for having some of the most challenging terrain in the UK.
"There's not really any easy way up Sgùrr nan Gillean," says Andrew. "Even the 'Tourist Route' is a bit of a misnomer because it's quite hard scrambling for the last few hundred feet. I remember the first time I did it I actually did it via the west ridge, which is one of the harder ridges. At that time I was a 'Green horn' but I managed to get up it - and I actually came back down the same way in order to get another Munro [Am Basteir] done.
"I climbed it again last year and we had a beautiful day on Sgùrr nan Gillean. It was the first time I had done it for years, and the scrambling part I actually found quite challenging. I used to think it was really easy but the older you get, the less appeal you find scrambling! Sgùrr nan Gillean translates as the 'Peak of the Young Men' and I would say it is a young man's peak! I would say that about a lot of the Cuillins. I'll do Sgùrr nan Gillean again, but some of the other Cuillin peaks, like the Inaccessible Pinnacle, I'm not sure I'll ever do again."
5. Blaven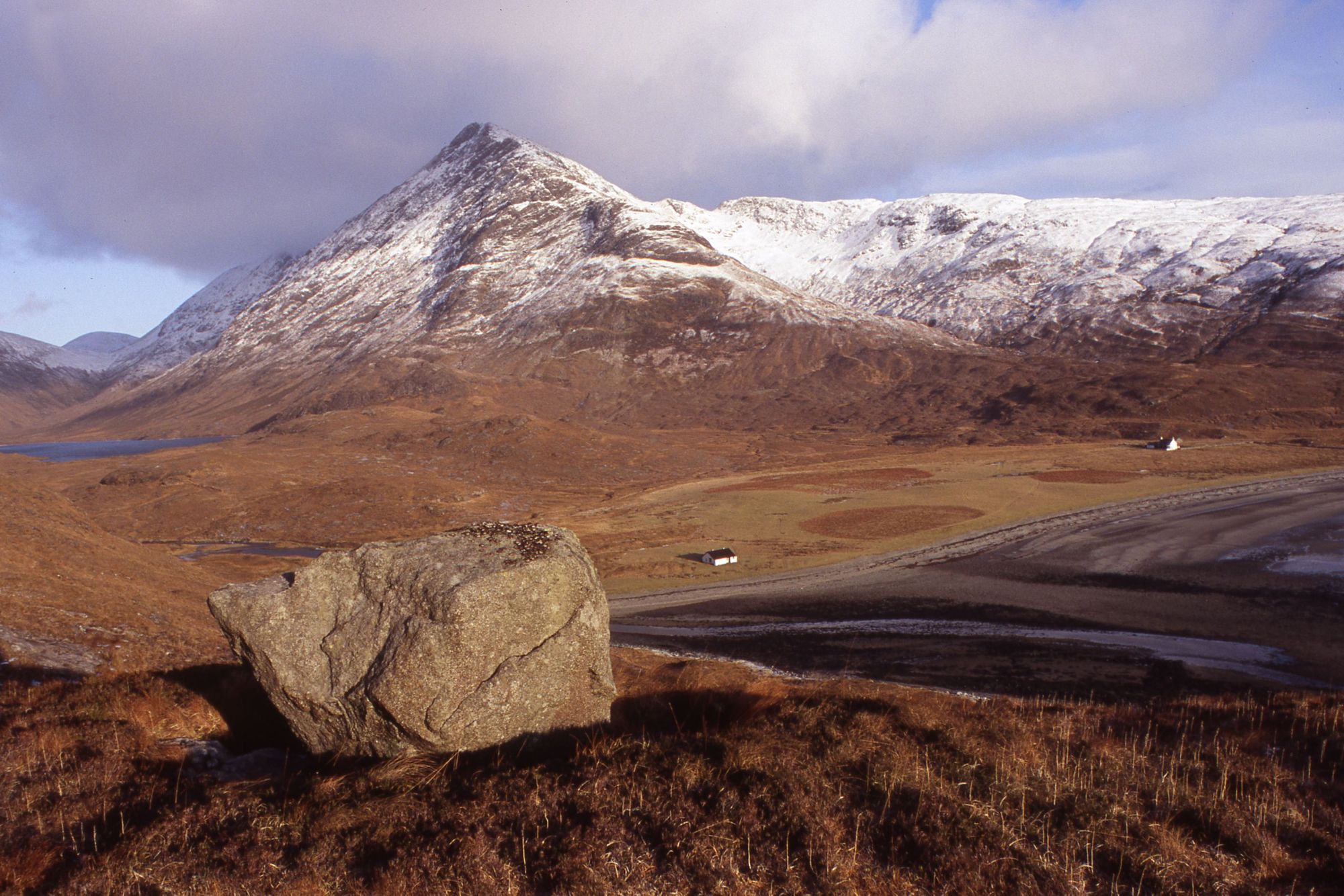 Andrew's final pick is another mountain on Skye; Blà Bheinn (Blaven).
"There's actually a very good view of the whole south ridge of Blaven from Sgùrr nan Gillean," he says. "Blaven is the only Cuillin Munro which is not on the main Cuillin ridge. There are 11 Munros on the main ridge and then Blaven is cut off completely from that, so it has an individuality. It stands out."
Andrew's fascination with Blaven really grew when he stayed in a lodge at Camasunary Bay, on the Strathaird peninsula of the Isle of Skye, which he now visits regularly. "That's when it really came onto my radar," he says. "The south ridge of Blaven rises from the sea to the summit, and it rises right from Camasunary Bay. We go there every year now, and it's become a right of passage - when we're in Camasunary Lodge we always go up the south ridge to the top of Blaven. It's by far the best route to the top in my opinion.
"The most common route up Blaven is from Loch Slapin, which is round a different part of the mountain. I usually go up the south ridge - or do the Clach Glas-Blaven traverse, which is a lovely scrambling route including one of the other routes near Blaven called Clach Glas. It [Clach Glas] is sometimes called the 'Matterhorn of Skye' because it is quite a climb. There's a scramble to the top. I've never found it that difficult but you often see people roped up climbing Clach Glas. The traverse is one of the finest ridge traverses in Scotland.
"In the book I've talked about the dream mountain of the west and I think to me, Blaven has become that dream mountain. It's one of these hills I'll just keep going up again and again. Blaven is now possibly my favourite Munro."
Before letting Andrew go, we ask one final question: what is it about the Munros that keeps him coming back? "They keep me sane," he says. "Having a big blast on a Munro for five or six hours clears the system and puts things in perspective. I couldn't survive without these big walks. The Munros fill that need perfectly."
Inspired? Check out our range of adventure holidays in Scotland!
This article contains affiliate links. Which basically means we make a little commission if you click through and buy something. It doesn't cost you anything, and it just means we can do more good things in good places.