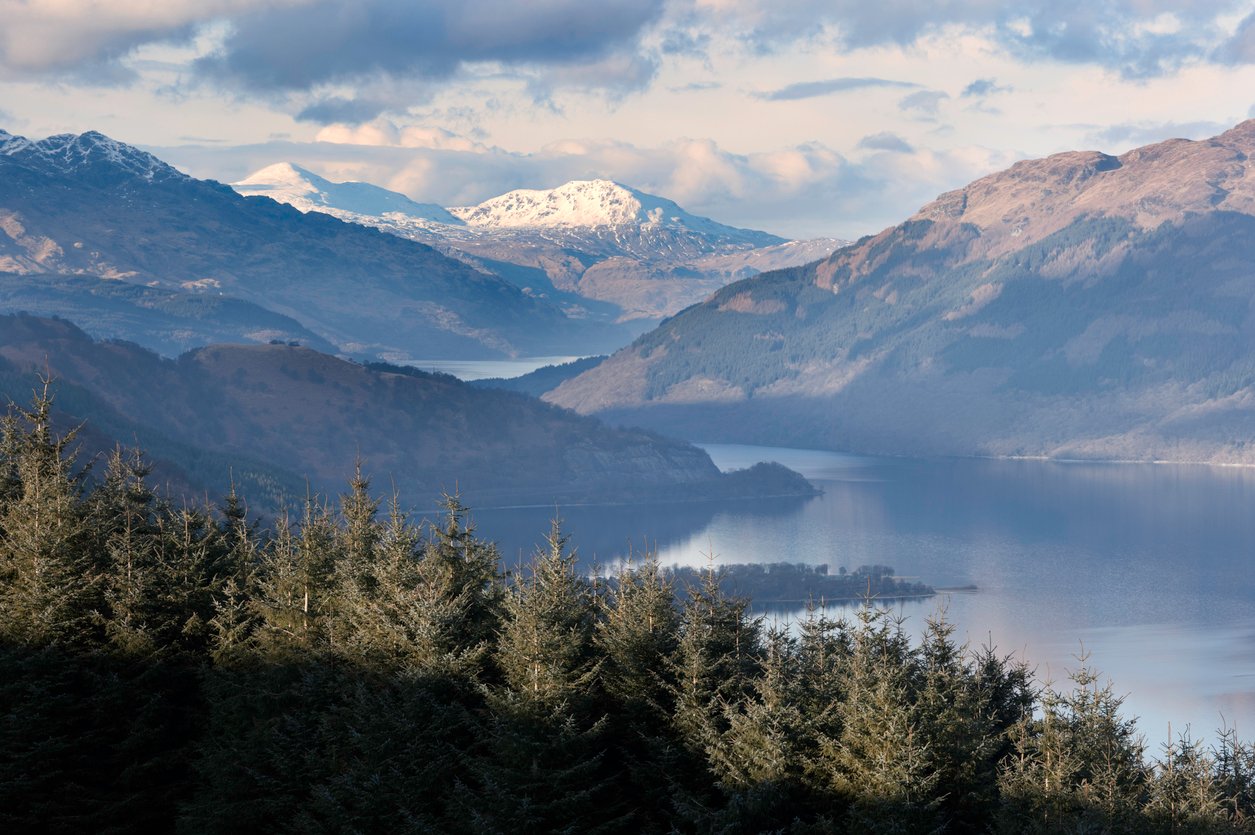 Hiking near Glasgow can mean anything from a stroll through a nearby country park to a trek up a magnificent Munro overlooking Loch Lomond. Edinburgh may be Scotland's capital, but Glasgow is the country's biggest city. And you can reach more big mountains easily from Glasgow than from Edinburgh.
Perhaps the best thing about Glasgow – in terms of hiking and walking trails, at least – is that within an hour or so on a train or bus ride from the city, you can get to some proper Munros (a Munro being a mountain in Scotland with a height over 3,000 feet). You can get to the kind of beautiful outdoor wilderness that tourists around the world yearn for when they visit Scotland.
> Check out our full guide to the best hiking in Scotland
With all that in mind, we thought it'd be better to focus on full-on, adventurous outdoor hiking near Glasgow in this list. That's as opposed to the same old, easier walks in the country parks nearby. What that does mean is it might take a bit longer to get to these hiking trails near Glasgow. They're really day hikes from Glasgow. But each of the options are exactly that – doable in a day, starting from and finishing in Glasgow. Once you get there, you'll get a lot more bang for your buck, too. You'll get a proper hike. A proper trek in the Scottish outdoors.
Here are five of the best hiking trails near Glasgow. Please note the komoot maps accompanying each are only approximate guides. The maps shouldn't be used as 'bibles'. Because of this, if you're going to go hiking near Glasgow and take on one of these trails, please do further research. Be confident with the route. Check the conditions, bring equipment as appropriate, and make sure you know how to use it!
So, without any further ado…
1. Drymen to Balmaha via Conic Hill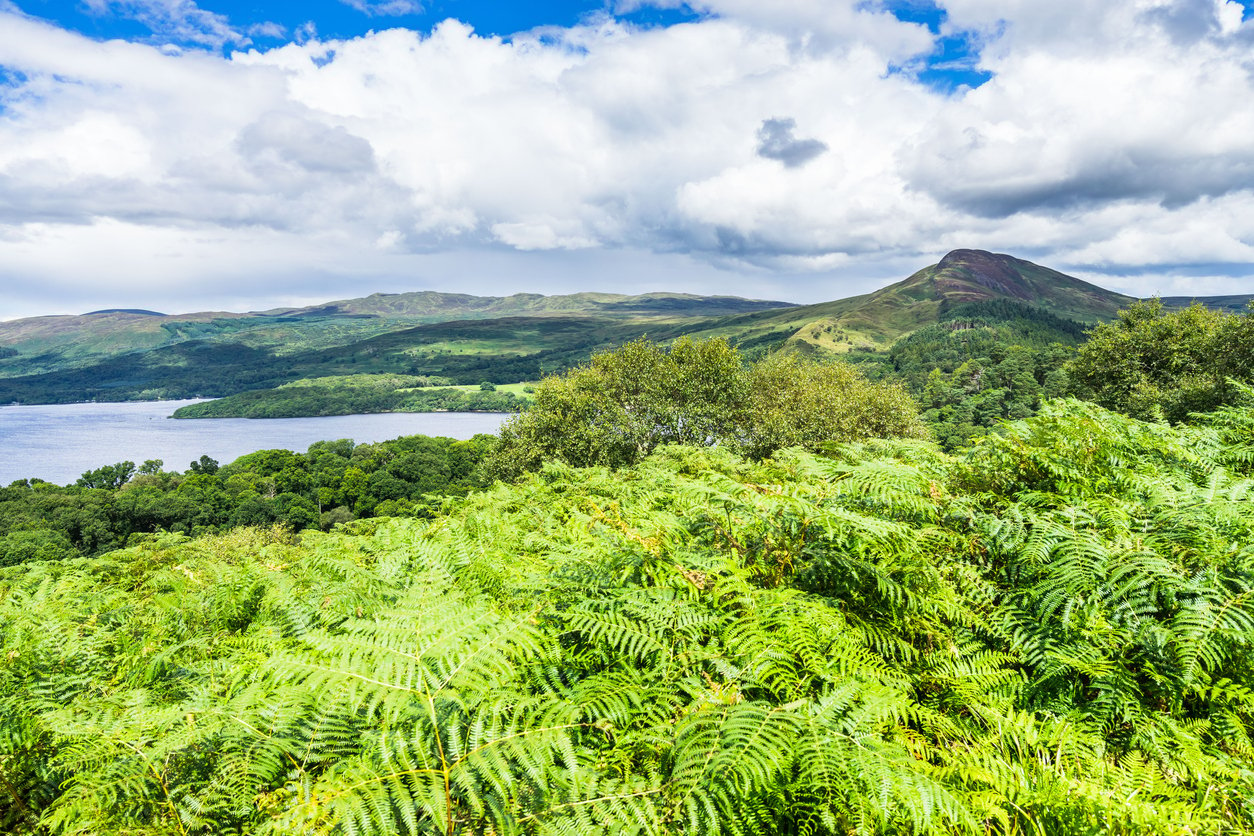 Length: 6.75 miles
Total ascent: 1,225ft
Approximate time for hike (not including transport): 3 hours +
Getting there from Glasgow: First, you need to get yourself to Balloch train station. Balloch is a 48 minute ride from Glasgow Queen Street station. When you get to Balloch station, get the 309 McGills bus service. It takes about 15 minutes to get to Drymen, the start of the hike. It takes about half an hour to get from Balmaha back to Balloch after.
The typical route up Conic Hill starts in Balmaha, climbs to the peak of the hill to take in the exceptional views of Loch Lomond and then returns the same way. This is a great outing for anyone relatively new to hillwalking who is looking for some hiking near Glasgow. It's simple to get to, for starters. Then when you've arrived, it's only a few hours of hiking to reach the summit of the 361m Conic Hill. But the scenery and views you get in return are absolutely breathtaking. You only need to get a short distance up the hill before you're able to look back out over all of Loch Lomond. This does mean it can be a little busy, though.
Our suggestion here is a different take on that route, which comes out around the same distance and length. It means that you reach Conic Hill later in the hike, so you have to earn the best views! You can look forward to that magic moment when they reveal themselves on the horizon. You also don't have to backtrack at any point. So you can look forward to new views the whole way.
The hike starts off from Drymen with a couple of miles on road. You get your first viewpoint of Loch Lomond after around two miles. It's an absolute banger, off in the distance. You'll cross a couple of burns and then get onto the hiking paths you'll be on for the rest of the route. The climb isn't too difficult, but you will ascend over 500ft in the space of 0.75 miles. You may notice some thistle symbols around as you go, too. These are the waymarking symbols which mark the entirety of the 96-mile long West Highland Way, a legendary route which features on our list of the best hikes in the UK!
Before you know it, you'll be on top of Conic Hill, where there's a truly sensational view of Loch Lomond and the islands within. The view ranges from the likes of Ben Lomond to the Arrochar Alps. It's a beautiful, wild view – and as stunning as you'll get hiking near Glasgow for that amount of trekking time. All that's left after that is a steep descent back to Balmaha, with that beautiful backdrop for most of it. Enjoy!
2. Climb Ben Lomond – Ptarmigan Circular Route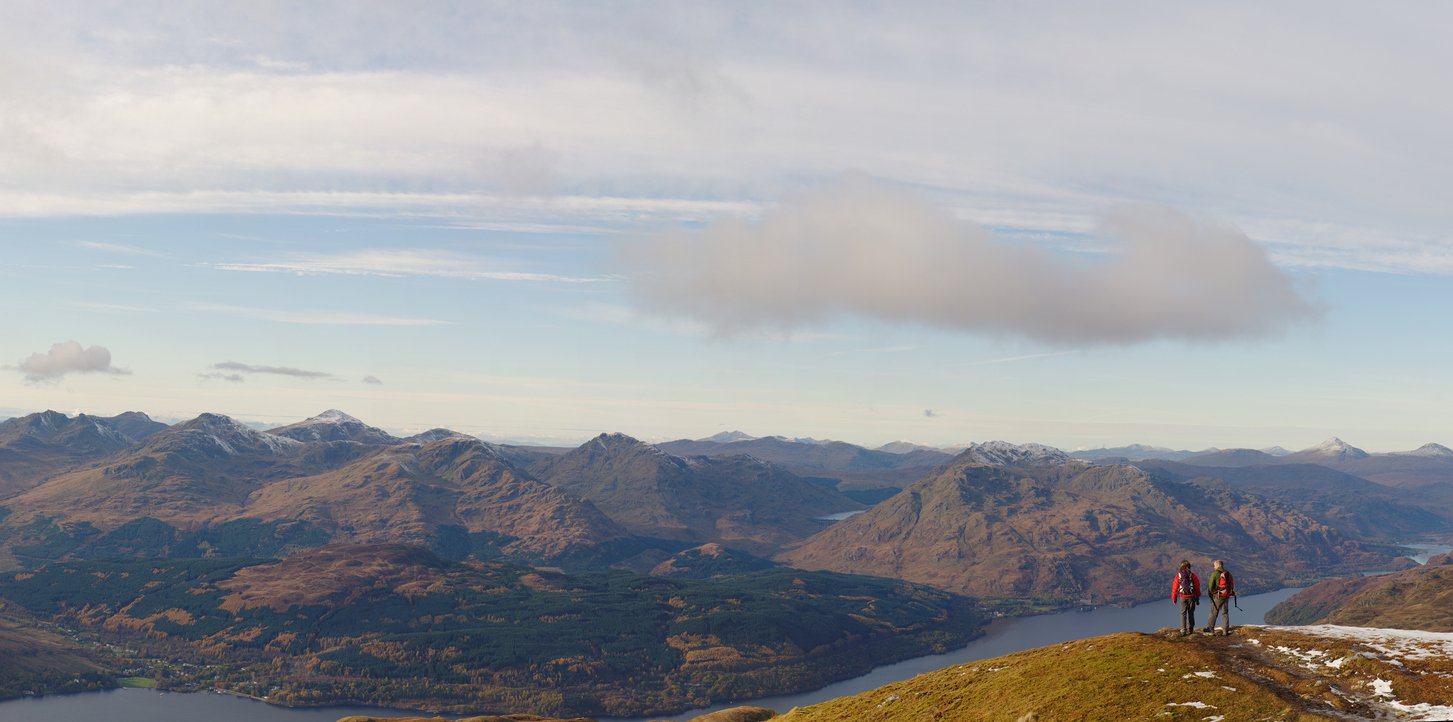 Length: 7.5 miles
Total ascent: 3000ft
Approximate time for hike (not including transport): 5 hours +
Getting there from Glasgow: Ben Lomond car park is a one hour and 50 minute drive from Glasgow. It's a bit tricky by public transport, but it is doable. There's a summer ferry from Tarbot to Rowardennan, right next to the Ben Lomond Car Park. You can get a bus or a train from Glasgow to Tarbet, from there you can then get the ferry across to Rowardennan. Be wary of your timetables if you're doing this. Plan ahead.
Ben Lomond is incredibly near Glasgow – and it's a challenging climb of a Munro, at 974m high. For that reason, the mountain rivals Ben Nevis, the UK's highest mountain, for the not-so-coveted accolade of being the most climbed Munro in Scotland. If you take the main Ben Lomond motorway, you're likely to hit the crowds on this walk – but there are other ways, and the views looking back at Loch Lomond and out over the Trossachs are well worth the hike.
Our route suggestion starts in the Ben Lomond car park, but takes in the Ptarmigan Ridge and peak of Ptarmigan before reaching the top of the Munro. It then returns down the traditional route up Ben Lomond. The reasons we're suggesting this route are threefold. First of all, it won't be nearly as busy as going up and down the main route. Second of all, it makes the trek longer and more of a day out in the wild. And thirdly, it makes it circular, so you don't have to backtrack on yourself after reaching the summit of Ben Lomond.
On the ascent, you'll go through cottages, pass a waterfall, climb through woods, open hillside on narrow hiking trails and eventually reach Ptarmigan. The view gets pretty stunning here as you look out at the peak of Ben Lomond. After a few false summits and a bit of simple scrambling, you'll come out at the top. Then it's back down the tourist route and back home. Just remember, this is a serious mountain hike and, as such, you need the appropriate equipment. Particularly if there's snow on the ground – ice axes and crampons may well be required.
3. Drumfrochar – Wemyss Bay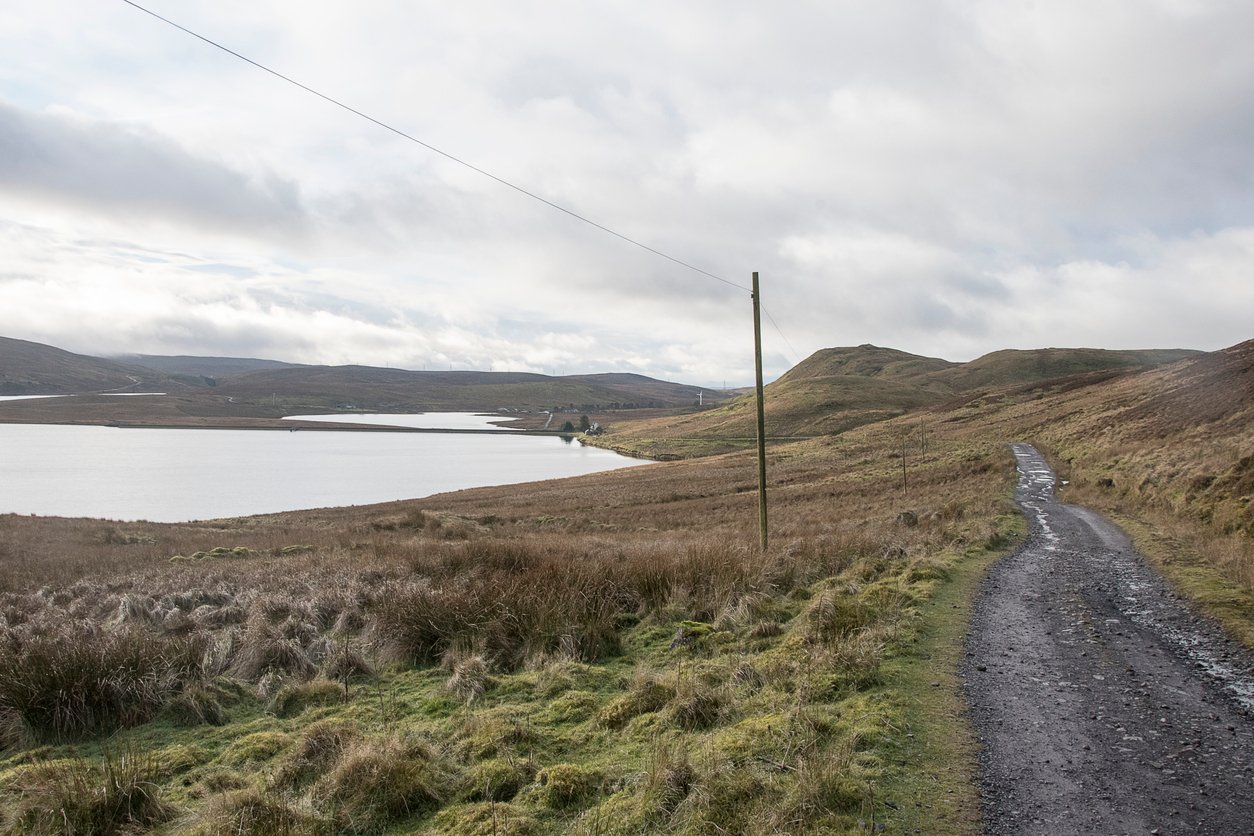 Length: 8.7 miles
Total ascent: 600ft
Approximate time for hike (not including transport): 4 hours +
Getting there from Glasgow: Drumfrochar Train Station is a 34 minute train ride from Glasgow Central Station and Weymss Bay Train Station is a 50 minute return trip to Central.
To the west of Glasgow you'll find the Clyde Muirshiel Regional Park. The park covers an area of 265 square kilometres and reaches right to the west coast of Scotland. Needless to say there's plenty of great walking and hiking to do in Clyde Muirshiel, then. So where to start?
We'd recommend the hike from Drumfrochar in Greenock to Wemyss Bay. There are various reasons for that. One is that it's an accessible distance at 8.77 miles. Another is that it goes between two train stations, so it's incredibly easily reached from Glasgow. Both train stations are well serviced by trains from Glasgow Central and can drop you back in the city centre in under an hour. Another is that if you find yourself with a wait for your return train at the end of the hike, you'll find yourself doing so right by the ocean. Wemyss Bay is a beautiful little village which is the port for ferries to Rothesay on the Isle of Bute. The hike itself is also great.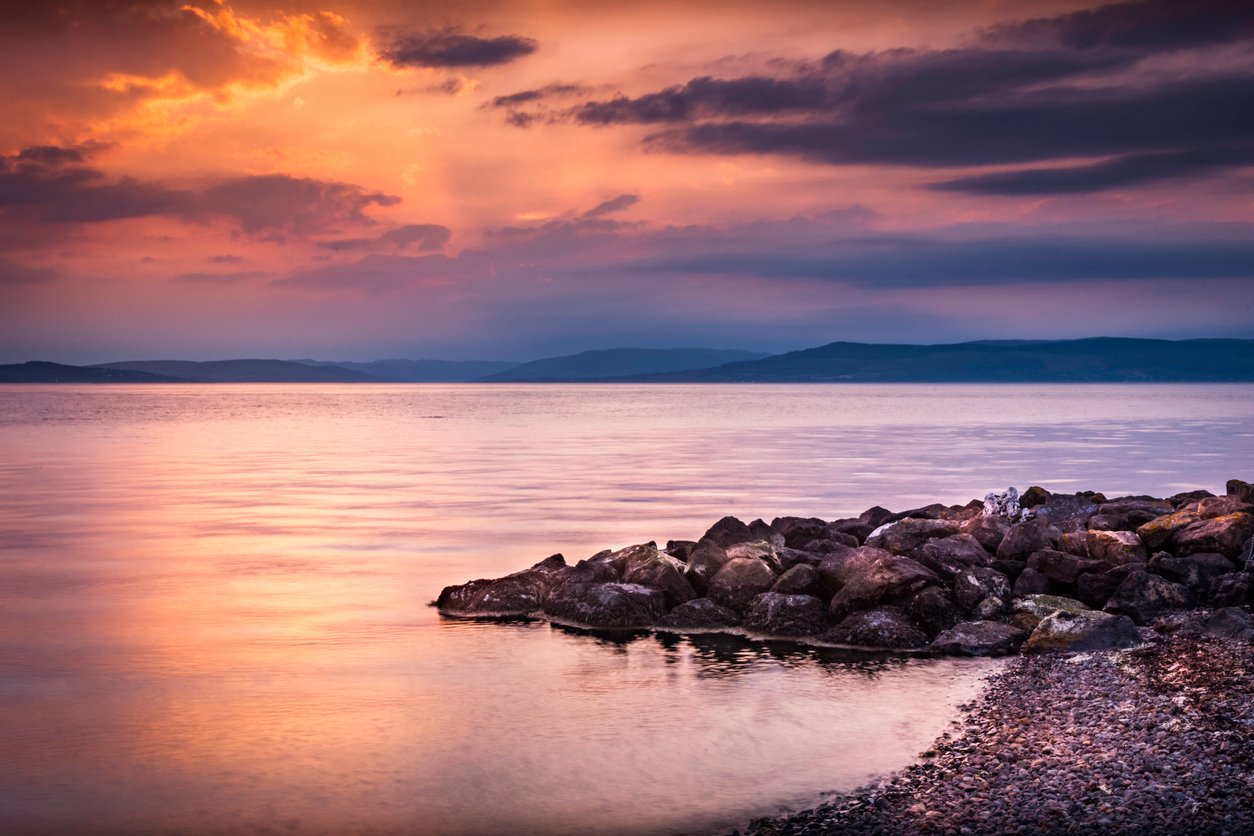 There are an early few kilometres alongside the Greenock Cut aqueduct. You'll pass Greenock Cut Visitor Centre if you fancy a quick break or refreshment. Next, you'll pass a beautiful stone bridge and stroll for several kilometres across wild moorland. You'll pass several peaks, the Crawhin Hill, Brown Hill, Wenchly Top and Studdel Hills and eventually come to the Kelly Reservoir. From here it's a two mile walk until you're at Wemyss Bay looking out over the ocean, to Dunoon on the right, Bute straight ahead and Great Cumbrae just below.
4. Beinn Narnain via The Cobbler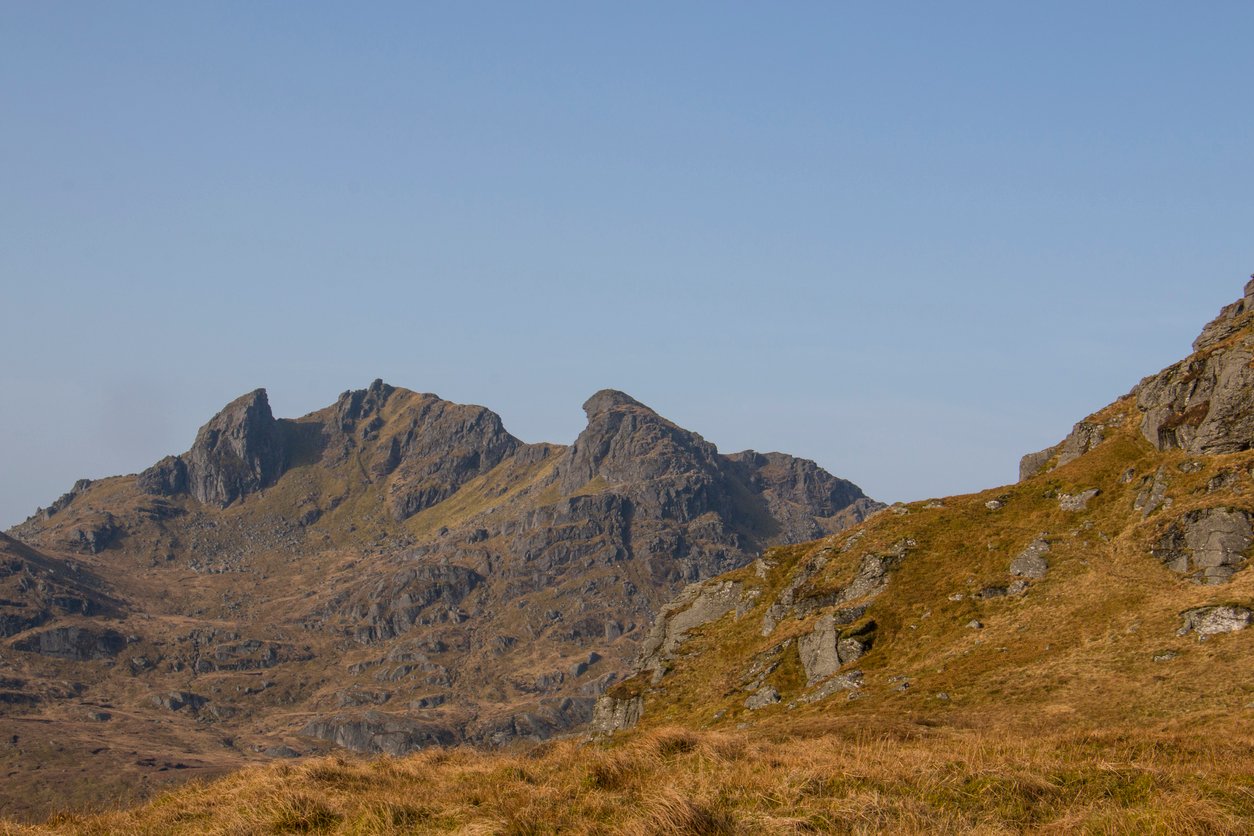 Length: 10.6 miles
Total ascent: 3,775ft
Approximate time for hike (not including transport): 6.5 hours +
Getting there from Glasgow: The 926 bus from Buchanan Bus Station goes to Arrochar and takes about an hour and 15 minutes.
The previous route highlighted some relatively easy hiking near Glasgow in the Clyde Muirshiel Regional Park. Now we're suggesting some particularly demanding hiking near Glasgow on the Munros of Scotland.
Beinn Narnain is situated in the Arrochar Alps. These are known for their rugged mountain formations and stunning views of the Scottish wilderness. The route to summit Beinn Narnain, a Munro at 926m, is challenging in itself. But a lot of people still add a climb of the nearby Cobbler (actual name 'Ben Arthur') into the hike to make it more of a day out. The Cobbler is arguably the most stunning mountain in the Arrochars, so that's what we've done with this route, too.
Leaving Arrochar this route follows the Cobbler Trail. With stunning views of the distinctive rocks along the way. There's a lot of climbing. The trail goes from sea level to the 884m peak of The Cobbler in the first five and a half miles. You're literally climbing a mountain. The gradients can get tough. From The Cobbler, you saddle along to Beinn Narnain and then descend via a steep path back down to Arrochar. Some light scrambling can be involved in these routes and you need to pay close attention to the weather.
This is a serious mountain hike, with serious mountain views.
5. Crianlarich – Bridge of Orchy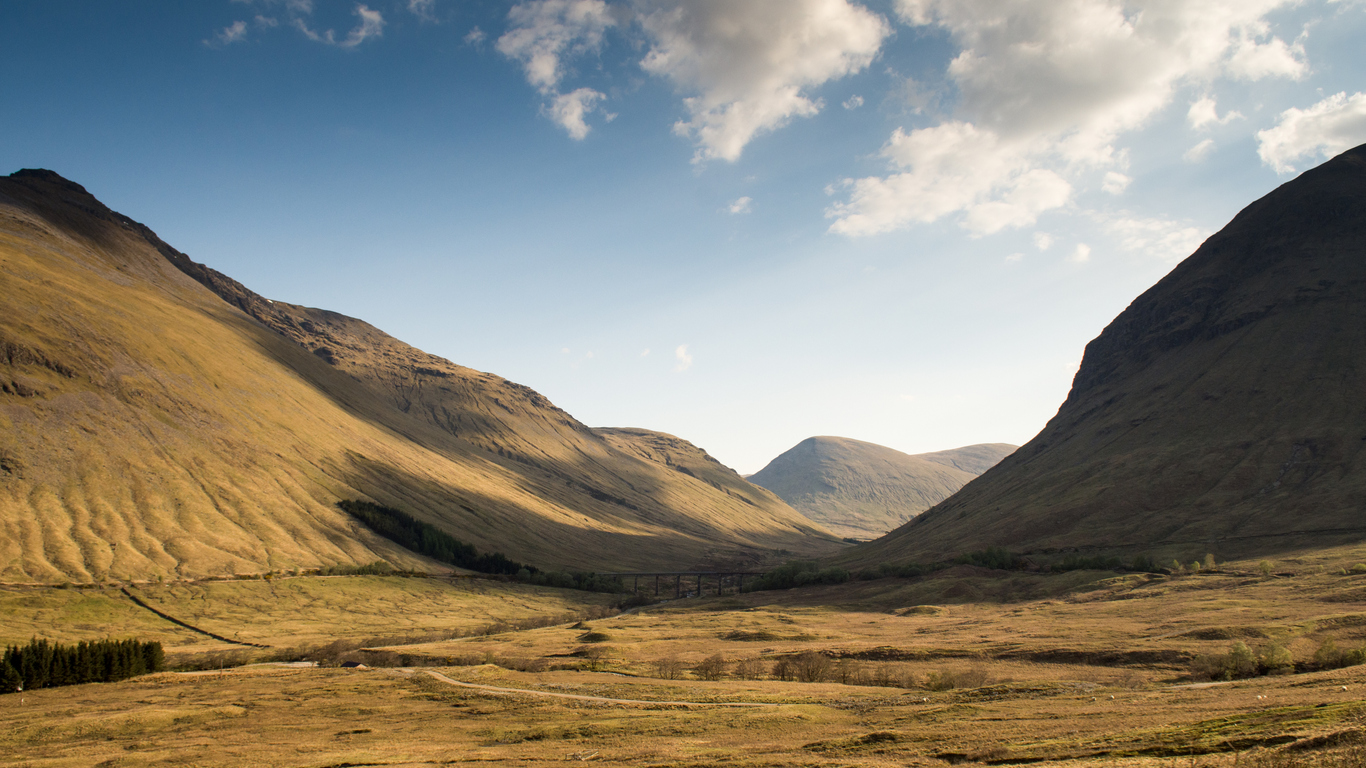 Length: 13.4 miles
Total ascent: 1200ft
Approximate time for hike (not including transport): 6 hours +
Getting there from Glasgow: You can get to Crianlarich via train from Glasgow Queen Street. The 914 bus goes from Bridge of Orchy to Buchanan Bus Station. It's almost a two hour bus back, though, so we admit we're pushing our luck a little with "hiking near Glasgow" here. Nevertheless, it's still doable in a day!
This hike runs along the same path that's often done as section five of the West Highland Way. This is the path the West Highland Way takes after leaving Loch Lomond and the Trossachs National Park. As such, the path is waymarked largely by the thistle markers of the famous Scottish hiking route.
The scenery on this hike is spectacular. Views as you trek through the Corbetts of Beinn Odhar and Beinn a' Chaisteil are beautifully green (a Corbett being a separated mountain over 2,500ft). And the stunning, pointy form of the Munro Beinn Dorain is along the way – so you know you're guaranteed some great photo-worthy scenery.
The route itself starts tough, with a hike of over 500ft in the first mile and a half. Gradients here can get up to 13%, though that's only for a small section of the climb. After that it's downhill, and rolling ups and downs, until the next uphill starts at six miles. This is more of a gradual climb, culminating at 1,082ft. Then it's plain sailing to the finish in Bridge of Orchy. Most of the trail is on a path as well, so you (mostly) don't have to worry about bogs – though make sure you do come suitably prepared for any weather.
This may be hiking near Glasgow, but the views can make you feel like you're up in the Scottish Highlands.
Fancy a bigger adventure? Check out these adventures which only take up a weekend. Or alternatively, check out our hikes in Edinburgh and hikes in the Lake District.