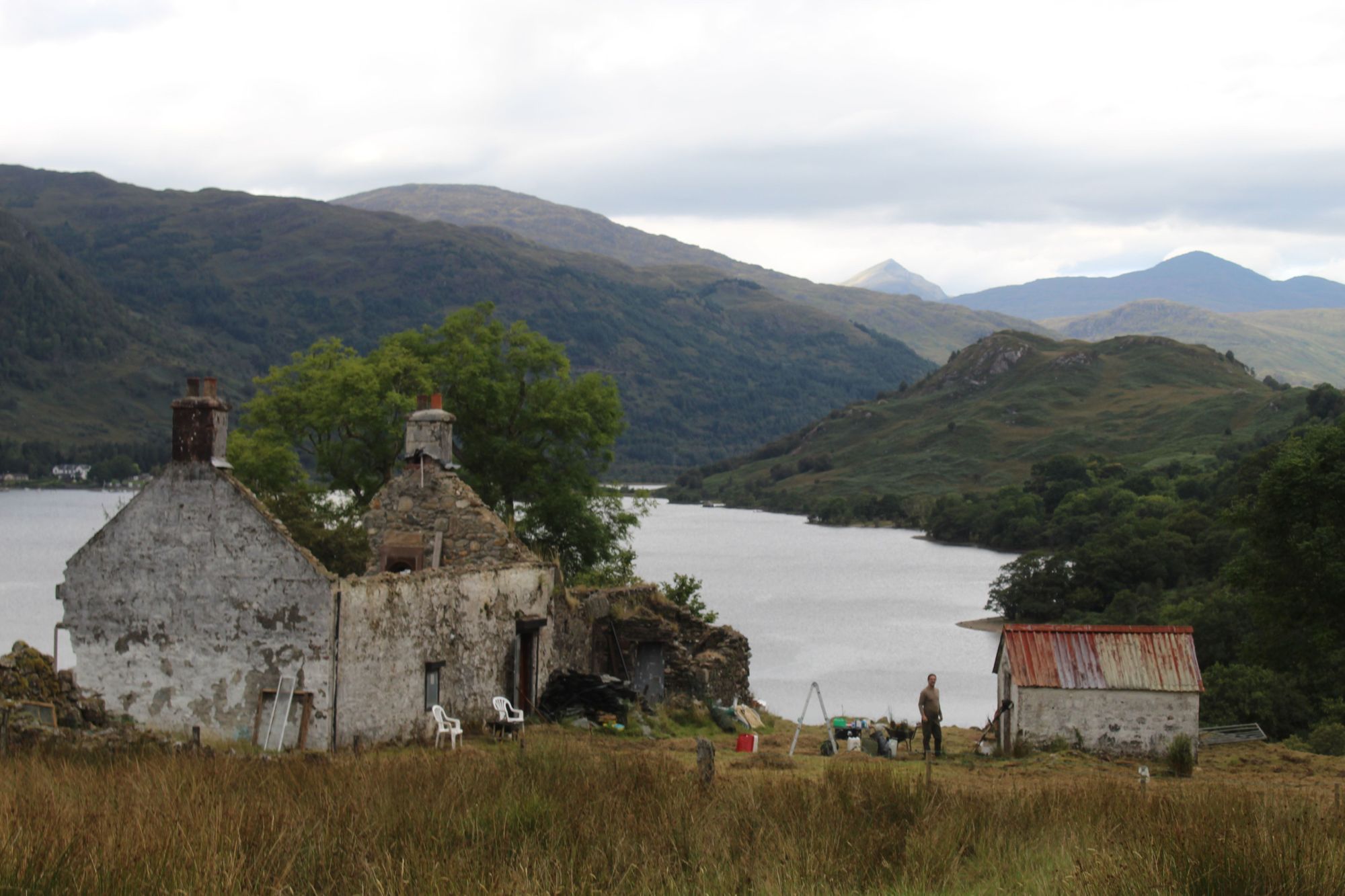 The West Highland Way is the most famous long-distance hiking route in Scotland. The 96-mile route runs from the town of Milngavie (pronounced mil-guy) near Glasgow, past Loch Lomond, over the Highland boundary line, through Glencoe and up to Fort William, the gateway town to Ben Nevis (1,345m).
Other highlights include a climb up Conic Hill, the wilderness of the Rannoch Moor, and the views of Buachaille Etive Mòr (1,021m) as you climb the Devil's Staircase.
Originally launched in 1980, the West Highland Way route was the first ever designated long-distance trail in Scotland, and laid the way for many of Scotland's other Great Trails which followed. Thanks to the mix of lowland beauty and dramatic scenery, it's renowned not just as one of the best hikes in Scotland, but as one of the most beautiful hikes in the entire world.
How long it takes to walk the route depends on whether you're in a rush or not. The fastest man to finish the West Highland Way was Rob Sinclair. He completed it in 13 hours, 41 minutes and eight seconds back in 2017. Most walkers hike the trail in four to eight days. Here, we're going to give you a detailed guide to walking the route in seven days, including a breakdown of the route for each day.
Waymarking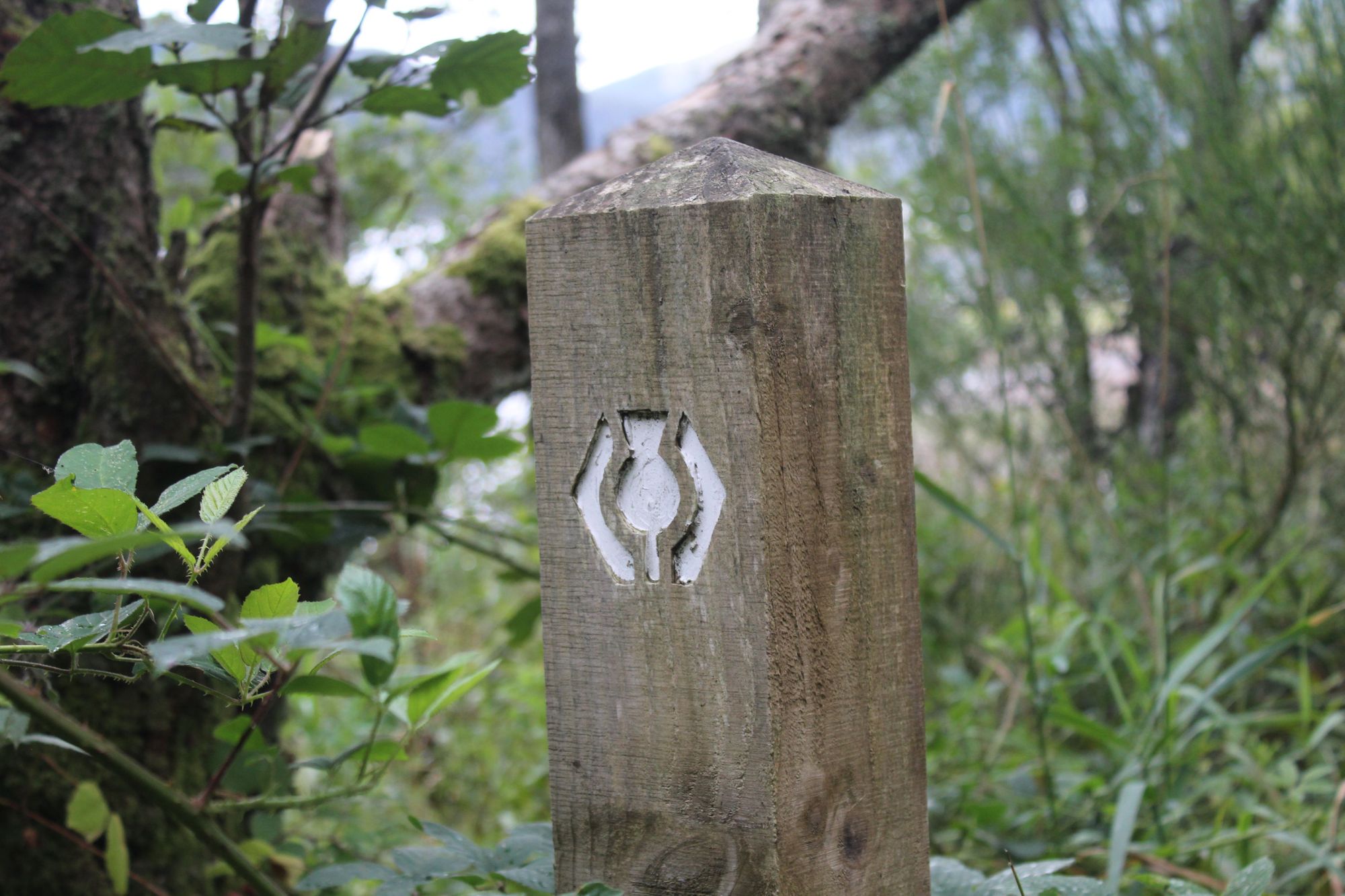 The West Highland Way is incredibly well waymarked. You'll find signposts along the entire route, bearing the iconic little logo of a thistle with arrows on either side. The route can be walked in either direction, as suggested by those arrows, but almost everyone walks it from Milngavie to Fort William. This way the scenery gets more epic as you go, you can ease your legs into the walking route, and your final destination is Fort William. Finishing the route at the gateway town to Ben Nevis, the UK's highest mountain, feels like a fitting end point.
Accommodation and Baggage Transfer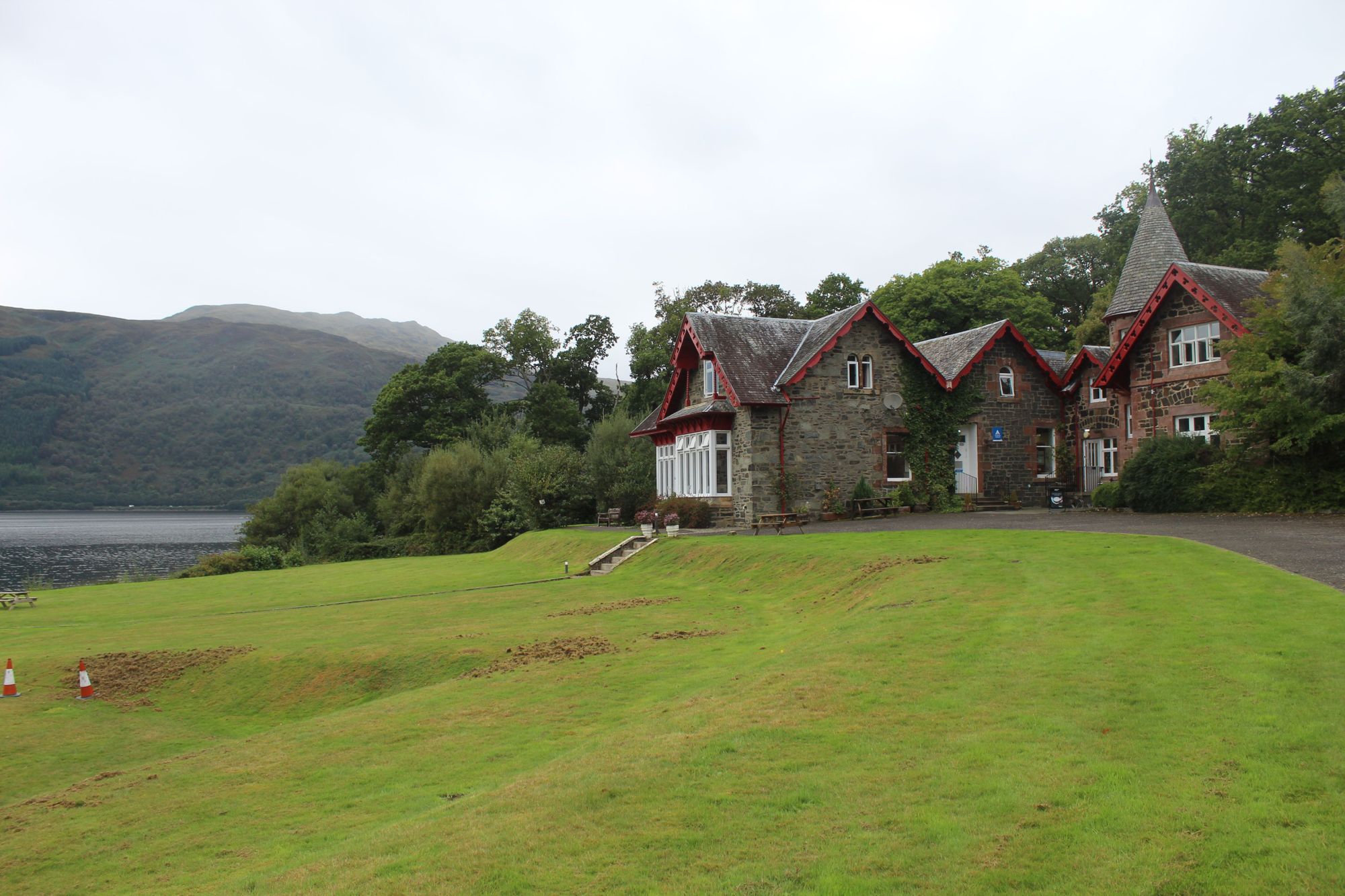 There is plenty of accommodation along the West Highland Way, from hotels to basic cabins, where you'll have a mattress but still require a sleeping bag. We recommend a few specific spots in our itinerary below. There are also two bothies along the way, Rowchoish and Doune Byre, and of course, you can camp.
The Scottish Land Reform Act of 2003 (aka the "right to roam") ensures that you can wild camp legally in most places in Scotland - though permits are required for certain areas along the West Highland Way, notably around Loch Lomond. This was brought about by littering, so be sure to leave no trace if you do camp.
Several companies also offer baggage transfers. If you're unfamiliar with the concept, it involves handing your pack over to a transfer company every morning. They then drop it off at your accommodation for the night, so it's already there when you arrive. It's very handy if you don't want to lug your full pack around, and can make the hiking each day a lot more enjoyable.
Kit List for the West Highland Way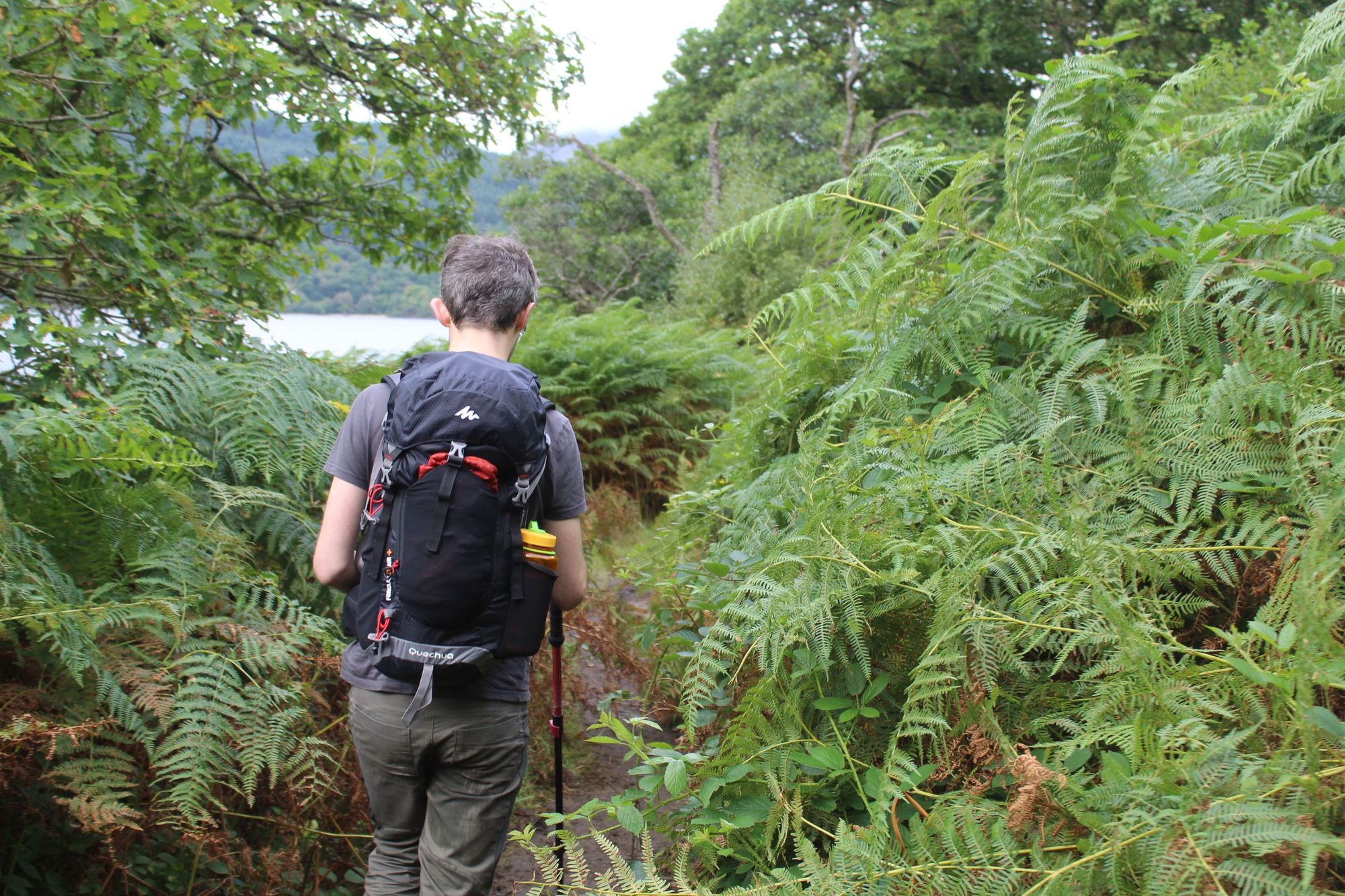 What you should pack for the West Highland Way largely depends on whether you're going to be camping or staying in hostels, cabins and hotels along the route. Rather than making a huge list of items here, we'd recommend checking out the Duke of Edinburgh Expedition List, and deleting from the list as appropriate. If you've got baggage transfer then obviously you can afford to bring a few more luxuries, while if you're carrying a full rucksack, be sure to pack light.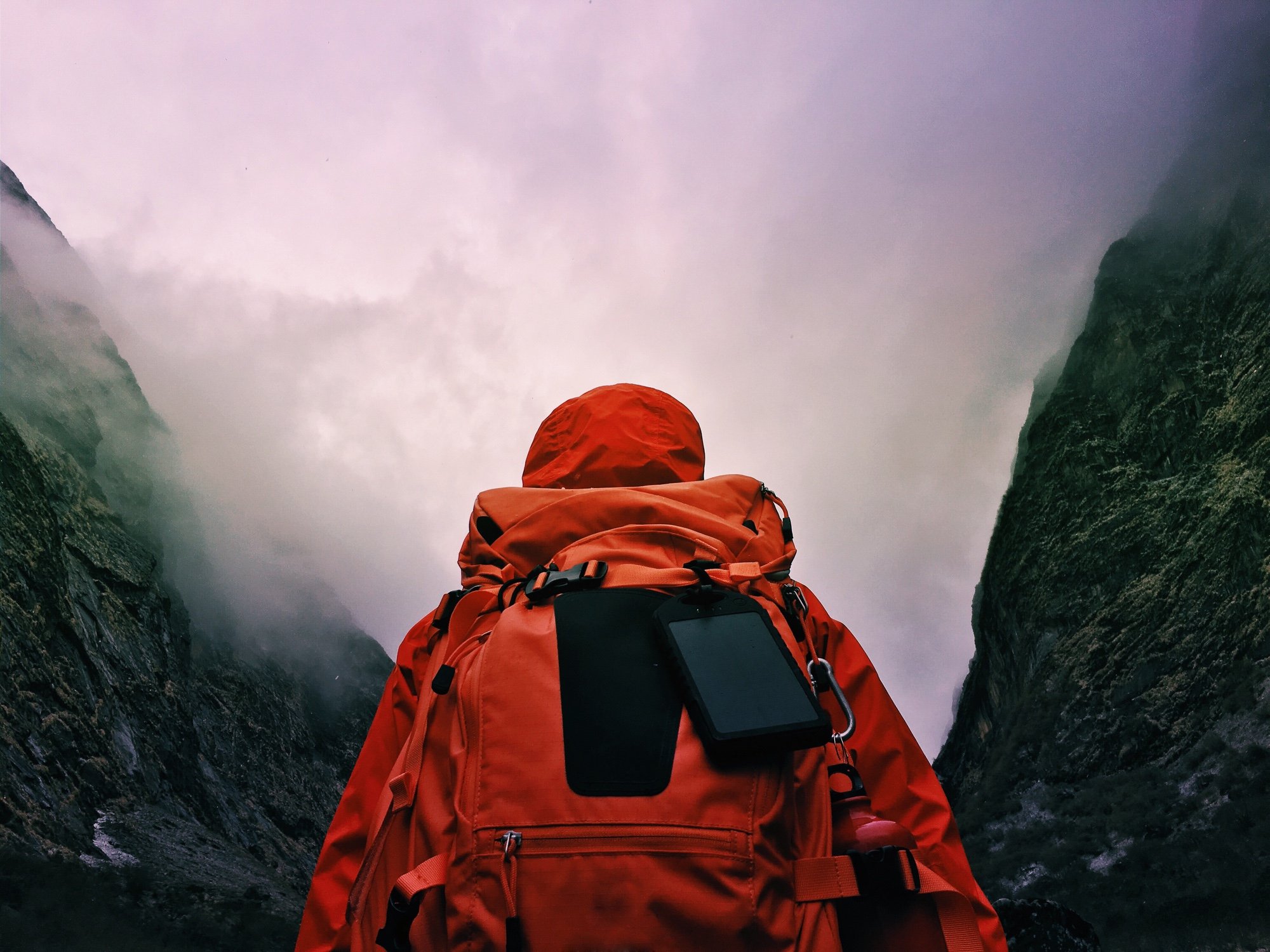 Even if you're not camping, it's good to have a camping stove and food for some scenic lunches. And remember you can re-stock as you go in the various towns that you're going to pass through. It's also good to bring a down jacket, even if the forecast is good, as it does tend to get cold at night.
Walking the West Highland Way: A 7-Day Itinerary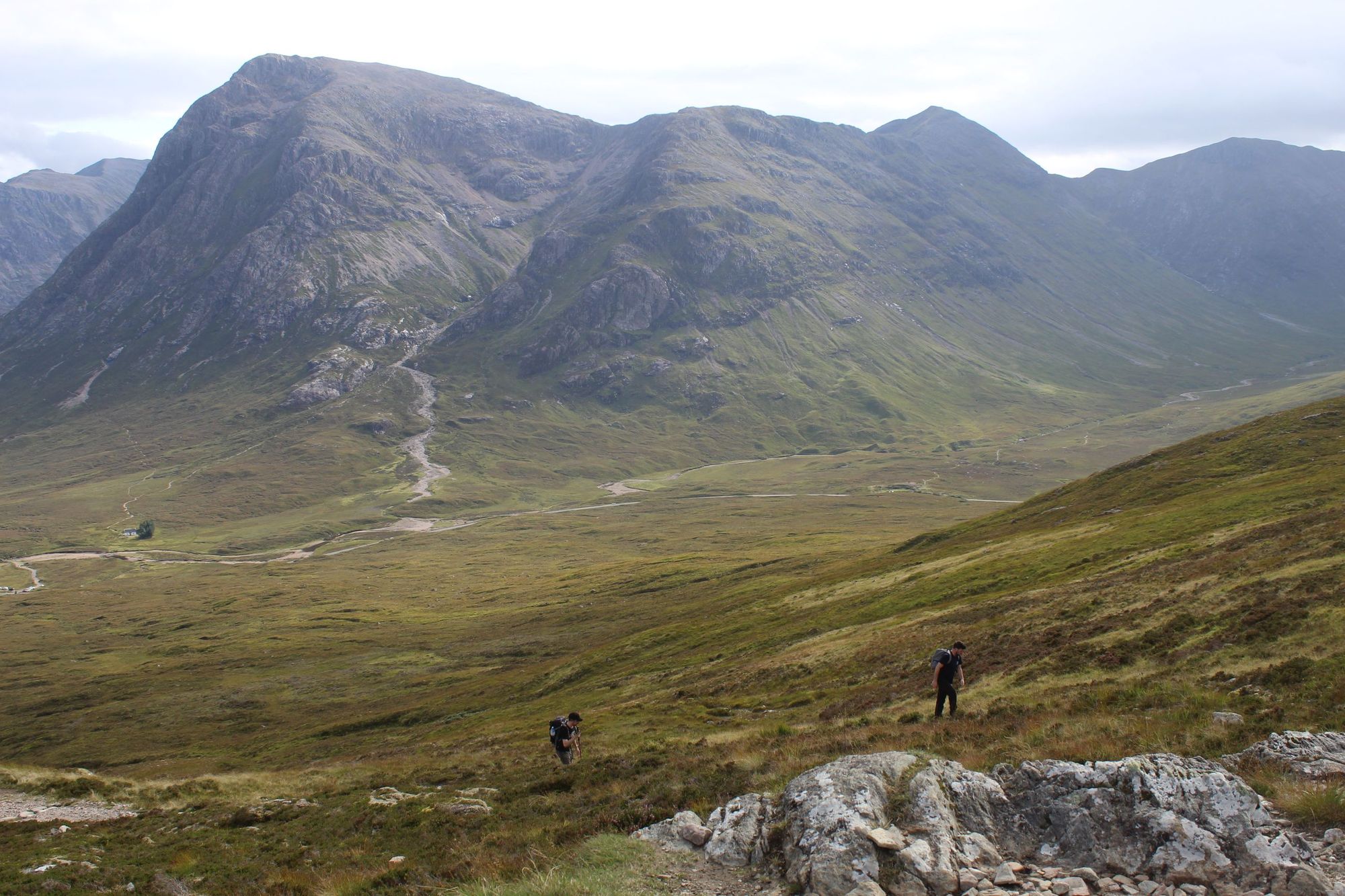 The Komoot maps featured below are from a walk of the West Highland Way in September 2021. In our view, September - or April - are the best times to walk the West Highland Way, as the weather tends to be quite mild, and the trail isn't nearly as busy as it is in summer. That said, you have about as much chance of guessing the Scottish weather as you do of guessing next week's lottery numbers, so make sure you come prepared for all eventualities.
While we mention avoiding "crowds" above, one of the special things about the West Highland Way is that there is a real trail community along the way. Each night, you'll meet people also walking the route, all on different schedules, and likely from around the world. We ended up walking the majority of our route with a new friend from Israel, and also met Dutch and German hikers.
The maps below contain detours from the official West Highland Way path. There are also times when the author of this article forgot to turn Komoot on after leaving for a hike at 6am (or forgot to turn it off after getting excited by a pint of beer at the end of the day). They're not exact, but are useful to get your bearings.
Day 1: Milngavie to Balmaha (20 miles)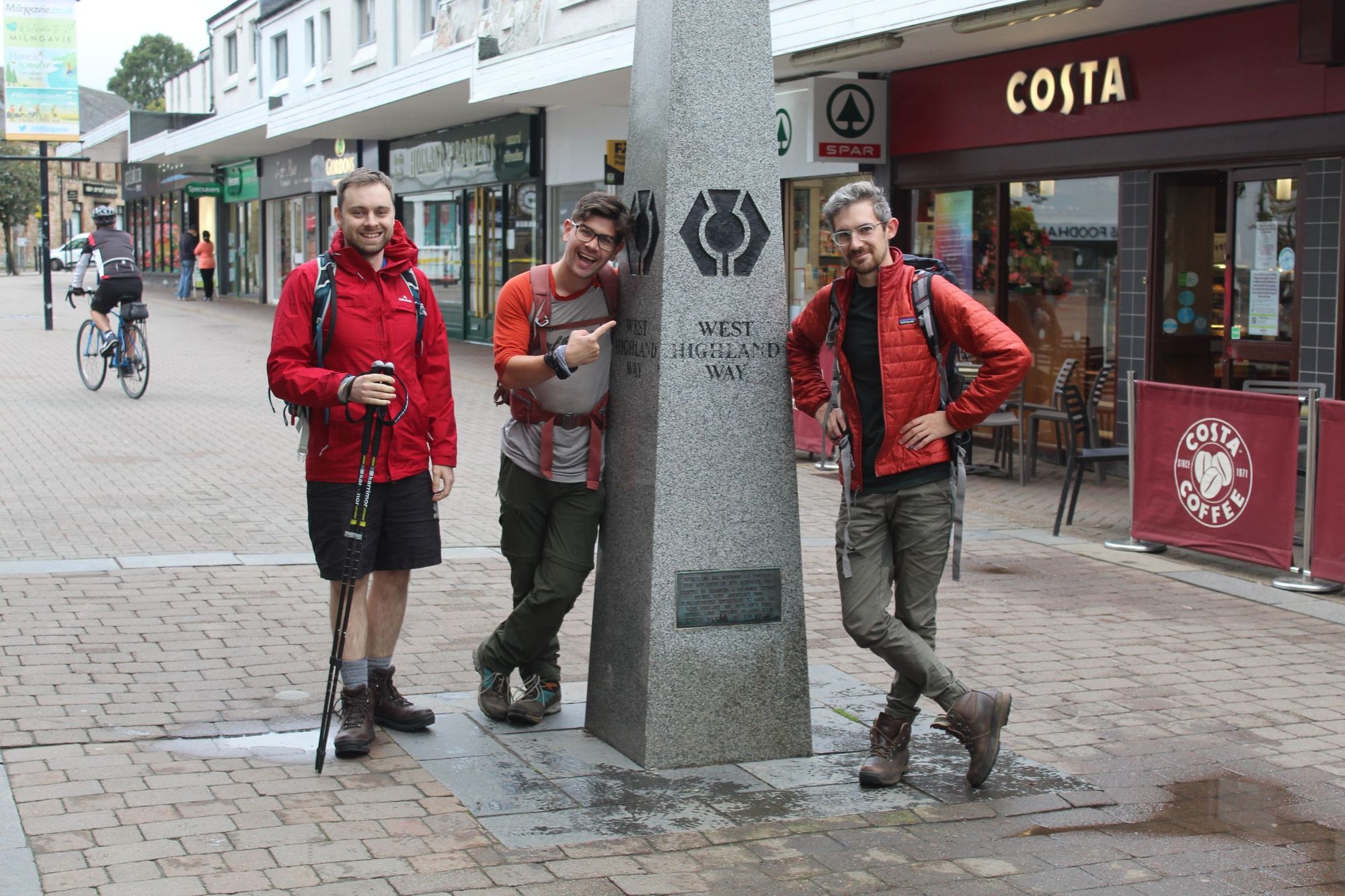 The West Highland Way starts in Milngavie town centre. There's a little obelisk that you can get your photograph taken with on the high street, and then it's straight onto the trail. You'll begin by heading towards Mugdock Country Park. You're still in a pretty urban environment at this point, so you'll see a lot of dog walkers and locals out on morning runs. It's an easy start.
You'll walk mostly on flat, dirt trails but there is some nice scenery. You'll pass Craigallian and Carbeth lochs after about four miles, and find yourself getting beautiful views over the Campsie Fells, a range of hills in central Scotland. The beautiful Dumgoyne (435m) is a standout, and at its foot is Glengoyne Distillery. It's just off the trail and is well worth a tasting stop if you're into your whiskies.
There are a couple of cafes in this vicinity. We'd recommend stopping at Turnip the Beet. Then, by mile 13.5, you'll find yourself in Drymen. A lot of people call it a day here and stay in Drymen for the night. There are plenty of nice hotels and pubs in Drymen, but we opted to carry on to Balmaha, on the shores of Loch Lomond. This does mean that after lunch in Drymen, you'll be taking on Conic Hill, though. The hill is only 358m, but don't let that fool you, it's a demanding climb - particularly if there's a heavy gust blowing.‌‌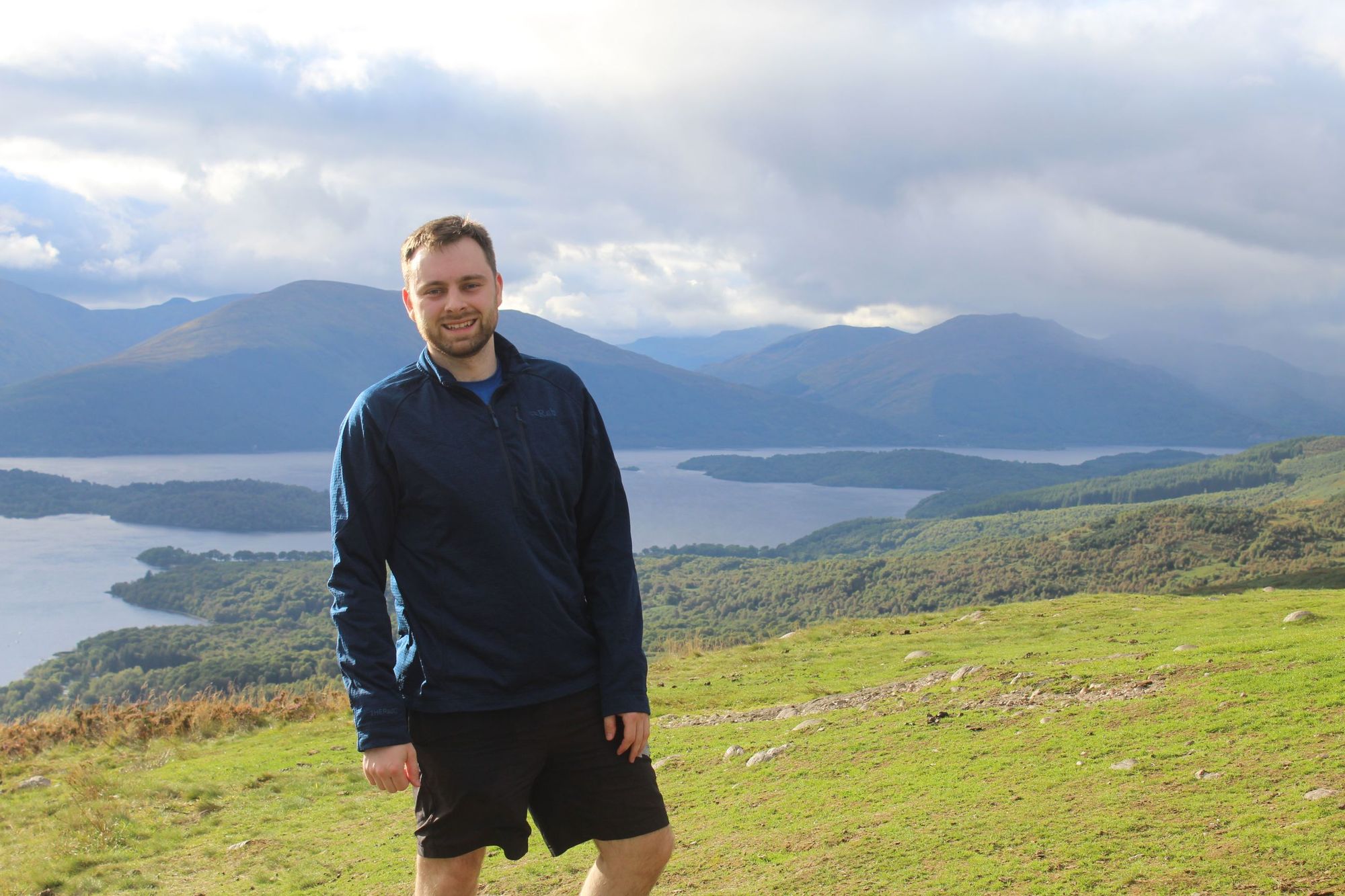 You'll have walked about five hours or more to get to Drymen, and it's three more from there to get up and down Conic Hill and over to Balmaha.
Conic Hill is where the views get properly beautiful. It's your first real taste of the truly epic Scottish scenery you're going to be experiencing all week. As you climb on gradients of up to 18%, you'll be looking out over Loch Lomond, and the view from the top over the entirety of Scotland's largest loch is breathtaking. The trail passes just below the summit, but it's easy enough to walk up to the top for a panoramic view, and then it's a steep descent down into Balmaha, where you can take your pick of guesthouses or hotels for the night. Keep your eyes open for Highland Cows around Conic Hill - completing the picturesque scene.
We stayed at the Birchwood Guest Lodge, which did the job nicely, and ate a delicious dinner at the Oak Tree Inn. After roughly 21 miles including detours, the steak pie didn't stand a chance.
Day 2: Balmaha to Rowardennan (7.4 miles)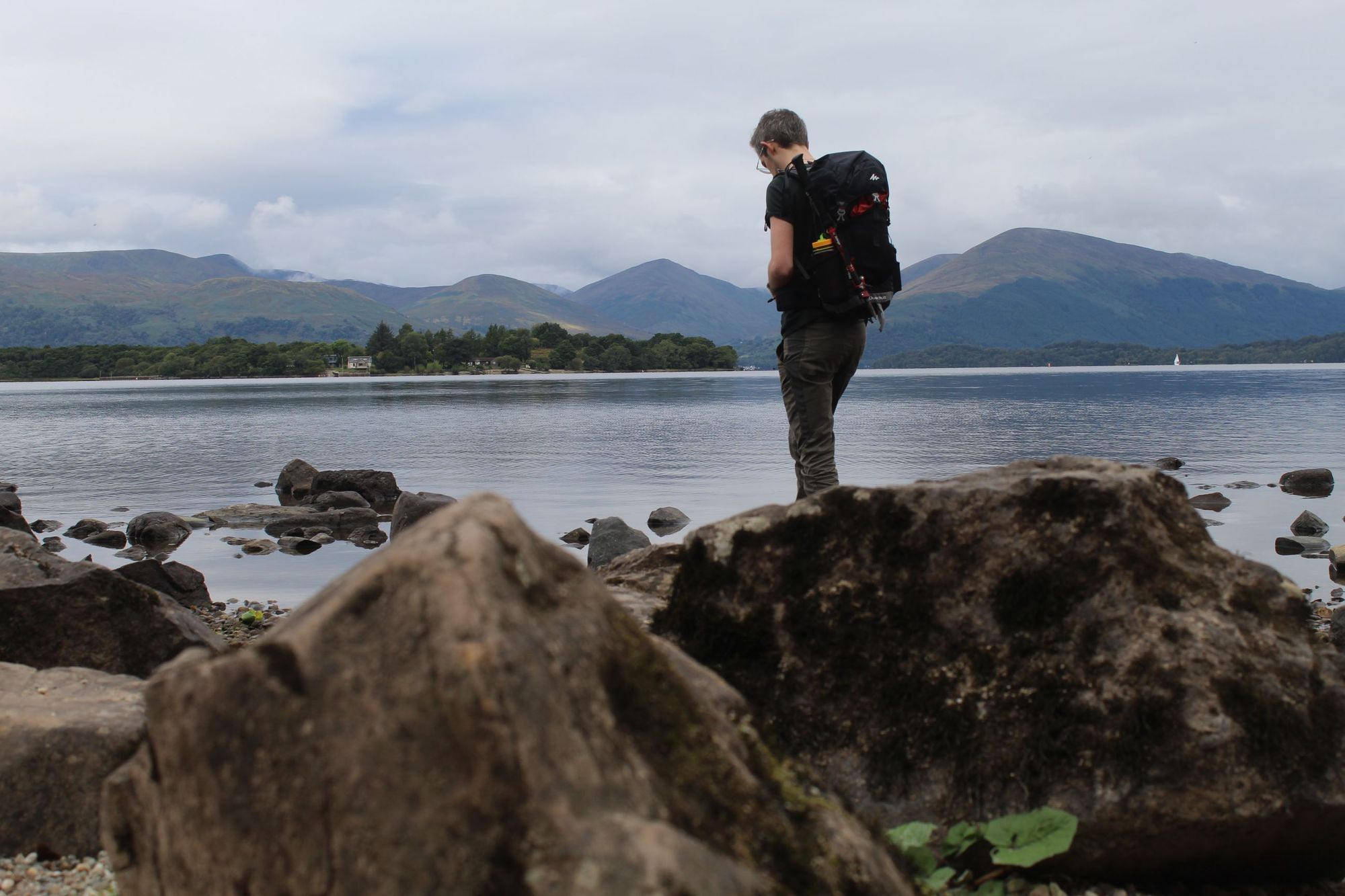 Day two is an easy recovery day. Waking up in Balmaha, grab breakfast at the Perch Cafe. Then the short walk to Rowardennan Youth Hostel begins.
The youth hostel is one of the most scenic in Scotland, right on the banks of Loch Lomond, but be sure to book in advance as space is limited. Day two is a pleasant stroll along the loch, on fun little forest trails, through ancient oak woodland.
There is still some ascending, but only around 320m for the whole hike, and the same going back down. Those hiking the West Highland Way in under seven days will tend to combine this hike with day three's hike. There's also the option to go up Ben Lomond (974m) if you arrive in Rowardennan early enough, or you can just kick back and let your legs recover with a beautiful hostel view.
Day 3: Rowardennan to Inverarnan (14 miles)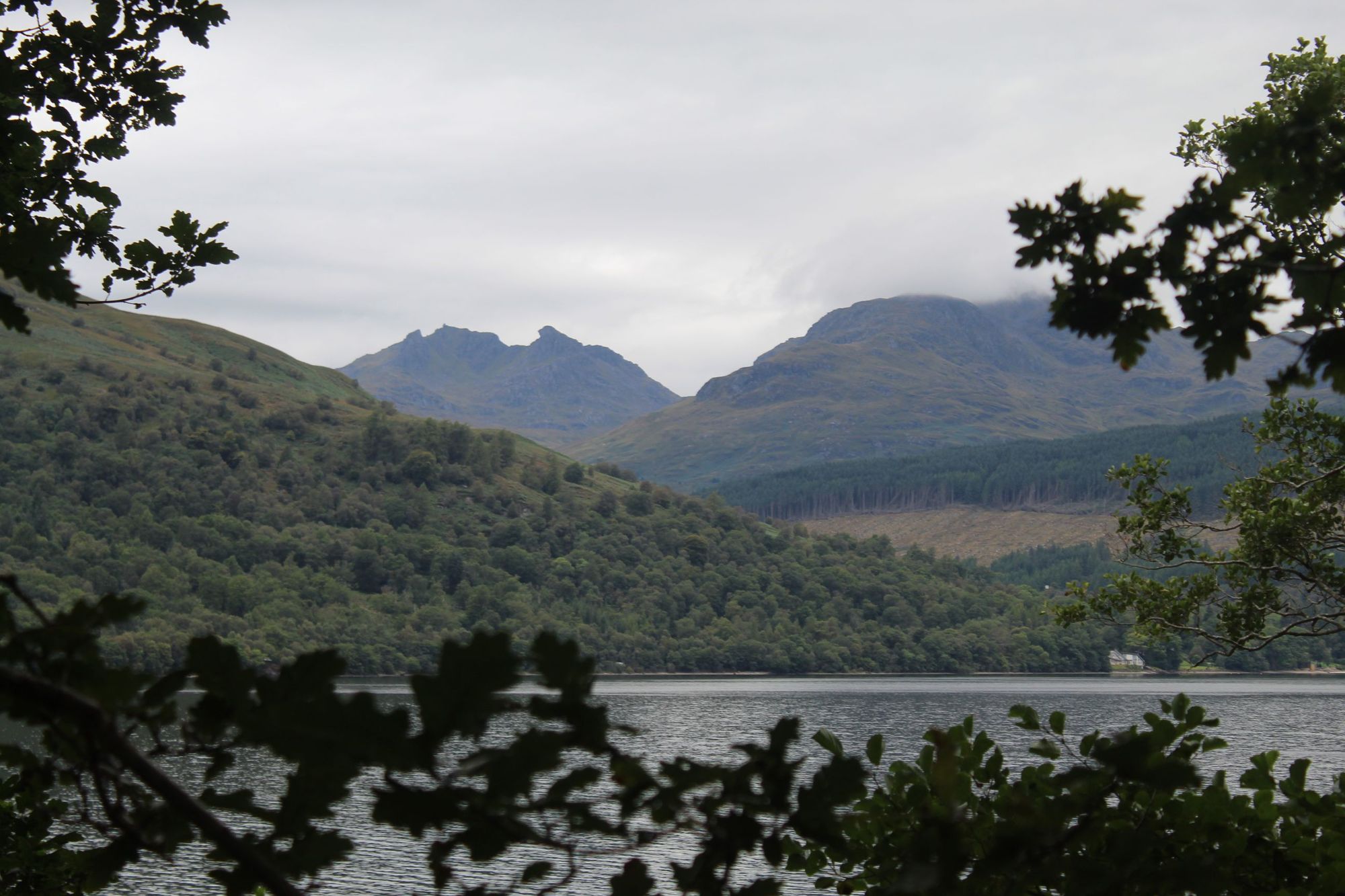 On day three, you're going to be walking along the remainder of Loch Lomond. The northern part of Loch Lomond feels significantly wilder than the southern section, largely because the road stops, and so access is a lot more challenging. The forests really are beautiful, and across the water you'll be looking onto Beinn Ime (1,011m), Ben Vorlich (985m) and The Cobbler (884m). There's a stunning waterfall at Inversnaid, where you can grab a drink. They sometimes have food too - if you're lucky!
A lot of people read, and will tell you, that the terrain here gets particularly tricky north of Inversnaid. There's even an "opt-out" path, where you can go round the rough terrain. We would recommend ignoring that and sticking to the main West Highland Way route. You do need to be sure-footed, as it is quite rocky and rooty, but it's easy enough to travel through safely if you stay focused and take a bit of extra care. It's interesting terrain, and you're often right on the edge of the loch.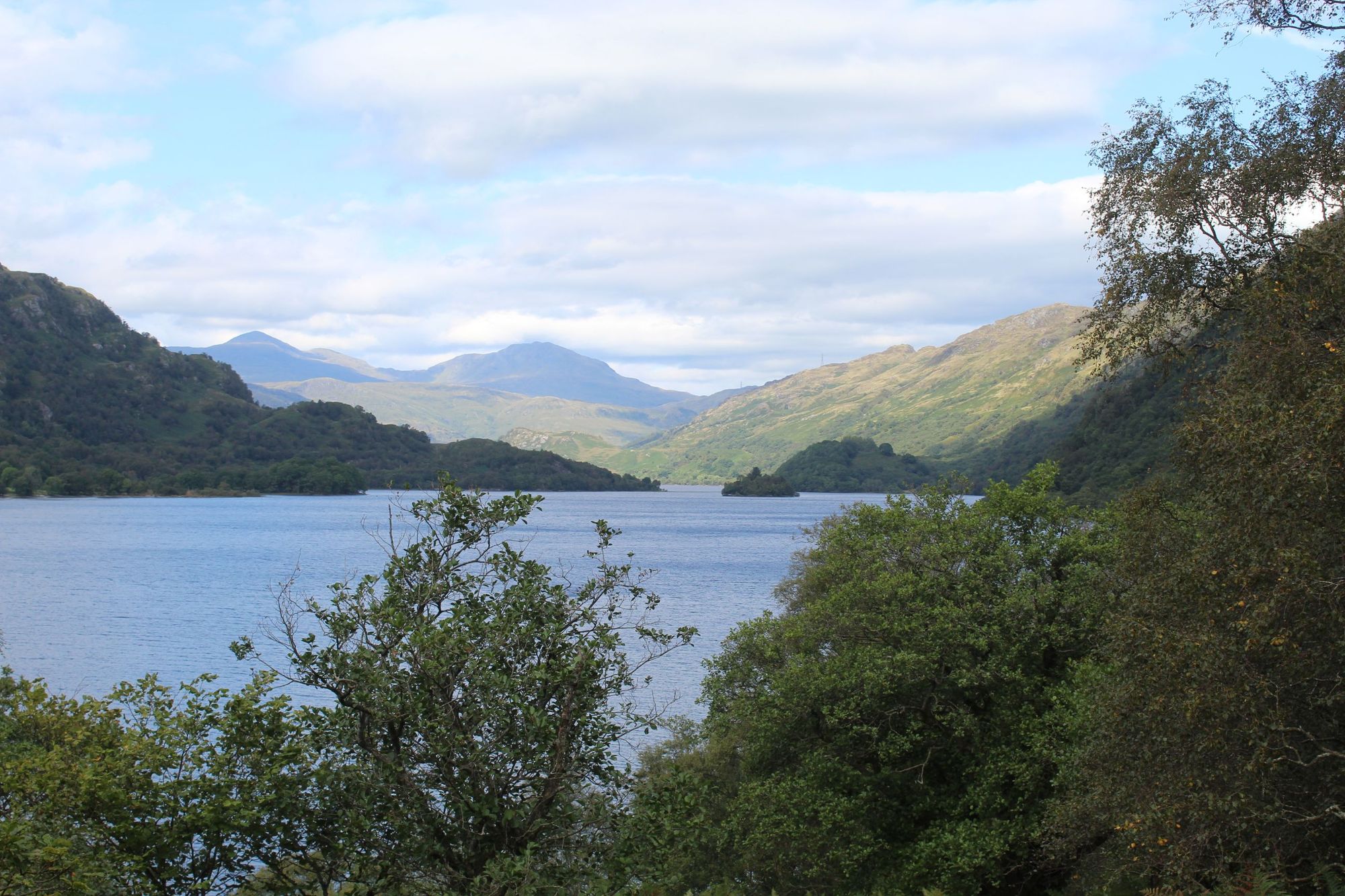 Just past Inversnaid is where you'll find the bandit Rob Roy's Cave, though the sign for it blew down in a storm, so it can be tricky to locate the exact location.
You'll pass both Rowchoish Bothy and Doune Byre today. The former early on, and the latter just before you leave Loch Lomond, as you hike through ferns with far-reaching hill views. Keep your eyes open for wild mountain goats on this stretch of the trail too. You'll likely smell them before you see them, but it's not uncommon to see one strolling right in the middle of the trail.
You'll finish the day at Beinglas Farm Campsite, an excellent spot where you can take your pick of B&B, chalets, basic little cabins or camping spots. We went with a basic four-person cabin, which required sleeping bags. Head over to the Drover's Inn for dinner. It's a five-minute walk steeped in three-centuries of Scottish history, with a taxidermy bear inside and shields and swords on the walls. Book in advance as it's a popular spot, but it is well worth a visit.
Day 4: Inverarnan to Tyndrum (11.6 miles)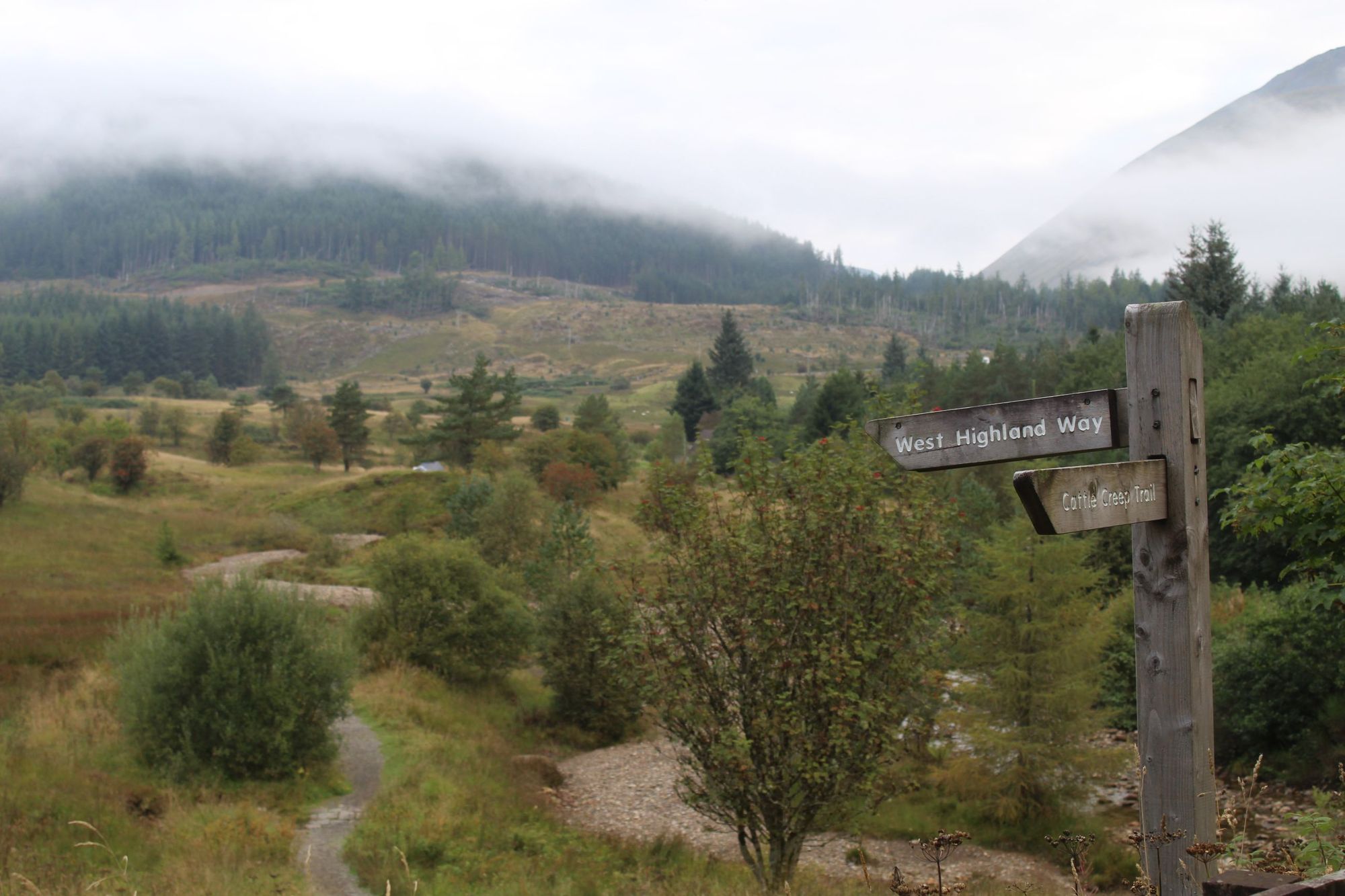 Wake up and wave farewell to Loch Lomond behind you. It's big mountains and glen walking now. Today's trail takes you to the trail town of Tyndrum, which has cafes, pubs, a few good accommodation options, and bizarrely, two train stations - despite a population of just over 160.
Day four will see you head north to Glen Falloch. You'll be walking along forest, farmland and river paths. You'll be able to catch a little glimpse of the Falls of Falloch, and then you'll have the option to head down to Crianlarich for lunch. If you do so, you'll be adding on a few miles to the trail.
Alternatively, carry on uphill. You'll have great views of Ben More (1,174m), Stob Binnein (1,165m) and Cruach Ardrain (1,046m). Perhaps the highlight of the day is when you pass the River Cononish. Here, there's a bench dedicated to the battle of Dal Righ, where Robert the Bruce was defeated by English troops in 1306. Carry on and you'll come across a scenic lochan, where it's said that Bruce and his men ditched their swords while fleeing from that fight.
The mini metropolis of Tyndrum lies just a few miles on. We stayed at By The Way Hostel and Campsite, in an excellent little Hobbit Hut. Before leaving Tyndrum, be sure to restock your supplies for the next few days at the legendary Green Welly Stop. Anti-blister plasters, anyone? There are no more shops after Tyndrum until you reach Kinlochleven, 28 miles down the Way.
Day 5: Tyndrum to Inveroran (9 miles)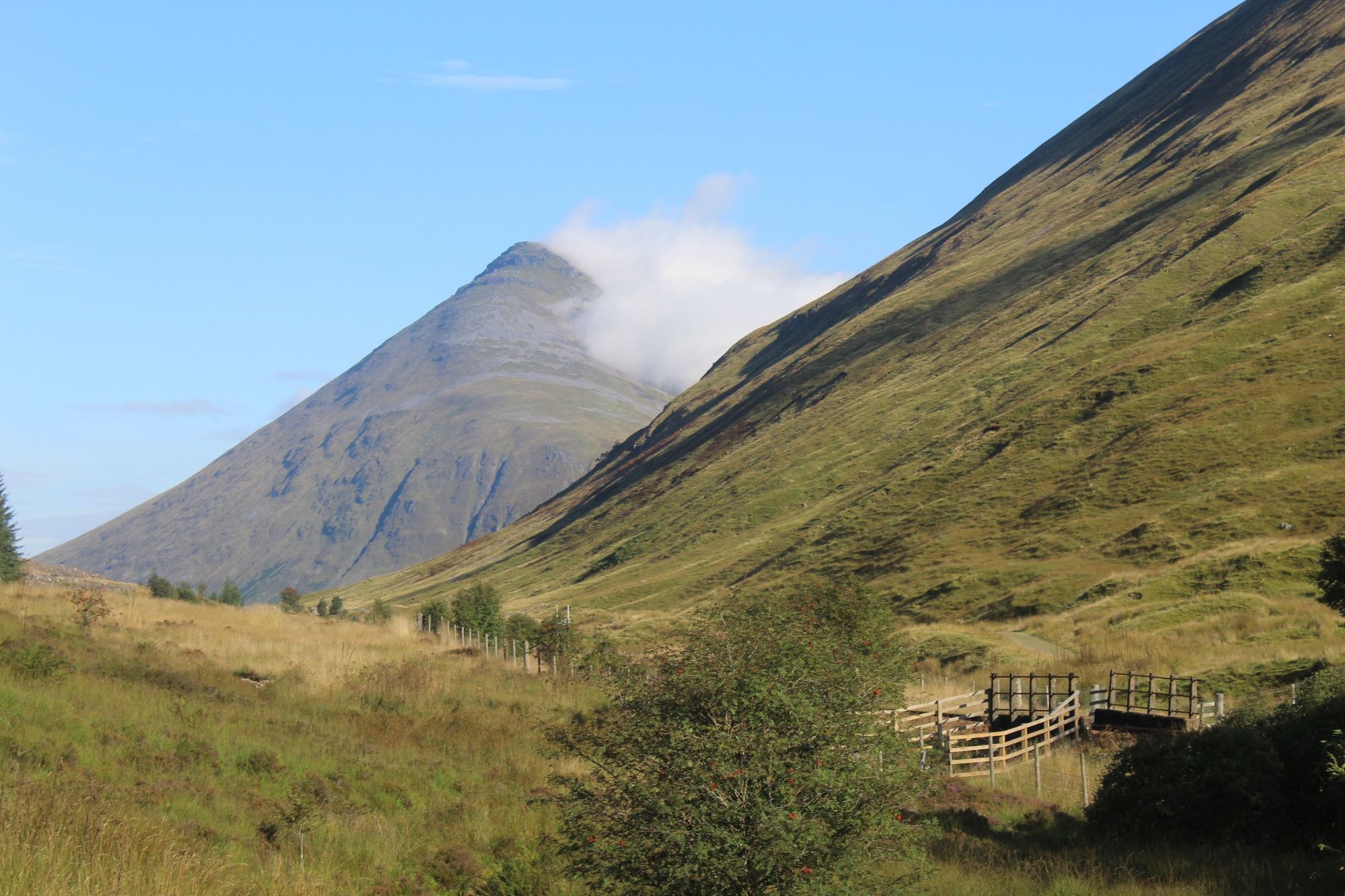 A cushty nine-miles along beautiful terrain, day five is a treat. Picking up from Tyndrum, you'll set off on a beautiful trail backdropped by forest and rolling hills. It only gets better as you reach the steep sides of Beinn Odhar (901m), and continue the walk with views of Beinn Dorain (1076m), a Munro which resembles a pyramid. You'll have it in your sights basically the whole way to the Bridge of Orchy, where you can grab a decent cooked lunch and a drink.
After this, you'll cross the River Orchy on a scenic stone bridge, and join the Old Military Road. A short but demanding climb will bring you to an area which immediately feels more remote, leaving the roads behind and edging closer to the Rannoch Moor. You'll be looking out over Loch Tulla and the Black Mount as you descend on a picturesque trail to your daily finish point.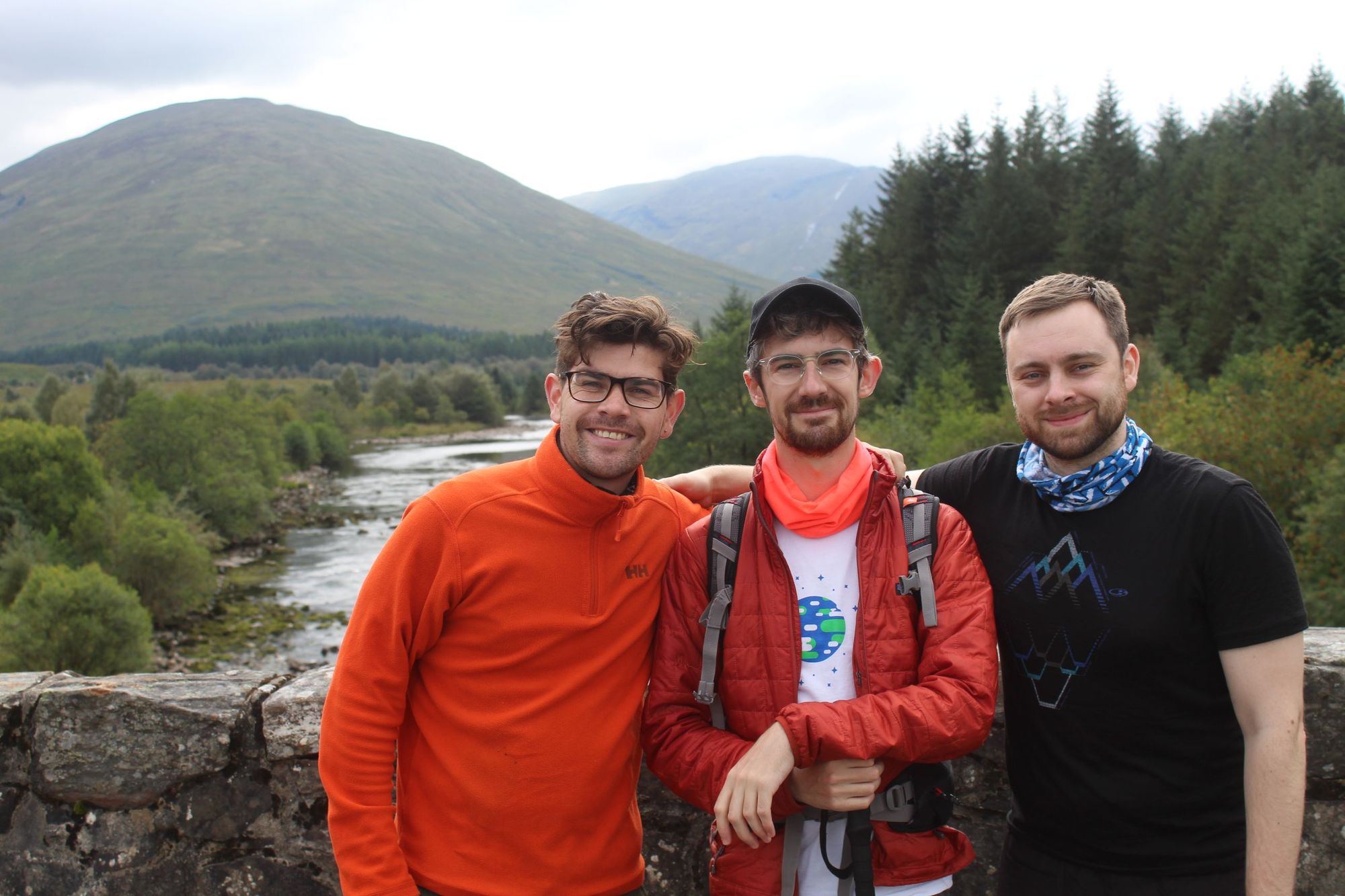 You have two accommodation options here. The first is camping. The second is the wonderful Inveroran Hotel. Not only does this cosy hotel have incredibly comfy beds, showers, and serve a mean dinner and cooked breakfast, it also has a great little pub. While the hiking today hasn't been particularly strenuous, tomorrow is a bit of an epic, so the hotel is a great place to rest up beforehand.
Inveroran Hotel is almost exclusively served by people walking the West Highland Way, so it's also a great chance to meet others walking the trail, and see how everyone is getting on. By day five, it's likely you'll have found a few familiar faces who'll be walking at the same pace as you.
Day 6: Inveroran to Kinlochleven (19 miles)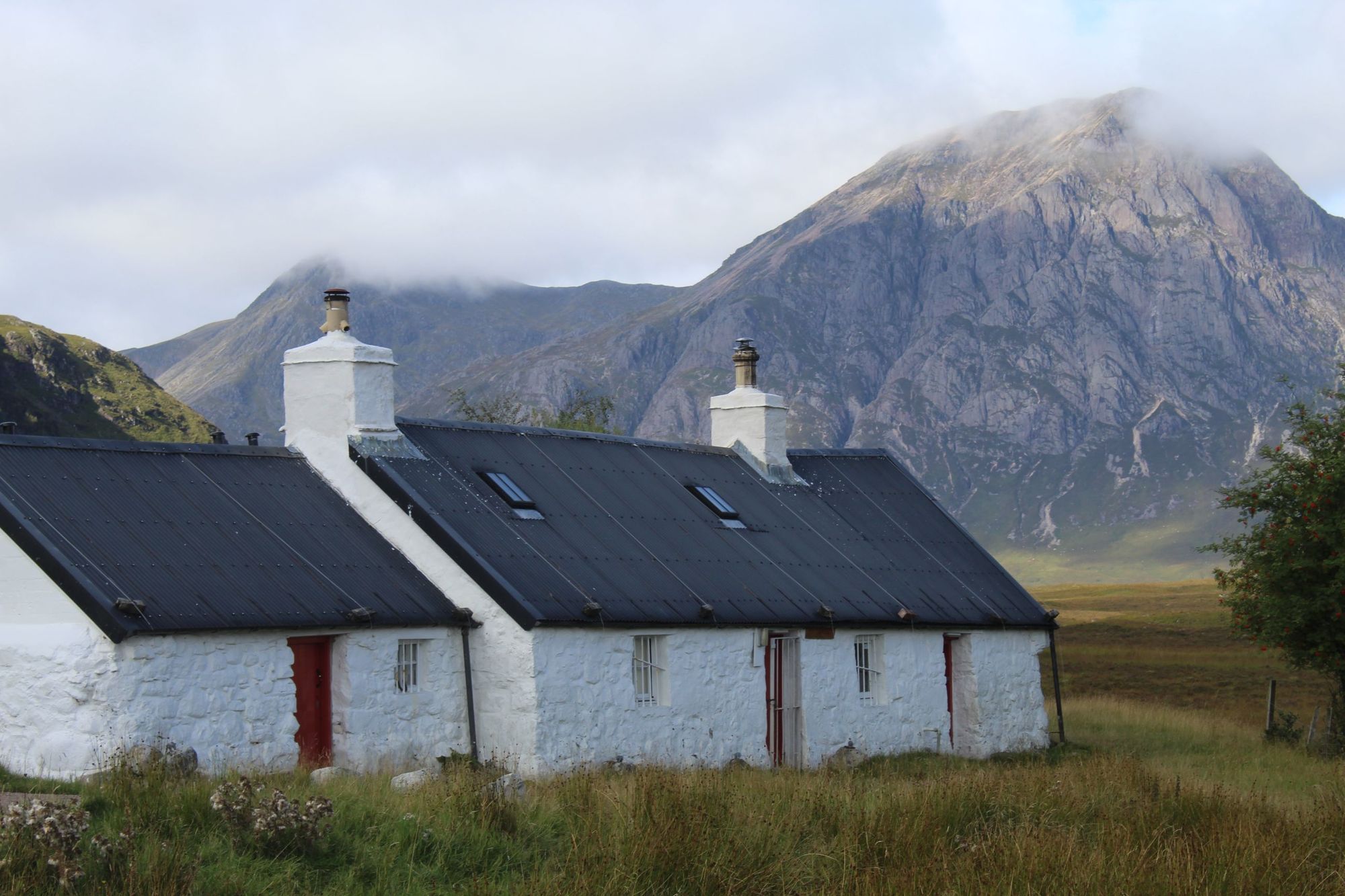 Get up early, because you've got a long day ahead. Day six is a demanding hike at 19 miles with 785m of ascent, but it's also arguably the best segment of the whole West Highland Way route, with Rannoch Moor, Glencoe, Buachaille Etive Mòr and the Devil's Staircase all waiting for you up ahead.
Setting off from the Inveroran Hotel, you'll soon come to an old gate holding a Scottish Rights of Way sign which states: "No Vehicles: Drove Road to Glencoe". This is the gate that will take you up to the Rannoch Moor, a Special Area of Conservation, and a huge expanse of boggy moorland which is often described as one of the "last true wildernesses of Scotland".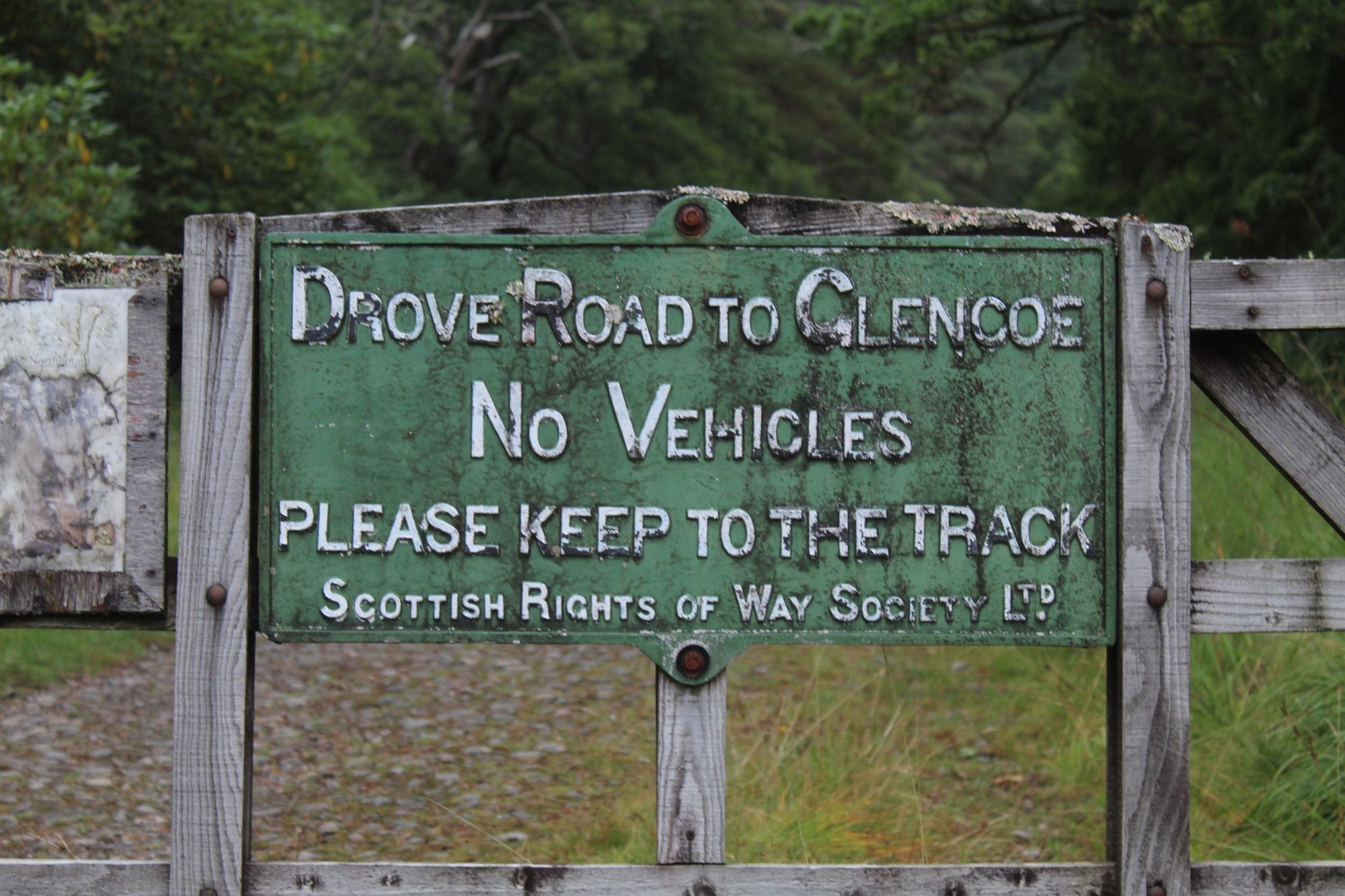 Keep an eye open for curlews and deer as you walk the trail. The moorland is only broken up here by mountains and hills on either side. To your left you'll see Stob a' Choire (945m) and Beinn Toaig (834m), while to your right there are little lochans, and the smaller forms of Meall Beag (472m) and Meall Mòr (492m).
After seven miles and about two and a half hours, you'll get up and over a ridgeline, then find yourself descending into Glencoe, with Meall a' Bhùiridh (1,108m), home to Glencoe ski resort on your left, and the mighty form of Buachaille Etive Mòr (1021m) up ahead. Rugged, distinctive, and towering over the glen, it's not hard to see why the Buachaille, also known as Stob Dearg, is considered to be one of the most beautiful Munros in Scotland. It's the kind of mountain you'd get if you gave a child a crayon and told them to draw Everest.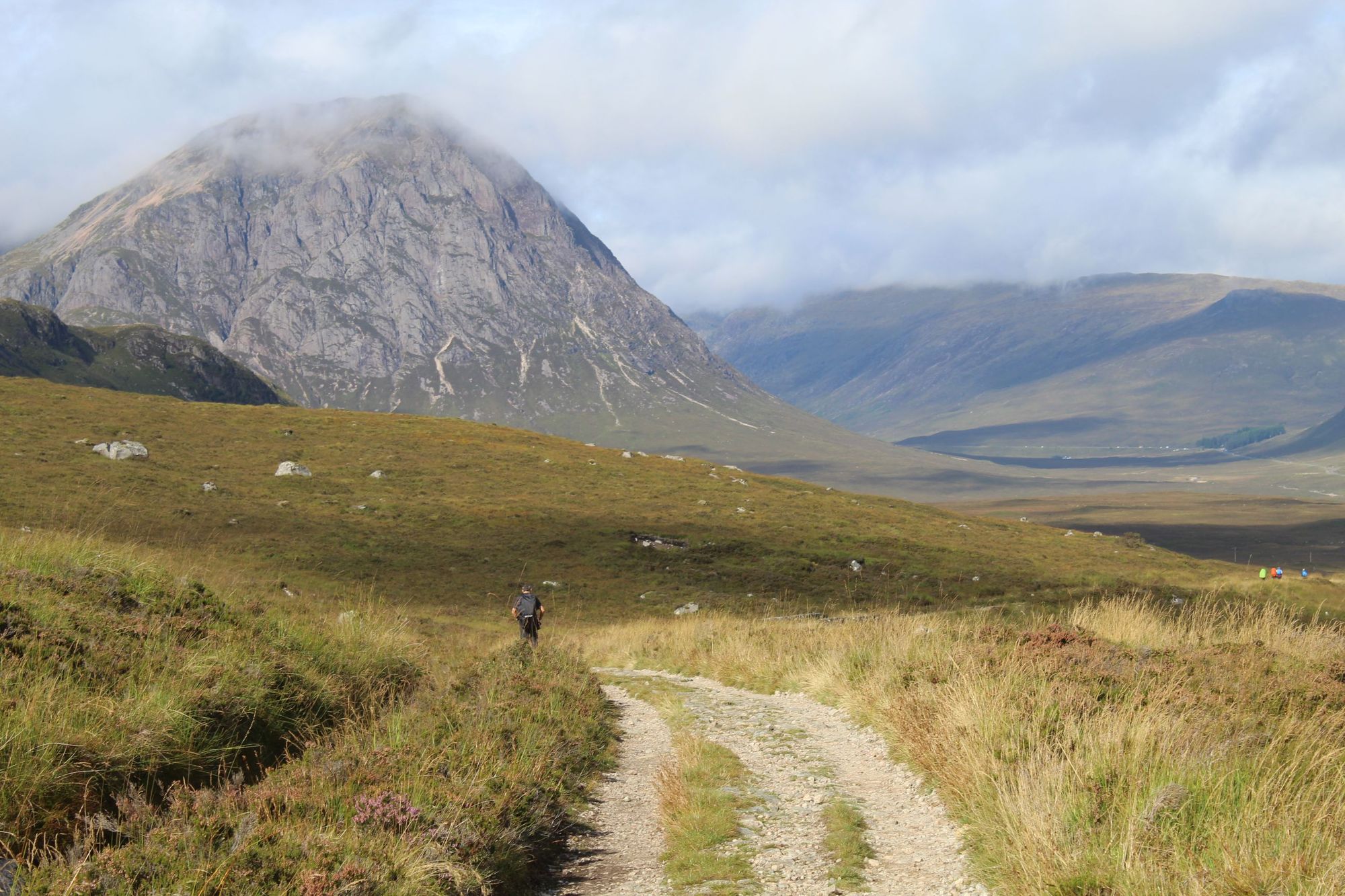 On your descent into the valley, you'll pass Blackrock Cottage. Situated in perfect position in front of Buachaille Etive Mòr, it's often called the most photographed cottage in Britain. It also has a great history. The cottage is owned by Ladies Scottish Climbing Club, founded in 1908 by mountaineering pioneers Jane Inglis Clarke, her daughter Mabel Jeffrey and Lucy Smith, back when the sheer act of women climbing was still a social taboo. It's still used by the club today.
You'll pass the King House Hotel, where you can grab lunch, then head on to the infamous Devil's Staircase. The staircase is a gravel path full of switchbacks which get as steep as a 25% gradient. There's no need to fear it, though. It's a mile and a half long, and when you do get to the top? The views are remarkable. Looking back, you can see all the way out Glencoe and the Rannoch Moor. In front of you is your first view of the Grampian Mountains, home to Ben Nevis.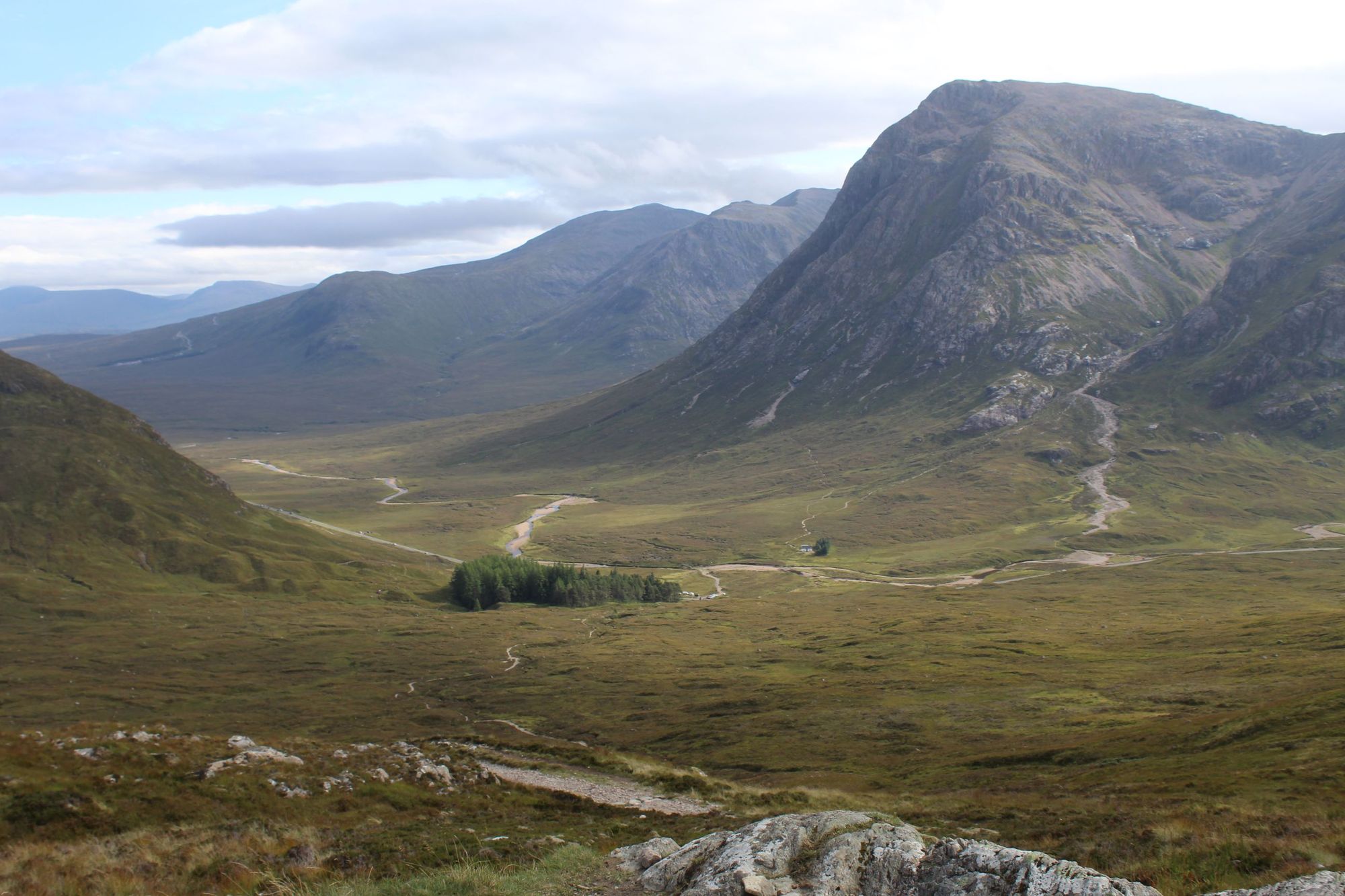 The descent is then scenic up until around mile 17, when you'll hit fire roads then descend steeply. Truth be told, these are a bit of a strain on the knees after such a long day, and can wreak havoc with your leg muscles. Soon enough you'll be down in Kinlochleven though, a small town where there are various accommodation options, from MacDonald Hotel and Cabins to Blackwater Hostel, Glamping and Campsite. Take your pick of Kinlochleven restaurants.
Day 7: Kinlochleven to Fort William (15 miles)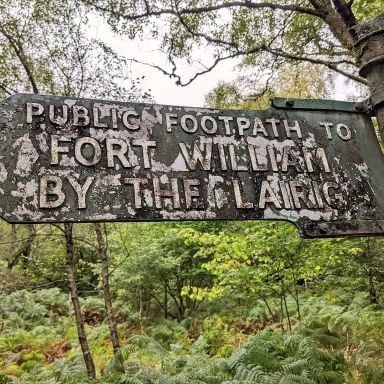 The final day on the West Highland Way is bittersweet. Breathe it in, because you'll miss life on the trail when it's gone. The toughest part of day seven is the steep ascent out of Kinlochleven to start the day. You'll climb a little over 200m in your first mile, and on steep gradients too. When you're up though, you've done the bulk of the climbing for the day, and a beautiful glen path is ahead.
This part of the trail is known as Lairigmor, or the Great Pass, and provides a gentle, rolling hiking trail through dramatic mountains.
Around mile 12, you'll have an optional detour to visit the ancient Iron Age town of Dun Dearduil, on top of a small hill between Blarmachfoldach and Glen Nevis. The detour is a one mile there-and-back route. It's also the high point of the day in terms of altitude if you do visit, taking you up to 398m. It can feel like unnecessary uphill so close to the finish line, but we'd recommend it. It's around 3,000 years old, and the views of Ben Nevis from the top are great.
After this, you'll descend on forestry roads, with Ben Nevis becoming an ever present companion. There will be an option to bail out to the recently-renovated Glen Nevis Youth Hostel, the perfect place to stay if you do plan on taking a route up Ben Nevis. Otherwise it's on to Fort William on a roadside pavement.
You'll pass the old finish line of the West Highland Way next to a roundabout on the way into Fort William. Carry on and you'll find the official finish line in the centre of the bustling outdoor town of Fort William, where there's a bronze statue of a fellow hiker at Gordon Square. Grab a photo at the finish, then head to the Black Isle Brewery for a beer and a pizza, just a few metres behind.
Inspired? Check out our range of trips to Scotland.