The Wainwrights (mountains) are named after Alfred Wainwright (person). He was a British hiker, illustrator, author and is most famous for his guides to the Lakeland Fells. That's "the hills of the Lake District" if you've never heard of a fell. But he didn't choose the peaks in his guidebooks for their height or prominence (like, for example, the Munros of Scotland). He picked his favourites and wrote about them. Instead of making an analytic study of the peaks, he got to walk to his favourite places, write about them and draw them. Good on you Alfred.
Because he was such a trend setter, the mountains in his books became known collectively as Wainwrights, or The Wainwrights. After all, there was nothing really to connect them except that the Wainwright chap thought they were worth walking up. They range from the monsters of Helvellyn and Scafell Pike to nice little lumps like Castle Crag and Latrigg. No one knows quite what he was thinking when he included Mungrisdale Common! (Wainwright himself was far from flattering about it, saying it "has no more pretension to elegance than a pudding that has been sat on"!)
What are Wainwrights?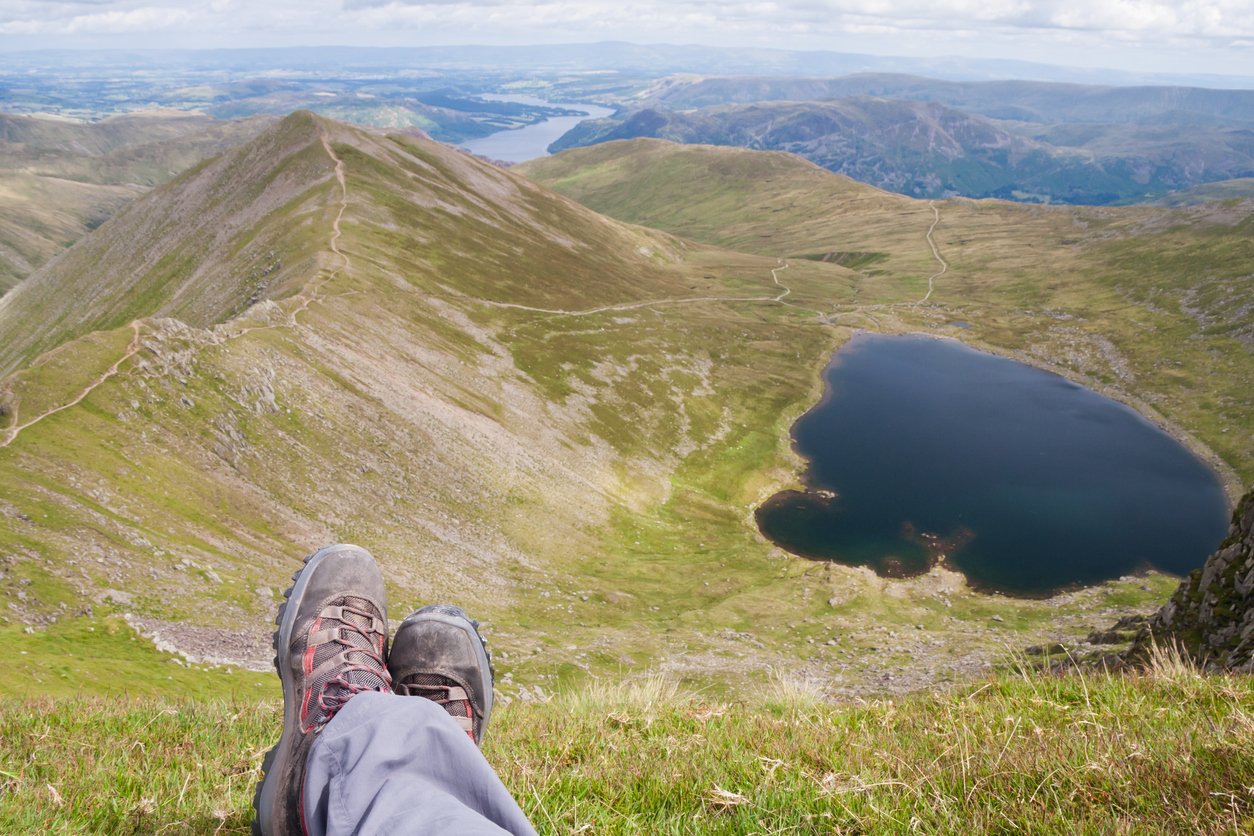 The Wainwrights are a group of 214 fells (hills and mountains) in the Lake District. They are all connected by featuring in Alfred Wainwright's famous guidebooks: A Pictorial Guide to the Lakeland Fells. The guidebooks have been in continuous publication since the first book was released in 1955 (the last was published in 1966 – they took him many years to write) and have sold over two million copies.
Although Alfred Wainwright didn't expect his books to take off in the way they did, he was already a household name by the time the last guidebook went to print. There was a huge surge in recreational hiking going on at the time. Everyone going to the Lake District for hiking would take a look at Wainwright's guidebooks. It's no wonder that the list of fells quickly became a tick-list to achieve.
How do I start Wainwright Bagging?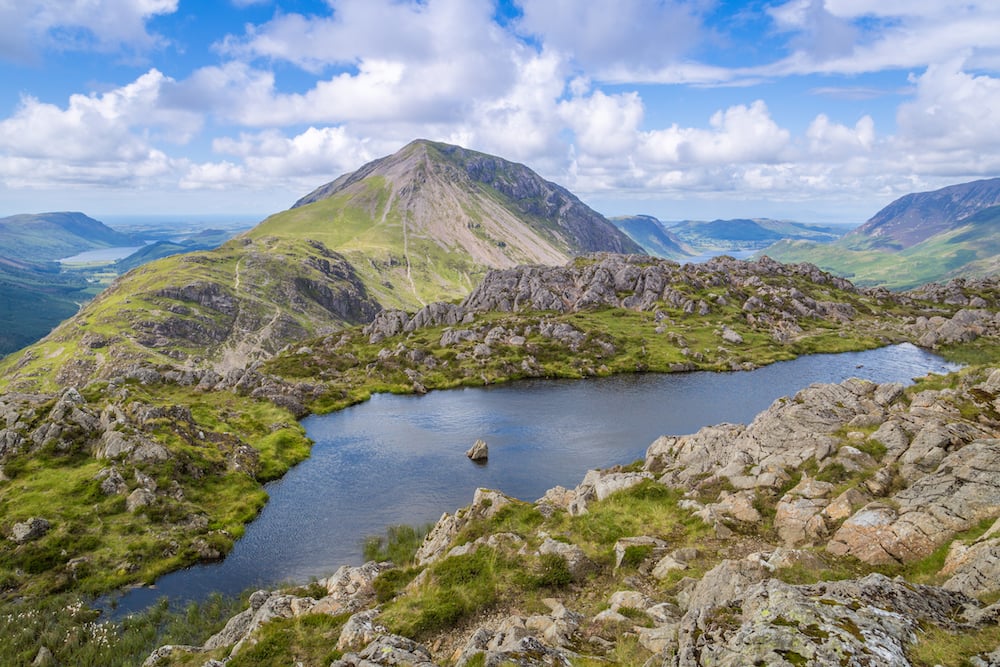 The best way to get started is to find a list of all the Wainwrights. The most satisfying way to do this is to procure a set of Mr Wainwright's beautiful hand-illustrated guidebooks. There are seven books in all, covering different areas (e.g. Central Fells) so you could tackle one book at a time. Although they're very beautiful and they are guidebooks, we don't recommend you going up into the hills with only your trusty Wainwright book as a guide. Maybe get a map and compass for a start. If you're looking for a way to tick off several of these peaks at once, have a peek at our list of adventurous hikes in the Lake District.
A more minimalist approach would be to look at the full list of Wainwrights online. Or get yourself a cool tick-list map where you can colour in or tick off the peaks you've been to. Kind of like those scratch maps of the world, but just for Wainwright bagging purposes. After that, it's up to you to join the dots into walks up the mountains. Wainwright offers you some suggestions in his books about the best routes to take up each mountain. But, ultimately, you're in charge of how you get there. You may find yourself going on obscure hikes to tick off one tiny lump in the far corner of nowhere, that Mr Wainwright liked the look of.
Why do the Wainwrights?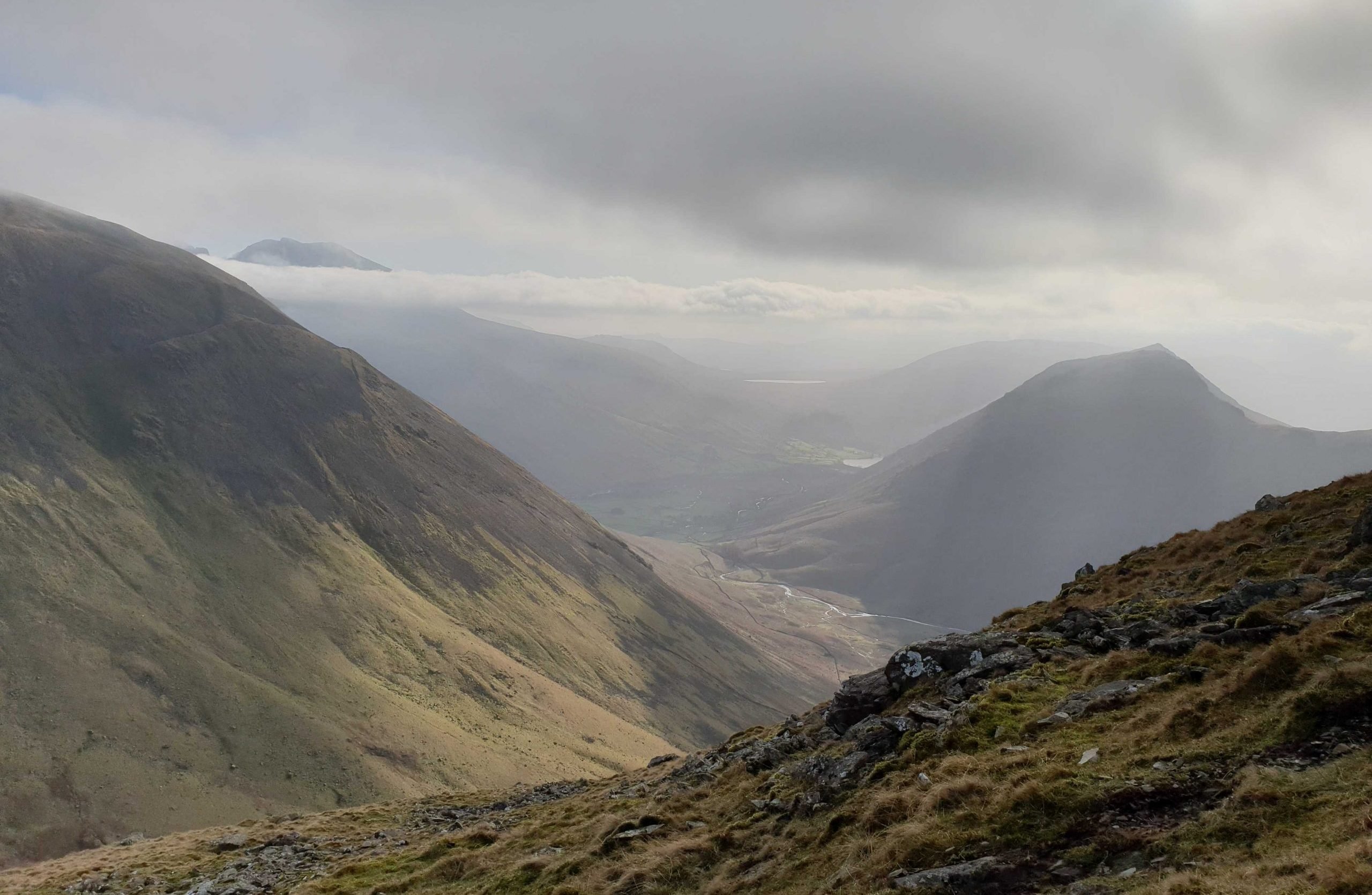 The classic answer of "because they're there" springs to mind. Give a certain sort of person a list of peaks (or indeed a list of anything) and you'll have to physically restrain them from starting to tick them off. If you're new to walking in the Lakes it can be a great motivator and a fun way to get ideas for where to go next. Many of these mountains are the popular highlights of the Lake District.
On the other hand, if the Lake District is starting to feel like old hat, it'll take you out to some mountains and hills far off the beaten track. Places you'd never think to visit unless Mr Wainwright had told you to (have you even heard of Illgill Head?). Like any challenge, it's something to set yourself against – whether you do it over days or years. Be warned: don't necessarily do all the "obvious" ones first. Many Wainwright baggers save one nice and central Wainwright for their final summit. That way you're not having a finishing party on Mungrisdale Common. Unless you are Mungrisdale Common's secret biggest fan!
Who has done all the Wainwrights?
As you'd expect with such a popular challenge, many people have completed all 214 Wainwrights. Many people take years or lifetimes over it. After all, sometimes the adventure is more about the journey than the destination – and once it's done, what will you do next? The Long Distance Walking Association keeps a list of all the people who've completed all the Wainwrights. Of course, these are only the people who've registered that they've done it. We're sure there are more. (But it is interesting to see which peak they chose as their last Wainwright!)
Others gone have gone for speed. In 1985, Alan Heaton decided it would be fun to link all 214 in one go – rather than tackle them book by book. It took him nine days, 16 hours and 42 minutes – starting and finishing in Keswick. That threw down the gauntlet for runners worldwide.
In 1985, local sheep farmer Joss Naylor did it in just over seven days. It wasn't until 2014 that Steve Birkinshaw shaved it down to hours over six days. Everyone was astounded. Then came Paul Tierney. In 2019, he beat Birkinshaw's record by some seven hours, leaving the Wainwright record to stand at six days, 6 hours and 5 minutes. In June 2021, Sabrina Verjee then completed the challenge in five days, 23 hours, 49 minutes and 12 seconds - the time that remains to this day.
Inspired to give some Wainwrights a crack, or just get hiking in the Lake District? Check out our multi-adventure Lake District Challenge or hiking holidays in the UK.