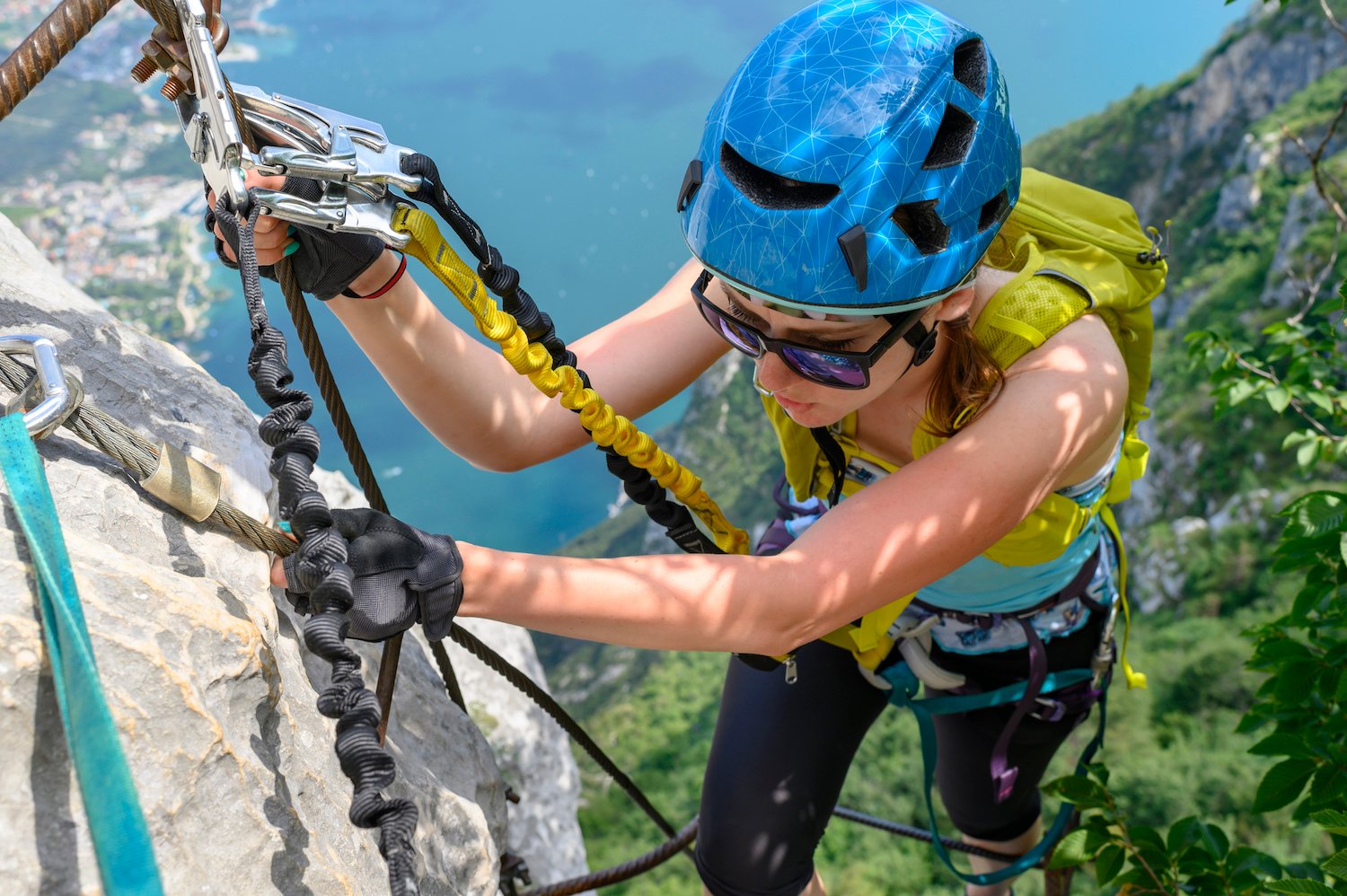 With all the thrill of rock climbing, but requiring minimal gear, via ferrata is a fun way to reach previously inaccessibly peaks. We're assuming you've got a basic understanding of that, or you wouldn't be here! (If not, check out What is Via Ferrata? and then come right back.) There are essentially two types of via ferrata. The first type is those that are essentially for "sport": there's another, much easier way to get to the top of this thing but we're going to take the exciting route. The second type is using the fixed via ferrata cables as a way to getting from one place to another most directly, without dying.
Via ferrata is growing in popularity and there are routes all over Europe. We've tried to find you a good selection, but even this doesn't really cover it. You'll find excellent routes across Italy, France, Spain, Switzerland, Austria… basically anywhere with a cliff or rock face. The options are endless.
6 of the Best Via Ferrata to Climb in Europe
1. Mount Triglav, Slovenia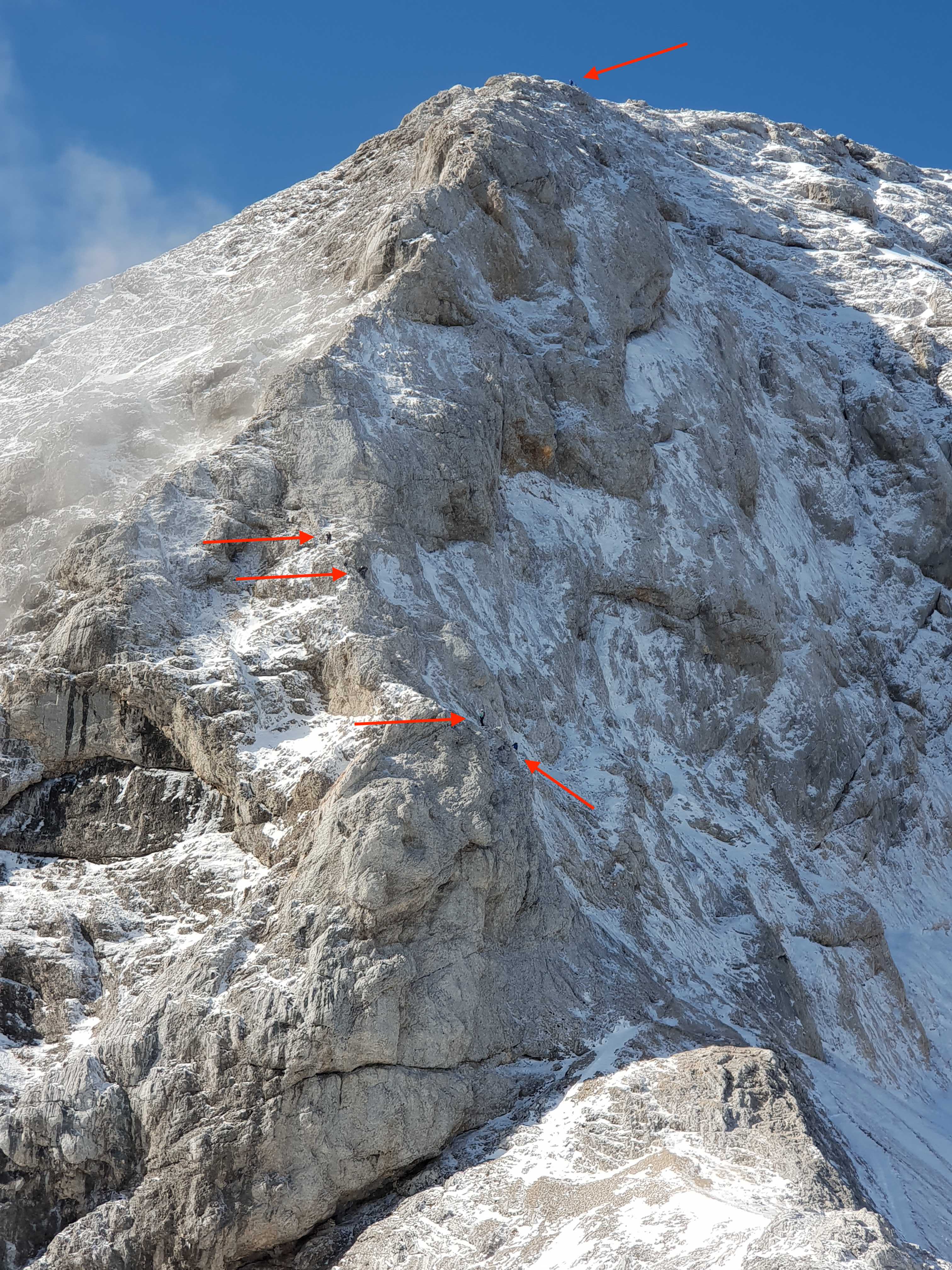 Location: Julian Alps, Slovenia
Type: Ascent of Mountain
Start Point: Kredarica Hut
Entrance Fee: No
The Julian Alps are a bit of a via ferrata playground in the summer. In fact it feels very much like the Slovenes have decided they want to put a path from A to B, they damn well will. Who cares if your intended route happens to go over a cliff or terrain that is too steep and exposed to walk along. No problem, just throw in some bolts and metal railings. There are a vast number of interesting via ferrata routes (like Razor or the Tominšek Route), but if we had to pick out just one it needs to be Triglav. After all, there is no other way to climb the highest peak in the country.
The route starts from Kredarica Hut in the shadow of Mount Triglav. Do not be fooled by that short sentence. It will take you a good day, at least, to hike to that hut. You could probably cut some corners by driving down a nearby valley, but many people stay overnight in the hut either before or after their climb of Triglav. The route itself is not very long and can be completed in a couple of hours – but it is very committing. There is no hiking path down off Triglav, so you have to be able to down-climb everything you've ascended.
This via ferrata is really about getting to the summit. There are no bells and whistles, but you do get access to an incredible steep ridgeline that would otherwise be only in the realm of rock climbers. The route starts gently from Kredarica Hut, but then kicks sharply upwards until you reach the top of Little Triglav, via metal pitons and rungs. After this, you are treated to a walk along a pleasant knife-edge ridgeline and a final push up to the top of Triglav.
2. Baus de la Frema Via Ferrata, France
Location: Maritime Alps, France
Type: Ascent of mountain
Start Point: La Colmaine
Entrance Fee: Yes
Let me tell you a little story. Once upon a time there was a group of university students celebrating their newly-graduated freedom in the Maritime Alps. They decided to go in the beginning of September, because it was less expensive. They discovered that the reason everything was less expensive was because everything was also shut. Even the via ferrata route was shut on the first day because of a thunderstorm.
You may be wondering exactly how you can shut off a via ferrata route on a mountain. It's true, there isn't a large fence and a ticket booth around the Baus de la Frema route. But there is a ticket booth in the tourist office at La Colmaine and at the via ferrata carpark in the summer. Think of it as a bit like a piece of National Trust wilderness land: it's probably quite possible not to pay, but your payment goes towards the upkeep of the land… and in this case the wires you're trusting your life with.
There are several highlights to this via ferrata. At the bottom, there is a long wire bridge between two pinnacles of rock, just to get you warmed up. Then the climb becomes fairly vertical and exposed quickly. You'll spend a lot of time on metal rungs, climbing up the rock face of the mountain with a dizzying drop beneath you. This is fairly easy to ignore until you reach the two-wire bridge (one for your feet, one for your hands) that forces you to face outwards at the view… Oh and did we mention that the bridge swings?
After that, there are more vertical and overhanging wire rungs, plus some fun and scrambly ridge routes as you reach the top of the mountain. You'll top out at the summit of Baus de la Frema (2246 m) to be greeted, hopefully, by a 360 degree view. There's often a couple of wine glasses hidden under the trig point because, well, when in France…
3. Pădurea Craiului, Romania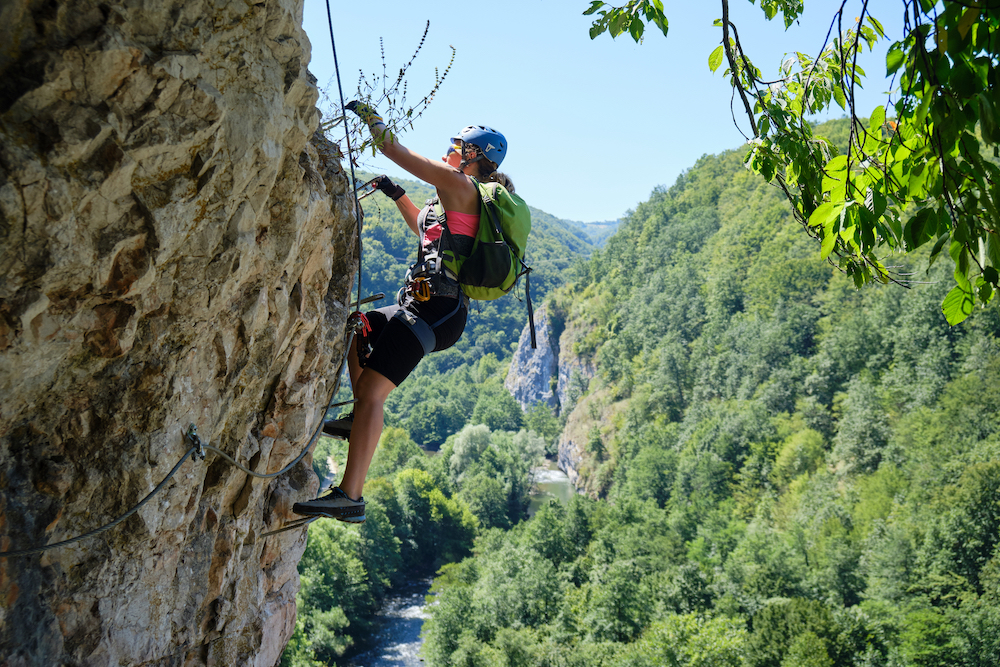 Location: Pădurea Craiului, Romania
Type: Ascent of Gorge
Start Point: Vadu Crisului
Entrance Fee: Yes for Montana Land, others free
There are actually three via ferrata routes very close together in the Crisul Repede Gorge: "Montana Land", "Mocaniţa" on the Fairy Wall and "Casa Zmeului". The Zmeu is a Romanian dragon who appears fairly often in local folklore. There's a bit of a theme going on there… perhaps we should do more investigation about how Montana fits into the folklore scene.
All three via ferrata are fairly short and can easily be completed in a few hours, including the walk in from the nearby carpark. All the routes finish at the top of the gorge and you will walk back down to the car park to finish. Casa Zmeului is the more difficult of the three routes and has long vertical sections of metal rungs to climb. Plus a long footbridge with wooden planks and a small cave with swing chairs inside – like the kind you hang from a porch. Very luxurious for a via ferrata!
4. Innsbruck Skyline, Austria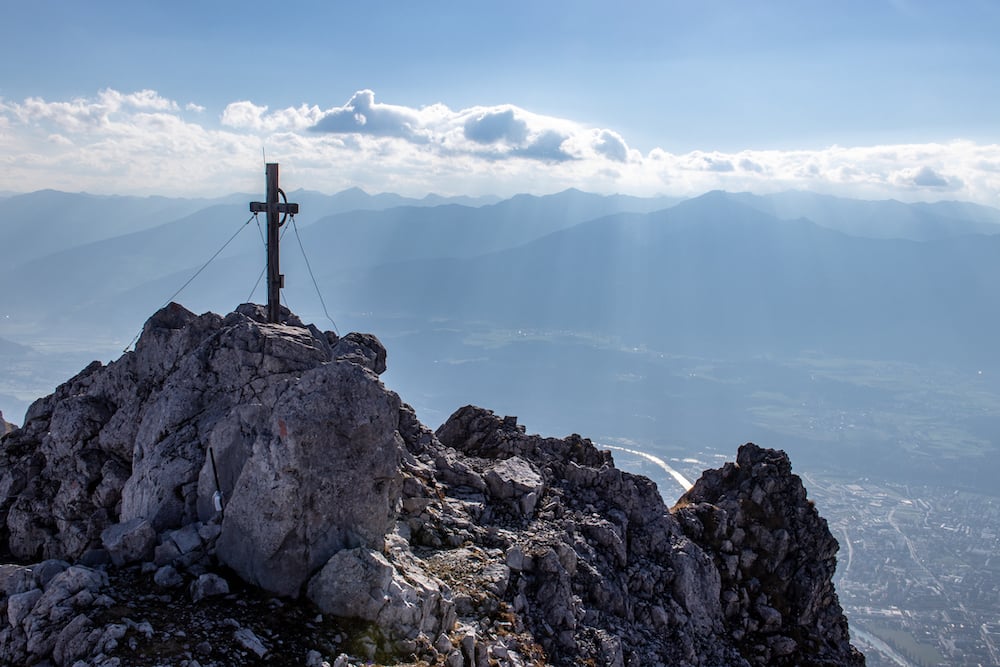 Location: Innsbruck, Austria
Type: Ridgeline
Start Point: Hafelekarbahn Gondola Station, Nordkette
Entrance Fee: No (but take money for the gondola)
This is a very straightforward via ferrata as they come. But what it doesn't have in technicality, it more than makes up for in great views. You will spend the entire journey across the mountain ridge overlooking Innsbruck on your left – and, of course, the mountains upon mountains behind it. This is the perfect way to spend a day if you've run out of sight-seeing in Innsbruck or cooling down after an alpine tour before your trip home.
Access to the start of the via ferrata is very easy. You can catch the mountain gondola direct from Innsbruck centre to within a few hundred metres of the start of the route. In high season, it is well worth getting up for the first gondola to try to get the mountain to yourself. There's no denying it's a popular via ferrata route and you don't want to get stuck in a midday queue.
The route starts off steeply, with metal rungs, to get to the top of the ridgeline. You'll then continue along undulating paths over the crest of the mountains. There are no high adrenaline additions, although there is one small footbridge – that looks like the stuff of nursery playparks compared to some of the other bridges in this article! In true alpine style, the metal wires holding up the summit cross are just an extension of the wires you've been clipping into all day.
The route drops down to a mountain pass at the end of the first section, allowing you the chance to take a left turn on the contour path back to the gondola station. Alternatively, if you have time, you can continue onto the second section for more via ferrata fun.
5. Daubenhorn Via Ferrata, Leukerbad, Switzerland
Location: Leukerbad, Switzerland
Type: Ascent of Mountain
Start Point: Daubenhorn Cable Car station
Entrance Fee: No (but take money for the cable car)
Okay, now we're heading in the direction of extreme… This via ferrata is not for the faint hearted. Or, to be honest, for a beginner. The Daubenhorn via ferrata is Switzerland's longest via ferrata route, at a hefty 9km, and is classified "K5 Extremely Difficult". What makes it even more extreme is that, after some eight hours of climbing, you reach the summit of Daubenhorn (2,941m) … and then have to get back down again! If you are a fan of really early starts or having late night epics in the mountains, then this might be one for you. Either way, keep reading.
At least you don't have to climb the whole mountain from sea level. You can catch a cable car from the town of Leukerbad up to about 2400m, then walk downhill a few hundred metres to reach the start of the via ferrata. Alternatively, if you're a glutton for punishment, there's a path from Leukerbad straight up to the via ferrata. Your choice.
The best way to give you a sense of the epic-ness of this route is probably for you to watch some of that video up top. It starts getting going at about 1:24 (and that's already after a long traverse section of via ferrata, before you start heading up). You think you've seen a ladder? Well no, Daubenhorn is about to prove you wrong. There are more than 2000m of steel cables, 12 steel ladders with a total length of 216m and a 30m rope bridge.
To top it off, you have to cross a glacier in order to get back down the mountain again. Geesh Switzerland!
6. Feliz Navidad Via Ferrata, Spain
Location: Catalonia, Spain
Type: Completely bonkers
Start Point: Àger, Lleida
Entrance Fee: None
We didn't think we could outdo Switerland's longest via ferrata. And then we saw this route, the cheerily named "Feliz Navidad" (Merry Christmas) in Catalonia, Spain. We're guessing they mean "Merry Christmas" in the way you might say this, smiling knowingly and evilly as you hand something to a friend. It is graded K6 and that's as high as they go: 110m of pure insanity.
We're not going to tell you anything more about this, because we'd rather not encourage you. But if you want to scare yourself witless… skip to 15:29 on the video.
Did you scare yourself witless? Check out our trips which involve some via ferrata like climbing Mount Triglav or Adventure Hiking in Romania. Otherwise, there's a whole host of other adventure holidays to discover that don't involve large drops!