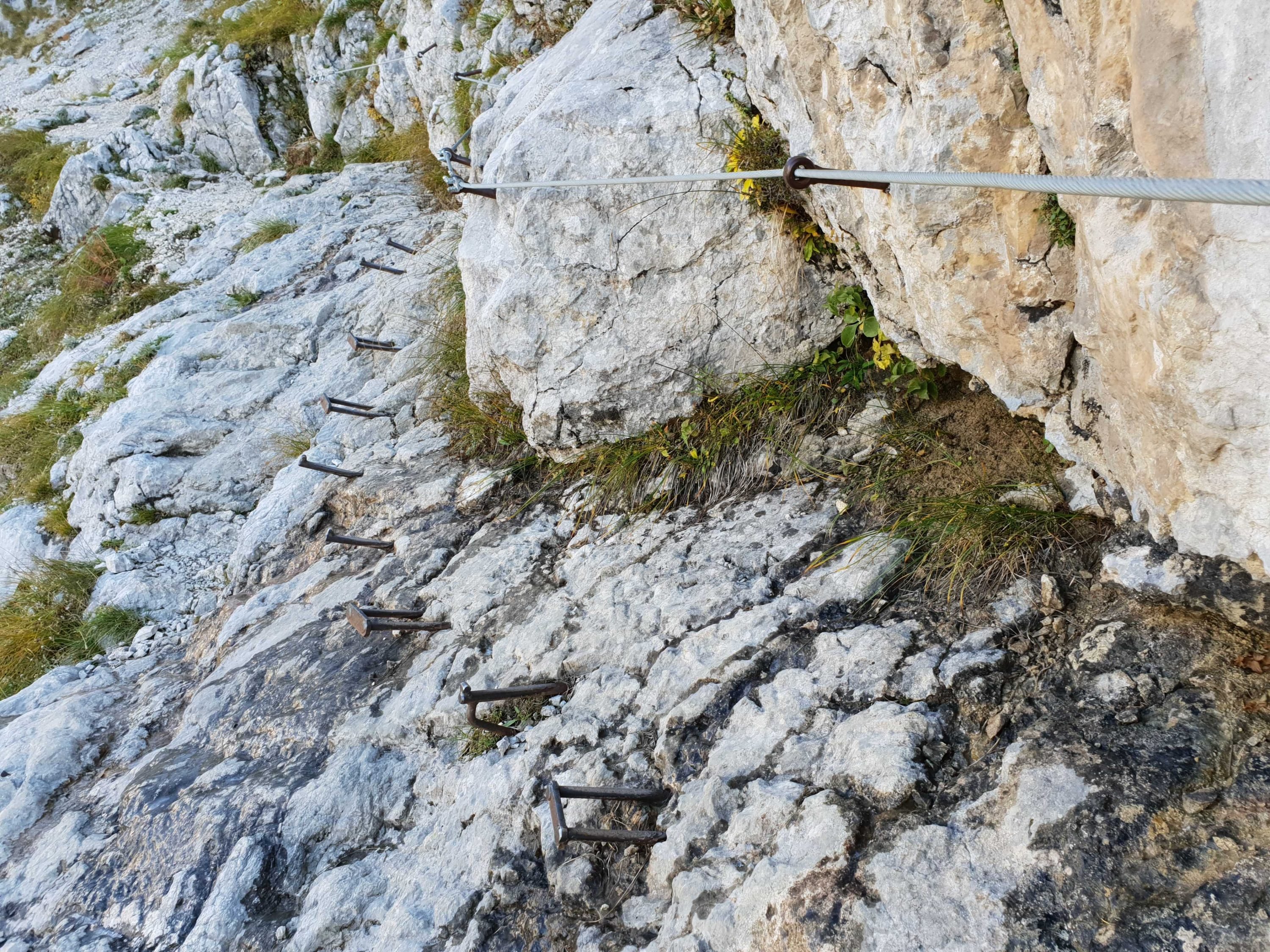 Via ferrata is a mountain activity somewhere between scrambling and rock climbing. A via ferrata route is characterised by a metal rail bolted into the mountain, that you clip into and use as a safety line for the duration of the route. We'll get into exactly what we mean by that in a minute, but that's the basic idea.
Via ferrata means "iron way" in Italian, hence the metal cables, iron pins and foot holds. They are very popular in Europe and are common features across the mountains of Italy, France, Slovenia and Austria (where it's called klettersteig) – to name a few. The Italian Dolomites claim to have the first ever via ferrata route, installed on the mountain in 1880 by local mountain guides to help their clients make an ascent. These types of paths were also used in WW1 as a way to move troops around the borders of Austria and Italy.
There are only a couple of via ferrata routes in the UK, but they're growing in popularity. They tend to be privately owned and maintained, because we have a very conservative attitude to adding man-made structures to our mountains. In Europe, the via ferrata routes are either privately owned or maintained by local mountaineering clubs.
What to Expect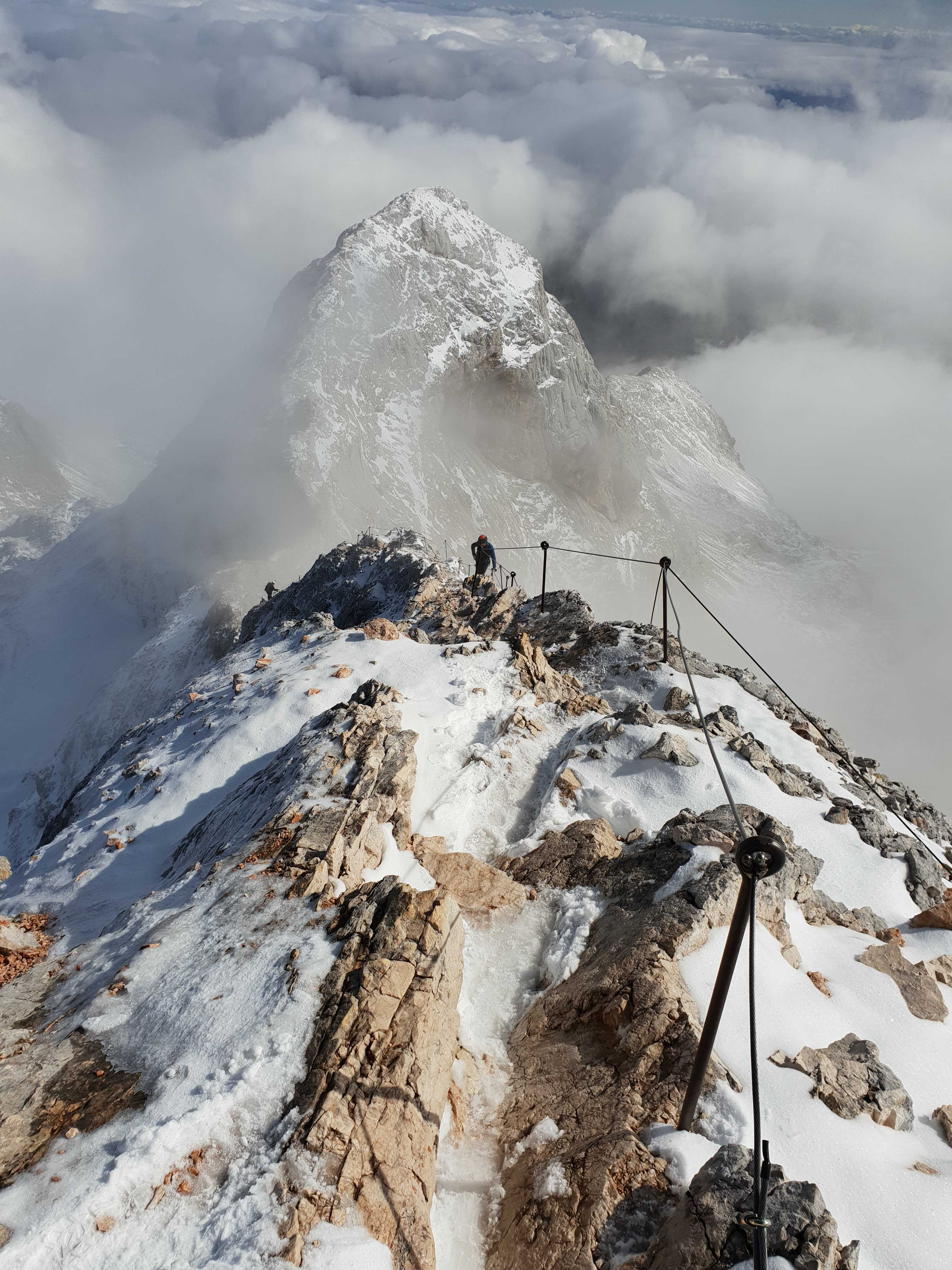 Like we said, via ferrata falls somewhere between scrambling and rock climbing on the "ways to get up a mountain" scale. They can be anything from horizontal to vertical – and all angles in between. Typically, you will be traversing a ridge, around a mountain or climbing a peak. A via ferrata route has more protection than a scrambling route (in scrambling if you fall there's nothing to catch you), but is quicker and easier than rock climbing (you don't need to place lots of gear or use a rope).
There are two main types of via ferrata:
Routes that are just for fun. There is another, easier route to get from the start to the finish of the via ferrata. For example, the via ferrata in Honister Slate Mine could easily be walked around if you were just trying to get up Fleetwith Pike.
Routes that make the only way from A to B accessible. It is the only way to get there without rock climbing equipment and the via ferrata has been added to make it safer for non-climbers. For example, the summit of Triglav can only be reached this way.
In general, the first feels more like having a play in a mountain gym of wires, ladders and metal spikes. The second feels more like part of a bigger expedition and the via ferrata is almost incidental. It's great fun, but you have to do it to get where you need to go.
Do I need extra kit to do via ferrata?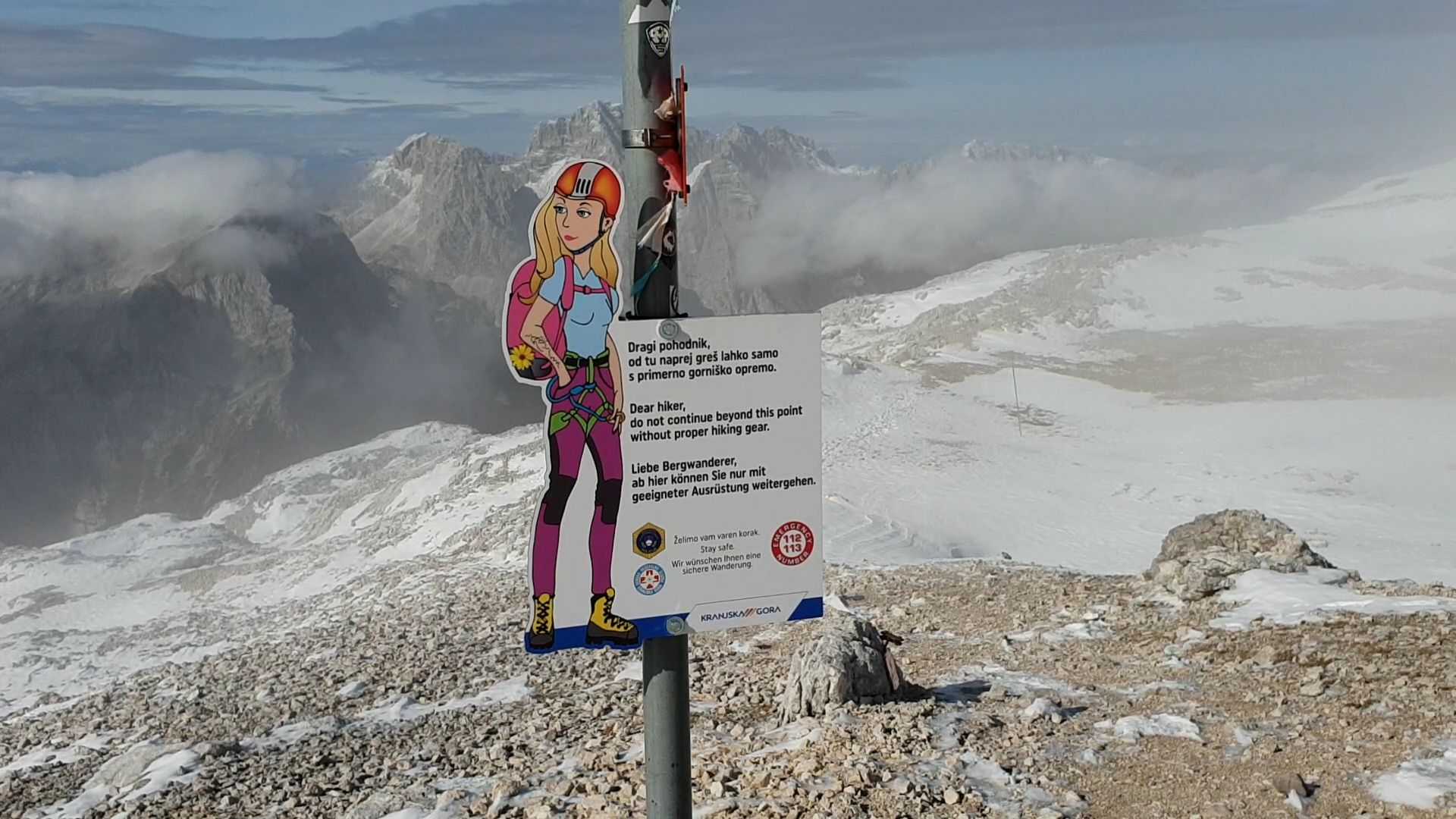 Yes, you do need extra kit. Although if you are going on a guided via ferrata trip, you can expect the extra kit to be provided. Less for you to squeeze into your luggage! There are three key items that you need to be able to do via ferrata.
Helmet: this should be a rock climbing helmet, worn to protect your head from rocks if you fall – or on occasion from rocks falling on you.
Harness: again a standard rock climbing harness. There's not much more to say about it!
Via Ferrata lanyard: this is the special bit. The lanyard is basically two karabiners on the end of stretchy leashes, attached together in a Y shape. You clip the karabiners onto the metal wire as you go. The other end of the lanyard contains a shock absorber, just in case you fall, and is attached to your harness.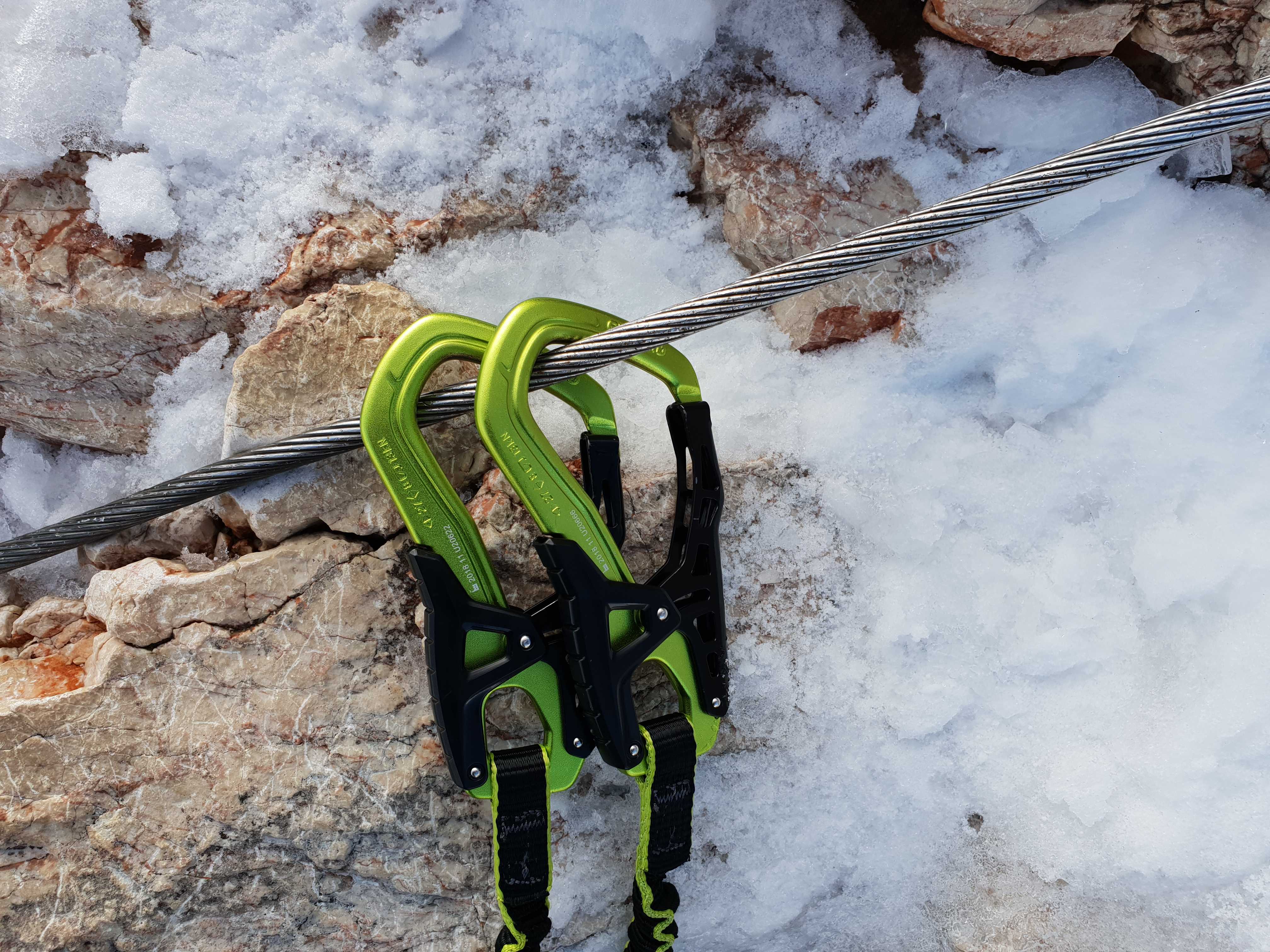 You might also like to bring some gloves (or fingerless gloves in summer) to protect your hands from the metal wire. It's a pretty thick wire, so you won't get cut or anything, but it can make your hands hurt after long sessions.
Do I need any previous experience?
The beauty of via ferrata is that you don't need any previous experience to give it a go. What you do generally need is a good head for heights, or a willingness to try more exposed edges than a usual mountain hike. To see what we mean by this, take a look at the photo of the via ferrata route up Triglav in Slovenia. The red arrows mark people.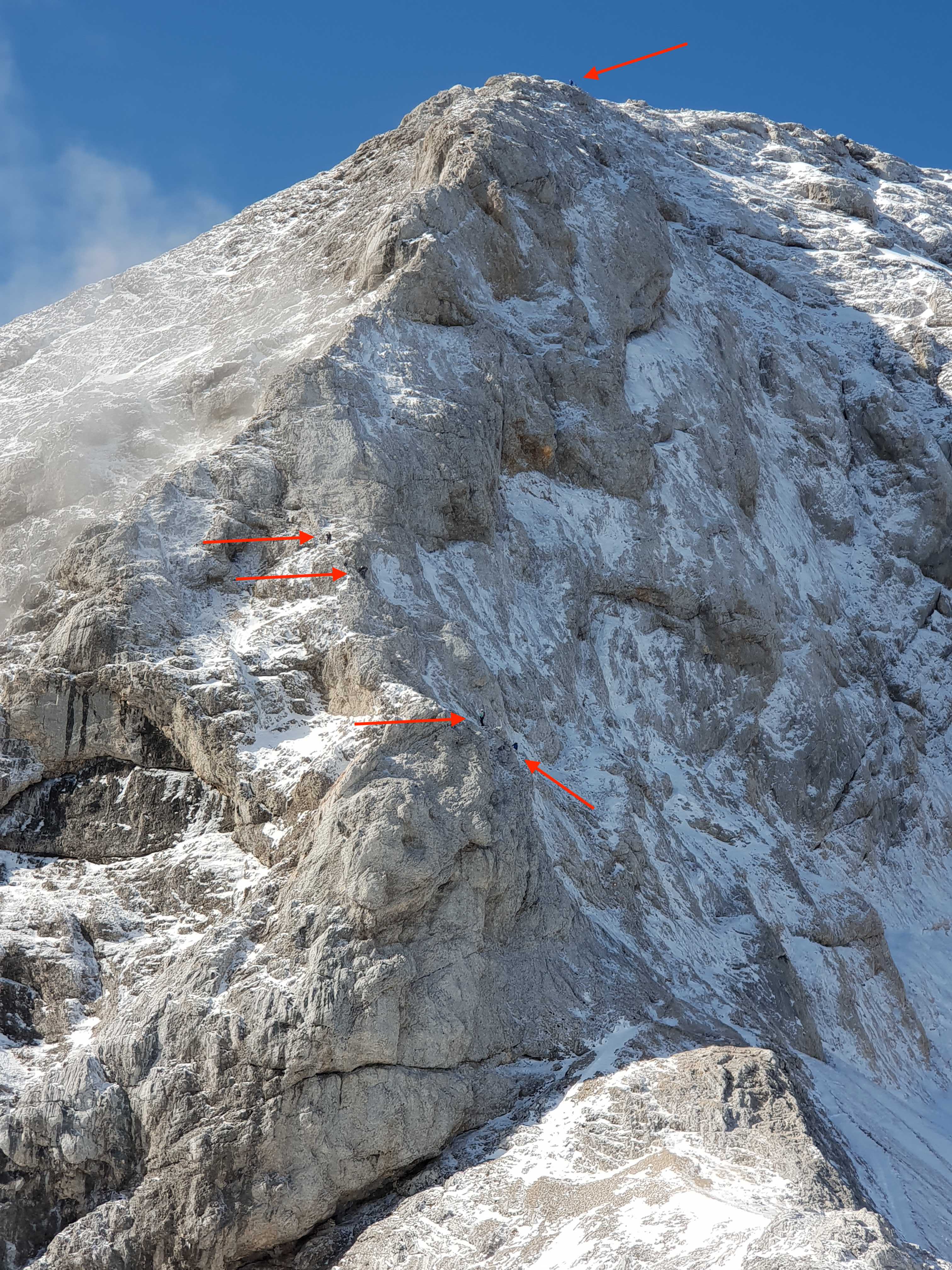 That's the kind of scale we're talking. If you didn't know the people were there, you might think that route was impassible. Actually it's very achievable with the right kit and conditions. If looking at the picture makes you feel excited – great! If it makes you feel slightly terrified, then maybe it's worth spending some more time in the mountains as preparation. Any experience you have moving on rock or dealing with heights will certainly help. But it's certainly not technical, so very do-able if you can keep your monkey brain bottled!
Is via ferrata safe?
Nothing in the mountains is completely safe. Except perhaps sitting in a mountain hut drinking schnapps… oh wait, maybe that's not 100% safe either! Via ferrata gives you an extra level of protection on rock faces and mountain edges that are steeper and more exposed than you'd usually want to go on as a hiker. The infrastructure is already there and you just have to turn up with your kit. You do not have to use the metal cables, but clipping into them certainly makes it safer than not using any protection.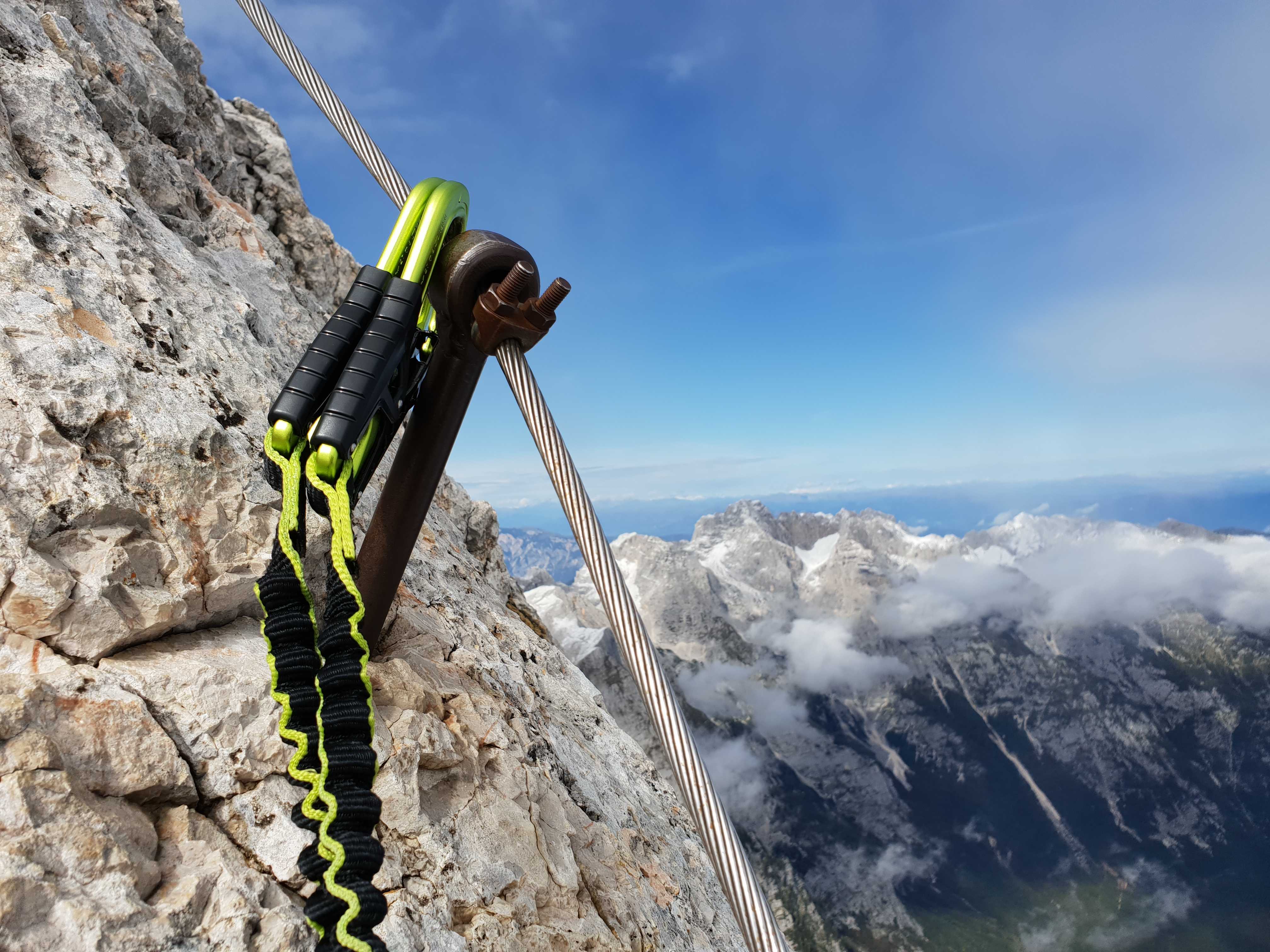 It is not, however, a complete blanket of cotton wool. If for some reason you do slip and fall, your karabiners will slide back down the metal cable until the next attachment point before your shock absorber kicks in. If you're near the top of a section, that can be quite a long way! On the other hand, you're far less likely to fall. You need to use your hands, but not to the vertical extent of climbing. The thrill is generally from the exposure. A tingle of risk and wonderful views – just don't take too much for granted and you'll be alright.
Is it safer than taking a rope and rock climbing gear to place your own protection? Who knows. Both have their risks. Via ferrata routes are well used and maintained by other people, for example, so that could make them seem more trustworthy or less – depending on your personality! The metal spikes can pop out if they are stuck by lightning, but you'll notice this before you try to clip into the affected wire. Well used routes are usually fixed very quickly.
By the way, a via ferrata route is the last place you want to be in a lightning storm! Always check the weather. And, as with anything, if you're not confident consider going with a guide first to ease yourself into the via ferrata world.
Excited to test yourself on a via ferrata adventure holiday in the near future? Check out the ascent of Mount Triglav in Slovenia.