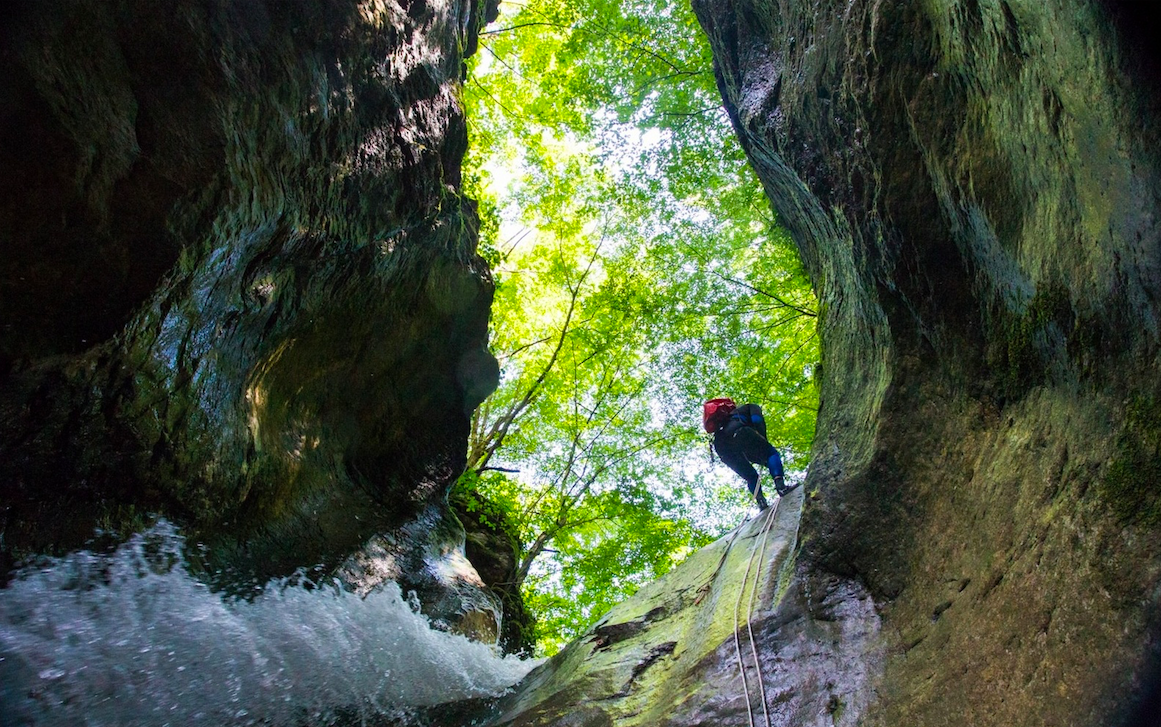 Canyoning is an adventure and exploration sport where participants climb into a wetsuit and get themselves down a river, gorge or – you guessed it – canyon. It involves using a variety of techniques ranging from walking, jumping and scrambling to abseiling and rock climbing. Canyoning in itself is a bit of a multi-sport adventure.
If you've not done it before, the whole process can be a little daunting. But the good thing about canyoning is that it can often be as relaxing or as intense and adrenaline-fuelled as you want it to be. There are different routes depending on ability and confidence. Even within the same canyon there are often different options and a variety of ways back down.
At it's best, canyoning isn't just an adrenaline hit, it's an inimitable and intimate way to explore and enjoy beautiful natural spaces in a manner that's otherwise simply not possible.
Here are a few things that you'll learn on your first canyoning trip, with the add-ins of a few epic places and ways to try it out.
1. You'll hate your wetsuit… until you've actually started canyoning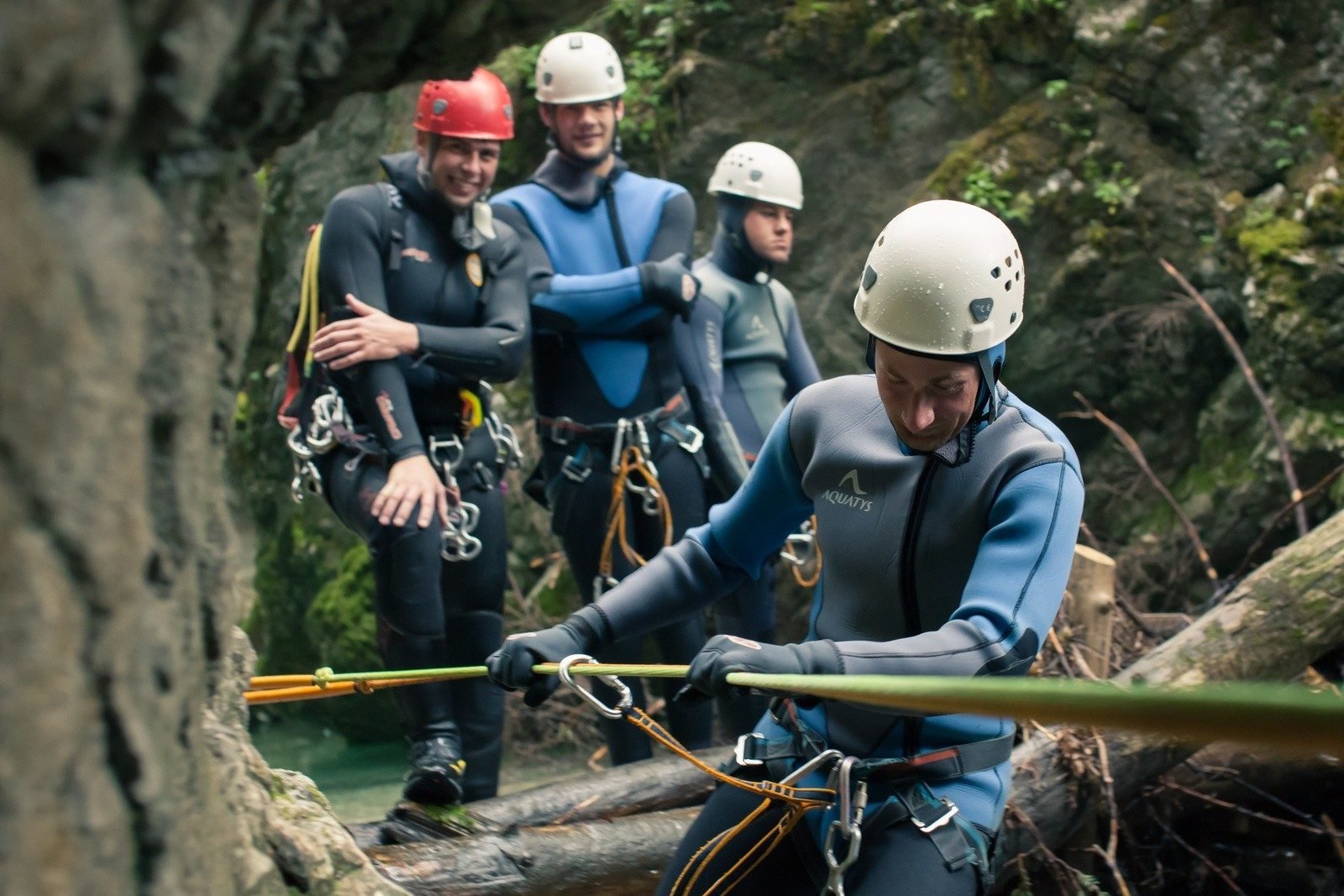 One of the first things that will happen on any guided canyoning trip is that you'll get your canyoning gear. Next, the guide will give you a few safety lessons and some information about your harness, then it's into the wetsuit and off to the canyon.
The walk to the start of a canyon can be anywhere between 10-30 minutes long. Possibly even longer, depending on how accessible the source, or wherever you're starting is. After all, you've got to hike pretty high if you're going to reach a canyon you'll be able to jump and slide down for an hour or more. So… the hike is going to be uphill. You're going to be warm in your wetsuit. Really warm. Especially if you're in a warm-weather country in summer.
You're going to probably start cursing your wetsuit, and start producing more beads of sweat than your local charity shop has copies of FIFA 2014. But just you wait.
Once you get into the canyon and into the chilly water – even in warm countries canyon water tends to be cold since it's normally sheltered by large canyon walls (which make the experience all the more stunning!)  – the wetsuit will become your new best friend.
You might be a little warm on the way up, but it's all worth it. And fear not, you should be the perfect temperature for the remainder of your trip down the canyon.
2. Canyoning is not too kind to footwear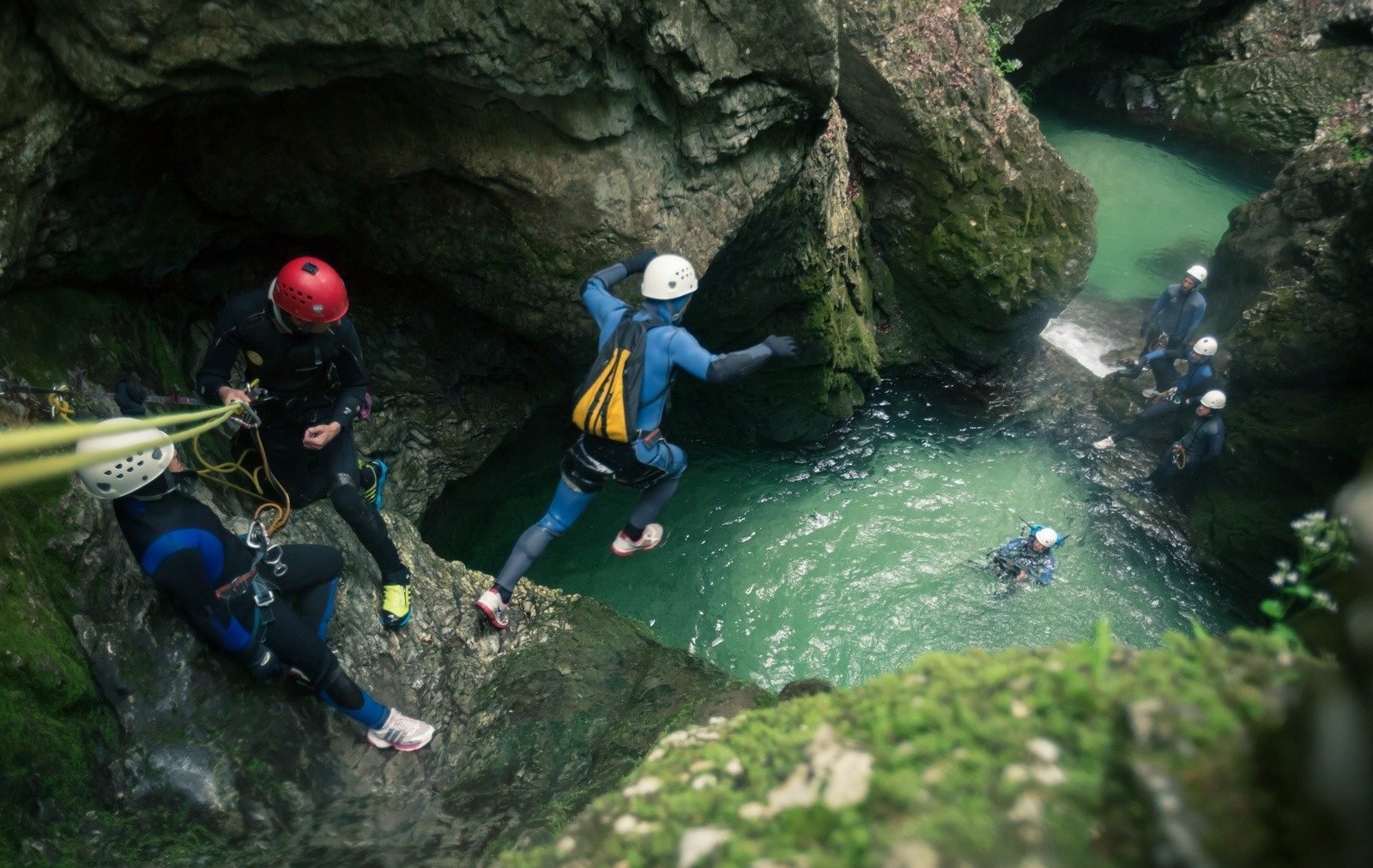 You're going out to the wild! Maybe you've bought an awesome new pair of trainers or even hiking boots for doing so? Yeah don't wear them. Sorry. We've only got your own best interests at heart. Canyoning is unlikely to leave your footwear in a particularly pleasant state.
Don't get us wrong, your shoes won't be destroyed when you come out the canyon, but it will be very, very wet, and it's likely your shoes will have taken a few scrapes from all those rocks that you'll be climbing over too, so don't wear footwear that you want to keep peachy.
You can actually get purpose-built canyoning shoes online, made with grip, fit and waterproofing in mind. Some canyoning companies include shoes or wetsuit boots as part of the provided-equipment (check in advance), but if not, try and take a pair of old trainers that you don't mind getting a bit messed up.
3. You'll be able to handle more than you think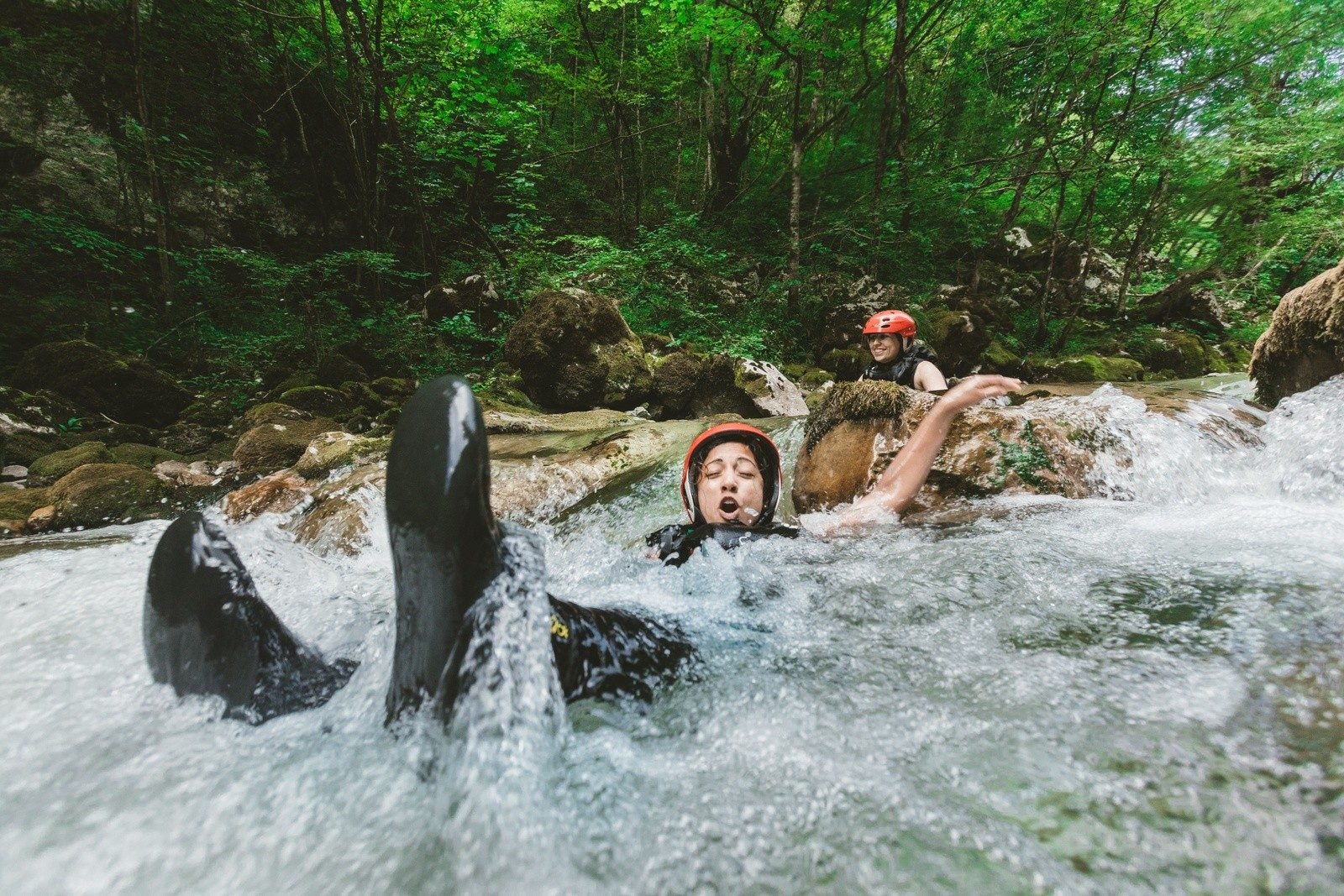 Let's say you've got a fear of heights or you've never been in a canyon before. Maybe you're a bit unsure of yourself. Especially on top of big rocks. Well, there's every chance that by the end of the day, you'll be jumping several metres into deep pools of water with a huge smile on your face. Willingly and all.
The best canyoning guides are not only incredibly well versed in their practice, but they're real reassuring too. They'll help you find your comfort level, help you through the whole day and take  you step by step through all the essentials. They'll not only tell you where to jump or where to abseil, but show you how, and explain why it's perfectly safe.
Throughout the course of the day you'll be faced with scrambles, slippy rocks, abseils, and jump into pools of water surrounded by scenery untouched by human hands. The more you do it, the more you'll grow in confidence. And the more you'll love doing it.
Canyoning is a great way to push your limits and go even just that little bit further than you thought you were capable of. Then you can go even bigger next time around!
4. … But if you can't, you can still go canyoning!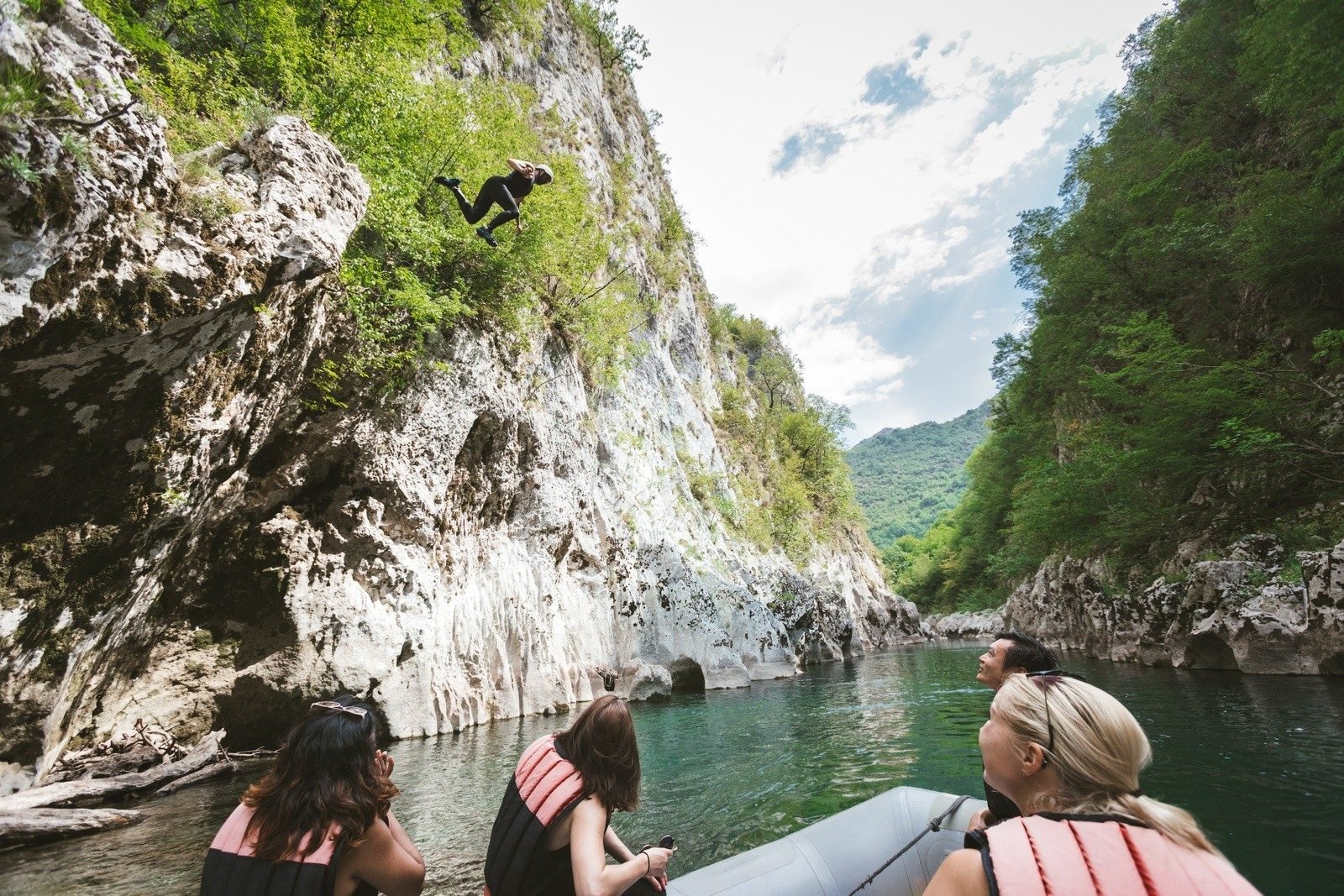 When canyoning first became an adventure sport about 15-20 years ago it was mainly something that you would do on a stag or hen do. It was a one-off experience to get an adrenaline rush, have a bit of fun and jump off big things in front of your friends.
These days, canyoning has expanded. It's a fully fledged exploration sport in its own right. This also means that it has grown. The training and guides have gotten better. The equipment and routing has gotten better. It really is open to everyone now.
You can go as full-on or as tame as you want in a lot of canyons, or at least, with a lot of providers. Most providers offer beginners canyoning as well as more intermediate and advanced levels. If you choose beginner, you won't have to do huge jumps, and on some intermediate canyoning experiences – though check with the provider first if you are nervous about this – an alternative to any particularly big jumps will be provided through an abseil or through an alternative route you can climb down.
5. Rivers and forests have built-in waterslides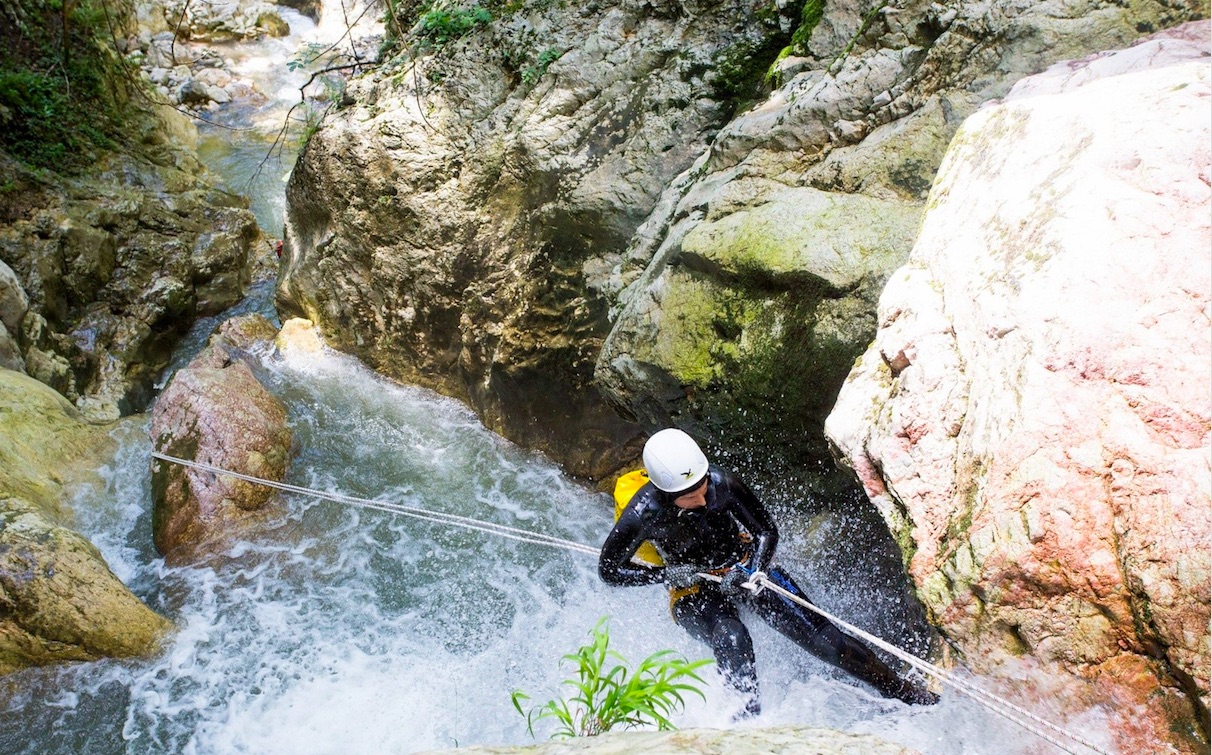 One of the best parts of canyoning is getting up close and personal with natural wonders you can normally only appreciate from afar. The likes of waterfalls, which you get to abseil down, and dreamily-coloured pools of water which you get to jump into and swim in.
One of our favourite parts though are the natural water slides that you'll find in canyons. Slippery rocks that the guides know like the back of their hand and naturally-formed chutes that they lead into which drop you off in a pool of water. These sound almost too good to be true but they're commonplace in canyoning.
"Just get on your bum and slide on down," is one of the greatest commands you will hear from a canyoning instructor.
6. Rope skills aren't so tough
If you're canyoning for the first time, there's a good chance it'll also be your first experience of abseiling or repelling as well. Rejoice! There is no time you will be closer to fulfilling your childhood ambition of eventually becoming James Bond.
Abseiling is something that can look very ominous. You're going from one very high place to one significantly lower place, through the air, attached to only a rope – but not only is it incredibly safe (assuming you're with a trained professional and have all the gear), it's incredibly fun too. The best guides will teach you all about abseiling as you do it and as you travel through the canyon as well, so not only will you get your first abseiling experience, there's a good chance you'll leave with some reusable rope skills as well. The more you come back, the more you can built those up. We also have a full abseiling guide for beginners, which is well worth a read if you're curious before you go.
7. Canyoning is ridiculously fun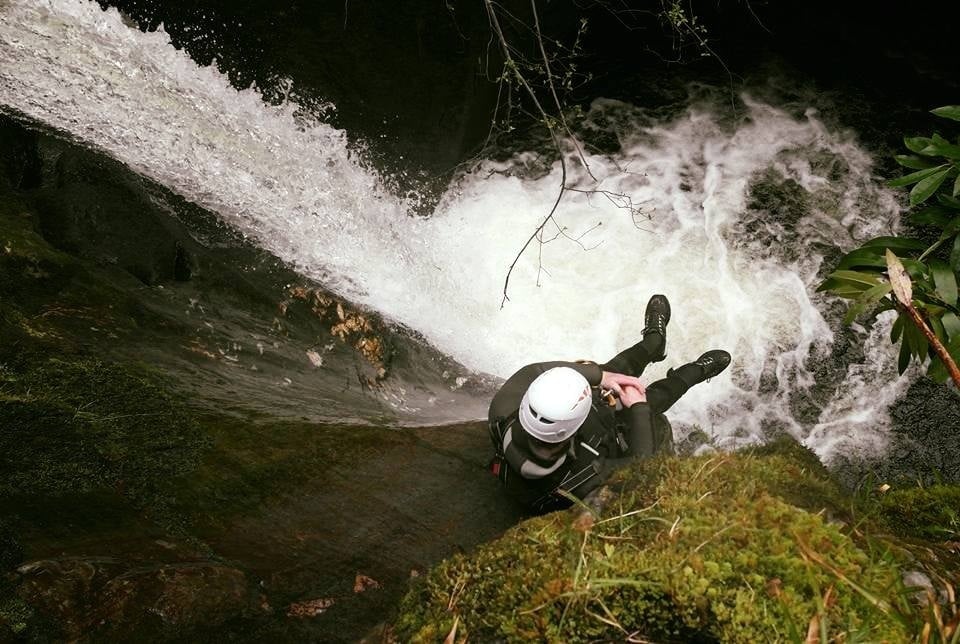 At the end of the day, canyoning exists for one reason and one reason only; it's insanely fun.
It's a great adventure sport. A fantastic way to get out into the countryside and explore the rivers and gorges. To get waist-deep in the water of new countries on your travels and to see waterfalls and slides, the likes of which you never even knew existed.
It's also a little like the adult equivalent of spending an hour in one of those badass children's play parks you used to go to on your seventh birthday.
Canyoning is an assault course – a challenge through a natural water system that will test your adrenaline, but also that will have you clambering over and under rocks, leaping from one place to another and grinning like an idiot while you do it.
We don't know what your thoughts will be when you go into the canyon, but when you come out, we can predict one thing – you'll be promising yourself you're going to do it again.
Push your limits! Whether you're a first-timer or a seasoned pro, check out our excellent selection of multi-activity and canyoning holidays. Our expert local hosts know how to keep you safe, and the adrenaline pumping on trips from just a couple of days to upwards of a week!