Spain is fantastic hiking territory, thanks to its geographical diversity - each of its 16 national parks is crisscrossed with some epic trails. The Picos de Europa National Park has often been called the Switzerland of Spain. It is renowned for its spectacular peaks, deep valleys and mirrored lakes. Sierra de las Nieves National Park consists of tracts of forest, twisting caves and limestone peaks - it's home to 1,500 types of plant.
There are mountains in abundance. The snowcapped peaks of the Spanish Pyrenees are perfect for intrepid climbers. But there are plenty of other mountain ranges to explore, such as Andalusia's Sierra Nevada, where whitewashed villages cling to craggy slopes. We'd also recommend trekking in the Canary Islands, with their sparse volcanic peaks contrasting with lush rainforest.
There are many famous hiking trails in Spain, most notably the Camino de Santiago and Caminito del Rey. These can get busy during peak season. In our opinion, the best hiking trails in Spain take you a little further off the beaten track - here's six of our favourite options.
1.Ruta del Cares, Picos de Europa National Park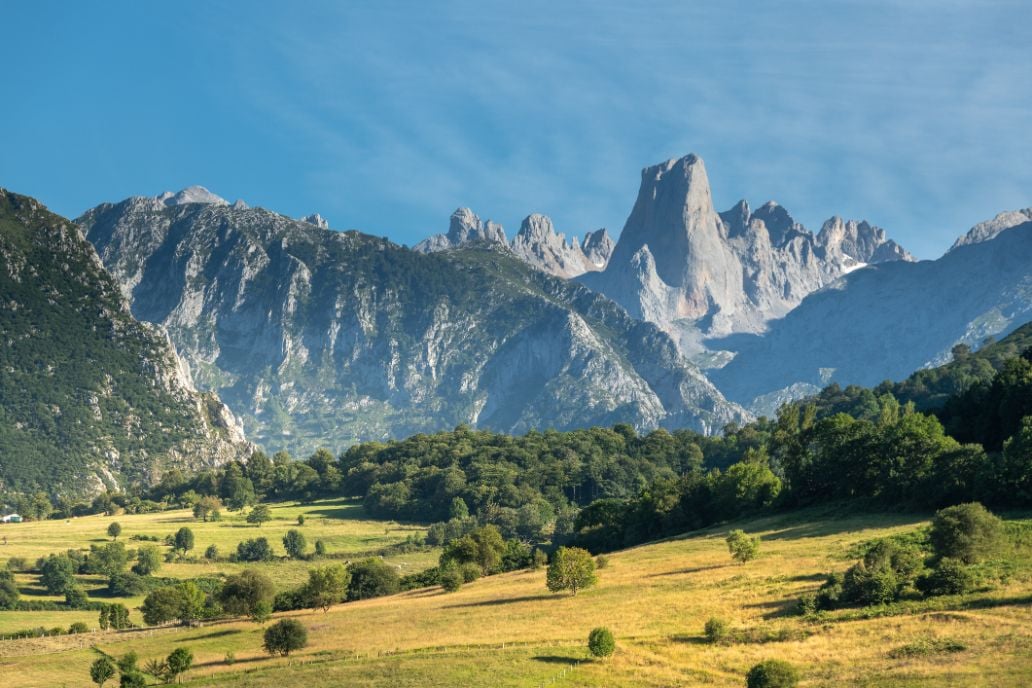 Distance: 8 miles
Walking Time: 3-4 hours
The Picos de Europa National Park is renowned for its dreamy peaks and plunging gorges. As an introduction into what you might expect from trekking in Spain, it sets a mean precedent. There are hundreds of hiking trails to choose from - a particularly popular day hike is the Ruta del Cares (or Cares Trail).
The Cares Trail is often considered one of the best hikes in Europe; it has been called the 'Divine Gorge' and for good reason. The hike usually begins at Poncebos, and starts with a steep incline for about a mile – but this is the most difficult section.
The trail runs next to the River Cares and while most of it is flat, easy terrain, some areas can be narrow as you hike through small, rocky tunnels and across hanging bridges. Once you get to the top of the incline, you'll hit snow-capped mountain vistas, wildflower fields, small tunnels, forests and crystal clear streams. It will take you around four hours to complete (unless you make the return journey). Due to the popularity of the hike, there are various public transport options available.
This route is probably the busiest and easiest trek from the list. For a more challenging, off-the-beaten track option, you can do a two-day trek through rugged limestone terrain to the highest mountain of the Picos de Europa, Torre Cerredo (2,648m), that traverses dirt tracks and rocky trails before negotiating a final scramble to the top. This necessitates the correct equipment, and an experienced guide.

2.  El Pico de Las Nieves, Gran Canaria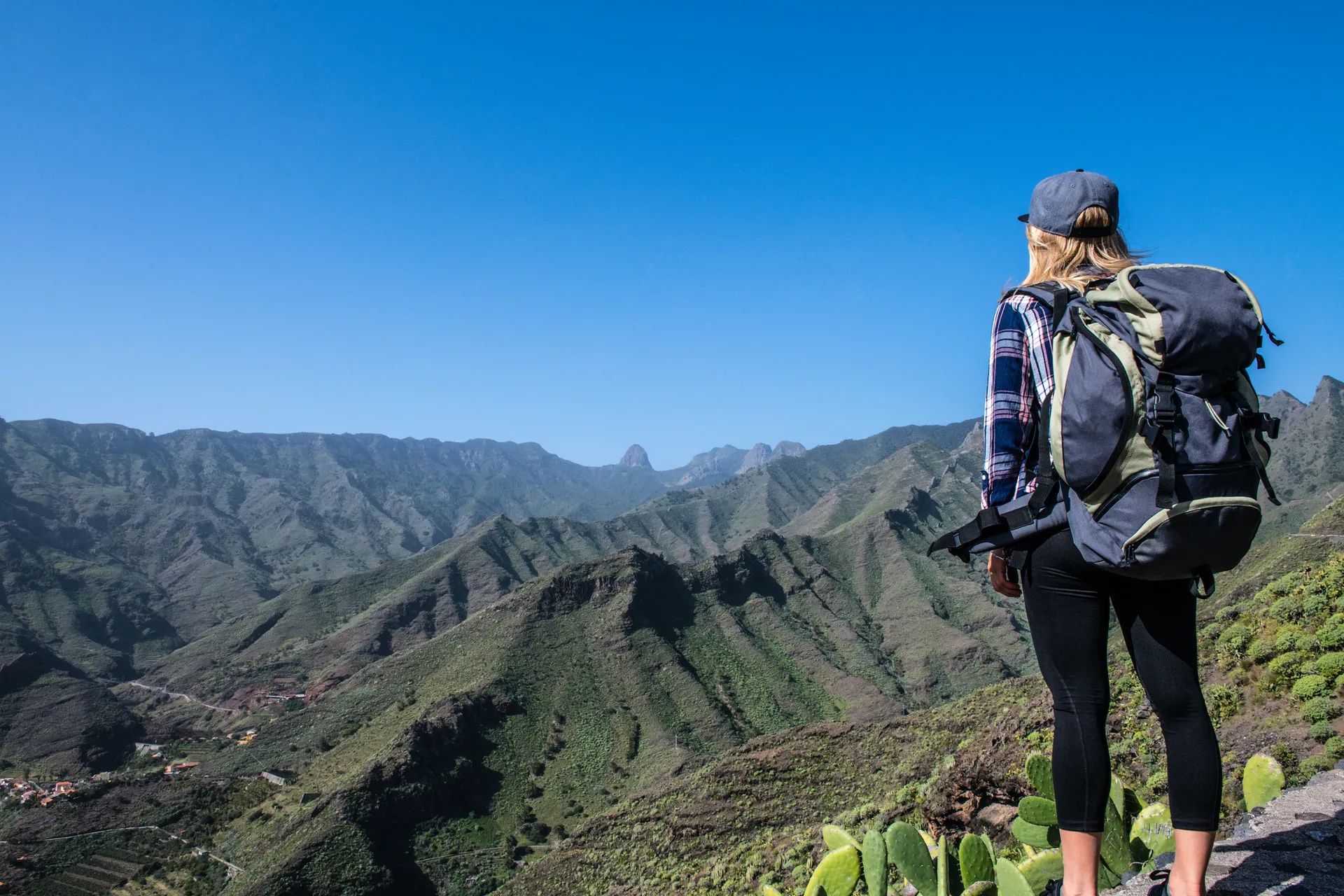 Distance: 10 miles
Walking Time: 9 hours
Gran Canaria is known for being a continent in miniature, because of its plethora of habitats - black sand beaches, volcanic mountain ranges and verdant forests. On this intrepid day hike you'll be climbing to El Pico de las Nieves (1,950m) - not to be confused with Pico de la Nieve on La Palma.
You'll begin the day by hiking through lush foothills until you reach El Barranco de Guahadeque, an ancient volcanic gorge. Pre-Hispanic mummies, pottery and more have been found in its caves - the steep walls make for an atmospheric trek.
After the gorge you'll trek up through pine forest and climb a mountain pass before heading to the summit of El Pico de las Nieves. This will give you a spectacular view over the island - just a few kilometres away is the large, thumb-shaped Roque Nublo.
3. Monte Teide Trek, Tenerife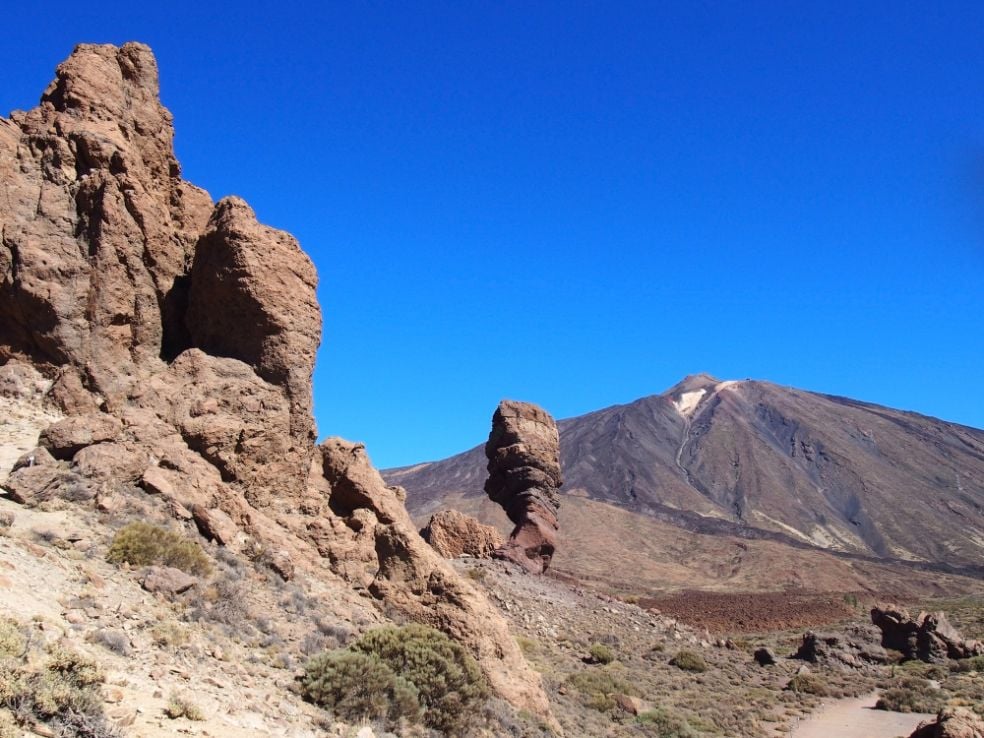 Distance: 10 miles
Walking Time: 1 Day
One of our favourite activities on the Canary Islands is to hike up Monte Teide, located in Tenerife's Teide National Park. It's one of the highest volcanoes in the world, towering at 3,718m. You will encounter an otherworldly landscape of rock formations, craters and rivers of petrified lava all under the impressive shadow of Monte Teide.
Due to the sensitive volcanic environment on Monte Teide, the National Park limits the number of people who can climb to the summit of the crater daily. You will need to apply for a free permit to climb to the peak, you can do this through the Teide National Park website. Once you have filled out the form, print the permit and take it along with your ID to present at the beginning of the trail. Be sure to be prepared for the higher altitude, changing temperatures and spectacular views.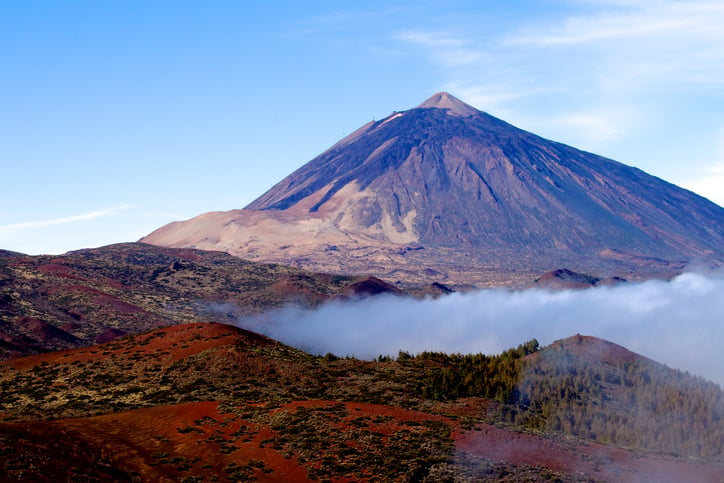 There are a few ways you can access Monte Teide. You can take the cable car to the base station and then strike out for the summit. However, we recommend hiking up its slopes, starting at Montaña Blanca. There's a tough six hour hike to the mountain refuge of Altavista, which has an elevation gain from 1,367m to 3,260m. Acclimatise overnight and strike out for the summit in time for sunrise. Relax on one of Tenerife's black sand beaches when you've descended.
4. Three Peaks, Sierra Nevada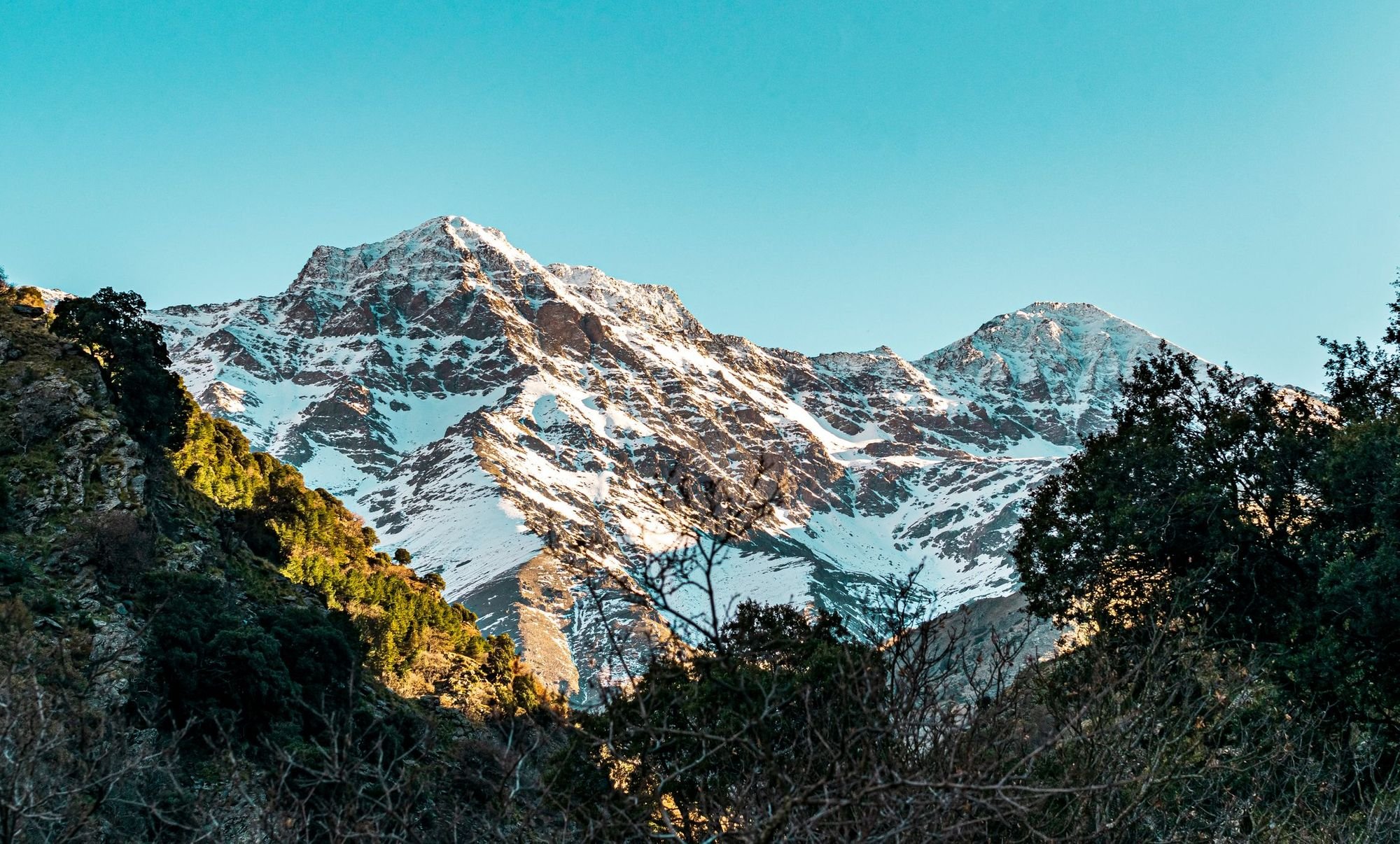 Distance: 40 miles
Walking Time: 4 days
Challenge yourself to Spain's Three Peaks Challenge, which takes you up the loftiest peaks in the remote Sierra Nevada range - Mount Mulhacén (3,482m), La Alcazaba (3,369m) and Mount Veleta (3,395m).
Starting off in the whitewashed village of Capileira, you'll scramble up to the Poqueira Refuge, a mountain hut where you'll stay for the duration of the climb. Day two is when you'll tackle the highest peak, Mount Mulhacén, known for its craggy appearance - it's the roof of the Iberian Peninsula. As you descend the western flank, you'll pass wetlands and the Laguna de Caldera.
Next up is La Alcazaba, which you'll reach via the 7 Lagunas Trail, a circular route taking in seven lakes surrounded by meadows (they're frozen most of the year). There's a bit of a scramble to the summit but the views make it worthwhile! The final peak of Mt Veleta will take you through moonscape valleys, and offer up an amazing view of the blue waters of the Mediterranean, and the city of Granada. Head there after your trek for a rewarding tapas meal.
5. Carros de Foc, Spanish Pyrenees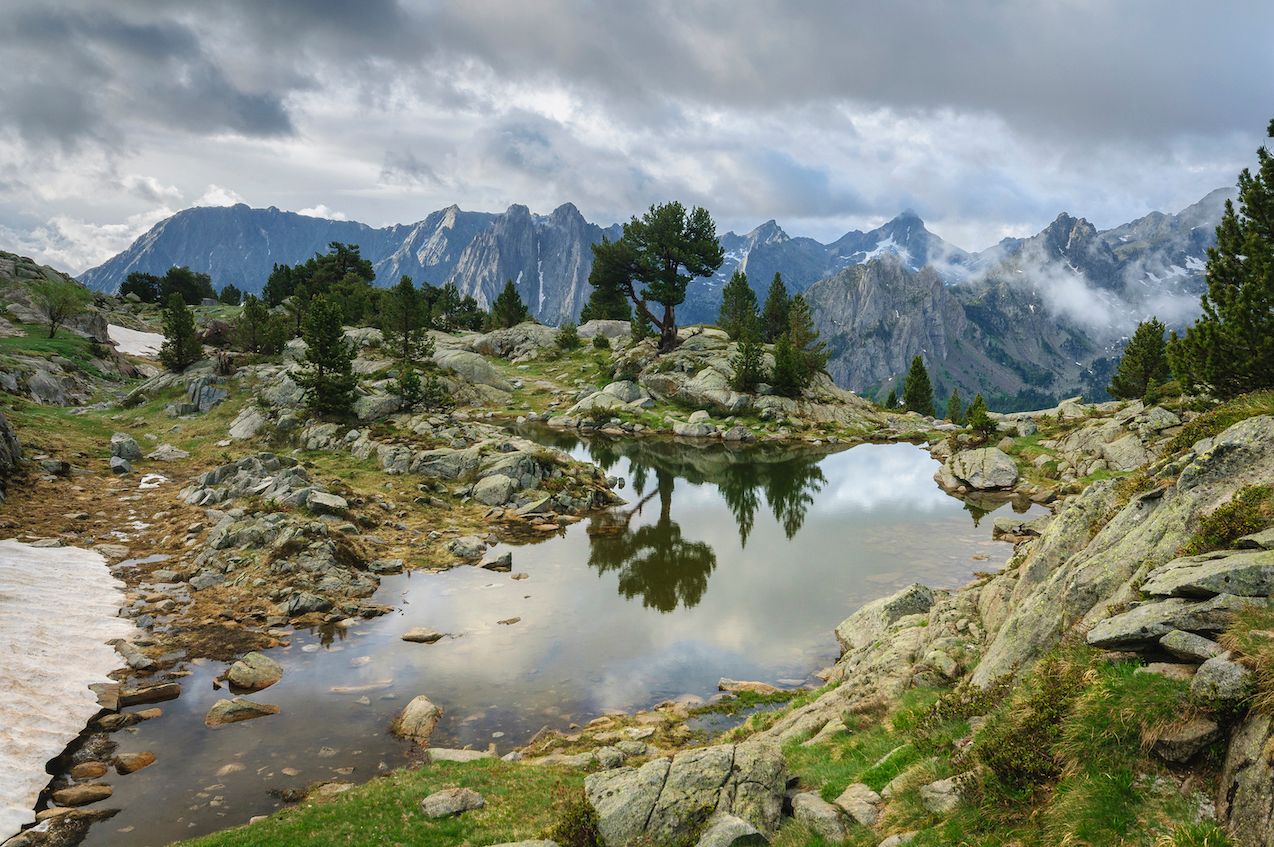 Distance: 34 miles
Time: 3-5 days
Carros de Foc (or Chariots of Fire) is one of our favourite hikes in the Pyrenees, a circular path taking you through the landscape of Aigüestortes i Estany de Sant Maurici National Park and connecting nine mountain refuges. You have the freedom to walk in any direction you want, and can choose which refuges to stop at, based on availability.
One option is to begin at Espot, and follow the trail along the Peguera River. You'll pass through an alpine landscape of meadows, pine forests, lakes and soaring mountains. Break for the first night at the gorgeous Refuge Joan Maria Blanc, located on a spit of land jutting into a crystalline lake.
The next day is the hardest climb of the route, to Coll de Monestero, the highest mountain (2,715m). The climb is steep and the view spectacular - endless lakes on one side and a sweeping panorama of the Catalan Pyrenees on the other. As you descend back to Espot, the landscape changes from rocky peaks to dense forests and wildflower meadows. Done like this, the route takes four days to complete, but you could easily stretch it out over an extra day or two.
6. Gran Ruta Circular Garajonay, La Gomera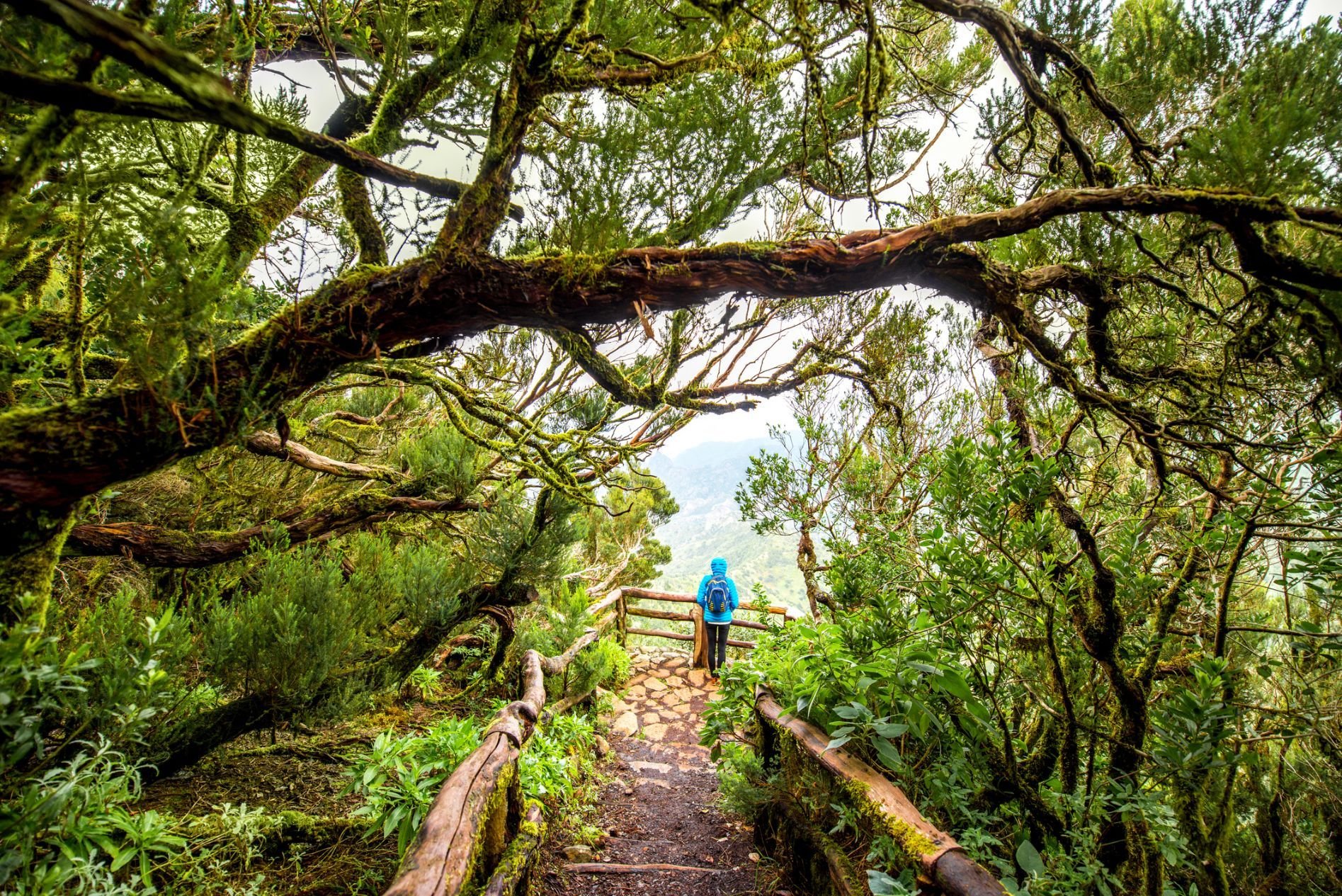 Distance: 10 miles
Walking Time: 7-8 hours
This trek takes place in Garajonay National Park, designated a UNESCO site due to its well preserved laurel forests, a lush environment often surrounded by a sea of fog. A circular day hike will take you around this fascinating environment.
The walk (waymarked as trail 18) starts at Pajarito, where there's a bus stop and car park. It starts with an ascent up to Monte de Garajonay, the highest peak in the park, followed by a three mile descent to the village of El Cedro through the atmospheric laurel forest. Continue descending to the viewpoint of Chorro del Cedro, a high waterfall.
It's now time to climb back up to the starting point through the natural park, following a quiet road part of the way. There are spectacular views of los Roques and the ravines and gorges of the island en route.
Feeling Inspired? Check out our range hiking adventures in Spain and other Spanish adventures.
Fancy getting involved? Check out our range hiking adventures Spain trips and other Spanish adventures.