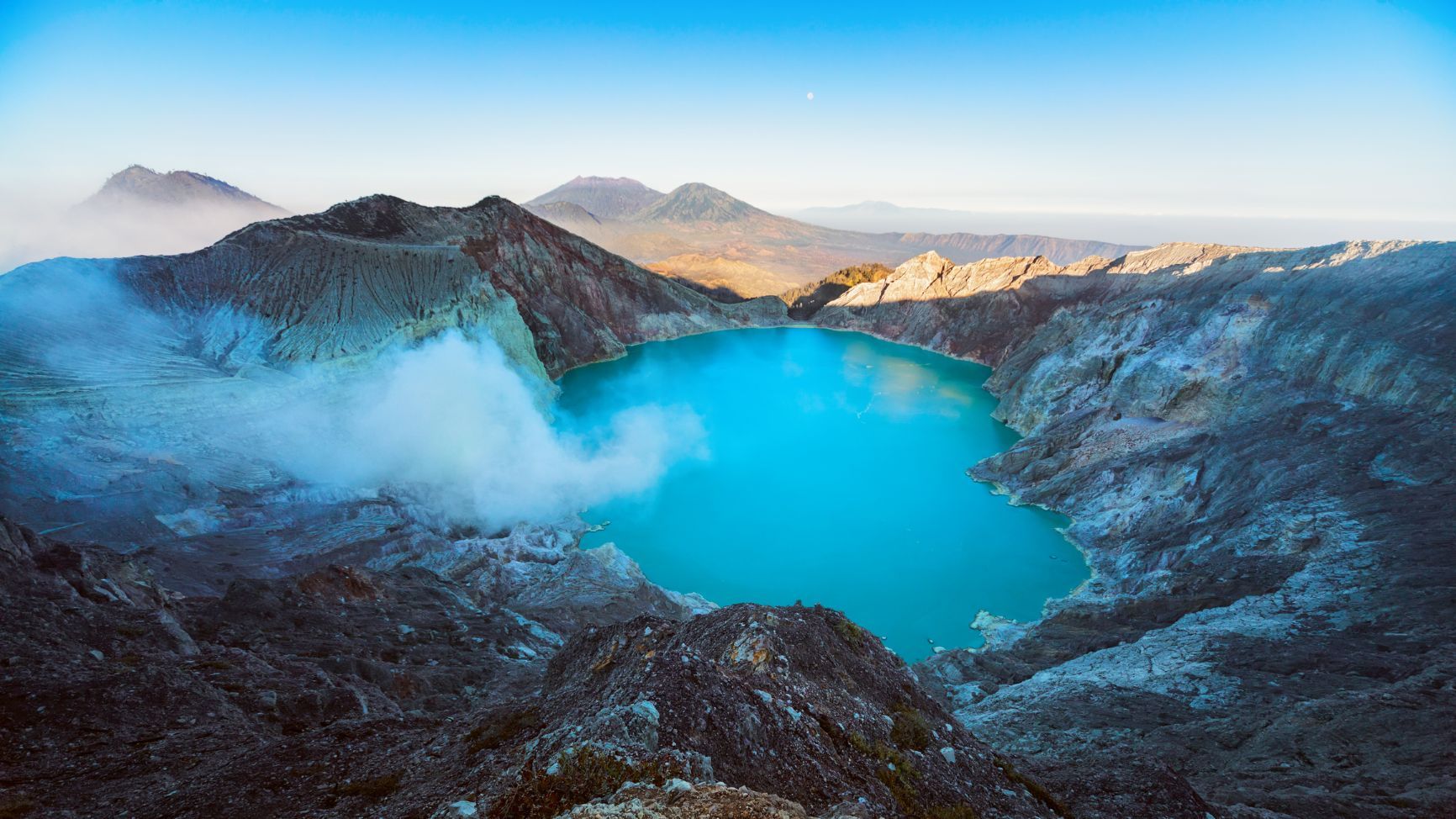 Climbing volcanoes in the world has a bit of an Indiana Jones air to it – jumping over streams of running lava, dodging flying rocks. Fortunately, or unfortunately (depending on your danger-lust), that's fairly unlikely to happen. In reality, a guided volcano climb gives you all the exhilaration of summiting a mountain, with the added thrill of geothermal activity. Some come with an element of risk from the activity below their surface, but others are dormant and don't pose any significant danger to hikers.
We've scoped out some of the best volcanoes to climb around the world. They range from challenging ascents for serious climbers to easier hikes that any fit traveller can attempt.
10 of the Best Volcano Hikes
1. Cotopaxi, Ecuador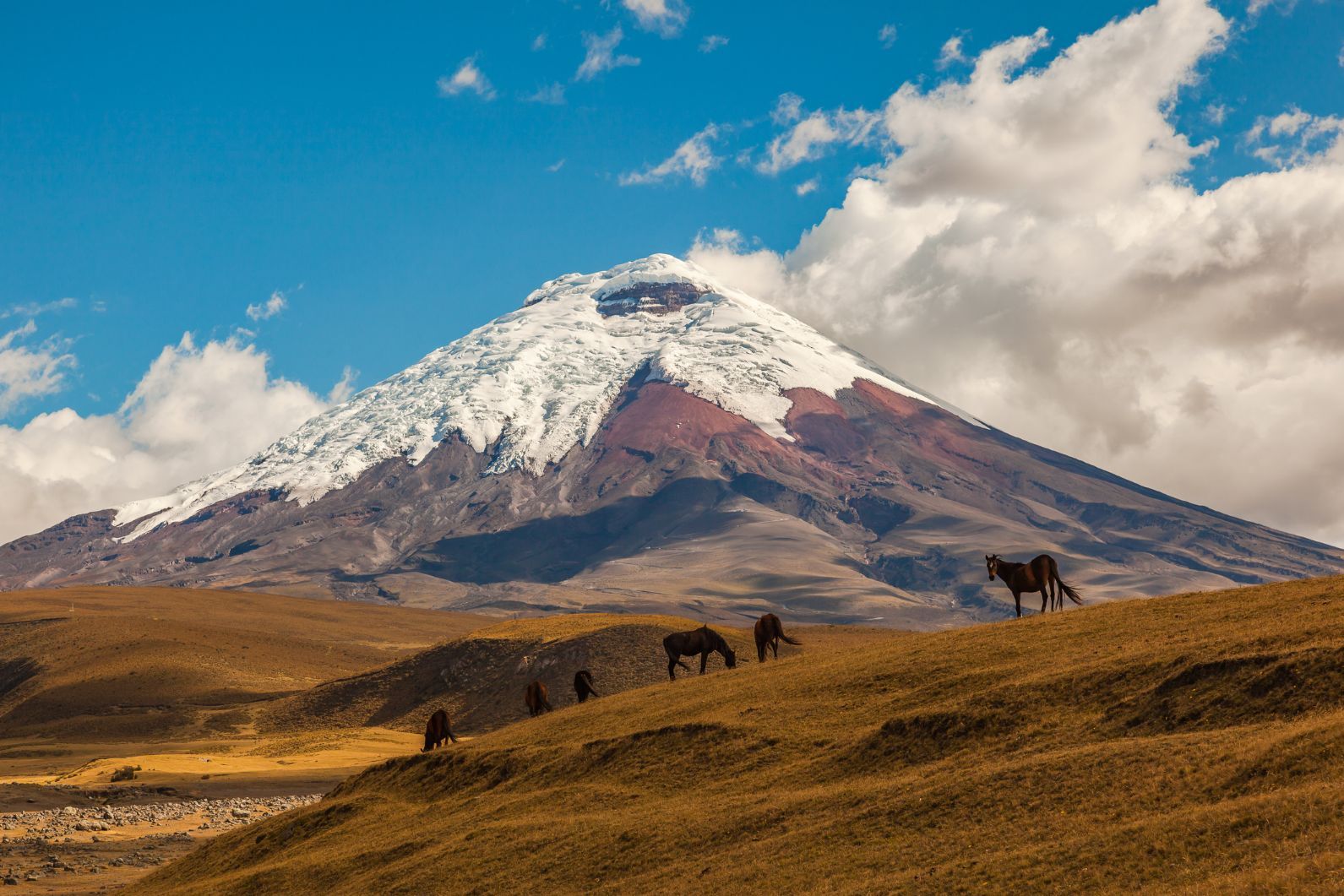 Elevation: 5,897m
At 5,897 metres, Cotopaxi is one of the highest active volcanoes in the world (and the highest to make this list). It's three hours' drive from Quito, and best suited to experienced climbers. After a major eruption in 2015 the mountain was closed to climbers, and although it has now reopened, check its current status before planning a trip. It requires proper acclimatisation to avoid altitude sickness. Climbers who are well-acclimatised can climb Cotopaxi in two days; drive or take a bus to the parking area (4,500 metres), from which a shelter is a one-hour walk (4,800 metres).
From the shelter, the climb can take up to seven hours, and should be done in the middle of the night to avoid the sun's melting of the ice and snow at the top. Otherwise, five-day acclimatisation trips to conquer Cotopaxi are recommended, which include other smaller peaks and high-altitude treks in Ecuador. Although the climb is not very technical, it is not easy either, and should be done with a guide. It's a good way for less experienced climbers to learn about glacier climbing, and the views down into the crater are particularly impressive.
2. Mount Kazbek, Georgia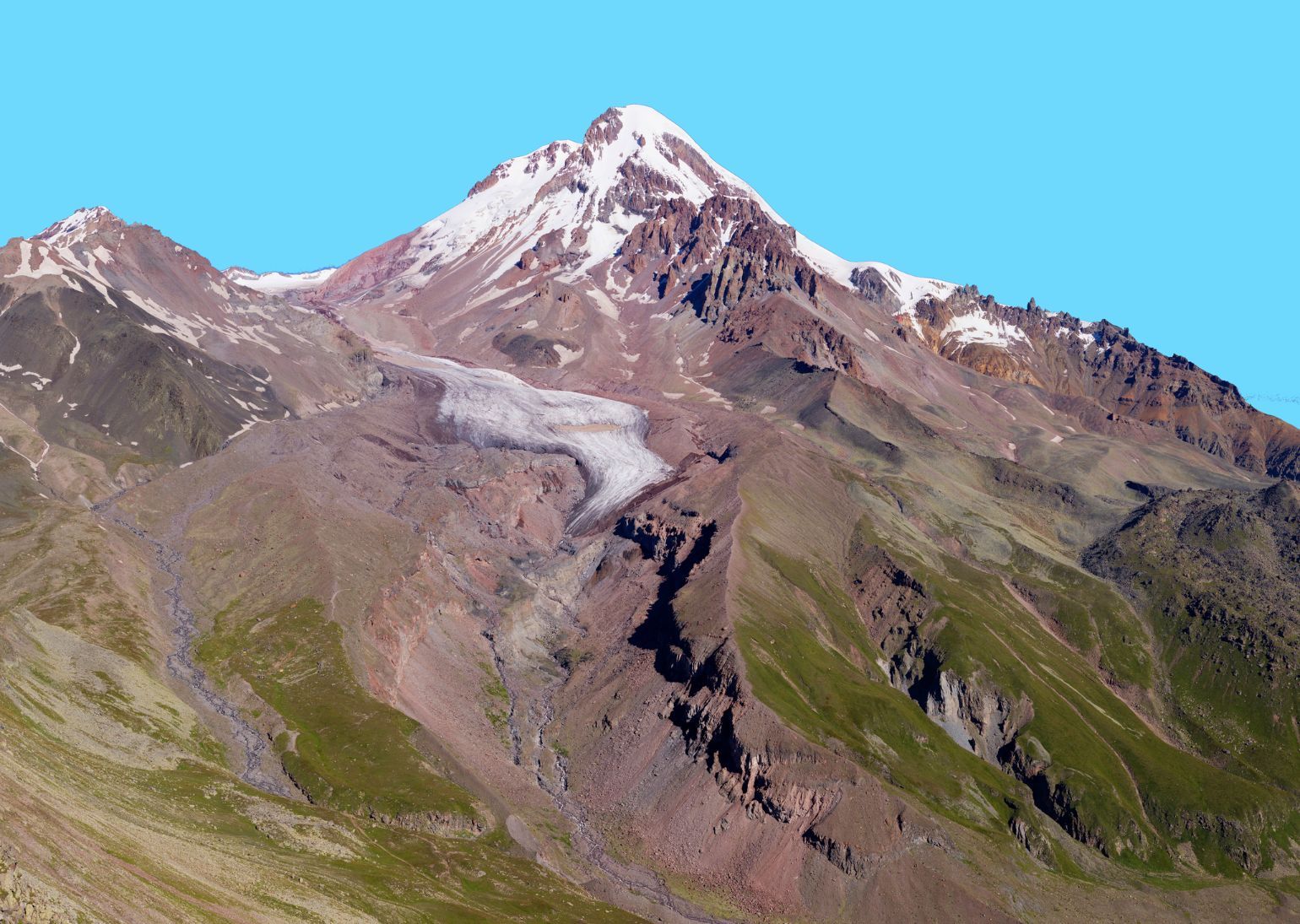 Elevation: 5,054m
Mount Kazbek is a dormant stratovolcano, and lies on the border between Russia and Georgia in the Kazbegi National Park in the Caucasus Range. It's about 100 kilometres from Tbilisi, and there are pretty villages with local accommodation around the foot of the mountain, which make for good bases for climbs and other hiking in the area.
According to Greek mythology, Prometheus was chained to Mount Kazbek for eternity as punishment for teaching mankind how to make fire. Attractions of climbing Mount Kazbek include the picturesque Georgian monasteries, hot springs, glaciers, gorges, lakes, and an abundance of birdlife. The regular way that most climbers scale it, from the Georgian side, is not too challenging, but because of its altitude and the need to acclimatise properly, ascent expeditions normally take four days.
3. Mount Etna, Sicily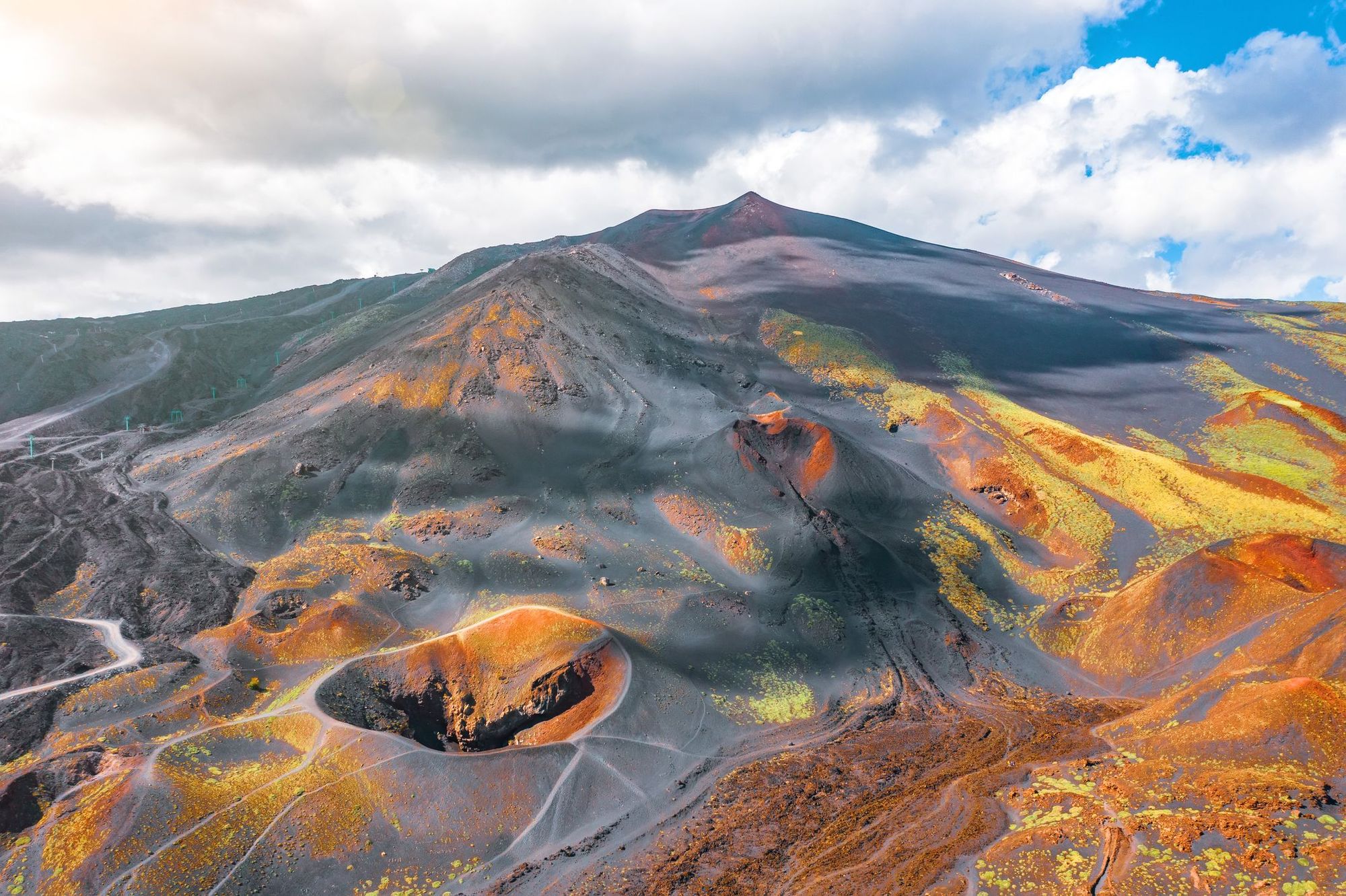 Elevation: 3,357 m
Mount Etna is the tallest volcano in Europe and one of the most volcanically active in the world. There are many myths associated with it, including that Zeus once buried a hundred-headed monster called Typhon - its restlessness is what causes volcanic eruptions. It has erupted over 200 times - one of the most violent, in 1669, disgorged 990 million cubic yards of lava. More recently there have been much smaller Strombolian eruptions. We'd recommend climbing Mount Etna with an experienced guide, as they'll be aware of volcanic hotspots and any areas that need to be avoided!
Mount Etna occupies an area of 600 square miles, and has four different summit craters, meaning there are multiple routes up it. We'd recommend climbing to the top of Montagnola, to hike among vast lava dunes, before descending the valley through lava fields and a quiet beech forest.
4. Mount Kenya, Kenya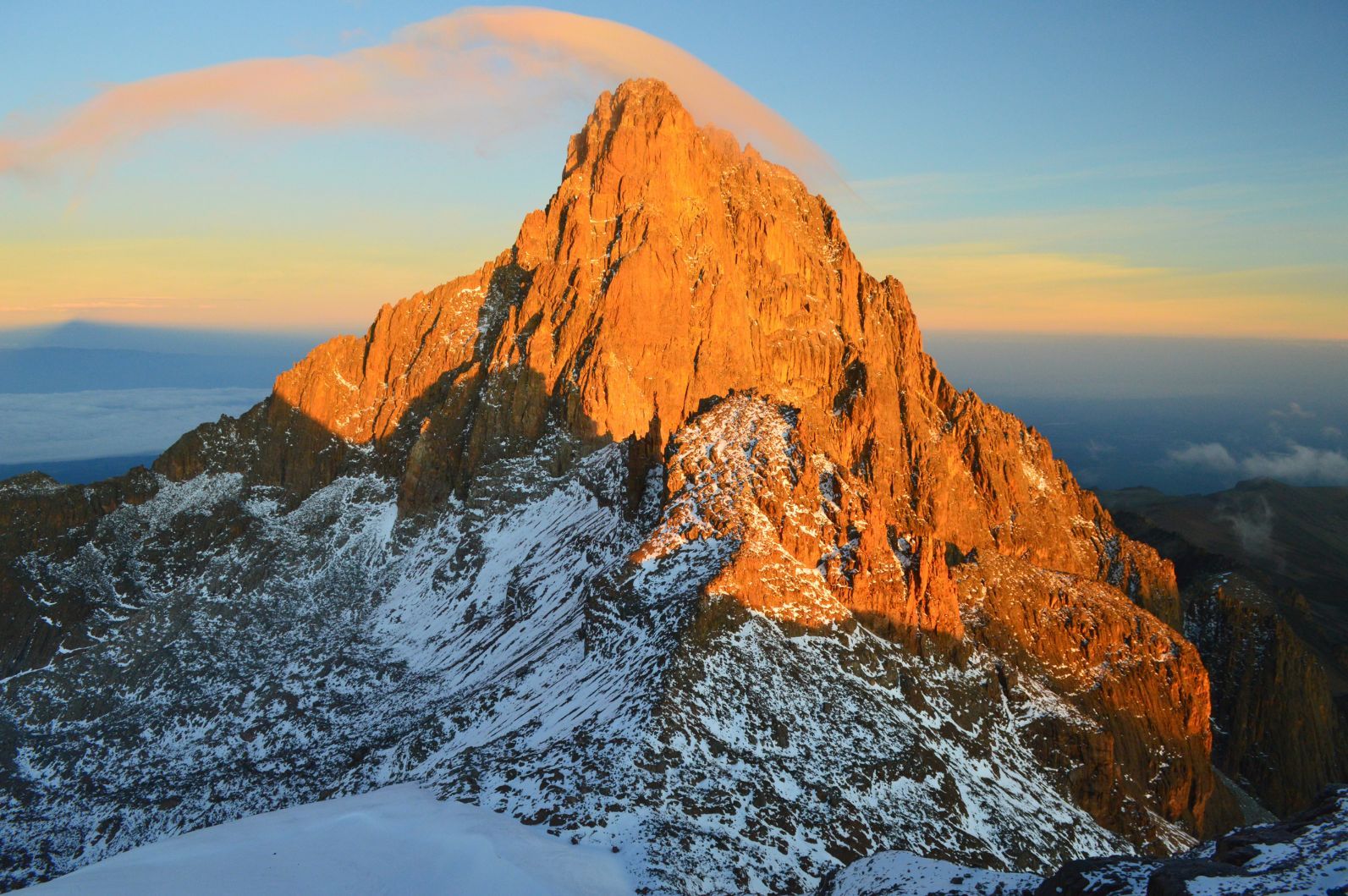 Elevation: 5,199m
Mount Kenya is the highest mountain in Kenya, at 5,199 metres, and the second-highest in Africa. It's long been overshadowed by its more famous neighbour, Kilimanjaro, but is gaining popularity among climbers. An ancient dormant volcano, it doesn't look quite like the classic volcano that you might imagine. But geologists think that it probably did once, and that it was then as high as 7,000 metres.
There are three high peaks to Mount Kenya, which can all be climbed, with varying experiences. To trek to Point Lenana (4,985 metres), you only need to be in good hiking shape. To climb the Nelion (5,188 metres) or Batian (5,199 metres) Peaks, you do need to have technical mountaineering abilities. As the mountain is quite accessible and not too challenging, extra care should be taken with the altitude, to avoid rising too high, too quickly.
5. Mount Pico, Azores, Portugal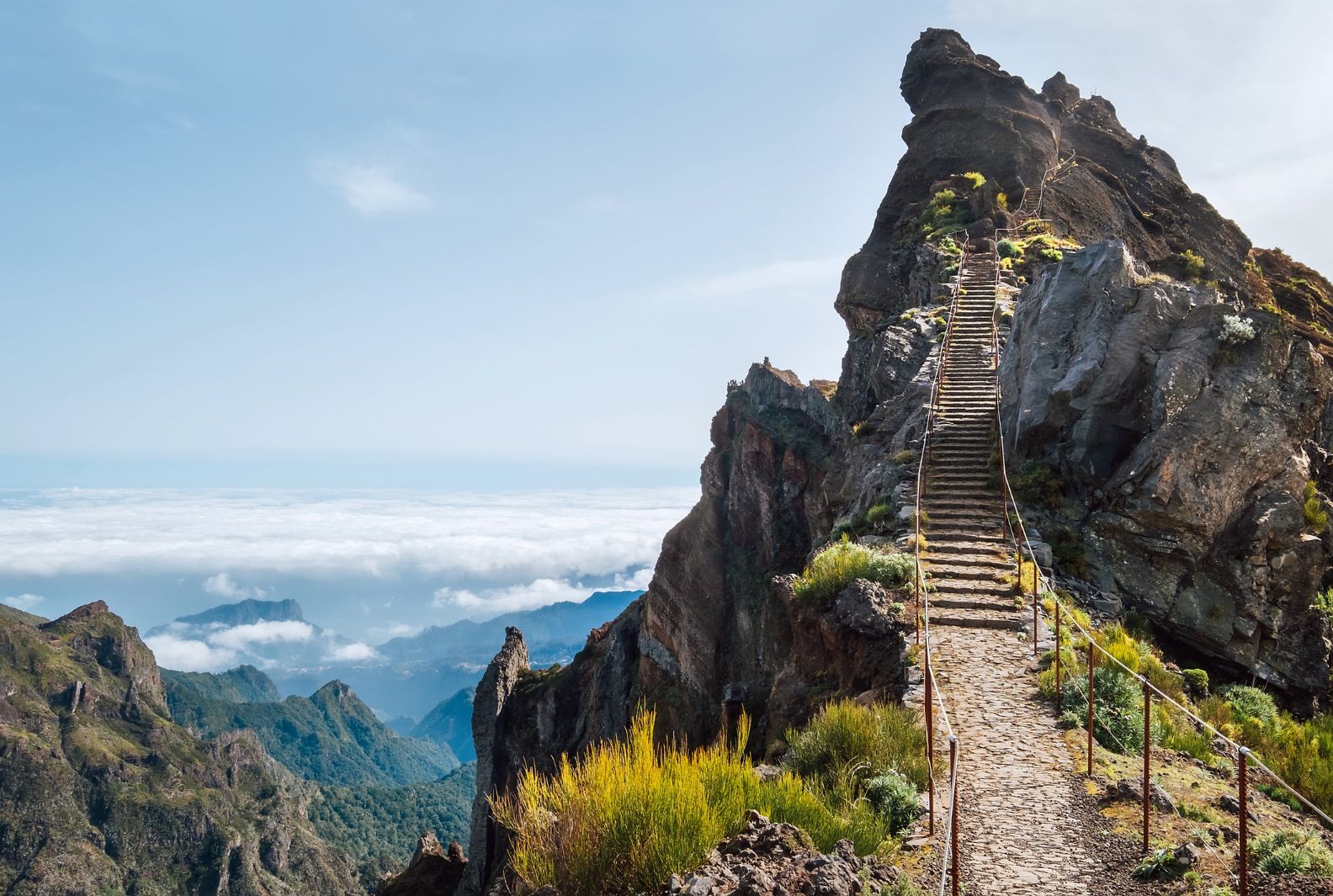 Elevation: 2,351m
On the Portuguese islands of the Azores, the perfect volcanic Mount Pico rises 2,351 metres on the Ilha do Pico. The trail up the mountain begins at Cabeço das Cabras, and there are 45 marker posts on the way up so climbers can track their progress. Although it's not exceptionally high, it is a surprisingly challenging climb. It is very steep, and the weather can change dramatically and quickly.
While you don't need to be an experienced climber to trek to the top of Mount Pico, good fitness is definitely a bonus. If there is snow at the top you will need crampons, or the help of a guide. At the top is a 500-metre wide, 30-metre deep crater, which is an awesome sight to look down into.
6. Mount Kilimanjaro, Tanzania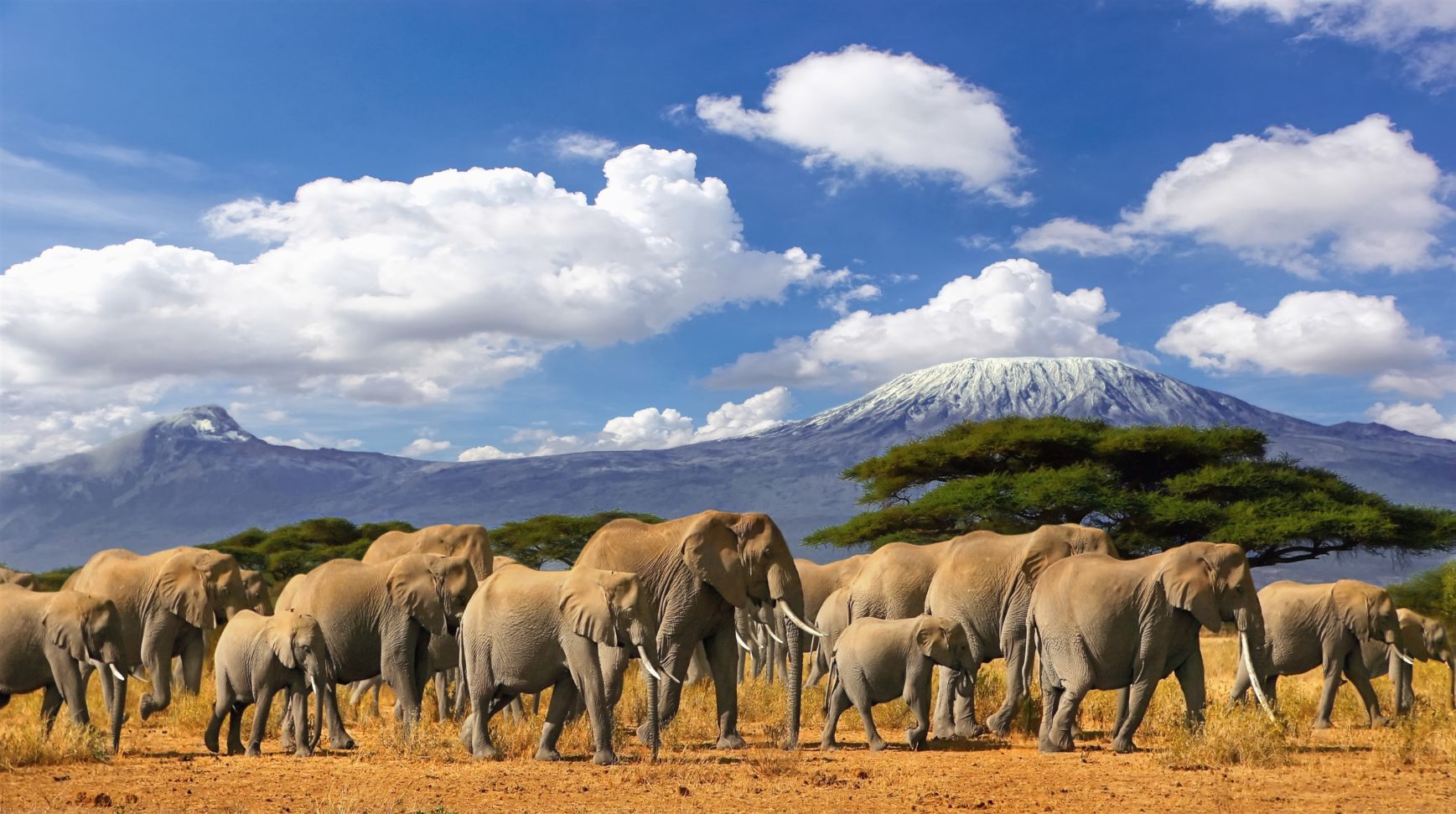 Elevation: 5,895m
Africa's highest mountain, Tanzania's Mount Kilimanjaro is a dormant volcano comprised of three volcanic cones. Although it's a popular mountain climb, it's actually pretty challenging, and shouldn't be taken lightly. The high altitude and rapid ascent catch out many unprepared travellers. The trip takes five days and must be done with a guide.
A variety of route options are available, all with incredible views of the plains of East Africa. Many people combine a Kilimanjaro climb with an animal-spotting safari in East Africa, and this certainly makes for an all-round enjoyable holiday.
While we're here, did you ever hear the story of Sheila MacDonald, the first woman to climb Mount Kilimanjaro?
7. Mount Rinjani, Indonesia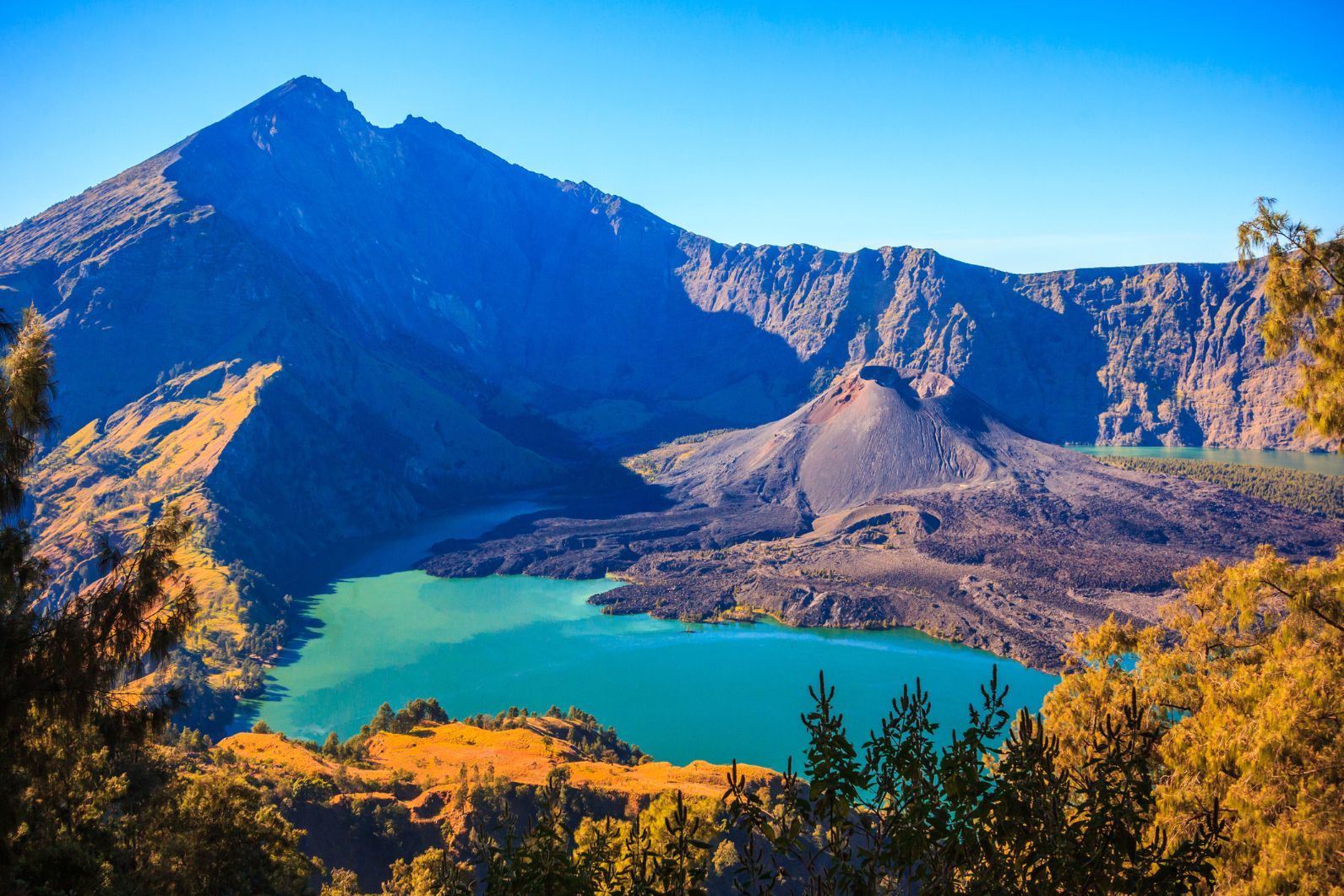 Elevation: 3,726m
Mount Rinjani is the second-highest volcano in Indonesia, at 3,726 metres – not one of the highest volcanoes in the world! But what Indonesian volcanoes lack in height, they make up for in activity. The volcanoes of Indonesia are very active, so it's important to keep up-to-date with safety situations when planning to climb Mount Rinjani.
Rinjani is on Indonesia's Lombok island, east of Bali. Although it's often advertised as a trek, reaching the summit should be considered a climb, and only attempted by fit travellers with plenty of trekking experience. It takes two days, but the ascent is rapid, on steep and slippery trails. It's a tough hike to the crater rim, but the view from there is incredible: turquoise Lake Segara Anak below, lush green valleys, and active volcano Mount Barujari on the edge of the lake.
8. Mount Fuji, Japan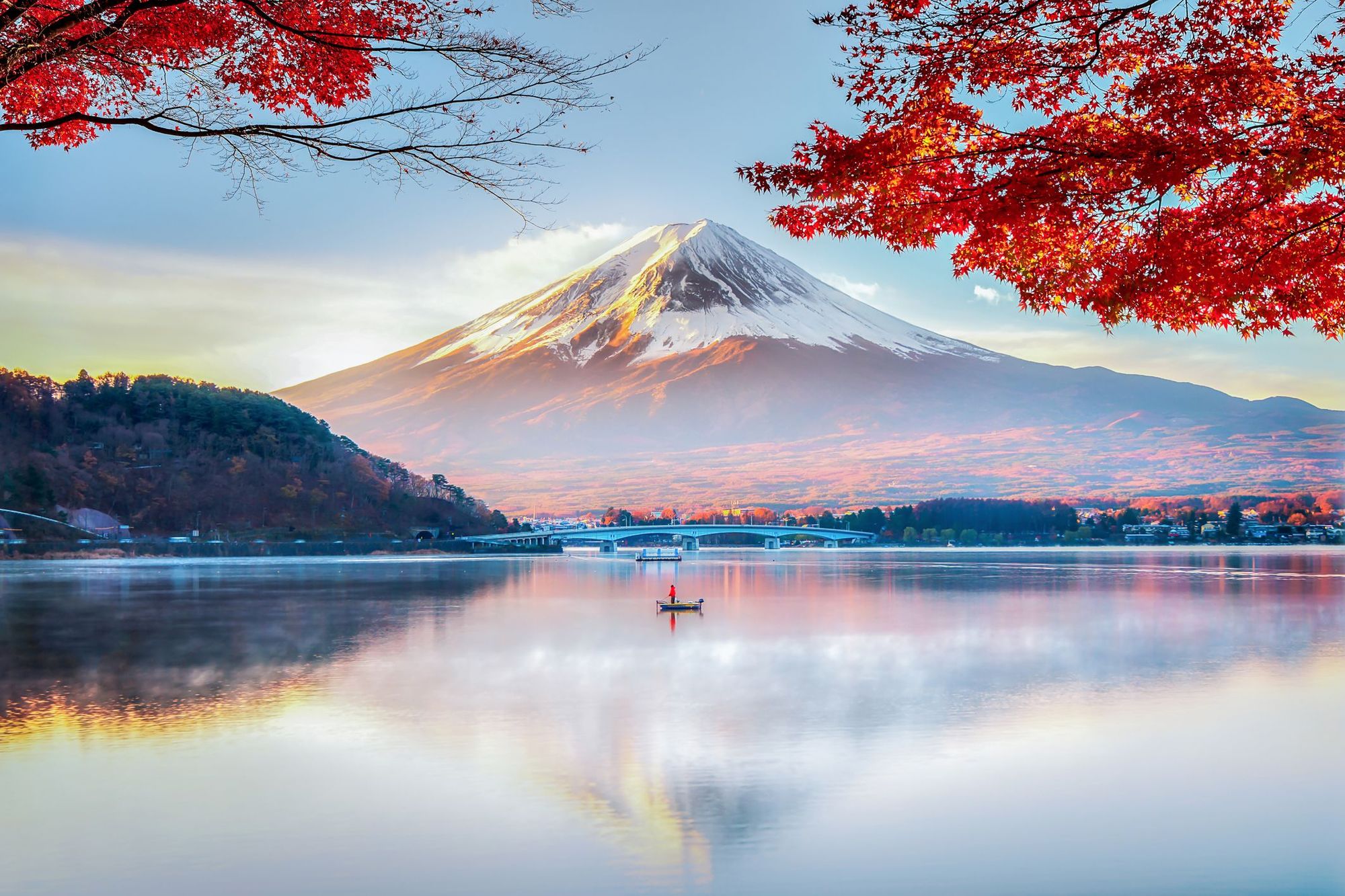 Elevation: 3,776m
Mount Fuji is the tallest mountain in Japan, and is classed as an active volcano (although its last eruption was in 1707). Its elegant conical shape has been reproduced countless times in Japanese art, most famously by  Hokusai; it is also considered a sacred Japanese symbol and an important pilgrimage site.
Mount Fuji opens to hikers from early July to early September, and peak season runs from late July to late August. There are four main trails leading up to the summit: Yoshida, Fujinomiya, Subashiri and Gotemba trail. The Yoshida trail is the busiest, and the Gotemba is the least busy and most challenging - guess what we recommend!
On the Gotemba trail, the ascent takes around 7 hours and the descent around 4. Most hikers do the ascent over two days - they'll rest at one of the mountain huts on the routes and then head for the summit in the early hours to catch the sunrise.
9. Mount Tongariro, New Zealand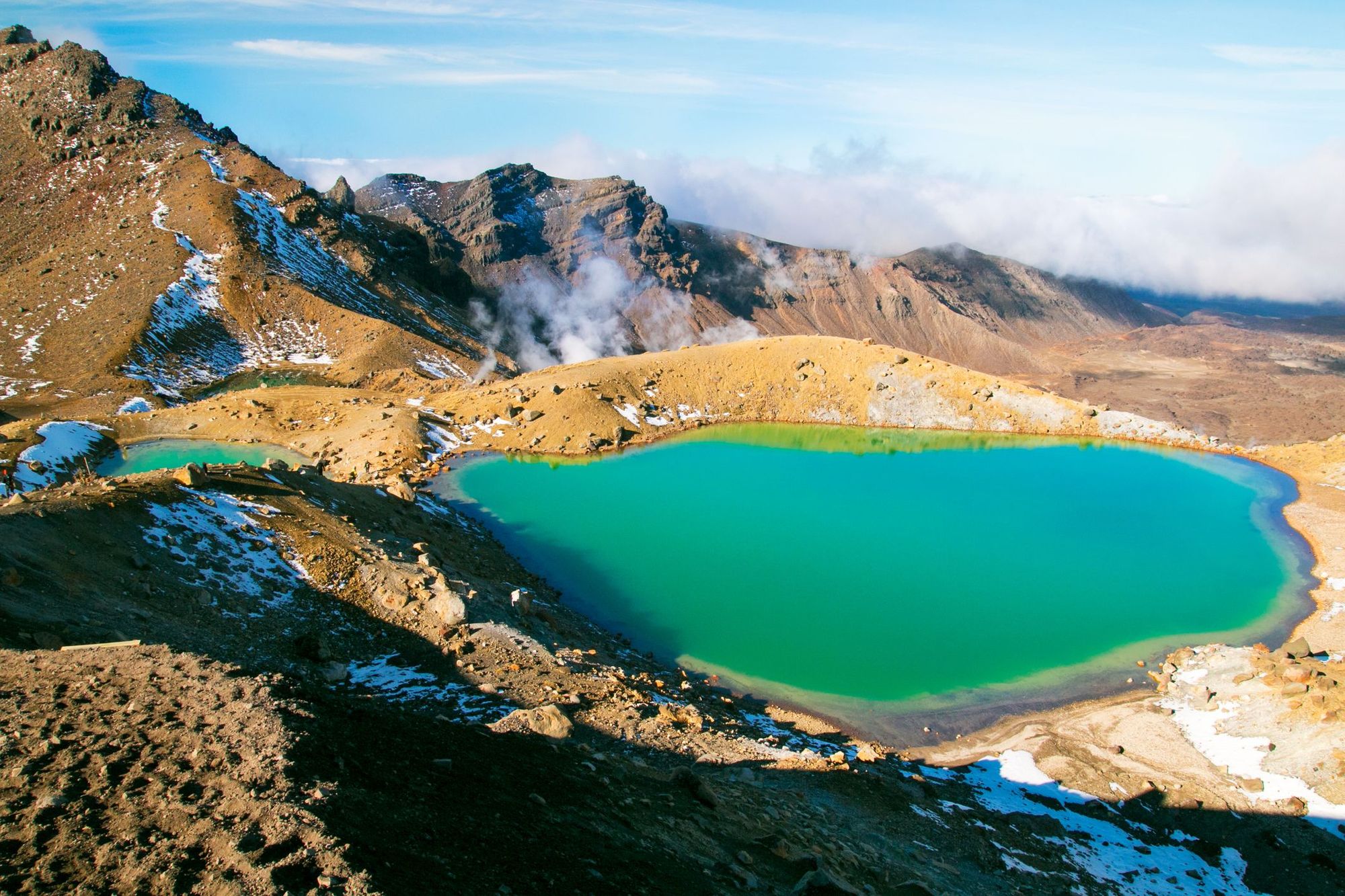 Elevation: 1,978m
The Tongariro Alpine Crossing in the central North Island of New Zealand is widely considered to be one of the best day hikes in the world. Tongariro itself is an active volcano, and sits on the northern end of the Tongariro National Park. Mount Ngauruhoe (pronounced now-ruh-hoe-ee), aka Mount Doom from the Lord of the Rings films, is a 2,287-metre volcanic peak that rises perfectly amid the moon-like landscape of the trekking route.
Fit, fast hikers have long enjoyed taking the two-hour detour up steep scree to scale Mount Ngauruhoe. However, we're asking you not to. The peak is sacred to the local Maori people, and the New Zealand Department of Conservation asks hikers to respect that and not climb the volcano itself. The Tongariro Alpine Crossing is a highly worthwhile trek on its own, with bright turquoise sulphurous lakes, barren cratered landscapes, as well as dense forest. Ngauruhoe can be admired from its foot.
10) Mount Acatenango, Guatemala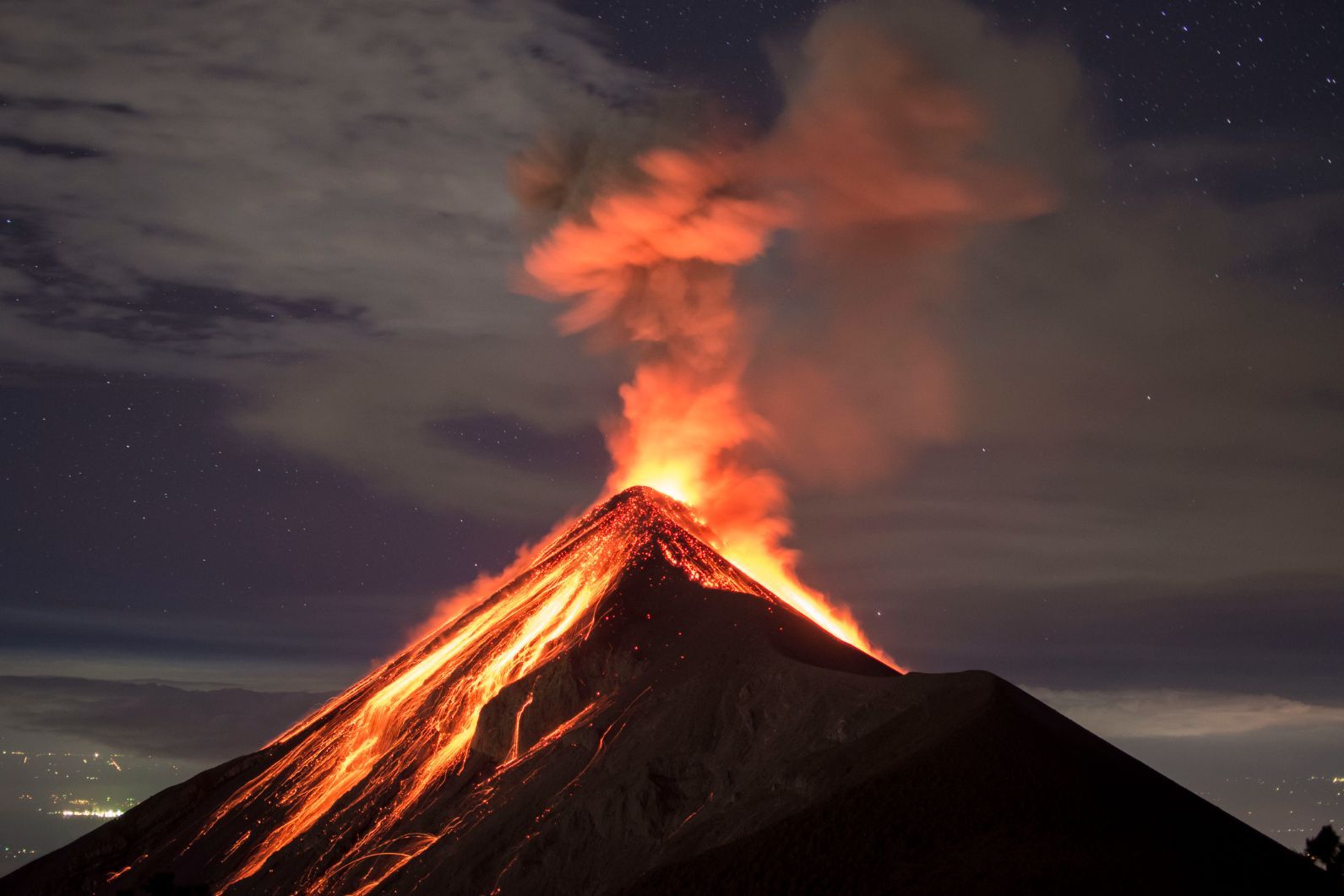 Elevation: 3,976m
If you're looking for one of the best volcano hikes in Guatemala, we'd recommend the challenging two-day climb of Mount Acatenango and its neighbour, Fuego. Fuego is continually erupting and makes for a great backdrop – especially from your camp at night when you'll see a show of lava. In fact, Acatenango is just one of a chain of active volcanoes, which you will see from the top.
Parts of the climb are a scrabble over scree, and don't forget to take a torch or headlamp to climb to the summit at sunrise. The climb can be particularly tough, especially when the weather turns, and visibility goes to pot, so should always be attempted with a local guide. However, the views of the chain are spectacular, especially at sunrise and sunset, both of which an overnight trek will let you experience.
Feeling inspired? Explore our collection of summit-bagging trips and other epic trekking holidays.