The best hiking trails in Yellowstone National Park are spread all around the remarkable, 3,500-square-mile wilderness area, which sits mostly in Wyoming, but also strays into Montana and Idaho too. This article focuses on the best day hikes; on the great walks that you can get done in a single day.
There are five entrances to Yellowstone National Park - north, northeast, south, east and west - and in amongst the 2.2 million acres you'll find all sorts of natural beauty, from the dramatic Grand Canyon of Yellowstone River to lush forests, active hot springs and geysers and serene rivers and lakes. The wildlife is just as special; ranging from bears, wolves and elk to beavers, bison, eagles and ospreys. It's a hotbed of conservation history - from becoming the first national park in the world in 1872 to the reintroduction of Yellowstone wolves in 1995, now considered one of the most successful rewilding projects to ever take place.
Of course, there are so many brilliant hikes and treks in Yellowstone. So, what we've aimed to do here is to suggest a handful of the most diverse trails in Yellowstone - some long, some short, spread around the park, and showcasing different sorts of nature. Remember before you set off that Yellowstone is a truly wild area - so bring maps, appropriate hiking gear (whether that's water bottles, a compass or bear spray), and of course always be respectful and aware of your nature, the wildlife and your surroundings.
It's important to note that these route descriptions are only short summaries, designed to inspire but not to serve any navigational purpose. They are not intended to guide you on the route and further mapping and planning (or a local guide!) will be required if you want to safely walk any of the trails featured.
Now, in no particular order...
1. Hike Up Avalanche Peak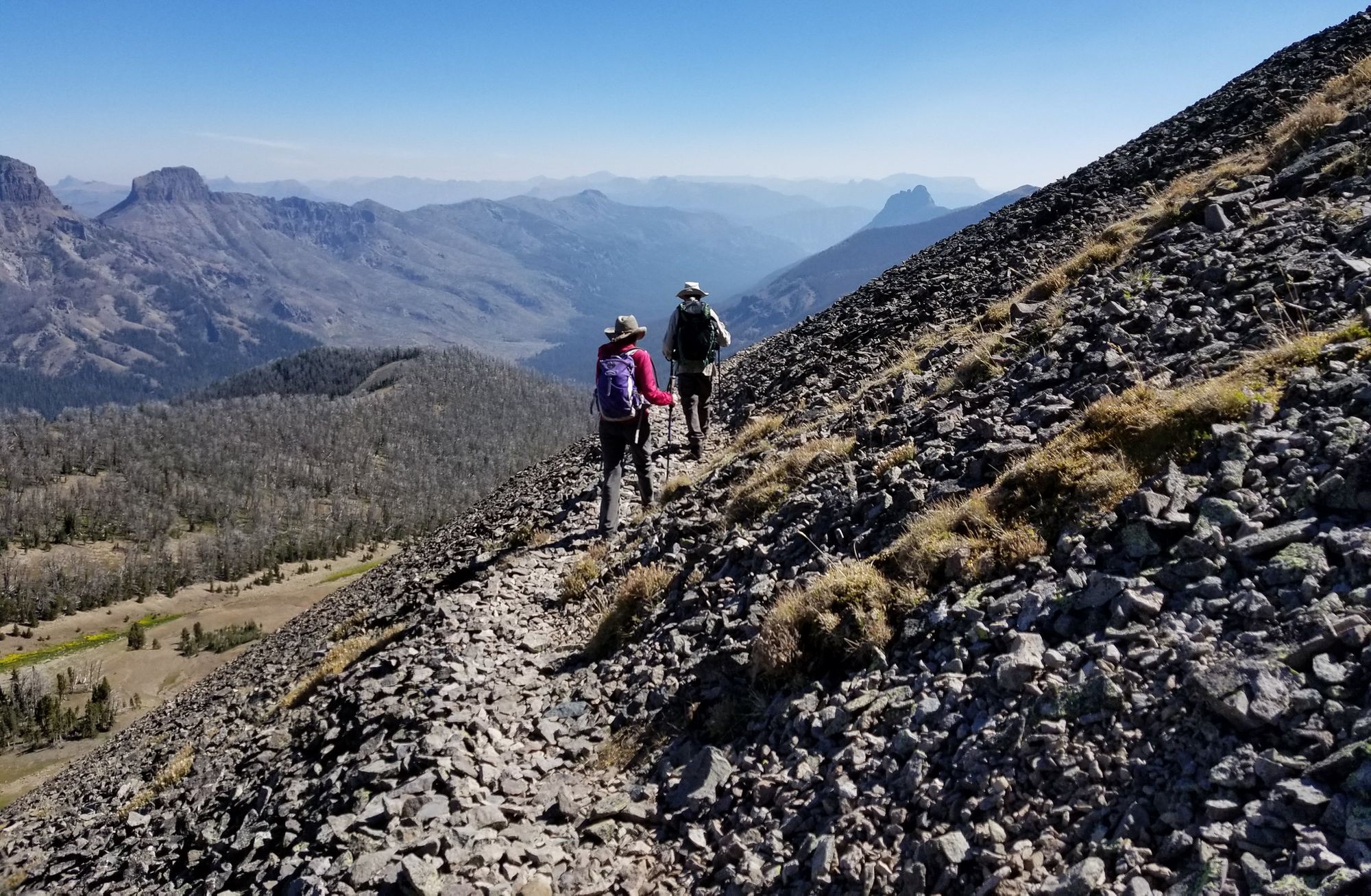 Approx length: 4 miles
Location: Fishing Bridge and Lake Village area (East area)
An out-and-back again hike from East Entrance Road, the hike up Avalanche Peak isn't an easy one - climbing up a full 2,100ft in just over two miles - but it does take in a whole lot of beautiful scenery along the way. Right across from the parking area, and to the right of a creek, you'll find the start of the trail, which enters a forest and quickly starts climbing upwards. One mile into the trail you'll get to the large bowl of Avalanche Peak, and from there, you'll switchback up to a level area just below the summit.
The summit of Avalanche Peak stands 3,221m (10,568ft) high, and is part of the Absaroka Range. The views from the rocky, bare summit are remarkable - looking out over to the other peaks of Yellowstone, over Yellowstone Lake and even to the distant Teton Range to the south. The trail is best hiked in summer, and is actually usually snow-covered to some extent until early July. This should take around three-hour hours but make no mistake - it's not easy going.
2. Hike The Beaver Ponds Trail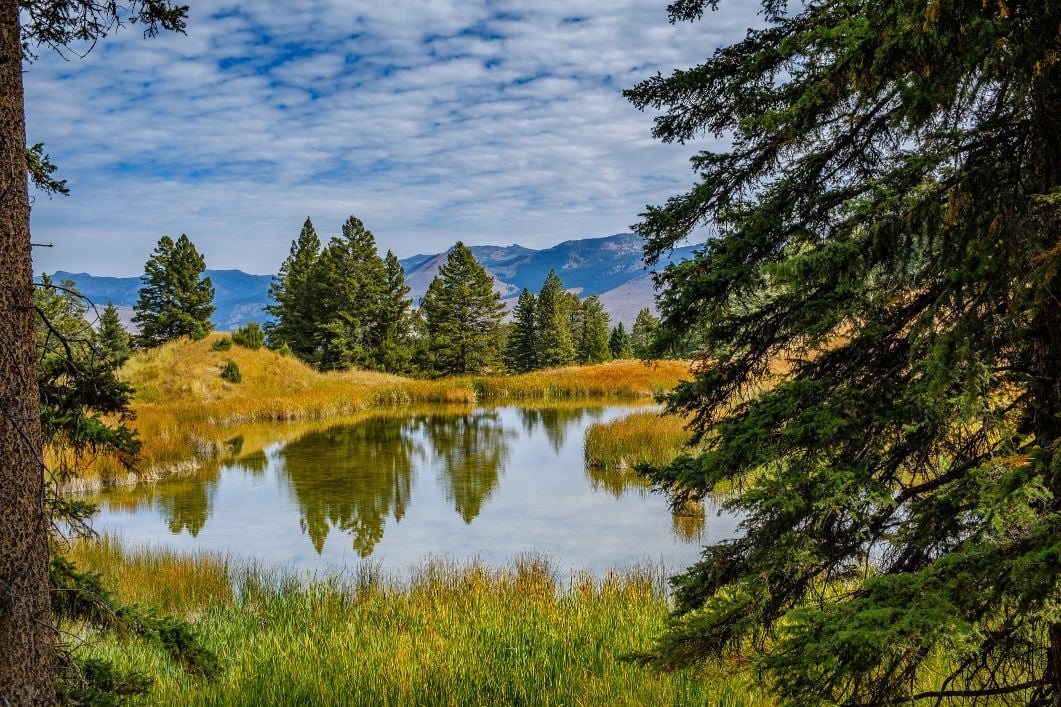 Approx length: 5.4 miles
Location: Mammoth Hot Springs area (North entrance)
We started with a challenging classic, so now one of the best hiking trails in Yellowstone for families. The Beaver Pond Trail is a 5.4-mile loop trail beginning and ending at Mammoth Hot Springs. It's steep at the start, but levels out pretty quickly. The immediate upside of the loop is that you're able to go out and come back without repeating your tracks.
The trailhead is accessible north of Liberty Cap, behind Mammoth Hot Springs Hotel, at the start of Old Gardiner Road. The eponymous beaver ponds are about halfway through the loop, which can take from two to five hours, but there are plenty of other opportunities to see animals along the way. Another bonus is that this is generally quite a quiet trail. It's great if you're looking for a moderate hike which really makes you feel like you're out in the wilderness of Yellowstone.
3. Hike the Seven Mile Hole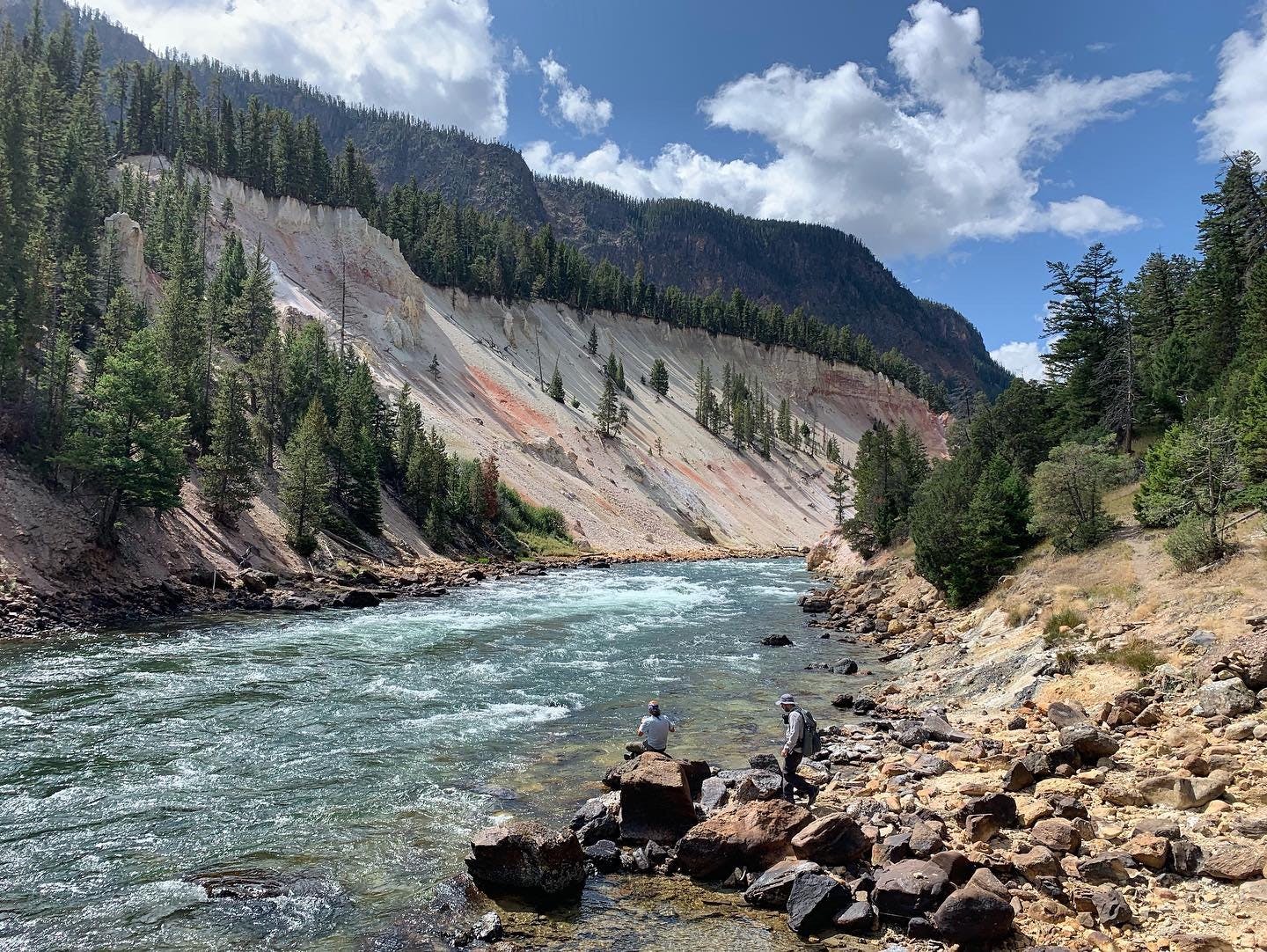 Approx length: 10 miles (surprisingly, not seven)
Location: The Canyon Area (North/Northeast entrance)
The trailhead for the Seven Mile Hole trail is at the Glacial Boulder pullout, on the road to Inspiration Point. This is a challenging day of hiking, but it's absolutely worth it. The Seven Mile Hole is a trail which combines all of Yellowstone's best features – from the rugged beauty of the Grand Canyon of Yellowstone River to the coniferous forests, packed with wildlife, and geothermal features.
You'll start the day with a mile or so near the canyon rim, with views of Silver Cord Cascade across the canyon to get you fawning. In another half mile you'll join up to the Washburn Spur Trail, then just short of a mile later, join the Seven Mile Hole. This drops more than 1,000ft in 2.3 miles. Enjoy lunch at the base of the canyon before making the challenging ascent back up. The views, diversity and challenge of this truly make it one of the best hikes in Yellowstone. That's why we included it on our five-night hike in Yellowstone and the Grand Tetons epic trek adventure.
4. Hike the Dunraven Pass to Mount Washburn Trail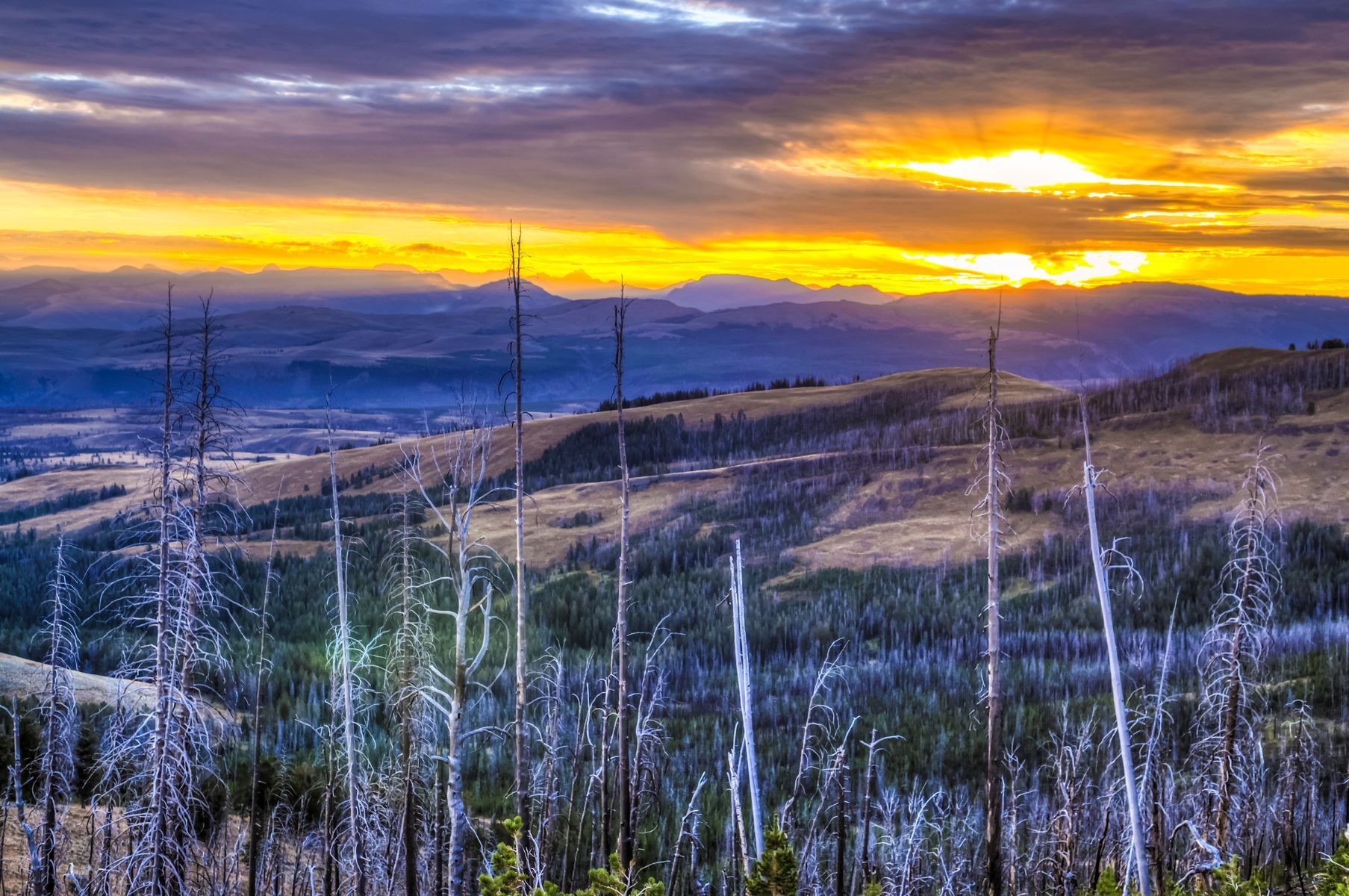 Approx length: 5-6 miles
Location: The Canyon Area (North/Northeast entrance)
There are a couple of options to get you up to the ever-popular Mount Washburn, a prominent peak in the Washburn Range in Yellowstone National Park sitting at a lofty 3,116m (10,243ft), and with great views of the Grand Canyon of Yellowstone River. Our favourite route up is a classic - starting at the Dunraven Pass Trailhead.
The route is just over a six mile round trip, and can take you anywhere from three to six hours. It follows a wide road up the southeast slope before turning north and climbing to the southwest slope of Washburn. Keep your eyes open for bighorn sheep and wildflowers, and beware in Autumn - grizzly bears frequent the area searching for whitebark pine nuts. The hike is moderately challenging, and provides some truly astonishing views of the Grand Canyon of Yellowstone, the Grand Teton mountains and the iconic Old Faithful Geyser Basin.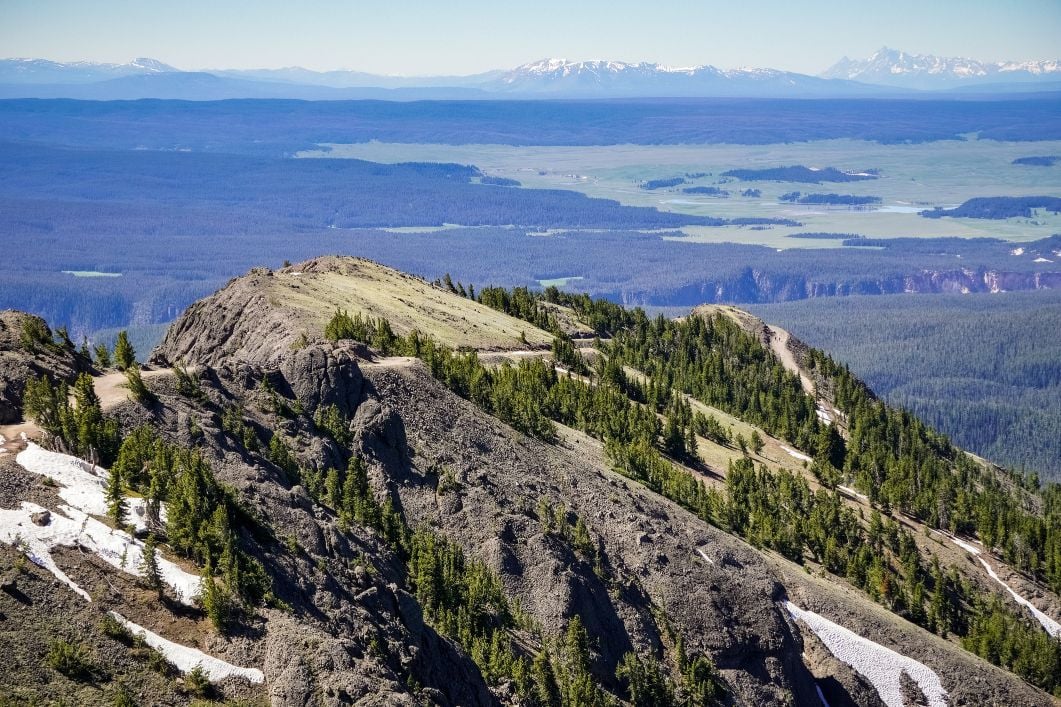 The mountain is named after Henry Washburn, who led an 1870 expedition into northwestern Wyoming, an area which became Yellowstone National Park in 1872. The group ascended the mountain on 29 August 1870 on (an early version) of this very trail, so there's plenty of history on these paths, as well as sweeping views.
For a shorter route up Mount Washburn, ascend instead from Chittenden Road. This way, you'll take a road on a steady incline, and still earn some mighty panoramas on the 5.8-mile round trip. Or you could even combine the two - climb from Dunraven Pass and descend to Chittenden Road for a through-hike.
Bonus: Washburn-Grand Canyon Through-Hike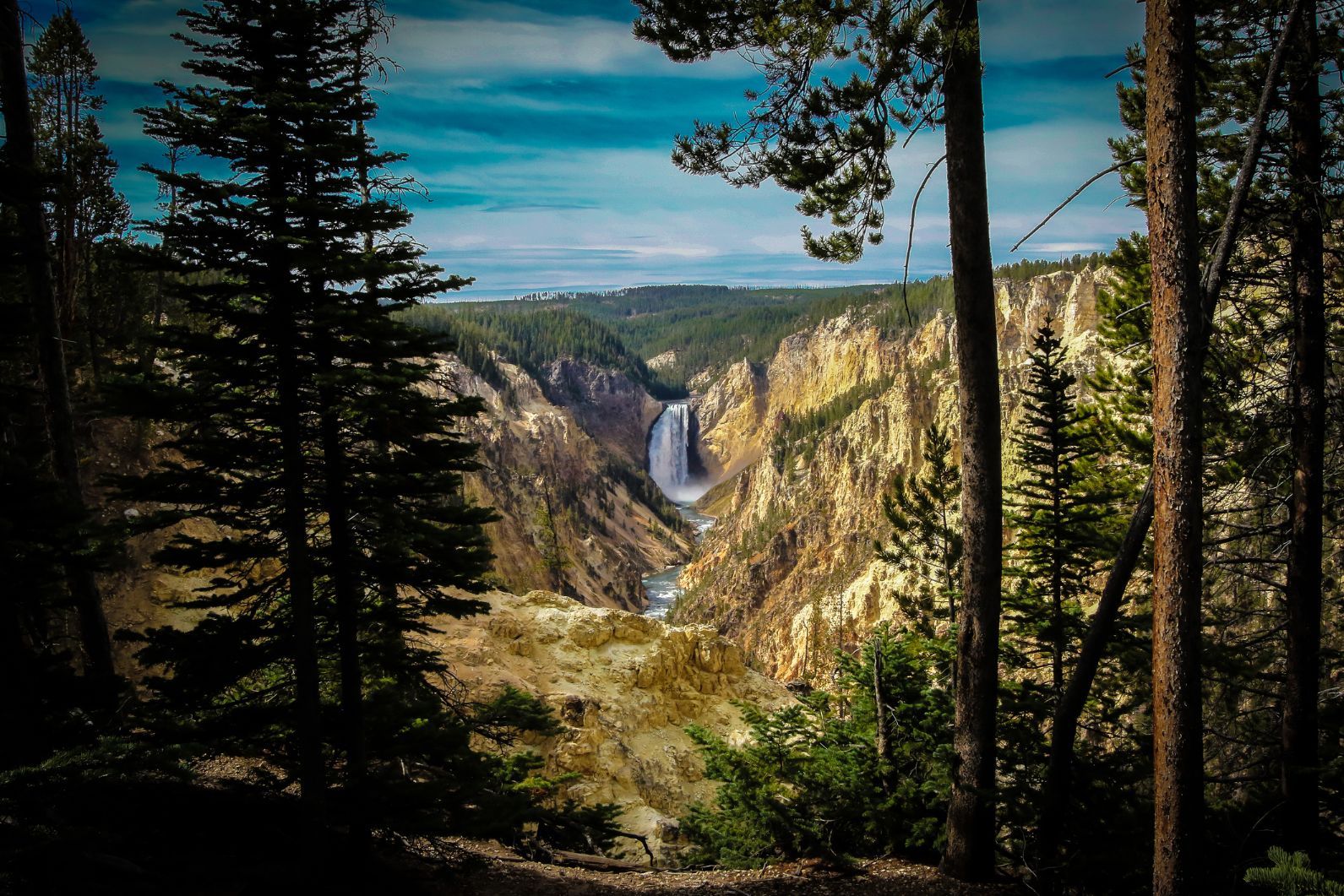 For a lesser known through-hike of Washburn meanwhile, first summit the mountain via either the Chittenden or Dunraven Pass route. Then when you're ready to leave, head down as though you're going to join the Chittenden trail, but instead, look for a thinner trail on the right. You'll join the Mount Washburn Spur Trail and this will then take you down the southeast spine of Washburn, through forests and down tricky rock sections, and eventually through Washburn Meadows and to the Grand Canyon of Yellowstone. Of course, this is a through-hike, and won't leave you back where you started, so you'll need a plan for how to get back!
5. Hike the Sky Rim Trail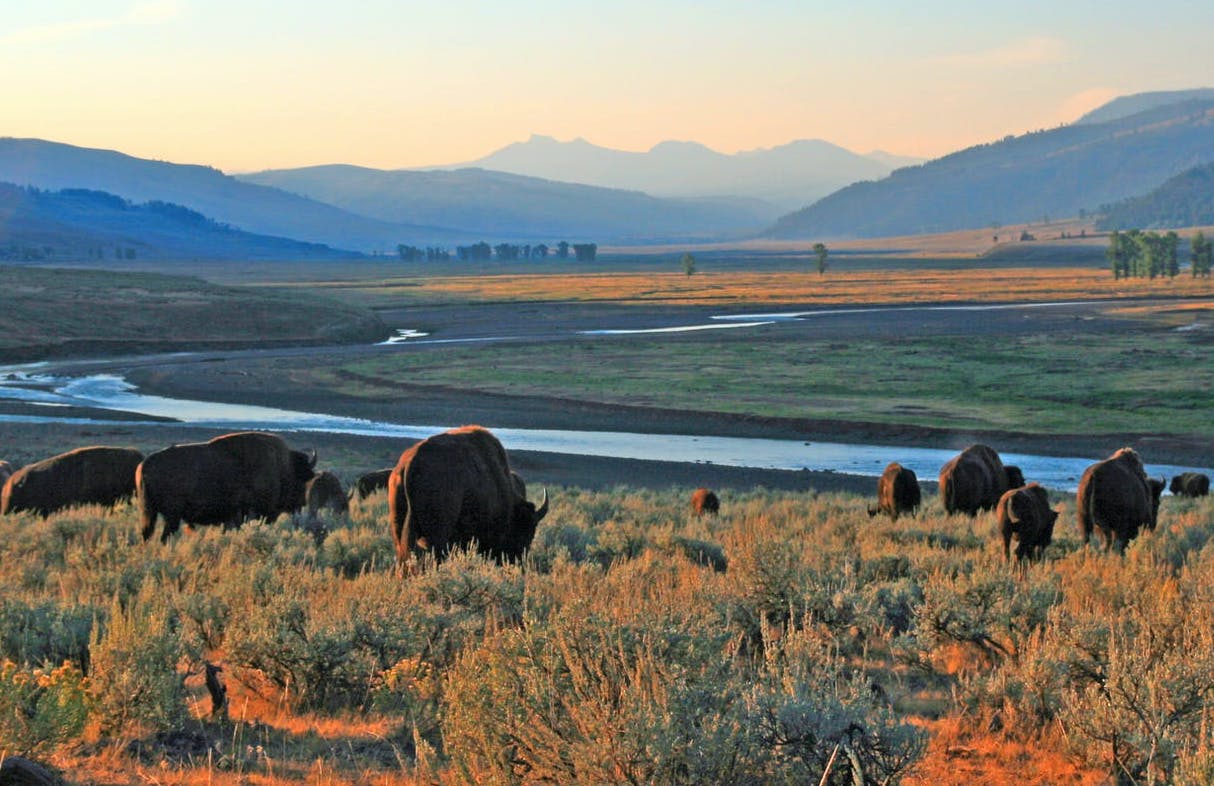 Approx length: 19 miles approx
Location: Northern Yellowstone (via West entrance)
Make no mistake, at over 19 miles, the Sky Rim Trail requires a whole lot of fitness to complete in one day, starting and leaving from the Daily Creek trailhead. Most people who walk the Sky Rim Trail actually do so over two days, and spend a night camping out in the backcountry beauty of Yellowstone.
The hike starts by passing through lodgepole pine forests and alpine meadows, then begins the initial ascent up the ridge on the border of Yellowstone National Park and Gallatin National Forest. Expect panoramic views of some of truly awesome peaks - Ramshorn Peak, Fortress Mountain and Lone Indian Peak to the north and Canary Bird Peak and Sawtooth Mountain to the east.
Climb Big Horn Peak, and then from 3000m gaze back out on the majestic views from your vantage point. Continue along the Black Butte Trail and you'll then descend alongside the Black Butte Creek back to Dailey Creek.
The Sky Rim Trail is undoubtedly one of the best hiking trails in Yellowstone National Park - and certainly one of our favourite.
6. Hike From Fairy Falls Trail to Imperial Geyser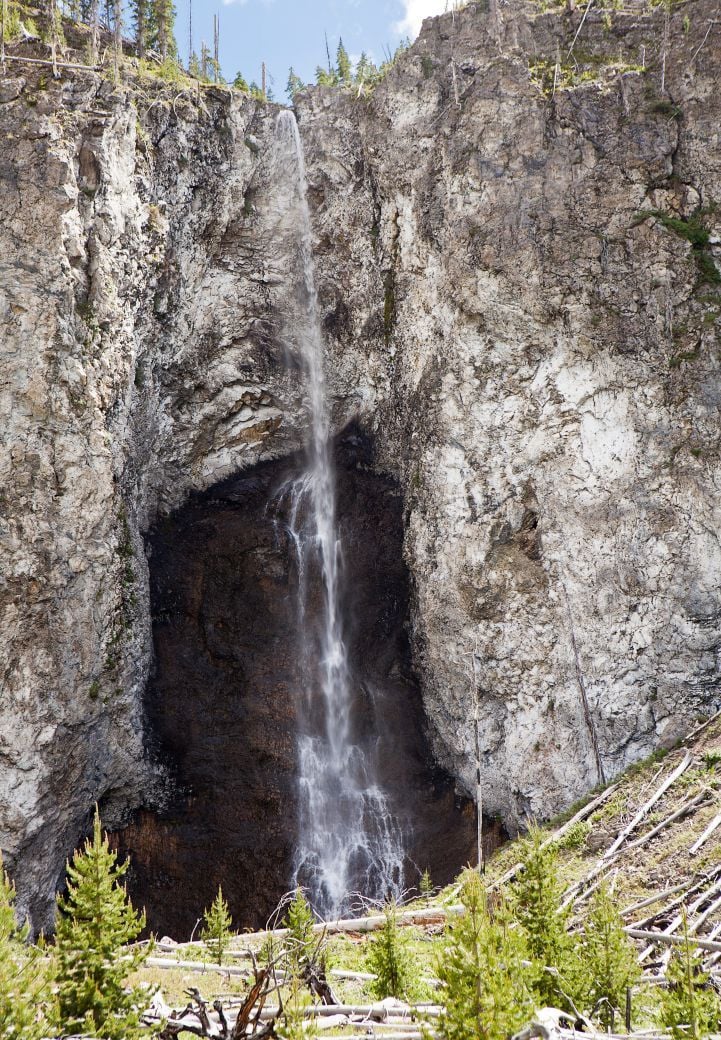 Approx length: 7 miles approx
Location: Old Faithful area (West entrance)
This is a beautiful (though often busy) route which takes you to an incredible waterfall and two geysers. There are two trailheads and two approaches to Fairy Falls. You can either park at the end of Fountain Flat Drive or a mile south of Midway Geyser Basin, where there's a popular car park with limited spacing.
If you've not heard of Fairy Falls before, you're in for a treat. At 200ft high, Fairy Falls is one of the most spectacular waterfalls in Yellowstone National Park. It was named by the Hayden Survey in 1871 for the "graceful beauty with which the little stream dropped down a clear descent." The rock formation alone is stunning.
The trail will take you through a young pine forest before you get to the falls. Keep your eyes open for the wildflowers and for wildlife as well. But though the falls are magnificent, they're not the only attraction on the route. You'll also pass a wonderful overlook of the famous Grand Prismatic geyser - where you can snap the famous circle of vivid blue, with Yellowstone stretching out behind it.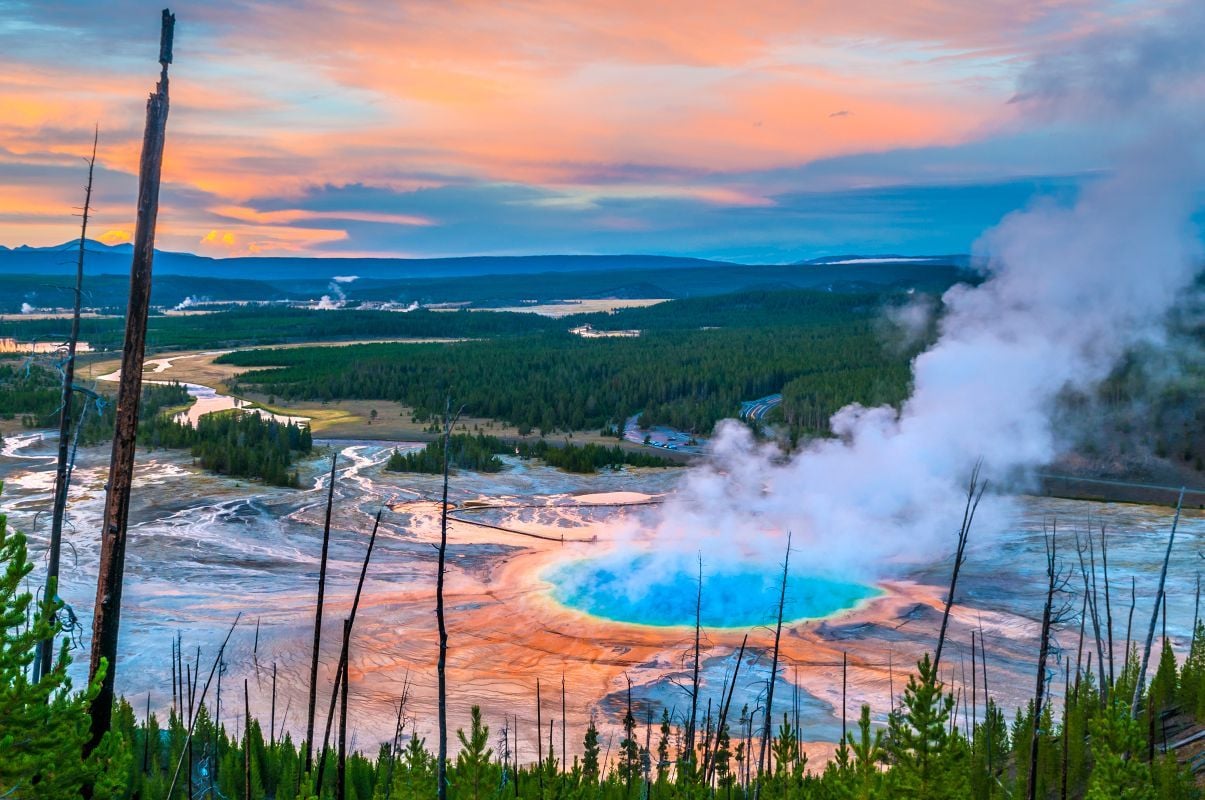 The trail then continues on past the falls to the Spray and Imperial geysers. The Imperial infrequently still erupts, reaching up to 35ft. Between the geysers and the falls, it makes for a stunning walk - surely one of the best hiking trails in Yellowstone National Park, if also one of the best known. You can make this hike even longer by joining up with the Imperial Meadows loop. This adds almost three miles to the route before the trail connects back with the freight road.
Bonus: Visit Old Faithful Geyser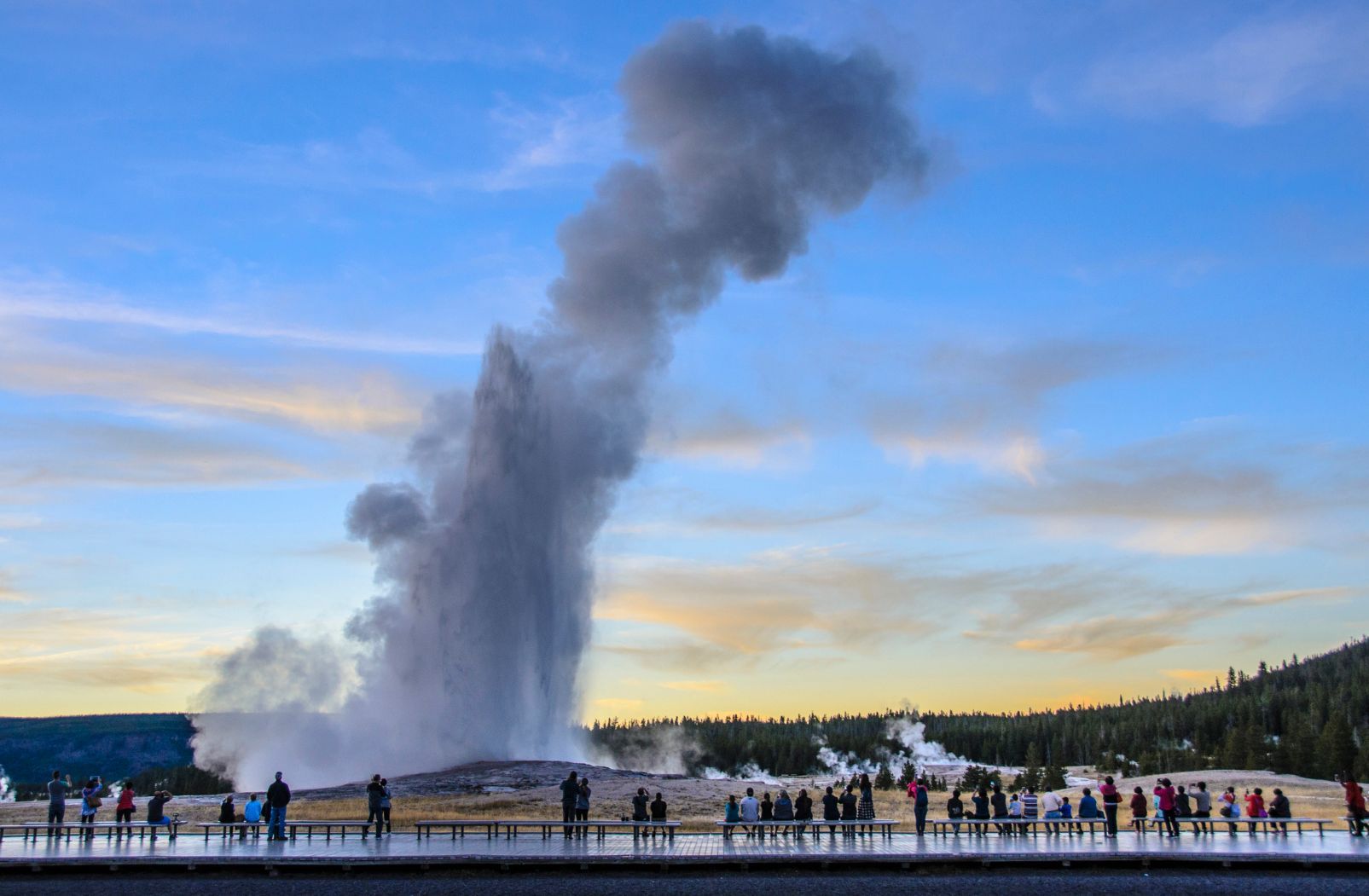 If you really want to see a geyser erupt, the world famous Old Faithful is the geyser to visit. Old Faithful is well named - records show that it's erupted every 44 minutes to two hours, around 20 times a day, since the year 2000. The eruption tends to be 100-180 feet high and lasts between one and a half to five minutes. It's only a 10-minute drive from the Fairy Falls Trail Parking Lot, so you'll pass it en route. It'll be busy with tourists waiting for the geyser, so we would recommend going to see it, then moving on to a lesser visited, wilder area, but it is a sight to behold. Less visited is the Lone Star Geyser, a backcountry geyser which can erupt 45 feet into the air and which sits along the Firehole River.
7. Hike the Lewis River Channel/Dogshead Loop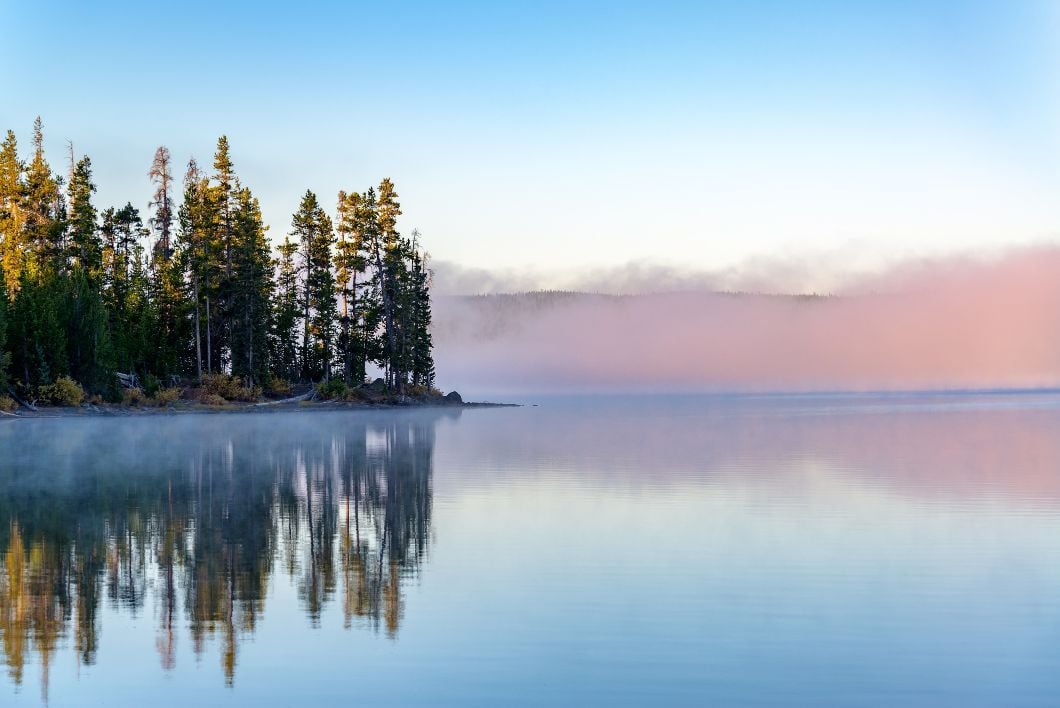 Approx length: 10.8 miles
Location: Lewis Lake area (South entrance)
This trail is 10.8-miles (17.3km), starting and finishing at a trailhead off South Entrance Road, just north of Lewis Lake. Before you get to the trailhead you'll pass Lewis Lake, and before even that, you'll see the 30ft, cascading Lewis Falls, where it's definitely worth stopping for a while. They really are quite remarkable: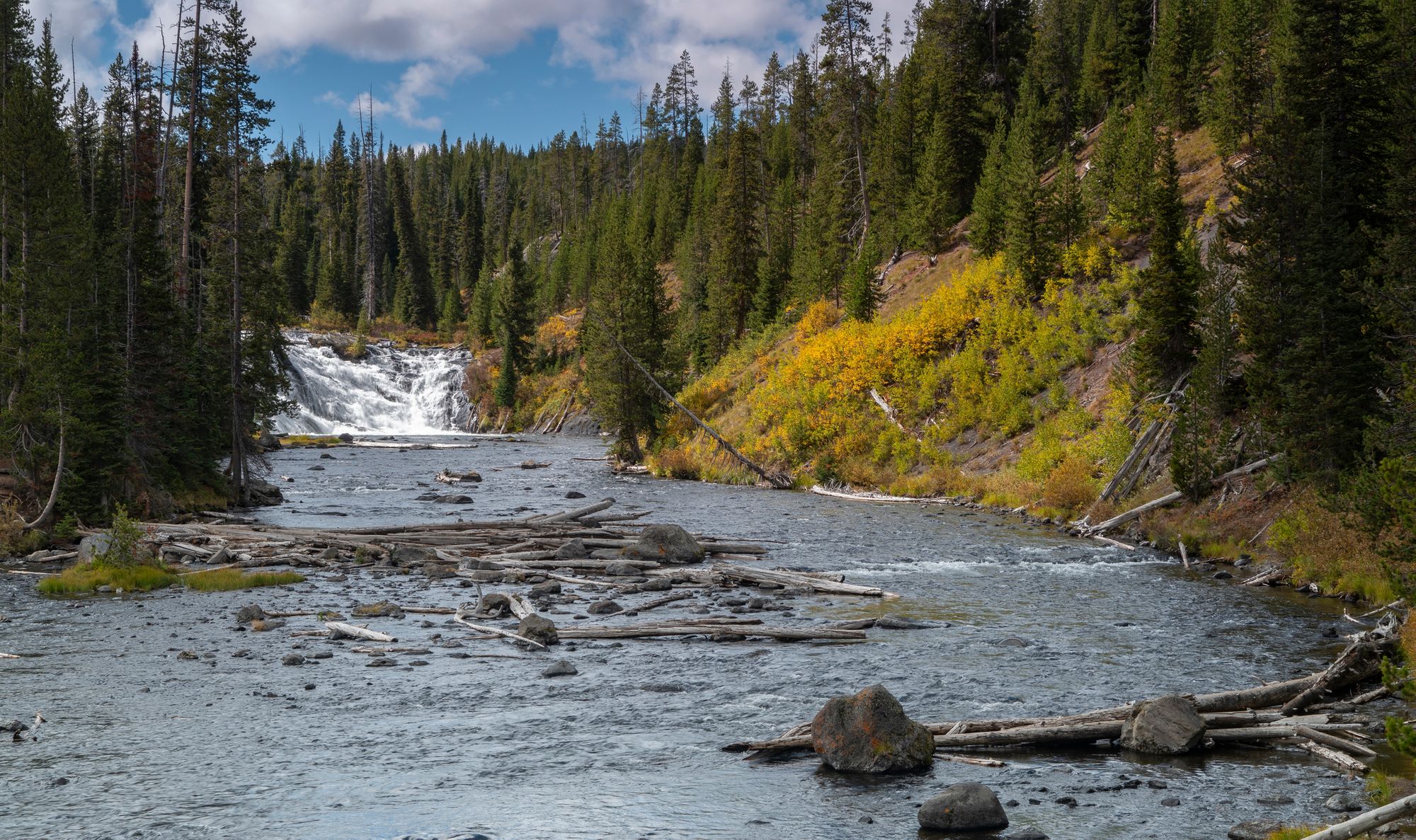 The trail proper then starts when you head out on the beautiful Lewis River Channel Trail. You'll get some great views of Lewis Lake, before following the Lewis River to the edge of Shoshone Lake and returning on the Dogshead Trail. This trail really gives you a feeling of being out in the backcountry of Yellowstone. The forests are vibrant, the waters of the Lewis River Channel are crystal clear and it's a quieter trail than most. You might spot trout in the shallow waters, and if you're lucky, some eagles or ospreys trying to grab them for dinner. This is a great trail for those who love the peace and quiet of the forests - and maybe a cheeky swim stop at a lake too.
The South entrance of Yellowstone also borders Grand Teton National Park, so you'll get two national parks for one if you travel in through the south entrance.
Inspired? Check out our adventures in North America, which take you to the country's best wilderness areas.