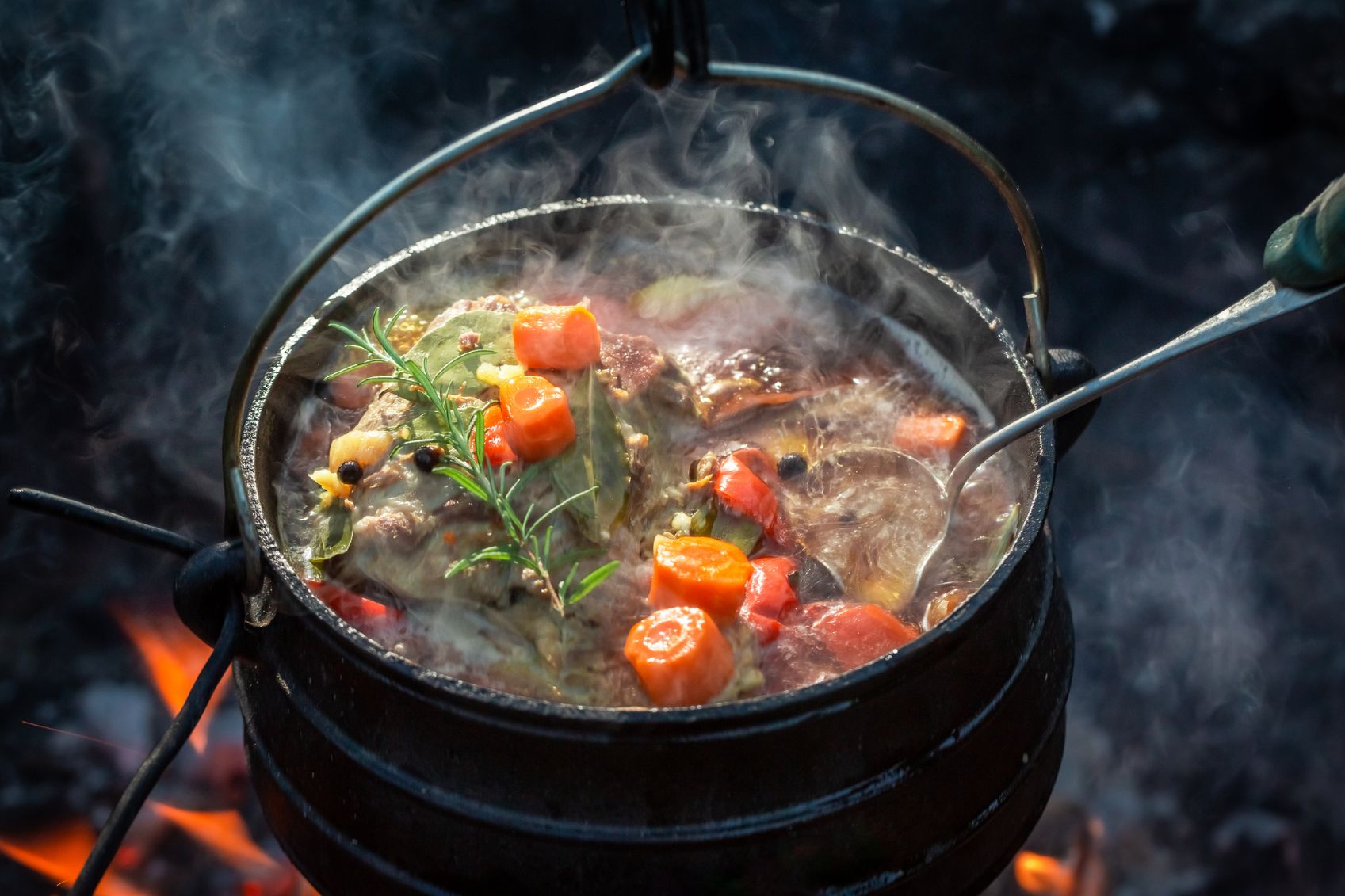 Campfire stew can be a thing of beauty. A heart-warming, wholesome reward for those who dare to venture beyond the camp staples of marshmallows and squeezed-out-the-packet pasta and meatballs, which for the uninitiated, yes, absolutely does exist. It's actually not as bad as it sounds, either. But it doesn't hold a candle, or a campfire you could say, to the noble campfire stew – a dish capable of keeping campers happy by the dozen.
It can be a bit daunting to cook a "proper meal" on the campfire, particularly if you haven't done it before. Stew isn't a quick dish, either. It takes upwards of an hour and a half to turn a batch around. But it is simple to make. You just need to make sure you've got the right gear with you (which isn't an awful lot). Check below for a list of all the kit you'll need.
It should also be noted that it's not ideal to have to heave a bunch of ingredients around with you on a multi-day hike (for a variety of reasons – weight, animals, smell). So campfire stews are perhaps best saved for an overnight wild camp in the hills, so you're not adding a small local vegetable market to the weight of your pack if you're heading out for multiple days.
Here are our tips for making a campfire stew, including what campfire stew ingredients to pack, what equipment you'll need and, crucially, a basic campfire stew recipe to follow. Of course, feel free to mix up the recipe and personalise it so it matches your taste!
Campfire Stew: What Equipment Do I Need?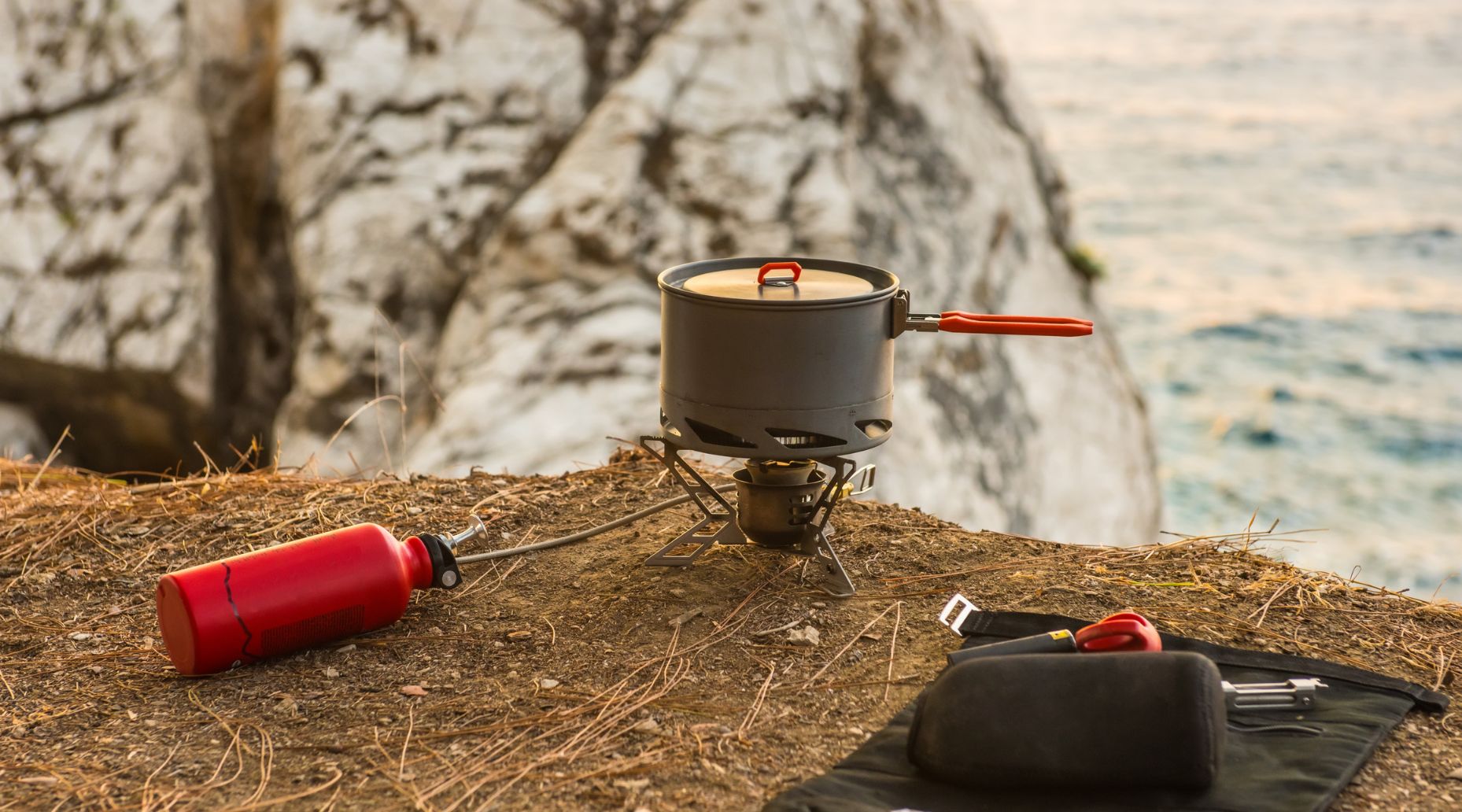 To make a campfire stew, you will, of course, need a campfire. This is only natural, given the title of the dish. We're not going to get into how to make a campfire here, but we do have a perfectly good guide on how to make a campfire elsewhere on our site.
Of course, you can use a camping stove instead of a campfire. Check out our guide to picking a camping stove for more on that. Otherwise, all you really need is a dutch oven camping pot or a standard cooking pot (and a stand for it to sit on above the campfire, if you are indeed using a campfire rather than a stove) to chuck all of your ingredients into. Plus, you'll need some bowls to eat from and some cutlery to eat with. Which you presumably already know, having managed to stay alive for long enough to end up reading this article!
There are plenty of purpose-built camping pots and cooking kits on the market these days, offering lightweight camping pots, saucepans, frying pans and cutlery, which pack away neatly to minimise obstruction in your pack. You can always just bring your own cutlery and pots from home if you're less concerned about weight and only heading for the night, though. Just keep in mind that with campfire stew, the bigger the pot you can get, the better.
Campfire Stew: Recipes and Ingredients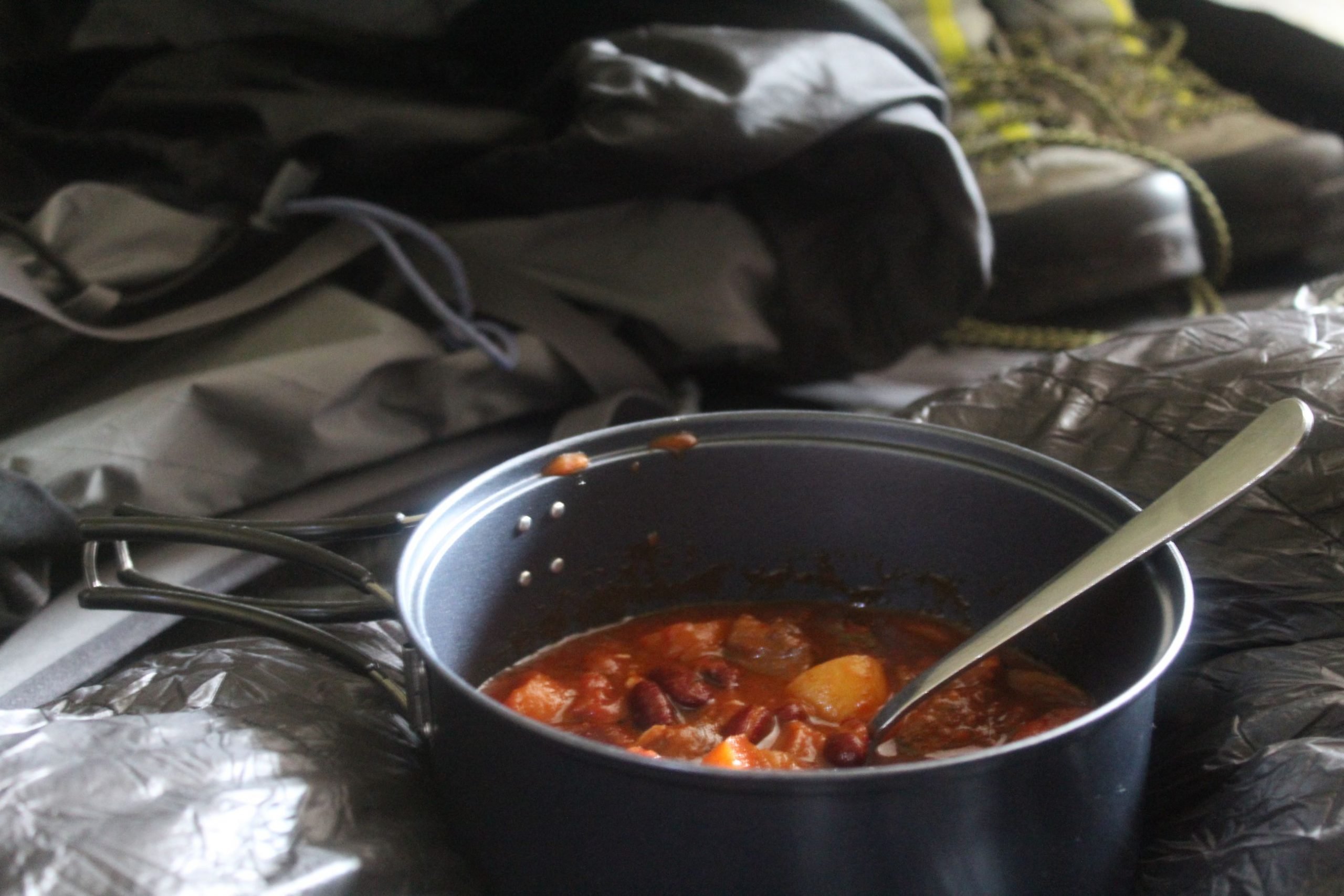 The reason campfire stew is so popular is that it's an easy way to feed a large amount of people when you go camping. It's an entire feast cooked up in one pot and is incredibly easy to adapt to your tastes or those of the group from the basic recipe.
Here, we're going to give you a basic recipe for a tasty campfire stew. If there's a particular bit of food you think would be great in the pot, or one that you would rather not have, personalise the recipe and call it your own. The recipe isn't vegetarian, but for a veggie version, just replace the beef stock with veggie stock and the beef with butternut squash.
This recipe will feed around four people, so you can move some of the ingredients up or down depending on how many you're going to be cooking for.
Campfire Stew Recipe: Ingredients
Cooking oil (a few tablespoons)
An onion, whether red or white is your call (chopped)
Four cloves of garlic (crushed or minced)
Salt and pepper (to taste)
A red pepper (chopped)
Eight small potatoes (halved or quartered depending on size)
Three carrots (chopped)
A bit of parsley
400g tin red kidney beans in chilli sauce
400g tin chopped tomatoes
500ml/18fl oz beef stock (or vegetable stock if you're a veggie)
600-900g beef (or if veggie replace with cubed butternut squash)
A relative fistful of paprika (or slightly less, if unlike us, you don't dream in paprika)
Bread (for dipping!)
Campfire Stew Recipe: Before You Go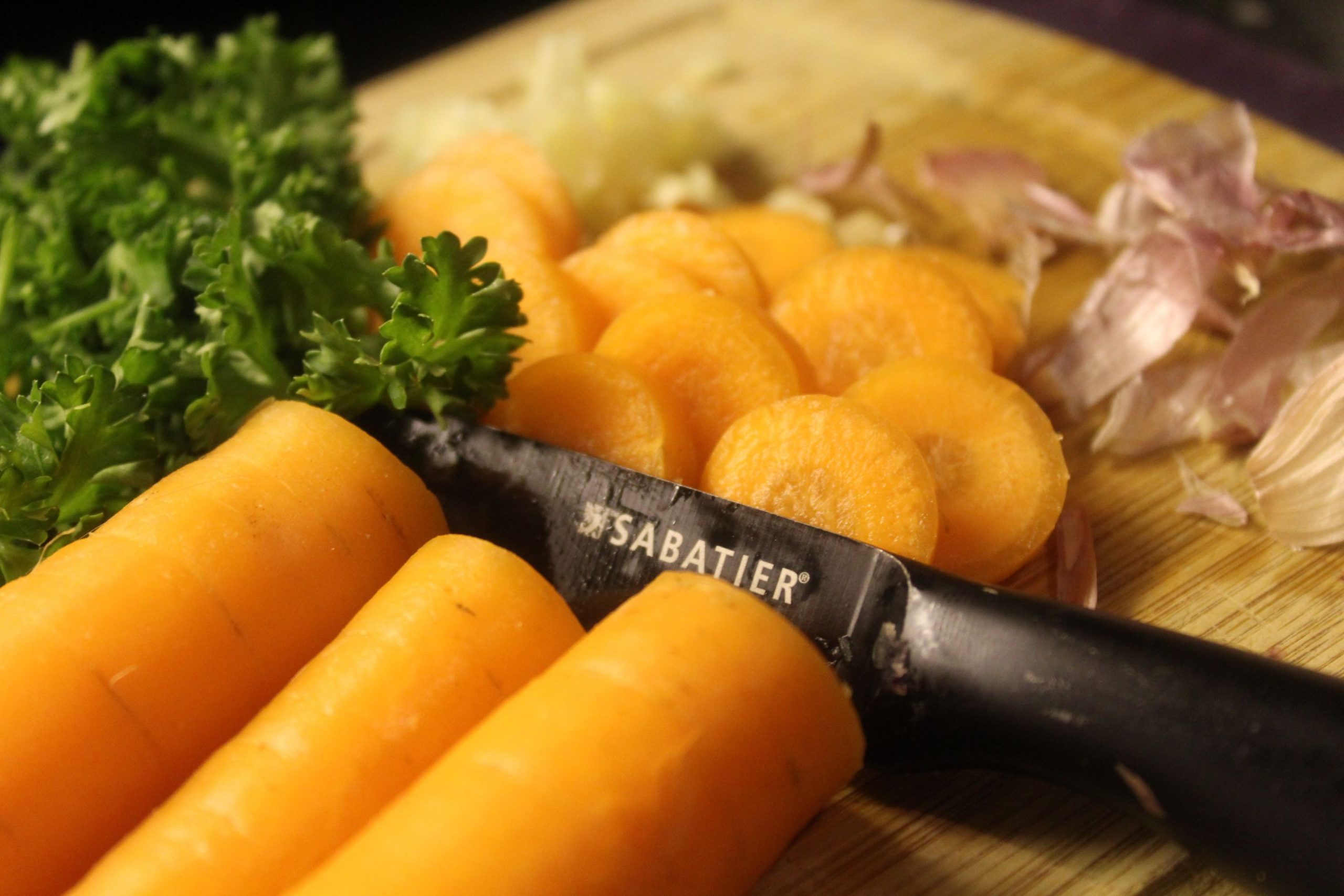 First of all, these are the ingredients that you'll need before you leave to go camping. It looks like a long list to start with, but you can drop a few ingredients if they're not to your taste.
Now, you should think about doing as much of the kitchen work at your home before you leave. For example, you can stick the red peppers, crushed garlic, onions, potatoes, carrots and parsley all in a tupperware, already chopped. Pack the tins away neatly, and obviously if you're taking meat with you, be careful with a) how long it's been out of the fridge and b) depending on where you're reading this, with wild animals! If you're not sure of your campfire cooking abilities, you could even cook the meat up a little before you head off and keep it in tupperware too. If you're lazy, you could cook the entire meal before going, then heat it up on the fire.
By using tupperware or reusable containers for your chopped veg, you can pack them neatly away in your bag. You'll be both making the most of your pack space and making the process infinitely easier when it comes to cooking the campfire stew.
Campfire Stew Recipe: At the Campfire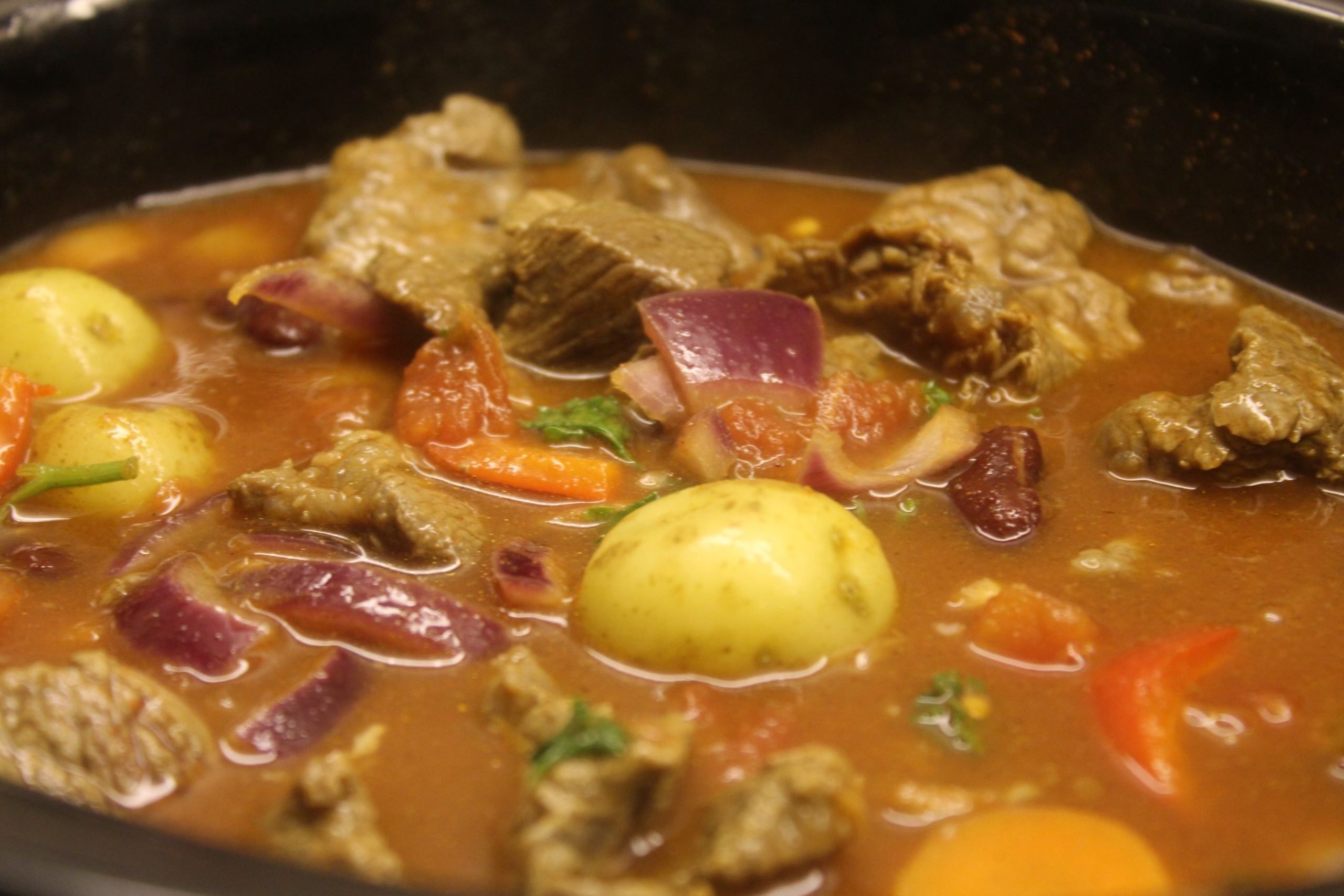 Basically, dump all the ingredients above into a pot. Seriously, we weren't joking. That's literally how you make campfire stew. Get the ingredients, stick them in a pot and stir.
Once you've got your campfire raging and your equipment all set up, add your cooking oil, then chuck in your onions and peppers. Leave them to soften up for a few minutes. Then add the chopped tomatoes and stir in.
Next, bring to the boil and add your beef cube and 500ml water. Then add the rest of your ingredients and let it cook for an hour and a half to two hours. If you're cooking meat, you'll obviously need to be particularly careful to make sure it's cooked through (and hopefully nice and soft and tender), but otherwise, just keep tasting, stirring and seasoning as you go.
You'll be a happy, hungry group of campers eating campfire stew in no time! Voila!
Fancy getting out on a campfire adventure? Check out our wild camping collection for some inspiration.