Kayak past pastoral farmland, along the quiet Son River into the UNESCO-protected Phong Nha-Kẻ Bàng national park, and you'll soon come to the entrance to Phong Nha cave itself. It's cut into the limestone rock of a Vietnamese mountain, and surrounded by the lush Kẻ Bàng forests.
This is the cave that gives the nearby town of Phong Nha, now a small adventure hub, its name. Paddle on in and you'll find the river continues on and on, even as the light fades out and you become encircled by unusual cave formations.
A combination of ancient limestone deposits, up to 450-million years old, and heavy rains in the Quang Binh region create perfect conditions for cave making. There are a full 126km of known caving routes, with many more unexplored.
During the Vietnamese War, the national park was a staging area for the north. Phong Nha cave itself served as a miniature harbour. Boats were hidden within, while slightly deeper inside the cave was a hospital. This easily-accessible cave has long been known and used by locals, but it wasn't until 2009 that many more caves in the park, including the largest cave on the planet, were found.
The World's Largest Cave: Son Doong Cave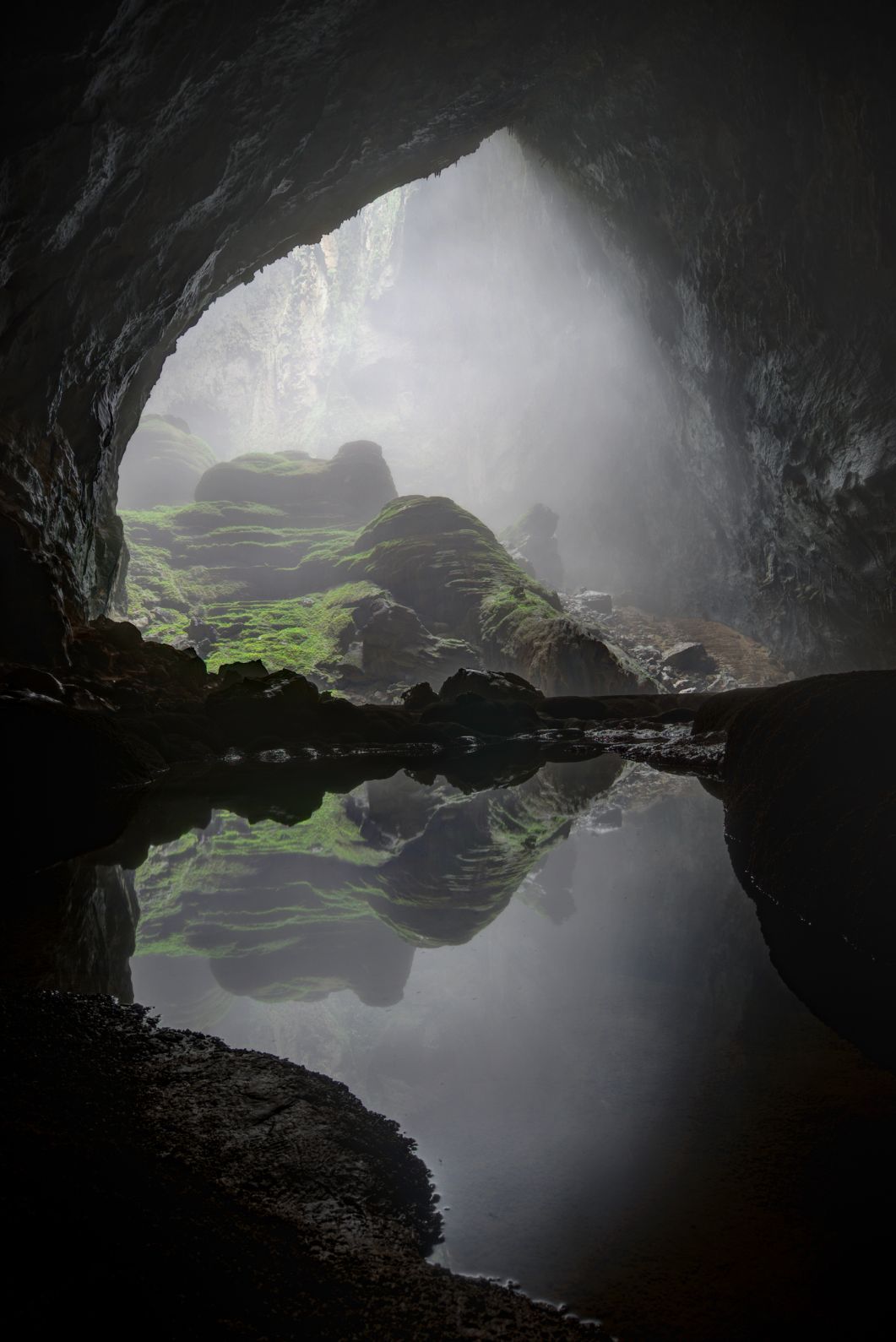 A local resident, Mr. Ho Khanh, discovered the entrance to a mysterious cave in Phong Nha-Kẻ Bàng as early as 1990. But he didn't go in, and neither did any of the other locals - largely due to the roaring river that could be heard below, as well as the wind whirling in the area and the steep descent of the cave network.
It would be almost two decades before humans first delved over the rocky drop, when in April 2009, the British Vietnam Caving Expedition Team, with the help of Ho Khanh, set out to explore more of the area.
Over a limestone cliff, they found what is now known as Son Doong cave. When measured by cross-section, it is the largest cave in the entire world. The team discovered it was home to underground rainforests, to huge sinkholes, and to a 90m high calcite barrier now known as the 'Great Wall of Vietnam'.
You can even camp by Ma Da lake. There are few more scenic spots to wake up in Vietnam, let alone the national park, than by this stunning little body of water.
The discovery of Son Doong cave brought international media attention to the Phong Nha-Kẻ Bàng national park, and with Son Doong open to the public since 2013, tourism has boomed. Adventurers from around the world are drawn to explore the remarkable network of caves, with Phong Nha measuring 7,729m long (although tourists can "only" go 1500m in). There are various grottos to explore - and the cave boasts one of the longest underground rivers in the world.
It's this fast-flowing river, as much as the acidity and soluble limestone, which carved the cave, which is estimated to be two to five million years old.
David Attenborough filmed in the cave for his series, 'Asia', and the cave also featured in a Google Doodle. Only 1,000 visitors a year are allowed in the cave for conservation purposes, but it is possible to camp inside.
The Main Sites: Phong Nha, Paradise Cave and Hang En
Today, there are two caves which take up most the tourism in the Phong Nha-Kẻ Bàng national park - the eponymous Phong Nha cave, which is 10km long and lit up to welcome tourists, and Paradise Cave, also known as Thien Duong cave, or if you're feeling romantic, the 'Underground Royal Palace'.
All of the caves in Phong Nha-Kẻ Bàng are an incredibly welcoming temperature. The air temperature is 23 degrees, regardless of how warm it is outside the caves. The water temperature tends to be slightly warmer, and there's plenty of room to move around - hence why the national park has become one of the most popular spots for caving in the entire world.
We've still only explored about 30% of the area. So there's a lot more to find...
Phong Nha is a river cave, so you have to sail in on a boat or kayak. The cave has a whole host of records, including the longest subterranean river and the highest and widest entrance. When he visited the area in the 19th century, the French priest Cadierre called it "the most beautiful cave in Indochina," which was the name for the collective of Vietnam, Laos, and Cambodia at the time.
Paradise cave is a dry cave, and it's particularly beautiful, with stalactites and stalagmites reaching out towards one another from the floor and roof, across the massive space. It's easy to explore, as staircases and boardwalks have been set up, and the rooms are dramatically lit. This makes for an accessible, beautiful space, but it also disrupts the rugged, natural feel of the space.
Another spot which is definitely worthy of a mention is Hang En cave, the third largest cave in the world, with its own camping site and beach.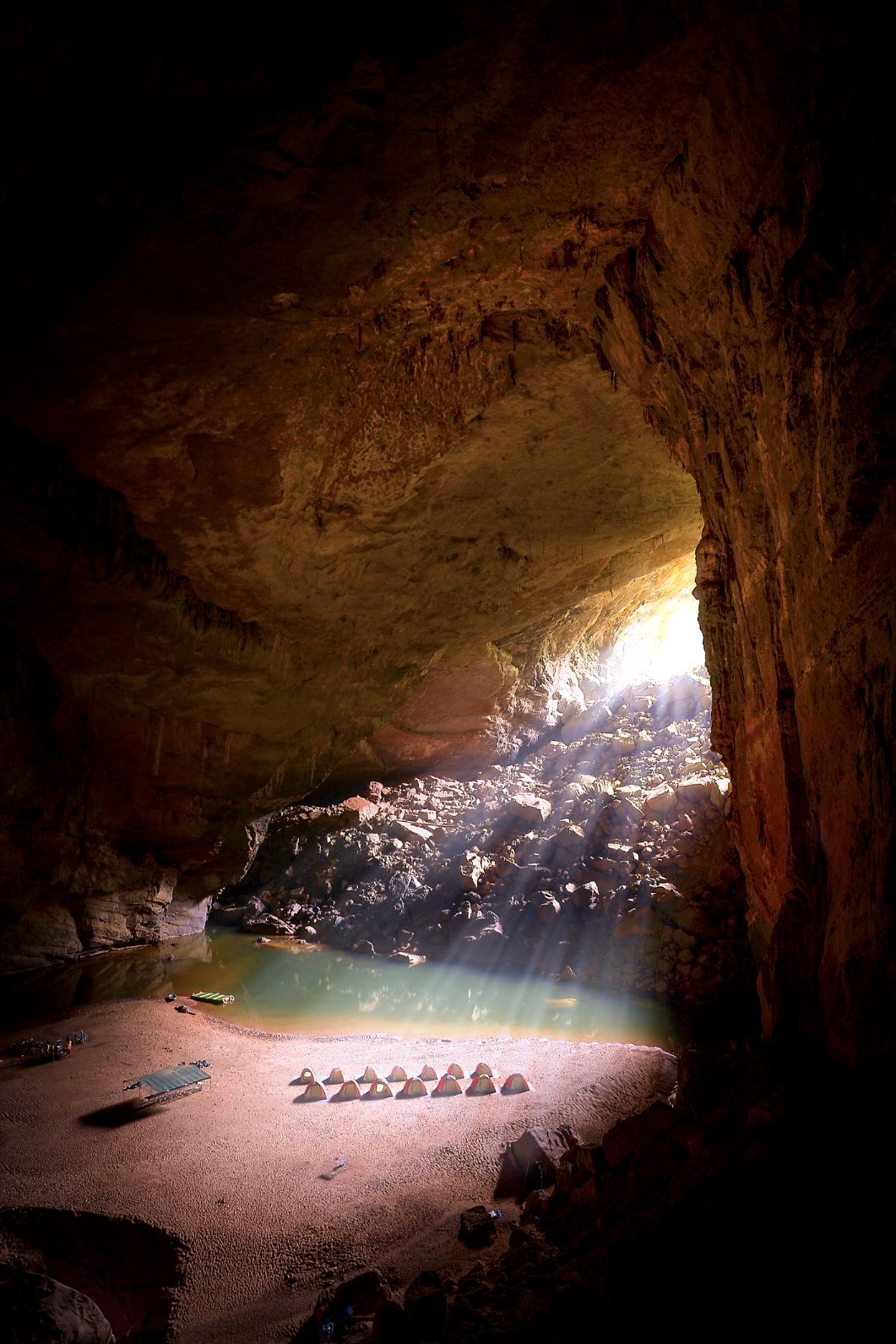 Hang En, Phong Nha and Paradise cave are all incredibly picturesque, and the tourism they draw in has created a lot of jobs - for cooks, guides, porters, cleaners and more. Tourism is even offering a new path and livelihood to some locals who have traded illegal logging to train as tour guides.
But to truly explore Phong Nha-Kẻ Bàng, you'll want to explore beyond Phong Nha or Paradise cave in particular. To see the untouched side of the park, away from the boardwalks and lights, which can still be found in abundance, you need to go deeper into the Phong Nha-Kẻ Bàng national park.
There's still a whole lot of the area left waiting to be explored. As Howard Limert, who led the 2009 expedition to Son Doong cave, told the BBC in 2019: "We've still only explored about 30% of the area. So there's a lot more to find."
Off the Beaten Path: Avoiding Crowds in Phong Nha-Kẻ Bàng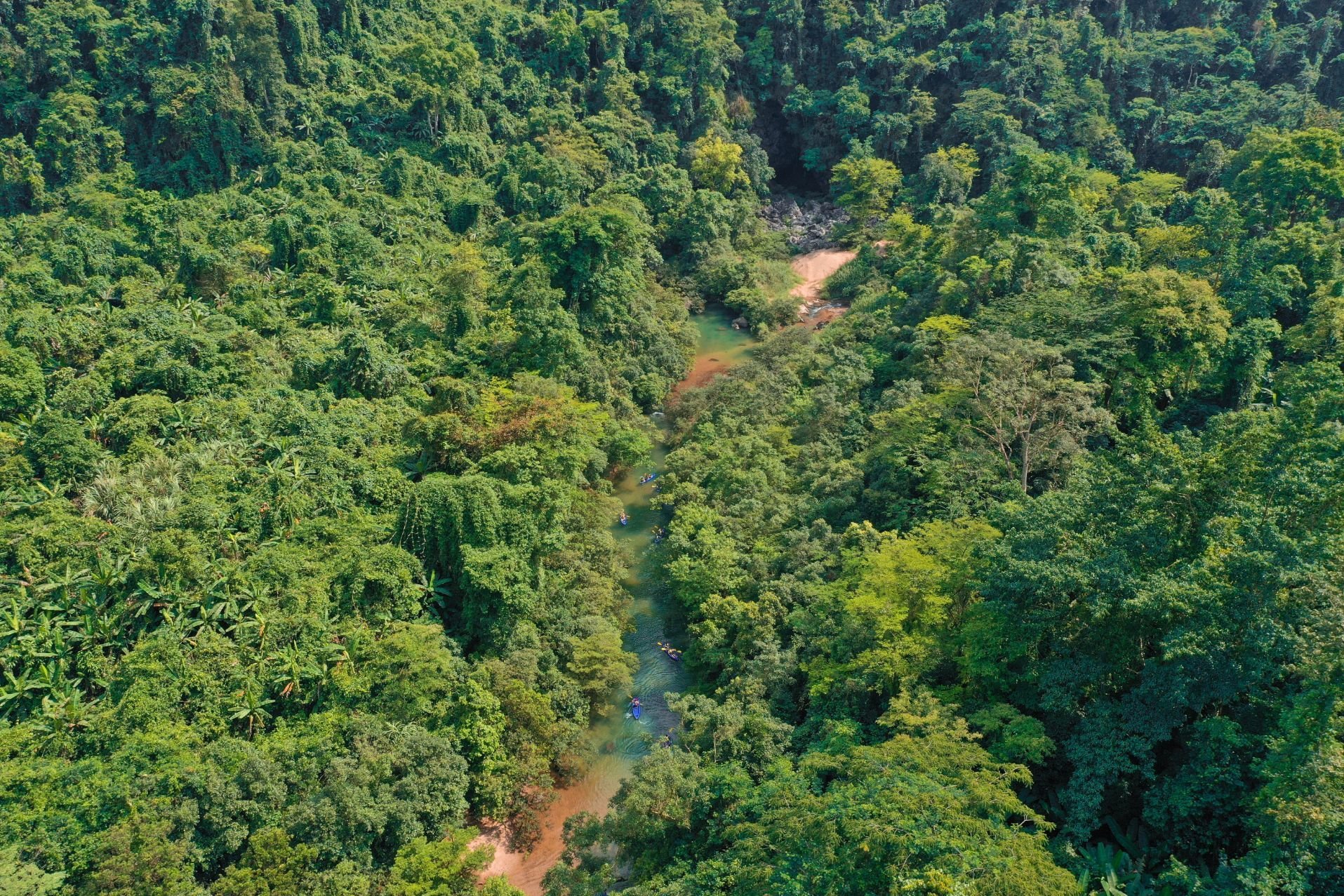 There are an array of caves in Phong Nha-Kẻ Bàng which are not just off the beaten track, but which have only been accessible to the public for a handful of years. Tra Ang cave is one such beauty. It opened to public access in 2016 and is only visited by a tiny percentage of the visitors who come to the national park.
It's a good example of how, by picking a lesser known cave, you can often end up seeing a much less manicured, more natural side of Phong Nha-Kẻ Bàng.
To get to the Tra Ang cave, you're going to need to drive through the stunning national park to the trailhead, on scenic jungle roads. From there, it's a hike through the rainforest, often downhill on steep trails or traversing rivers.
When you arrive at the entrance to Tra Ang, there are no spotlights or boardwalks. The place is entirely natural, and you - or your group - will be the only people there. Think less Trip Advisor, more Indiana Jones.
You'll be kitted out with a head torch and life jacket to swim into the cave. A party trick of guides is to get the group to turn off all of their head torches when you're a few hundred metres in to demonstrate the darkness. Without the torchlight it's pitch black, but with it, you can enjoy the fascinating rock formations all around.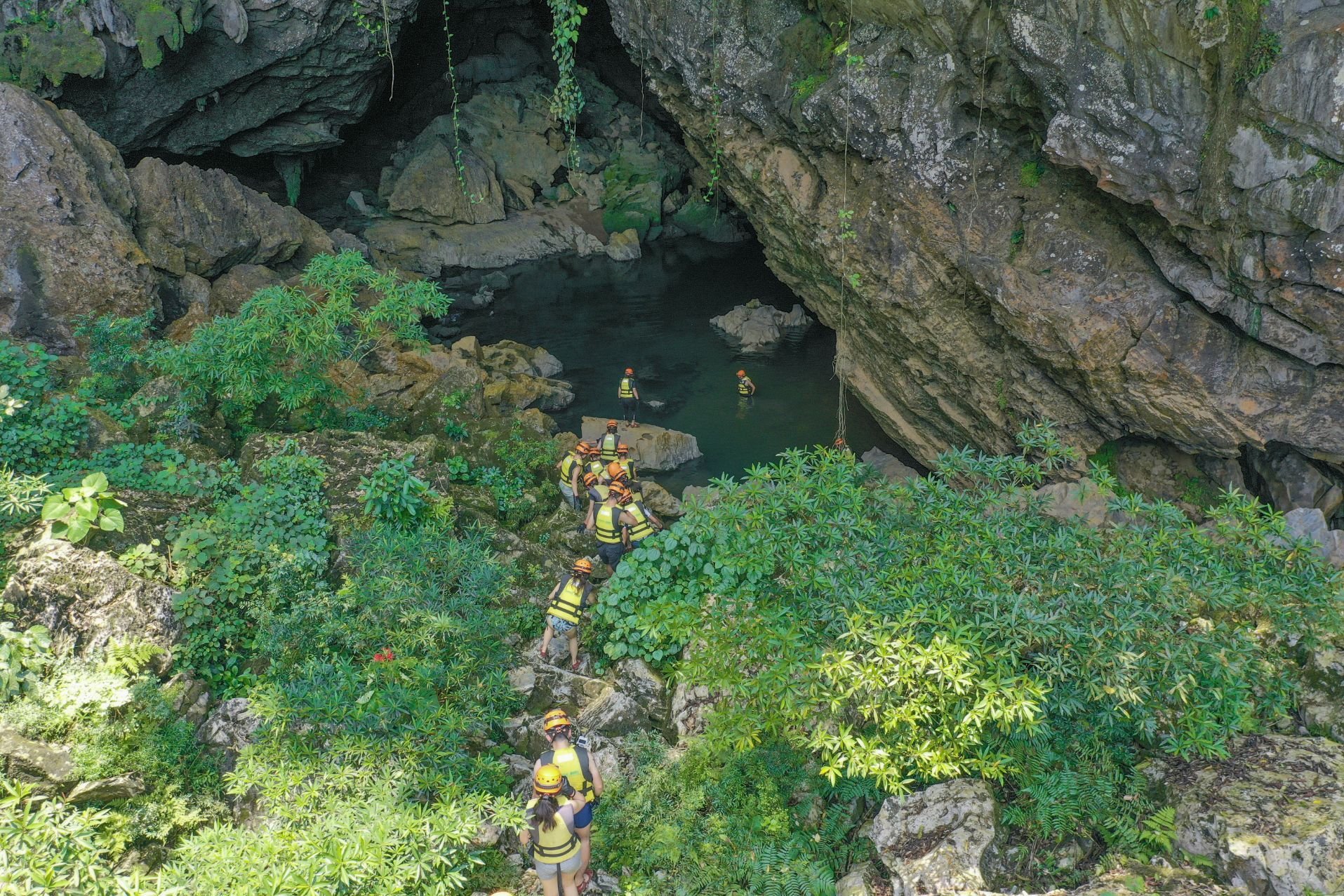 Tra Ang is 600m in length, and you're able to swim through most of that.
Exiting the Tra Ang cave, you can head on to the Ma Da valley. There's no doubt that trekking through the rainforest can be hot and humid work, but it's worth it to reach the Ma Da lake - a paradisiacal lagoon hidden in the forest, surrounded by steep rock walls and vibrant trees. There's plenty of opportunities for cliff jumping - or this is a perfect place to sit back and enjoy lunch.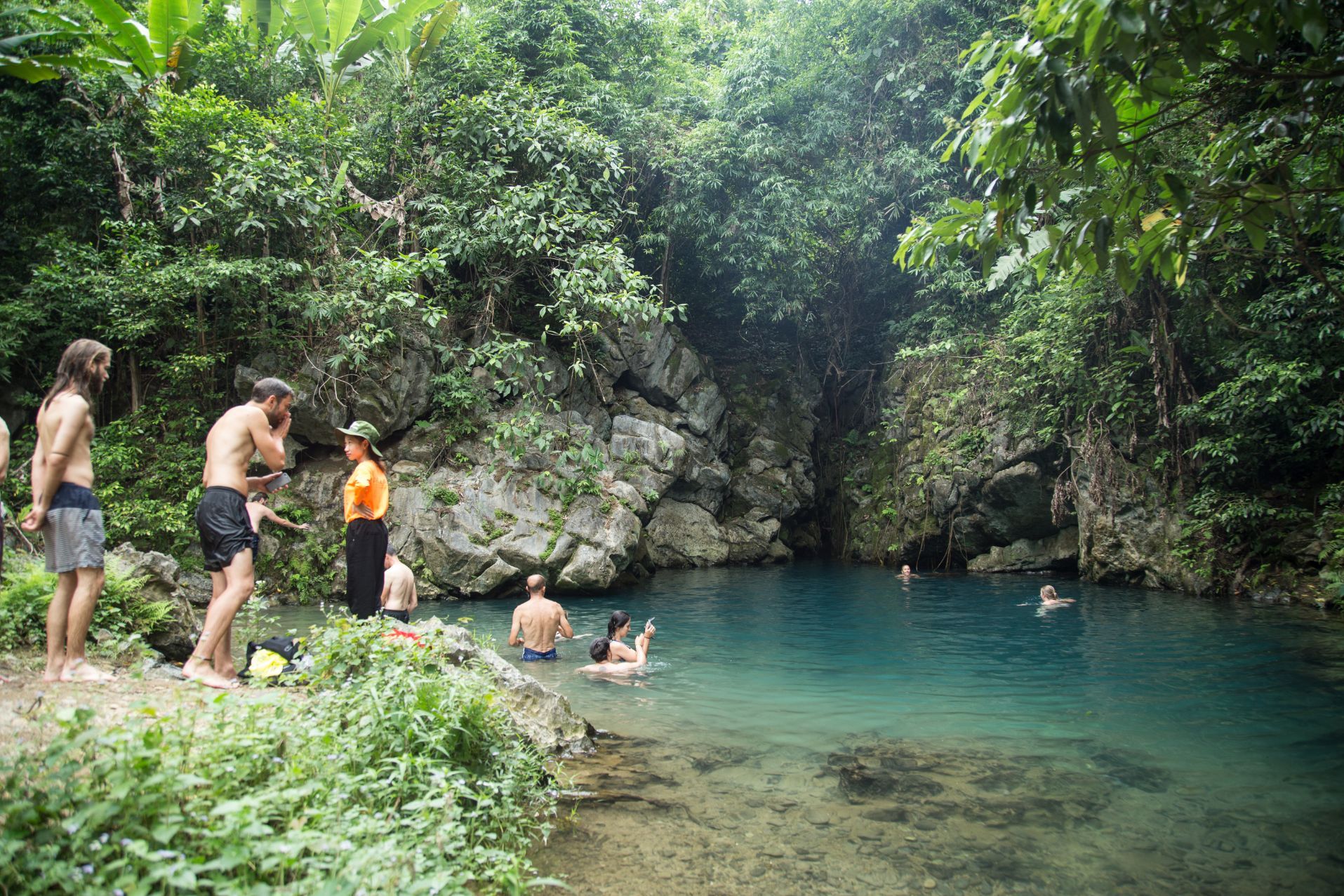 You can even camp by Ma Da lake. There are few more scenic spots to wake up in Vietnam, let alone the national park, than by this beautiful little body of water.
More caving? Alright then. Another remarkable, lesser visited cave, in Phong Nha-Kẻ Bàng is the Elephant cave. Around a two hour walk from the Ma Da lake, you'll walk past poison ivy and through rainforest to get there. Keep your eyes peeled for Giant Antlered Muntjac, Sunda Pangolin and Clouded Leopards (amongst other animals) before joining the tarmacked Ho Chi Minh trail.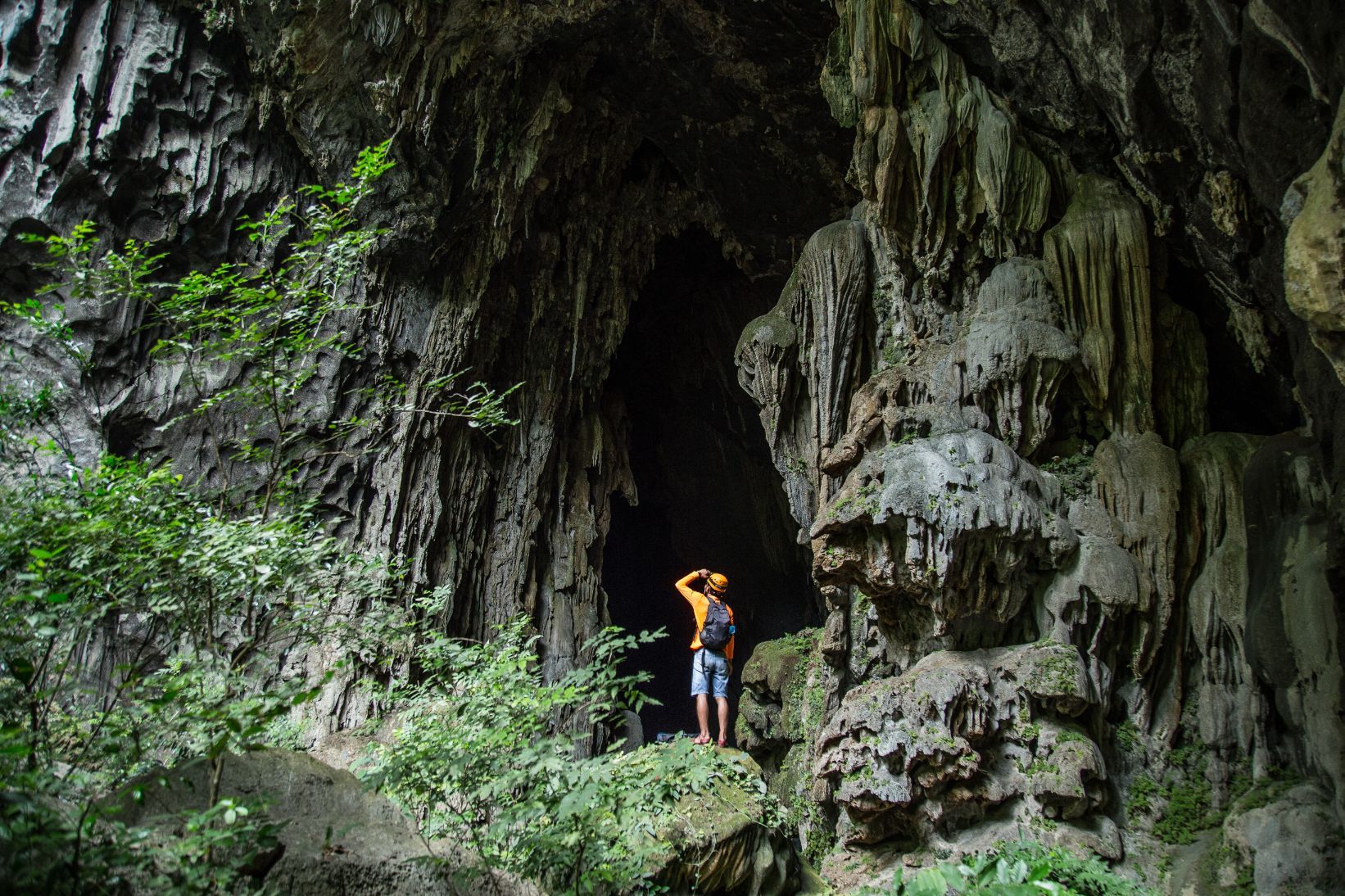 This is a trail drenched in history, which once connected Ho Chi Minh's North Vietnam to his fighters in the US-backed South Vietnam during the Vietnam War, and it's now dotted with war memorials. All in all the route is thousands of kilometres, running through Laos and Cambodia as well as Vietnam - and there is plenty of the trail, and its history, to be found in Phong Nha-Kẻ Bàng.
The Elephant cave is a steep climb from the Ho Chi Minh trail. It's 60m and 300m deep. When you reach it, you'll find yourself descending on scrambly rocks into a deep cave with a jungle backdrop and a huge opening above which makes for a stunning sight, with the sunlight streaming in.
Whichever cave you choose to explore, it isn't hard to find the mountain views, lush greenery and awesome caves that set Phong Nha-Kẻ Bàng national park apart. There's a reason this region is Vietnam's fastest growing tourist area. It's a spot of spectacular singularity, without a heavy tourist footfall.
Inspired? Explore the Phong Nha-Kẻ Bàng on our nine-night adventure in Vietnam, visiting the Elephant Cave, Ma Da lake and more!