After seeing a social media post about a cycling trip across Jordan, my friends and I agreed on an adventure. During the short trip to the hotel from Queen Alia Airport in Amman, it was apparent that we were not in Kansas anymore, with biblical scenes of traditional houses and a far different landscape to the rolling hills of Southern England.
The first day saw us introduced to our new rides for the next six days. We set our seat posts, popped a few wheelies, and as I looked out at the landscape and rolling mountains, I thought to myself, "What have I signed up for? Ok, let's do this." And then, we were off.
After camping out that night in a Bedouin garden - and sleeping like a baby - I was awoken by the cluck of chickens and the call to prayer. We enjoyed sweet tea and a traditional breakfast before our guide yelled out 'yalla', and off we went uphill. When I say uphill, I mean uphill, and it would be uphill all day.
If you don't want to climb hills then don't come to Jordan - it's hot, and it's uphill (did I mention that?).
That said, the views were incredible. We were riding along tracks seeing camels, Bedouin camps, hillsides dotted with goats being herded by shepherds, whilst dodging the occasional tortoise which wanders across the path. You (almost) forget about the hills. Before I knew it, we'd arrived at our next overnight stay.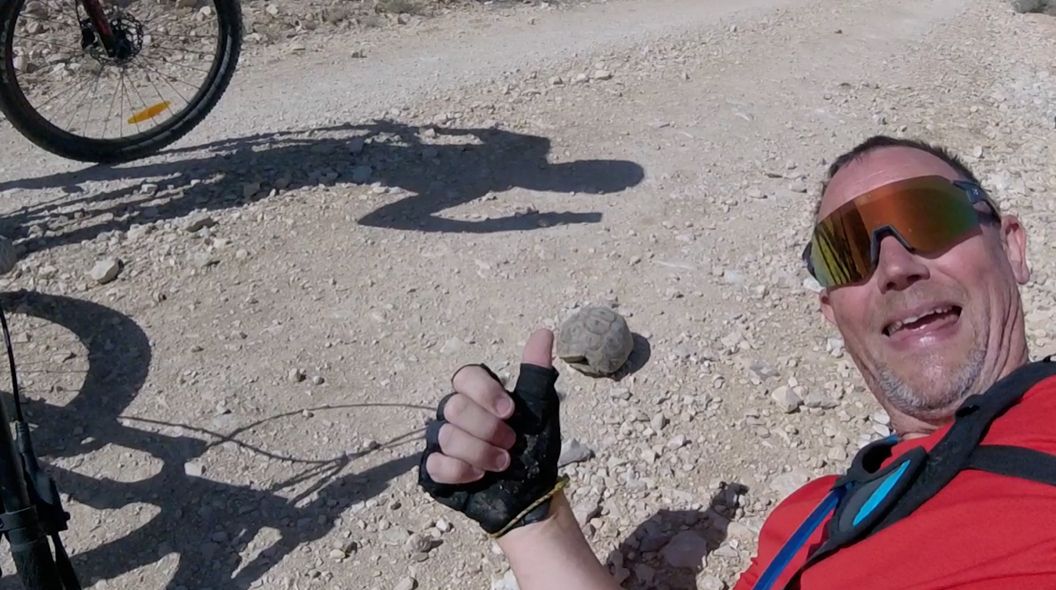 The next day saw us enjoy some downhill fun en route to Little Petra, and with that, the climb from the day before was all but forgotten. A fast-moving day along gravel tracks and small bit of tarmac, our guides could not be faulted - they possessed great knowledge and were fun to be with.
If you want to climb old trails, fly down gnarly descents, sleep out under the stars and be amazed at the sights of Jordan, then get your padded shorts on a plane.
A tour around Little Petra was followed by lunch in the shadows of the smooth mountains. It was then a short ride to our next stop for the night, where I enjoyed a well-deserved shower and a cheeky glass of wine before feasting on spread of delicious local food.
I'm not sure what to say about the city of Petra itself. It's somewhere I have always dreamed of visiting, and I was totally awestruck with the size of the city and what was achieved by those who built it.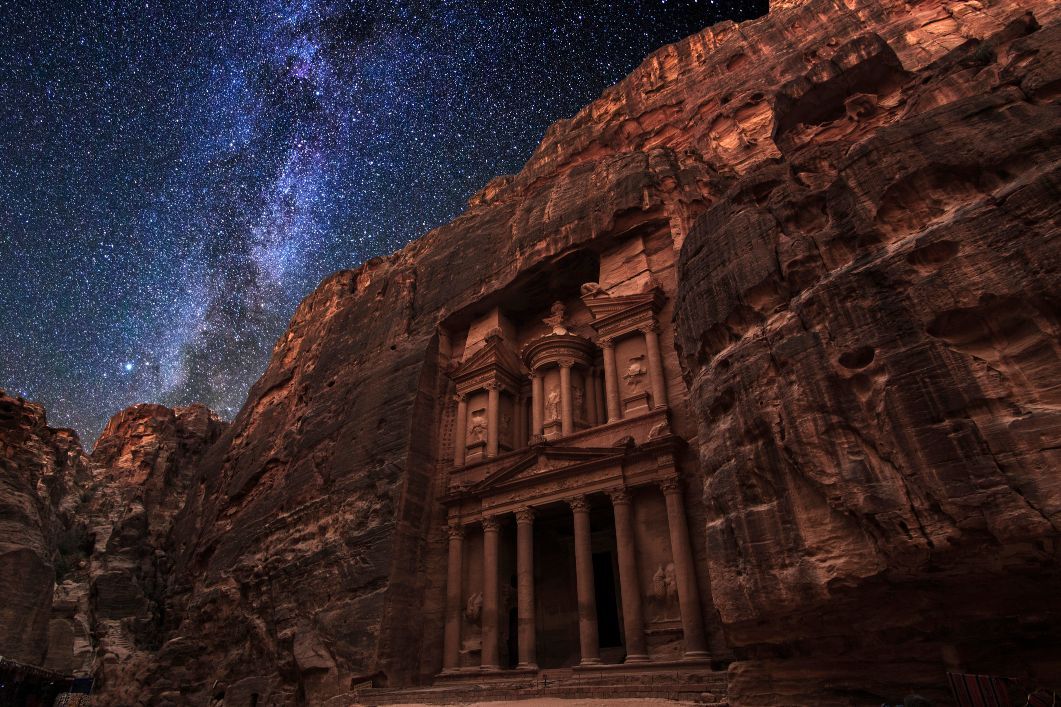 After plenty of time exploring the Rose City, we were back on our trusty steeds. While heading through little villages, the local children at school ran up to the railings, singing and waving at us as we pedalled past, so excited to see crazy people on mountain bikes cycling in the mad hot weather.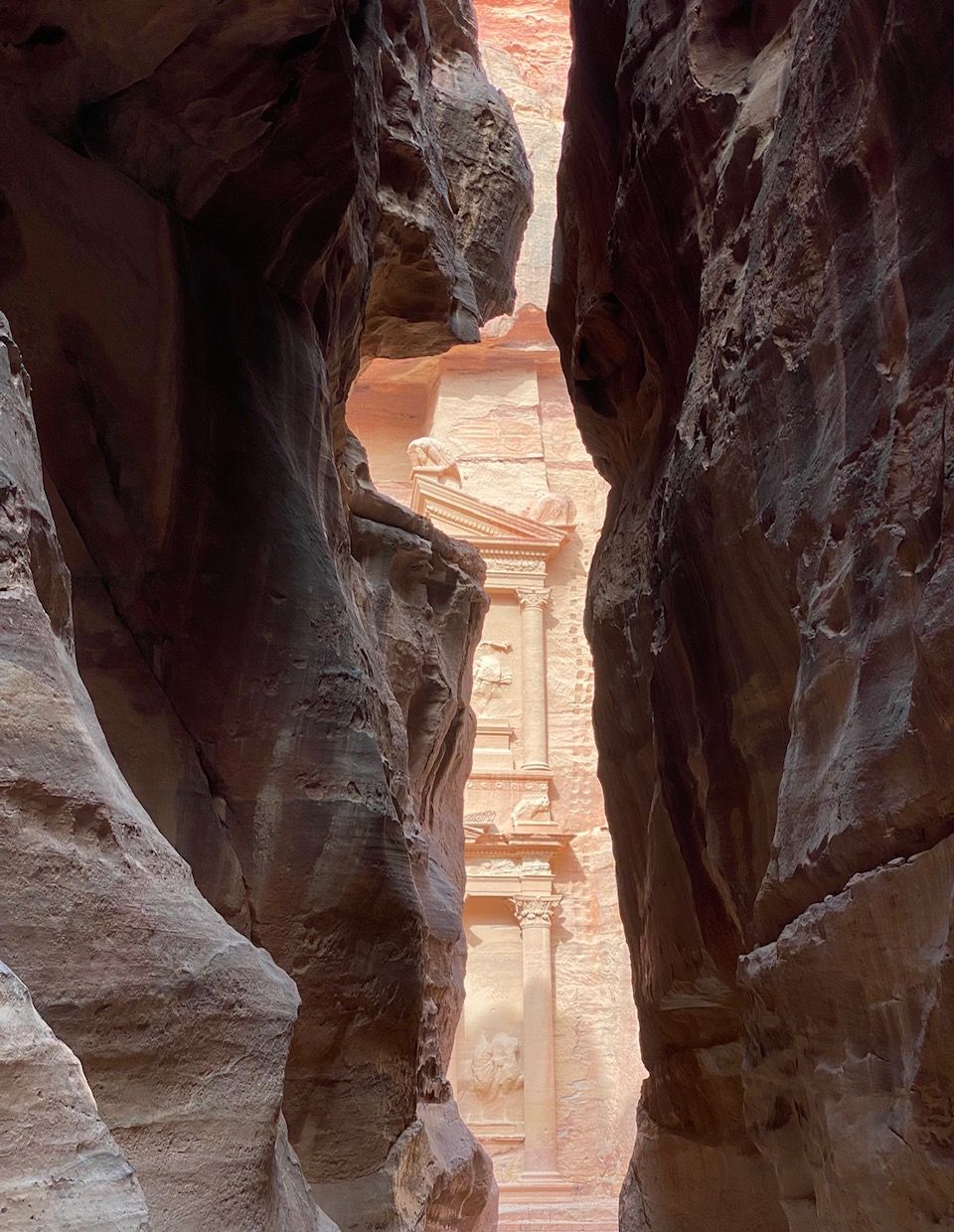 Our last night in the desert at a Bedouin camp was memorable, with the camp's elder telling us stories in his native dialect, and laughing his head off at the bewildered people who had no idea what he was saying. We all had a go at playing his Bedouin single-string fiddle. It's quiet out there, and you can see for miles.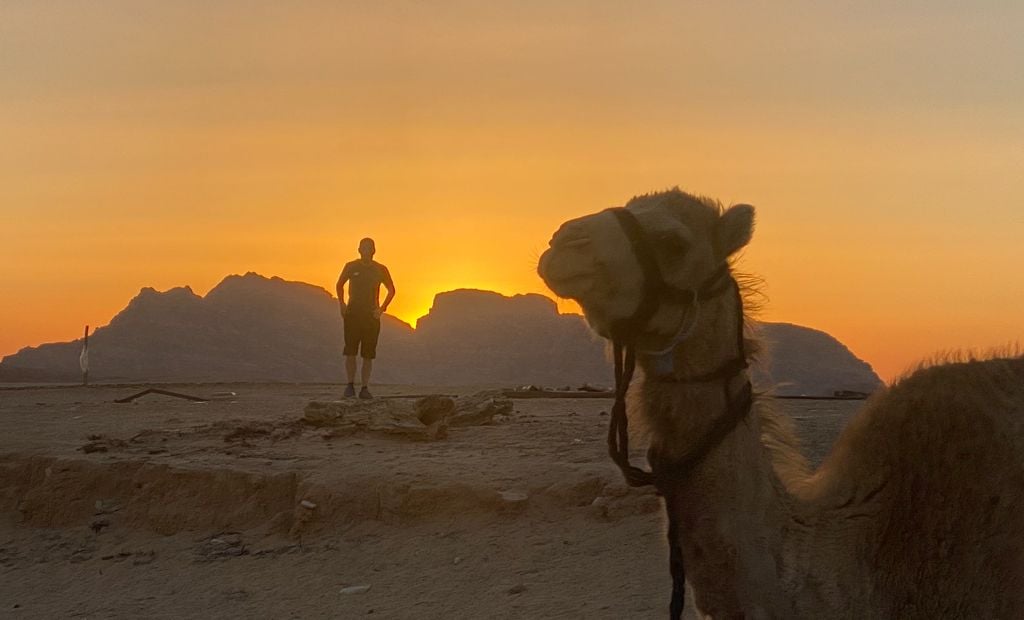 It was exciting to see camel footprints in the sand. Wadi Rum is like Mars and perhaps that's why a lot of films are shot here. It's so vast that it looks untouched, an amazingly massive place which makes you feel very small - as you travel across the sands on the back of a pick up truck, you seem to be going nowhere.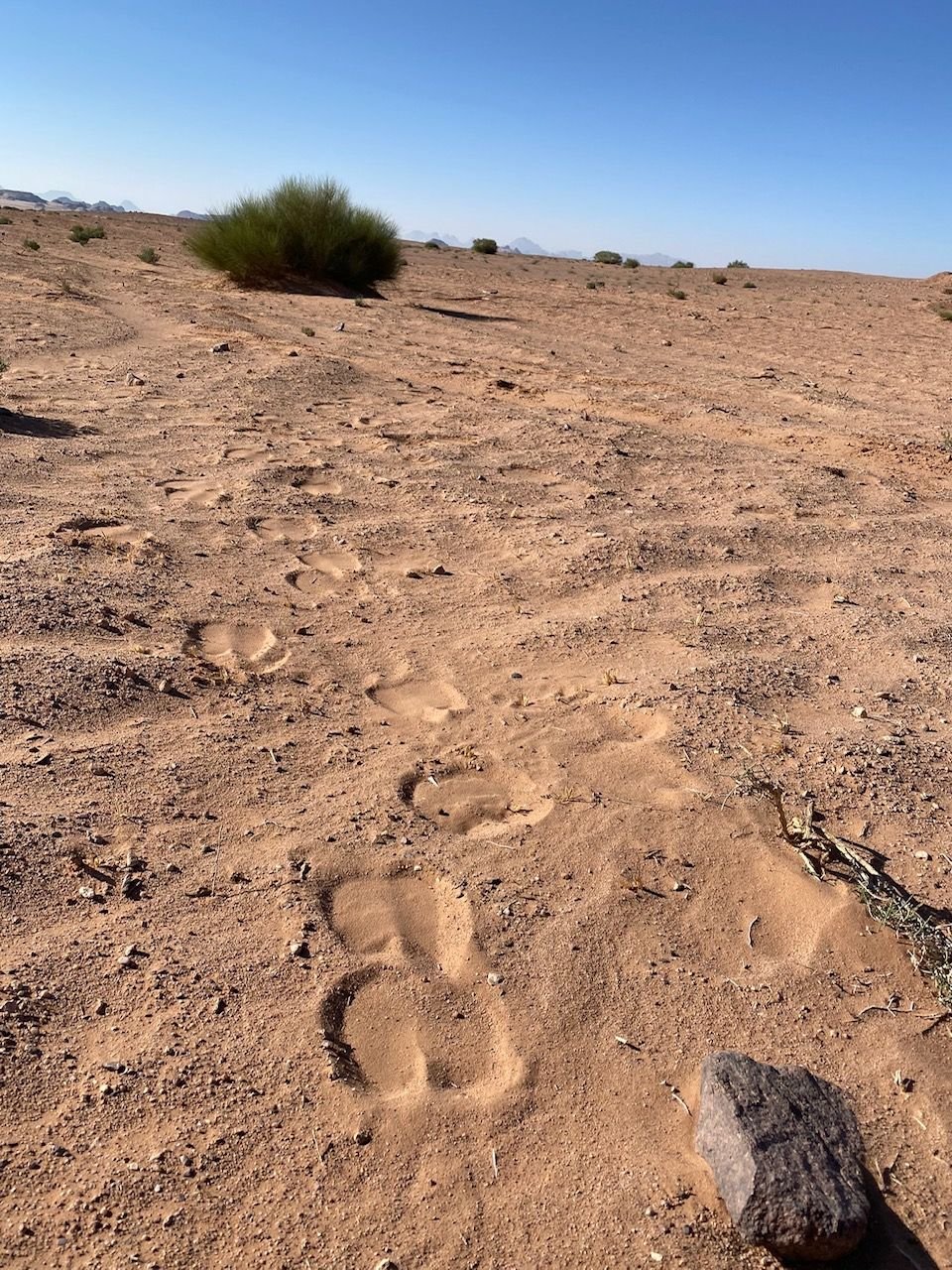 If you manage to stay awake long enough after the day's ride, shower and food, then the skies open up for you to stare at a starry wonder that you rarely get to see at home.
We reached our final day on the bikes, traversing vast mud flats and the occasional new enemy - 'sand'. It's nasty stuff, while you pedal like a cartoon with your legs all of a blur, the bike seems to be travelling at a speed that somehow feels slower than stationary. Sand needs your respect. After what seemed like the shortest ride in the world, we had a break under an outcrop in the barren land, before a short transfer to our next destination: the Red Sea. Arriving at our hotel, we spent the afternoon jumping off the pier into the clear waters.
Wadi Rum is like Mars. It's so vast that it looks untouched, an amazingly massive place which makes you feel small...
The morning before we returned home and back to real life had arrived. It was a quiet ride to the Dead Sea as we were all pooped.
We grabbed our towels and headed to the shore. This was something I had dreamed of doing but never thought I would. In we all went, and well - just floated around. It's weird, as it feels like the sea actually wants to repel you.
We walked across what felt like molten lava-infused sand (don't forget your sea shoes) to smother our bodies in Dead Sea mud. Once it had dried we washed it all off for a body smoother than… well, something particularly smooth, before heading for a final dip in the swimming pools back at the hotel.
All in all, the trip was fantastic: the rides, the scenery, the Bedouins, the accommodation, and the guides. If you want to climb old trails, fly down gnarly descents, sleep out under the stars and be amazed at the sights of Jordan, then get your padded shorts on a plane.
Next up? I'm more than likely going to take on cycling the backroads of Cuba.
Inspired to pedal through desert, explore Petra and take dips in seas Red and Dead? Take a look at cycling the Jordan Trail to Petra!