The newly-released Extreme Lakeland is a book from adventure sports photographers Nadir Khan and Tom McNally. The follow up to Nadir's 2018 release Extreme Scotland, the book, Nadir tells us, is "to celebrate what we have and where we live." The aim is to "show that you don't need to go to Vancouver or New Zealand or Chamonix to get world class outdoor access" if you live in the Lake District, because "you've already got it on your doorstep."
Tom, who is based in the Lake District, linked up with the Edinburgh-based Nadir after the release of Extreme Scotland, and before long, the wheels were in motion. "I think our styles compliment each other really well," says Nadir.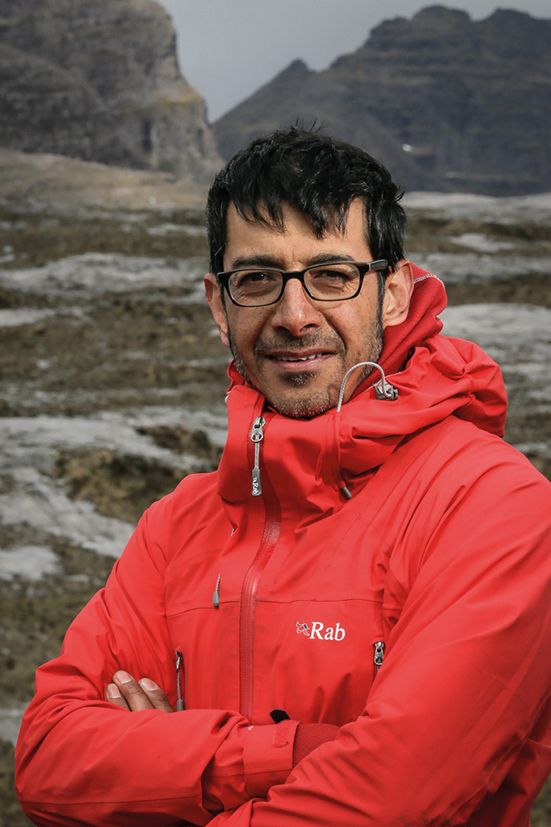 Tom says, "the book was a perfect catalyst to go out and photograph all the stuff that's happening under the radar out here, because there really is so much going on. We wanted to show the stuff you may have heard about, but that you wish you could've seen. And in a word? We wanted to give people inspiration."
The finished product is a beautiful book from Vertebrate Publishing, which features sports ranging from climbing, mountain biking and trail running to BASE jumping, skiing and ice skating. We caught up with Nadir and Tom, to talk through four of their favourite shots from the new release.
Matty Jackman and Neil Davis on Striding Edge, Helvellyn, by Nadir Khan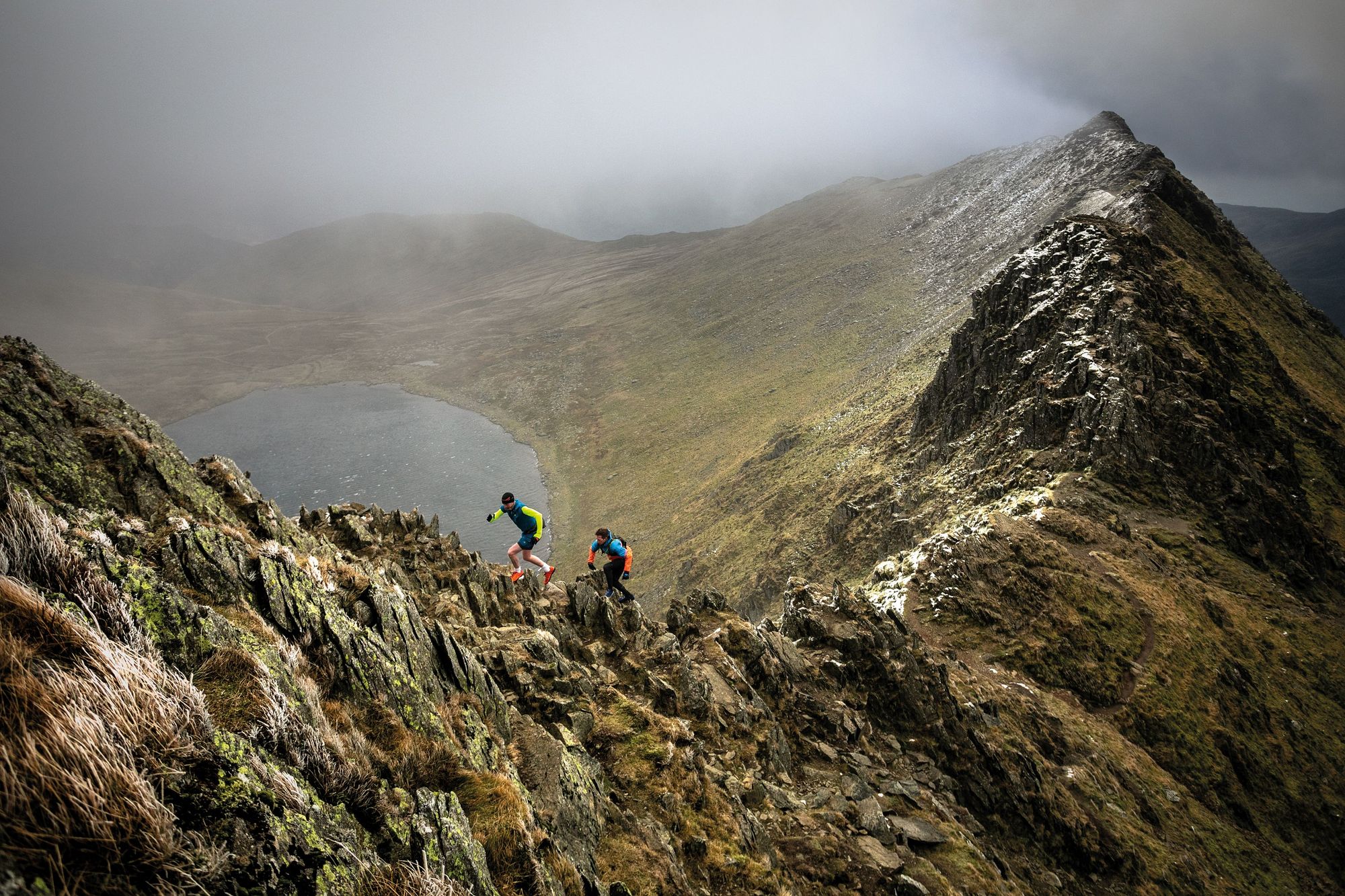 "This was the first shoot that I did dedicated to Extreme Lakeland," Nadir tells me. "I was new to the Lake District, so I didn't have a big pool of athletes I could call upon. But I put out a post on Facebook and ended up meeting up with a good number of people at a bar in Kendal - runners, climbers, and it was great. There really is a strong, supportive community in the Lake District.
"The image was taken at Striding Edge on Helvellyn. It's one of those iconic places. It was wintery conditions in early December, and we had walked up in some early snow, or frost.
The image encapsulates the landscape, the geography and the drama of the place.
"Both the people in the photograph are experienced mountain runners. The idea with the book was always to showcase the activity while showcasing the landscape as well. If you're shooting for a brand, then a lot of the time you need to have the athlete quite large in the frame so that you can see the clothing. When you're not shooting for a brand you can just shoot the thing that is most inspiring to you. And the most inspirational shot isn't usually of a Gore-Tex jacket, it's a shot that makes you look at the mountains and the shadows or the ridgeline.
"I think that this image of Striding Edge, with weather which wasn't great and wind whipping across the edge, captures what Extreme Lakeland is all about. This wasn't a touristy day. We hardly saw anyone else. But the image encapsulates the landscape, the geography and the drama of the place. The book is about people doing sport in that environment and being inspired by it."
Esther Newton Skates on Scales Tarn, Blencathra by Tom McNally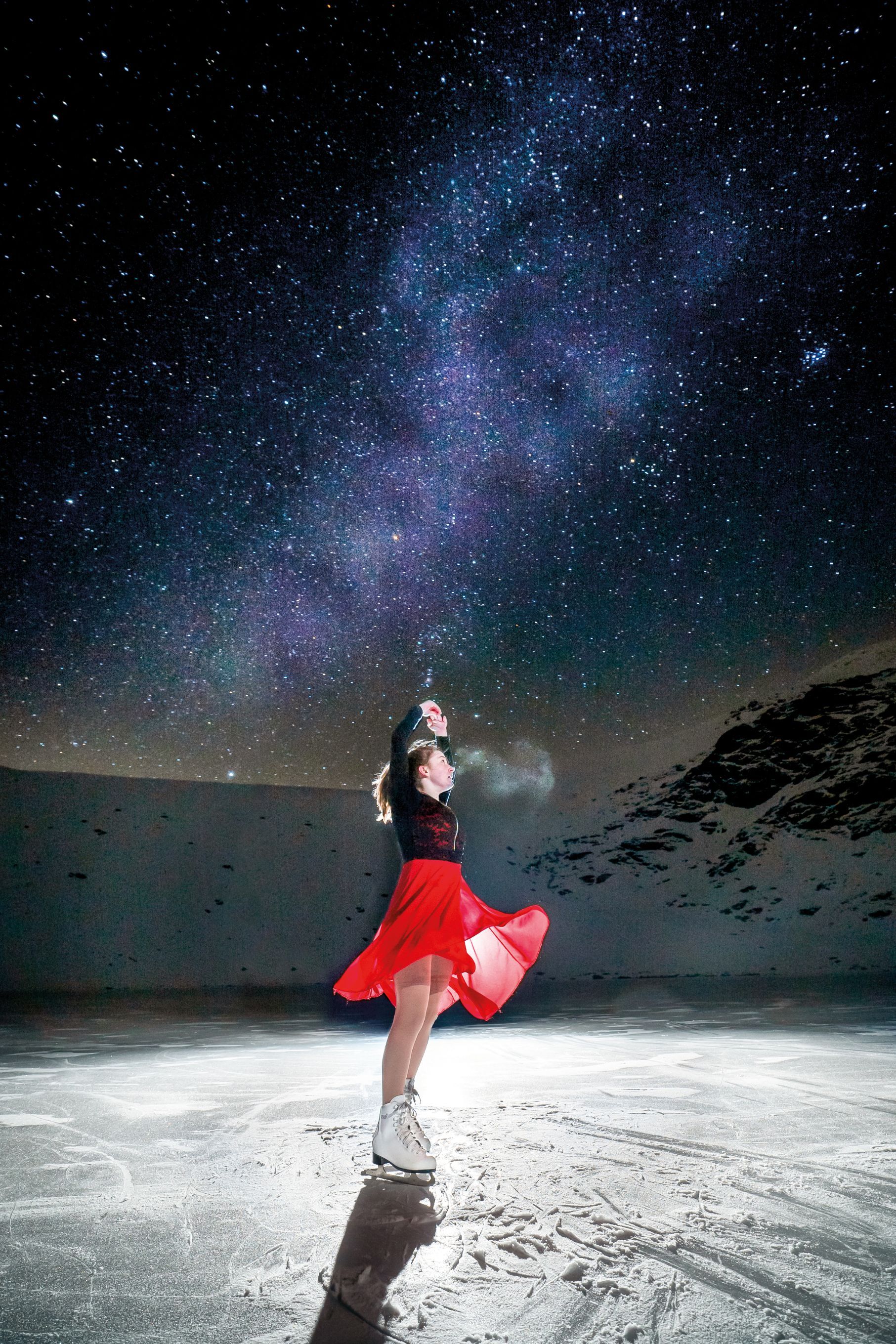 "We had this amazing spell of really cold weather that February," says Tom. "There wasn't much snow but loads of ice came into condition. Our friends live at the bottom of Blencathra, and one of them, Ruth, is an ice skater. As are me and my wife. We actually used to play ice hockey. Ruth told us that Scales Tarn had frozen over, and I ended up looking after the kids, but my wife and Ruth went skating the next day, and some of their pictures were just amazing.
"After that, I knew that I had to go out as soon as I could and engineer some pictures using these conditions. I was wondering how to find a figure skater, and I mentioned it to Ruth, who said 'one of my ex-pupils is on the Team GB squad for figure skating'. She put me in touch with Esther Newton, who is the subject of the photograph. The next day or the day after we were up there at night underneath the milky way. It was amazing how quickly it happened.
"Super cold temperatures tend to go along with high pressure in a lot of cases, and nice clear skies. And as is the case with so much stuff, particularly in the Lake District where conditions are so fickle, you just need to be able to just drop everything and go for it. We were lucky in that respect that we could do that."
Anna Taylor Soloing May the Foss Be With You, by Nadir Khan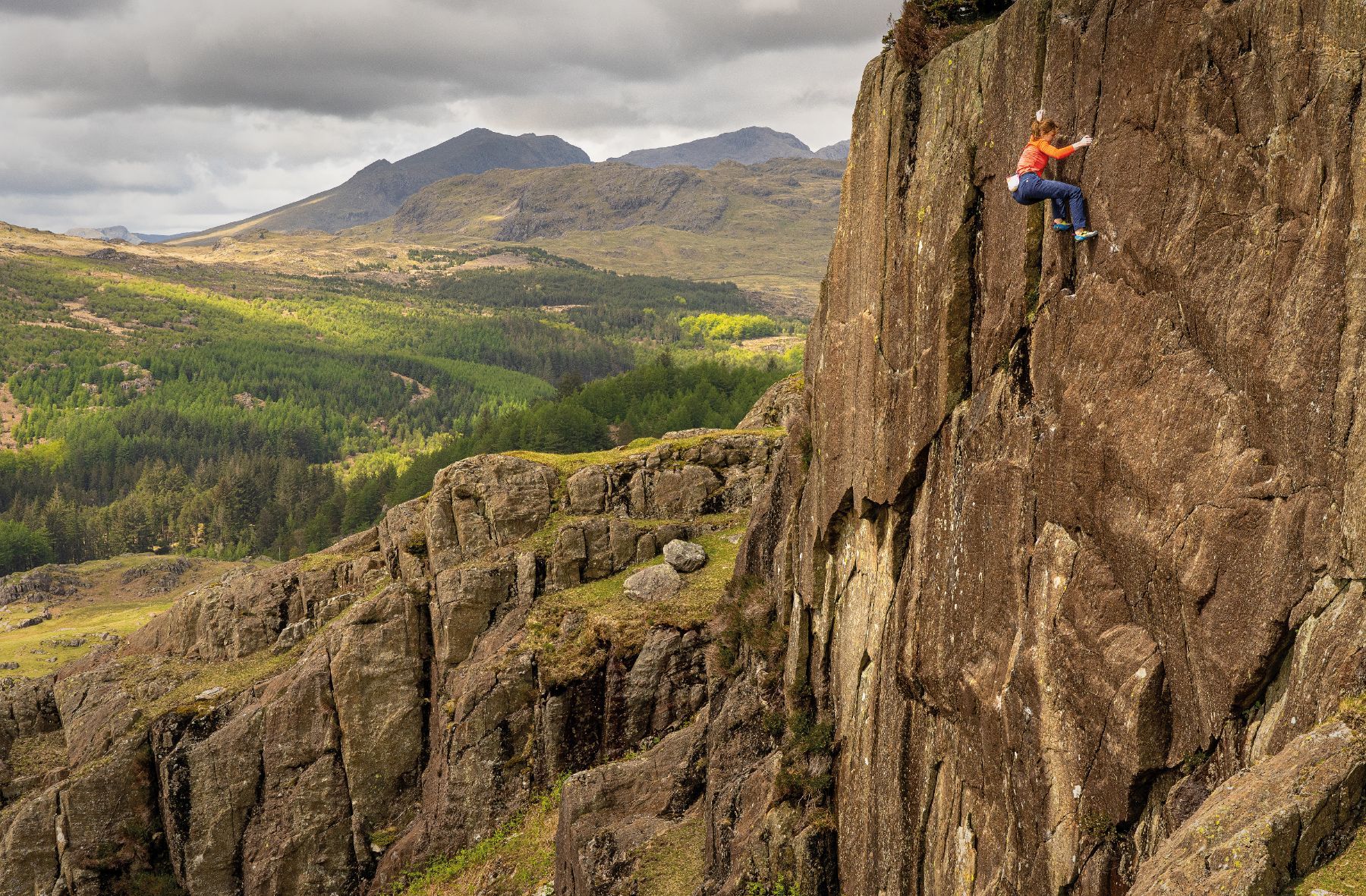 "This photograph was shot around April or early May 2020," says Nadir. "Anna had said to meet in the Duddon valley, which really was in the middle of nowhere. We were driving forever, and we finally got to the place. There was no phone reception, so myself and my assistant were wandering about this hillside and luckily, we soon stumbled upon Anna.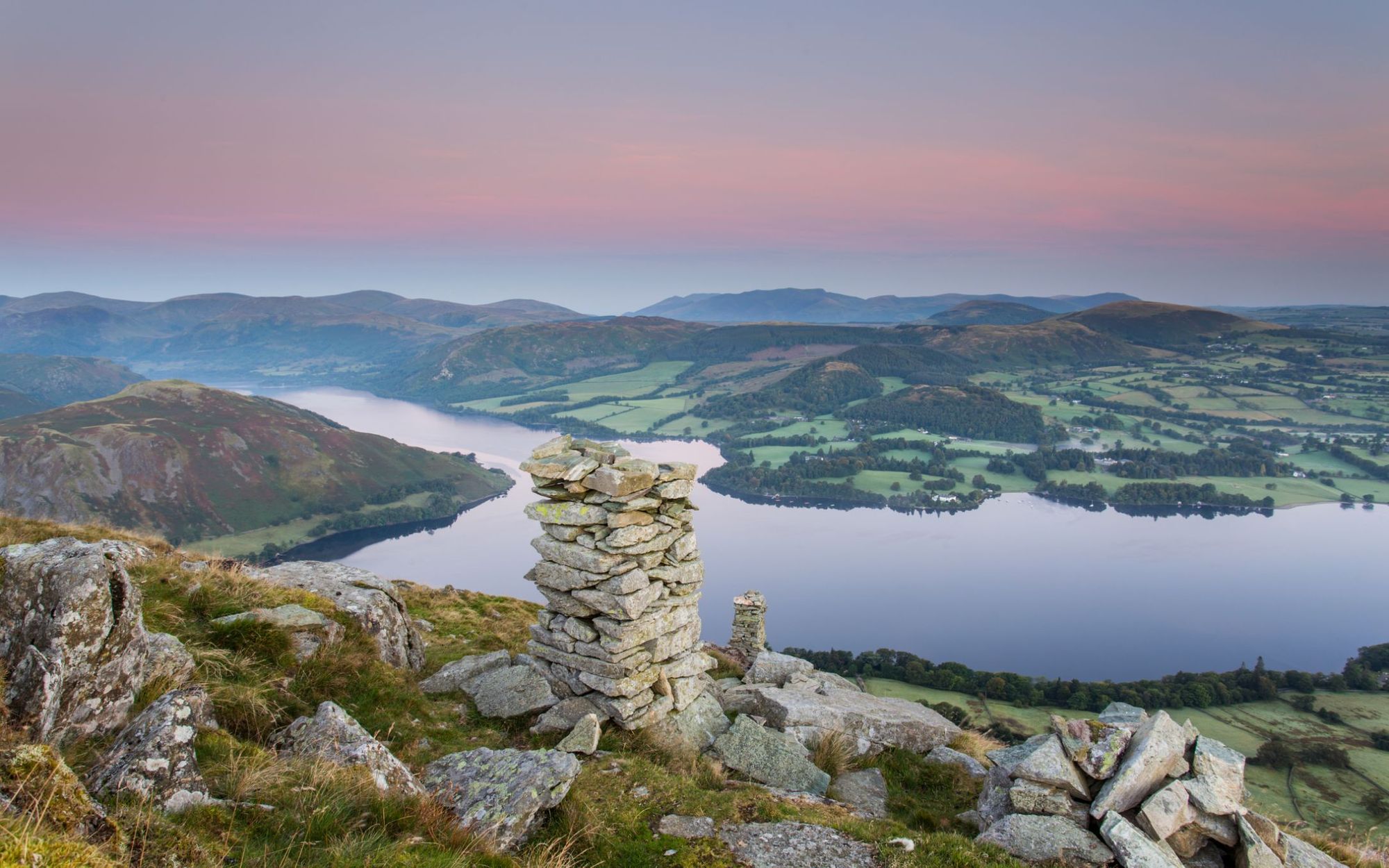 "My process with photographing is really to try and find the most dramatic angle in that situation, and what I realised was that if I just went up the hill a wee bit, you could see Scafell [Pike] in the background. I thought 'bingo'. That was perfect. So then it was really a matter of Anna climbing the route and me positioning myself so that Anna was on the route, but also, so that she was framed in a way that really showed that landscape - plus the size of the rock she was on.
"In the end, the shoot was pretty straightforward. Anna went up and down the route a few times, and we got the shot."
Josh B. Jumping at Hodge Close Quarry by Tom McNally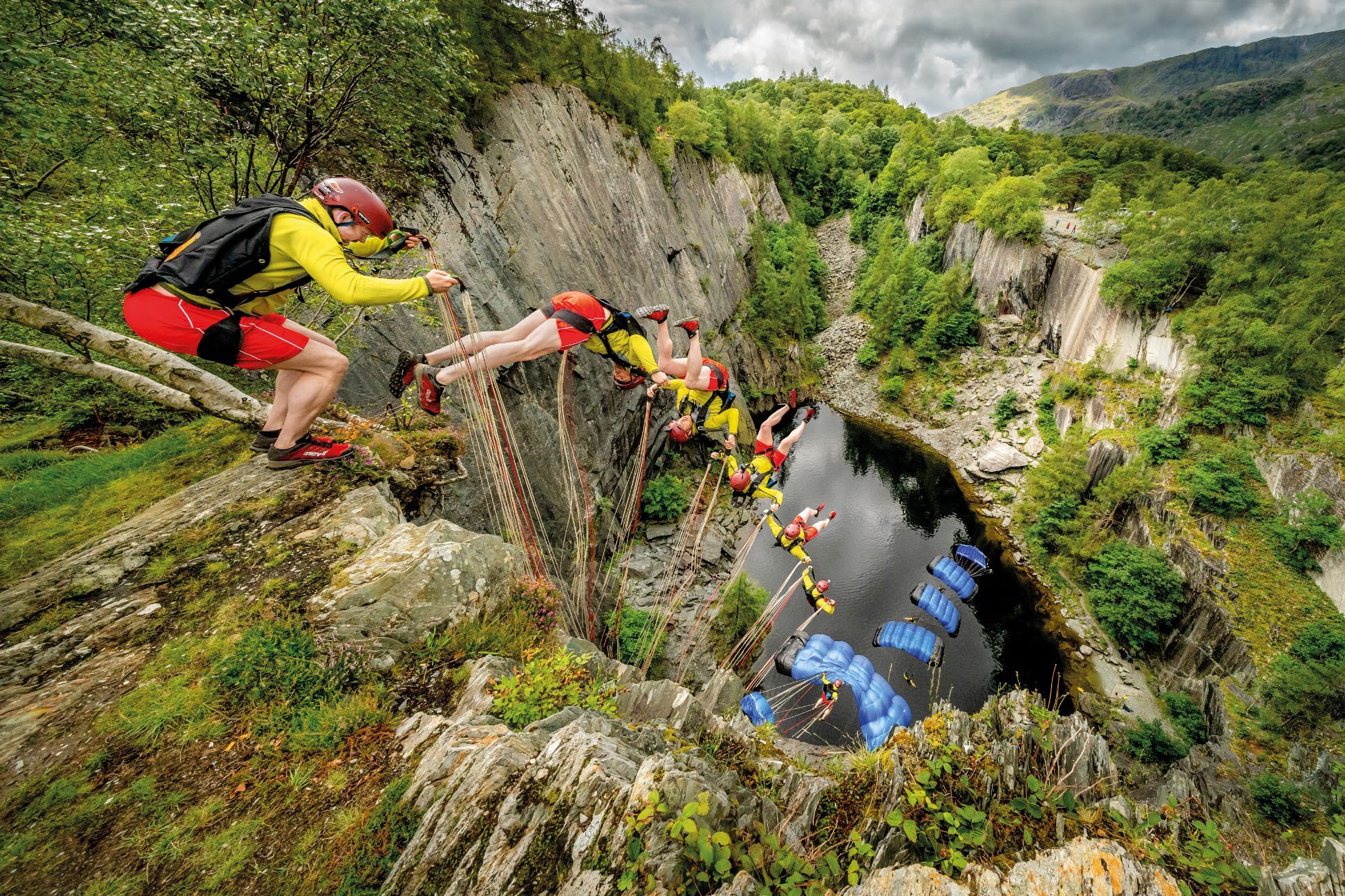 "There's a little crew of BASE jumpers who are really pushing it in the Lake District," Tom tells me. "Josh, the subject of this photograph, is one of them. Super low exits are his thing, and he's very good at them.
"Josh is a very calculated person. People tend to think that BASE jumpers are reckless adrenaline junkies, but working with them, you see that they have an extremely careful and considered approach to what they're doing. It's all about risk management and risk assessment. I enjoyed working with them immensely.
People tend to think that BASE jumpers are reckless adrenaline junkies, but working with them, you see that they have an extremely careful and considered approach to what they're doing.
"Josh had done a normal exit from this quarry before, but in this photograph he's doing a 'rollover', which is where you drape your canopy down below your feet, with the canopy already deployed, and then you jump and forward flip over the top of it. The only way to really convey that was a sequence shot.
"So much about that picture was complete fluke. I had driven back across the country, and the lens that I used for the shot was waiting there, safe on my doorstep, when I got back. I picked it up and went straight to Hodge Close quarry, where Josh was stood on the edge ready to go. He said 'alright', I put the lens on my camera, got his mate to chuck him a brighter top and that was it. Off he went. I just squeezed the shutter, 10 frames a second, and put it all together afterwards.
"Sometimes all of those elements - location, activity, weather - just fall into place perfectly - and that was one where there was definitely a lot of luck involved."
Inspired? Pick up a copy of Extreme Lakeland now, or check out our range of adventure holidays across the UK now!