In a world of takeaways and supermarkets, we have arguably never been more disconnected with the meals that end up on our plate than we are today. One activity that can brings us closer to that - while also reconnecting us to nature - is foraging. Foraging in the UK is a game of changing seasons; of spotting sweet berries on Autumn walks and cooking up mushrooms for a tasty campfire snack.
Of course, foraging in the UK can also be extremely dangerous. Rule one? Never consume anything that you're not 100% sure is safe. Being able to forage safely and responsibly will make you the finest hiking buddy in all the land. But in order to get started you've got to first get an idea of what you're actually looking for, and next, ideally get yourself a good field guide - a book which helps you identify plantlife, wildlife and more. Find a local field guide and you're flying.
Pick sparingly, check local laws and bylaws, don't pluck protected species, and avoid busy areas or areas where chemicals are likely to be prevalent. Always be 100% sure of your identification before you consume...
If you're new to foraging, or want a refresher, it's also worth reading our quick guide to responsible foraging before you read this piece. In short, forage sparingly, check local laws and bylaws, don't pluck protected species, and avoid busy areas or areas where chemicals are likely to be prevalent. Always be 100% sure of your identification before you consume anything. Better safe than sorry.
Now, onto the fun part. Here are some seasonal tips for foraging in the United Kingdom! This isn't a field guide, and shouldn't be used as such. It's a general overview rather than an article of specifics, but it is a useful introduction into the sort of snacks you'll find out there in the wild, depending on what time of year you're looking. Many of these snacks can even be found in several seasons...
Foraging in the UK: Spring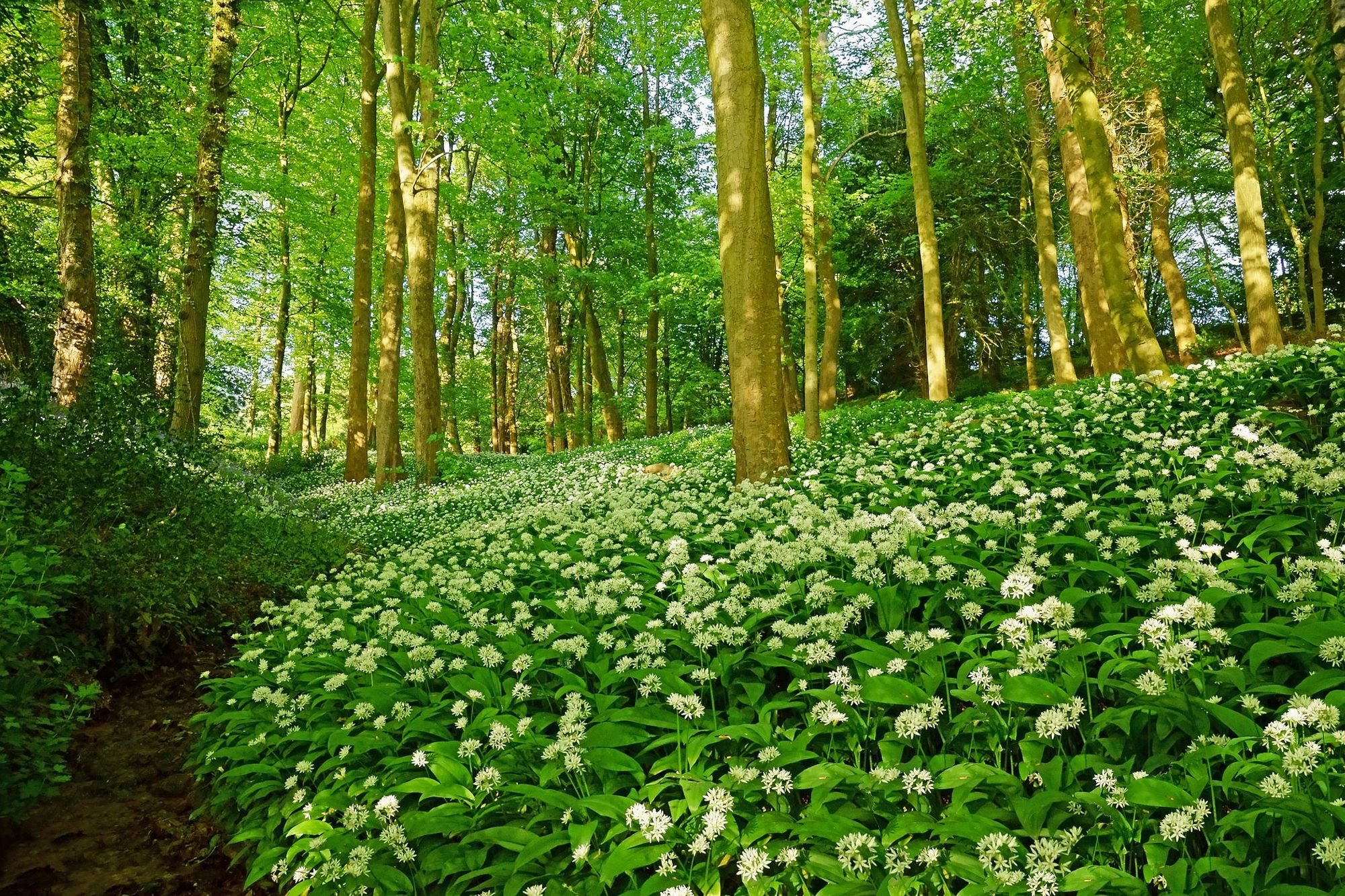 "In the spring, at the end of the day, you should smell like dirt," wrote Margaret Atwood. She's not wrong. The season is vibrant; pungent with greenery.
Wild garlic stinks up our spring walks regularly, in the best possible way. On the ground, it just looks like thick grass. Usually if you find some wild garlic (in season from late winter to spring), you find lots of wild garlic. The flowers can be eaten raw or cooked, and wild garlic pesto can be particularly good. If you pull up the bulbe, the wild garlic won't grow back next year - so give that a miss.
When you're picking wild garlic be careful you don't pick Lily of the Valley by accident, though. They look similar, but Lily of the Valley is poisonous. The scent is the biggest giveaway. If you crush wild garlic (which isn't as pungent as the shop stuff) you'll get a garlic-y whiff.  In season, wild garlic flowers are shaped like stars, and lily of the valley flowers are shaped like bells. Still, be sure before eating and remember the golden rule: If you're not sure, leave it where it is! Lily of the Valley can be fatal (especially to children) if ingested.
Nettles are another cornerstone (or corner plant?) of foraging in the UK, best eaten tender - in spring. They're commonly known, in a way that chickweed or goosegrass isn't, and commonly accessible, so they make for a good introduction to foraging. You might think of nettles as weeds, but they're actually super nutritious. Nettles are rich in Vitamins A, C, D, and are also a source of lots of the good stuff - protein, calcium, iron and more. Nettle tea or soup is popular, and many chefs like to pair them with eggs or mushrooms as a flavour-enhancer. Watch the sting when you're picking those leaves, mind you.
Gorse is another plant that can be painful to touch, but tasty to eat. They actually bloom year-round, but more so during spring and at the start of summer. Be careful picking the flowers, but once you've got some - they can add a tasty, coconut or almond taste to a salad or tea. Eat in moderation, as the leaves contain mildly toxic alkaloids. Gorse, nettles and wild garlic are all abundant in the UK.
Foraging in the UK: Summer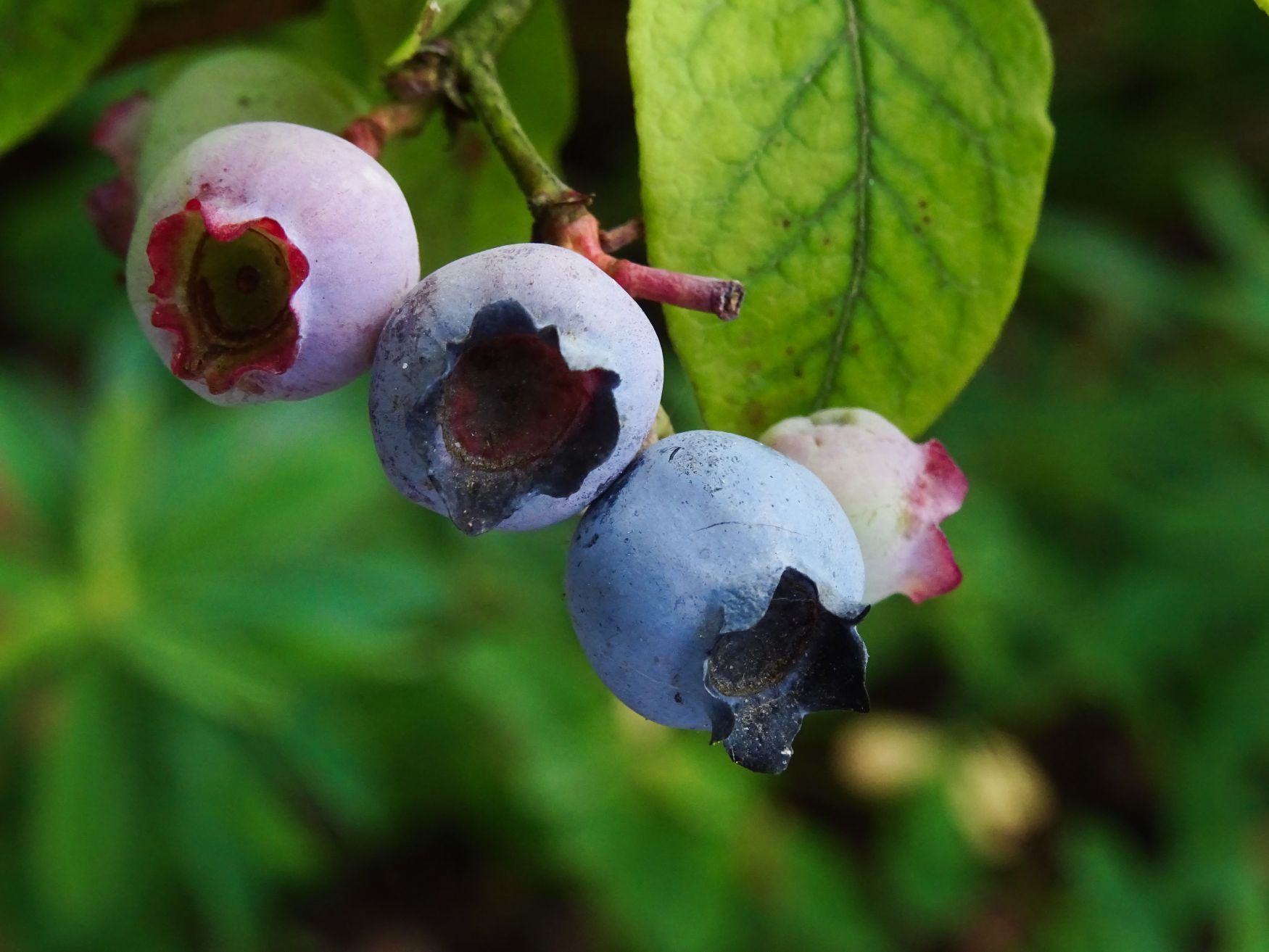 Lime is a tree commonly planted in the UK, and the leaves can be eaten when young and translucent. They taste sweet and smell like honey, so make good additions to salads. Common sorrel can also be eaten, and is best when younger and smaller. It looks a bit like spinach and toughens over time. It tastes like apple peel. It also contains oxalic acid though, so be careful with how much you eat (and it's not recommended if prone to kidney stones). Stick sorrel in sandwiches, soups, sauces or pies, or just enjoy it as a treat on the side of the trail.
Chickweed is common all over the place,  and makes for a great garnish. Watercress also grows in limited parts of the UK, often in wet areas, near ponds or rivers. There are poisonous lookalikes though, so be careful what you pick.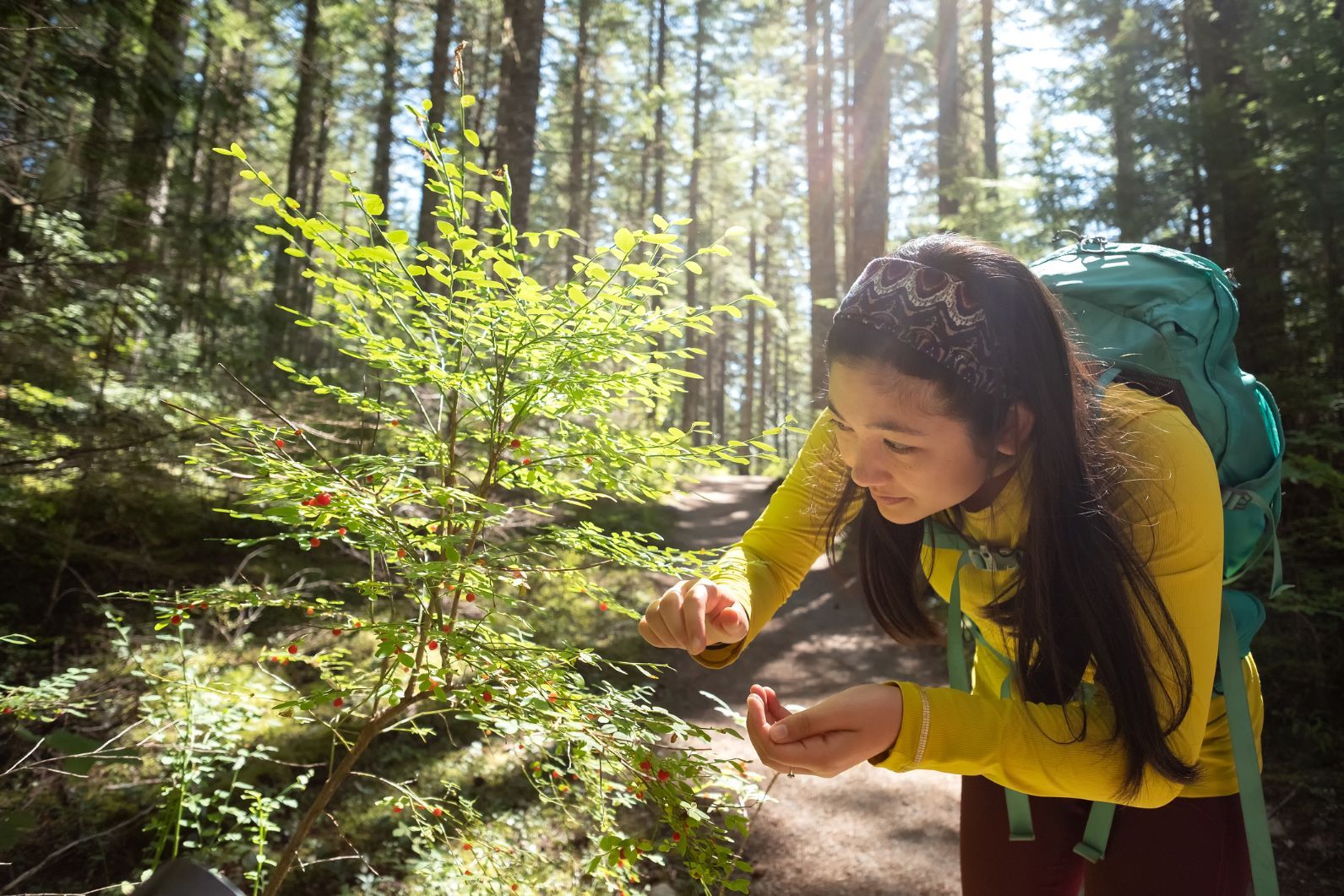 Bilberries are easy to damage, and so not as shop-friendly as blueberries (which are one of the most common foraging items in the UK). They can make for great jams, cordials or crumbles though. They're also loved by young capercaillie chicks and grouse up in Scotland. Crab apples are great for preserves - and of course, there are more popular items like cherries (the seeds of which should not be consumed), raspberries and strawberries.
In terms of summer mushrooms, look for the apricot-scented chanterelle mushroom (pictured in our Autumn section below), found in coniferous or broadleaved forests, with their distinctive orange colour and trumpet shape.
Foraging in the UK: Autumn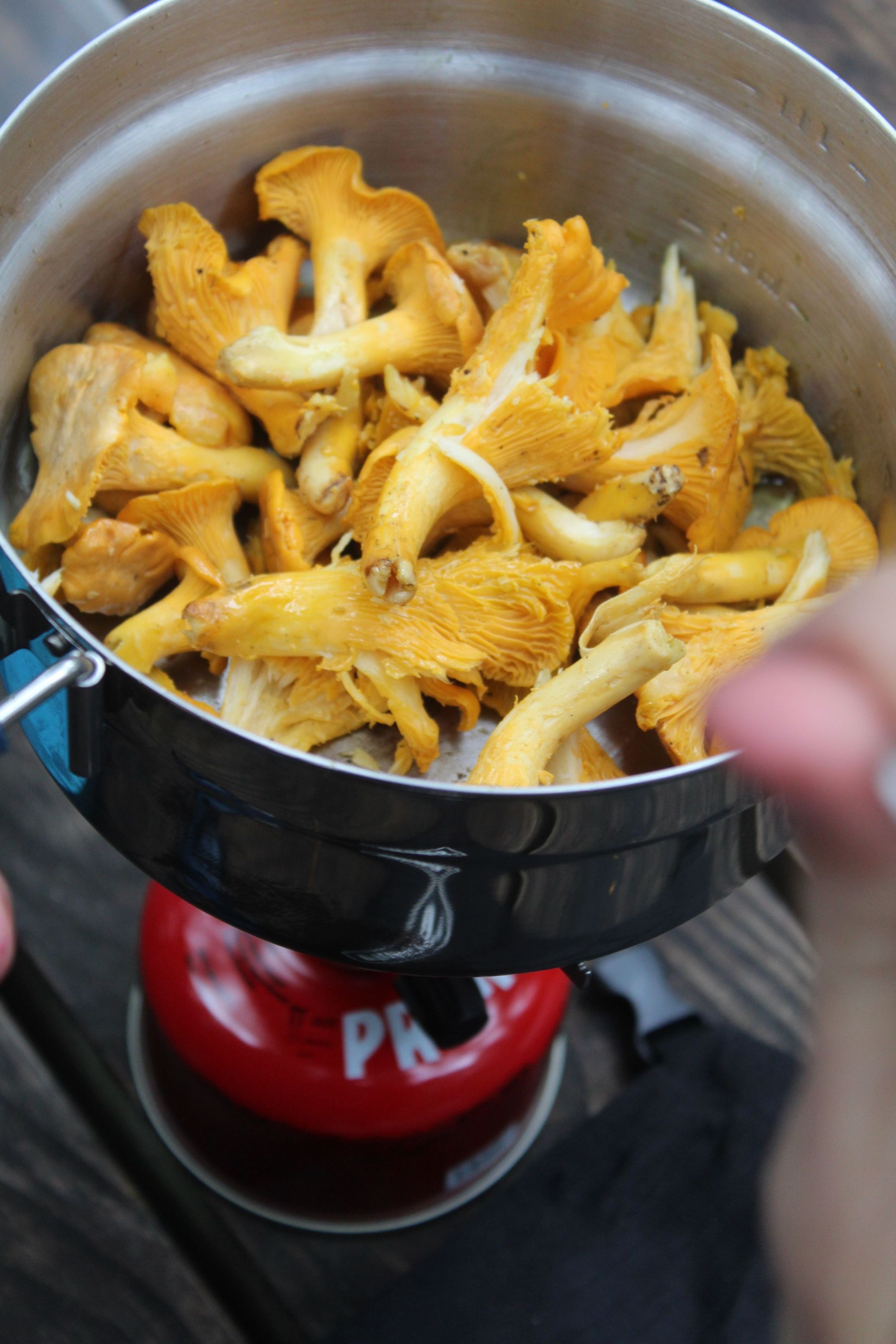 Autumn is a great time for wild mushrooms. There are around 15,000 different types of wild fungi in the UK. Some of them are very poisonous and look very poisonous. Some of them do not look very poisonous but are very poisonous. And some are not poisonous - and extremely tasty. Those are what we're aiming for. Oyster mushrooms, often found on trees, smelling of aniseed, with fan-shaped caps, and the aforementioned chanterelle mushrooms are two of the most popular picks. Both are prevalent in the United Kingdom in Autumn.
The creamy yellow chicken of the woods mushroom often grows on oak trees, and looks a little like coral. It's edible to most, but there are occasional reports of allergic reactions and bad reactions to it - stomach upsets or dizziness. It's also inedible when taken from a poisonous tree, like the yew tree. As you'd guess from the name, their texture is described as similar to chicken by some, and as such they're often used in stews, casseroles or soups.
Most mushrooms have lookalikes, so even if you're pretty sure about an ID, make sure you're 100% certain before consuming
Giant puffball mushrooms are also edible if - and only if - they're pure white inside. Open them up and discard immediately if yellow, brown or if there's anything other than white sponge inside. Penny bun/porcini mushrooms are also possible to find. Most will recognise them from their local supermarket. It's worth remembering most mushrooms have lookalikes, so even if you're pretty sure about an ID, make sure you're 100% certain before consuming.
Hazelnuts are ripe in September and October as the trees changes colour, and walnuts are getting ready to be collected. Elderberries are also best in Autumn, great for pies, jams or crumbles. Some can be toxic when eaten raw, however.
Now is also the time to get your chestnuts for those open Christmas fires, and if you fancy a hunt for truffles? Head to the south coast, or even the Peak District (if you're lucky), from Autumn.
Foraging in the UK: Winter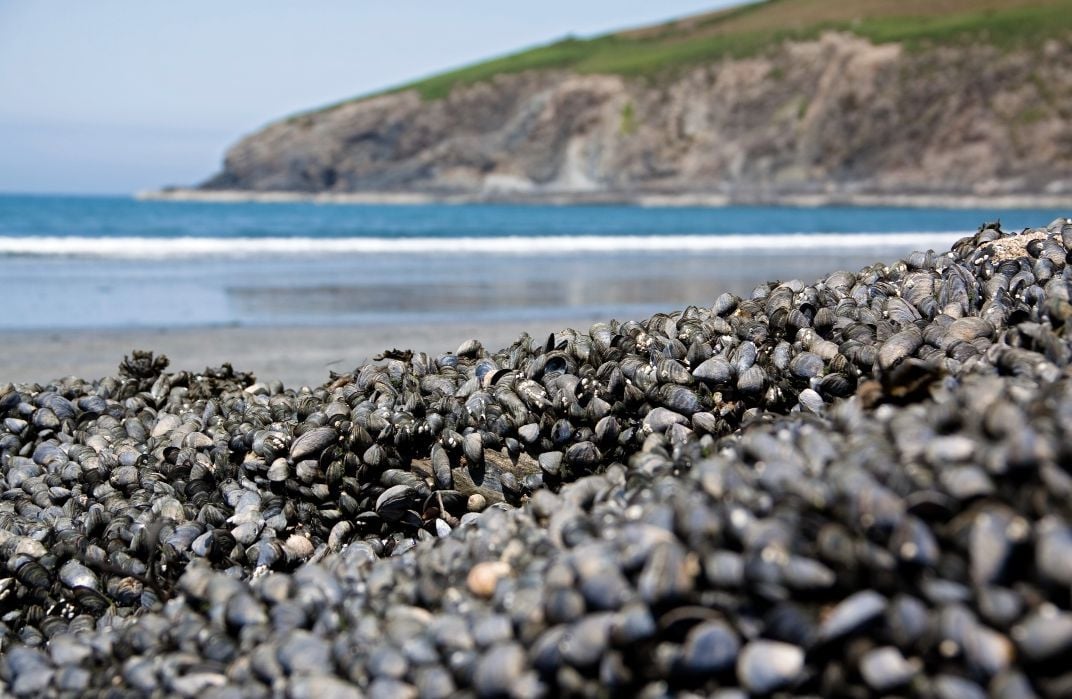 You're likely to still come across some blackberries in winter, while hawthorn berries can be great for jams, and are in no short supply in the UK (though do not consume the seeds). Find sloe berries on blackthorn trees if you want to make sloe gin - perfect for cold nights round the fire.
If you've got a flower bed or vegetable patch, watch for any hairy bittercress (also known as "pepper cress" because of the taste) growing in winter (and other seasons). Wash it well, and it's a great addition to salads. Winter isn't ideal for mushrooms, but the wood blewit mushroom will still be around.
For seafood, head to a blue flag beach and you might bag yourself some cockles or mussels. Alexanders (tasting similar to celery, and also known as "horse parsley") also tend to be prevalent in coastal areas. They tend to be best picked in February. Stick the leaves and stalks into soups, broths and stews.
Inspired? Join one of our foraging trips on the Pembrokeshire Coast or equip yourself with bushcraft skills in the forests of Sweden.