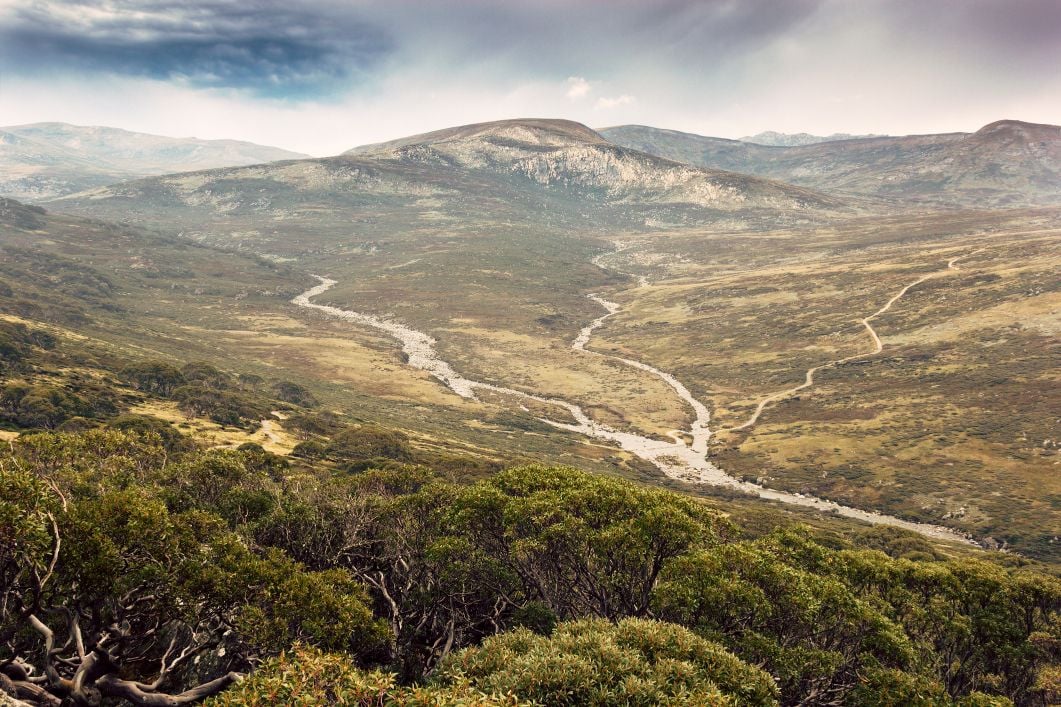 Australia, the island continent, offers a huge range of diverse environments and climates, thanks to its enormous size and geological variety. This makes it the perfect playground for hiking, known as bushwalking, to Australians.
Hikes can range from short coastal treks to multi-day adventures through rugged terrain, and there is something to suit every level of experience. The natural beauty of the country, and its isolation from the rest of the world means you'll experience sights, wildlife, and adventures unlike anywhere else on the planet.  Every state and territory offers great opportunity for hiking adventures – here's our guide to the major hiking areas of Australia.
Australian Alps
Kosciuszko National Park borders the states of NSW and VIC, in Australia's south-east, and is affectionately known as the Australian Alps. Expect snow in the winter (June-September), and cooler climates year-round. The most famous walk in the area, The Australian Alps Walking Track, spans 655 km, and takes 5-8 weeks in total, although it can also be done in sections. It starts in the old gold mining town of Walhalla, goes up Mount Kosciuszko, the highest mountain in Australia, and ends near Canberra, Australia's capital, and offers mountain views, plains, and alpine scenery. Taking hikers through Australia's highest peaks and across challenging terrain, this expedition should only be undertaken by experienced hikers with navigation experience, as not all of the trails are marked, making a GPS necessary.
Shorter day hikes can also be accessed from the mountain towns of Thredbo, Jindabyne, Mount Hotham, and Falls Creek. These towns have a range of dining and accommodation options, and also offer Australia's best skiing and snowboarding, during the winter months. Due to the alpine weather, hikes in the Australian Alps are best done in the Australian summer.
Blue Mountains
The Blue Mountains may be Australia's most famous hiking region, but for good reason – this area offers temperate rainforests, waterfalls, plateaus, valleys, and mountains, all within a two-hour drive from Sydney. Named after the blue haze often seen in the area, created by oil from the region's large population of eucalyptus trees, this area attracts hikers and tourists year-round. Experienced hikers will enjoy the Six Foot Track, a challenging three-day journey from Katoomba, a popular tourist town, to Jenolan Caves. Both campsites and eco-lodges are available along the route. This walk is free to undertake, and follows a heritage horse track, in use since 1884. It passes rivers, waterfalls, crosses through woodland forest, and takes trekkers across suspension bridges, showcasing the best of the region. Echidnas, wallabies, and kookaburras are frequently sighted by walkers.
A multitude of day hikes can be found near the towns of Blackheath, Katoomba, and Leura, with many walks suited for beginners. These towns are also very popular with day-trippers from Sydney, as they are easily accessible by public transport, so expect crowds on holidays and throughout the summer months. Trails and routes are usually well-marked, and the region offers all sorts of tourist amenities. Canyoning and abseiling are also popular activities in the Blue Mountains.
Tasmania
Tasmania, the small island state off Australia's southern coast, more than earns its entry on this list, thanks to its seemingly endless hiking opportunities. With over 800 walks and 2,800 km of maintained walking trails, Tasmania offers everything from short walks, up to multi-day treks. One of the most popular hikes in the state is the Three Capes Walk, a scenic three-day walk that can suit all levels of fitness. Starting and ending in Port Arthur, this walk covers Tasmania's south-eastern coast, with sheer cliffs, coastal views, and eucalyptus forest. Walks must be pre-booked, as numbers and accommodation are limited. The booking fee includes accommodation and transfers, as well as an eco-friendly sightseeing cruise, and entry into the Port Arthur Historic site.
More experienced hikers might try Tasmania's Overland Track, a 5-6 day hike through the Cradle Mountain-Lake St Clair National Park. Due to the distance and unpredictable weather (expect rain!), the walk can be more challenging. Covering Tasmania's north-west, this hike includes mountain views and valleys, ancient forests and waterfalls, across well-maintained trails. Advance booking is also required for this walk, with accommodation huts available throughout the walk.
If you are looking for day walks, consider basing yourself in Hobart or Launceston. Near Hobart, shorter walks can be found near Mount Wellington or Mt Field National Park, while Launceston offers great walks near Cataract Gorge.
Flinders Ranges
The Flinders Ranges is the largest mountain range in South Australia and offer a quintessential Outback experience. The most famous trek here is the Arkaba Walk, a four-day walk through red rock canyons and ancient geological formations, dry creek beds, and cypress forests. Emus and kangaroos are often spotted here, and luxury accommodation is available along the route.
Located 200km north of Adelaide, the Ikara-Flinders Ranges National Park can be reached via a sealed road from Adelaide. The only accommodation within the park itself is in the Wilpena Pound area, making it a great base for day hiking. Consider the challenging, 11km return day hike to Rawnsley Bluff and Wilpena Pound Lookout, offering views of the area's canyon and mountain ranges. Day walks in nearby Bunyeroo Gorge, Arkaroo Rock, and Bridle Gap also offer panoramic views of the region's layered rock formations and geological features. Due to the remoteness of the area, having your own car is vital for accessing walking areas.
Lord Howe Island
Lord Howe Island, a two-hour flight from Australia's east coast, is off the beaten path of most tourists to Australia, but visitors who find themselves there will be rewarded with a pristine volcanic island, rich with hiking trails. Consider the moderate-level day hike to Mt Gower, the island's highest summit. The 10km walk takes about seven hours and starts at the base of Lagoon Road. You can also hire a guide for the day, helpful to learn more about the flora and fauna of the island, which is World Heritage listed.
If you prefer a multi-day hike, the newly opened Seven Peaks Walk is one to try. Classified as one of the Great Walks of Australia, this trek spans 45 km, over five days. Staying in luxury accommodation, this walk showcases the sights of the island, including subtropical forests, craggy cliffs, swimming holes and ocean views, and a variety of birdlife. This walk operates via a private operator and runs in spring and autumn. Lord Howe Island can be reached via direct flight from Sydney or Brisbane, and is part of the Australian state of New South Wales.
West MacDonnell Ranges
In the heart of the Northern Territory, just outside the Outback town of Alice Springs, the West MacDonnell Ranges offer a wealth of hiking opportunities. The region (and one of Australia's) most famous hikes, the Larapinta Trail, offer 13 days of hiking across 223 km, although it can also be done in sections. Beautiful red dirt, ochre pits, chasms, rugged mountains, and isolation from the world make this hike a popular one. Hikers should be experienced, prepared for cold nights and extreme heat in the days, and should have strong first-aid knowledge before setting off. A huge range of flora and fauna can be found along the walk, and campsites are available throughout the trek. The Red Centre of Australia (as this area is known), as with many regions mentioned in this guide, has spiritual significance with the area's Aboriginal people, so take the time to learn more about the area's cultural significance as you explore.
If you'd like to try shorter hikes, consider exploring Standley Chasm, Ellery Creek, or Ormiston Gorge, as all areas offer beautiful examples of the Australian Outback landscape, and accessible as day trips from Alice Springs. Uluru, Kata Tjuta, and Kings Canyon, all part of Uluru-Kata Tjuta National Park, also offer day hikes and are one of Australia's most visited tourist sites. Located about four hours from Alice Springs, camping, accommodation and dining options are available here, although expect to pay higher prices, due to both the area's remoteness and popularity.
South West of Western Australia
Western Australia's best hiking region can be found within the south-west pocket of the state, about three hours south of Perth, the state's capital. The epic Bibbulmun Track runs from Kalamunda, east of Perth, down to the town to Albany, with the name of the track coming from the Indigenous people of the region. In total, it takes 6-8 weeks in total, but many people only do smaller sections of the track. Visiting in September or October is recommended, as the climate is still mild, and the area's wildflowers are in bloom. Summer is best avoided, due to extreme heat and the risks of bushfires. Camping and accommodation options are available throughout the route and expect to see coastal views, including whales and dolphins, as well as Australian scrub and forests. The track can be desolate in parts, with snakes present, so just be undertaken by experienced hikers with first aid knowledge.
Shorter sections of the hike are also a great way to explore the area, including the Murray River Valley, Mundaring Weir, and the Tingle Forest. The towns of  Albany or Bunbury are great bases for day hikes, both catering well to hikers and visitors.
Discover our awesome hiking adventures with only the best local guides and hosts.