The eccentric Scottish weather has gifted Edinburgh a winter of snowfall this year, and it's brought a renewed sense of wonder to my saunters up the Pentland Hills - the 100km² hill range on the edge of the Scottish capital. It's not often you get to ski tour with the ancient rock of Edinburgh castle as a backdrop, even when you live in the city. Hiking deeper into the hill range, out of view of the city lights, familiar sights have been dressed up in all white and the landscape has looked particularly unspoiled by the human touch.
The only issue is that actually, even the most remote places on Earth aren't as unspoiled as you might think. Back in 2015, Greenpeace's 'Footprints in the Snow' study found per and poly-fluorinated chemicals (PFCs) in samples of snow taken from 10 remote spots across three continents - from Torres del Paine in Patagonia to the Altai Mountains of Russia to the High Tatras of Slovakia.
If you're unfamiliar, PFCs are a compound commonly used in the production of outdoor apparel (and used widely in the textile industry and many others). They're great at repelling oil and water, but once released into the environment PFCs break down slowly and remain for years. Evidence suggests that they cause harm to reproduction and encourage tumour growth. Studies have found PFCs in all sorts of wildlife, from eels to polar bears, and even in human blood.
It's important to try and solve something when you innovate and not just to create another cool marketing story.
Long-chain PFCs have been phased out, but for many brands short-chain PFCs, still extremely harmful, were their replacement. The fact that most products are waterproofed with a Durable Water Repellency treatment (DWR), means people often end up re-treating outdoor gear with a chemical top-up down the line too.
Long story short, outdoor brands have been desperate to bring you waterproof outdoor apparel that doesn't skimp on performance, but also doesn't contribute to an environmental issue endemic in the outdoor industry (and far beyond). I've been exploring the hills this winter in Helly Hansen's Odin Mountain Infinity Shell - one potential answer to this problem. It's a three-layer waterproof jacket made with their LIFA INFINITY PRO™ technology - and crucially, without any added chemical treatments.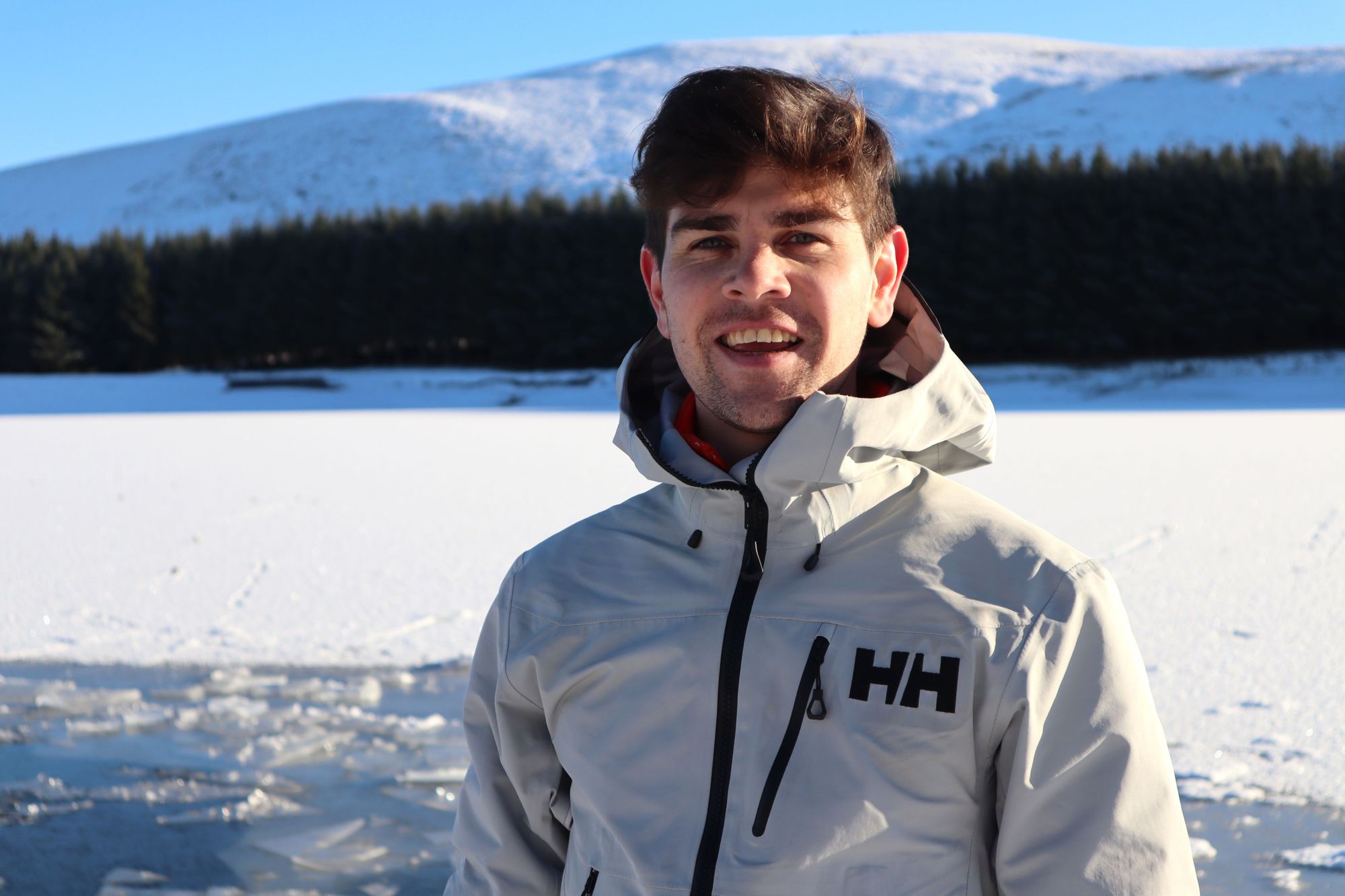 Amazingly, there's no water repellency treatment used at all on this jacket. It's the yarns themselves that repel water. That means that there's never a need to top up the DWR, and you don't have to tumble dry to reactivate after washing.
This is incredibly rare in outdoor apparel, particularly with a three-layer jacket.
"It feels like a revolution within the textile industry," Helly Hansen Category Managing Director Philip Tavell tells me. "It's important to try and solve something when you innovate and not just to create another cool marketing story. We all know that eventually the industry has to move away from harmful chemicals, and we've come up with something truly unique. I'm very proud."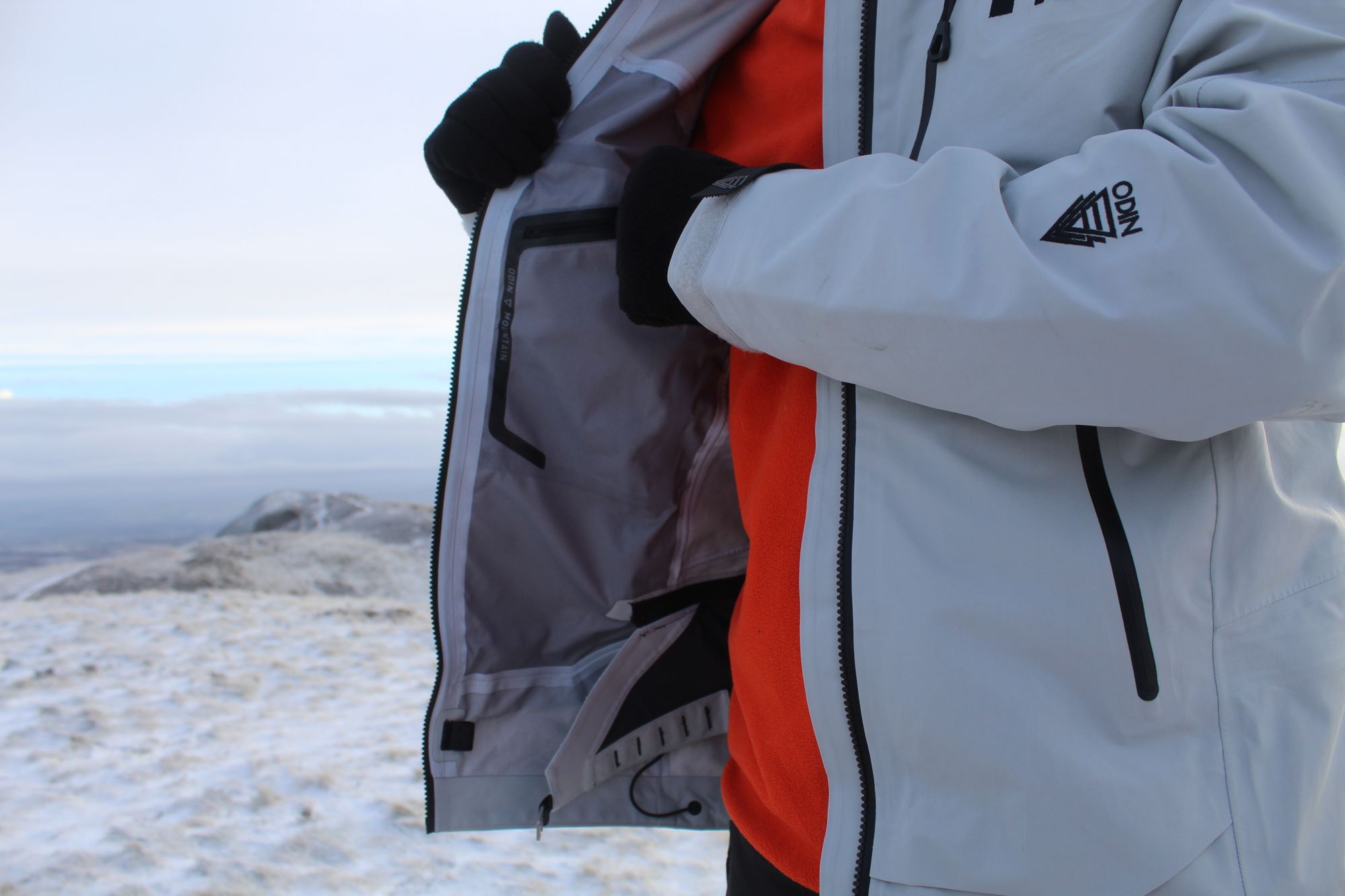 There's something quite special about wearing a piece of outdoor gear you know has been made entirely responsibly. It's a bit like when you've taken the train, or travelled somewhere by other sustainable means, rather than flying. It's a comforting little nugget that can let you enjoy your surroundings that bit more - but on an industry-wide scale, the potential of this tech is absolutely enormous.
The shell is primarily for ski touring or mountaineering, but it's great for hiking too. I've taken it out in all sorts; sideways rain, blizzards, wind so strong that I started thinking the weather wanted the jacket for itself. It's held up brilliantly.
Everyone needs to be moving to PFC-free, but we wanted to go beyond and challenge ourselves to make a garment that was completely free of added chemical treatments.
The jacket is simple in design. It's sleek and clean, with convenient pockets, and it's designed to be used with a backpack, gloves and a helmet. There's also a removable powder skirt and zip ventilation which is great for sweaty uphills.
The shell only comes in one colour, a consequence of it being solution-dyed, which means it uses about 85% less water than usual in the dyeing process. "We have a mission to reduce our water footprint," says Tavell. "Water is a big part of our brand, and it's a big source during production, especially when colouring."
What really stands out though is the lack of chemicals or a DWR treatment.
Using the jacket after chatting to Tavell felt a little like tasting a whisky for the first time after talking through tasting notes with the brewer. It's all in the detail.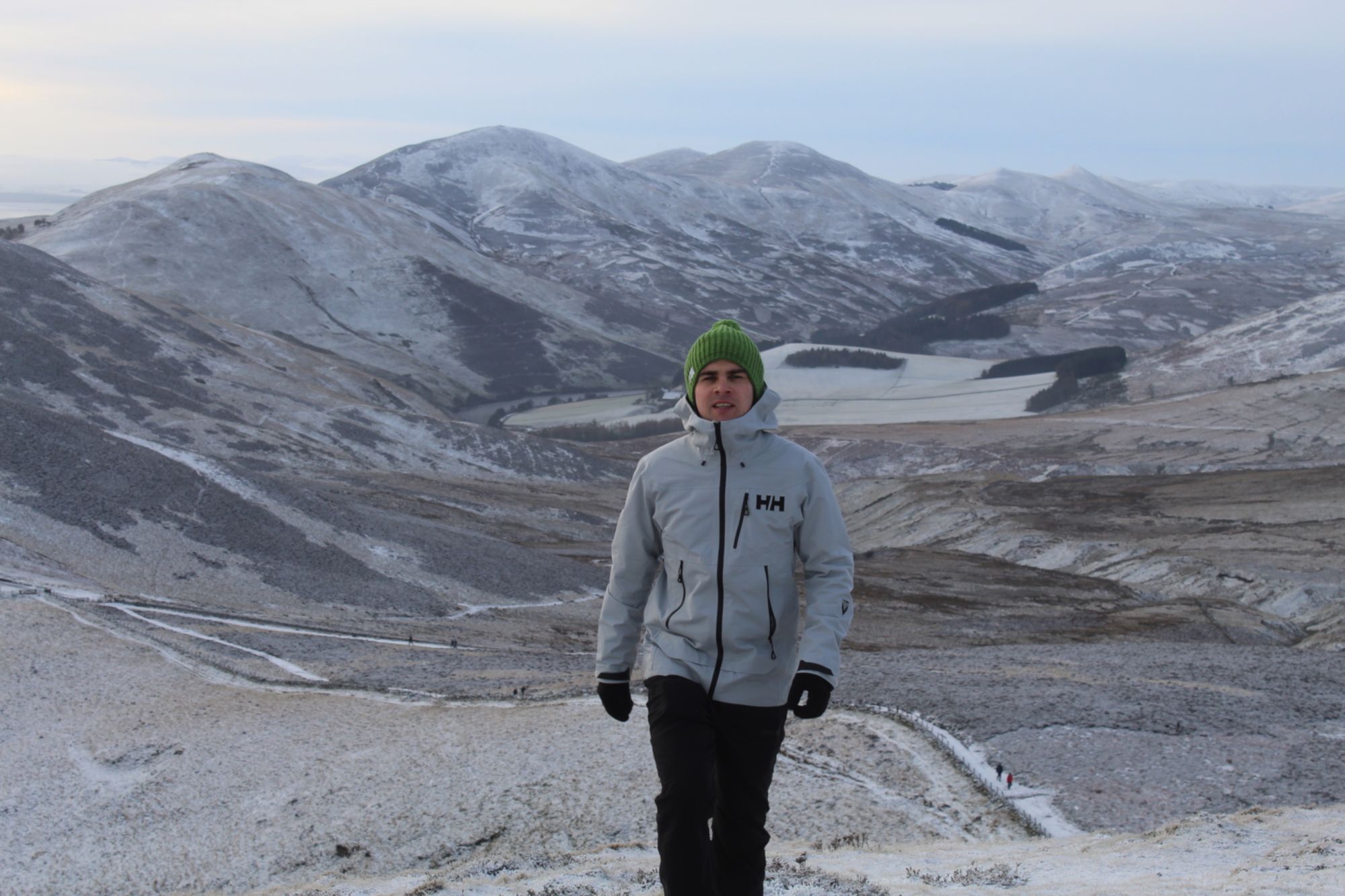 Born in Sweden, Philip Tavell is the Category Managing Director at Helly Hansen, having joined the company back in 2011. I speak to him on an envy-inducing morning when he's just back from a ski tour in northern Sweden. "Ski touring combines a lot of my passions," he says. "There's the exercise, the social aspect, and then there's the adrenaline of skiing down. I've always loved winter."
The tech Helly Hansen used to develop LIFA INFINITY PRO™ has been with the brand even longer. LIFA® technology dates back to the 1970s, when it was first used in Helly Hansen's iconic base layers. The development was so successful that the researchers behind it actually won a Nobel Prize.
The beauty of the LIFA® fibre is it hates water. It doesn't absorb water at all.
"We started looking at what we already had," Tavell says. "The beauty of the LIFA® fibre is it hates water. It doesn't absorb water at all. So we tasked our Research and Development team (R&D) to make a performance garment out of it."
This is how they ended up with a technology that repels water without a DWR. Initial efforts to make a one-layer garment were noisy and stiff, Tavell says, but the R&D team soon worked out that instead of dipping the membrane in a solvent, they could heat, fold and stretch the material. Here's the full science:
Tavell says the times are changing in the industry, with a big re-focusing on sustainability. "Governments are becoming stricter and some brands will only act when they have to, but for us, it's about the social responsibilities you have as a company. We want to make sure that we're ahead of government rules and do what's right in the long term for the environment.
"Everyone needs to be moving to PFC-free, but we wanted to go beyond and challenge ourselves to make a garment that was completely free of added chemical treatments."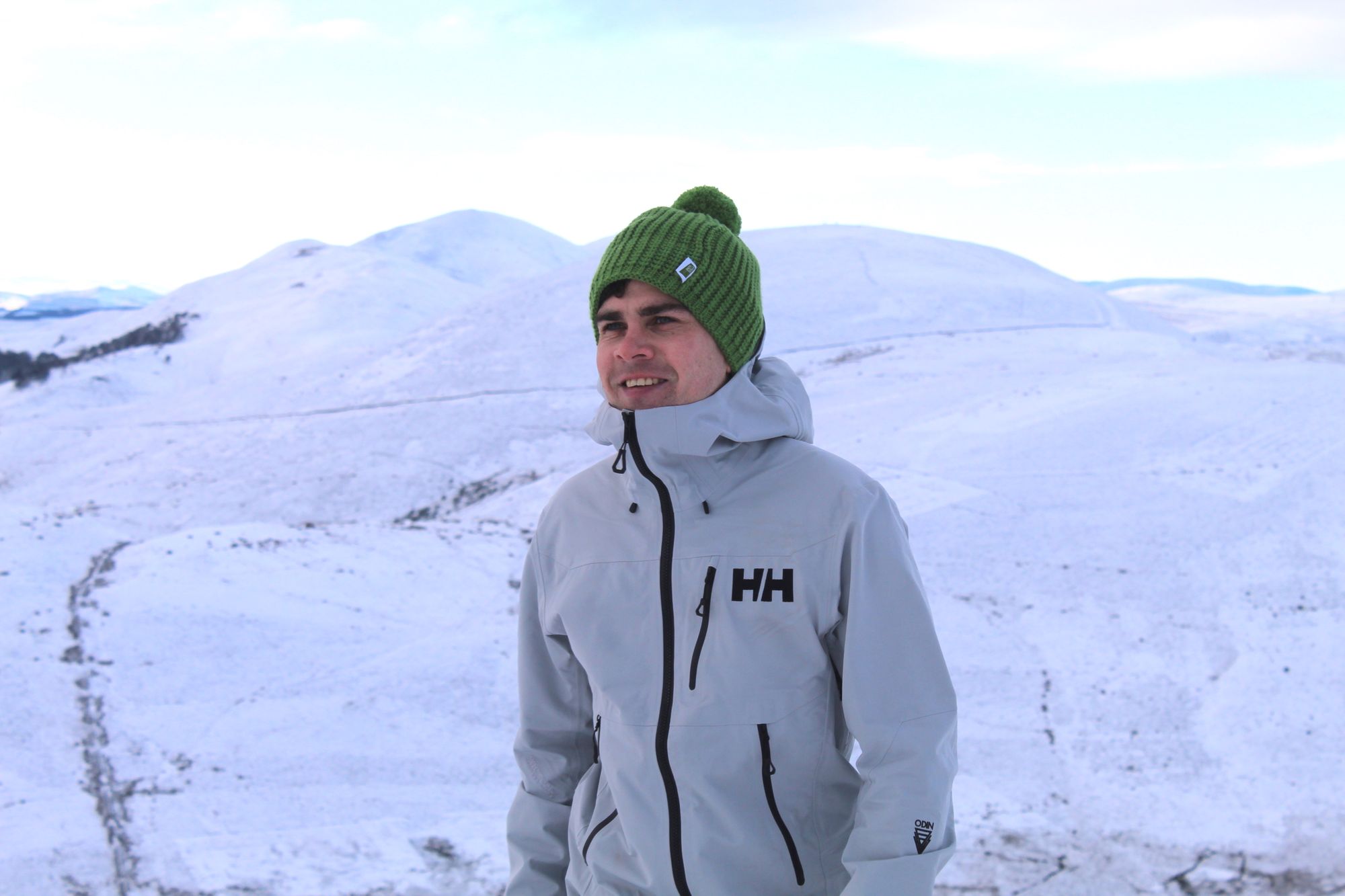 Currently the LIFA INFINITY PRO™ technology is only being used in two jackets. It comes at a premium rate - the Odin Mountain Infinity Shell is £600 and the ISPO award-winning Elevation Infinity Shell is £650. Tavell says that, while the R&D team is far from finished working with the technology, one big next step for them is to increase the range of gear it's used in, and also the accessibility. As soon as this spring, the technology will be launched in a third jacket, the Odin 9 Worlds Infinity Shell, designed for outdoor professionals and enthusiasts.
"We're the only brand offering this technology," he says. "I've been asked if we have a patent, and we don't. If only we use it, it just limits the benefits of the technology. We hope more brands jump on the idea of removing all chemicals. Not all will, because it does come at a premium cost, but it's so fascinating when you can change the industry, rather than just bringing about marginal gains.
"We're eager to do more. LIFA INFINITY PRO™ has shown you can still come up with truly unique innovations even today, in a world where innovation comes so fast. To actually make something without any added chemical treatments is an absolute revolution."
We can attest to the quality of the Odin Mountain Infinity shell. Now we're excited to see where the potential of the technology leads in the years to come.
This feature is a sponsored post created in partnership with Helly Hansen.