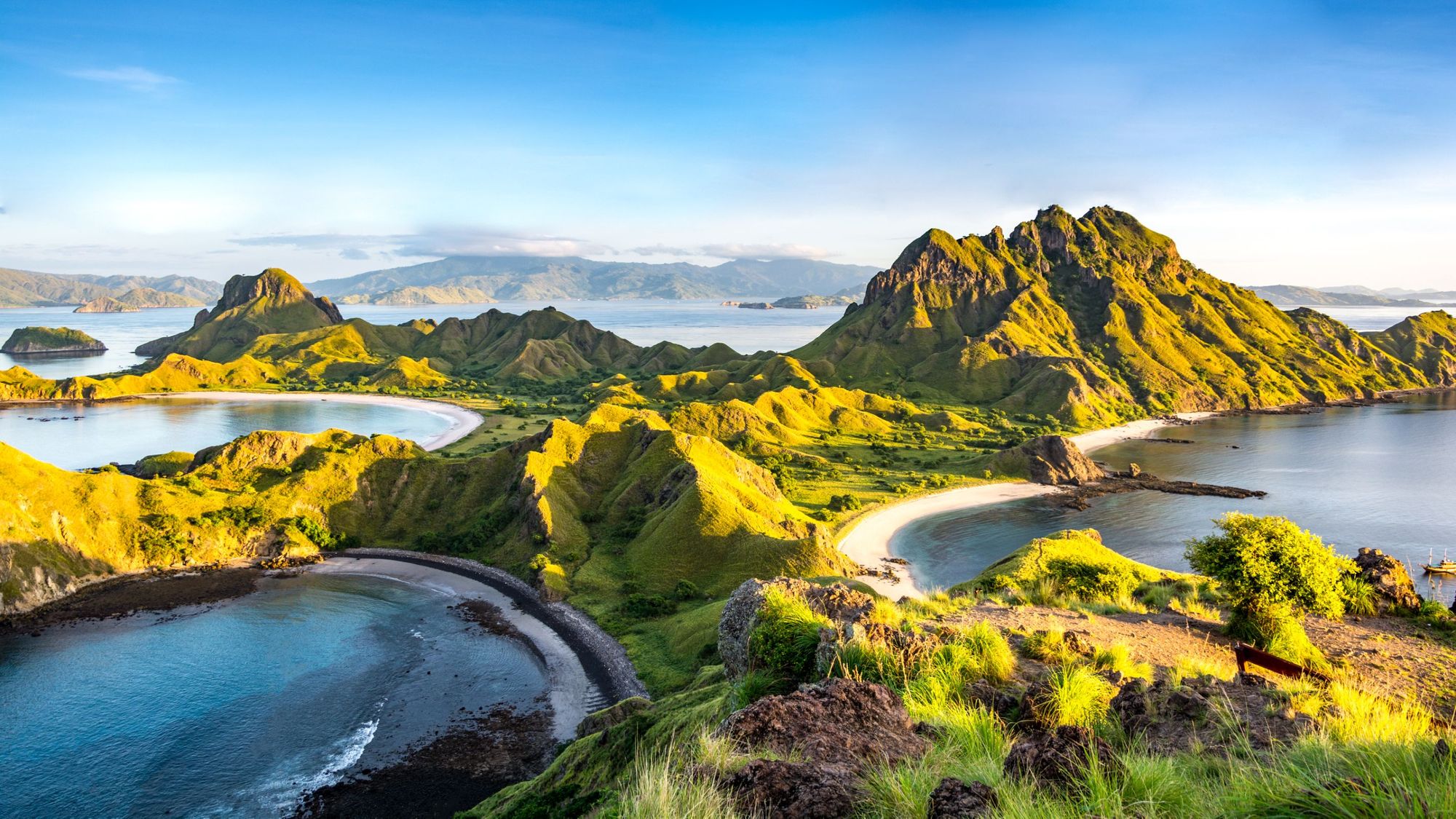 The scattered islands of Komodo National Park are a divine dreamscape. On Padar, black, white and pink sand beaches hide within the rocky branches of the landscape, which stretch out into the deep blue of the Indian Ocean like a crooked old oak. On Rinca, water buffalo, crab-eating macaques and wild pigs trot around the semi-arid landscape, while on Komodo - to quote a phrase dating back our first terrestrial globes - 'here be dragons'.
"You can find yourself out on the water, in peace, without a motor, and below you is a shark and just across from you, on the beaches, you can see monkeys and Komodo dragons," says Ricky McKendry, the co-founder of Wicked Adventures, who has been paddling in the waters of Komodo for the best part of 10 years.
It's good for jobs and to reduce the number of people from Flores working in palm oil, and forced to leave their families...
The Komodo dragon is the world's largest lizard. They can reach up to 10ft (three metres) in length, and weigh 300 pounds (136kg). This hypnotising endemic species can only be found here - and nowhere else on Earth.
Most who visit Komodo board a boat from Bali, but increasingly, more intrepid travellers are taking part of the journey into their own hands - kayaking into Komodo from a liveaboard boat instead. "The best areas to kayak are in the mangroves or shallow reefs," says Ricky. "You've got the crystal blue waters and marine life - from fish to mantas to white and black tip sharks."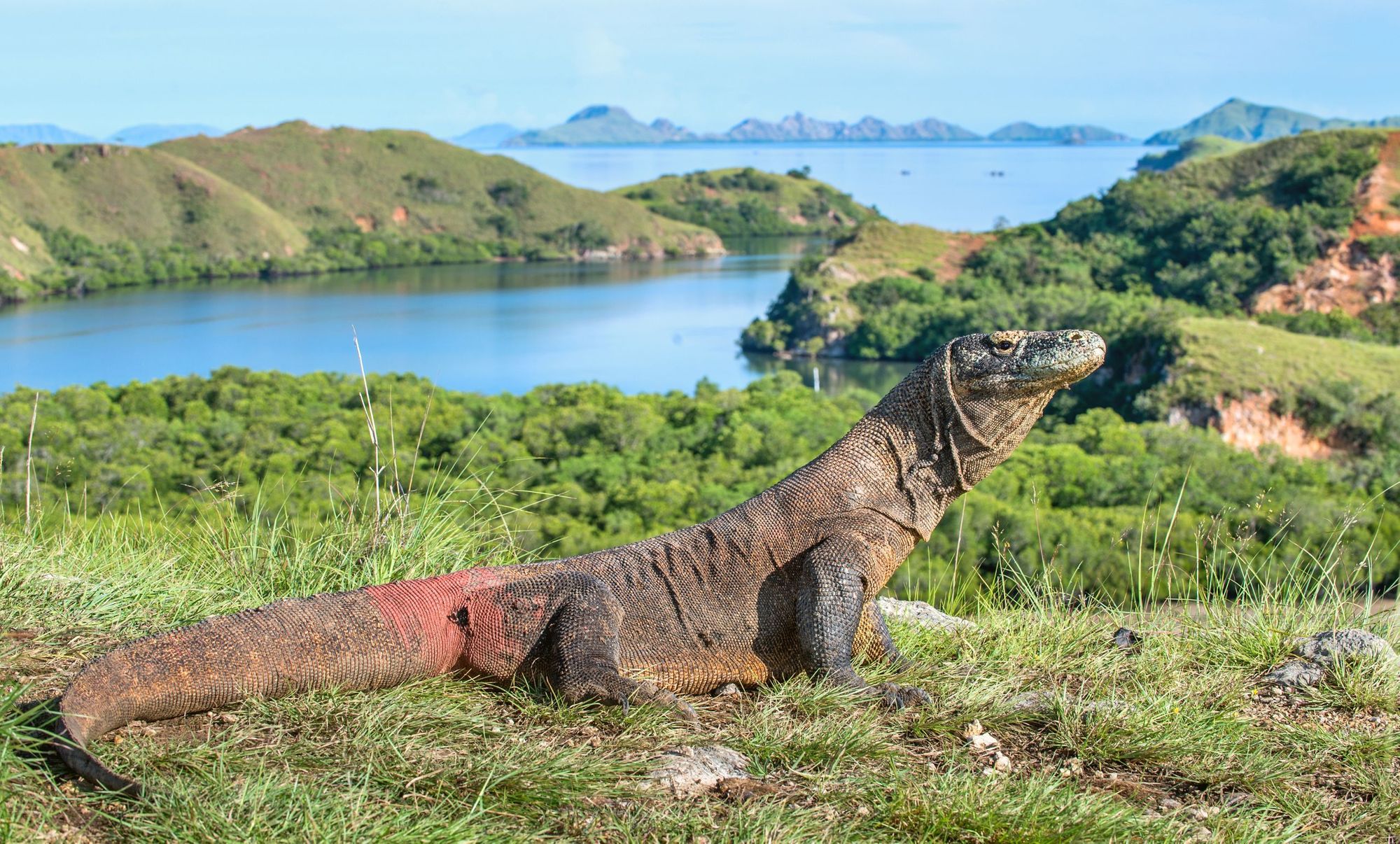 The Republic of Indonesia is the largest archipelago in the world joined as a single state. It comprises over 17,500 islands - so you might think kayaking would be a key tourism driver. But while indigenous use of canoes dates back millennia here, today diving tourism thrives, and kayaking remains a niche.
"It's had a small presence for around 10 years," says Ricky. "There are probably five operators in the whole of Indonesia operating on a commercial level."
But times are changing. Wicked Adventures are now organising programmes to train up kayaking guides - run for and by Indonesian locals. "They know the area better," says Ricky. "They know the culture, the land and the waters. The community should benefit from local development - and kayaking is building within the community. There's a small piece of international input for guidance, but it's not a bunch of white faces running around telling people what to do. They're building the industry themselves, and setting the standards and safety and certifications - it's amazing."
The island of Flores, which sits off the east coast of Komodo (an hour flight from Bali), is the base for most of this work. A lesser-visited island, it's a place of quiet beaches and dramatic inland forests, with 14 active volcanoes dotted around.
"We've been working with the founders of the kayaking industry in Indonesia, and bringing them across to teach the new guys in the programme," says Ricky.
Currently those founders, who are mostly from Java, are out circumnavigating Flores - which is 5996 square miles (15,531 km²) - by kayak, to promote the discipline in Indonesia. The media coverage has been huge, and it's captured the public imagination. "They're showing that kayaking is not only an activity you can do here, but that it's a job opportunity too," says Ricky. "Later in the year we're going to open up another training programme to more candidates. We're looking at doing one per year - a six week, off-season programme with a salary."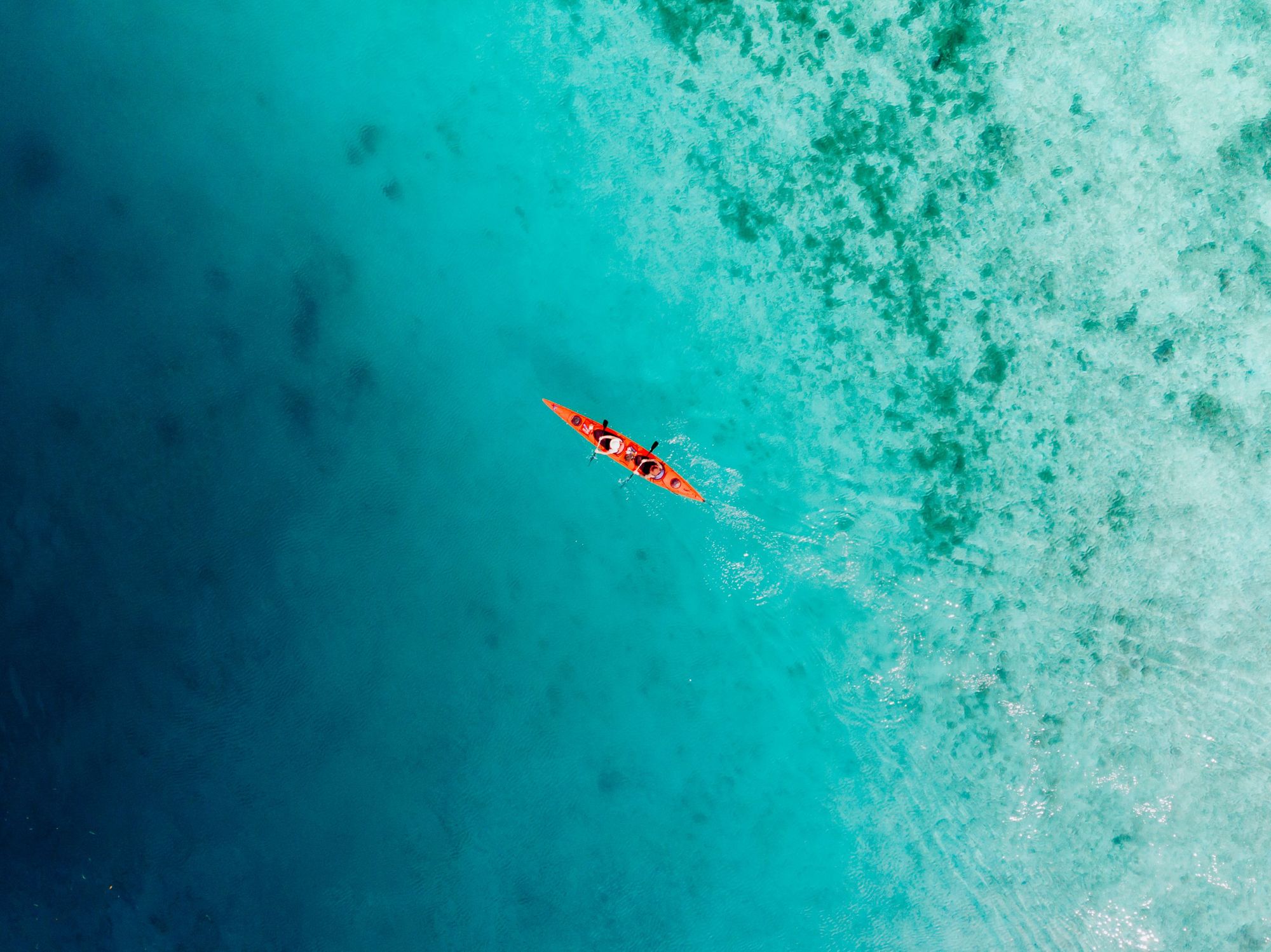 Ica Marta is a Flores native, and Community Projects Manager for Wicked Adventures. She got into tourism to help develop opportunities on Flores.
"When I was finishing my studies, I got a job as the manager of a resort in Bali, and I saw that many people who came from my island [Flores], were coming to work in lower-paid positions," she says. "Very few of them got to a management role. But everyone can get that opportunity. We believe that through economic local development, the people of Flores should get the most benefit from the businesses running in Flores. Local economic development is very important here. The people that earn money here spend the money here - and then we reduce the leaking of the local economy in quite a significant way."
The impact is tangible. There were a lot of women after that. Our third batch of trainees was all women.
A study - albeit from 2000 - on the local economic impacts of dragon tourism in Indonesia notes that there is "an estimated 60% leakage from the charter boat sector and 90% leakage from public transport revenues after taking into account payment of local wages" - meaning locals only get a fraction of the money from those visiting the Komodo Islands. A more recent study, from 2022, estimates wider Indonesian tourism leakage at "between 50% and 80%" - so the issue has not improved much since. But by training locals to be kayak guides or boat skippers, you can begin to address leakage - and make tourism work for locals.
On Flores, adventure tourism training has begun that shift. Long before launching kayak training, Ricky and co. were training locals to be dive guides.
"We've trained around 50 divemasters," he says. "Out of all the people that we trained in diving, I think 70% of them got into the industry - and got to explore the whole archipelago of Indonesia. They've all built houses in their home villages. The rest will follow. It's creating safety nets for them and their families."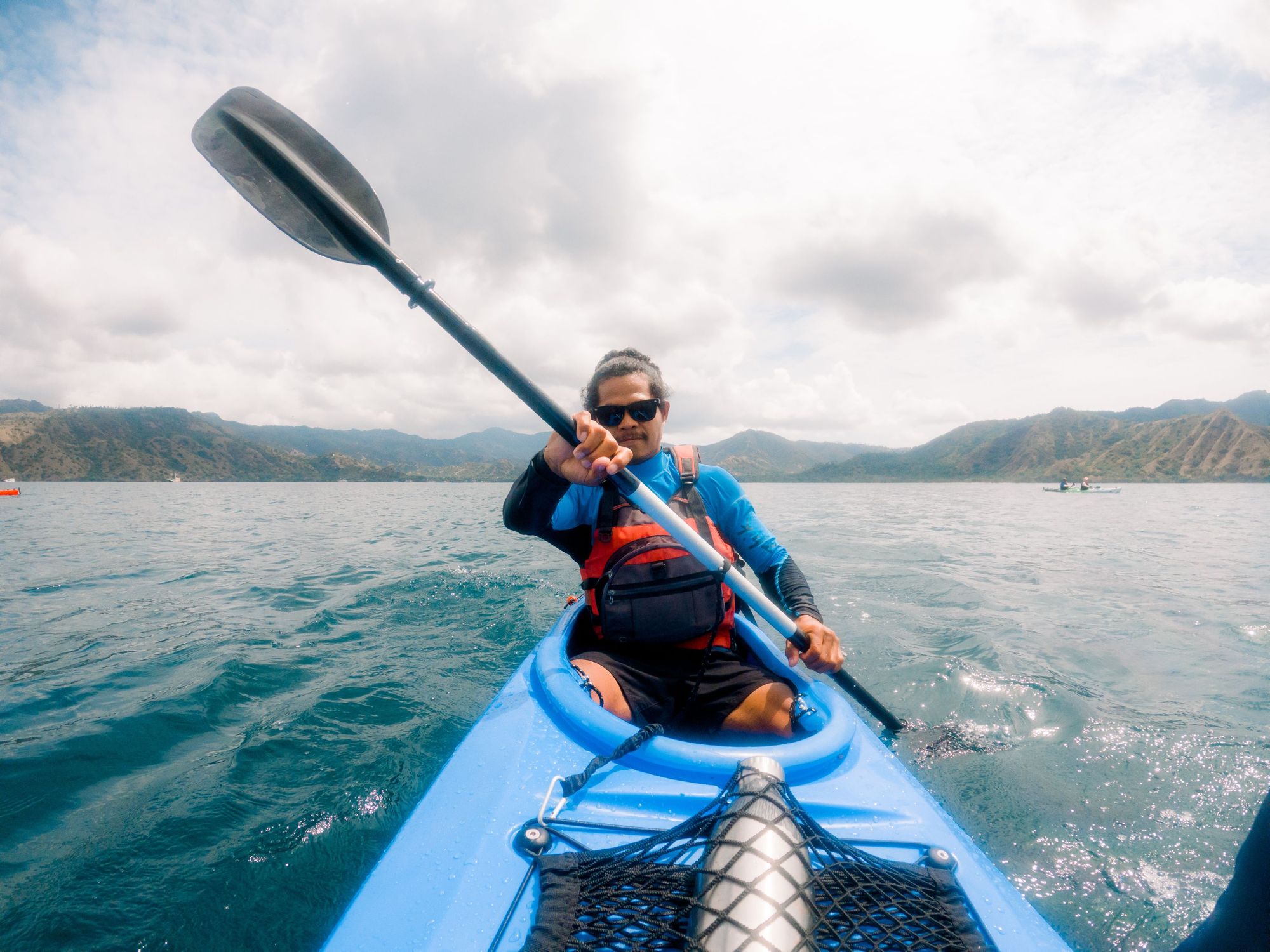 Ica says that "there are [Flores natives] who went to work in Java and Bali who have come home now." She notes that "youngsters need a role model. If they see someone they know in the top position in a company, they see a future there."
One particularly notable role model was Sary, a Komodo local, who began as an intern at Wicked, and later became the first female divemaster in Indonesia.
"It was the first time a local woman was able to enter this kind of industry," says Ica. "We are a patriarchy and she came from a very strict Muslim background, and is working in the diving industry where people wear bikinis and things like that. But Sary proved the economic benefits to her family were huge; their [finances] increased significantly. The impact is tangible. There were a lot of women after that. Our third batch of trainees was all women.
"Before this training, people hadn't really accessed the private sector, because you don't see people around in the sector. Their only dream is to become a civil servant. We tried to recruit students from the provincial school [in Flores], and a lot of their parents have left to work in palm oil in Borneo. For some, their dream is just to celebrate Christmas with their family. With this programme, they have the opportunity to bring back their family, build a house and buy a rice field. I asked a student after two years where his sisters would study, and he said that now that he has the money to pay for them, they can go and study to be doctors.
"It's a real big change in the mindset of the people in the village. We tried to expand the project to the mountains too, because it's good to mix the culture within the coastal community and the people from the mountains, so that these people can also get the benefit of the tourism."
There is a tourism school in Flores now - and role models aplenty. Today, there are female dive guides across Indonesia and locals lead the dive industry in Flores. The hope is that kayaking will follow suit - providing more jobs and diversification.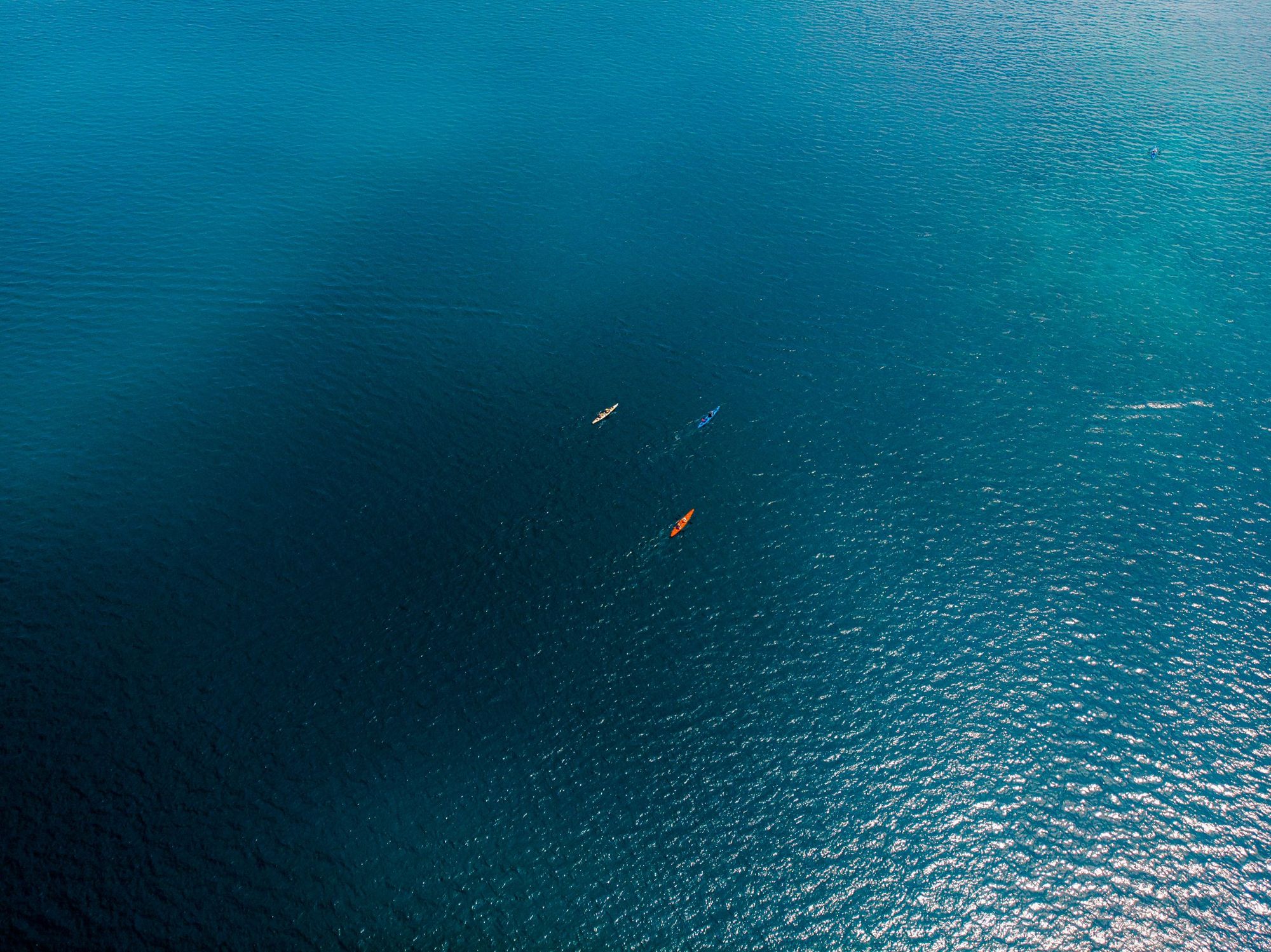 "Kayaking seems to be rolling relatively fast now," Ricky says. "Tourism here is moving faster here now. 15 years ago only the hardened traveller had heard of Indonesia. Thailand was the place to go, but Indonesia is now an easy country to travel through. That's shown to locals that they need to develop staff in Indonesia to accommodate guests and compete in Southeast Asia.
"There's only going to be so many divemasters that you can train, and then all of the positions on Flores will be filled. So, what's next for people who need opportunities to feed their families? That's how I see it benefitting the local area."
We're not just looking at Komodo. You have Raja Ampat, 1000 islands in Java, east Indonesia...
Traditionally, the economy of Flores has been agriculture - rice, bamboo, bananas or livestock, plus the local government roles, shops, and so on. "If a guide is out 25 days of a month, they can get seven times the minimum wage," says Ricky. He believes that kayaking could become a huge pull to Indonesia.
"We're not just looking at Komodo," Ricky says. "You have Raja Ampat, 1000 islands in Java, east Indonesia, you have Sumatra - and massive lakes in-land, so it just makes sense to be in this industry; competing with Vietnam and Thailand."
Ica agrees. "It's a good opportunity to spread tourism around Indonesia. It's good for local economic development, it's good for jobs and to reduce the number of people from Flores working in palm oil, and forced to leave their families."
In Indonesia, where sharks swim, mantas speed and dragons roam the land, the power of a paddle stroke extends far beyond the glimmering blue of the water.
Inspired? Check our kayaking and hiking adventure in Indonesia, which helps to directly support the training of guides on Flores!