In October 2020, round-the-world cyclist and bikepacking route-setter Markus Stitz set out on his most personal journey yet. Born in the small town of Heiligenstadt in former East Germany, Markus set out to plot, ride and launch the 700km Iron Curtain Gravel Trail in his homeland - passing through the states of Thuringia, Lower Saxony, Hesse, Bavaria and Saxony.
"My mom lives in Erfurt, the state capital of Thuringia, and this particular part of Germany holds so much history," says Markus, who now lives in Edinburgh. "It's where Weimar is and the constitution was signed. There are some horrific places like the Buchenwald Concentration camp and some smaller camps, and then there's Wartburg where Luther translated the bible. That inspired me to look at my own history, and it became clear that growing up as a child in East Germany, behind the Iron Curtain, was a great story to tell. It's a fantastic route to cycle."
As a 10-year-old child, Markus admits he didn't quite grasp the significance of the fall of the Berlin Wall, but he does have some distinctive memories of growing up in East Germany.
"What I remember was a pretty normal life," he says. "What was obviously missing was freedom of speech - but most 10 year old children aren't too interested in that! My grandparents lived in the restricted zone, parallel to the East German border, and when we visited them we had to show an ID card. I think you had to get it stamped twice a year, but I never really questioned it.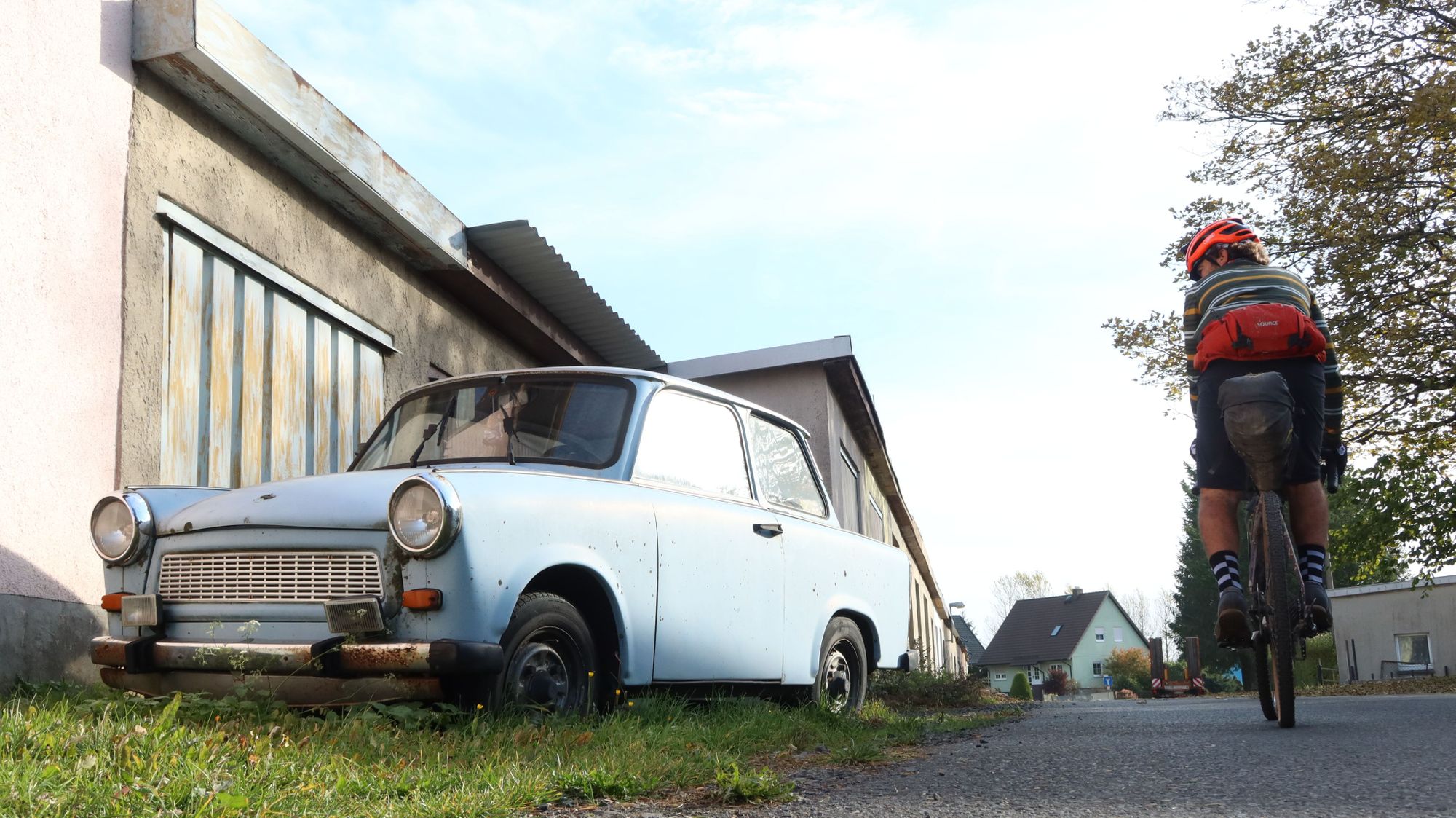 "My dad was what would be called a key worker nowadays. He was fixing people's televisions. To me it wasn't really clear why that was so important, but if you look back now, it was the only way people could watch Western television - illegally, you know. I remember once we had to do an exercise for school and I painted a television, and I painted ARD, the West German television station. My mum said 'you can't take this to school. This could get us into deep trouble'.
"When the wall came down I was a teenager. My brother and sister are older, and for them it was more tricky. They couldn't go to university because my parents weren't members of the party. The wall coming down meant that they could go."
While the fence that formed the physical Iron Curtain (as seen in the top photo) only remains at museums, the patrol track for vehicles is largely still visible on the route which runs from the Drei-Länder-Stein in the Harz Mountains to the Dreiländereck on the German-Czech Republic border.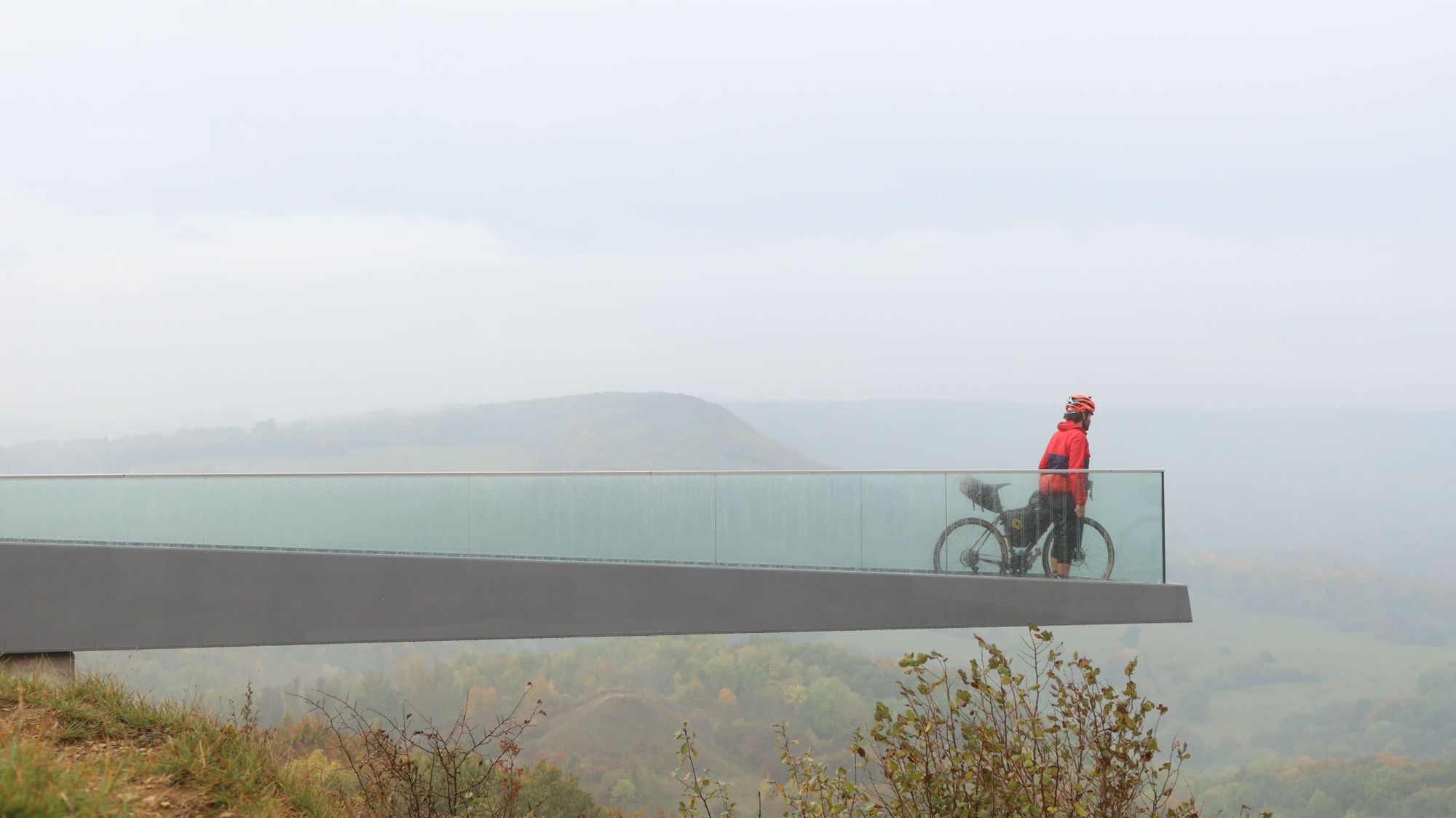 "Right after the wall came down, and the border was opened, people did their utmost to dismantle the remaining fortifications," says Markus. "There are some brutal stories connected to the time. But some of the stretches were preserved."
Stitz designed the trail to be ridden over 8-14 days. It weaves between former West and East Germany and follows parts of the European Green Belt, a nature conservation route along the former Iron Curtain. Markus says he was pleasantly surprised by how the route seems to have re-wilded itself.
"There's an amazing variation of landscape," says Markus. "It's one of the real wildernesses in Germany. Due to the fortifications, no one was really allowed to go the area [of the border], and so it is pretty much untouched land. It wasn't farmed. It wasn't used in any way since the 1940s, and when they took the border down, nobody really knew what to do with the land. Most of it is untouched wilderness, and on some stages nature has just taken everything back. You've now got this tree line in stretches where the border used to be, and in Autumn it was just magical. It's Germany off the beaten track."
Head to Bikepacking Germany to see the full Iron Curtain Gravel Trail, or check out our cycling holidays for more bikepacking inspiration!