An entanglement of lemurs curl their ringed tails up into the air, as they bury their endearing little snouts into the freshwater water lake of Anja for a mid-day drink. The lemurs' fluffy white, triangular ears point skywards, while dry forest and hills roll gently to the bulking granite boulders which dominate the landscape behind.
Madagascar is a huge island - 10% bigger than France - and it boasts some of the richest and most interesting biodiversity in the world. Owing to the island's isolation, 260 miles (420km) off the west coast of Mozambique, nearly all of the species living on the Great Red Island, so-called for the rust-coloured lateritic soil, are endemic. According to the WWF, 92% of Madagascar's mammals, 95% of its reptiles, and over 40% of its bird species can be found on the island and nowhere else.
These species include the satanic leaf-tailed gecko, easily-mistakable for a withered leave, the fossa, a predator somewhere between a cat, dog and weasel, and the lowland streaked tenrec, an odd little animal which looks a little like a hedgehog dressed as a bumblebee. It also includes half the world's chameleon species and, of course, the country's most iconic species - the lemur.
There are more than 110 species of lemur to be found in Madagascar, from the tiny, mouse-like aye-aye to the expressive, gangly Coquerel's sifaka, which bears more of a resemblance to a monkey. The common factor is the bulging eyes.
It is not difficult to see a lemur in Madagascar.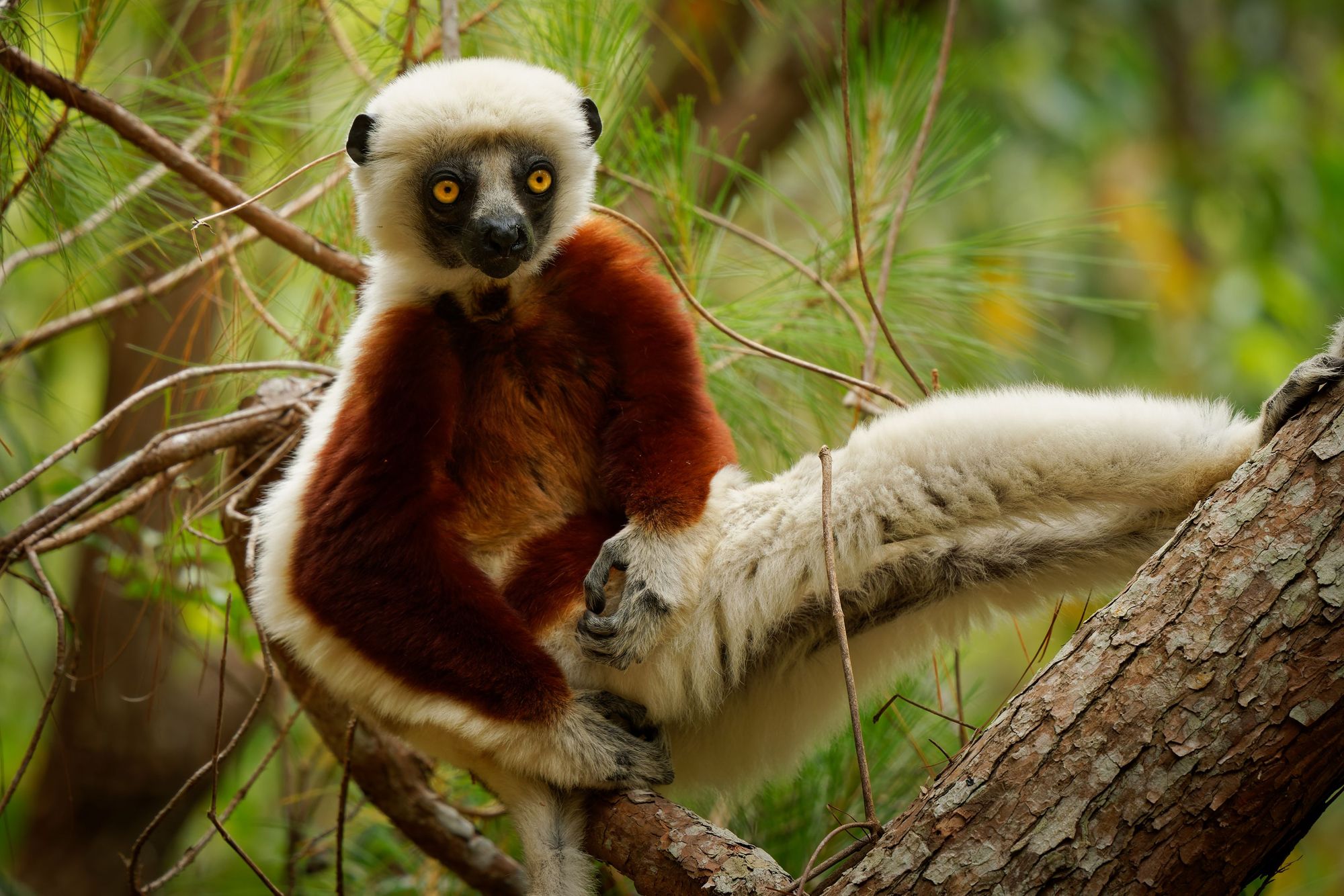 The most popular areas for sighting one include the Tsingy de Bemaraha National Park in the southwest, home to the famous knife-like rock formations, or Ankarafantsika national park in the northwest. But Anja community reserve is one particularly interesting spot; unique for its role in setting a social and environmental precedent - while providing a haven for ring-tailed lemurs.
"There are a lot of lemurs in the reserve, and they're easy to spot," explains Laurence Duband Schaffner, an adventure travel expert who has worked and lived on Madagascar for over two decades.
98% of Madagascar's land mammals, 92% of its reptiles, and 41% of its bird species can be found on the island and nowhere else...
Anja is a place of granite mountains, dry forests and far-reaching views out over rice paddy fields, just 13km south of the city of Ambalavao on Route Nationale 7 (RN7). The reserve was established in 2001 in response to the dwindling numbers of ring-tailed lemurs across the country due to hunting and widespread deforestation. Today, it's home to the highest concentration of ring-tailed lemurs in all of Madagascar, making it a site of global significance.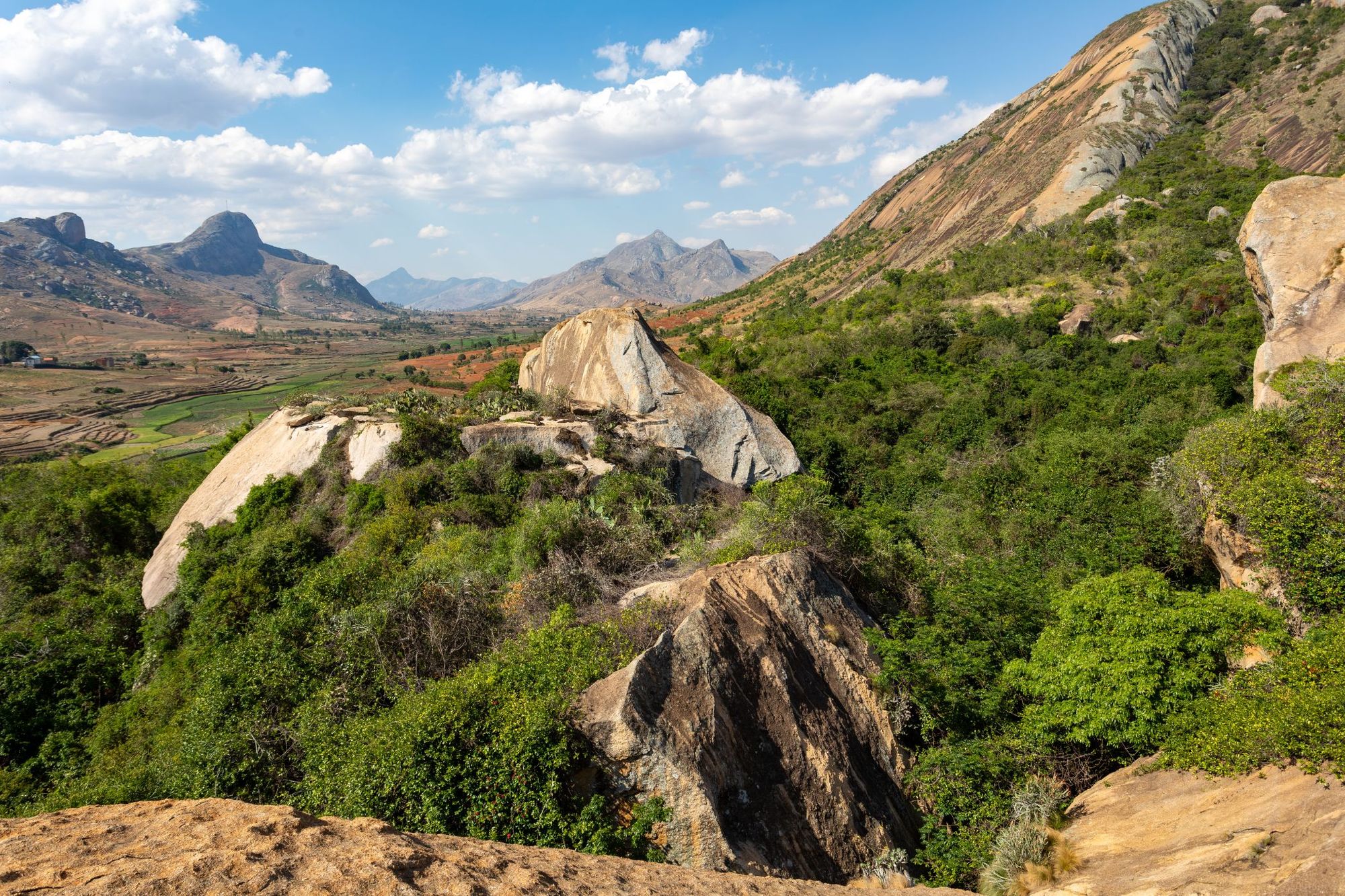 "The lemurs are completely wild, and they live in their own environment, but as they are a little more used to humans, they can come quite close," says Schaffner. "They won't jump on you, but they're easy to spot. It's a great opportunity to see them up close and understand their way of living, because some live in couples or with families and with kids."
Visit at the right time and you'll see infants clinging to their mother's bellies, or if they're a little older, riding on their mother's backs. Young lemurs become more independent after around a month, but even then, these lemurs spend around 40% of their time on the ground - and so they're easy to spot at Anja.
It's home to the highest concentration of ring-tailed lemurs in all of Madagascar.
"The reserve was created and is run by the local community," Laurence says. "It's very important in terms of educating locals and showing people that you can earn your living from protecting forests and from lemurs, rather than from cutting the wood. You can get some money now if you cut the wood, but then it's a 20-year wait for another tree to grow there. But if you keep the forests, and keep the lemurs, you can make your living every day for many years."
Indeed, the reserve has allowed locals to stop clearing forests to plant corn, and instead earn an income from protecting nature. The reserve is an example of how humans and nature can flourish alongside one another.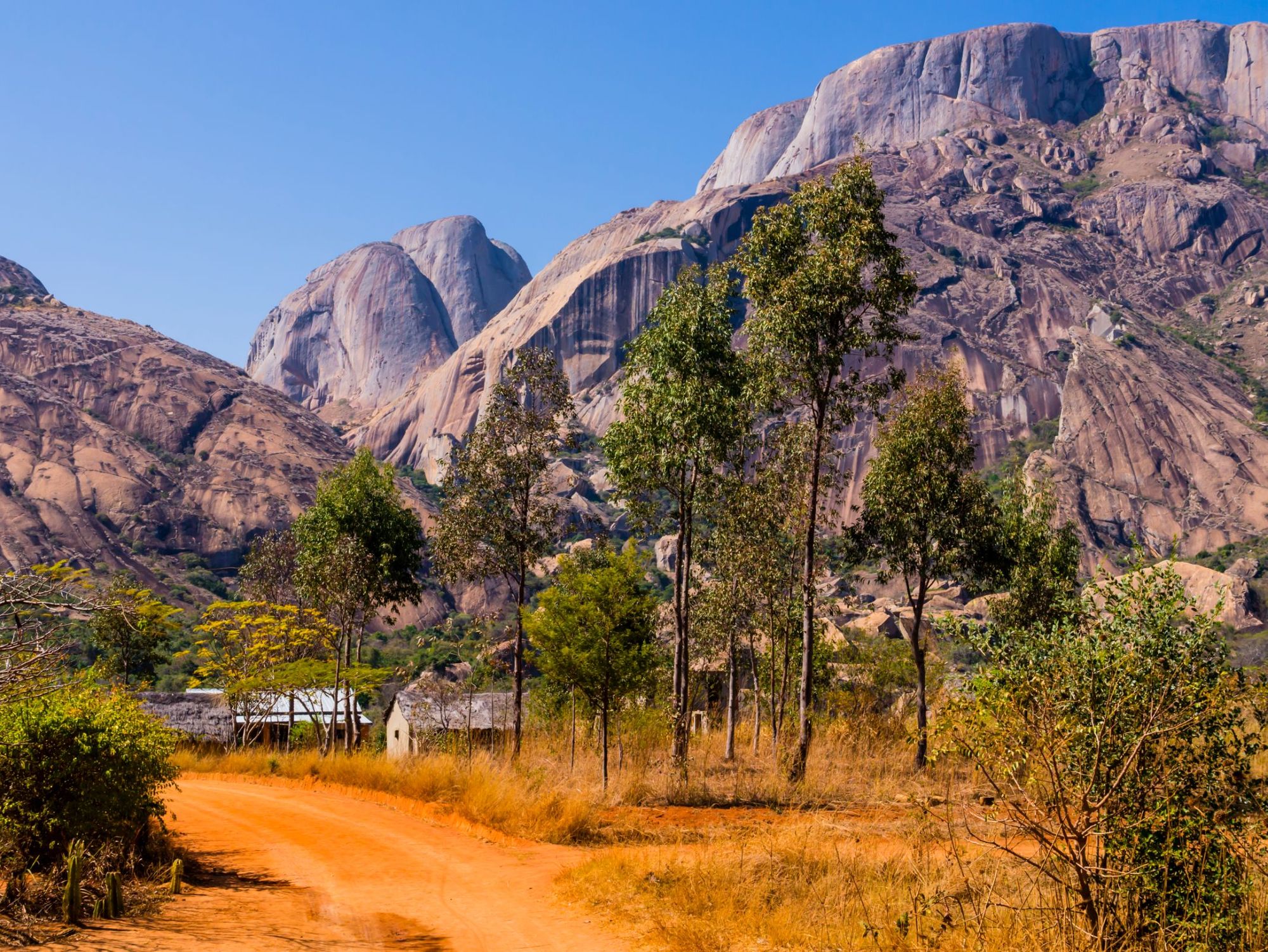 Visitors to Anja must be accompanied by a guide, and can choose between two hiking trails. One is walkable in an hour or two, and will take you past two old Betsileo tombs, and natural cave systems which house owls and bats. The other is more adventurous, and takes a longer route to the summit of two of the local mountains, collectively known as the Telo Mirahavavy or The Three Sisters. From the summit peaks at 1000m and 1,434m - you can see the district capital of Ambalavao. After visiting, people head back to the city, or set up camp at the foot of the mountains, and fall asleep to the sounds of the forests.
It's not only lemurs to watch out for as you walk. There are also chameleon in the reserve, adorable lowland streaked tenrecs and a variety of birds, from the Malagasy coucal to harrier hawks, bee-eaters and grey-headed lovebirds.
Colourful kininana and eucalyptus are being grown in tree nurseries, and families of saxicola plants and orchids brighten the trails. These reforestation efforts are crucial, given that Madagascar is a country with a big problem with clear-cutting.
"It's linked to the poverty of the country," says Laurence. One study notes that 92% of Malagasy people live on less than US$2 per day. "So people are not able to focus on the long or medium term - they have to find a solution to live on a daily basis. Cutting wood brings in money very easily for the family. So most of the remaining forests are in national parks and private or community reserves - but they are now doing well at explaining to people that this is a long-term income."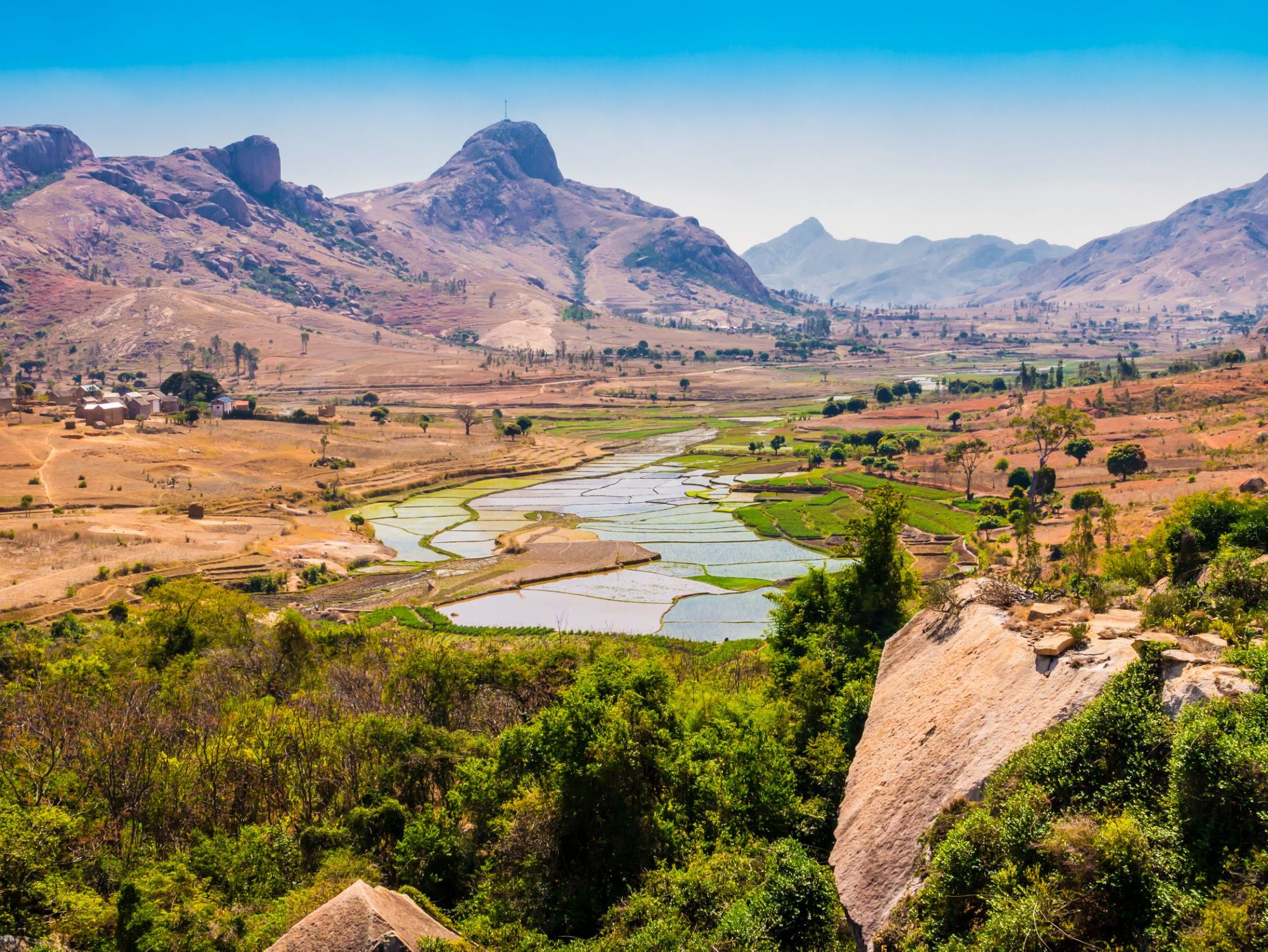 The establishment of a circular, nature-based economy in Anja has given the locals an income dependent not on the exploitation of nature - but on the protection of it.
"More and more people are getting conscious about fighting against deforestation here and realising the importance of the forest," says Laurence, "but it's a poor country, so you always have to balance that against the daily needs of people."
Andringitra is the high mountain area, with Pic Boby reaching 2,658m...
The tourism industry in Madagascar still isn't enormous, so ecotourism projects like this are not widespread. The potential for hiking, cycling and scuba diving is increasingly attracting adventure-minded people to the island, though.
"Madagascar is a huge playground," says Laurence. "Everything is possible here. It's the land of opportunities, and even though the island is bigger than France but we're still a small country in terms of tourism. The biggest year we've ever done was back in 2019, and we still only had around 350,000 tourists here."
For contrast, more than 10 million people visited the Louvre in 2019. The National Gallery in London had 4.1m visitors and Stonehenge had 1.6m.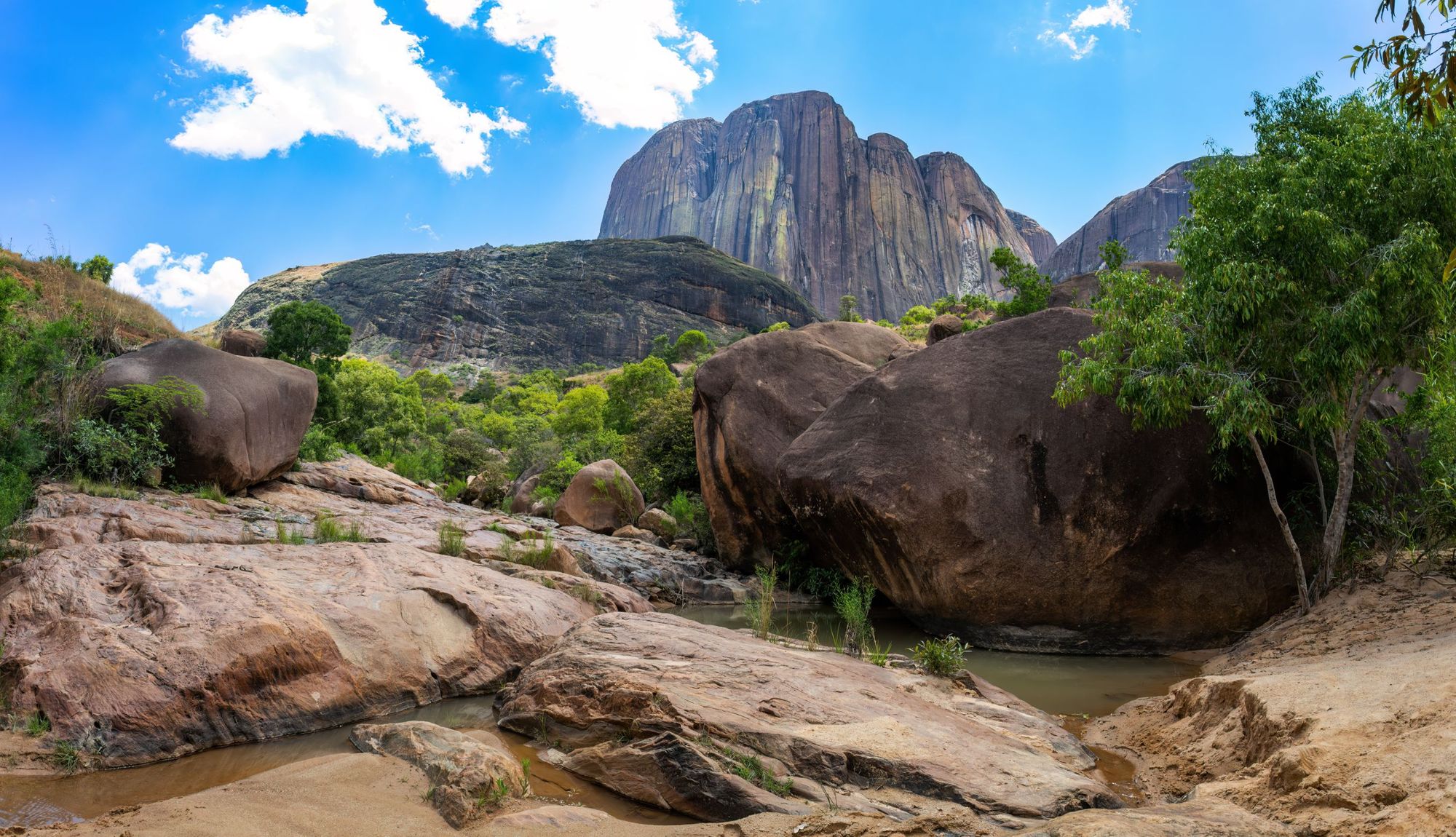 "That means it's quite tricky to develop the travel and tourism industry quickly, but hotels - and also the skills of the guides - have increased a lot in the last couple of decades." The exportation of spices, notably vanilla, is still the most important economic sector in Madagascar, and there is also a mining industry. "Then you have tourism," says Laurence, "It employs around 100,000 people."
Madagascar is an island of contrast - of arid desert and lush rainforest, busy cities and quiet reefs. In Andringitra and Isalo national parks alone, you have two national parks 125 miles (200km) apart, which could be on different plants.
"Andringitra is the high mountain area, with Pic Boby reaching 2,658m," says Laurence. It's a beauty of a climb, involving scrambling and views out to Isalo. "In July and August - winter season for us - it can get down to zero degrees, and you have vegetation which is tropical but which can resist low temperatures." This is a desert of abrupt cliffs, lakes, sloping hills and volcanic formations, with remarkable views, but little wildlife. "While Isalo is a low-latitude area, and in summer it can reach 40°C. It's an eroded massif, so nothing like Andringitra, but there are several species of lemur and it's rich in birds."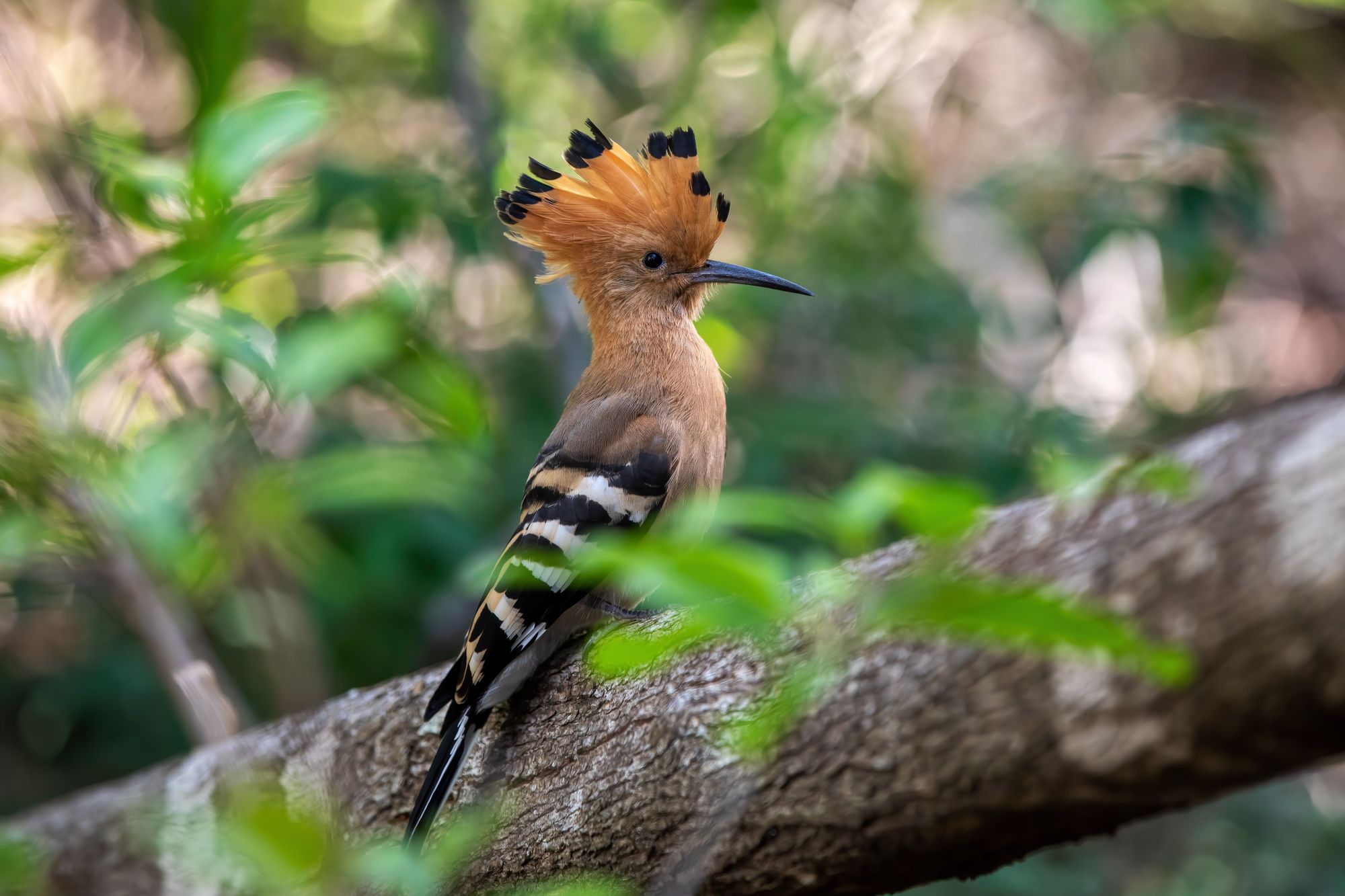 For best results, Schaffner recommends exploring Madagascar on bicycle or foot.
"You'll walk through these villages and meet people who will ask you about your time in the country. It's easy to have an authentic and sincere relationship with people."
In small rural communes, set amongst rolling hills, people farm rice, peanuts, cassava or sweet potatoes for a living. "You see another side to the country," says Laurence, "and when we have lunch in the village, the money goes directly to them. And they also work with us, as local guides and porters, and providing local food.
"For me, Madagascar is a never-ending beginning. I've been here for 27 years and I still have so much to discover. The people really are so nice here. They might be poor from a European perspective. They don't have much money - but when they go out into the bush, they are rich."
Inspired? Check out our new trekking adventure in Madagascar, organised in partnership with Laurence Duband Schaffner, and exploring Anja Community Reserve, Isalo, Andringitra and more!