There is nothing adventurous about getting a graduate job in London. But that, like so many of us, is how Sarah Williams' post-university life began. By the age of 32, "stressed out of my brain" from the demands of her job in finance, Sarah realised something had to change. She had no idea what. "I would always say 'I'm alright, I'm alright'. But then I'd have Sunday blues… and celebrate getting to Wednesday each week."
In 2013, Sarah quit her job and packed her bags for six months travelling. Her wanderlust took her to Africa and South America, up Kilimanjaro and down the death road in Bolivia. Whilst backpacking in South America, Sarah started to think about her next move. "I wanted to do something adventure and challenge related," says Sarah. "I came up with Tough Girl Challenges because I wanted to combine tough and feminine… I quite like shocking people." She refers to the way people judge you on sight: "There's no way you could have done that. You're not tough enough. You're not strong enough." And the satisfaction of being able to say, "Well actually, I've done all this."
Now Sarah hosts a podcast by the same name: the Tough Girl Podcast. Ostentatiously pink and full of interviews with some very tough women, the podcast features adventures from mountaineering to stand up paddle boarding. At over 200 episodes and counting, it is going from strength to strength. I, like many, have listened to it whilst commuting, on a run or in the background at work. (Sometimes in bitter-sweet irony, whilst I was still working in financial services.) The podcast is well on its way to 1 million downloads and recently won the Women's Sport Trust Be a Game Changer Award for Media Initiative of the Year.
But it wasn't always this way. Originally Sarah started blogging, not podcasting. "I thought I'd start blogging, people would find my blog and start reading it," laughs Sarah. "No one read my blog for a good year, I'd say." During this time, Sarah ran the Marathon des Sables, purportedly the world's toughest foot race. Competitors run six marathons in six days across the Sahara Desert.
Then she started doing motivational talks at schools. It was very rewarding, watching the eyes light up of the children who really got it. But it still wasn't enough. "It still wasn't having that impact and the biggest thing for me was: how can I increase the number of female roles models in the media? Because there just aren't any."
"How can I increase the number of female roles models in the media? Because there just aren't any."
That's when a friend suggested she could start podcasting. Her first reaction was no – she didn't have the technical skills. But I get the impression that there aren't many challenges in life that will stop Sarah, whether it's running across a desert or learning how to edit and upload audio files. "The first couple of episodes are not great… now I cringe to hear them. But the fact is I've always been very aware that in order to get better, you have to start."
She likens it to driving. Once you've learnt the skill it's just there in the background of your brain, available to use when you need it. Podcasting, she was confident, would be the same. Over 800,000 downloads later, it looks like it was worth it. "I am a one woman show here, with a laptop and my phone. Look at the difference that just one person has made."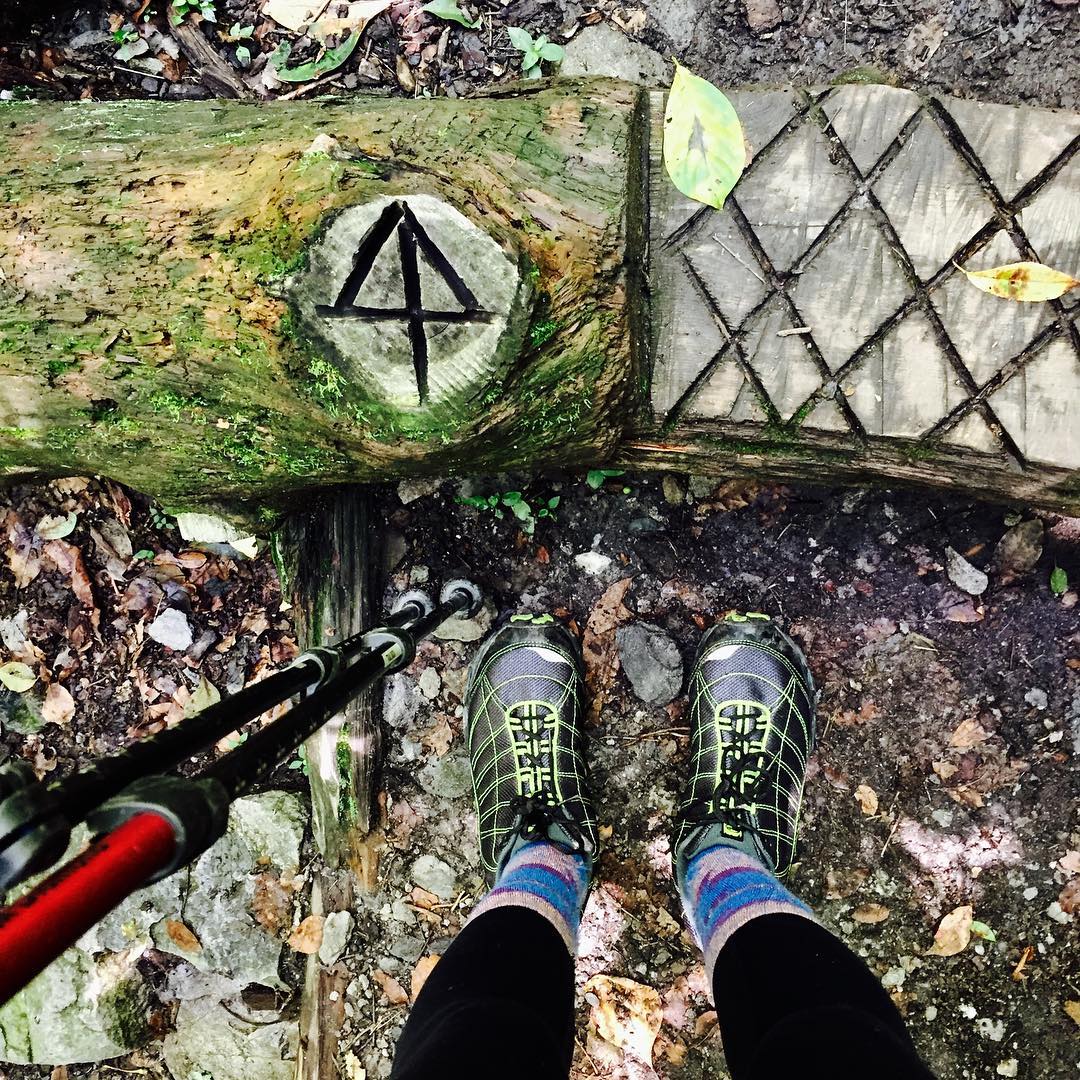 Women in Adventure
After over 200 interviews with some of the boldest and the best women in adventure and sport, there must be some patterns emerging. What's the secret to being a Tough Girl? I ask Sarah whether there are themes that link the adventurous women on her podcast.
"A lot of what struck me is just how normal they are – how down to earth. It's almost like what they've done is not anything special. They've just set out and done it." That's not to say that they haven't had struggles along the way. Many of Sarah's guests talk about setbacks, whether that's anxiety, or dealing with thoughts of failure, or judgement. Sometimes the adventure becomes more of a backdrop for talking about these deeper themes in the podcast. Importantly, they also talk about how they got past them – often breaking enormous adventure plans down into tiny chunks that they could manage. There is a lot to be learnt from their attitude.
One of the most interesting examples of this was a Tough Girl Podcast mini-series that Sarah ran back in 2017, called 7 Women 7 Challenges. Sarah picked seven women from the Tough Girl Tribe (her group of listeners and supporters) to follow along for the year. Each woman had a challenge for the year, from climbing Kilimanjaro, the Matterhorn and the Eiger; to rowing around the coast of Great Britain. "I was very naive when I started it," said Sarah. She just wanted to share their journeys and caught up with them for regular updates throughout the year. At the beginning of the year, people started picking who they thought would achieve their goals and who they weren't so sure about. The results were surprising.
"Laura Try, for instance," says Sarah, "who was rowing around Great Britain… I mean I was getting very worried!" Laura had to raise £25,000 in order to row around the coast of Great Britain. Tracking that process, as funds weren't coming in fast enough and the deadline loomed, was getting stressful for everyone! But somehow, she did it and went on to row the Atlantic in 2019. "Then," continues Sarah, "you had people like Rae Red." Her goal was to run her first ultra in 2017.  "She went and had a baby! That was totally unexpected and a bit of a shock as well for everybody."
I quip that it sounds like reality TV. "It is!" exclaims Sarah, "Life happens and sometimes it doesn't all go to plan."
Our Top 5 Pick of the Podcast
Now, you probably want to listen to some of these podcast episodes! There are over 200 to choose from (and growing weekly) – the complete list is available on the Tough Girl Challenges website. Here are 5 of our favourite episodes to get you started.
"I am a one woman show here, with a laptop and my phone. Look at the difference that just one person has made."
1. Paula Reid – Living Life to the Full
Paula Reid set out with a list of 150 things of things to do before she dies. One by one, she crossed them all off –  including skiing to the South Pole, walking on hot coals, kayaking the Thames and running a marathon.
2. Anna McNuff – Running the Length of New Zealand
Anna McNuff thrives off challenges which are equal measures of endurance and bonkers (like running the length of the Jurassic Coast dressed as a dinosaur). She talks to Sarah about her first adventures, cycling through every state in the USA and running the length of New Zealand.
3. Lucy Barnard – Walking the Length of the World
Lucy Barnard set out in 2017 to become the first woman to walk the length of the world, from Ushuaia in Argentina to the top of Alaska! She is still walking. Sarah catches up with Lucy two years into her expedition to hear what life on the road is really like.
4. Sarah Outen – London 2 London via the World
Sarah Outen took on a round the world rowing, kayaking and cycling challenge, from London all the way around the northern hemisphere and back again. A typhoon in the North Pacific forced her to be rescued, mid-ocean, from her rowing boat in 2012. Then a hurricane on the Atlantic forced a pre-emptive evacuation after 143 days at sea. After four and a half years, she finally completed the round.
5. Sarah Davis – Paddling the Nile
Sarah Davis paddled the length of the world's longest river, from source to sea. She talks about kayaking through powerful rapids and waters filled with hippos and crocodiles! There is also interesting discussion about how getting to the start line can be the hardest part of an adventure. It took Sarah two years of planning and fundraising to even put a paddle in the water.
For more podcast episodes, extra catchup interviews and behind the scenes, check out Tough Girl Challenges. All photos provided by Sarah Williams.