The New Forest was declared a royal forest by William the Conqueror in 1079. Although that doesn't mean it was wall to wall trees back then. A forest meant more like a reserve, set aside for special purposes, like royal hunting. So King Will basically just bagsied an area of land to go hunting. In fact, that's how it got its name: he went around calling it his "new forest".
Now a National Park, the New Forest is an area of 566 square kilometres in Hampshire, between Bournemouth and Southampton. It covers deciduous woods and pine forest, moorland and a stretch of coastline. The New Forest isn't mountainous, or even particularly hilly, but has plenty of nature to enjoy. If you're lucky, you might see deer or ponies - or even pigs! The commoners have an ancient right, called pannage, to let their pigs into the woods to eat acorns. This still happens today.
We've created a selection of full day routes across the New Forest National Park. And we mean full days. The average is a good 20km, so strap on your walking boots and pack lunch. Although you're never too far from civilisation, it's definitely worth checking out the routes beforehand. The maps and descriptions are for guidance and inspiration, not a turn by turn guide to the route.
1. Clay Hill Woods, Beecham Lane and Church Place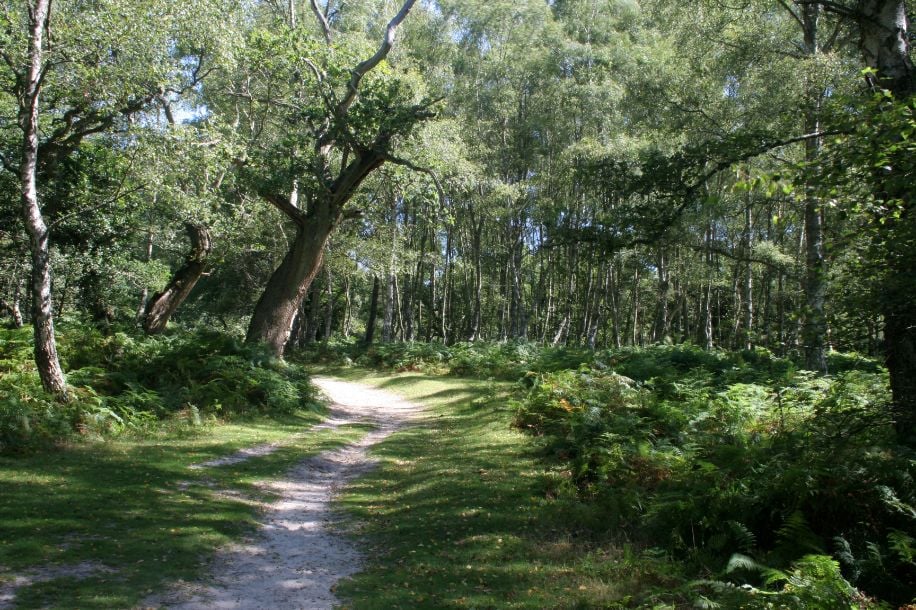 Distance: 20km
Ascent: 150m
Route Highlights
Before we start hiking in the New Forest, you're going to need to know about Inclosures. These are areas of woodland enclosed by a fence or wall. There are many here, some dating back to the 18th Century. They were formed as a way to keep commoners' animals out to encourage tree growth (to stop them munching on a tasty sapling). This hike goes through plenty of inclosures.
It also takes in Church Place, one of several old hunting lodges across the New Forest. These used to be where royalty and friends would stay whilst on a visit to the forest for hunting. All that's left now are raised earth banks.
Directions
From a car park just outside Lyndhurst, follow paths through the woods to Beechem Lane. This is an ancient track that can be traced back to the 1700s if not to Medieval times. Follow the lane right, past a small lake, before turning left towards Denny Inclosure. Cross the Inclosure, bearing right to pick up the path to Church Place. You can see the earthworks that are the remains of a Royal Hunting Lodge.
Continue on the track south through Denny Wood and past Denny Lodge. This is also a national cycle route, so watch out for bicycles. Take a left turn into Denny Lodge Inclosure and on until you cross over the railway line. From here the route heads south and west, in front of Ladycross Lodge, then slowly back around to cross the railway line again.
Tracks through the forest will take you to Standing Hat - excellently named, it apparently means a small tree-topped hill. Continue through Pignal Inclosure, Ramnor Inclosure and King's Hat. The track will take you straight back into the car park.
2. Hampton Ridge and Abbots Well from Fritham
Distance: 17 km
Ascent: 200m
Route Highlights
The New Forest isn't all trees. Although it has many beautiful wooded walks, it also has distinctive heathland with views across to woodland and, just occasionally, the sea. Here are a few points to look out for on your hike...
Abbots Well is the site of a small well that has been used for centuries by travellers on the old road to Southampton across the forest. Hampton Ridge, which you'll also visit on this route, was likely part of that old way. The well itself is easy to miss, since it is so small, looking rather like a wooden manhole cover.  
Directions
From the car park, head south west on the path across Fritham Plain and into Sloden Inclosure. In the woods, you'll encounter a long, linear earthwork and The Churchyard - the site of a royal hunting lodge. Out of the forest, cross Hallickshole Hill and over the top of Hasley Hill (inside an inclosure). You might notice that the sandy soil of the path is reddish in colour, due to high iron content.
Take footpaths to the roadhead by Ogdens to avoid the wet ground around Latchmore Brook. Cross the stream by the wall and continue up to Abbots Well beside Windmill Hill. From here, take the main track uphill to the trig point and on to Hampton Ridge. Keep to this path, with the large inclosures to your right, all the way to Picket Corner and the top of Island Thorns Inclosure. Turn the corner and follow a path down the east side of the inclosure, past Eyeworth Lodge and back to your starting point.
3. The Solent Way

Distance: 97km (full route)
Ascent: 300m
Route Highlights
The Solent Way is a long distance walking route through Hampshire from Milford-on-Sea to Emsworth Harbour. It is usually completed over several days (eight stages) and takes in marshes, coastline, heaths, woodland and estuary. The New Forest National Park doesn't cover the full route, so purists could just do the section from Lymington to Hythe and tick the box of a New Forest hike. At 28 km it's a full day's hiking, if not two. But if you're going to do any stages of the Solent Way, you've probably got a little voice in your head saying, "Ah, just do it all..."
The New Forest section takes in Sowley Pond - as Site of Special Scientific Interest for wildlife. It crosses rivers, fields and woodland. In particular, the stretch along the Beaulieu River into Beaulieu village is very quaint. The village is home to a historic Cistercian abbey, founded in the 13th Century and ruined in 1538 by Henry VIII.
Description
This is a waymarked trail and is marked on the OS Map of the New Forest. You'll be following signs all the way, but here's a brief guide to the New Forest section of the Solent Way.
Starting from Lymington, cross the estuary and head into fields and woodland on public footpaths. Your route broadly follows the coastline but isn't actually on the shoreline. You shouldn't get your feet wet unless you accidentally take a dip in Sowley Pond.
You'll spend a while on quiet country lanes (watch out the the trig point basically on the road) until you reach the Beaulieu River. Head upstream in the wooded valley and into Beaulieu village. After a quick cultural stop, and maybe an ice cream, cross the river and head north. Although the route is officially marked along the road, you'll be crossing the open moorland of Beaulieu Heath. No need to choose tarmac if you don't want to.
As your hike draws to a close, you'll cross fields and a railway line until you're right back by the water. The route takes you straight through the centre of Hythe to the end of the pier. The beach is pebbled but don't let that stop you taking a celebratory dip!
4. Rockford Common and Ridley Wood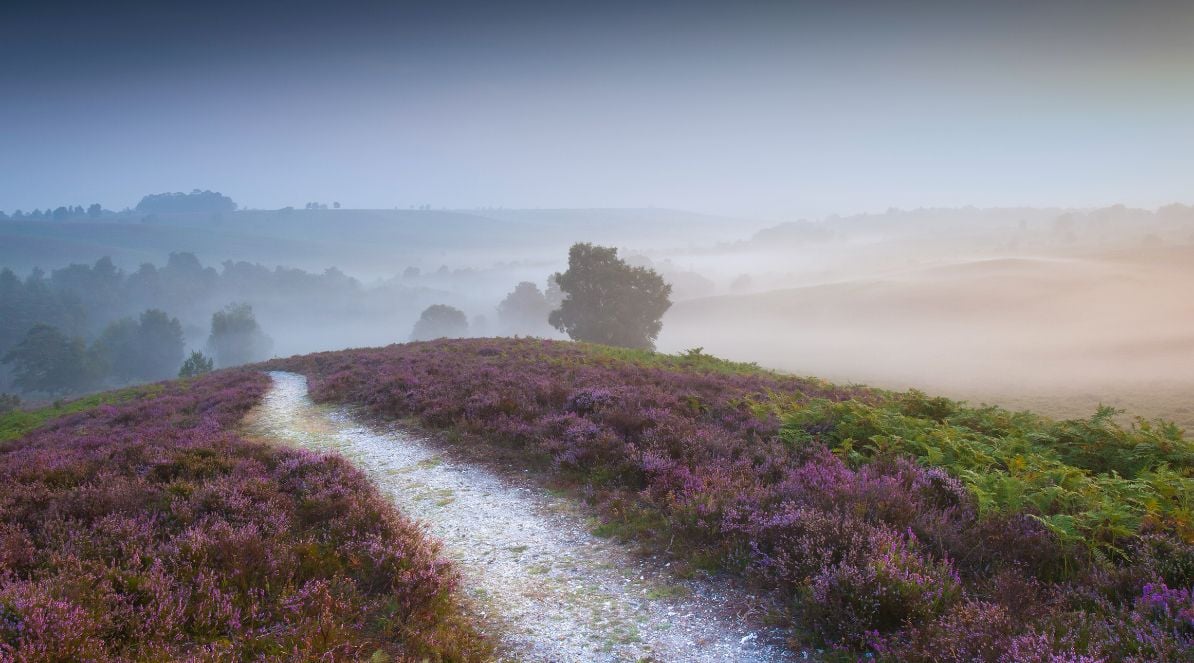 Distance: 17 km
Ascent: 200m
Route Highlights
The hike starts just outside Blashford Lakes Nature Reserve. The lakes are repurposed and rewilded gravel pits, now full of wild birds. Entry is by donation if you fancy an extension to the hike. You'll start and finish the route by crossing Rockford Common, which is very pretty when the heather is flowering.
As for things to look out for, Castle Piece is the remains of an iron age hillfort, hidden between the oak trees of Roe Inclosure. It's a bit of an adventure in itself, trying to trace the outline of the remaining earthworks. Sir Dudley's Ride is a pathway, named after Sir Dudley Forwood who became a farmer in the New Forest after World War 2. A plaque on the path says it was named in commemoration of services rendered to the New Forest.
Directions
Start at the car park by Rockford Common on the east side of Blashford Lakes Nature Reserve. Take the path east and north across Rockford Common and into Applesdale Inclosure. Continue through Red Shoot Wood to Amie's Corner, then turn right to explore Roe Inclosure. At the centre is Castle Piece, an iron age hillfort.
Take the main track heading directly due east out of the inclosure and onto open moorland. Make a quick diversion to bag a trig point if you like, but head for the underpass that crosses the A31. Head south, along the path above boggy ditches either side. You'll pass Berry Wood on your left and traverse Sir Dudley's Ride, a grassy path that is not always very distinctive.
Cross the river at the footbridge, before passing through Ridley Wood and back under the main road. Hooray for underpasses! Your path now bends to the north and west, over Marrowbones Hill and down to Linford Brook. You're now back in Red Shoot Wood and it's just a short walk back across Rockford Common to your start point.
5. Burley, Castleman's Corkscrew and the Naked Man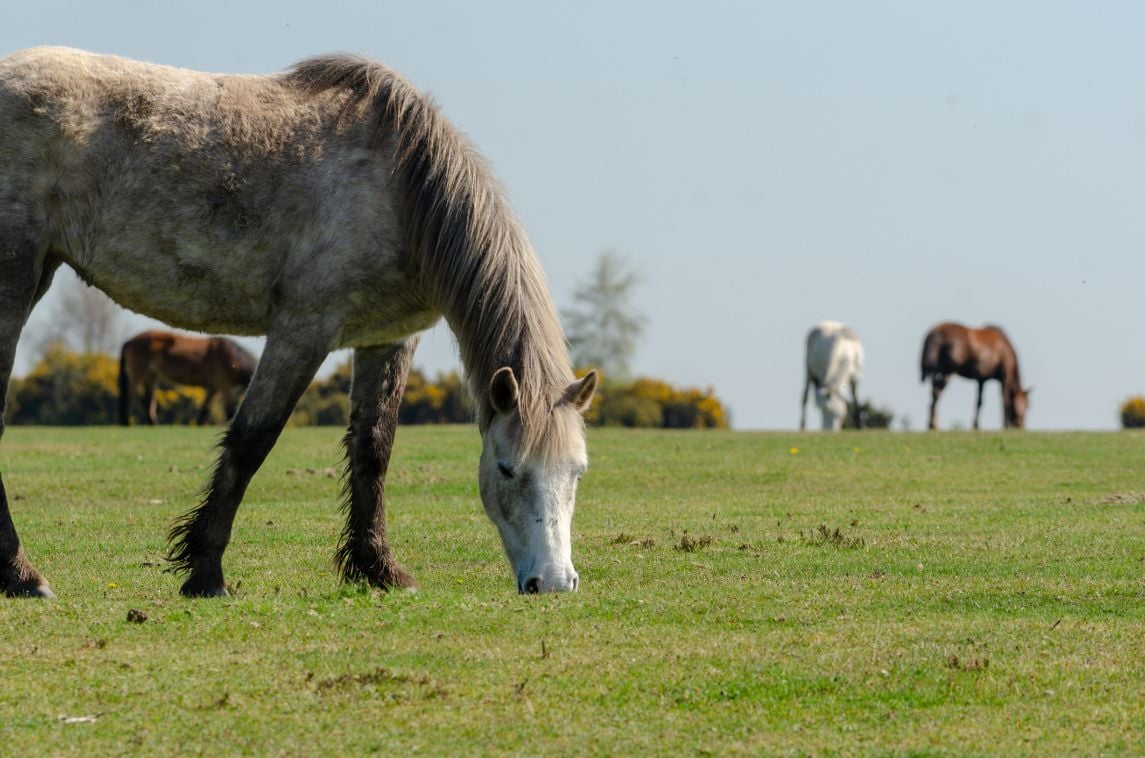 Distance: 24km
Ascent: 200m
Route Highlights
Part of this hike is along the disused Southampton and Dorchester Railway line, which opened in 1847. It took such a winding route across the New Forest that it became known as Castleman's Corkscrew. Although some of the original railway is still in use, the New Forest section you'll be walking on was closed in the 1960s. It is now a path for pedestrians and cyclists.
On this hike, there is also a Naked Man. No, fortunately not a human - OS maps don't tend to have those marked. It's the stump of a very old oak tree that was once used for hanging convicted highwaymen. There are several stories that try to explain how it got such an unusual name. One says a man waiting there to be hanged was struck by lightening which destroyed his clothes. As if he wasn't having a bad enough day already.
Directions
From Burley, head south east down the road for a short while, cutting off onto a footpath south before the golf course and over Turf Hill. There is a river at the bottom of the hill and ground can be waterlogged, but there are a few footbridges to choose from. Just the other side of the river is the disused Southampton and Dorchester Railway.
Turn left and follow the old railway line until Holmsley Passage. Take a footpath in front of the right junction here and follow it along the outside wall of Holmsley Inclosure. Cross another road to find the path into Brownhill Inclosure and Wooton Coppice. A left turn takes you over Avon Water river and over the road into Wilverley Inclosure. The woods are a mixture of broadleaf and conifer trees, managed by Forestry England.
Exit at the easternmost corner of the inclosure and follow the wall on your left up to the Naked Man which, as previously mentioned, is actually a tree. As you approach the road, turn right and follow along the road veering off towards Ferny Knap enclosure. Cross the small river and pass by Rhinefield House, now a hotel, and into Blackwater Arboretum.
Now your route curves back around towards where you started. After a short section along Rhinefield Ornamental Drive, take forest trails through Anderwood Inclosure and South Oakley Inclosure to reach the lane back into Burley.
Inspired? Get your hiking boots on and explore National Parks with our UK hiking holidays.