There is a powerful immensity to the landscape of Western Mongolia. The steppe is vast, and beautiful in its emptiness. The mountains are high and mighty. This is not a place where 'remote' means a 30 minute drive from the nearest coffee shop, and yet, it's not the scenery that characterises this place - it's the culture of the people that live their lives within it.
The Kazakhs of Mongolia are the largest ethnic minority group in the country, and live mostly in the province of Bayan-Olgii. They have their own language, religion and culture - including the tradition of eagle hunting. This doesn't mean they hunt eagles, but rather, that they hunt with golden eagles, for food and fur. The tradition is known locally as 'berkutchi'. It was recognised by UNESCO as a "significant example of living human heritage" in 2011. The culture, and the Kazakh people, are beautifully captured by filmmakers Sam Potter and Nainoa Langer in their short film 'Under a Mongolian Sky'.
Watch the film, then scroll on to read our interview with Sam Potter below.
Sam Potter was born and raised on the island of Kaua'i on Hawaii. Growing up around the native Kānaka Maoli people and culture inspired the filmmaker to tell and explore indigenous stories from around the world.
"There's an old Hawaiian saying," he says. "It's 'I ka wā ma mua, i ka wā ma hope'. It basically means 'when building the future, we should look to the past'.
I feel like people paint a picture of indigenous people as something of the past. But they're alive now. They're living now.
"We should pay attention to what our ancestors have to say. We can learn a lot from indigenous people - from their ancient wisdom and from their practices, which we can apply to the modern world in order to live a more sustainable life."
Before heading west, to the Altai mountains and eagle hunters, Potter found Mongolia a place of transition. "It felt like a frontier," he says. "I'd take a morning walk and pass a kid listening to hip-hop on Beats headphones, and then on the same street, another kid wearing all the traditional clothing, guiding a horse down the street. It's that old life and new life crossing paths. As we got further west, there was just this incredible stillness; this quiet grandness to the place."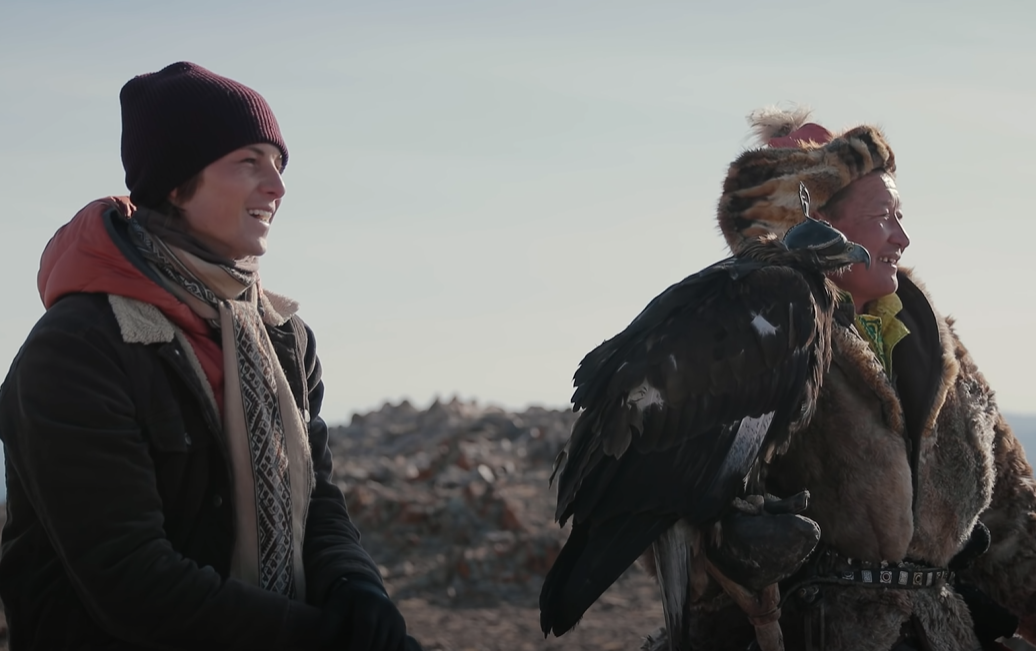 It would be easy, if discourteous, to go somewhere as remote as the Bayan-Olgii region and portray the culture as a peculiarity, and the eagle hunters as alien. Where Potter's film excels is in picking out the human connection - the intimacy in the eagle hunter's everyday living, and the love and laughter of their families.
"The diversity of the world is what makes everything so beautiful and enchanting, but something that really makes you feel connected - and is almost a more heartfelt lesson - is when you realise that really, we're all the same," says the Hawaiian filmmaker. "We have similar loves and passions and we want the same things out of life - health and happiness, and to look after our own.
"I feel like people paint a picture of indigenous people as something of the past. But they're alive now. They're living now."
The first eagle hunter Sam met was Boushkhan. "We take a few days to really get to know the family, we don't put too many cameras in their faces, and start to understand the story that they're telling." Then Potter journeyed into the mountains to meet Esker, his wife Aklut, and their daughters Igerim and Igerkh.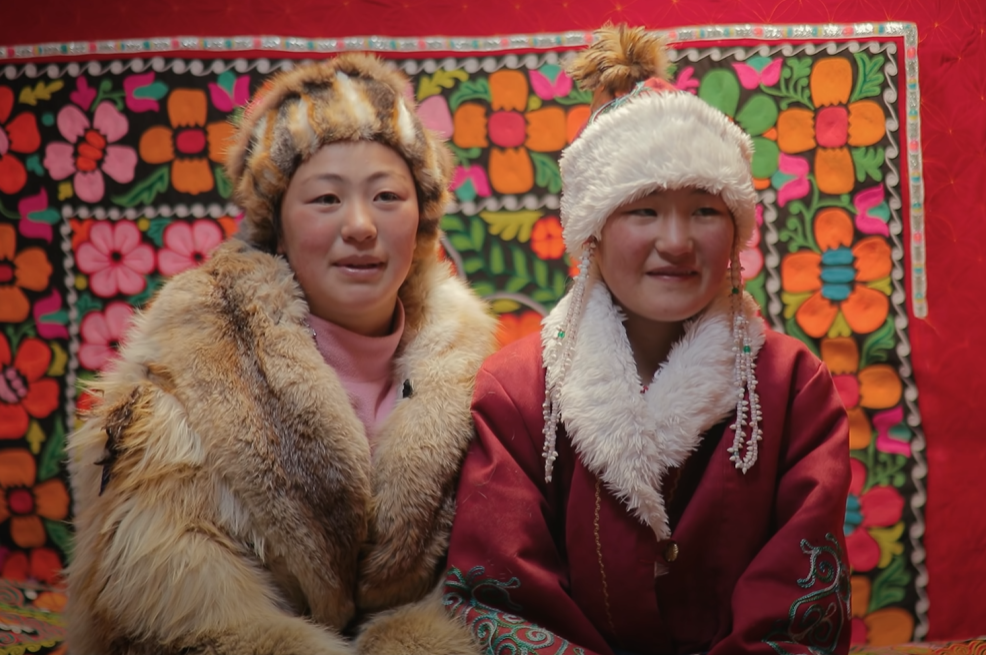 One standout narrative in the film is that of Igerim and Igerkh, who are being trained in eagle hunting, while living an otherwise relatively normal childhood.
"Those girls go to school," says Sam. "One of them wants to be a veterinarian. The other wants to be a scientist. Her favourite class is chemistry. These are just normal girls! You could throw them in with a group of girls from the States or anywhere in the world and they'd get along. They'll talk about their friends and classes and the boy they have a crush on. The most beautiful thing is just those little moments you get to see of people's daily lives. It was humble and happy."
Naturally, our conversation soon turned to the golden eagles themselves.
"They're much, much bigger and stronger than you think," laughs Sam. "To watch these little girls handle them was crazy. The eagles were almost as big as them. It was not lost on me that the eagles never felt like a pet. It feels like a wild animal, and the way that they feed it and keep it is like a wild animal, so that after a certain number of years, they can release the eagle back into the wild.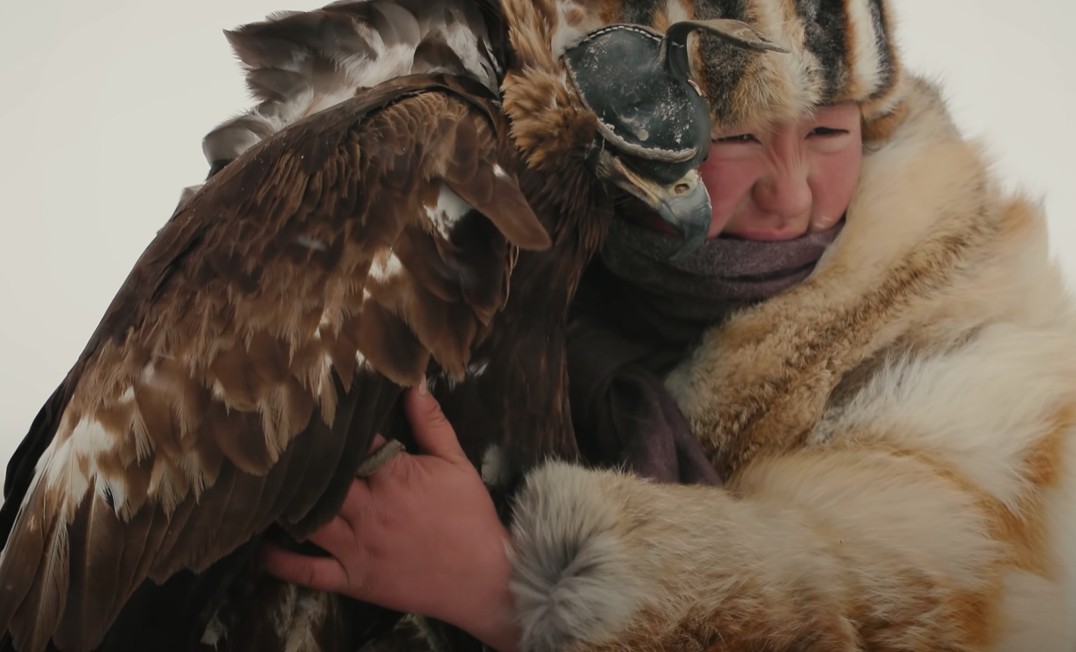 "Their connection almost seemed spiritual to me. I'd watch Esker take the hood off the eagle, give it a couple of pets, smile at it and whisper to it. You could see a twinkle in his eye. It made the idea of him releasing it more heartfelt, because you know that he must be dreading that moment when he's got to let the bird go."
Reflecting, Potter views the eagle hunters way of life as a lesson in humility.
"I think it's a reminder of how a humble life is something to strive for," he says. "Here in America, it's ingrained in you that you're always supposed to be progressing - high school, college, career, more money, better job, bigger house. And then you step into someone else's world and see that that's not even crossed their minds. They're just so happy in this world that they have.
"It warms my heart how dedicated they are to their traditions, and to passing on that knowledge that's been passed down to them for generations."
Up next? Read: How tourism is empowering women in modern Mongolia!