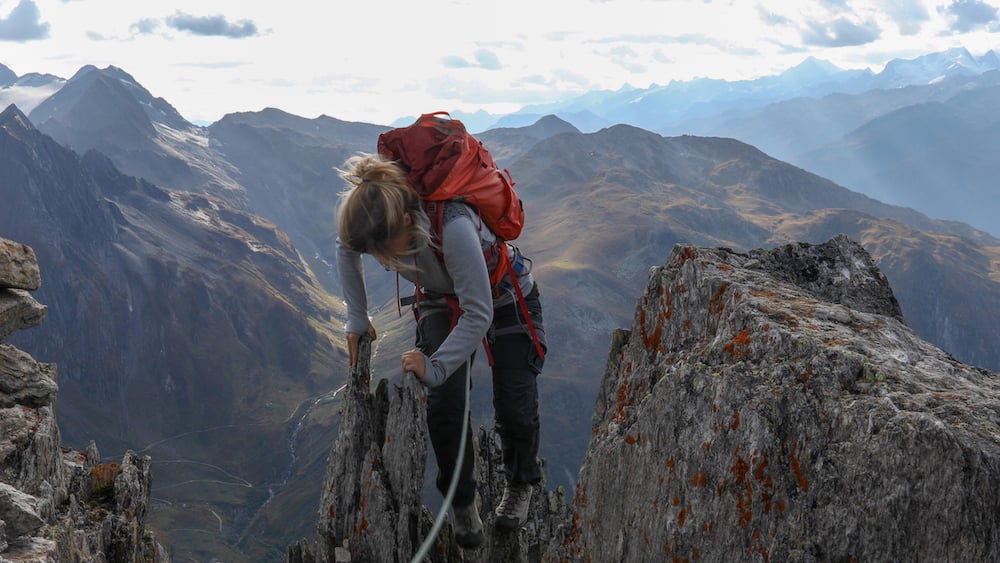 Scrambling was famously described by a guy in my university hiking club as "the most fun you can have standing up". Not sure what climbers, SUP-ers or even hikers would have to say about that, but he certainly loved it.
Scrambling essentially bridges the gap between hiking and climbing. As the terrain gets steeper, hiking transitions into needing to use your hands to get uphill as well as your feet. That's scrambling. At the point it's so vertical you're using a rope and placing gear, that's climbing.
Of course, that's a very simplified version of the truth: it's a sliding scale. You might take a rope on harder scrambles for safety. Some people will merrily free solo (climb without a rope) where others would never consider going. Yes, Alex Honnold, we're looking at you. But we know you're not the only one.
What is Scrambling?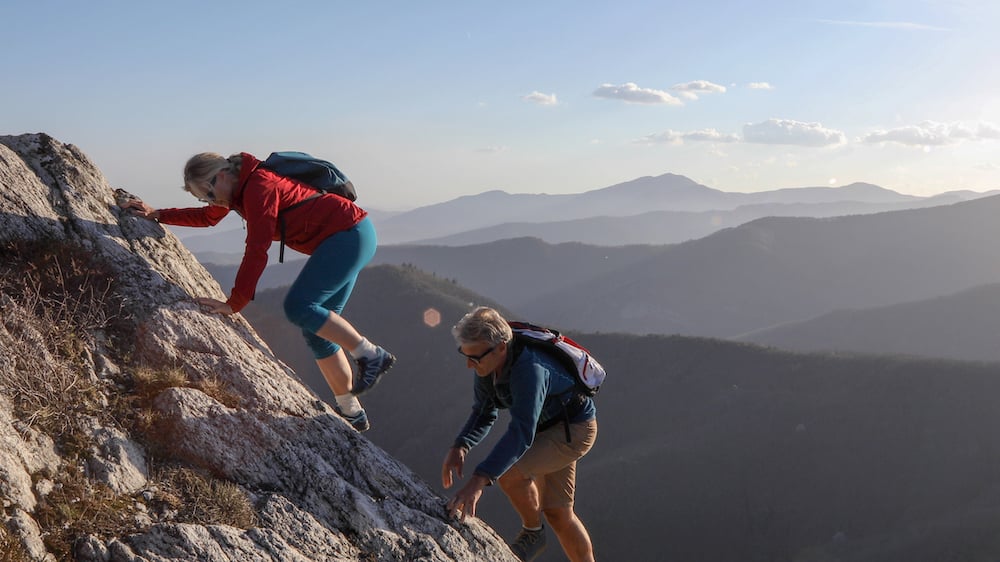 Okay, so what is scrambling? Well, it's using your hands to help you get up a slope or ridgeline in the mountains. Or occasionally up gullies and ghylls. It's not rock climbing to the extent of being really technical and basically vertical. That said the line between scrambling and the bottom rock climbing grades gets very blurry at the top end of scrambling grades. However, most scrambles will have easy to find big hand and foot holds to help you get up.
You don't need climbing shoes to go scrambling. It often forms part of a day's hiking. You're just taking a slightly more interesting route up or down a mountain. The higher the grade, the more time and focus of your day the scramble can become. People will often choose not to wear a helmet unless they're on a higher graded route or uncertain about their abilities. Although this opens up a whole can of worms itself, because you don't know if you're going to need a helmet until after you've fallen off and hit your head…
Scrambling Grades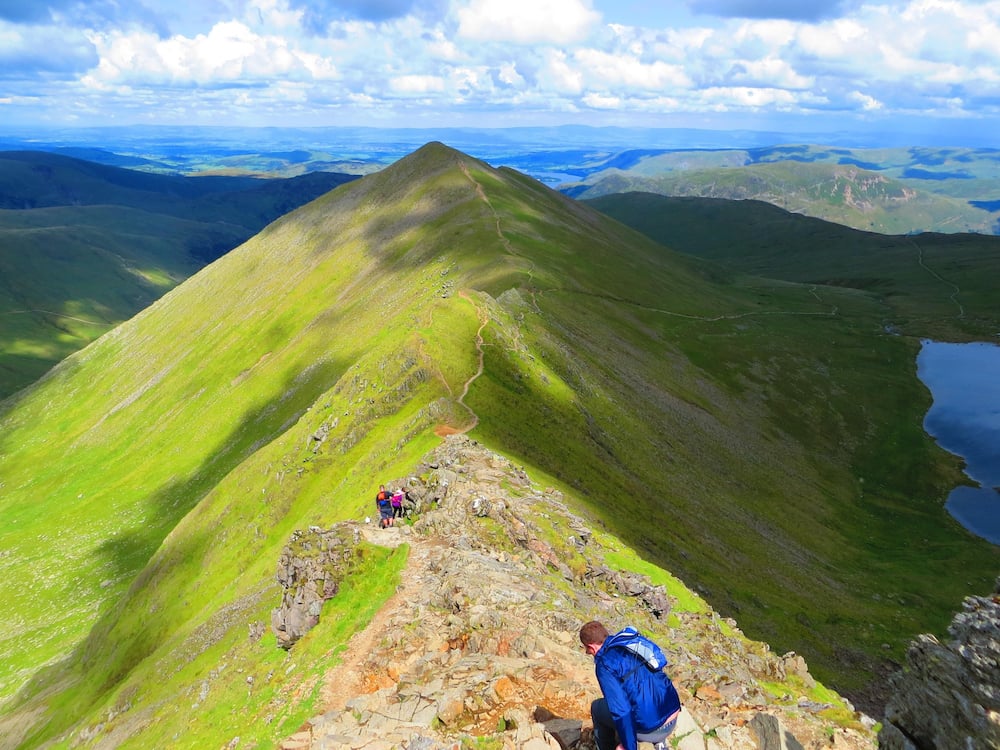 Scramble routes in the UK are graded from one to three, with grade one being the easiest. The grades are classified roughly like this:
Grade 1: You will need to use your hands to make progress on the route, but not all the time. The holds will normally be fairly large and straightforward to find. Typically there will be a way to avoid part or all of the scramble at this grade.
Grade 2: You will need to use your hands to make progress for most of the route. The route will be more committing, so it is harder to avoid scrambling sections or to retreat to safety. Route finding will be more difficult and you may wish to take a rope.
Grade 3: You will need to use your hands almost all the time to complete this route. The route will be committing and you will be making exposed moves on steep rock. It is common to take and use a rope for this grade. Some parts can be around the level of a Moderate rock climbing route grade.
Alongside this grading system, there is also the star system. A scramble is awarded up to three stars for the "quality of the route" – basically how awesome it is. Typically, a sustained and interesting scramble route with great views (or at least great potential for views!) will get three stars. Most of the well known scrambles will get three stars – that's kind of why people have heard of them!
Grade 1 UK Scrambles to Try
Right then, so you like the sound of this scrambling malarkey. Perfect. But unless you've got a background in rock climbing outdoors, you probably want to start somewhere right at the bottom and work your way up. A lot like when you scrambling!
"Where do I start then?" we hear you cry. Well, never fear, here are a few suggestions of Grade 1 scrambles to try. You might like to do your own research and find shorter scrambles to start on – there are plenty of guidebooks available. But each of these would make a fun highlight to a day's hiking.
Note: all these scrambles are for doing in "summer" conditions. If there's snow and ice, they become a whole different kettle of fish, with a different grading.
Striding Edge – Lake District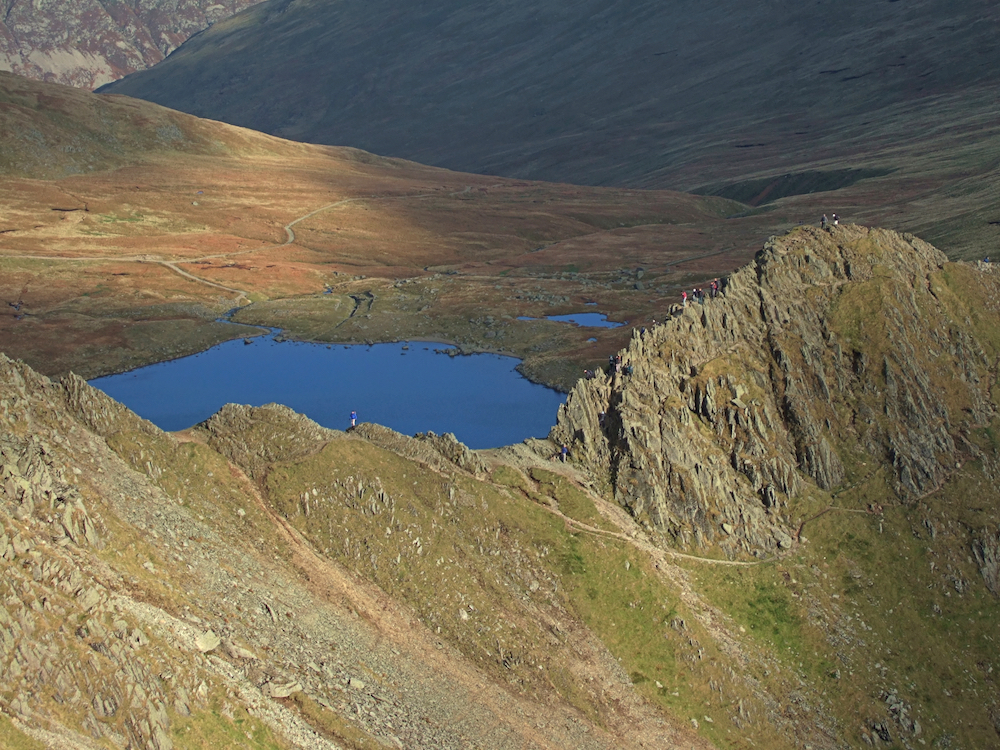 This is a Lake District classic. The spiky ridge of Striding Edge is so distinctive and from afar looks baffling that anyone can balance along its row of teeth. You'll be please to hear that close up it is more straightforward to achieve. The route is one of many ways to climb Helvellyn, the third highest peak in the Lake District. Mr Wainwright even wrote about it in his famous guidebooks.
The route is best done as an ascent – going up Helvellyn, rather than descending from it. Typically, you would hike from Glenridding or Patterdale, up via Hole-in-the-Wall and onto the nose of Striding Edge. There is an awkward step down around about halfway along. Be aware of the weather conditions, particularly the wind direction. The top of Striding Edge is very exposed and fast winds have and will blow scramblers off the edge. You do not want to fall off that edge. It's a long way down.
North Ridge of Tryfan – Snowdonia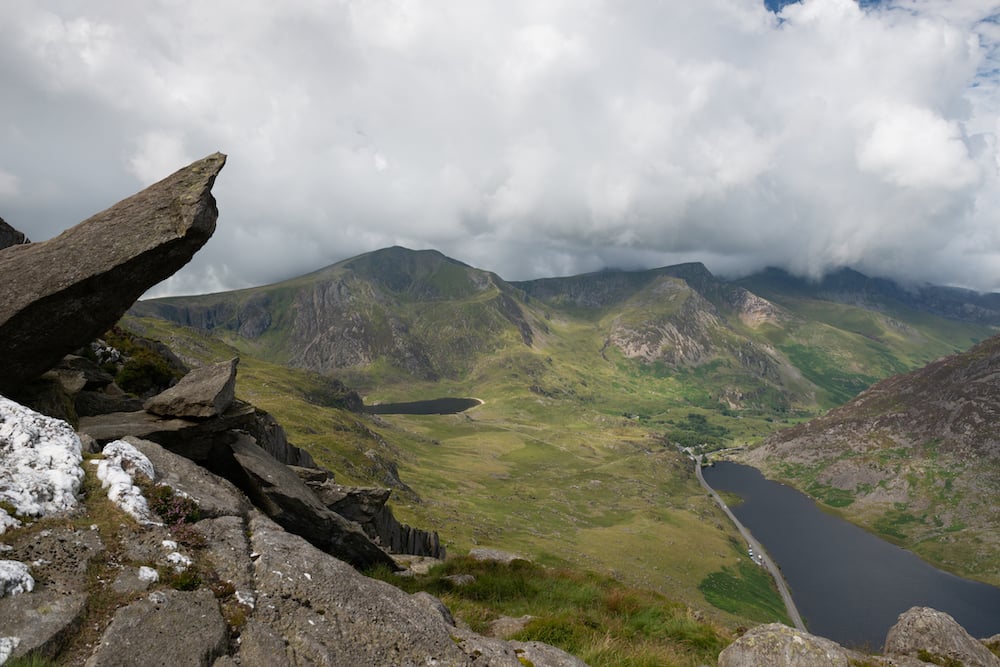 The North Ridge sounds kind of like the North Face, so you could consider this Eyri's answer to the Eiger… sort of! This is a fun route up Tryvan from the Llyn Ogwen side. If you're going to climb a mountain, you may as well do it in style. There are several scrambling routes of higher grades up this side of Tryvan, so make sure you get a good idea of the route before you go. This is a prolonged scramble, basically all the way from the bottom to the top of Tryvan.
Watch out for the famous cannon stone on the way up. Plus, at the summit, see if you can make the jump from Adam to Eve: two pillars of rock. They look just about far enough apart that, when you're standing on top of one, you're not 100% sure if you'll make it. Still, many people make it just fine!
Gordale Scar – Malham, Yorkshire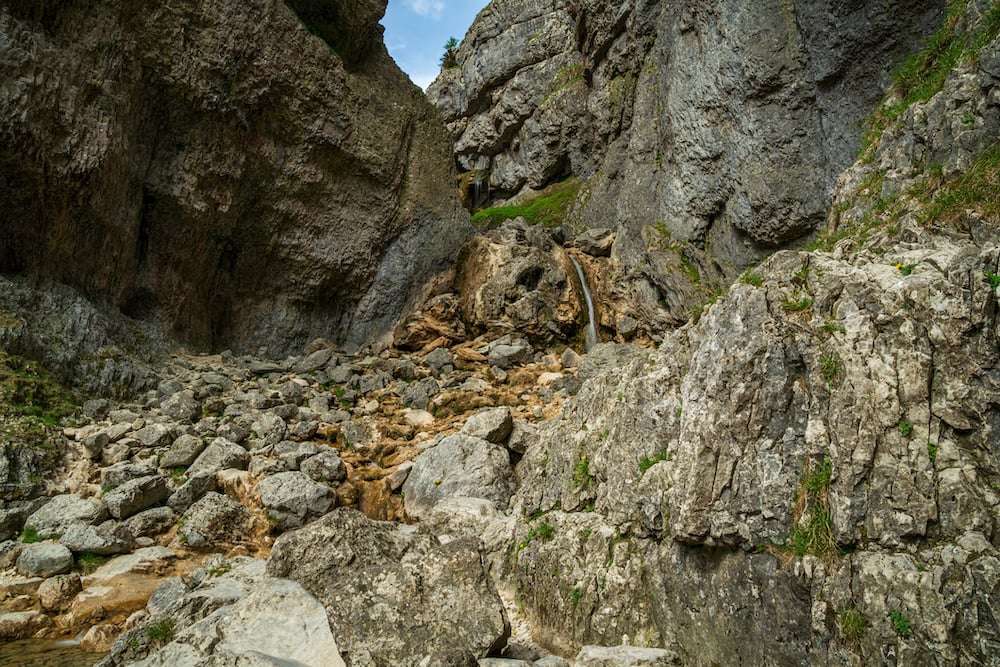 Goredale Scar is a tiny little scramble. The actual scrambling section will take you maybe 10 minutes, but it's great fun and a great place to start out. After all, you're climbing up and through a waterfall. This is a really good introduction to scrambling, particularly for kids. As long as the river isn't in spate, it's a good chance to get used to using hands to clamber up and deal with damp rock and hiking boots.
To make this into a day's outing, try a hike starting from Malham. Follow the river up through Janet's Foss into the limestone cove of Goredale Scar. After clambering up Goredale Scar choose a route along the top of the limestone pavement back towards Malham. Maybe take in Malham Cove while you're at it.
Ring of Steall – Mamores, Scotland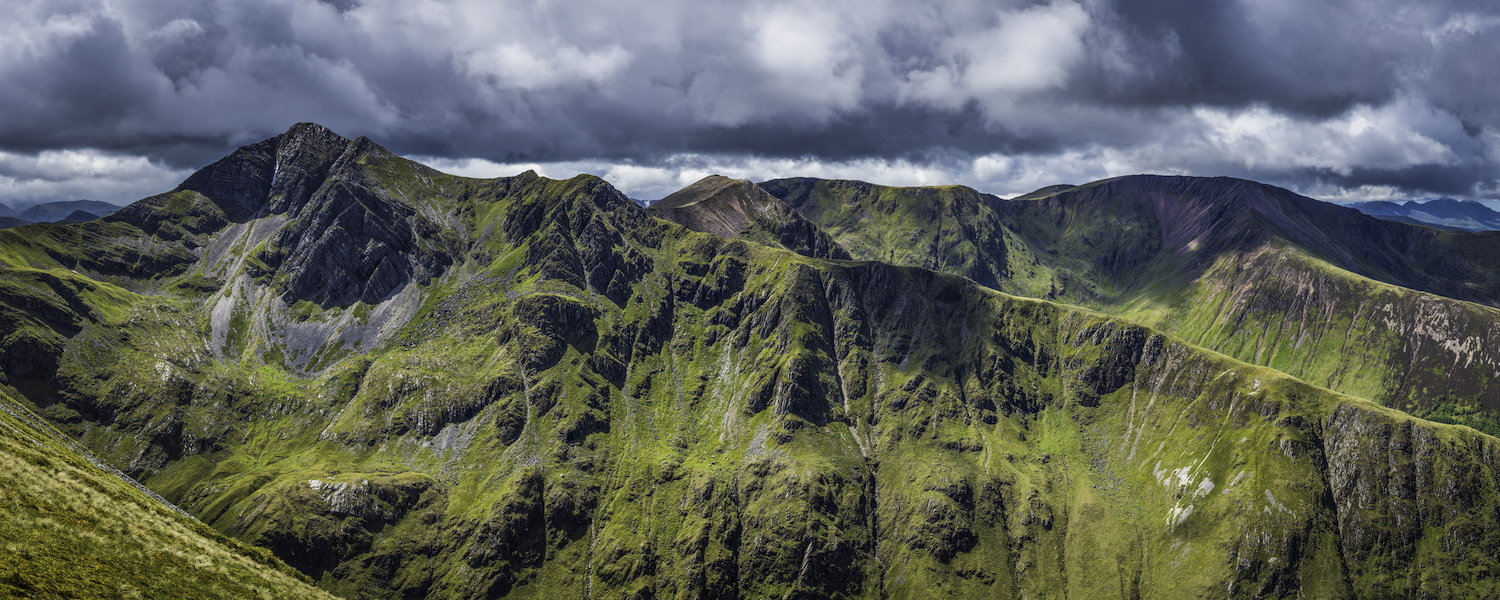 Now for something a little bit bigger. The Ring of Steall is a full day's scrambling around a circular horseshoe in the Scottish Highlands. You'll be in the shadow of Ben Nevis, with potential for some very far reaching views over the Mamores and beyond. This is a classic mountain day out: you'll be scrambling along scooping ridgelines between some impressive mountains. As a Grade 1, this isn't a difficult scramble, but you'll need a head for heights – and it certainly gets three stars!
To complete the route, start from the Lower Falls carpark in Glen Nevis then stomp up the some 1000m of ascent to Sgurr a' Mhaim for the start of the scramble. After that, simply follow the horseshoe across the over-exaggerated Devil's Ridge (nothing too devilish about it) and back round to the north, then down into Glen Nevis. Don't forget to visit the popular wire bridge at the finish by Steall waterfall.
It's time for some UK Adventures! Check out our adventure holidays, like the Snowdon Challenge and Lake District Challenge.