The plan? To cross the beautiful Bauges massif, a mountain range in eastern France. The method? Well, that's where things get interesting. Using an electric skateboard and a set of skis, Alex Chambet, Gaetan Gaudissard and Bastien Vidonne set out to cross the mountains, going from Annecy to Chambéry. For this month's Lunchtime Cinema, we're watching the 16-minute short film which came out of the trip. A three-day ski and skate adventure (with the odd bit of hiking), filmed just 50km from their home, while international borders were closed and during… a heatwave? Watch the film, supported by Salomon TV, below. Then scroll to read our interview with Bastien.
There are a lot of potential problems that could arise when trying to skateboard up a mountain. Apparently, one of the biggest is battery power.
"The first day was particularly difficult because we had to climb all the way up from the valley, on the roads and on the skateboards," says Bastien. "We used a lot of our battery power. The batteries are very powerful. If you don't take care, you could actually go faster than an electric bike, because the battery has almost the same amount of energy, and of course the board weighs less. But we calculated we had to stick to around nine or 10km/h and even that didn't work - we had to get towed by a scooter. Which was fun. But battery was a big difficulty.
That wasn't the only challenge. "When you've spent three or four hours on the board with a big backpack, and with your skis and your ropes as well, it really breaks your shoulders," Bastien recalls. "The ground is… not so flat, so you get all the vibrations from the skateboard, and it's really quite exhausting."
So, the boards don't have suspension? "No," Bastien laughs. "Your knees and ankles are the suspension! But after an hour, that suspension gets a little rusty.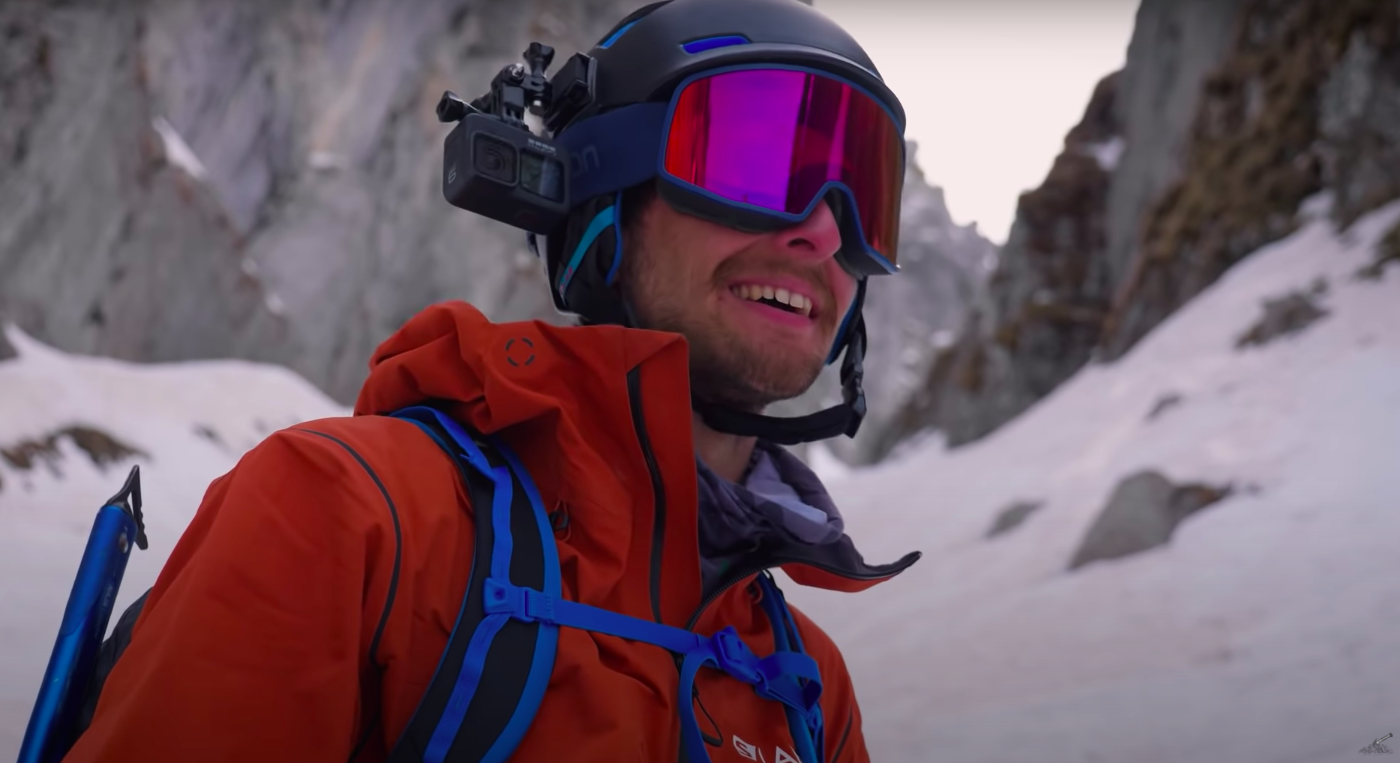 "What's great is that whenever you change terrain, you're less bothered about that for a while. But they were long days. You would skate for three hours, then walk for one hour, then you put the skis and the skins on for three hours, then you remove the skins and ski down. So often you're changing the way that you travel, which really does help. And to share it with your friends is nice."
'Sk(i)ate Trip en BAUGES' is the latest instalment in a regular skiing web series from Berio Ski. The idea for the skate trip came while the group were shooting a different episode, but it was years before they were able to make it a reality.
They were long days. You would skate for three hours, then walk for one hour, then you put the skis and the skins on for three hours, then you remove the skins and ski down.
"We created the web series three years ago," says Bastien. "And after our first season we went through to Switzerland to ski some very high peaks and big mountains, and make a small movie. It was when we were in Switzerland, on a day off between these long, exhausting ski days that we saw a guy with an electric skateboard in the valley. We got talking to him and tried out the skateboard and it was just a lot of fun. It turned out he was also French, and he told us that the only store which sold the brand was actually based in Annecy, where I live.
"So then, we started to get some information - on the autonomy of the battery and power and so on. We knew we wanted to do something with it.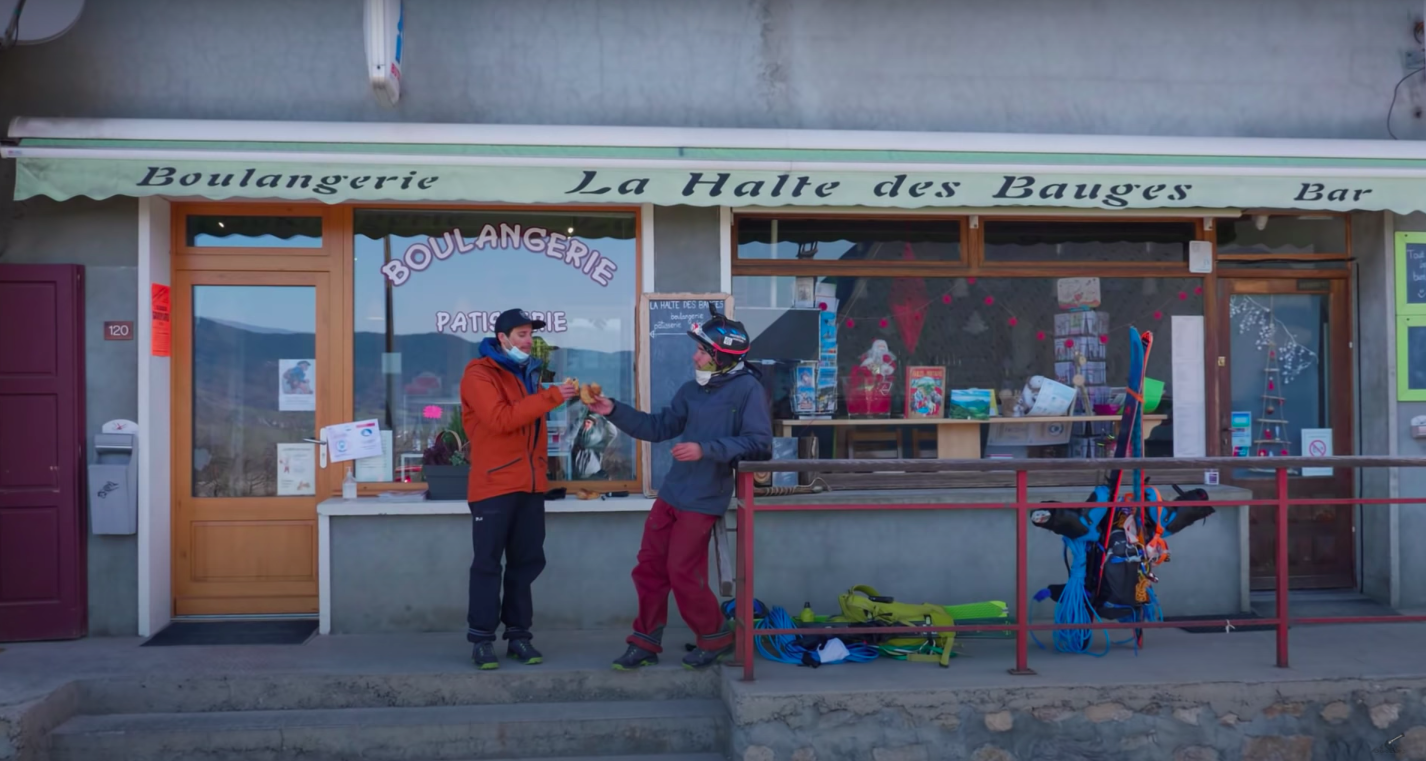 "There is this famous area called the Bauges which is really nice, and it stays pretty white for ski mountaineering - so then we had the idea to cross it."
The group soon hit an issue, though. Wet weather and electric skateboards aren't particularly compatible. "These skateboards are mainly used by city dwellers, as a method of transportation," says Bastien. "So we made a plan to cross the Bauges in three days, and we had hoped to do the trip after a big snowfall. But the problem is that the Bauges are not at a high altitude, so it rains in the valley just after snowfall and when it rains you can't use the skateboards. The water would just trash the battery, which is under the board.
"It really reduced our opportunity to do the trip. We usually try and show a good bit of performance in our series - big faces, fast skiing, cliffs, tricks, powder skiing and other things like that, so then we faced a bit of a dilemma. Either we could do the adventure and have bad skiing conditions or we couldn't do it at all. We thought about it - for about two years - then eventually decided to do it. The skiing would just have to be the secondary factor on this trip."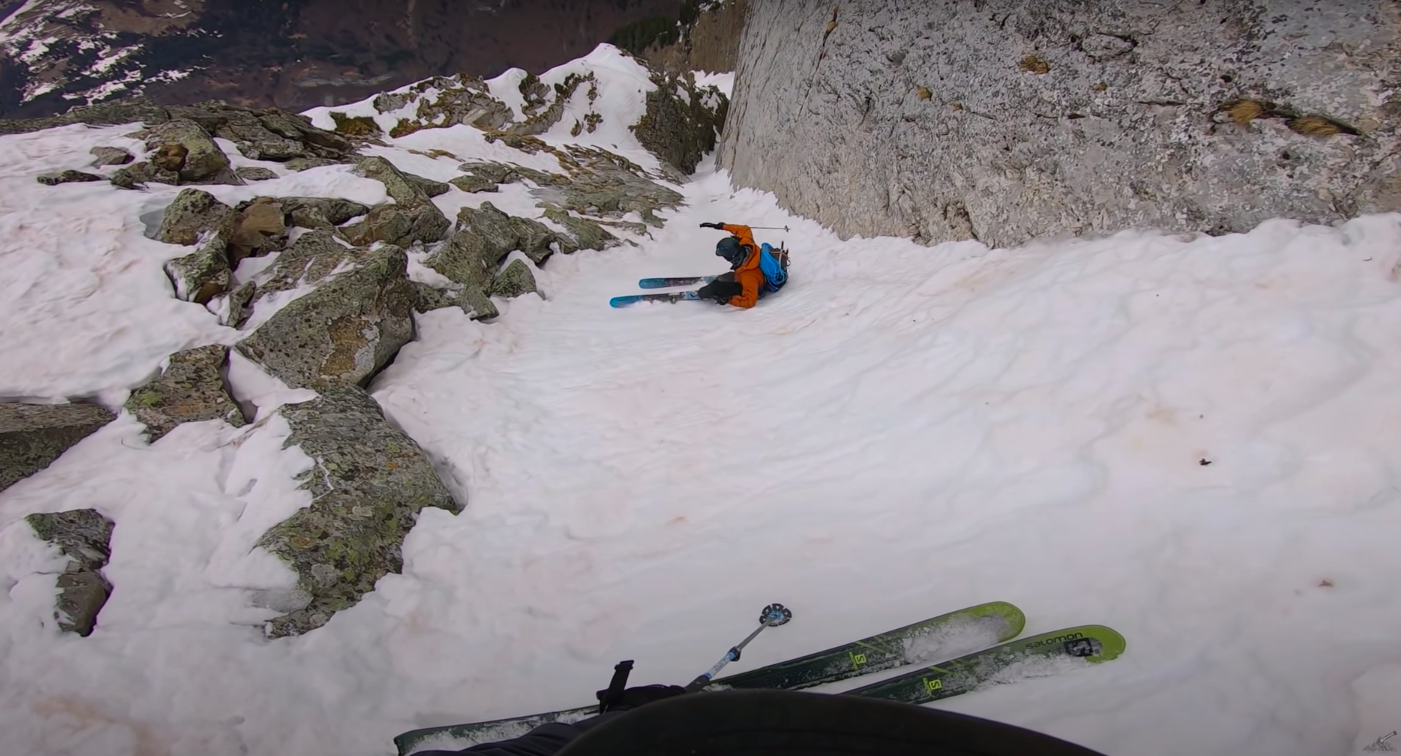 In the end, the skiing conditions were about as sketchy as they could get. There was actually a heat wave. "We had to slalom between the grass and everything," laughs Bastien. "The day we skied that steep couloir, we had planned it to be a very long route, but there was so much snow already missing from that spot. And it was so steep - which is fine, we're comfortable with that - but because it was only ice and no powder or cold snow to catch the edges of your skis, it was way too difficult. We had to use a rope for the cameraman, because in those conditions, normally nobody would go there at all. But we had the rope.
"There is a big difference between fresh snow and icy snow, and lines which seem pretty nice with fresh snow are way, way more difficult to ski on ice."
The timing of the trip, in March 2021, coincided with travel restrictions around France and around the world. But look through Berio Ski's catalogue and you'll notice they tend to stay local anyway. There's plenty to ski on the doorstep.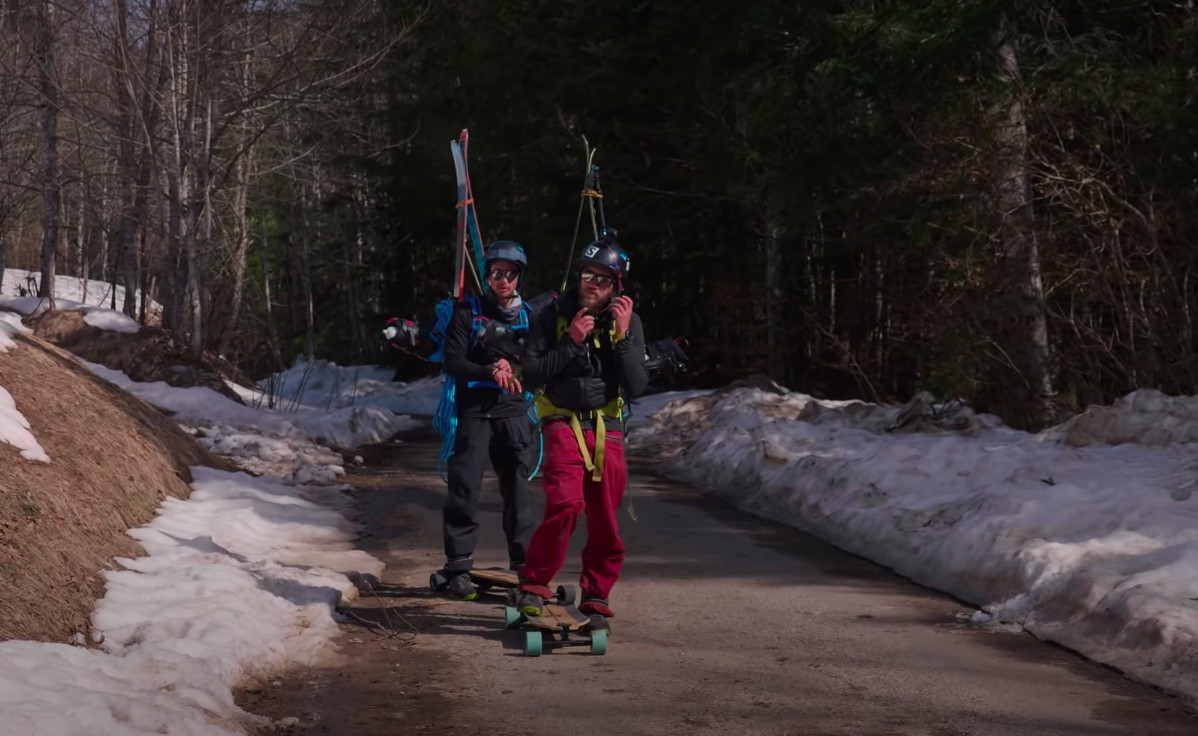 "We try to stay local," says Bastien. "We don't do any big trips to ski at the end of the world, and if we do go a bit further, we try and take public transport or the train. We try not to use a car. That's just our way of working and being though, really. It's not something that we push in the web series. The aim of the series isn't necessarily to prove that we can do everything local, it's just something that we always have in our minds. When we ski for Berio, it's more about fun."
So, are there any future plans for the skateboards now, or are they heading back to the cupboards? "You can do an adventure like we did, but I think you'll have more fun staying in the city with the skateboards," says Bastien. "Or going round a lake or something. But one thing you can do is change the wheels. You can make the wheels bigger, and then go into the forests! So, if you want to use the skateboards but you don't want to be a city dweller - just change the wheels!"
Inspired? Check out our range of adventure holidays in the French Alps!