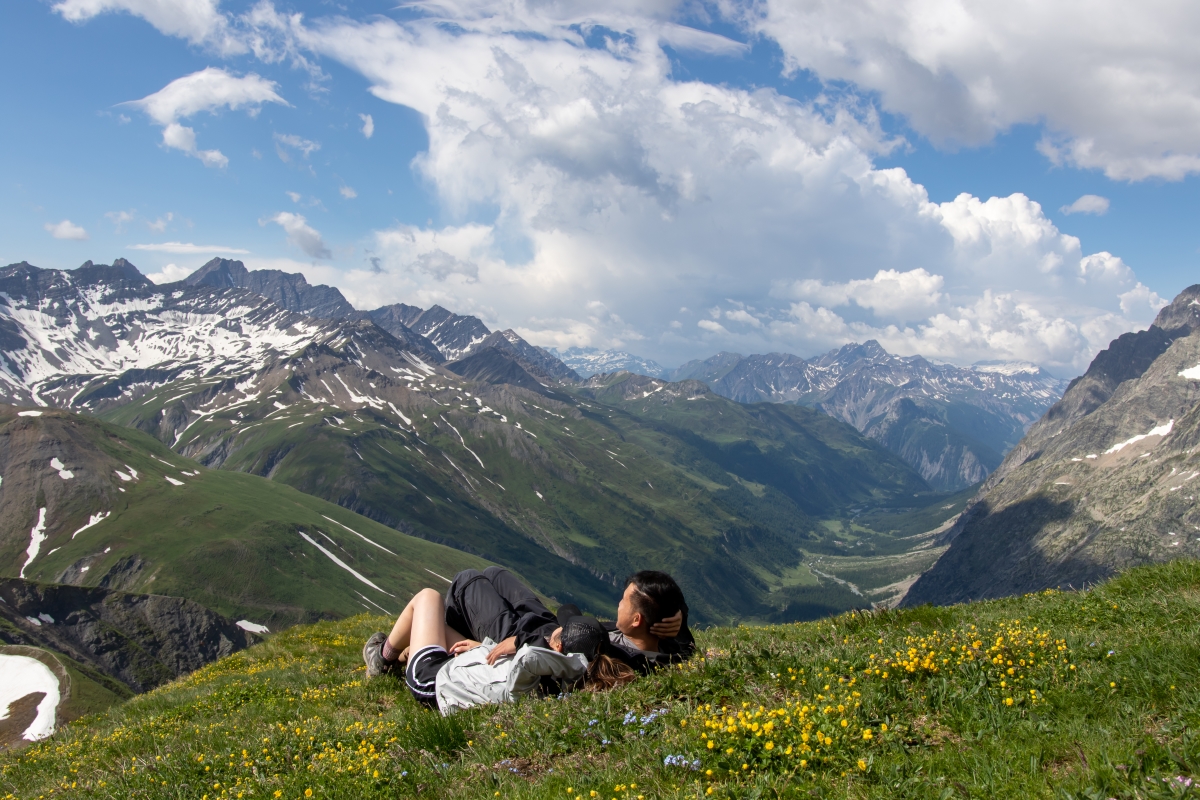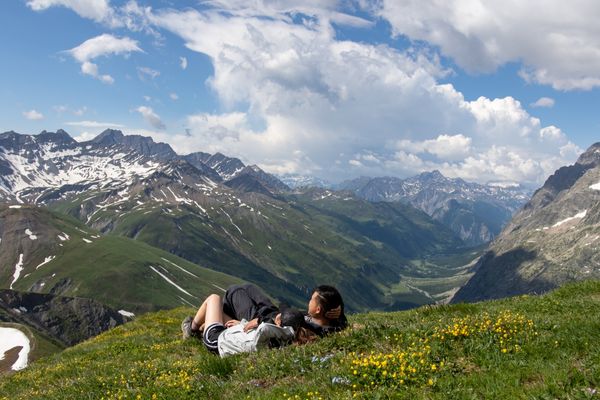 Much Better Adventurer Josephine Ho and her now-husband David recently approached us about helping them put on the wedding of their dreams in the mountains. The couple live in Los Angeles and have known each other since they were kids. David is a real estate broker. Jody is an engineer at NASA Jet Propulsion Laboratory. And adventure is their way of unplugging and switching off from the day to day grind. So what better way to tie the knot than on a mountain top halfway round the Tour du Mont Blanc? This is their story…
I think the idea occurred to us when David and I started discussing our wedding planning and realised we were going round and round in circles. Nothing felt right. Everything felt like too much work, too overdone, superficial and just not really us.
Then we asked ourselves if we could do anything we wanted what would it be? And honestly, it was just to go on a trip and hike for days. From there I thought of Much Better Adventures and started browsing the website.
Enter the Tour du Mont Blanc.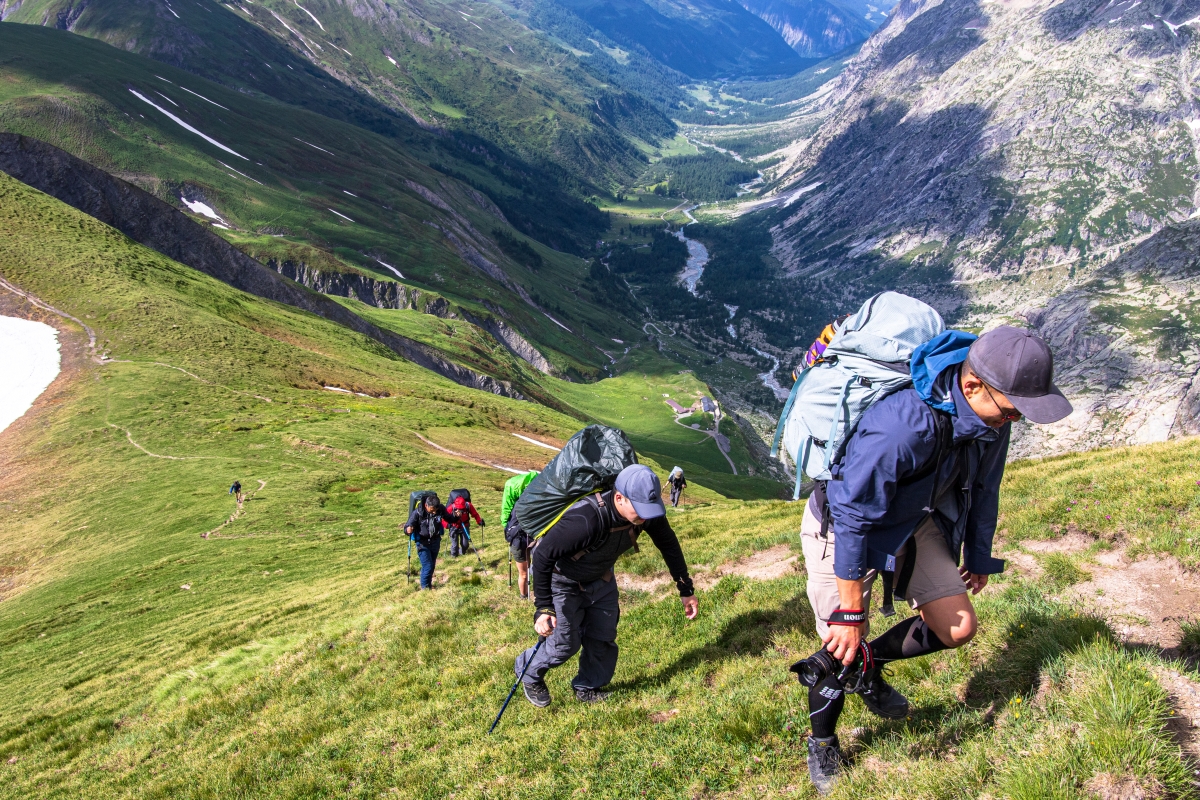 David and I are very low-key, so we didn't exactly hold a ceremony, but we did have a celebratory dinner in the forest and asked all our friends to wear white. It felt very organic, comfortable and festive, which is exactly our style!
Raphael, Dom and Becks – our amazing guides – set up an outdoor barbecue dinner with great food and drinks. With all the hiking, this celebratory dinner was such a delight and everyone laughed, drank, had great discussions, made toasts and really just got to have fun.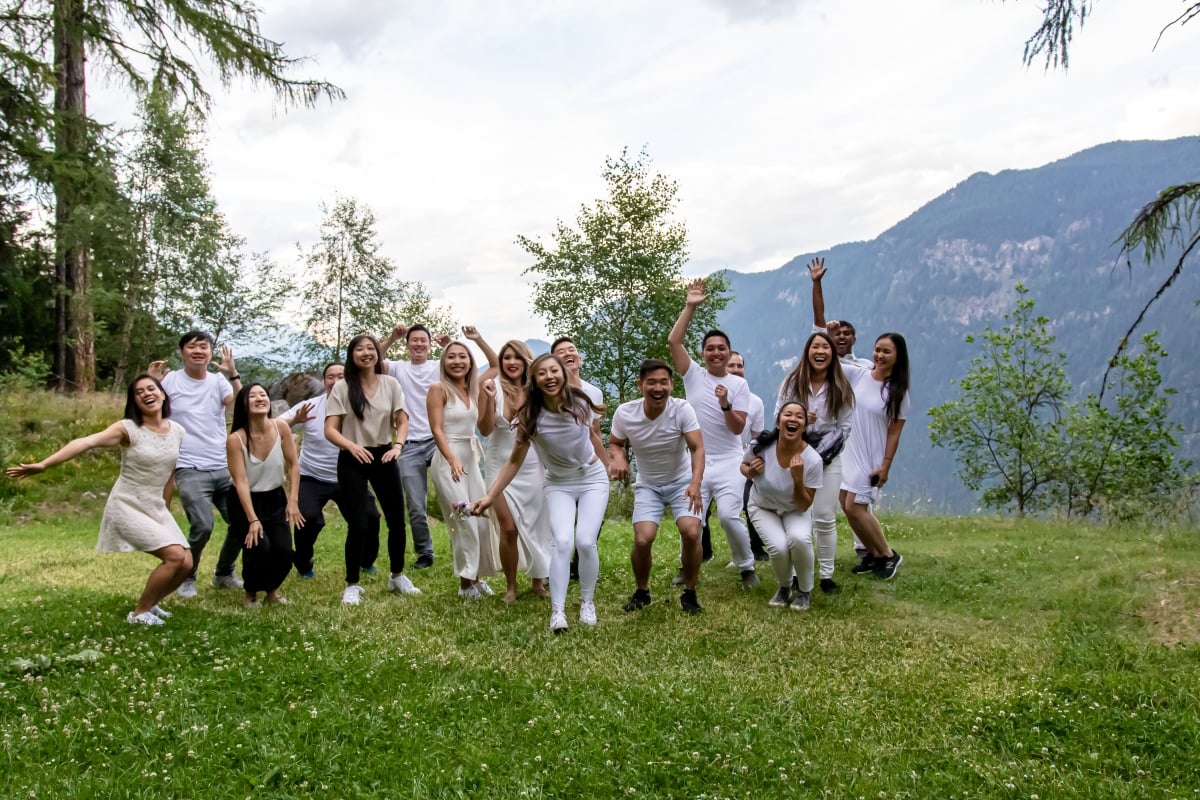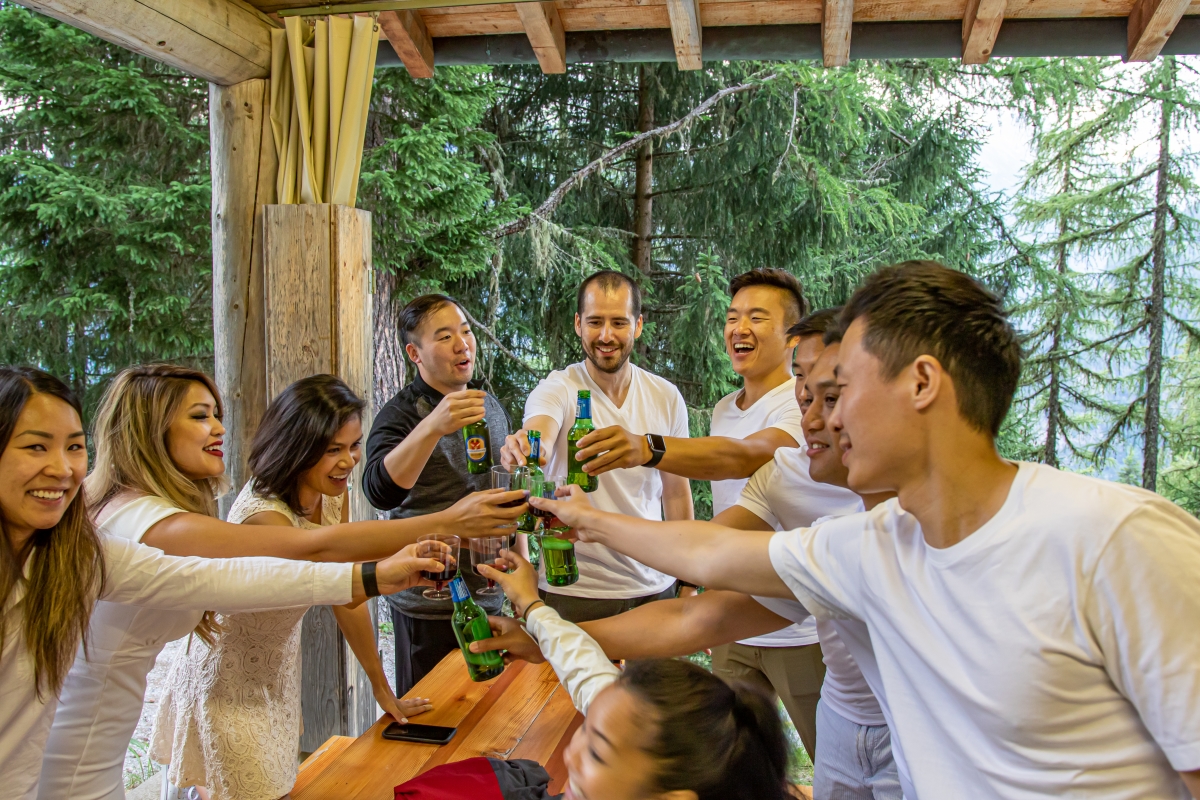 One of many favourite things about that night is that I had told Raphael foraging was something I always hoped to do. I was so surprised when he showed me where all the wild strawberries were in the forest! We were able to pick them and add them to our desserts!
Literally, this was the best decision we have ever made. I know many friends and family go through the wedding process and it's very stressful and taxing on the relationship and in-laws. For us, all we had to do was pick the adventure and pay through the site! Most of the work was actually explaining our wedding trip to friends, sending the invites and coordinating everyone's travel schedules and answering their questions.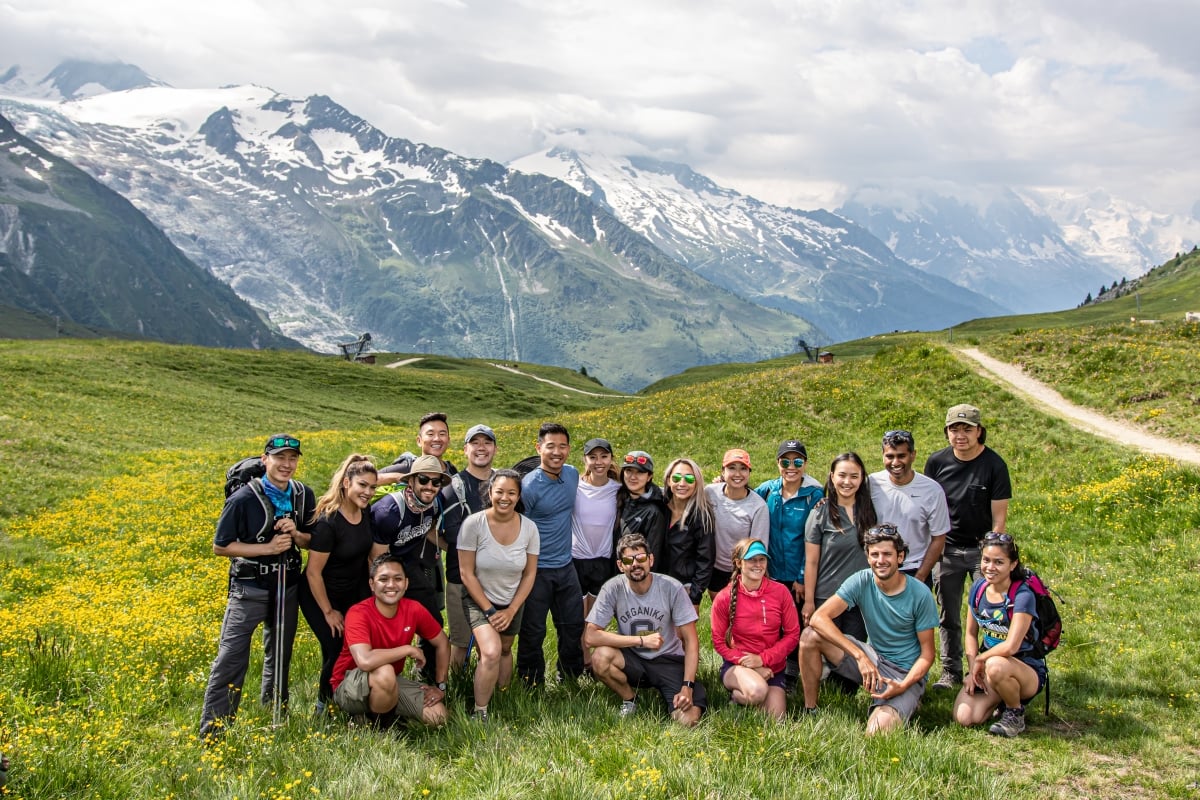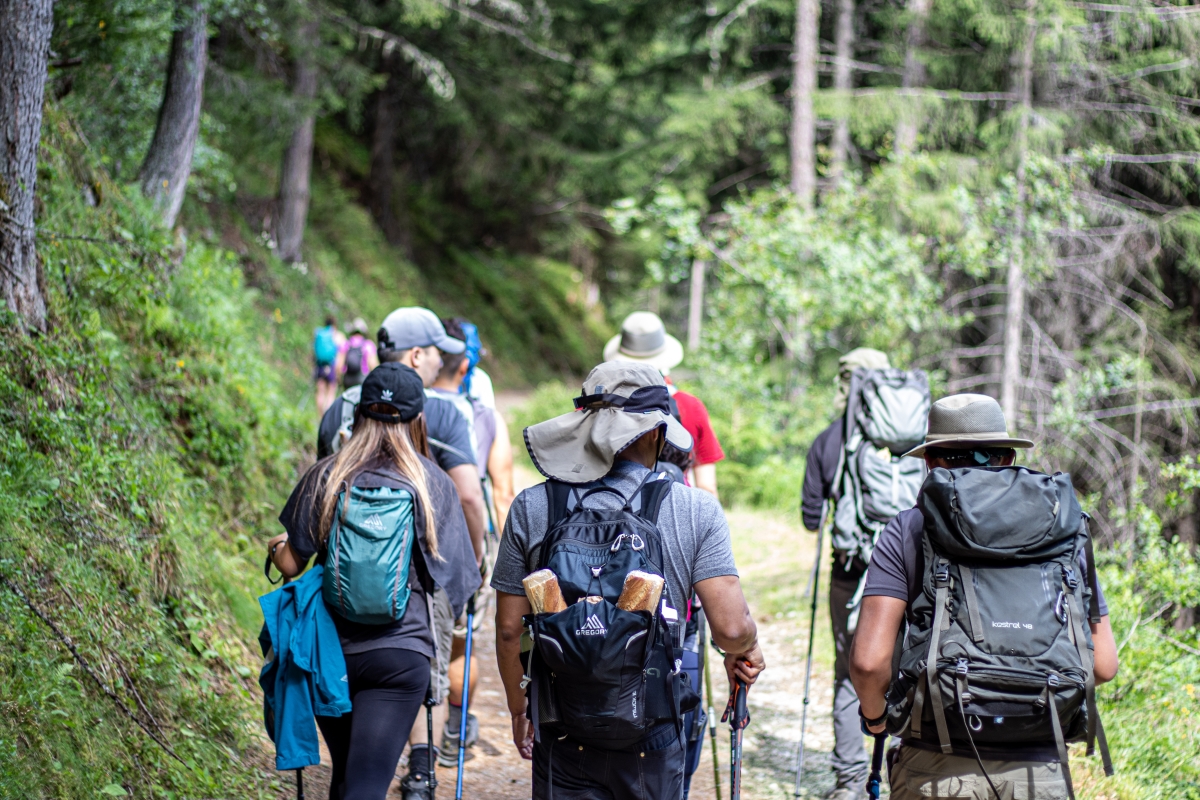 Way more people came than we expected and we were close to the maximum limit of 20 people (we had 17). A lot of people said it's such a great idea, and after the trip, everyone was in such a happy state and so thrilled to have done it. Even my friend, who is not the outdoorsy type, texted me to tell me it was one of the best experiences of her life – that was really saying something!
When we finally got back the pictures and posted on social media, we got tonnes of comments about it being a great idea! As for family, well, I don't think they were quite as happy about it… but once they saw the pictures they understood our vision and everyone was happy for us! Everything was just so wonderful!
Massive shout out to Jody and David for sharing their story with us.
If you've got some nuptials on the horizon and fancy doing things a bit differently – get in touch. Equally, check out our Tour du Mont Blanc weekend adventure for yourself, or, go the whole hog, and do the Tour du Mont Blanc proper!