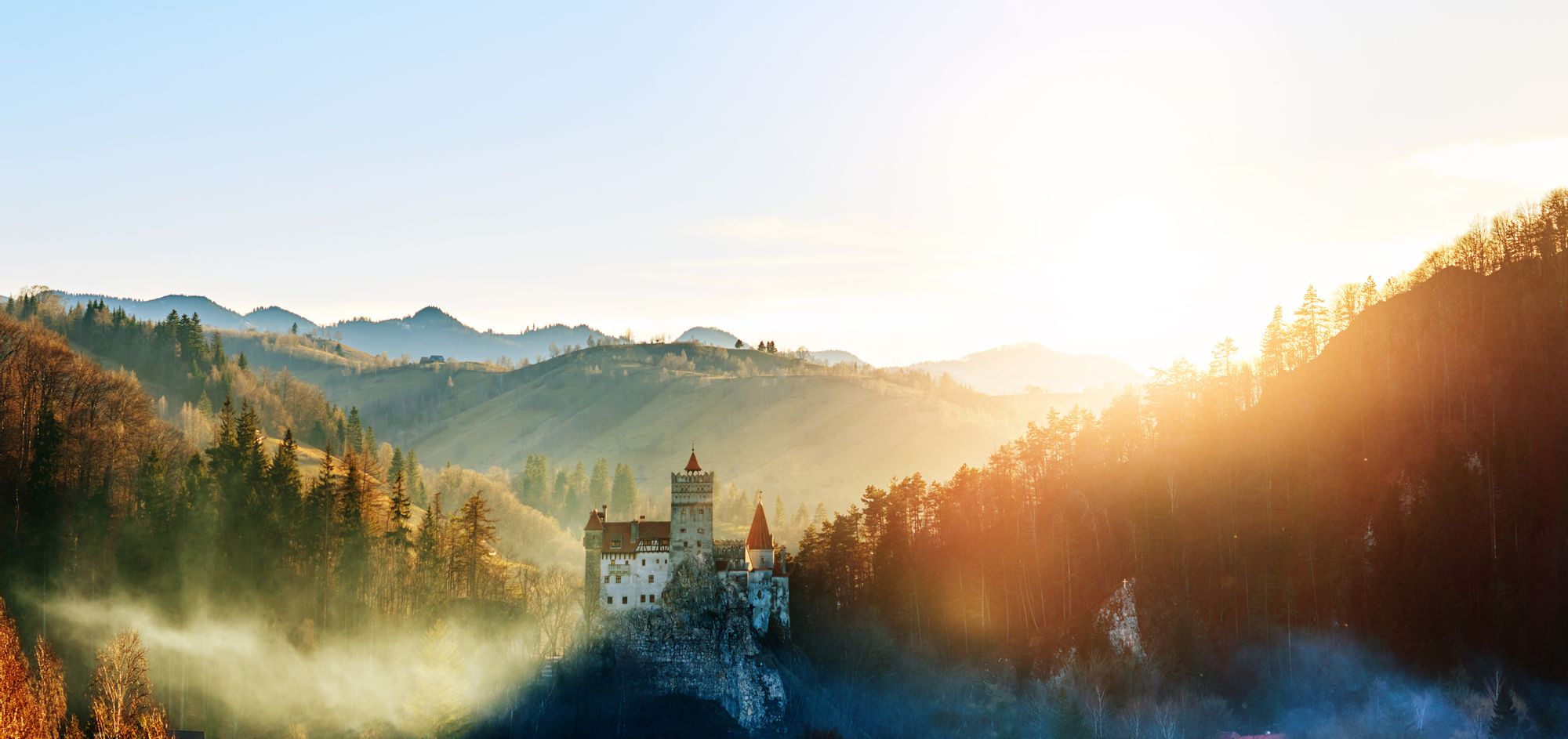 One of the largest Eastern European countries, Romania has various landscapes and a diverse terrain. Throughout the country, the scenery ranges from vast plains with crops to orchards and vineyards covering undulating hills, and lofty peaks in the high mountains.
We love hiking in Romania, but exploring the country by bike is also a great way to experience the country at a slower pace. You will discover less touristy, hidden places and the inhabitants' real daily life. Whatever kind of adventure on two wheels you prefer – be it lowland or mountainous areas  – in Romania you will have endless possibilities.
Take quiet roads traversing rolling hills and authentic villages, or try more taxing mountain-biking routes over rough terrain and steep slopes. Even better, experience a genuine combination of all these – go from high altitude mountain passes to traditional settlements in the same day. Here's a guide to the most popular areas for cycling in Romania.
The Best Places to Go Cycling in Romania
The Rucăr-Bran Corridor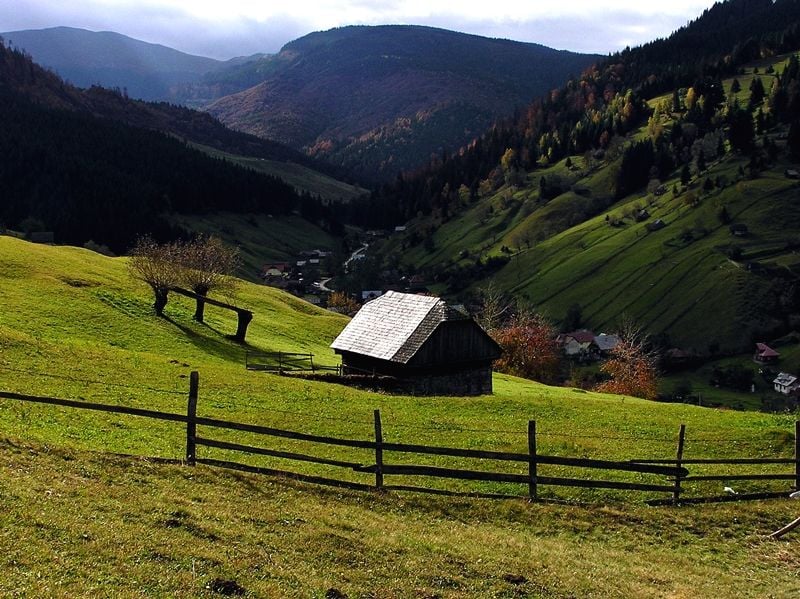 In the Middle Ages, the Bran Pass was an important customs post on the trade route passing the Carpathian Mountains, linking the historical provinces of Wallachia and Transylvania. Nowadays, the legendary Dracula's Castle in Bran  (featured in Stoker's famous novel) still stands impressively on a hilltop overlooking the corridor. The surrounding topography includes rounded ridges and verdant valleys, calcareous hillocks in the lower areas, and extensive pastures with hayfields at higher elevations.
The Bucegi and Piatra Craiului Mountains flank the Rucăr-Bran corridor on both sides, offering stunning views of their snow-capped peaks. The region is rich in folklore and features a range of rural traditions, from seasonal festivals and feasts to local handicrafts and gastronomy.
Cycling throughout this spectacular corridor is an ideal way to gradually discover the area's natural and cultural mosaic. A 26-km national road links the tourist villages of Rucăr and Bran. It is an asphalt road, suited for road cycling, with gorgeous views of the Bucegi Mountains to the east and Piatra Craiului to the west. Better start this route from Bran (763m), pedal up to the highest altitude in Fundata village (1162m), and then enjoy a long descend to Rucăr (688m).
Mountain bikers might prefer the numerous bike trails through the side valleys and remoter villages of Peștera/Măgura, Șirnea/Ciocanu, or Moeciu/Fundata. Most of the roads between villages are covered with pebbles. But if you venture more deeply into the mountains, you'll find more challenging forestry roads or shepherds' footpaths. Stop to witness the process of making cheese at a sheepfold.
The Danube Delta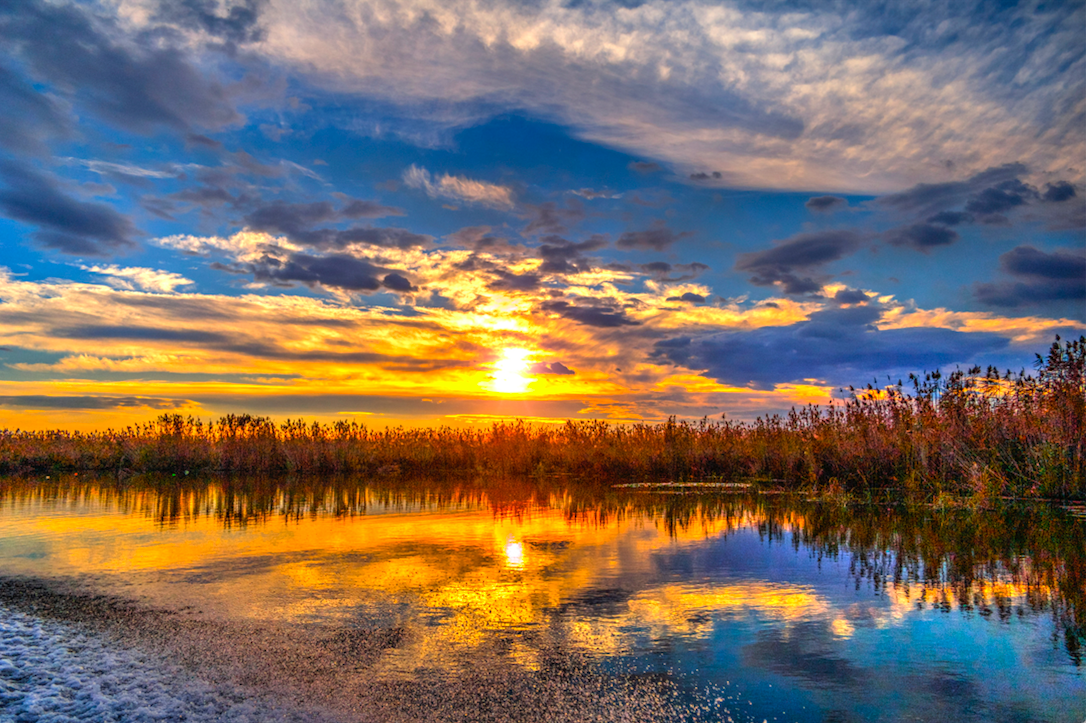 When flowing into the Black Sea, the waters of the Danube form the third largest protected delta of Europe. A UNESCO World Heritage Site, the Danube Delta features numerous lakes and marshes, large compact areas of reed beds, and 30 different ecosystems. A heaven for over 300 species of birds, these wetlands also host more than 100 species of fish.
If you're into cycling, seeing the delta's wilderness in slow motion style may be the perfect tour. Although the terrain is flat, don't underestimate the delta's challenges and its lesser known trails.
An intriguing two-day bike route crosses the Danube Delta from Chilia Branch to St. Gheorghe Branch. You will take a speedboat from Tulcea town to the small village of Periprava. From there, a 14-km earth road crosses Letea Forest, the oldest natural reservation in Romania. Here you will see 700-year-old oak trees and even small sand dunes.
After riding through Letea forest, the route further passes the fishermen villages of C.A. Rosetti and Cardon. These traditional settlements are lined with adobe houses roofed with reeds. After pedalling for 17 km, you'll cross a canal by boat and reach the tiny port of Sulina. It has good tourist infrastructure and plenty of restaurants that serve fresh fish caught that day.
The following day, a 32-km pebbled road will take you along unknown channels crossing a reed jungle full of wildlife. You will see water birds (curly pelicans, swans, egrets, and cormorants), as well as turtles, water lilies, wild horses, and even snakes (not poisonous though). The trail becomes a combination of earth, sand, and grass. The bike route ends in Saint Gheorghe village, from where you take a speedboat back to Tulcea.
The Tableland of Transylvania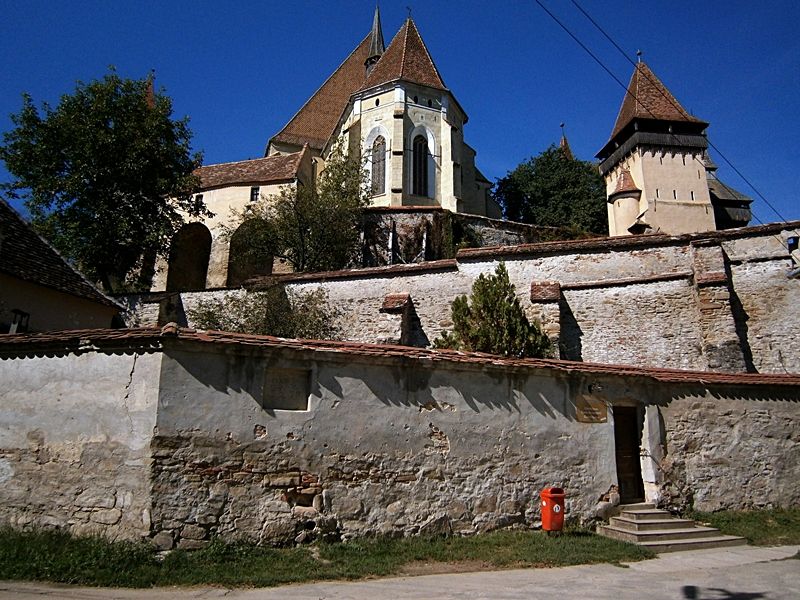 The Tableland of Transylvania is an eroded plateau that lies in the heart of Romania, sheltered by the U-shape of the Carpathian Mountains. The terrain includes gentle hills and valleys, covered with orchards and vineyards, fields of crops and poppy-flower alternating with untouched huge forests. Tucked away in side valleys, more than 200 old villages of Saxon settlers are the key sights of the region. Each village is centred around a fortified church, with tenable, high walls and defence towers.
Cycling, without doubt, is the best way to explore this totally unspoiled countryside. You can spend one, two, or even seven days cycling in the region. Away from heavy traffic, tarmac or dirt roads connect this little pockets of villages every few miles. One of the highlights of the region is the fortified church of Biertan, a 13th-century medieval monument listed as a UNESCO World Heritage Site.
A 25-km circuit from Biertan follows a combination of dirt trails and asphalt road routes, with imperceptible ups and downs. This circuit passes through the Saxon villages of Richiş, Aţel, and Dupuş. Stay and talk with local people, and taste delicious local dishes.
Mărginimea Sibiului Area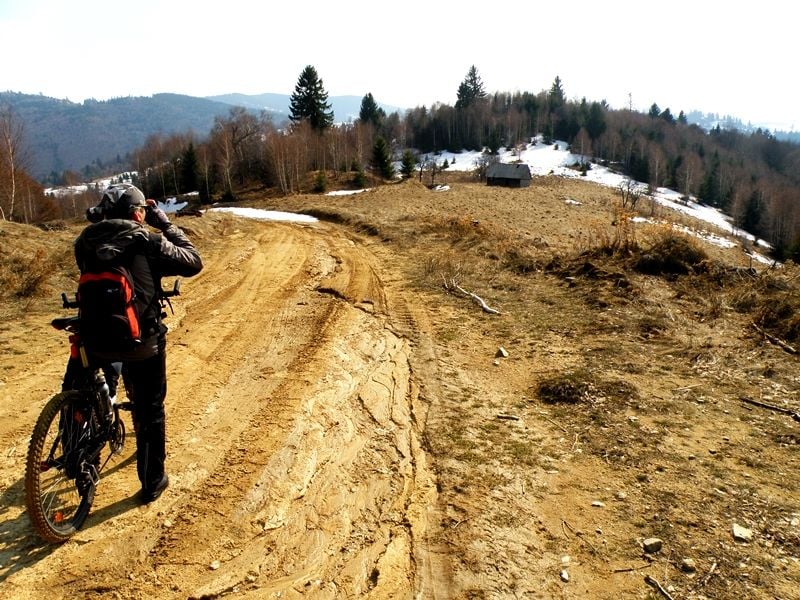 In the south of Transylvania, Mărginimea Sibiului is a strip of 18 herdsmen's villages, surrounding the German town of Sibiu. Tucked at the foot of the Cindrel Mountains, these settlements extend their territory in the highland pastures. The surrounding hills feature gentle slopes with hidden valleys, springs and seasonal scattered hamlets. Shepherds move here during their movement of sheep in summer. Countless footpaths link these hamlets to the villages; forestry roads go up in the mountains, as far as alpine grasslands or glacial lakes of Cindrel Massif.
Setting the base-camp in Sibiel – a picturesque village rich in local folklore, you are in the heart of the Mărginimea Sibiului area. At the local museum, you can witness the process of painting Orthodox icons on glass. From Sibiel (556m), a 30-km dirt road gently goes up a shaded valley to Crinț hamlet (1243m) – the highest point of this mountain bike trail.
From Crinț, a pebbled route softly snakes downhill through scattered mountain huts with sheep and dogs. En route, you will see the sculpture summer camp in Poiana Soarelui and the tiny Foltea Hermitage. From Foltea, a paved road steeply descends several hairpins to Săliște – another traditional village, only 5 km on tarmac from Sibiel's village centre.
As an alternative, there are different asphalt roads with less traffic through the villages of Mărginimea Sibiului; all these have easy ups and downs, therefore suited for pleasant road cycling even after a summer rain. From Sibiel a popular trail heads to Orlat and Gura Râului villages. After 14km of moderate ascent, you reach the main serpentine road that comes from Sibiu and winds up in the mountains. The way steeply continues uphill and passes coniferous and evergreen forests. Eventually, it reaches the high alpine pastures of Vălari, dotted with wooden huts.
After 15 km of pedalling on asphalt, you are in Păltiniș (1440m), a mountain resort in the Cindrel Mountains. From here, if you prefer mountain-biking, you can descend back to Gura Râului village on a dirt track through the woods (22km); otherwise, speed down the same road you have come up.
The Apuseni Mountains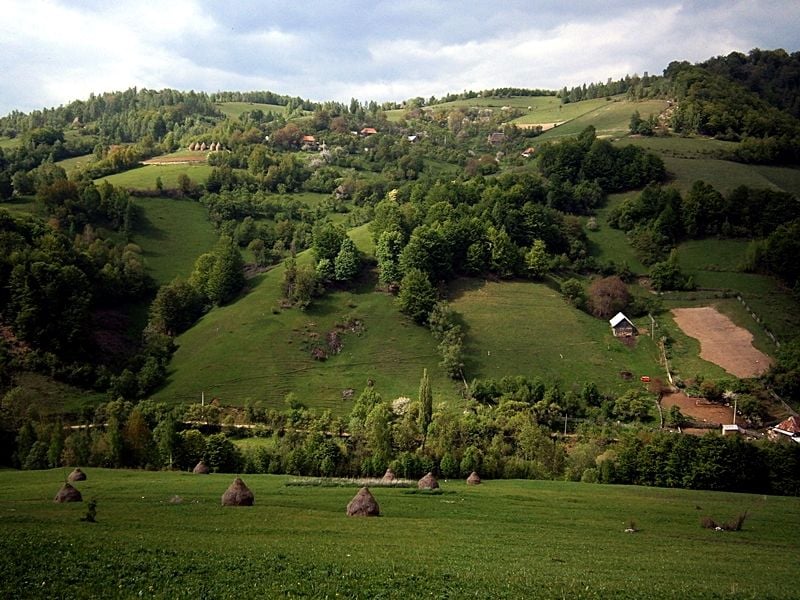 The Apuseni Mountains form a large mountain group, recognised as one of the natural geological reserves of the country. The region features a heavily karstic area, with sinkholes, canyons, and gorges, as well as underground caves and rivers. The terrain is mostly moderate, with a labyrinth of forestry roads and dirt tracks suitable for all sorts of bike trails. Easy day trails to several-day routes are available for mountain-bikers amidst a network of traditional villages and deep valleys. The remote hamlets of the moți highlanders are widespread throughout the Apuseni Mountains. Staying overnight in local homestays is a genuine opportunity to witness the slow pace of the local lifestyle.
The Trascău massif is a paradise for bikers that want to explore a little pocket of the Apuseni. High-roofed thatched cottages and pointed haystacks dot sparse, authentic villages. Sitting at the entrance of Râmețului Gorges, the Râmeț Monastery is among the area's cultural highlights and a popular landmark.
From there (450m), a 20-km mountain-biking circuit snakes among tucked-away hamlets. A 5km dirt road steeply climbs up several hairpins to the village of Râmeț (612m), before continuing uphill more gently until it reaches a pass situated at almost 1000 metres. From here, an earth track steeply descends and passes Valea Uzei hamlet before reaching the Monastery's Valley – 2 km on asphalt to the starting point of the trail.
Another popular circuit in the area leads to the secluded villages in the Piatra Cetii Reserve. A 7km paved road climbs almost 500m from Poiana Gâldei hamlet to the one of Răicani. Then it continues for 2km on a contour line to Tecșești, a well-preserved traditional settlement with typical wooden houses roofed with hay. From there, a 10km dirt track moderately descends to Intregalde village. You can stay overnight in a local homestay, or come back 10km on asphalt to the start of the circuit.
Feeling inspired? Check out our Adventures in Romania.