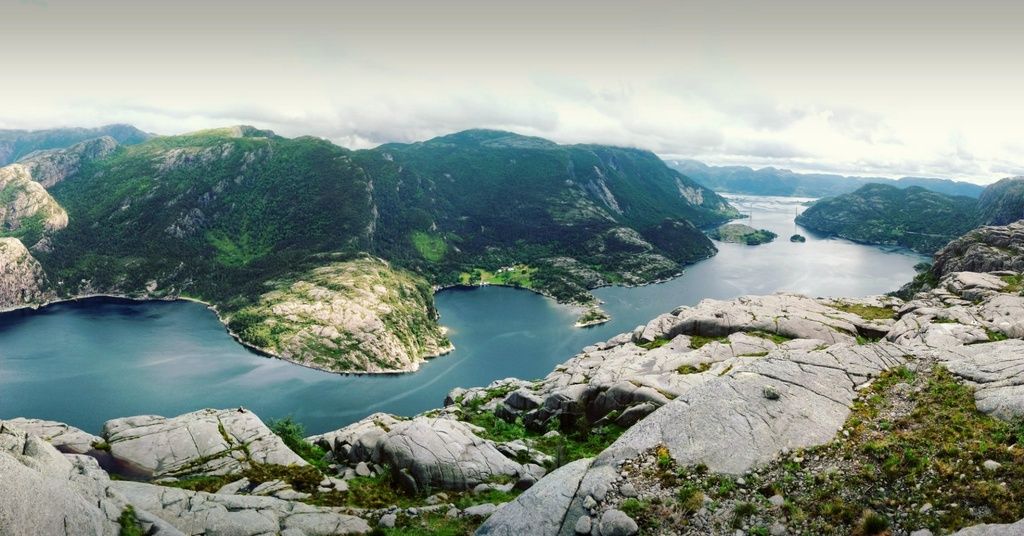 With its unique mix of mirror-flat fjords, rugged coastline and wildly beautiful islands, Norway is the ideal place to explore by kayak.
Swapping the cruise ship for this more humble vessel will get you close to nature. You'll get a more intimate glimpse into this country's vast and wonderful waterways, which are bursting with wildlife. Nothing beats the feeling of quietly paddling through the deep blue waters of a glacial fjord flanked by towering cliffs, or gliding past icebergs and glaciers in the remote Arctic Circle.
In such a watery environment, it's easy to see why kayaking in Norway is so popular. In summer, locals kayak on inland lakes and rivers to reach secluded summerhouses, or simply to wild camp under the midnight sun. From the lesser-known spots to some of the country's best-loved gems, here's our pick of the best places to kayak in Norway.
How to Explore Norway by Kayak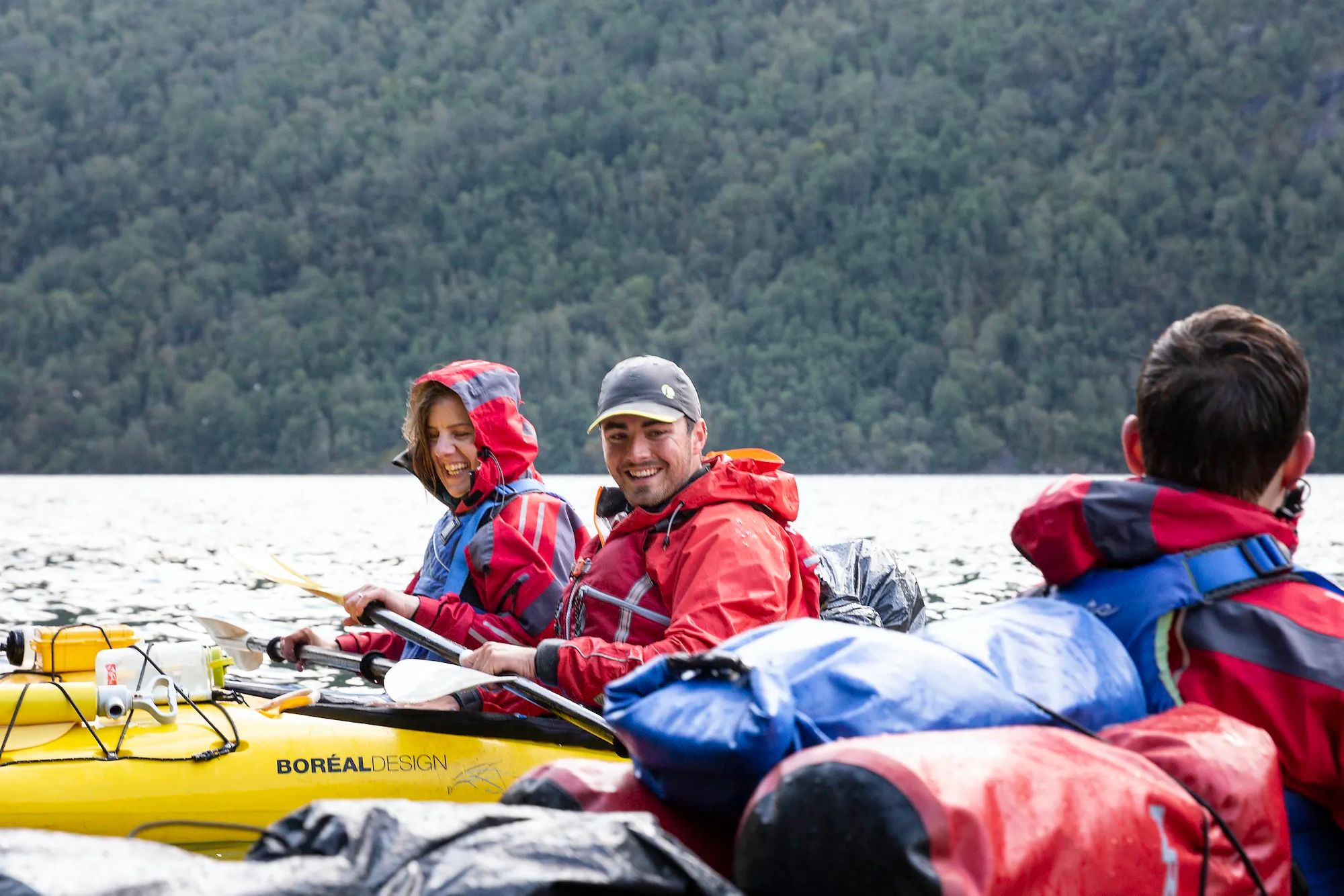 When it comes to arranging a kayaking trip in Norway, you have several different options: kayaking independently, joining a guided expedition or going on a self-guided journey. Each has its own benefits and drawbacks.
Kayaking independently is only suitable if you've got bags of sea kayaking experience, and are knowledgeable about planning journeys, navigating and cold weather environments. A major plus point is you'll have the freedom to go wherever you want, whenever you want. However, you will have to sort out your own logistics, including how you are going to reach the start point for your expedition, and sourcing equipment (notably, a kayak).
We'd definitely recommend joining a guided kayak expedition in Norway if you have less experience kayaking in remote Arctic environments. For a start, you can focus on learning and enjoying yourself without having to worry about the logistics. You'll appreciate the skills of your guide as they teach you techniques and take you to spots that only the locals know. And of course, you'll get to meet like-minded people that you can bond with over the highs (stunning views) and will help you through the lows (being wet and cold).
A self-guided kayaking tour is arguably the best of both worlds, offering both convenience and independence - it's also often a little cheaper than a guided tour. You'll be provided with all the kayaking equipment you need, and camping equipment is also often available to hire. You'll also be given maps, itineraries and helped with the logistics of getting to the water. However, you'll miss out on the dynamics of a group and the local knowledge of guide. It's also worth noting that adventure travel companies will only allow experienced kayakers to take part in self-guided tours, with many requiring you hold certification from a recognised kayaking association.
Whether you choose to go on a guided tour or strike out solo, these are our six top spots for a kayaking trip in Norway.
Oslofjord, Oslo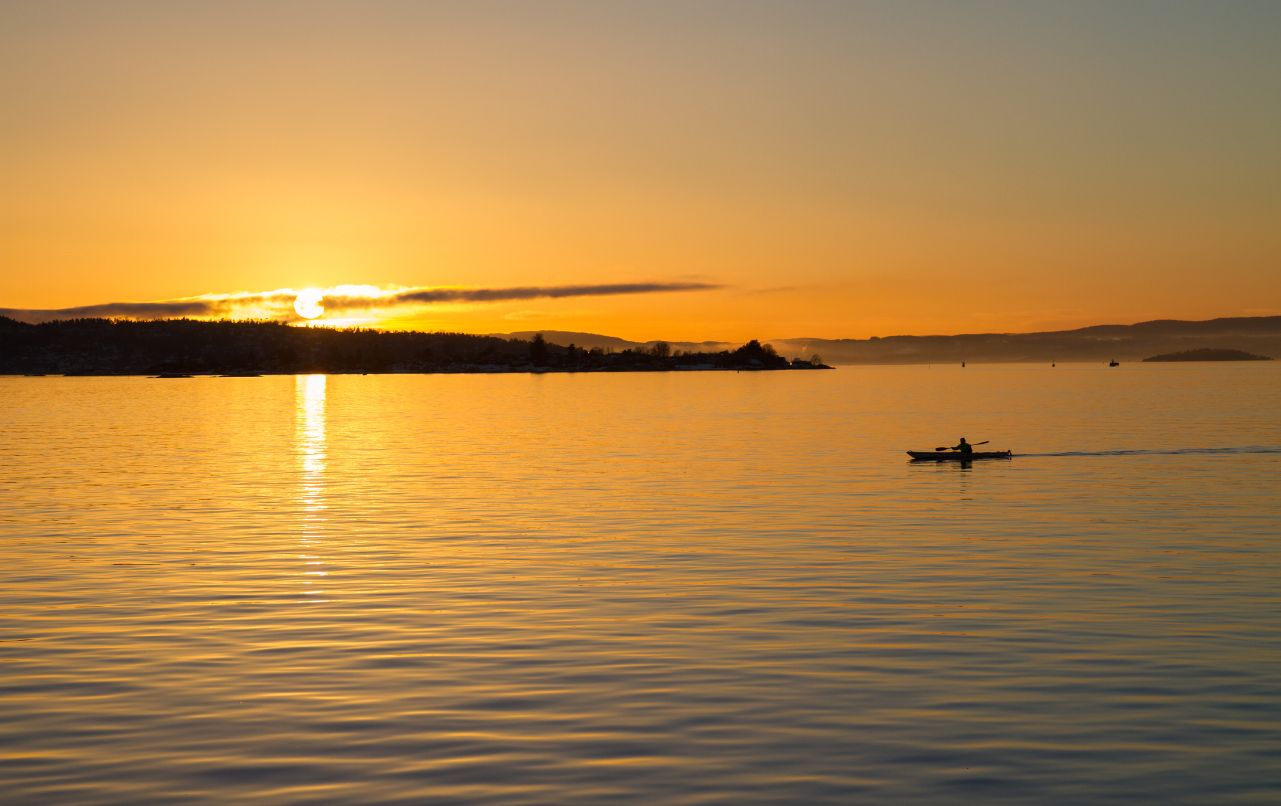 Ideal for those looking to add some adventure to a city break, Oslofjord's waterways and islands are conveniently located just minutes away from the city centre. This is a great option for first-time paddlers looking for an introduction to this type of adventure travel. It will give you a taste for what the rest of the country has to offer.
The 100km-long Oslofjord is a protected area of sea dotted with islands of varying sizes. It's home to a wide range of activities: sailing, fishing and swimming to name a few. But kayaking is also the best way to reach the numerous beaches and isles surrounding the city. Escape the urban bustle and see the city from the water, getting in some exercise as you immerse yourself in nature – with the city skyline in the distance.
Geirangerfjord, Western Fjord Area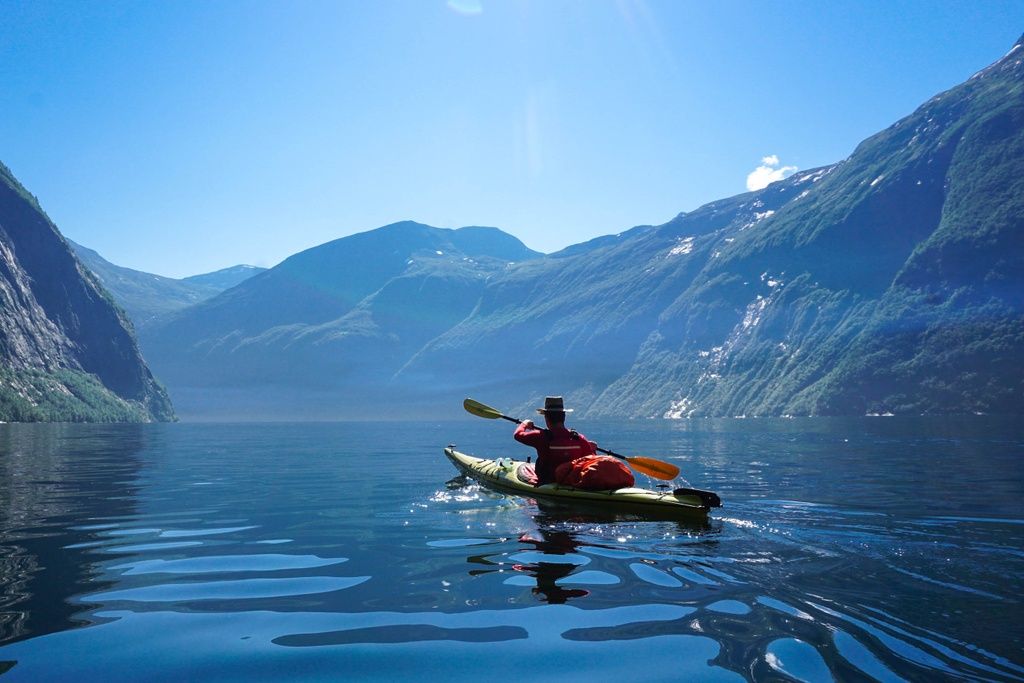 Kayaking amid towering cliffs of the world-famous, UNESCO World Heritage-listed Geirangerfjord is extraordinary. At sea-level the surrounding walls of the 15km-long fjord, with its tumbling waterfalls, seem impossibly vast. The deep blue water reflects the tree-clad mountains, creating a deep emerald colour.
Kayaking offers a far more peaceful way to experiencing the fjord – after just a few strokes your mind starts to ease. Paddle past abandoned farms with the odd grazing goat and venture right up to the Seven Sisters Falls, feeling the tumbling water spray your face as you edge closer to the famed cascade. That's something you can only do from a kayak. The village of Geiranger is also home to some excellent walking trails, so this is a good option for travellers looking to combine kayaking with hiking.
Lofoten Islands, Northern Norway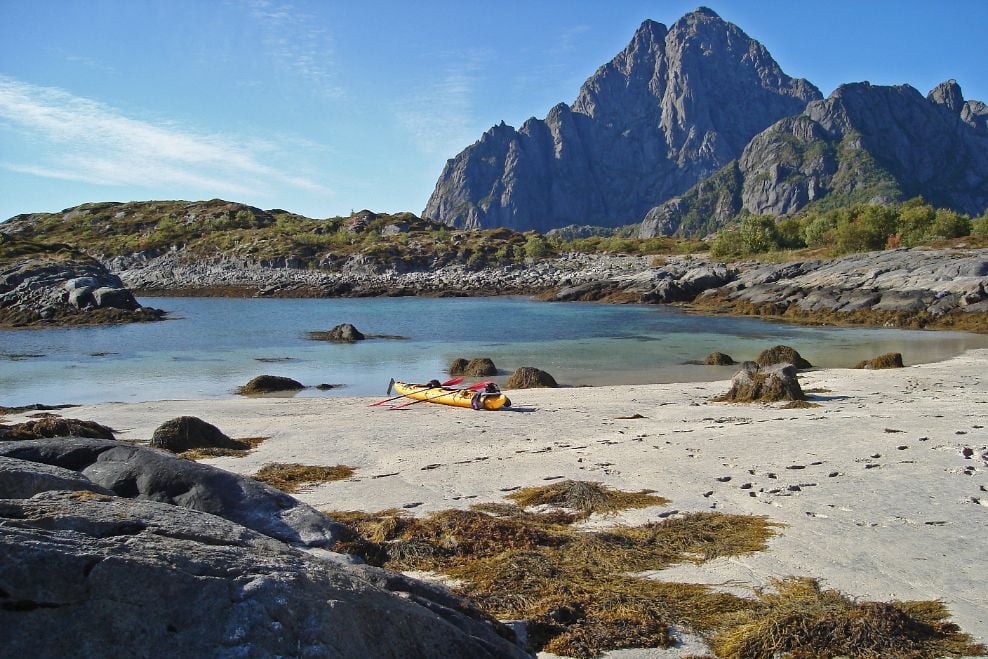 The Lofoten Islands is an archipelago in the Arctic Circle. Mountainous volcanic islands rise up from turquoise water, while traditional red fishing cabinets line the rocky shores. The hidden inlets, white sand beaches and sweeping rock faces are best explored by sea. With the water warmed by the Gulf Stream, kayaking between the islands is the way to go.
The main islands - Austvågøy, Vestvågøy, Flakstadøy and Moskenesøy - are separated from the mainland by Vestfjorden, famous for its cod fishery and orca population in winter. These islands get busy in peak season, so try one of the smaller islands, such as Skrova, for epic views without the crowds.
The fjords and skerries of Lofoten are more accessible for a first-timer than some of Norway's more remote spots, yet they also contain some of the country's finest scenery and wildlife. There's a reason the Lofoten Islands are so iconic. With its dramatic mountain landscape, kayaking trips can also be paired with climbing and mountaineering.
Hidra Island, Southern Norway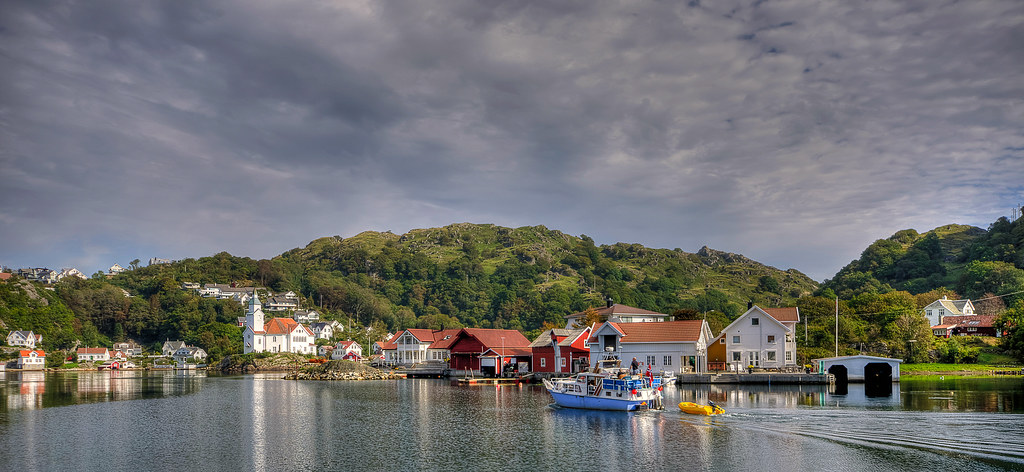 Known as the Riviera of Norway, Hidra, near Flekkefjord, is a beautiful island with a rich maritime history. The island - located where southern and western Norway meet - was inhabited by ancient Vikings and artefacts can still be found today. The island is split by the Rasvågfjorden, while the Eie Canal was built through the remaining isthmus for small boats to pass along.
Glide through its calm, kayak-friendly waters, down narrow channels lined with the island's white-painted clapboard church and colourful boathouses. Or paddle between the fishing villages of Rasvag and Kirkehavn, where a number of small isles are scattered through the sea.
Svalbard, the Arctic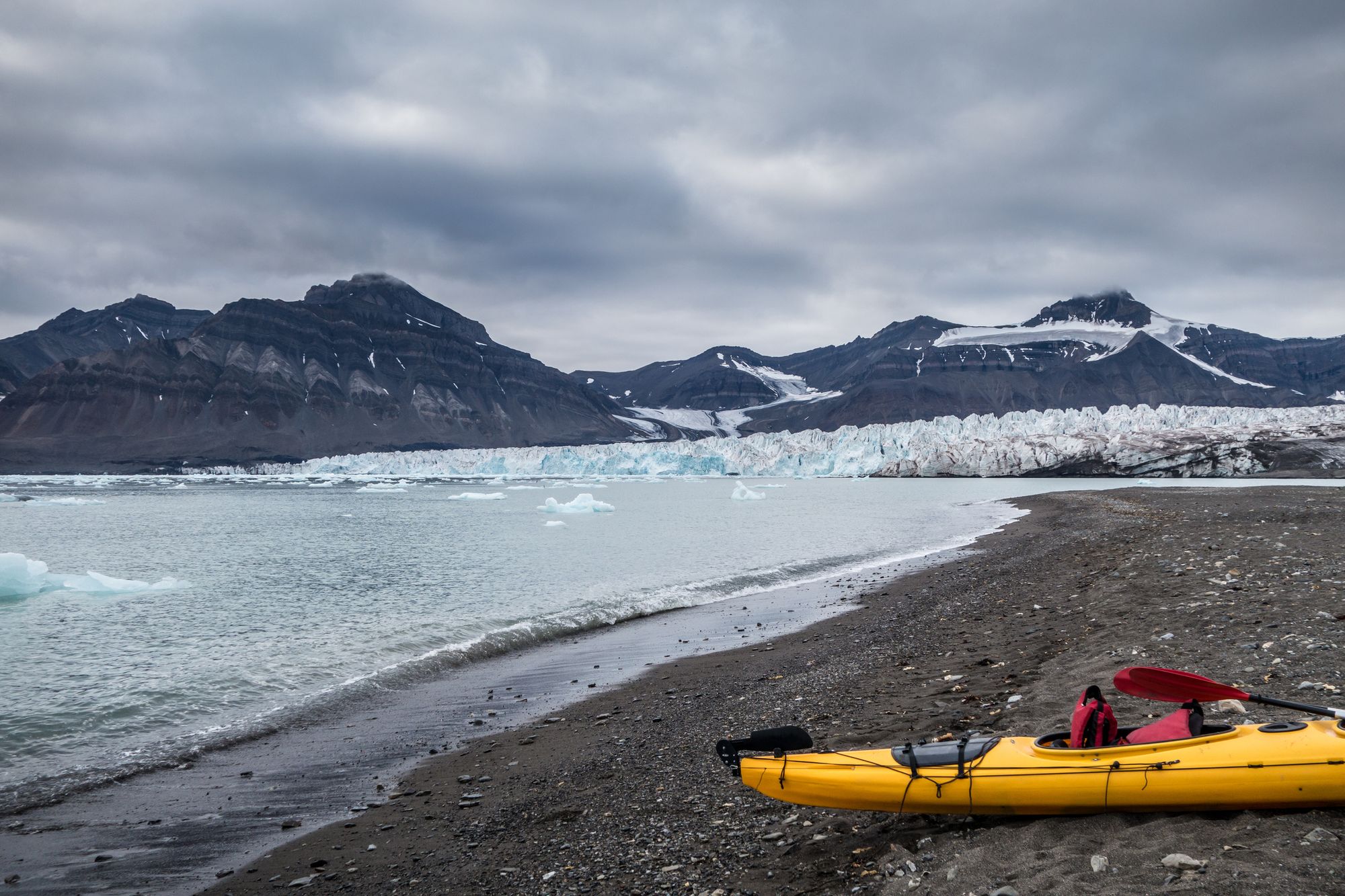 Halfway between Norway and the North Pole, Svalbard is about as remote as it gets. This is a wondrous archipelago of snowy peaks, untouched glaciers and the Northern Lights, where polar bears outnumber people. In summer the midnight sun arrives, bringing with it long days that are perfect for paddling. Choose from shorter Longyearbyen tours, the world's most northerly town, and multi-day trips that spend the night in wooden lodges.
Wearing a warm dry suit, you can't help but feel a sense of peace and stillness in this true Arctic wilderness, as you navigate neon-blue glaciers and push misshapen lumps of ice with your paddle. When your arms are tired, pull your kayak ashore and explore the abandoned settlement of Hiorthhamn on foot, or lace up your walking boots for a mountain hike, keeping your eyes peeled for whales and reindeer.
Finnøy Island, Stavanger Region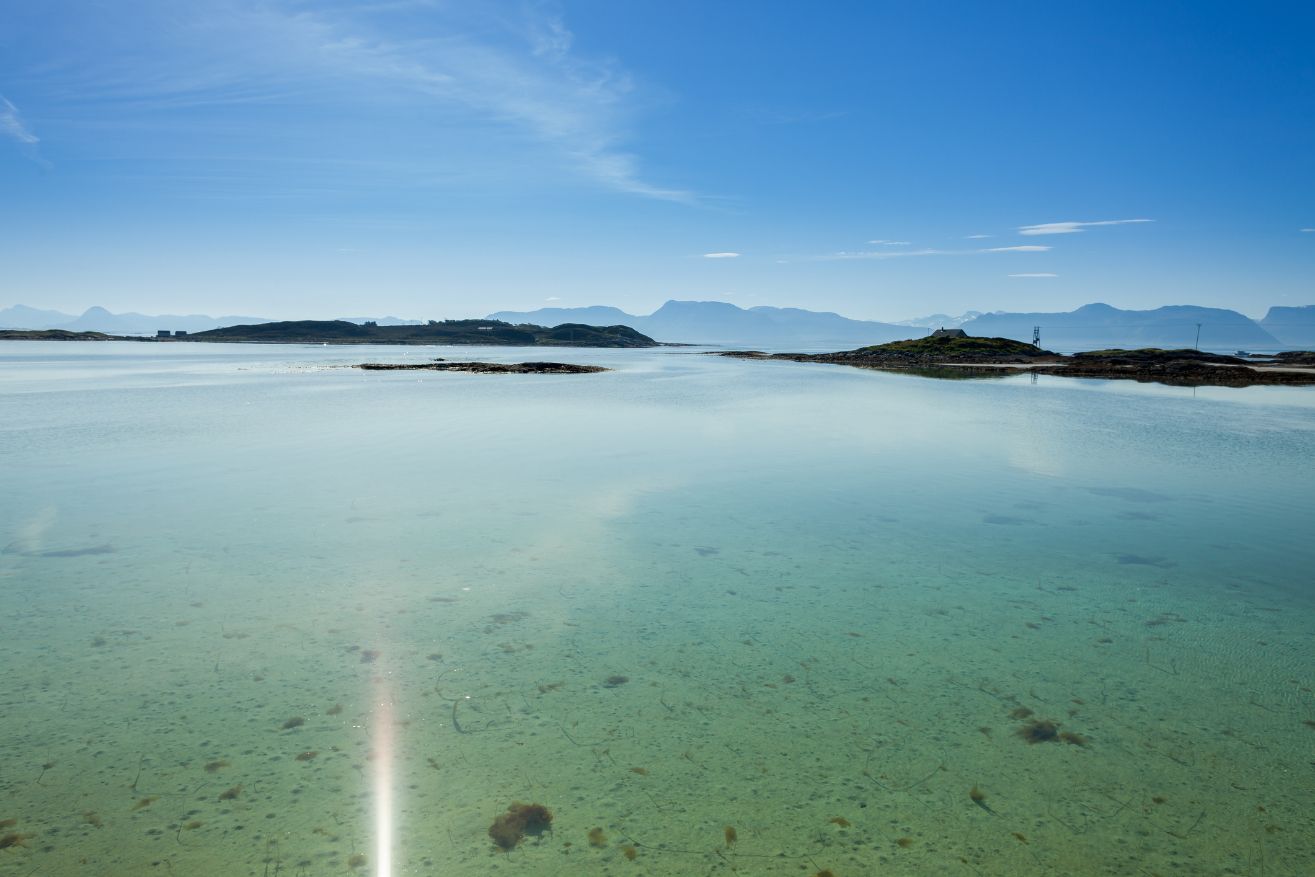 A great choice for keen twitchers (that's birds not livestreaming), Finnøy Island is located in an easily accessible area between the cities of Haugesund and Stavanger. The island is home to a protected bird sanctuary that is teeming with different seabirds, such as the white-tailed sea eagle - Europe's largest bird.
iWhile there are plenty of hiking trails across the island, the best way to glimpse the wonderful animals and wildlife is from a kayak. Just make sure you enjoy the view from a distance and don't disturb the birds. The island also has a strong agricultural heritage – it grows around 40% of Norway's tomatoes and has an annual tomato festival.
Feeling inspired? Discover the Fjords with our kayaking experiences and other Norwegian adventures.