There are so many different adventures to be had in Thailand. You could visit an eco-retreat in Chang Rai province, or head to the northern town of Pai for mountain trekking and thermal hot springs. Or you could take a boat trip to a quiet island - such as Koh Phra Thong - for diving, snorkelling and relaxing.
Despite Thailand's popularity, it's pretty easy to get off the beaten track. While the country is renowned for its full moon parties and 'gap yah' tourists, it's so much more than that. It's rich in biodiversity, boasting environments from ancient rainforests to dramatic karst peaks. The mountainous north of the country is a trekker's paradise, while those interested in watersports have 1,430 islands to explore.
The difficulty is knowing where to start, and when the best time to visit Thailand is. Think of this guide as a launchpad for planning your Thailand adventure (but please, if you decide to strike out on a multi-day hike, add a guide book and map to your shopping list).
The Basics:
Currency? Thai Baht (THB).
Official language? Thai.
Time zone: GMT+7.
Plug adapter? Type A or C.
Do I tip? 10% - 15% if you'd like to.
Average beer price? £2.
Nearest adventure? Kayak and hike wild Thailand.
When is the Best Time to Visit Thailand?
The best time to visit Thailand depends on what's most important to you - avoiding the crowds or being sure of sunny days. One of the best months to visit is in November. The monsoon season has dwindled, leaving behind lush landscapes, and the Christmas holiday crowds have yet to appear. December and January are the best months to visit if you're in search of sunny skies, but visit during the monsoon season (July to October) for lower prices and fewer crowds.
High Season: November to March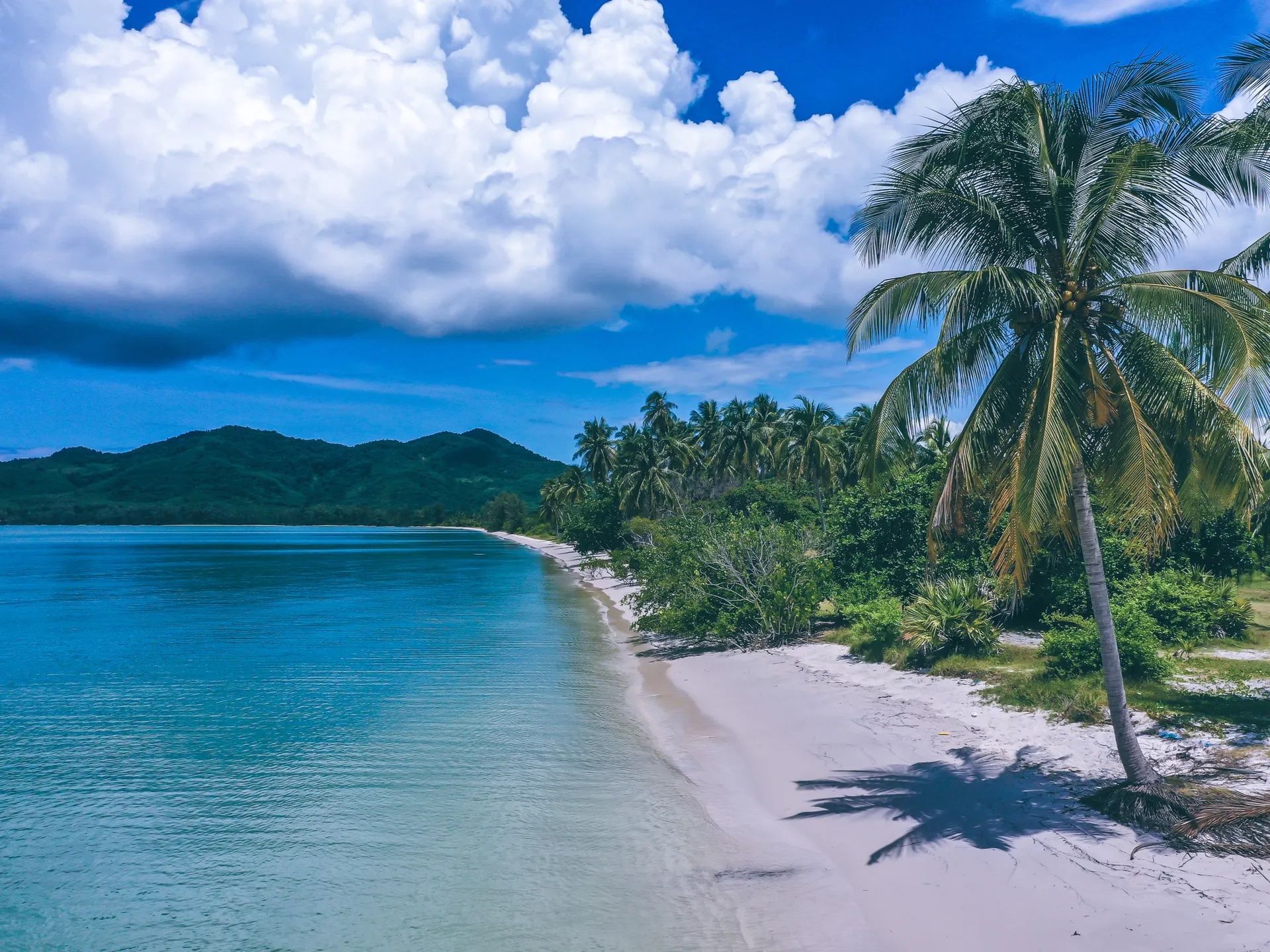 This is the most popular time to visit. Between November and March, the weather in Thailand is generally hot and dry, and the beaches beckon. The average temperature between November and January is 27-28℃, and it'll be cooler in the mountains (making it a good time to hike).
However, the north easterly wind that brings these conditions has a different effect on the Gulf Coast in the south Thailand (particularly around Koh Samui and islands). It brings a fair bit of rain between November and January, which is known as the north-east monsoon.
By March the mercury will have shot up into the early thirties. It's starting to get a bit warm for hiking, but it's an ideal time for watersports such as surfing, kayaking and hiking. Keep on scrolling for beach recommendations.
A downside to this period - crowds. You won't necessarily find them on remote hiking trails, but in the popular tourist hotspots, the fact that it's high season will be quite apparent. This is also when prices for accommodation will be at their highest. Having said that, Thailand is a very affordable country to visit in comparison to Europe - for many people, it's worth it to avoid a cold wet winter.
Shoulder Season: April to June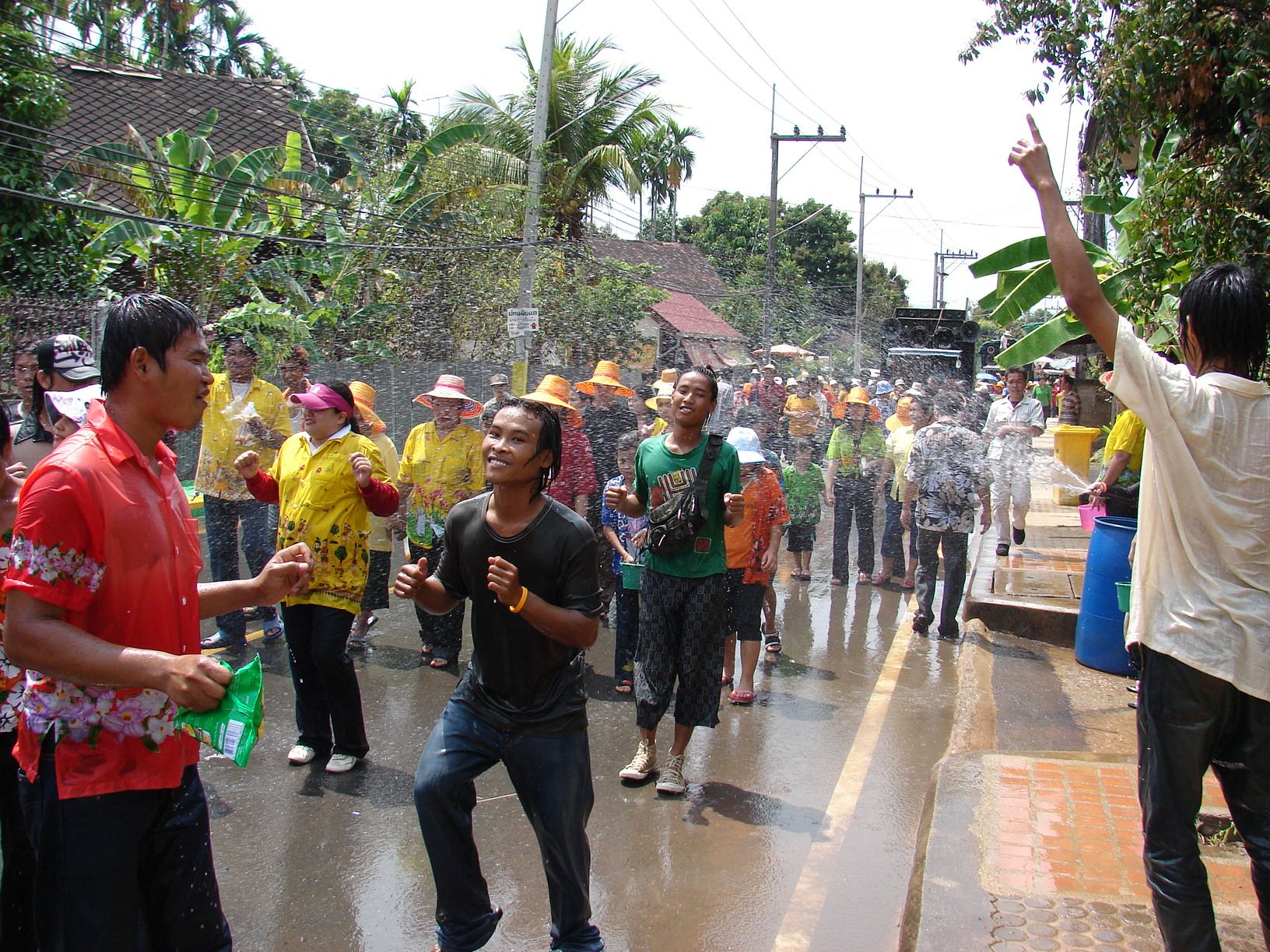 During this period it's hot - really, really hot. In April, normally the hottest month of the year, afternoon temperatures can reach 40℃. Thankfully, it feels a little cooler on the coast thanks to the sea breezes - the beaches will also be quieter, so it's a good time for watersports.
You can also head up to the mountainous north of the country, where temperatures are lower. If you're around on the 13th April, cool off at Songkran - it's Thailand's new year's festival, which is known for including the world's largest water fight.
It will have cooled off ever so slightly by June, and the south-west monsoon will have started. June to September is the rainy season throughout the majority of the country. Occasionally rains might start a little early, in May, but at this time of year they're quite welcome, consisting of downpours that drive away the heat and humidity. They mainly take place during the evening or night, meaning that your adventures shouldn't be too interrupted.
In shoulder season you can expect slightly unpredictable weather, but flights and accommodation will be lower than high season.
Low Season: July to October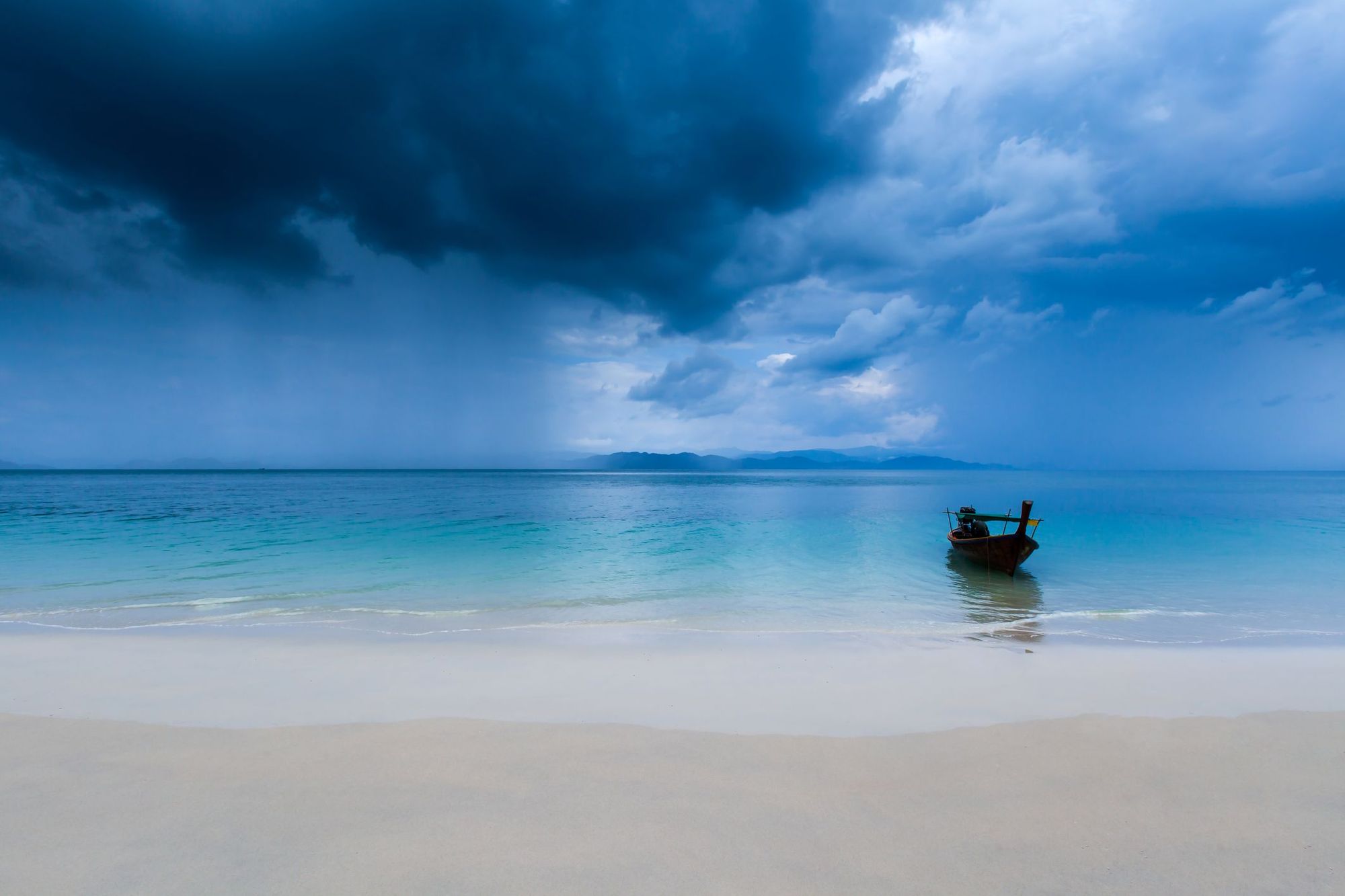 It's monsoon season in Thailand. This means most of the country is subject to unpredictable weather ranging from sudden afternoon showers to severe flooding, as rivers overflow their banks. You might find roads get closed off, or ferries are cancelled at the last minute - expect your travel schedule to get interrupted.
However, if you don't mind a bit of unpredictability, monsoon season is a lovely time to travel. The landscape is in full bloom, with vibrant paddy fields and luxuriant vegetation. Attractions are quieter, and rates will be at their lowest.
If you fancy a monsoon adventure, we'd recommend spending a few days checking out Bangkok. Its street food markets, temples (such as Wat Arun) and museums - such as the offbeat, visceral Siriraj Medical Museum - can be enjoyed whatever the weather. Chiang Mai province is normally drier than Bangkok, but for your best chance to avoid the rains, head to Koh Samui and nearby islands.
Places to Visit in Thailand
Where to begin? You've got thousands of miles of coastline to explore, and almost 50 different mountain ranges to scale. There are 147 national parks in Thailand, alongside numerous nature reserves and animal sanctuaries.  We've picked some of our favourites - needless to say, the list is not exhaustive.
National Parks in Thailand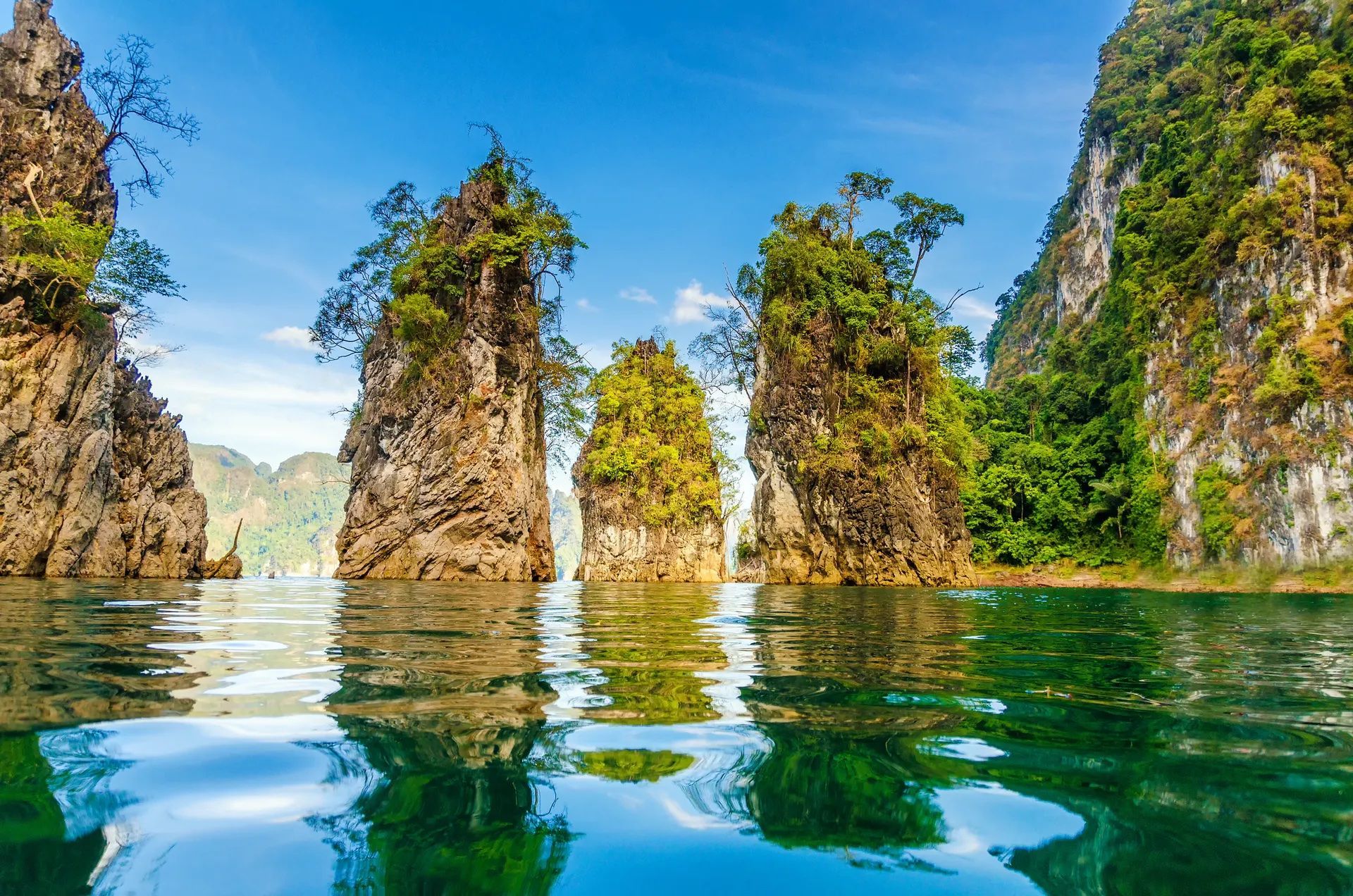 Thailand is serious about nature conservation, hence its large number of national parks and ambitious reforestation goals (40% of the country). Its national parks are rich in biodiversity, boasting intriguing karst islands and ancient rainforest alongside an abundance of flora and fauna.
Ao Phang Nga National Park: located on the coast of the Phang-Nga province, the Ao Phang Nga National Park is well known for its vertical cliffs and dramatic karst islands. 'James Bond Island' is a particularly popular one - it was a filming location in the Man with The Golden Gun. But despite its popularity with tourists, it's easy to go off the beaten track in this gorgeous marine park, especially if you're exploring by kayak.
Khao Sok National Park: A nature reserve in the south of Thailand featuring mountains and karst islands carpeted in virgin rainforest, and surrounding the vast Cheow Lan Lake. The park is known for its rare Rafflesia 'corpse flowers', which bloom between October and December. But there's plenty of flora and fauna to see beyond that, including elephants, sun bears, jungle cats, and 331 species of bird. Take a nocturnal walk with an expert local guide to discover wildlife you wouldn't see during the day.
Than Bok Khorani National Park: This national park is known for its lush rainforest, ethereal blue pools and rivers. The karst topography has led to the creation of sinkholes and caves, some of which are daubed with ancient ceremonial paintings. Once again, we'd recommend a kayak trip to explore this beautiful park. Paddle through the mangroves to enter caves full of stalactites and stalagmites. Find a quiet forest pool for a refreshing dip.
Phu Chi Fa Forest Park: Nestled up against the Laos border in the north of Thailand, this secluded national park boasts beautiful views over forested mountains. Hike up its tallest mountain - Phu Chi Fa (1,442m) - to watch sunrise or sunset, and admire the sea of clouds below.
Best Beaches in Thailand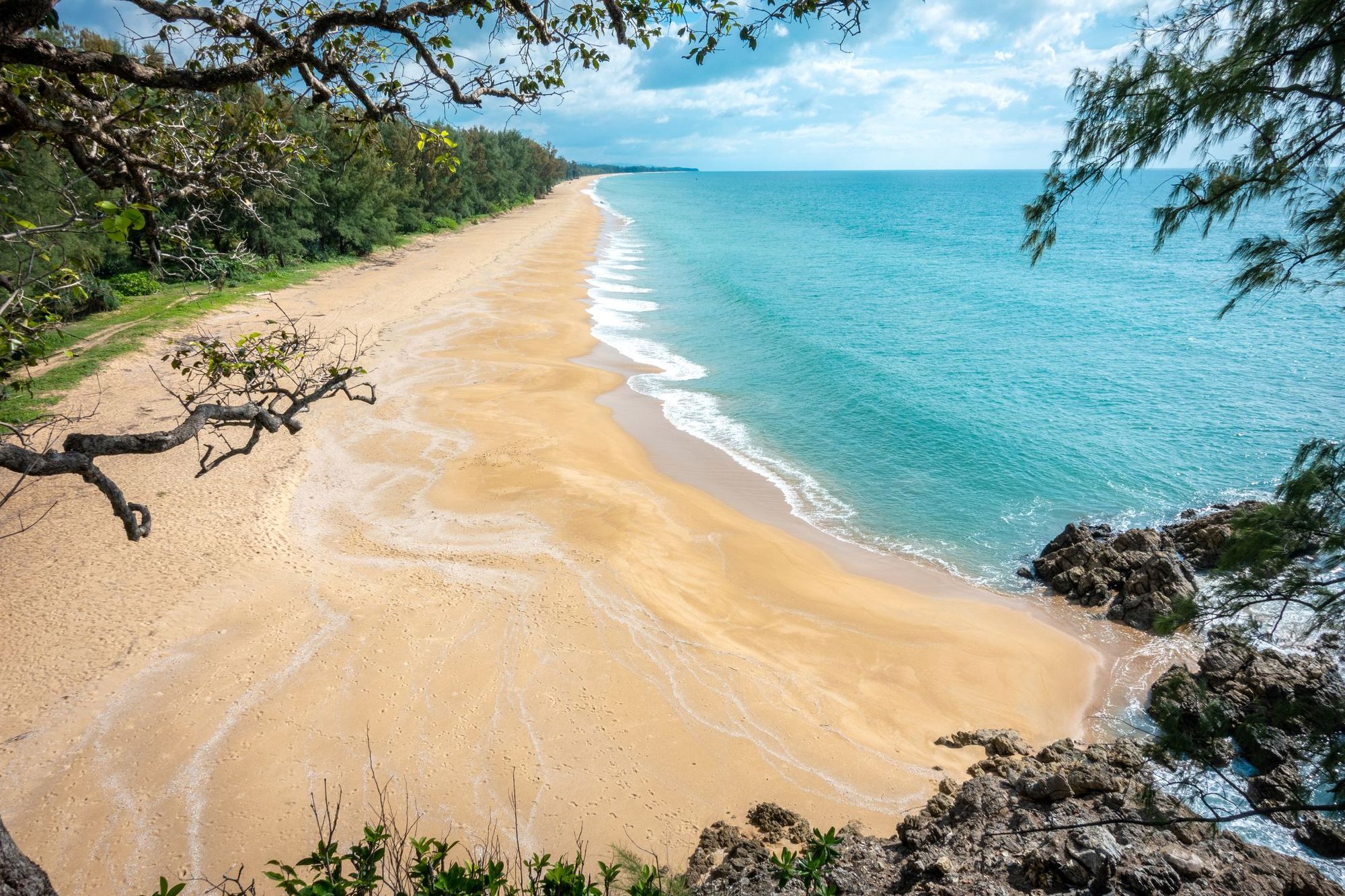 We're going to go out on a limb here, and assume you're the type of person who wants a beach abundant in natural beauty, rather than sunburned bodies. If that's the case, here's some of our favourite beaches.
Koh Phra Thong Beach: This tranquil island near Khao Sok has an entire west coast consists of powdery white sand, sloping gently down to the Andaman Sea. The shore is fringed with pine trees - the seeds were washed ashore during a tsunami, and then took root.
Sunset Beach:  This beach, on Koh Kradan is a serene bay enclosed by rainforest - as the name suggests, it's the ideal place to watch the sun set.
Koh Surin: A protected marine area boasting quiet beaches with some beautiful offshore coral reefs, which you can explore by snorkelling.
Mountains in Thailand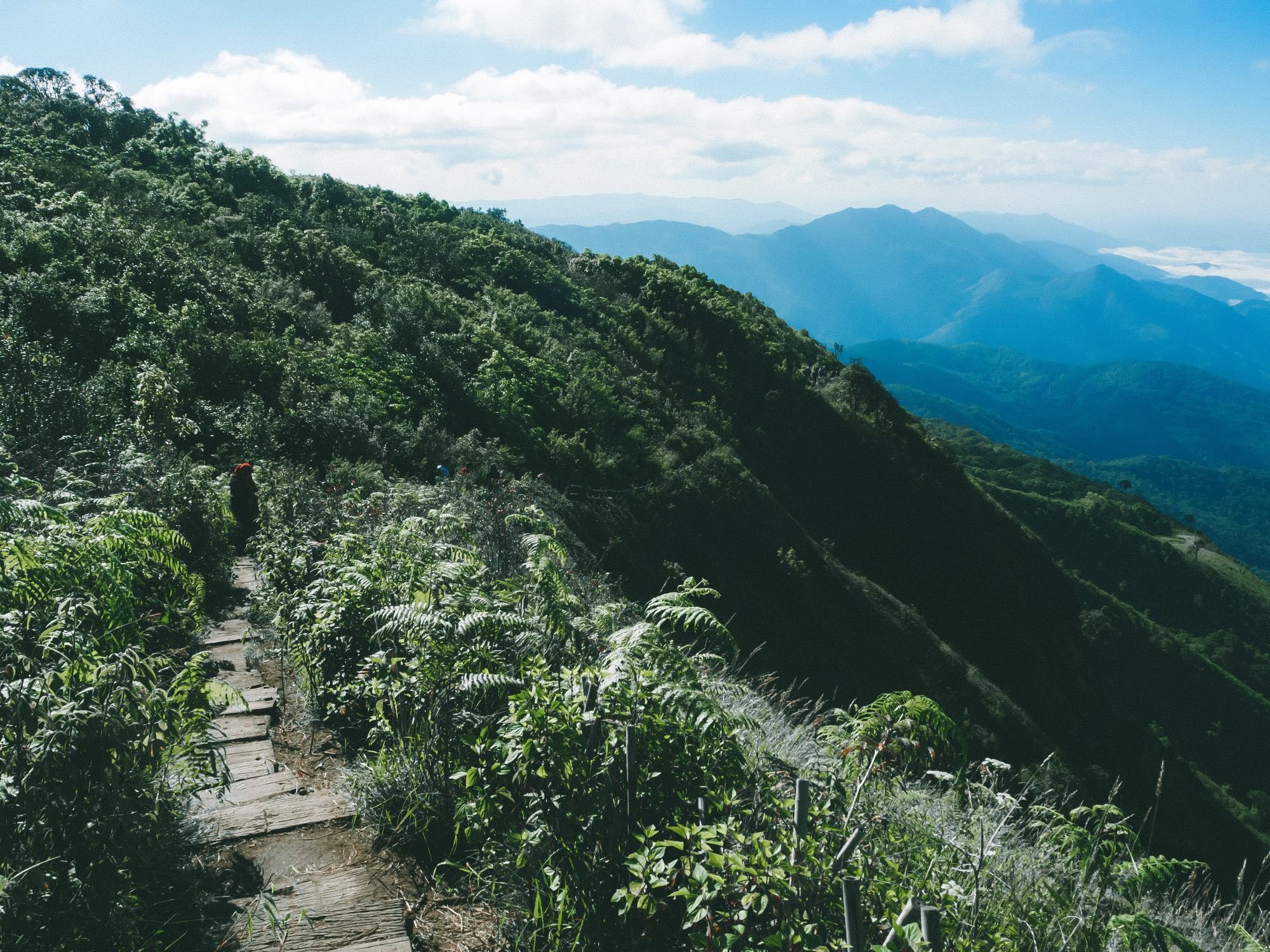 You won't find mountains as high as the Himalayas in Thailand, but there are plenty of soaring peaks for intrepid adventurers to tackle, especially in the northern highlands of the country.
Doi Inthanon (2,565m): This is the highest mountain in Thailand, but it's not really a peak for climbing - there's a paved road to the top, rather than hiking trails, making it a real challenge for bikers. Still, the view from the top is incredible, and there are several short hiking trails at the summit.
Khao Mokoju (1,964m) : Head to Mae Wong National Park to climb Khao Mokoju (1,964m), a rocky promontory surrounded by dense jungle. To get there you'll need to tackle Thailand's longest jungle trail, at 28 kilometres each way. The national park strictly control access, allowing only two small groups to climb a week, so make sure you book with a group well in advance.
Khao Chang Phueak (1,249m):  This name loosely translates as 'sharp mountain ridge' because, well, that's what it is. You'll scramble along the mountain ridge to a summit with epic views of the surrounding peaks and forest. Again, climber numbers are tightly controlled.
Outdoor Activities in Thailand
Hiking in Thailand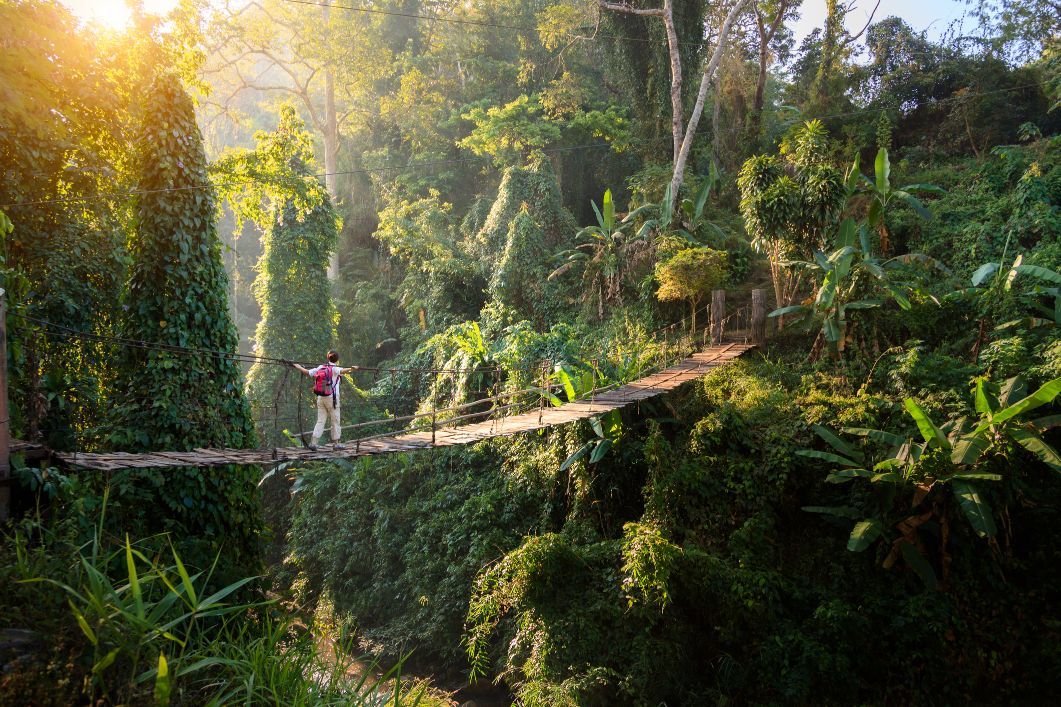 Thailand isn't necessarily renowned for its trekking, but it's all the better for it - there are plenty of untouched trails to be discovered. The national parks also make sure to control the numbers of hikers attempting certain summits and treks, which helps keep the environment pristine.
Huay Toh & The Tiger Temple: This hike in Krabi province ticks both the nature and culture boxes. Hike through the jungle to the beautiful Huay Toh waterfall, located at the base of Phanom Bencha mountain. After that, you'll be tackling the 1,260 steps to the top of the Tiger Cave Temple Complex, where you'll be treated to views of the islands scattered across the ultramarine Phang Nga Bay.
Khao Sok: If you're looking for a rainforest hike, look no further. If you head to Khao Sok's visitor centre, you'll find plenty of trails leading off the main track. But to go truly off the beaten path, we recommend finding a hiking trip with a local guide. They'll take you through impenetrable jungle to hidden waterfalls and spectacular viewpoints.
Doi Luang Chiang Dao: The third highest mountain in Thailand, at 2,175m, summiting Doi Luang Chiang Dao is the perfect trek for the intrepid hiker, taking you up through the forest and along mountain saddles to the summit. You can hire a local guide and even a porter to take you up the trail. We'd recommend camping along the trail overnight, and then ascending to the summit for sunrise.
Cycling in Thailand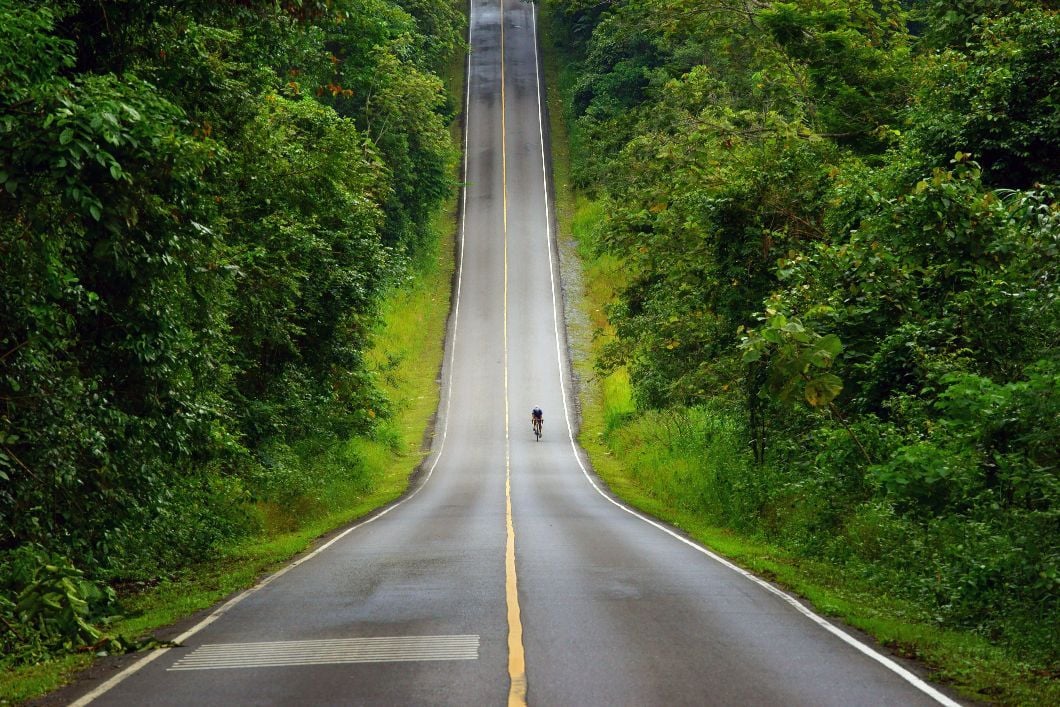 Thailand is a popular cycling destination, attracting both touring cyclists and mountain bikers. The mountainous Chiang Mai province is very popular with cyclists, both for its winding roads and its off-road trails, but there are plenty of options across the country.
Bang Krajao: When you land in Bangkok, cycling through Bang Krajao is the perfect acclimatisation ride. Known as the 'Green Lung of Bangkok', it's a small island just south of the capital, and includes the Sri Nakhon Khuan Khan Park. There are plenty of quiet streets and leafy walkways to explore on two wheels
Doi Suthep: Check out the MTB trails around Doi Suthep, which reach up to 1,600m in altitude. It's about 30 kilometres back to Chiang Mai from the top, taking you down downhill trails and dirt roads.
Khao Yai National Park: It's Thailand's first national park, a nature reserve of 2,000 square kilometres, criss-crossed with biking and hiking trails. The steep, greenery-fringed roads are fun too.
Diving in Thailand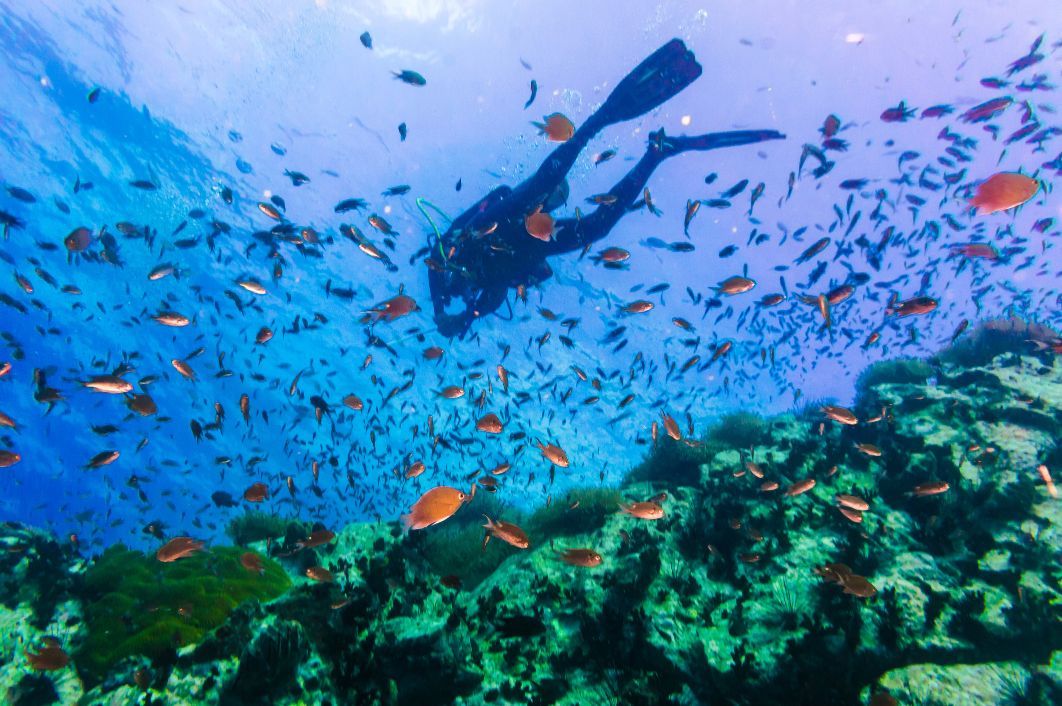 Thailand has two distinct diving zones: the Andaman Sea, on the west coast (which offers the best diving conditions from October through April); and the Gulf of Thailand in the east, which has the best visibility from May to September. Here's some of the best sites.
Similan Islands: Located in the Andaman Sea, the Similan Islands offer good opportunities to see manta rays and whale sharks. The archipelago boasts over 500 species of hard and soft corals, plus dive sites ranging from swim-throughs to canyons.
Koh Lipe: The waters surrounding this offshore island are home to around a quarter of the world's tropical fish species, alongside dolphins, minke and sperm whales. Enjoy diving through rocky formations, pinnacles and flourishing reefs.
Koh Tao: A popular pick for the Gulf of Thailand coast. The clear waters make it possible to see a wide variety of different fish, corals and more. Shallow waters and calm bays make this a brilliant spot for learning to dive.
Kayaking in Thailand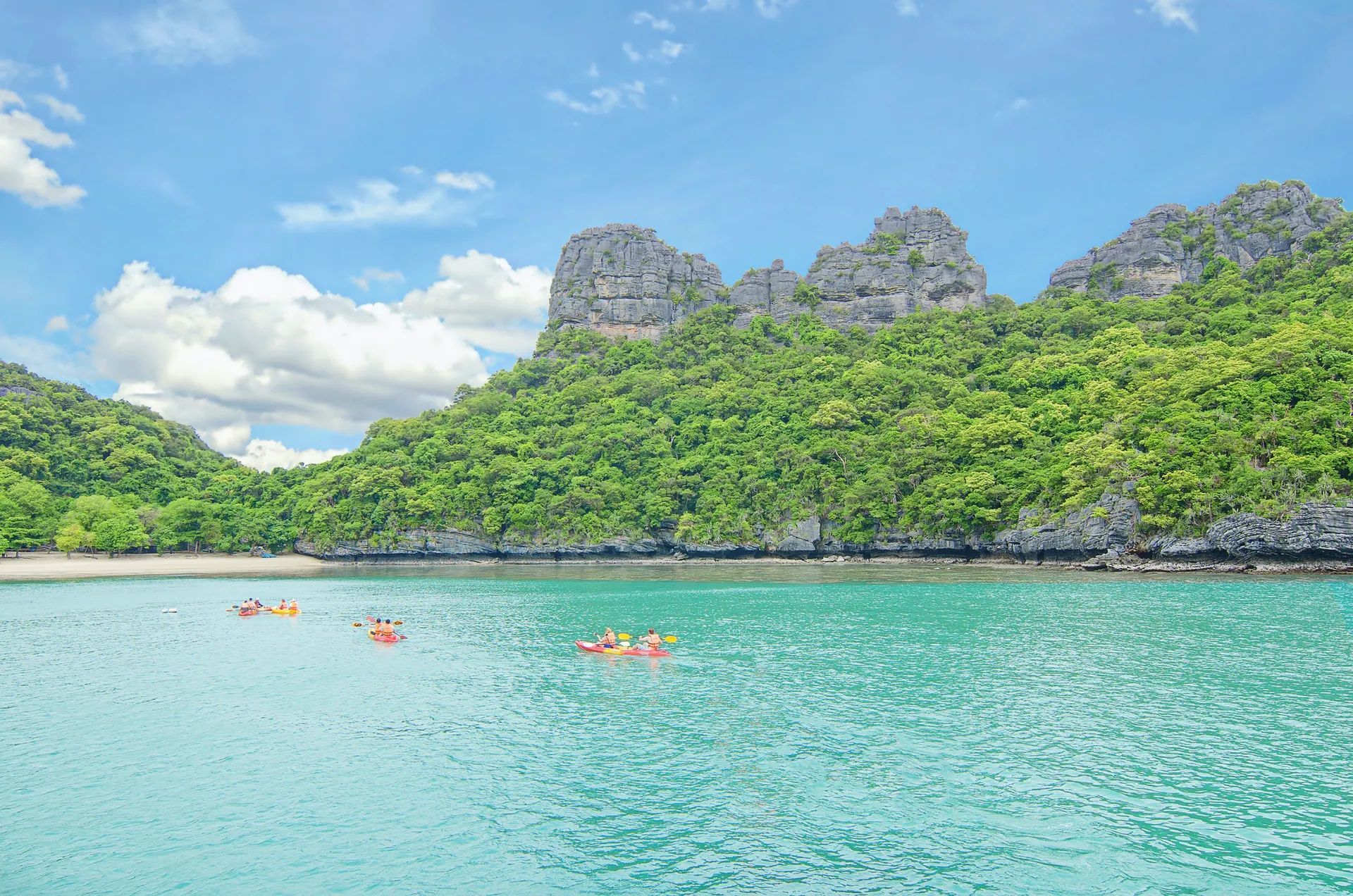 Kayaking is the ultimate way to explore Thailand's coastline, limestone islands and rivers. You'll be able to wind down smaller waterways, paddle through caves, and reach beaches untouched by tourism. Hire a guide to find these hidden spots.
Phang Nga Bay: There's plenty to explore in this island-studded bay. Head to one of the quieter islands, such as Koh Yao Yai, to paddle around its dense mangrove forests. You can even pull ashore for a hike. Panak Island is also worth a trip - it's renowned for its cave systems, and is home to monkeys that swim and catch crabs.
Koh Chang: This island in the Gulf of Thailand is a sea kayaker's dream, with plenty of rocky coastline, secret beaches and mangroves to explore. Launch from Bang Bao and head across open water to the aptly named Paradise Beach - we'd recommend going with a guide.
Sok River: This river cuts through Khao Sok National Park, and makes for a relaxing, yet intrepid, day of paddling. Wind your way down the Sok River, which is backed on either side by dense jungle and dramatic limestone cliffs.
Feeling inspired? Then check out our Kayak and Hike Wild Hike Thailand adventure, part of our new Comfy Sleeps collection.