The high peaks and their foothills appear in twelve states and include barren high-altitude plateaus, snowy massifs, alpine forests, steamy jungle, and more.
There are dozens of ethnic groups, religions and distinct cultures across the region: from the Islam and Tibetan Buddhism of Jammu & Kashmir to ethnic Nepali people in border areas and indigenous tribes in the northeast that share traits with Southeast Asian cultures.
The Indian Himalaya is diverse, wild in parts, and extremely beautiful. Perfect territory for some multi-day treks, and offering something for almost every kind of trekker. Here are some of the best.
Treks in the Spiti Valley, Himachal Pradesh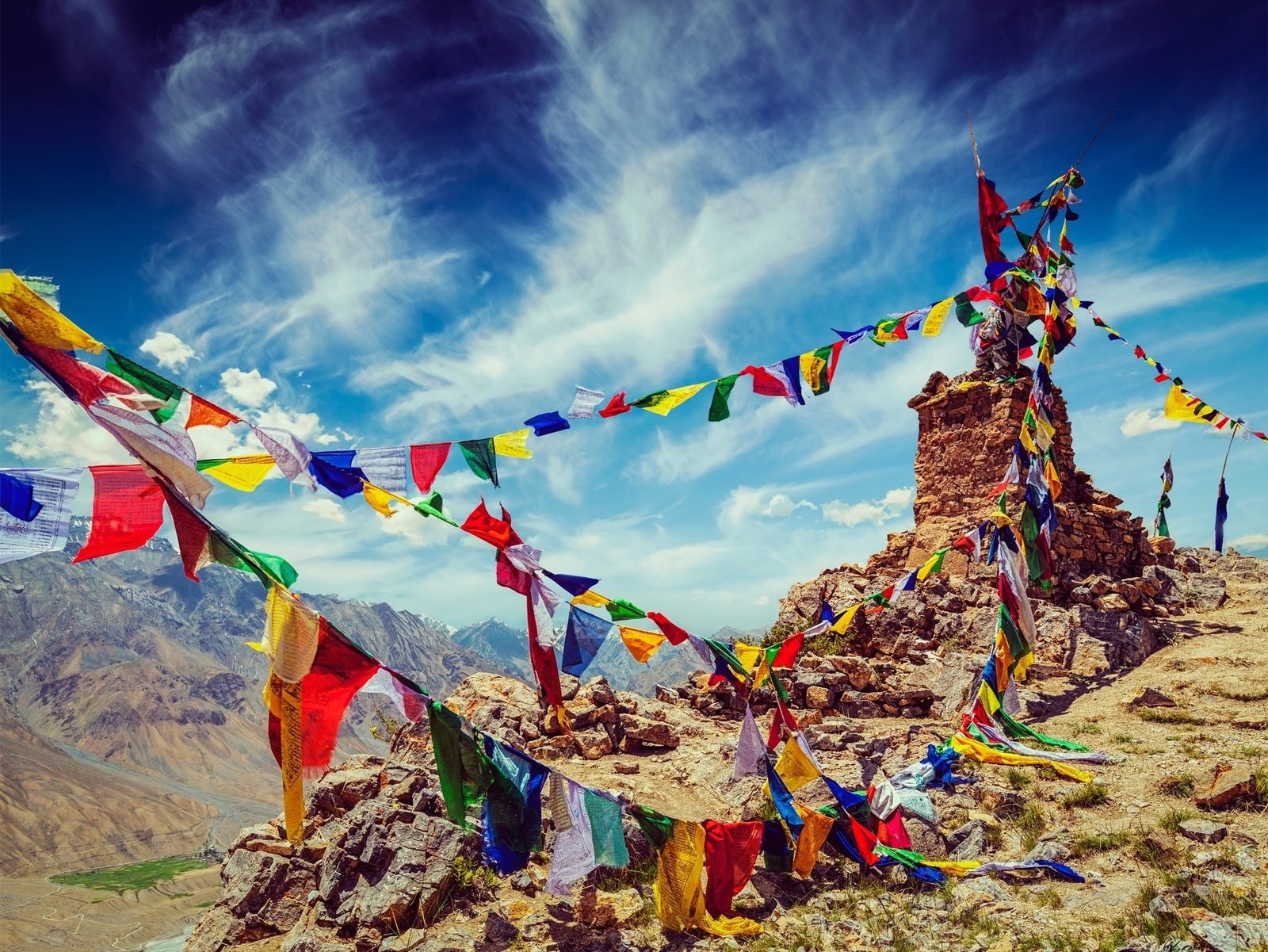 The hills and mountains of Himachal Pradesh are unlike much of the rest of India. Well, Spiti is also unlike the rest of Himachal Pradesh. Similar to neighbouring Ladakh and Tibet, Spiti is a dry, rocky, high-altitude desert, where the people mainly follow Tibetan Buddhism. You can see spectacular white-washed monasteries cut into cliffs or perched atop craggy peaks, with tangles of primary-coloured prayer flags sending mantras off into the wind. The Spiti Valley is located in the northeastern part of Himachal Pradesh, in the Lahaul and Spiti District, and can be accessed via the lively towns of Shimla or Manali, over rugged mountain roads. It's mostly at very high altitude; Kaza, the headquarters, is at 3,800 metres.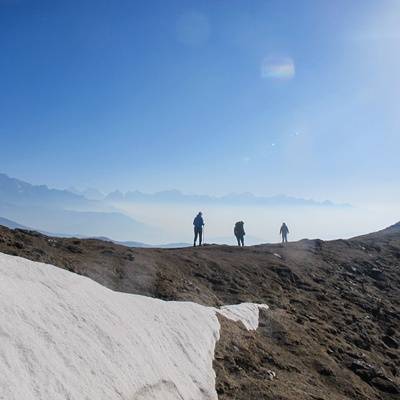 The Spiti Valley was once on a Manali-Ladakh trade route, so it has welcomed travellers for centuries. Highlights of trekking in the Spiti Valley are visiting tiny villages and homestays in this sparsely populated area; dropping into ancient monasteries (Tabo Monastery is around 1,000 years old!), experiencing the Buddhist culture, crossing high mountain passes, and pristine lakes. While trekking in high-altitude Spiti is much more comfortable if you are fit, treks here don't have to be too challenging as they can be as short as three or four days. Plus, treks in the region typically start with a few days of sightseeing by car first, to ease you into the area and help you acclimatise.
For a greater challenge, trekkers can opt to hike into Spiti via the Pin Bhabha Trek. It's a safer alternative to the more famous Pin Parvati Trek, and takes about a week.
The Singalila Ridge Trek, West Bengal
The Singalila Ridge is a part of the Indian Himalaya that runs from northwestern West Bengal to Sikkim. One of the best ways to see and experience it is from the town of Darjeeling, on a trek through the Singalila National Park. Darjeeling itself is famous for its tea plantations, and for growing some of the finest varieties of tea in the world.
The Singalila Ridge Trek culminates at Sandakphu, the highest mountain in West Bengal, at 3,636 metres. On the way, trekkers pass through alpine flora and fauna, with flower-filled meadows and thick forests. At Sandakphu, there's a viewpoint with spectacular views of the High Himalaya, including Kanchenjunga (on the Nepal-India border, 8,586 metres), Lhotse (Nepal, 8,516 metres) and Mount Everest (on the Nepal and Tibet border, 8,848 metres). About a week is required for a straightforward trek through the Singalila National Park. The people here are mostly ethnically and culturally Nepali, with groups such as Tamang and Sherpa people, as you'll find in Nepal.
The Markha Valley Trek, Ladakh, Jammu & Kashmir
Ladakh means the 'land of high passes' and includes parts of the Karakoram Range, as well as the Great Himalayan Range. While it's relatively straightforward these days to reach Ladakh by air from Delhi, the adventurous way is still to cross the high passes overland from Manali or Srinagar. But however you get there, once you are, there are a wealth of glorious landscapes to explore. One of the most popular trekking trails is the Markha Valley Trek, which is easily accessible from the capital, Leh.
The Markha Valley is wedged into the Hemis National Park, famous for having the highest concentration of snow leopards in the world. Trekkers may not see the elusive creatures, but they will find views of the Zanskar Ranges, hillsides streaked with green and purple from the minerals in the rocks, high passes to cross, remote Tibetan Buddhist villages, rocky canyons, and some challenging river crossings. This is a challenging trek best suited to experienced hikers and takes about a week.
Deo Tibba Trek, Himachal Pradesh
This is the second trek in Himachal Pradesh to feature here, but that's because there's so much variety and beauty in the state. As well as the dry landscapes of the western Tibetan Plateau around the edges of the state, Himachal Pradesh encompasses lush river valleys with thick forests and meadows that are a totally different kind of delight for the trekker.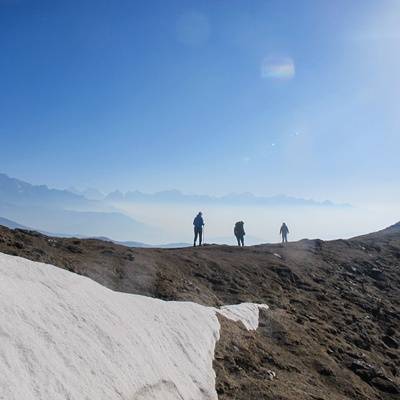 The Deo Tibba Trek is a good option for lesser-experienced trekkers, as it is not too hard but still spectacular. It's accessible from Manali, and takes a bit less than a week. On the way, trekkers will encounter the lush alpine landscape and oak and deodar forests, as well as pretty waterfalls and lakes, with a highlight being Chandratal Lake. The goal is to reach Deo Tibba Base Camp; the mountain is the second-highest in Himachal Pradesh, at 6,001 metres.
Talle Valley Trek, Arunachal Pradesh
Arunachal Pradesh is as far northeast as you can go in India. The state borders Bhutan to its west, China to its north, Myanmar to its east, and other northeastern Indian states to its south. It has been relatively inaccessible for a long time as it's necessary for both Indians and foreigners to get a special permit to travel there. It's India's least-visited state, but that means adventurous travellers will be rewarded.
The six to nine-day Talle Valley Trek, starting in Guwahati, is a great way to get to know Arunachal Pradesh. The Talle Valley Wildlife Sanctuary, where the trek ends, is a biodiversity hot-spot, and particularly exciting for bird watchers. The local tribespeople manage the area as community forests. The trek is not at such a high altitude (the highest point being around 2,400 metres), and is full of subtropical rainforest, making it significantly different from some of the other Himalayan treks that have made this list. It's not an easy trek, as the trails are often steep, slippery, and the weather wet and humid. But for trekkers seeking an uncommon Himalayan experience, the Talle Valley should be on their radar.
Check out our range of remote hiking adventures with only the best local guides and hosts.