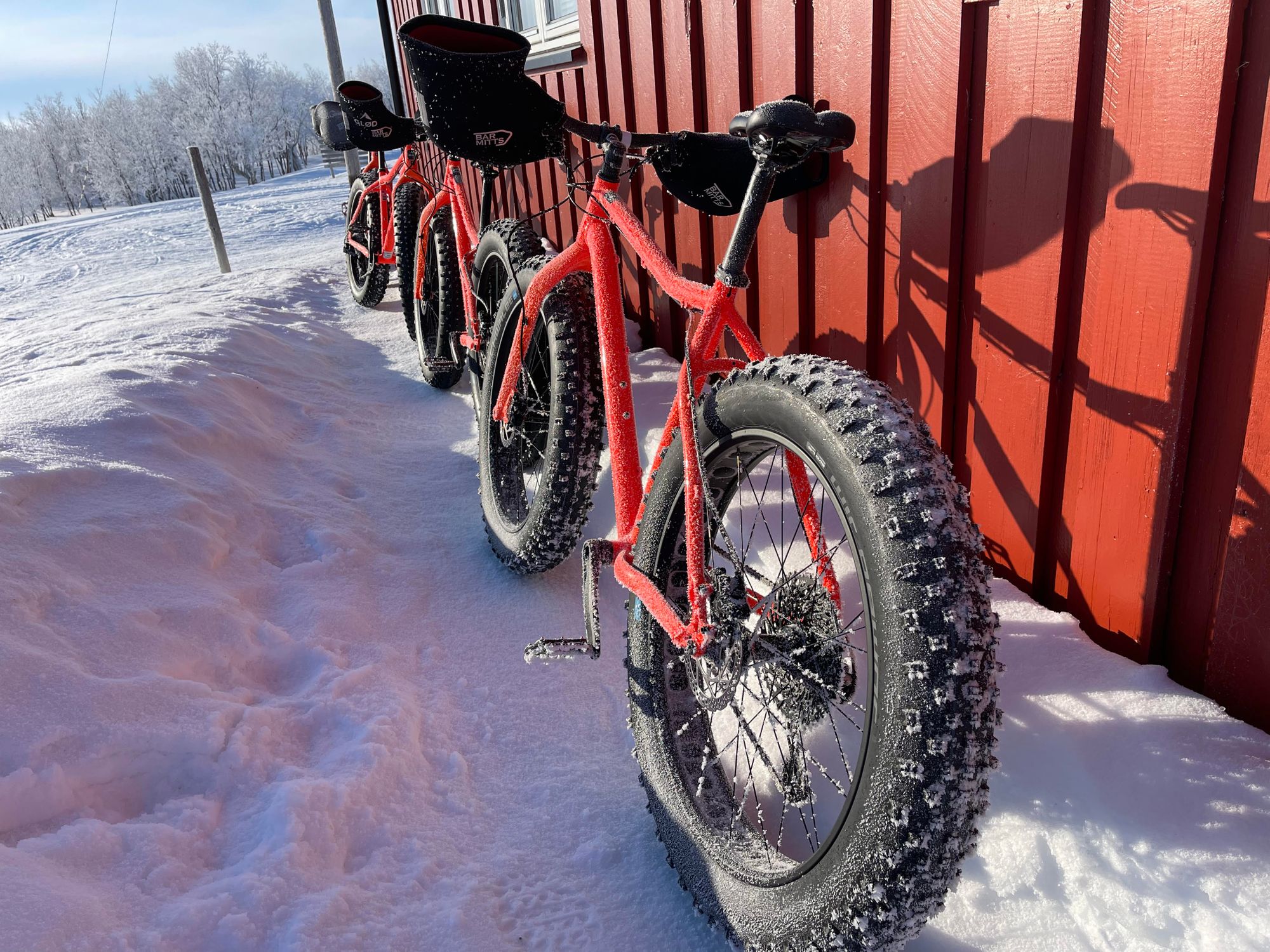 When we heard that Much Better Adventurer Andy Smith's Arctic Circle Fat Bike Expedition back in April was part of a series of cycling challenges he was taking on to raise money for disadvantaged kids, we couldn't resist catching up with him to find out more.
The fat biking expedition takes place in Norway's far north and involves riding the snowy trails of the remote Finnmarksvidda mountain plateau, home to the Sami people and within the Arctic Circle. "The cycling was tough at times," Andy confirms, "but manageable for someone of decent fitness with a bit of experience biking on soft ground. An amazing, amazing trip!"
In addition, when we speak to him, Andy has recently returned from cycling the mountain stages of the 2022 Tour de France route. It's his second experience of the course; his first was in 2018 when he cycled the full route of the Tour (as an amateur, a week before the pros). So, we assume he must be a pretty fit guy, really into cycling? Andy laughs. "Bear in mind, in 2016 I was walking with a stick! To ride all 21 stages of the Tour was a massive personal journey."
Andy confides that he had struggled with drinking for most of his life. "I had quite a successful career running various companies within the healthcare industry, and as with a lot of people, I kind of worked hard, but played hard. I got myself into a bit of a state, health-wise. I was in terrible shape. Mental health-wise I was in pieces and I very much struggled to get help."
"I found a lot of the traditional therapies for treating alcohol addiction incredibly negative - I felt like I'd never get over it, that I'd live a day at a time for the rest of my life. I never thought alcoholism was something I would ever get over. It cost me a marriage; it cost me a fortune."
I spent too long operating at 6/10 in my life, I want to get out, see the world, hit the road less travelled.
Fortunately, Andy hit a turning point about six years ago. "I was in the car and looking at myself in the rearview mirror. I was sick and tired of where I'd got myself to and I literally just asked the question out loud: 'Are you up for this?' Probably for the first time in my life, I said yes - and meant it. That set me off on a bit of a journey."
This realisation that he still had the capacity to choose a better life for himself and commit to the decision to change his ways led Andy to a reversal of his approach towards sobriety.
"I turned a lot of what I'd learned in the commercial world (in terms of coaching and influencing people) back on myself." Instead of focusing on the negatives of alcohol addiction, Andy used a more positive and hopeful mindset, creating a strategy that saw him set himself new life objectives and shift his focus to how living without alcohol could improve his life.
"It set me off on a mission, I guess. I was told this would be some kind of dark journey, and actually it's the best thing that I've ever done. I wanted to share that, so that's what I do now. I gave up the big career, I now help people. Before I came across Much Better Adventures, I'd said in the past that life is a much better adventure without alcohol driving the agenda all the time."
"You start to ask yourself an interesting question when you do something that you never thought was possible for you, which is: what else have I talked myself out of? What actually makes me happy, what fires my soul up?"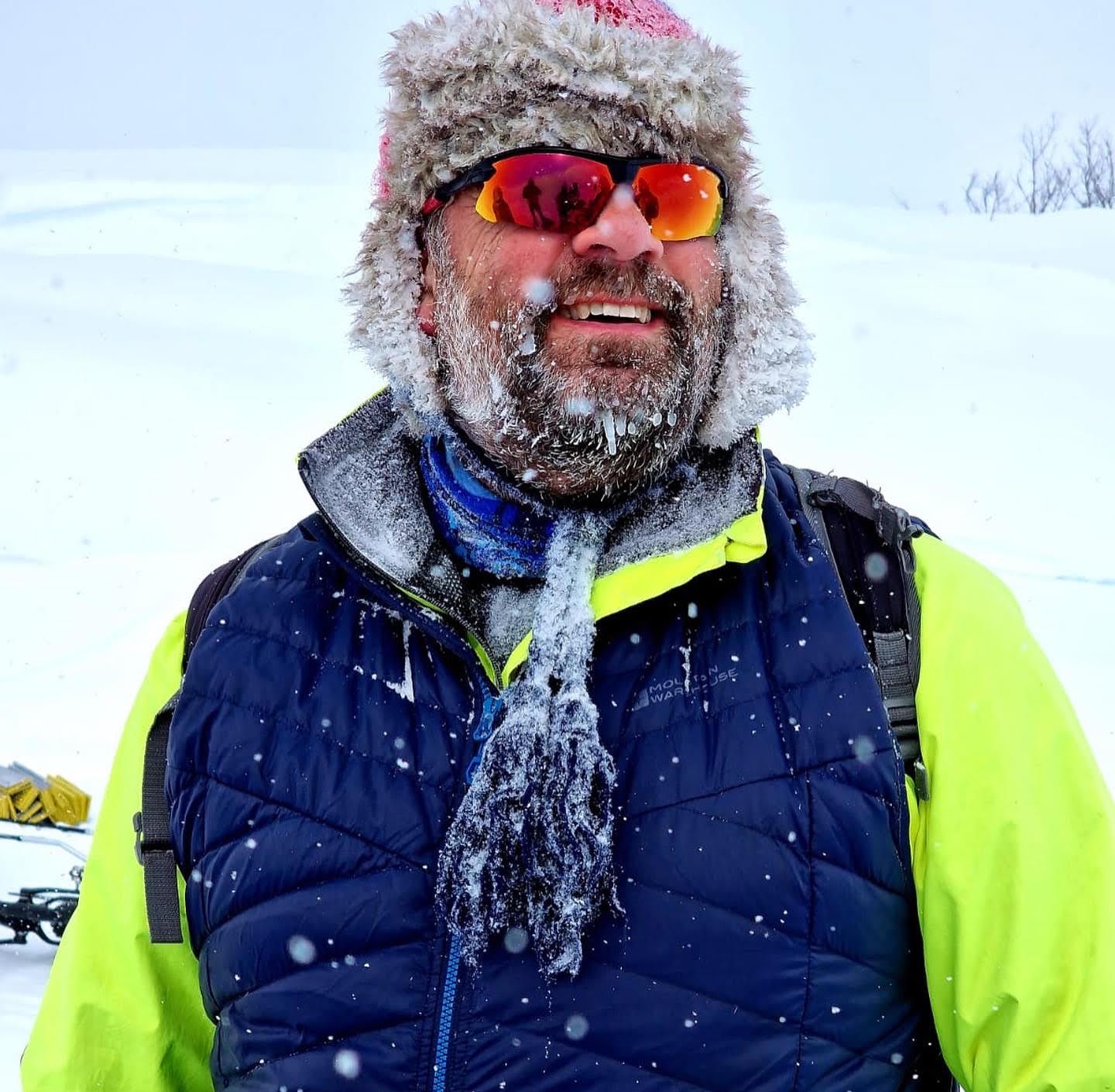 Andy elaborates on how he went from this situation to taking on the Tour de France route as an amateur cyclist.
"Sometimes, I think these things are not necessarily all that rational. I've always loved watching the Tour de France, I'd read a book about a guy who rode the entire course, and I just Googled it one day. There's a charity called the William Wates Memorial Trust that actually organise riding the Tour for their charity. So in 2018, I did that."
Andy began training in earnest and everything began to fall into place - he was granted a place on the charity ride and was donated a bike by a friend.
I was told this would be some kind of dark journey, and actually it's the best thing that I've ever done.
Andy explains that he finds that taking on physical challenges not only helps him personally, but allows him to demonstrate to other people who are struggling with alcohol addiction that things can be turned around. But doing these challenges to raise money for charity also adds an extra level of motivation.
"Finding new ways to enjoy my reclaimed health is a real passion of mine. Life's for living, and by doing these kinds of things it inspires a lot of people. When people are in that dark place, I know what it feels like, and sometimes you just need a bit of hope.
"I share this kind of stuff to inspire people who are on the journey that I've been on. It's to smash that myth, actually a life without alcohol is not worse - you're not the boring one. You can become the most interesting person that you know! Sometimes, people need someone to stand against that tidal wave of negativity. That's a big part of it for me. And also, it's good fun as well!"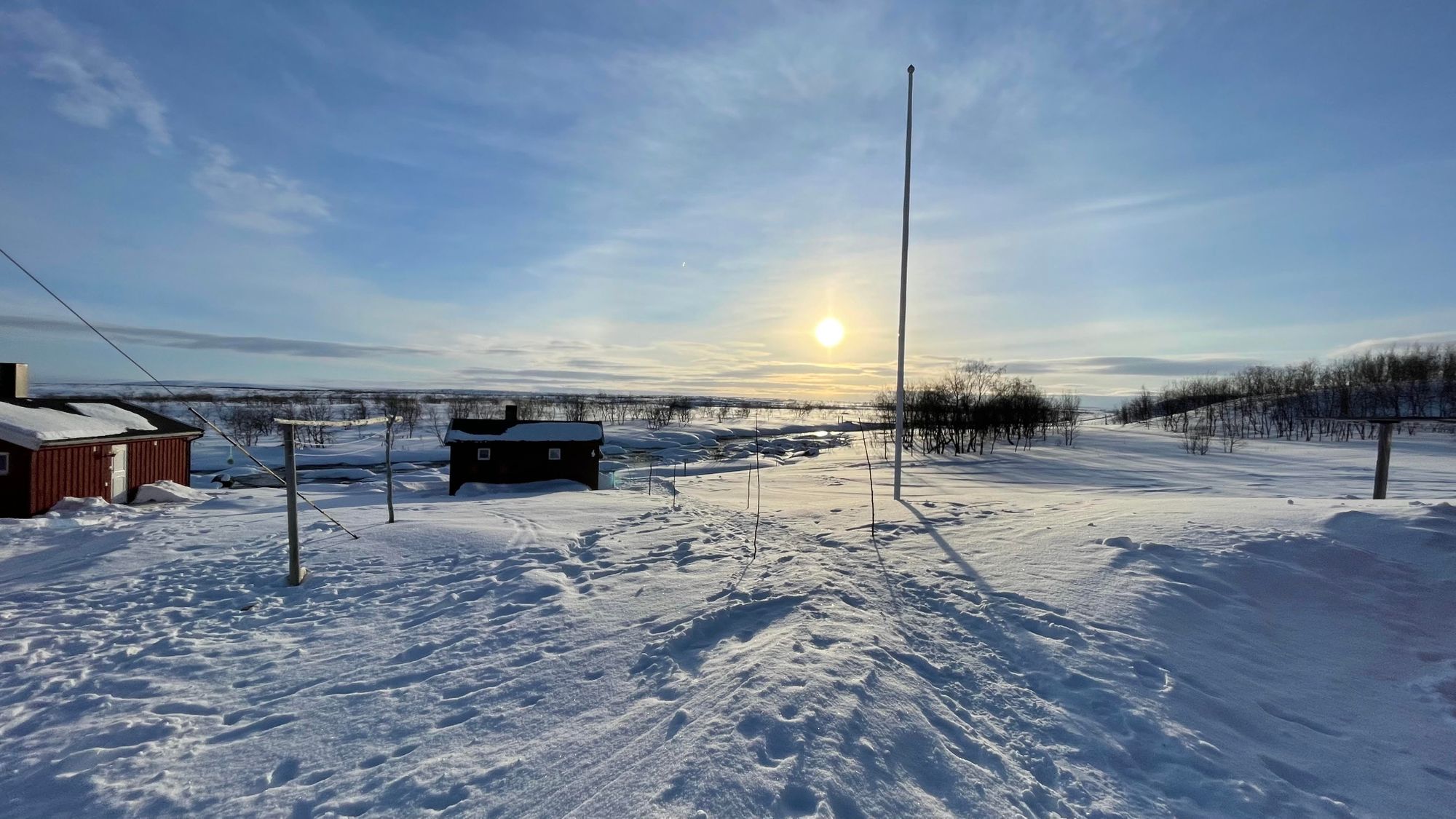 He continues: "One of the things I've learnt about myself on this journey is that I need to have something that is a focus, and charity related." His fat biking trip in Norway, as well as his recent push to complete the mountain stages of the 2022 Tour de France, was to raise money for an autism assistance dog for a little girl named Edee.
"It really holds you to account. I really struggled with the heat when I was out in France this last time. I met Edee afterwards and said to her, you kept me going up that mountain. I had your face there, else I would have given up, probably."
Nowadays, Andy is determined to live a more adventurous life. "I spent too long operating at 6/10 in my life, I want to get out, see the world, hit the road less travelled." This is a big part of the reason he went to the Arctic Circle. "There aren't many wildernesses left - to get out into a place where you just feel small and a bit insignificant, I find that extremely restorative."
As a lover of both cycling and snow, Andy shares some of his favourite moments from the adventure.
"Seeing the Northern Lights like we did was amazing. I grew up in the Shetland Isles so I've seen them every once in a while, but not like that. Standing outside at 2am in -11°c watching them was unbelievable."
"There were moments of peace and tranquillity we rarely get to experience in modern life. As we rode over the Finnsmarkvidda, gradually the sky started to lighten and then the sun came out. I let everyone get on as I took a picture and I feel it was just one of those moments, that you'll never, ever forget - the thing that struck me was the silence.
"I was just looking around and because it's so damn cold, all the humidity in the air turns to tiny little ice crystals, so I stood there in utter silence, and the air was sparkling around me. I actually started crying. I thought, 'this is utterly blissful'."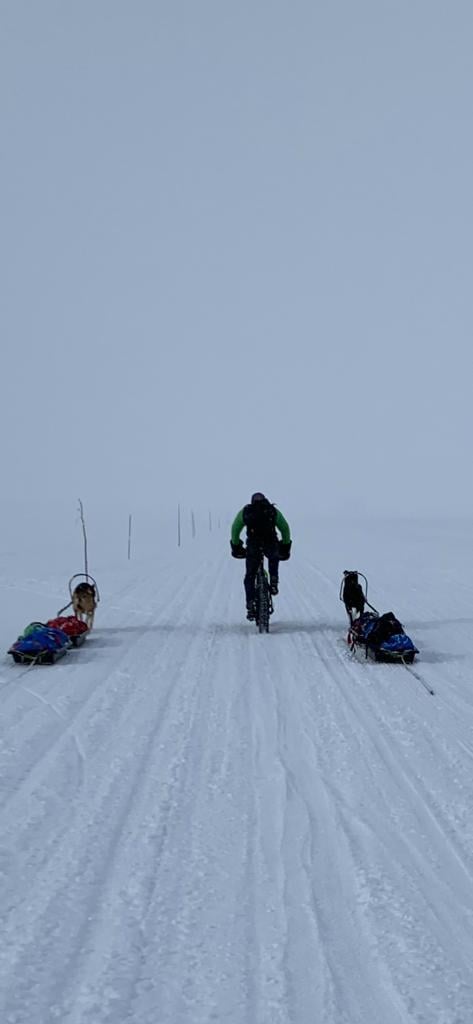 We ask Andy how he found cycling over snow trails, compared to the roads that he's used to. "The fat bikes take the tyre pressure down a lot, so it's a bit like riding a bike on a beach with two punctures! That's the best way I can describe it."
"At one point we were slogging along, it was a bit of a white out and you could just make out the horizon. I said to our guide, Trygve, 'We're nearly at the top of this hill now, aren't we?' He burst out laughing, and he said, 'We're on a lake, a frozen lake.' In my mind I was convinced we were going uphill, because we were having to work so hard, it felt like climbing, even though it was completely flat. And because everything is white, you have no frame of reference."
Andy plans to continue using his cycling adventures to raise money for charity.
"If there's one thing that I've learned from this journey," he says. "It's that if it feels good and right, kind of just... do it."
Inspired? Find out more about Andy's sobriety journey and his charity adventures. If you fancy an Arctic adventure, check out our full collection!