The sun sparkles on the Gulf of Salerno, a deep inlet of the Tyrrhenian Sea which washes up onto the picturesque marinas and beaches of the Amalfi Coast. Behind the crowds - swimming, nibbling on Cetara anchovies, sipping Aperol Spritz - rise the colourful houses and villas the area is famed for. Stacked on top of one another, they are punctuated by vineyards, olive and lemon trees, growing wherever they can find a spot on this rugged, vertical coast.
When the houses stop, bowing to the rough terrain of the Lattari mountains, the rocks continue to rise beyond. Green shrubs slope to sheer cliffs of dolomite limestone which rise to over 1000m, and form the backbone of Amalfi. On these cliffs lie hidden hiking trails, unbothered by crowds, which look back down on the Sorrento Peninsula - undoubtedly one of the world's most mesmerising locations, where intense natural beauty meets pure architectural wonder.
Dreamy visions of this coastline, and the wistful, care-free opulence that goes with it - clean white polo shirts and convertibles, soundtracked by the music of Piero Piccioni - attract around five million people to the Amalfi Coast each year.
For most people, that dreamy vision doesn't include traffic jams or queues, of course, but five million is a whole lot of people for a relatively small coastline.
The highest peak is Monte Molare at 1,444m, and it looks out to Naples, over the entire Sorrentine Peninsula and out to the island of Capri...
Choose hiking over sunny selfies, though, and you can get away from the crowds.
"Everybody wants to come to the Amalfi Coast once in their lifetime," says Valeria Cifariello, an Italian tourism expert, who grew up in a small town near Salerno, on the same coast, and founded Genius Loci Travel. "But if they don't book an active holiday, then they risk ending up in a queue - a queue to take a ferry, a queue to get on a bus, a queue of cars. The risk is that it becomes a nightmare."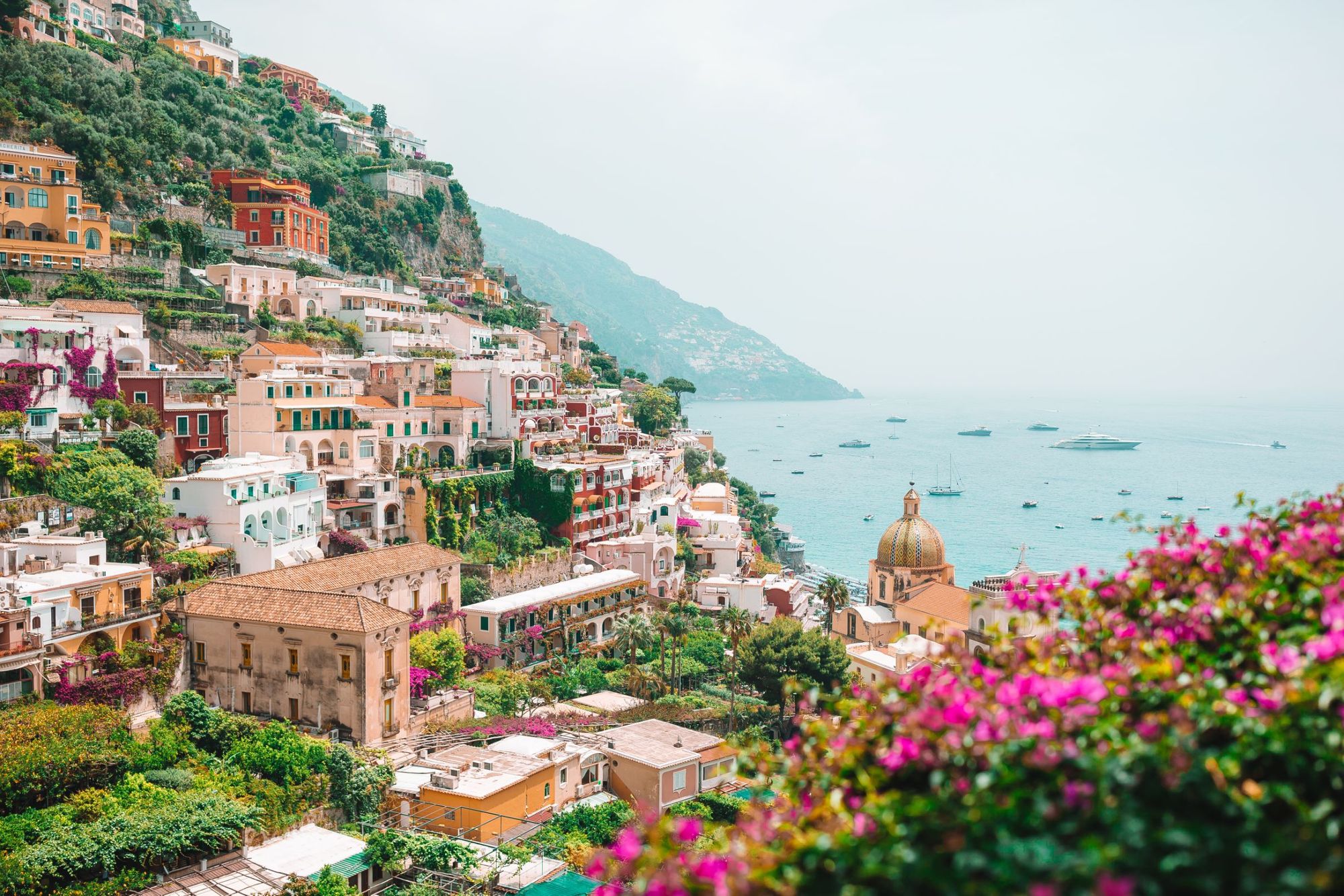 For context, Iceland had just over 1.7 million visitors in 2022. And the year-round populations of Sorrento and Positano, two of the most popular places to visit on the Amalfi Coast, are 16,609 and 3,942 respectively. The town of Amalfi is home to just over 5,000 residents - so annual tourism of five million is a serious influx.
The Amalfi Coast consists of 13 small towns, connected by one main road, the SS163, which runs 31 miles (50km) from Vietri sul Mare to Meta di Sorrento, and gets so busy that one one study described it as "tortuous" (despite the views).
Of course, tourism to the Amalfi Coast isn't new.
This coastline has been attracting upper-class Europeans since it became a stop on the Grand Tour - a circuit of foreign travel undertaken by young men to finish their education - back in the 18th century. The German poet Goethe visited in the late 1700s and wrote of it as "the land where the lemon-trees blossom".
But even when the American author John Steinbeck visited the Amalfi Coast on assignment for Harper's Bazaar 70 years ago - in May 1953 - mass tourism still hadn't taken root. "Positano bites deep," he wrote. "It is a dream place that isn't quite real when you are there and becomes beckoningly real after you have gone. Its houses climb a hill so steep it would be a cliff except that stairs are cut in it."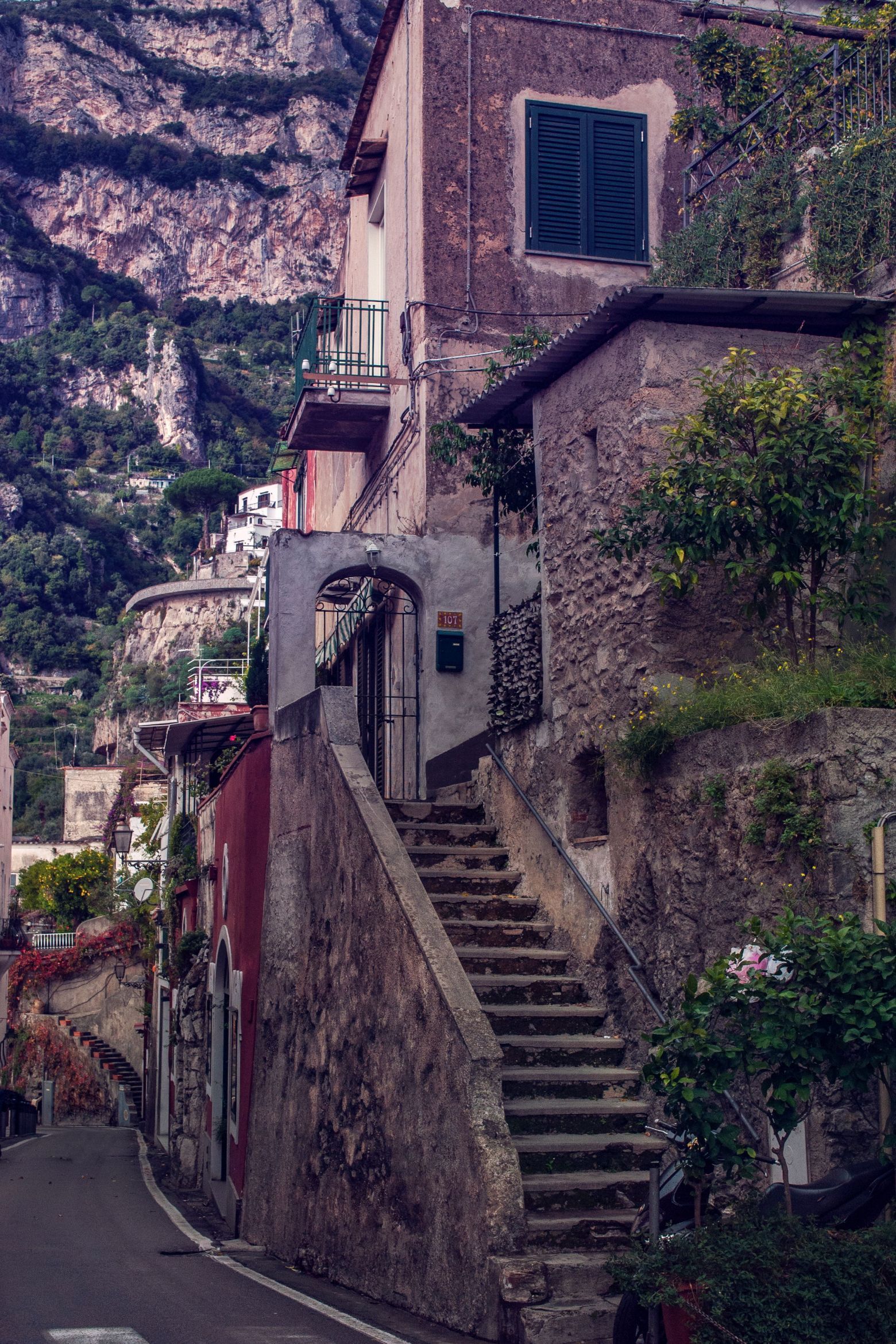 He goes on to describe the trades of the Amalfi Coast - shoemaking, carpentry "and a few arts and crafts", but notes "it would be difficult to consider tourists an industry because there are not enough of them."
Steinbeck was many things, but he was not a prophet. Today, tourism in the wider Campania region is worth more than €10 billion per year.
It's one of the best viewpoints on the entire Amalfi Coast, and yet most visitors don't even know it exists.
In the subsequent paragraphs, he goes on to note that there isn't the "slightest chance" of Positano becoming a tourist hotspot, writing:
"Positano is never likely to attract the organdie-and-white linen tourist. It would be impossible to dress as a languid tourist-lady—crisp, cool white dress, sandals as white and light as little clouds, picture hat of arrogant nonsense, and one red rose held in a listless white-gloved pinky. I dare any dame to dress like this and climb the Positano stairs for a cocktail."
Many have since taken up that dare. On Instagram, the hashtag #amalficoast has accumulated over 3.6 million posts. On TikTok, it's racked up more than 10 million views - many of the videos featuring ladies in cool white dresses.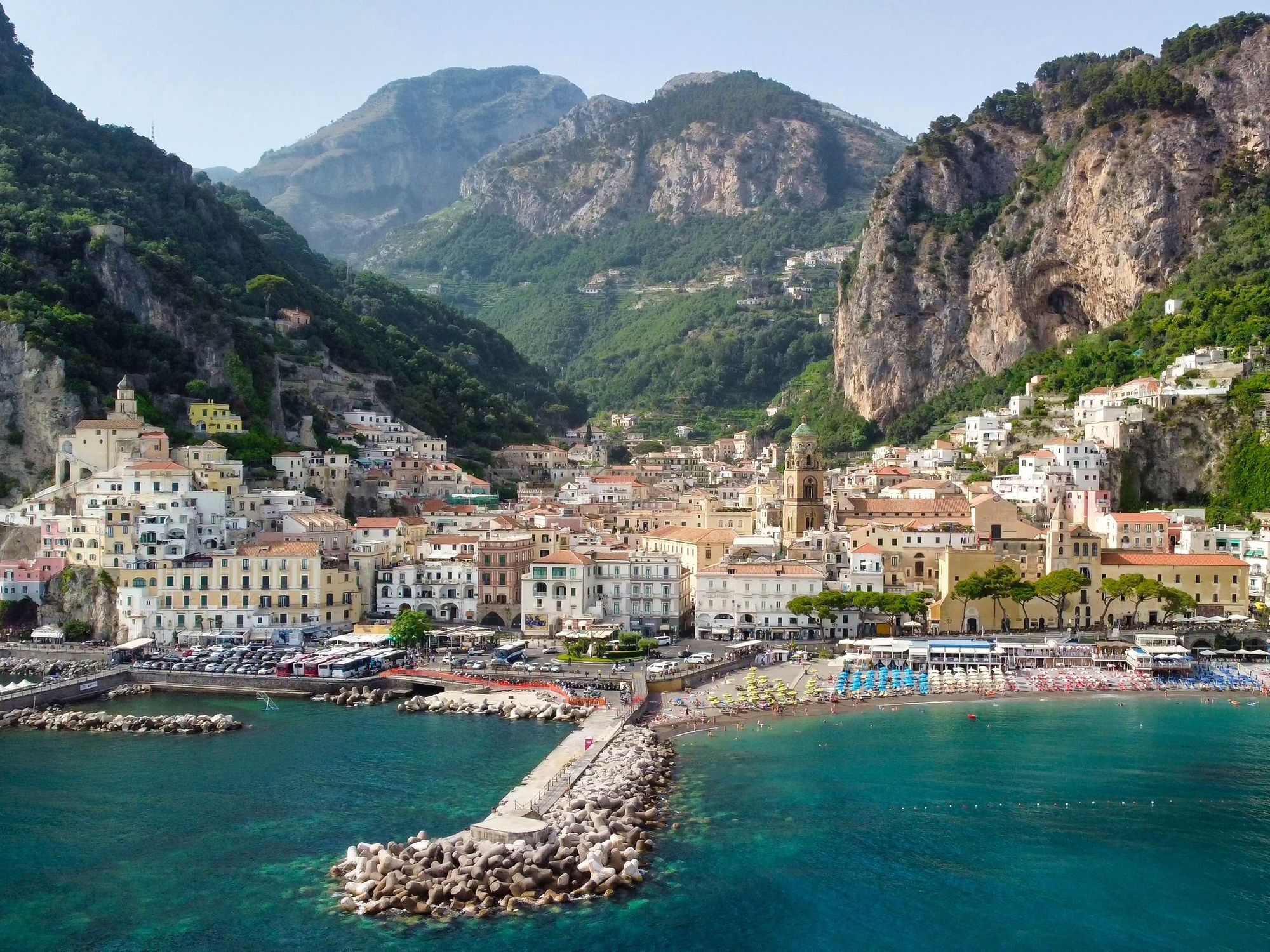 Now, the Amalfi Coast tops lists for destination weddings and honeymoons, for must-visit Italian beaches and bucket-list road trips. Glamour last year asked, in a comical editorial 'Why is everyone on the Amalfi Coast Except Me?' while Vox bemoaned that 'The Instagram capital of the world is a terrible place to be'.
Hotels have seen a surge in prices, and tourists outnumber locals by around 3:1.
New restrictions were implemented on a 21-mile (35km) stretch of the SS163 road last year to curb the notorious traffic jams. Cars with number plates ending in an odd number could only enter on odd-numbered days, and vice versa. In another town, the mayor recently introduced new "no-waiting" zones, in two of the most photogenic spots in town. This time the targeting is human crowds. Linger too long - between 10.30am and 6pm - and you could be fined €275.
The reason the policy only applies during the day (the same being true of the license plate rule) is that many tourists just come to the coast for the day - which one 2011 tourism paper describes as "not economically convenient [...] local communities are invaded without any attention and respect for their culture."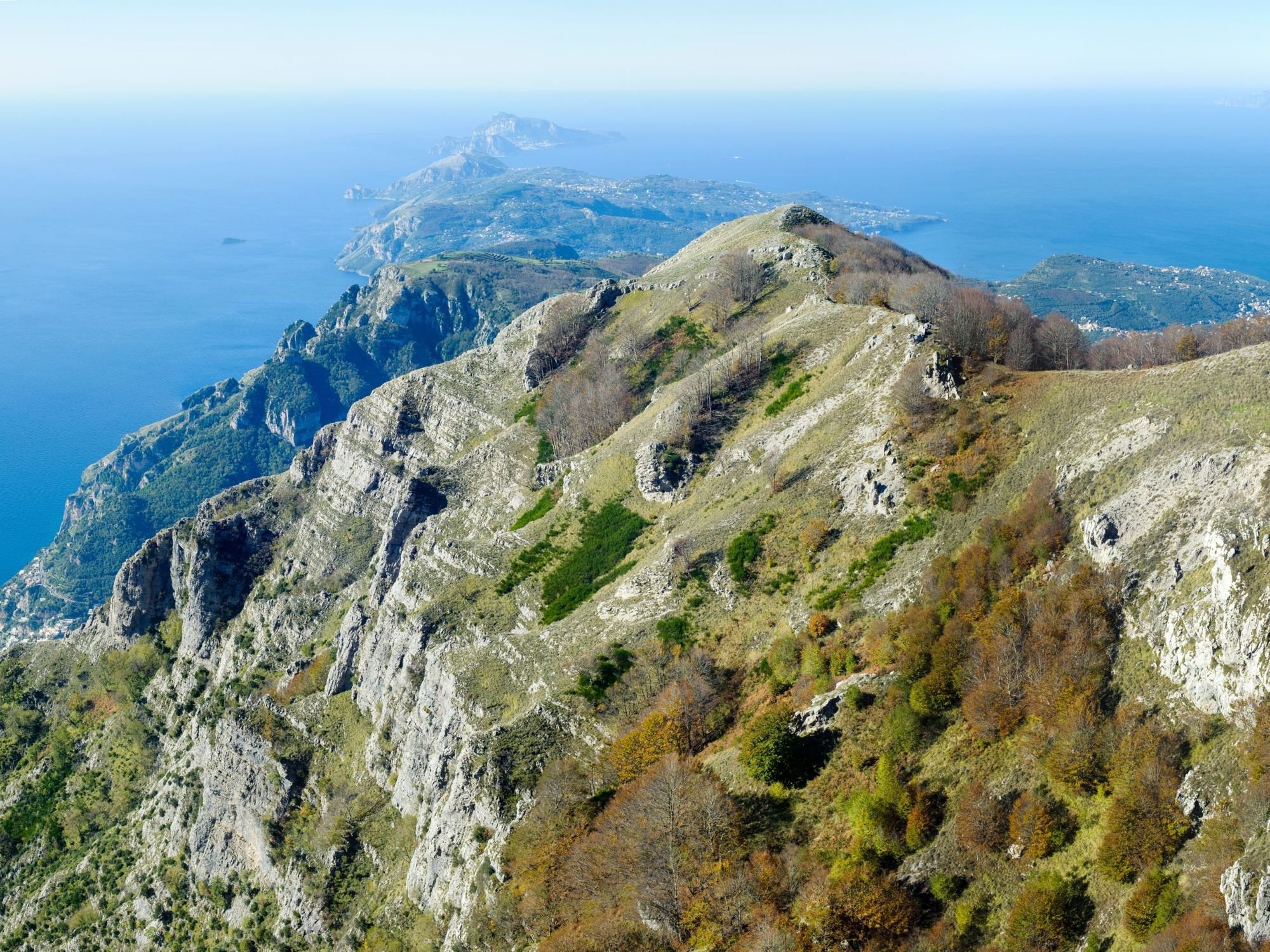 Tourists dream of sea, sun and silence, but by ignoring the quiet high mountain trails and opting for already-busy towns, they get queues.
"Since Covid, these most popular towns, Amalfi, Positano and Sorrento, are overpopulated with tourists," says Valeria. "20 years ago, these villages were less crowded, and not at all popular with hikers. Now it's just too crowded. I would say, just stay away from these places, unless you're coming in the off-season."
You walk a higher version of the Path of Gods - looking at the same viewpoints, but with a lot less people, and from even higher...
But it is possible to immerse yourself in the Amalfi Coast - you just have to get away from the crowds that all of those articles complain about, and head to the high mountain trails, which get notably less media coverage. Cifariello believes the key is to stay longer, seek out lesser-visited spots - and go out trekking.
"This is a world-famous destination now. But there are still these gems, off the beaten track," she smiles. "We're happy about that. There are so many paths - old, middle-age connections between small villages, and they're not busy."
These mountains make the Amalfi Coast so special, yet are still little explored.
"When you go on an active trip, you'll be walking during the day - and when you get back, most of the tourists will have left, and you can enjoy the towns."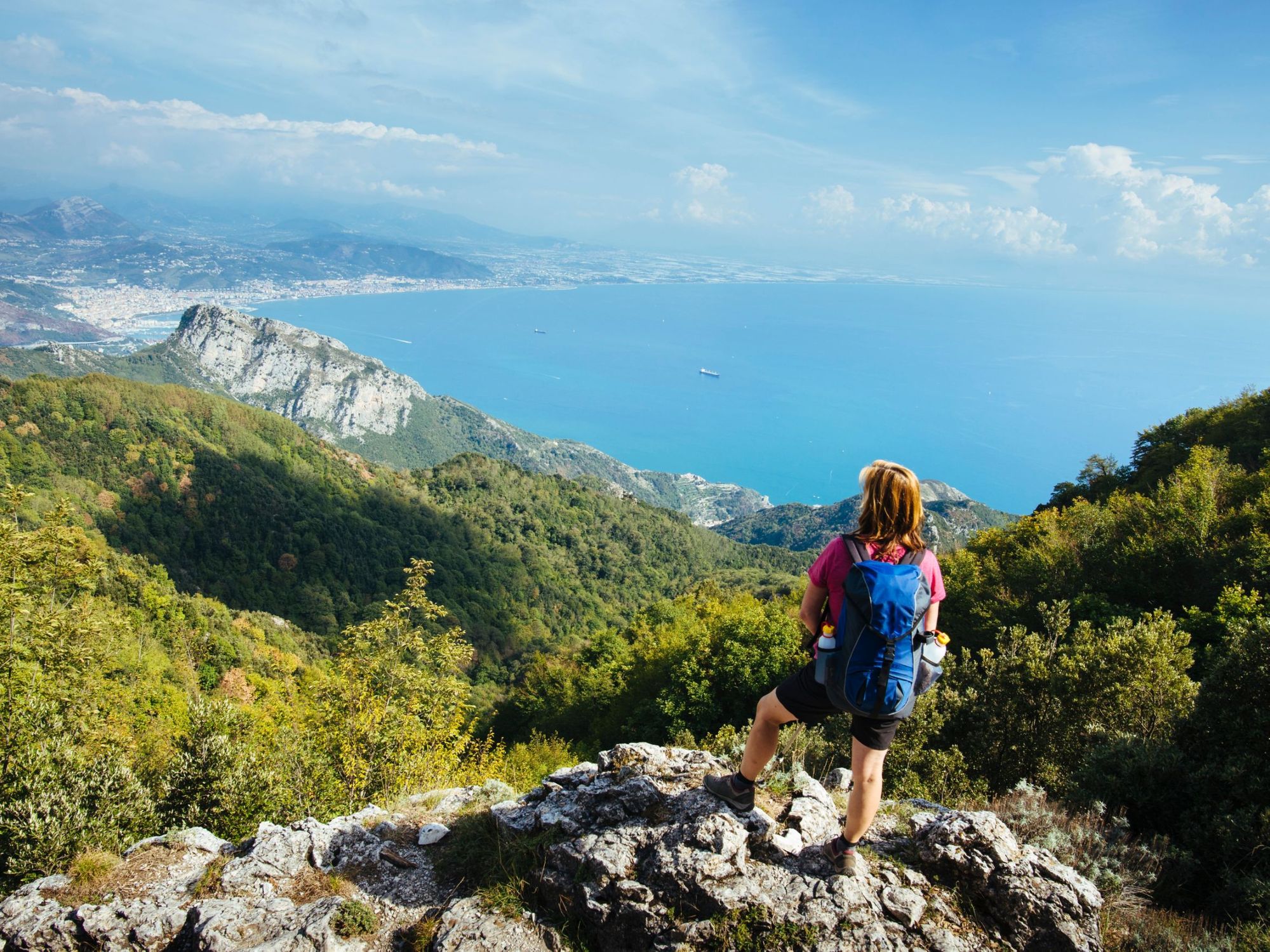 The most famous hiking route on the Amalfi Coast is the Path of the Gods. It runs five miles (8km) along an ancient mule route between Bomerano and Nocelle, above Positano and Praiano - with vast views out to the coast beyond - but for to truly get the best of this ancient path network, it's best to go even higher.
The Alta Via dei Monti Lattari route runs above both the towns - and the best known trails. The first stage ascends Monte Avvocata - reaching 1,104m which feels a lot higher with the ocean floor down below. Following a pilgrim route through golden chestnut woods, you can look out over the entire coastline from the Avvocata Sanctuary. It's one of the best viewpoints on the entire Amalfi Coast, and yet most visitors don't even know it exists.
"You have these small villages that are not so famous or touristic," says Cifariello. "But they are unbelievable, on these pretty inlets. This network of footpaths has existed since mediaeval times - connecting the villages, but at a higher altitude."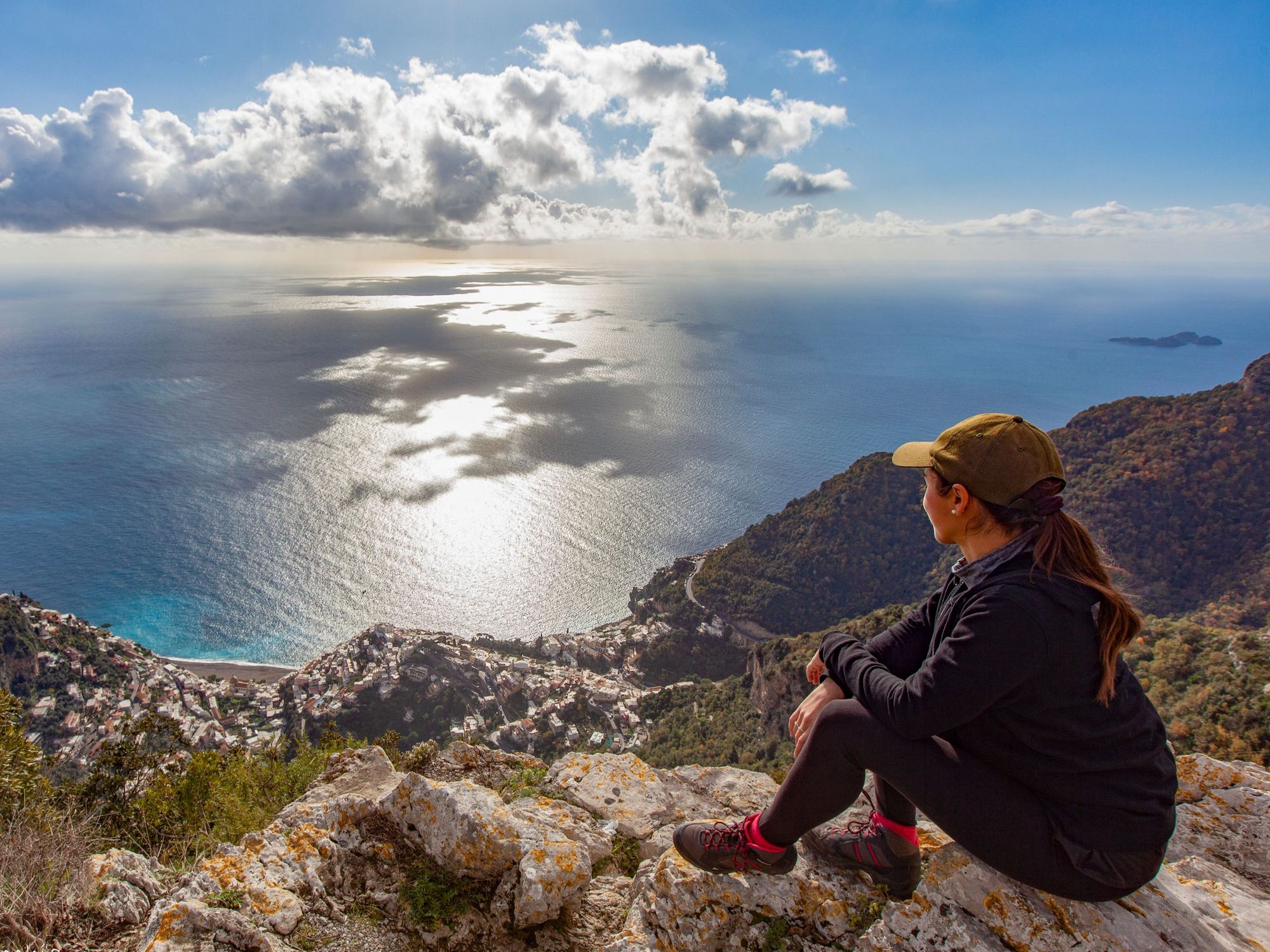 A 2011 paper on the Preservation of paths in the Amalfi coast agrees:
"The interior areas have much to offer to excursion and cultural tourism, but at present are no longer included among the usual routes, while coast cities are too crowded. Walking is the best way to observe, appreciate and preserve the places with their colours, sounds, perfumes. There are paths connecting all the cities."
Other routes include hiking to Valico di Chiunzi, on the ridge of the Lattari Mountains, and climbing to the second-highest peak on the coast, Cerreto (1,313m), for a viewpoint looking out to Mount Vesuvius and Naples. The highest peak is Monte Molare at 1,444m, and also looks out to Naples, and over the entire Sorrentine Peninsula and the island of Capri. Amazingly, this stunning mountain - and so many of the trails around it - is often completely void of tourists.
There are so many Paths of Gods here, along this coast...
Shifting the tourism from hotspots to the higher-altitude towns also means distributing the wealth of tourism, away from already-wealthy towns, to villages where the money will be felt. "This was our mission," says Valeria. "Our goal."
Cifariello designed a new adventure, in collaboration with the Much Better Adventures team, on these high routes.
"The Path of Gods is now famous, but there are so many Paths of Gods here, along this coast," Valeria says. "For example, we go from Agerola to Santa Maria del Castello, and you walk a higher version of the Path of Gods - looking at the same viewpoints, but with a lot less people, and from even higher. On this route you get the Genius Loci of the place. You get to feel the real spirit of this area."
The message is clear. If you want to beat the crowds and see the old Amalfi Coast? Remember to pack your hiking boots - and head to the mountains.
Inspired? Check out our new trek on the high trails of the Amalfi Coast, built in collaboration with Valeria Cifariello and Genius Loci!