The Arenal 1968 hiking trail winds through the Costa Rican rainforest. As you walk through the lush vegetation, you might hear the calls of howler monkeys, or catch sight of the aquamarine quetzal bird. Before long, you'll see black boulders heaped up on either side of the path, orchids and other vegetation poking up through the cracks.
You're walking across lava fields created by the eruption of the Arenal volcano in 1968. The trail has some excellent viewpoints of the volcano. As you peer through the foliage, you'll see its perfectly conical shape. Perhaps you'll see a wisp of cloud smudging the summit. Between 1968 and 2010 the volcano erupted regularly, belching smoke and flames into the sky. But before that, it had been dormant for centuries. So long, in fact, that the locals had forgotten it was even a volcano at all.
This is the story of the Arenal Volcano eruption of 1968, and how a quiet agricultural community became one of Costa Rica's top ecotourism destinations.
The History of the Arenal Volcano Eruption
For nine year-old Víctor Hugo Murillo, July 29th 1968 started in the same way as any other day. He woke up at his home, in the small Costa Rican town of Venado, and as usual, glimpsed Mount Arenal from his kitchen window. It was when he was in the grocery shop with his parents that things began to change.
The family noticed that it was getting dark. Then a nearby gate began to rattle.
"There was a hoarse, prolonged noise, similar to the turbine of a jet … that was not moving forward. It came from something that was still," Víctor explained in an eyewitness account for  La Nacion's Revista Dominical.
The earth trembled and the noise was deafening
It soon became apparent that Mount Arenal was erupting. Victor's first thought was that he'd be able to miss school. But excitement soon changed to fear as a premature 'night' fell and Arenal began belching ash, sand and fire.
"The blackish cloud was illuminated by red-hot fire and the sparks of possible collisions between the igneous rocks. The earth trembled and the noise was deafening. The "show" lasted something like six hours," he wrote.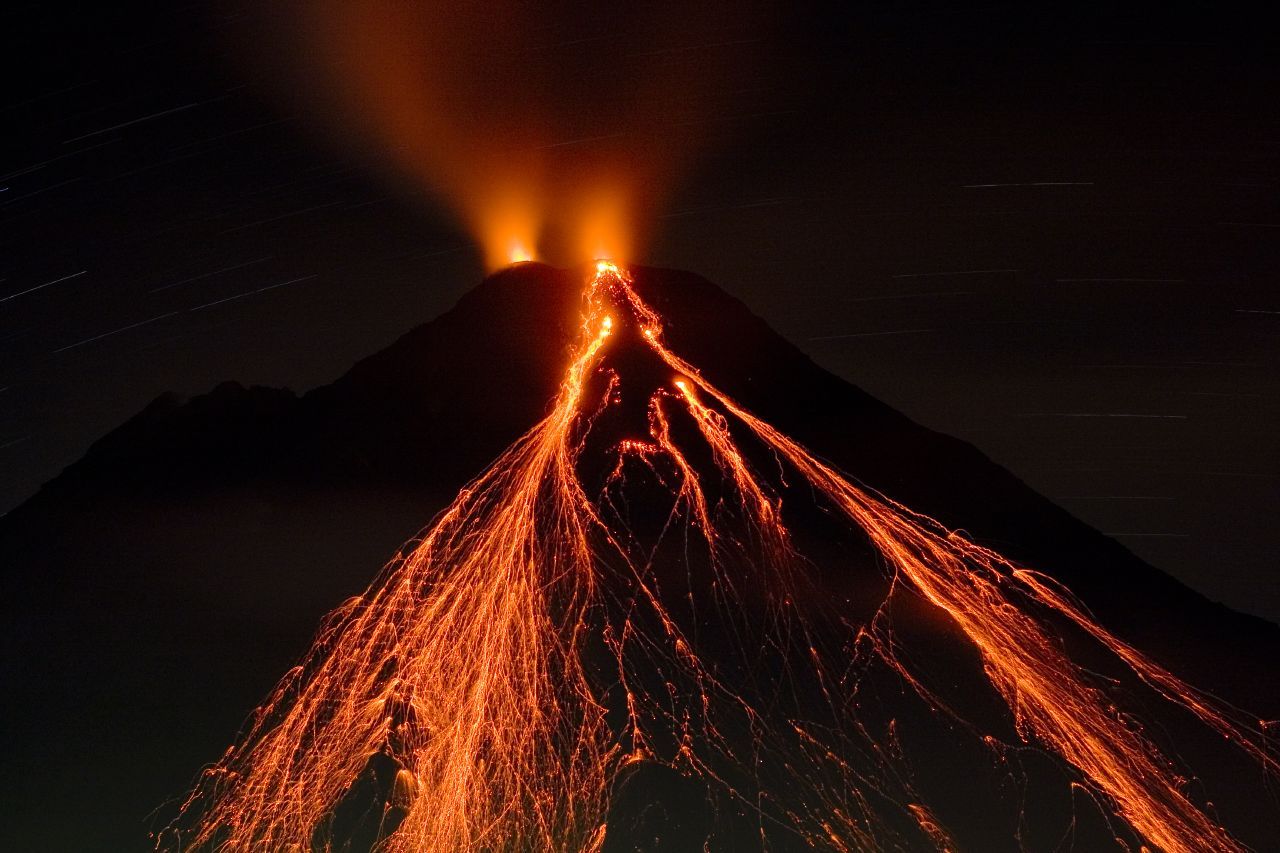 Venado, 12 kilometres north of Cerro Arenal, was thankfully spared the blast - the volcano erupted on its west side, forming three new craters, and the wind carried the ash and lava towards the south.
But not everyone was so lucky. The Arenal volcano eruption in 1968 destroyed 232 square kilometres of land, herds of cattle and important crops. It led to the deaths of 87 people, while three villages - Tabacón, Pueblo Nuevo and San Luís - were caught up in pyroclastic flows.
"The people of Pueblo Nuevo threw themselves into the River Tarrazon in an attempt to escape from the avalanche of lava. But the river, normally little more than a stream, was turned to a torrent by the eruption. Many people were cut down by falling rocks  and debris and were swept away [...]. Other people were choked or burned by volcanic ash," read an article in the Aberdeen Evening Express.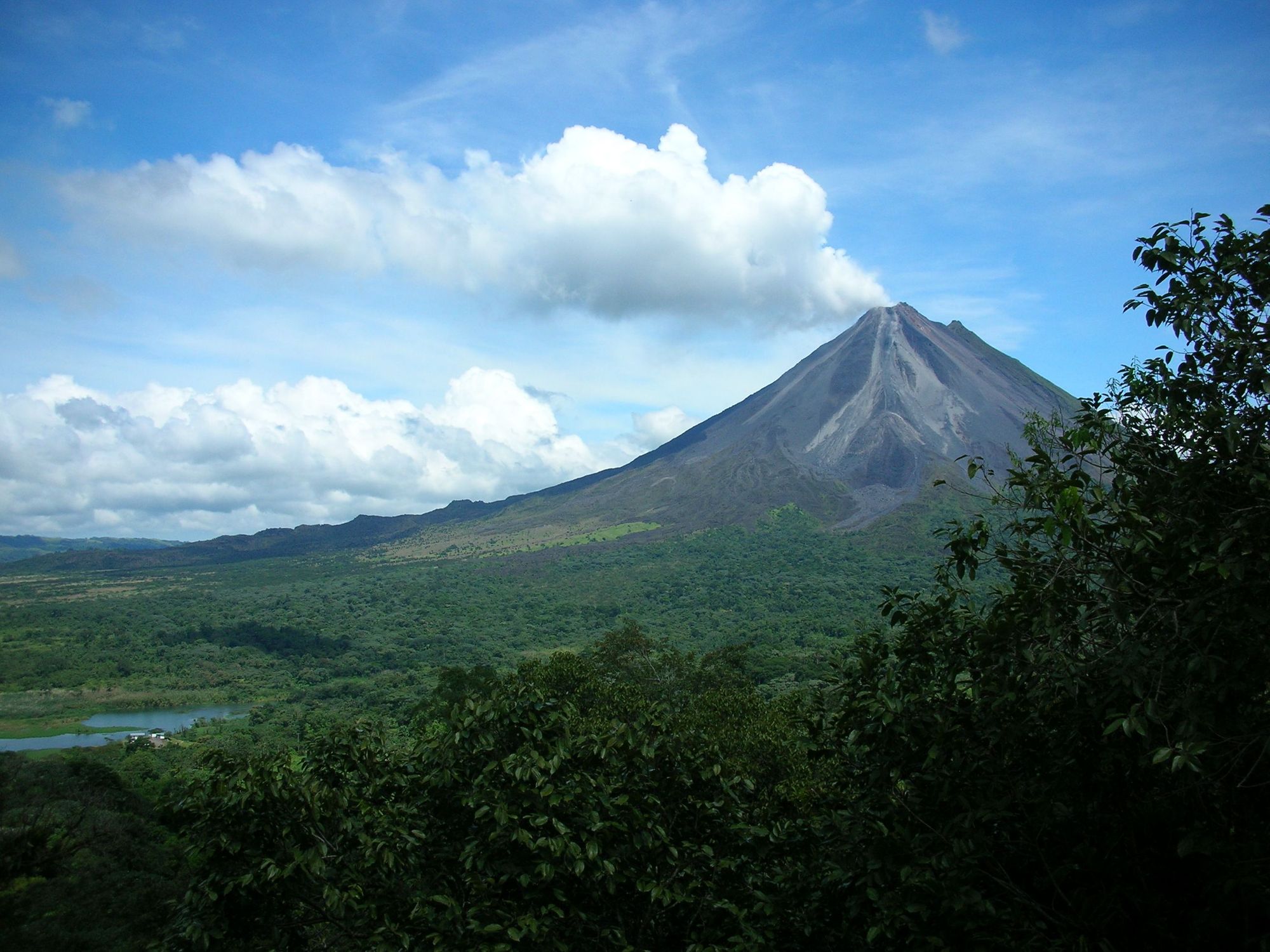 Was there any warning? The people living in the shadow of the volcano were completely unaware of its power, and considered it extinct. The radiocarbon dating of volcanologists has shown that prior to 1968, the last major volcanic eruption occurred in 1525; there were also eruptions in AD 1450, AD 800, AD 1, 800 BC, 1000 BC and 1800 BC. This suggests that Arenal exhibits cyclic behaviour, with a major explosive event followed by centuries of quiet. However, none of this data was available to people in 1968.
The first survey of the volcano occurred in 1965 by Instituto Costarriquense Electricidad (ICE), who were building a hydroelectric complex. An assistant surveyor reported some unusual phenomena. One was that the nearby Cedeno Lagoon had dried up, killing vast numbers of fish. Another was that the Tabacón River became so hot that cattle were unable to drink from it. The surveyor concluded that the volcano was entering an active phase. However, after hundreds of years of calm, nobody was expecting an eruption any time soon.
Arenal Volcano National Park Today
Between 1968 and 2010, the volcano continued to remain active - it's now lying dormant. Over those decades, there were numerous sudden, strong eruptions, although nothing as catastrophic as the 1968 eruption.
But from the ashes, something unexpected happened - sleepy Arenal suddenly became a site of global interest. Volcanologists came from all over the world to observe this active stratovolcano. Local landowners built cabins and small hotels to accommodate them. And it wasn't just scientists who were interested in Mount Arenal - tourists began flocking to it in droves, intrigued by the fiery sight of an active volcano.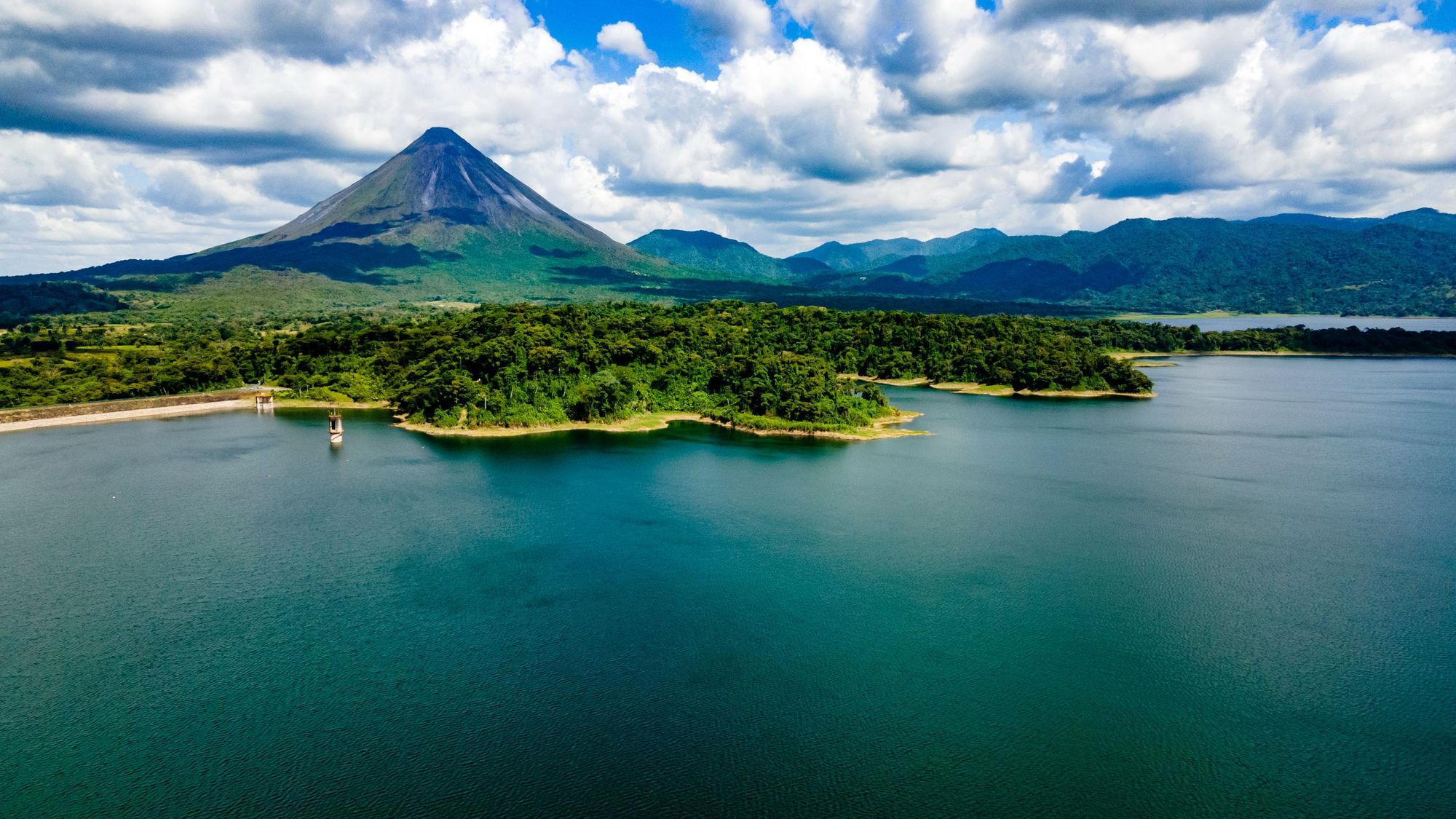 In 1978, the landscape was further changed when ICE tripled the size of Lake Arenal and built a hydroelectric dam, creating renewable energy to power 70% of Costa Rica. The lake is 30 kilometres long and 5 kilometres wide, and soon became known as an ideal destination for windsurfing and other watersports - another attraction bringing tourists to the area.
By this time, eco-tourism was taking off in Costa Rica, with efforts being made to conserve the country's naturally biodiverse landscapes and prevent deforestation. In 1991, the Arenal Conservation Area was established - it encompassed 16 reserves, including the Arenal Volcano National Park.
The Arenal Volcano National Park consists of 29,000 acres of rainforest, Lake Arenal and two volcanos - Mount Arenal (1,633m) and Chato (1,140m). It's home to over 120 mammal species, 300 bird and 2000 plant species. Unsurprisingly, it has become a hub for ecotourism, with visitors coming to experience this biodiverse environment, climb volcanic slopes and kayak Costa Rica's largest lake.
The Arenal 1968 Trail and Other Arenal Volcano Hikes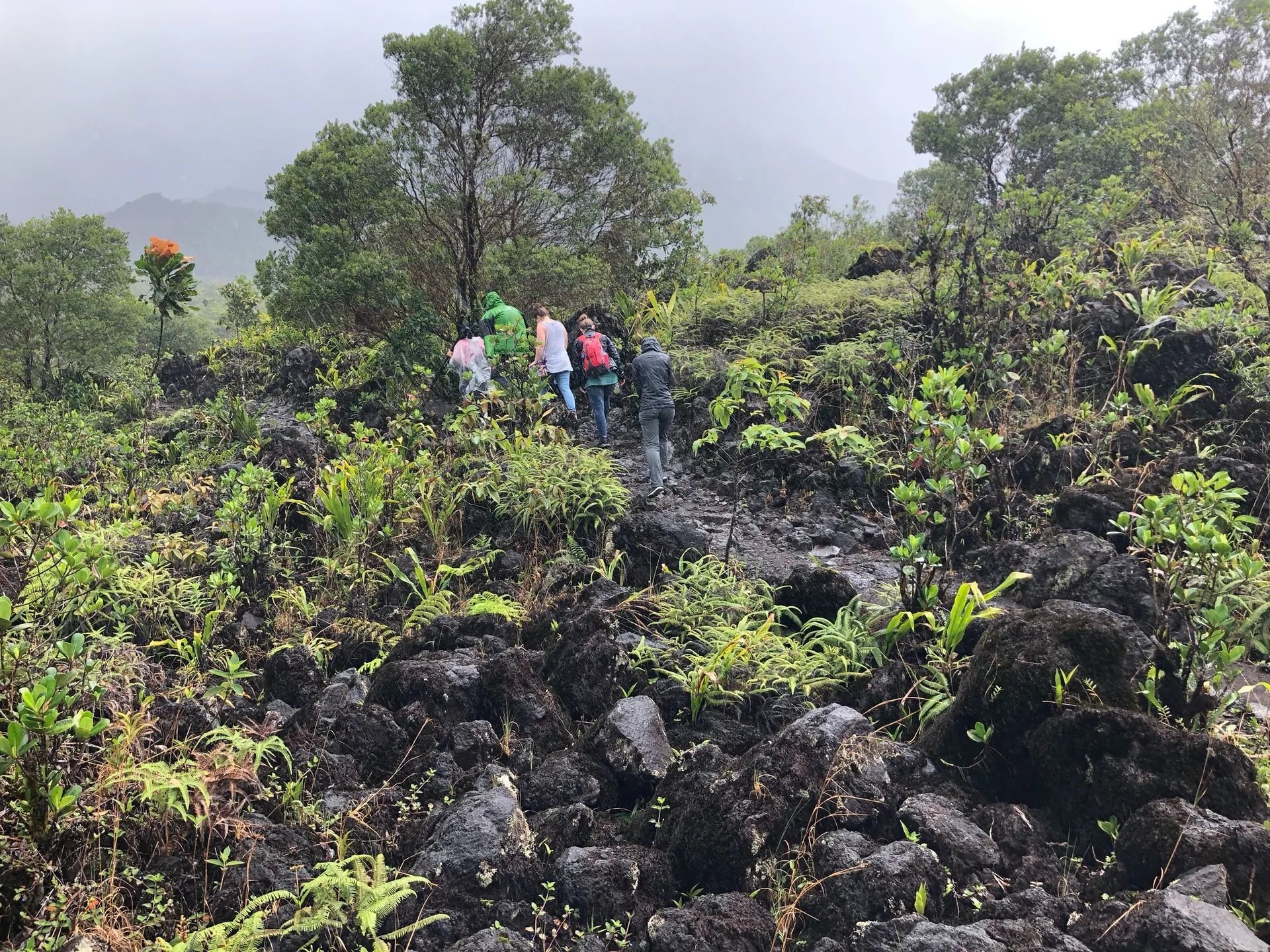 There are some fantastic trails throughout the Arenal Volcano National Park. The most well-known of these is Arenal 1968, which traces the path of devastation wrought by the 1968 eruption. You'll skirt the volcano's western flank, crossing lava fields where the rainforest is beginning to regenerate. You'll get brilliant views of both Arenal and Chato. It's worth noting that there aren't any hiking trails up to the summit of Mount Arenal, in case of another eruption.
Arenal 1968 is 2.5 kilometres long, and takes an hour to complete. For those looking for something a little more challenging, the Bosque 1968 trail is a better bet. This 4.5 kilometre trail takes two and a half hours. You'll be hiking through the rainforest and past Lago Los Patos (a small lake formed by the eruption), before hiking uphill to a viewpoint of the volcano and joining back with the main route.
Another option is to head to Mirador Silencio, where there are a variety of rugged, more off-the-beaten track trails. This includes The Peccary Trail, which takes you on a muddy track through virgin rainforest - so named because it's a great spot for seeing collared peccaries (animals similar to wild boar).
After you've had a hike, soothe your tired muscles with a dip in one of Arenal volcano's hot springs. Because of the area's geothermal activity, there are now several in the area. Many thermal pools are attached to hotels and eco-resorts, and offer multiple pools, water slides, adult-only areas and saunas. If you'd prefer something more au naturel, head to Río Chollín (also known as Río Arenal), a geothermal river frequented by the locals.
Feeling inspired? To visit Arenal Volcano National Park, check out our Ultimate Costa Rica Adventure!