The latest stretch of the England Coast Path - officially now called the King Charles III England Coast Path - has now opened. It runs 38 miles (61km) from Bamburgh, on the Northumberland coast, north up to the border with Scotland - via some of England's finest castles and coastline.
The route runs through Northumberland Coast Area of Outstanding Natural Beauty (AONB), which is known for its sandy beaches, rolling dunes, rocky promontories and empty islands. It also passes the Holy Island of Lindisfarne, which is packed with pubs and cafes, and winds up to Lindisfarne Castle.
This stretch of coast is iconic. There's an amazing variety of things for visitors to do on this bit of coastline.
When the full England Coast Path is opened, it will run 2,700 miles (4,345km) in total, making it comfortably the longest waymarked coastal path in the world. For now, this new section joins pre-existing parts of the route to form the longest section of the path open to the public so far - combining to create a 245-mile stretch of trail runing from Bridlington on the Yorkshire Coast up to the border.
"This stretch of coast is iconic" says Bruce Cutts, a Senior Advisor at Natural England. "There's an amazing variety of things for visitors to do, whether you're walking the whole of the stretch or just dipping into the trail on your holiday. You have these expansive beaches. There's the Holy Island of Lindisfarne, the coastal castle of Bamburgh. Cheswick Sands. It's really got something for everybody."
Starting at Bamburgh, this new route immediately offers fantastic views of Bamburgh Castle, a sandstone fortress staring out over the coast. The town itself has been named the UK's best seaside town by Which? several times.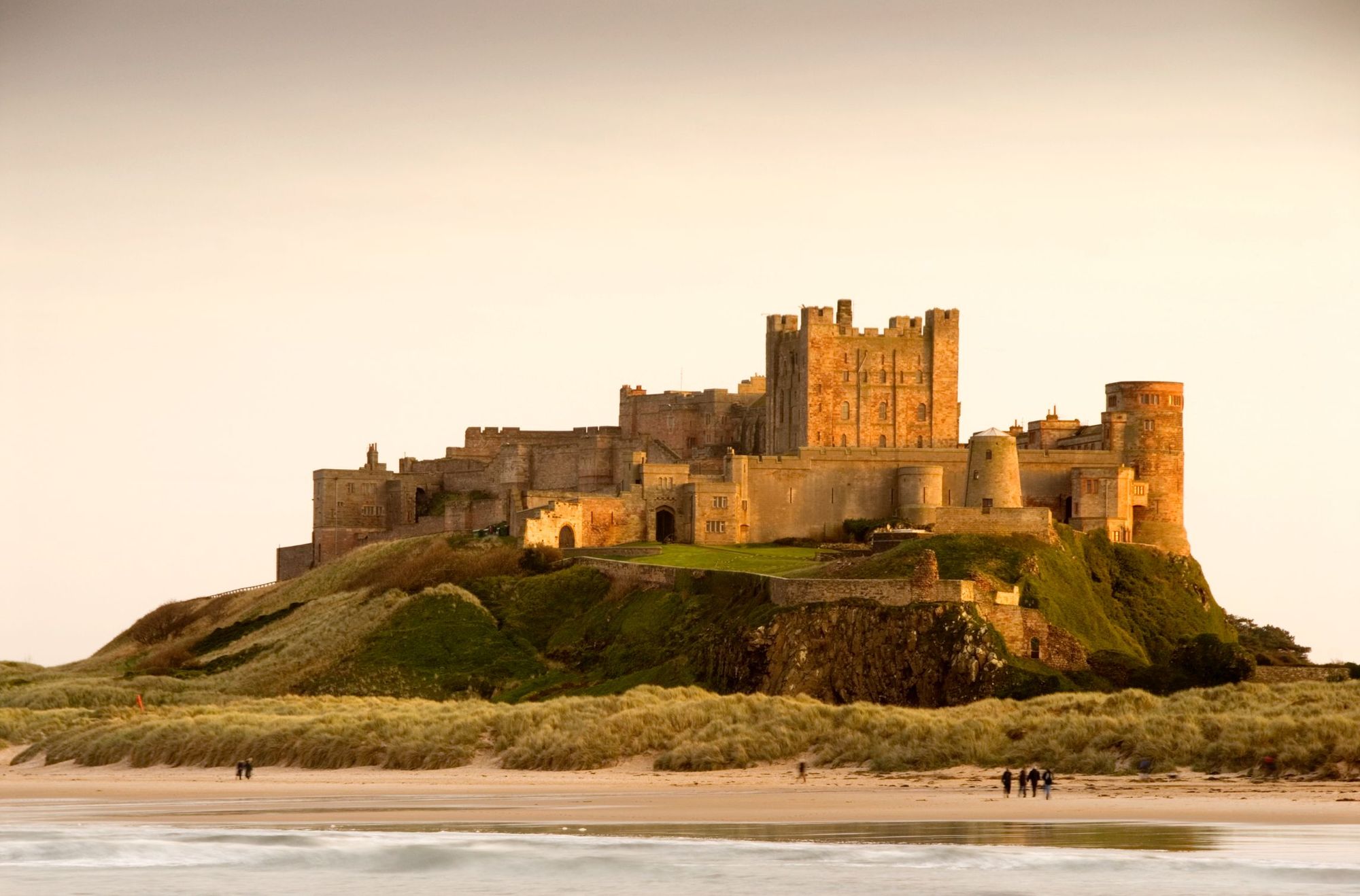 Bamburgh is postcard perfect, boasting three miles of uninterrupted, scenic, sandy beaches, idyllic for strolling. There's an abundance of fascinating maritime history - notably the tale of the heroic Grace Darling, who risked her life to save five people after a shipwreck off the coast - and there's even surfing to be had (check out NE Surf School for lessons) - when the waves cooperate.
Continuing up the route, you'll arrive at Budle Bay, a beautiful bay within the Northumberland Coast ANOB, which as well as the beaches and salt marshes, is a great spot for spotting seabirds, wading and migratory birds. If you're particularly lucky, you may even glimpse of a seal, otter or dolphin.
"There's one really important part of the coast here," says Cutts. "Near Bugle Bay and Ross Back Sands, where for the first time walkers, just for June and July, will be able to go on a far more coastal route than they ever have been before. It's only open for two months of the year because of the incredible sensitivity around coastal birds - but you will be able to get a lot closer to the shoreline there. And then when that part of the path is closed, there will be very clear signage showing people a more inland route which avoids those sensitivities.
"We've been really careful in designing the England Coast Path to get people as close to the sea as possible, but at the same time, we're making sure we don't do anything to put nature in peril, in terms of disturbance or recreational impact."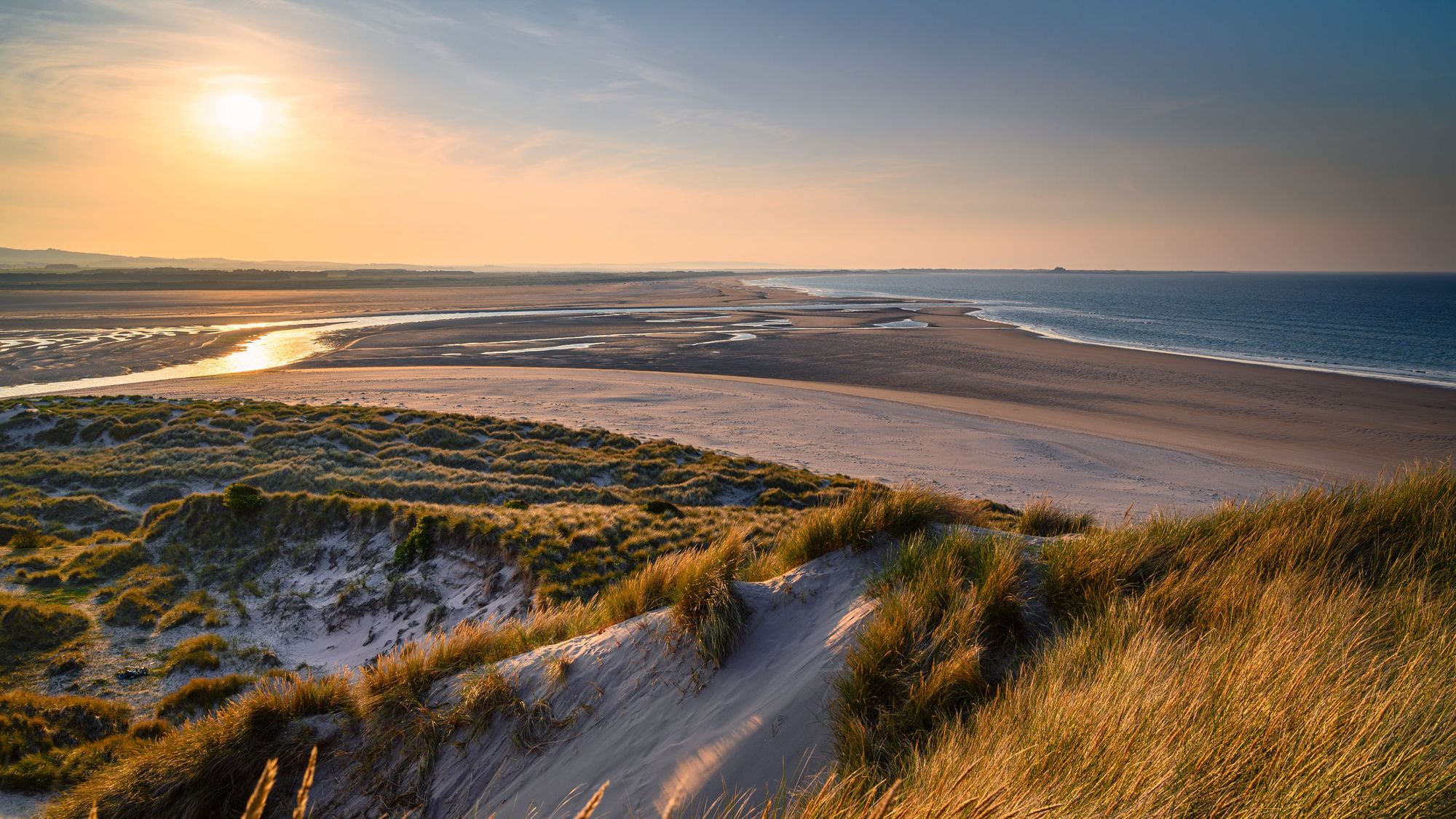 One of the major bonuses of the path is the new access rights it brings.
"When we first looked at the England Coast Path, 70% of the English coast had secure access - public footpaths and right of way," says Cutts. "But that 70% was punctuated by the 30% where there was no access. So there's lots of short, new stretches of access which link up those existing paths and those existing routes."
Bruce continues: "We're really enthusiastic about connecting people with nature. It's making those links and making nature - even the most sensitive parts - really accessible to people. So when they see it they can value it and enjoy it. It will make nature recovery a lot easier, when we're able to bring people with us."
There's lots of short, new stretches of access which link up those existing paths and those existing routes.
Lindisfarne and the Holy Island are just beyond the scenic Bugle Bay. Crossing the causeway to the island is a special experience in itself (though do check crossing times, which vary with the tide), while on the island a world of history awaits, from the 12th century Lindisfarne Priory to tales of Viking brutality.
There's wildlife to be spotted here, too. Look out for wildfowl and wading birds, or pale-bellied brent geese which fly in from Svalbard.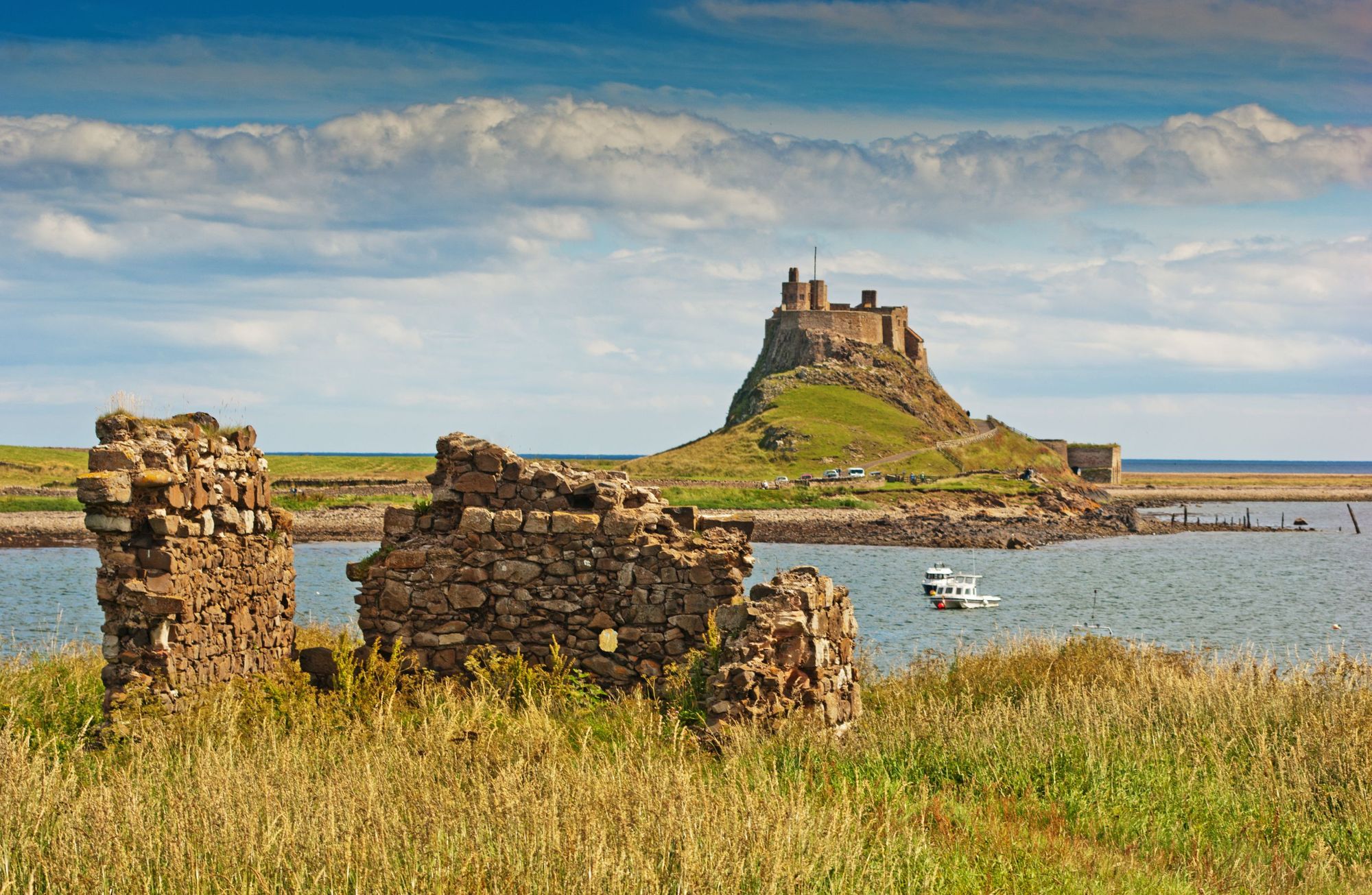 The route to Berwick-upon-Tweed passes the Goswick Sands, where at low tide, you can still spot the shipwreck of the SSR Werner Kuntsman - a German cargo ship which sank back in the 1880s. The Royal Border Bridge is one of three old bridges that crosses the Tweed near Berwick, and is a stunning feat of engineering, built by Robert Stephenson from 1847-1850. Today, it carries east coast trains between Edinburgh and London. It's remarkable up close.
Not only does the Northumberland Coast link to the Scottish Border, but also to the new Coast to Coast National Trail, and to Hardian's Wall National Trail.
The coast, and some beautiful red sandstone cliffs, will then take you to Marshall Meadows Bay. The northernmost point of England, and of the England Coast Path, lie beyond. It's here that the trails end.
"It then links into Scotland, which has its own, very different but very extensive acess rights," says Bruce. "And not only does the Northumberland Coast link to the Scottish Border, but also to the new Coast to Coast National Trail, and to Hadrian's Wall National Trail. And my colleagues working on the northwest section of coast are busy creating a link to the Scottish Border near the Solway."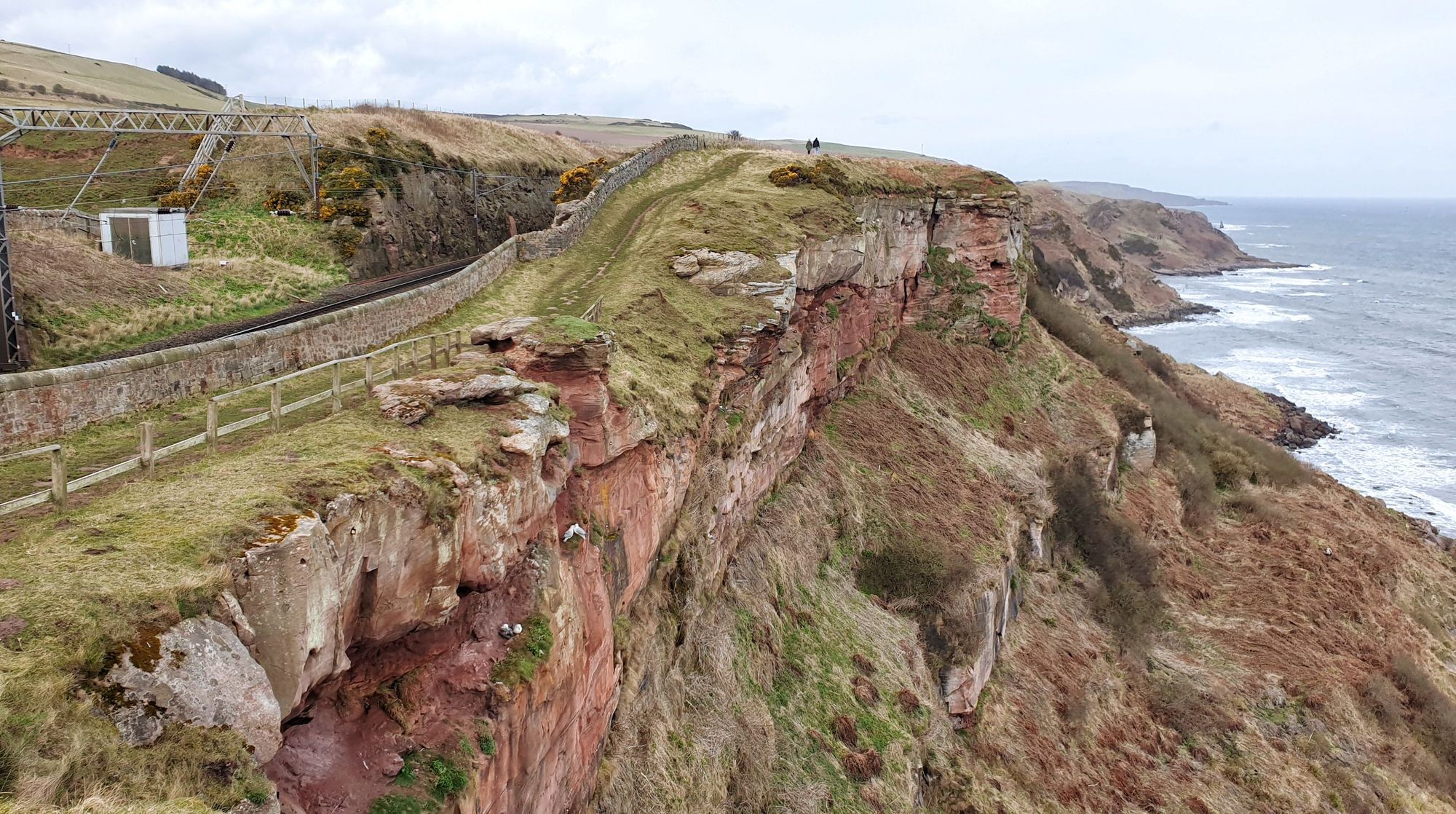 The entire England Coast Path is a National Trail, meaning it will be well signposted and easy to follow throughout. Some new access routes are provided with the opening, while other parts of the route make use of pre-existing paths. This newly-opened section, for examples, uses some of the Berwickshire Coastal Path (which runs from Berwick-upon-Tweed to Burnmouth in Scotland).
One of the key drivers behind the route, as well as providing waymarked access to nature for all, is to benefit local communities along the way.
"This has been an incredibly popular piece of coast for a long time for visitors," says Cutts. "So they really value that visitor spend and that economic benefit that tourism brings, but you know - seeing the coastal paths being improved, seeing its profile being raised, both nationally and internationally, and creating those opportunities for spend in local economies and the connecting towns and villages is always welcome. It will boost things like campsites and holiday parks.
"It's genuinely a good news story for coastal communities. And it will improve things like the signage, the waymarking, access to local shops and services."
The route is scheduled to open in its entirety, and be fully walkable, by late 2024.
Inspired? Check out our full range of adventures in the UK now!