Stand up paddleboarding has boomed lately. Especially now that people are allowed to stop pretending they like banana bread and actually go outdoors again. It's also boomed because stand up paddleboards (SUPs) have become a lot more accessible and, while still expensive, they've become more affordable too. That all means there's now a whole lot of options when it comes to buying a SUP though, so buying your first stand up paddleboard can be real confusing. We've been through the process a few times ourselves, so we know that first hand. You need to know what sort of board you're looking for, how long, wide and thick you want your SUP to be, and whether you want an inflatable stand up paddleboard or a hardboard.
Well, fear not. That's why we've written this handy little guide to what to look for when you're buying a stand up paddleboard - to answer those questions.
Ultimately, what you're going to be doing on your SUP, and your height/weight, will dictate the measurements of the SUP that you should get. There are all sorts of stand up paddleboards. Our main focus for this piece is going to be on the all-rounder, which is great for exploring and a perfect first stand up paddleboard. We're going to guide you through a bunch of FAQs about buying a SUP, starting with some absolute basics for SUP beginners. Those who are more experienced with SUPs should feel free to scroll on down to the more relevant sections.
What is a stand up paddleboard?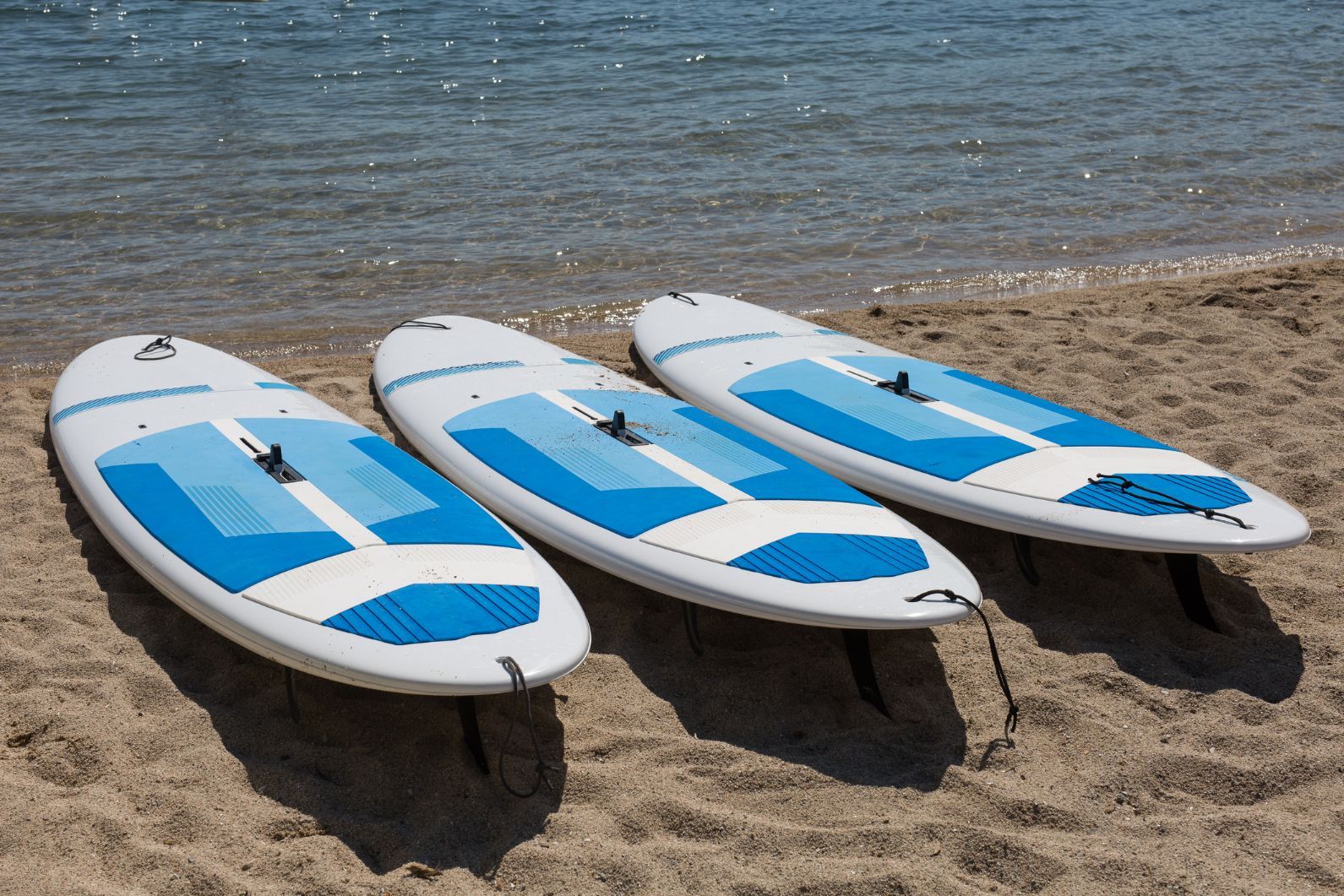 Stand up paddleboarding is a pretty simple sport. It involves a person standing on a stand up paddleboard - typically a board between 10ft and 11ft long - and paddling through a body of water. It's a sister sport of surfing with routes in Hawaii, and while it can be done in waves, or even in white water, it's much more commonly done on flat, calm bodies of water, such as canals or quiet lakes.
You can take two-people on stand up paddleboards, if the board is big enough, and people also like to take pets on their boards, such is the space on the things. It's an incredibly meditative experience, as you get into the repetitive motion of paddling, but it's also a good workout, demanding a good core for balance, and upper body work to push you along the water. Perhaps for this reason - or perhaps because of instagram - stand up paddleboard yoga is also common.
Is stand up paddleboarding hard? Is it safe?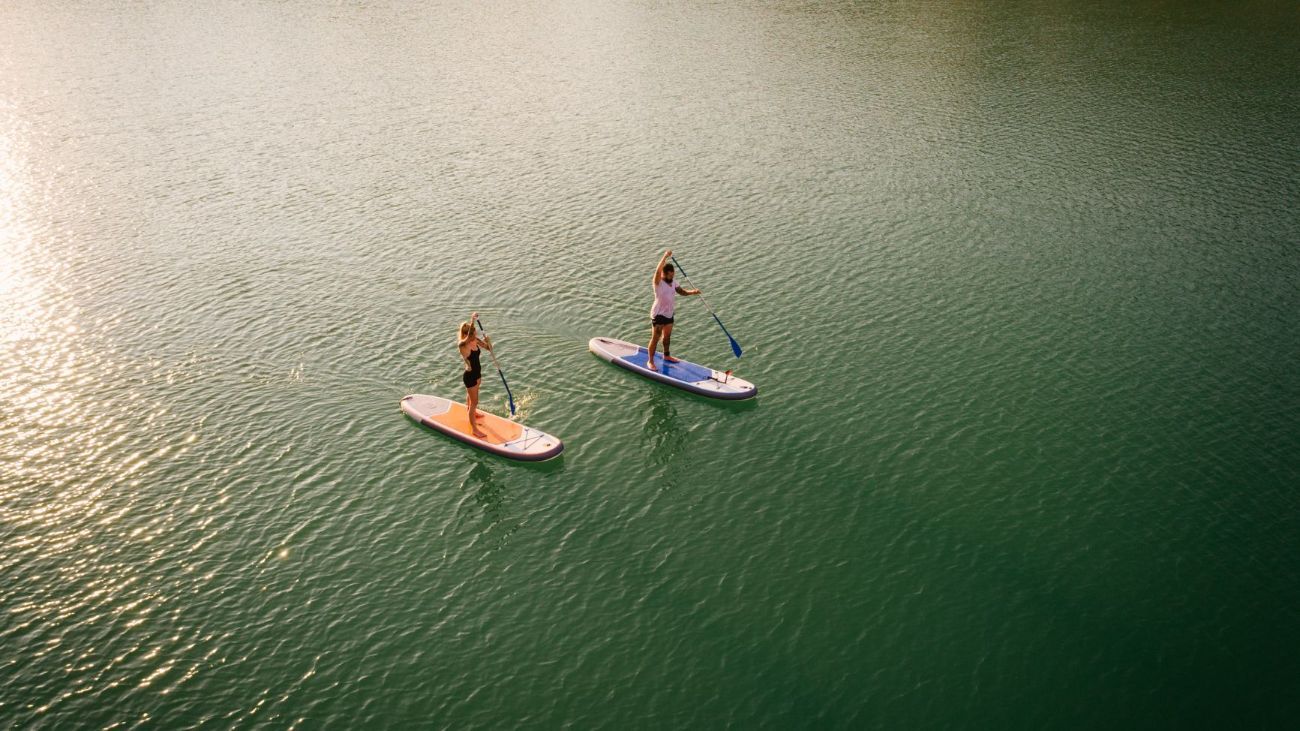 Stand up paddleboarding is all about balance. While it can be a little tricky to find that sweet spot for the first time, it's an easy activity to get a hang of - though don't worry if you fall in once or twice when you're getting started. It's good to know just how cold the water is for future reference, right?
Of course, paddling on still water, like a calm canal or lake, is always going to be physically easier than paddling on the coasts, where the wind and waves can play havoc with your board and, if you're not careful, get you into some trouble. You should always be aware of any currents in the area you're paddling, and keep a close eye on the weather. There have been cases of coast guards called to help SUPers who've been blown out to sea. Don't be one of them!
Check your equipment before you go out and make sure you're appropriately dressed for the temperature (dress like you're going to fall in, even if you won't!). You'll often hear you should wear an ankle leash for calm water or a quick release waist-belt for rapids, but in truth, the quick release waist-belt is the future, and is becoming more common, and more commonly recommended, for all conditions. Of course, wear a buoyancy aid where appropriate. It's always a good idea to have a phone with you in a dry bag, let someone know where you're off to if you're getting intrepid, or better yet - SUP with a pal who can help out or keep you company.
What size of stand up paddleboard do I need?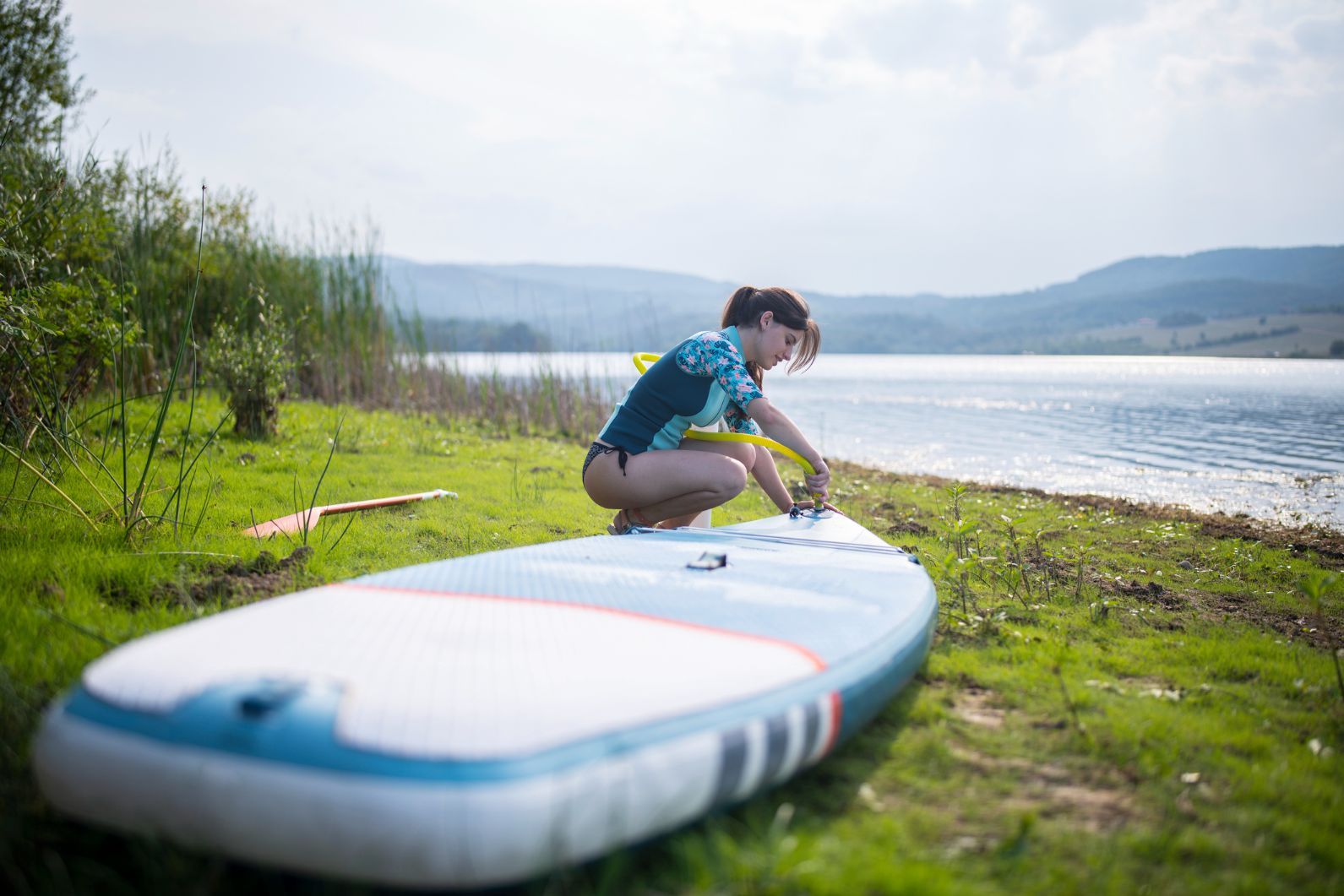 The size of the SUP you choose matters quite a bit. Wide boards are more stable, but you'll lose a bit of pace. Long boards will cruise through the water better, but aren't so manoeuvrable. If your SUP has a thin tail, it'll be super manoeuvrable, you'll lose a bit of stability.
Most stand up paddleboards are between 10" and 11". If you want to take a pet or a second person on the board, or you are a tall paddler, you should definitely opt for the larger end of that scale. The bigger the board, the easier it is to balance. If you're a single person, a board of 10" will typically be fine - and you'll move a bit quicker than those on the larger size of board. If balance is a priority though, opt for a larger length, and look at going around 32-34 inches wide.
Speciality boards go smaller than 10ft and are usually around 30-32 inches wide. These are more manoeuvrable and portable, but typically a little less stable. And if you go inflatable (which we'll get onto) then the portable part of that isn't so important anyway. You can also get racing SUP boards which are actually much bigger, over 12ft, but which do tend to be a lot less stable. Still, if you're confident in your balance and core, or are after a touring board, this can be an option.
How thick should my stand up paddleboard be?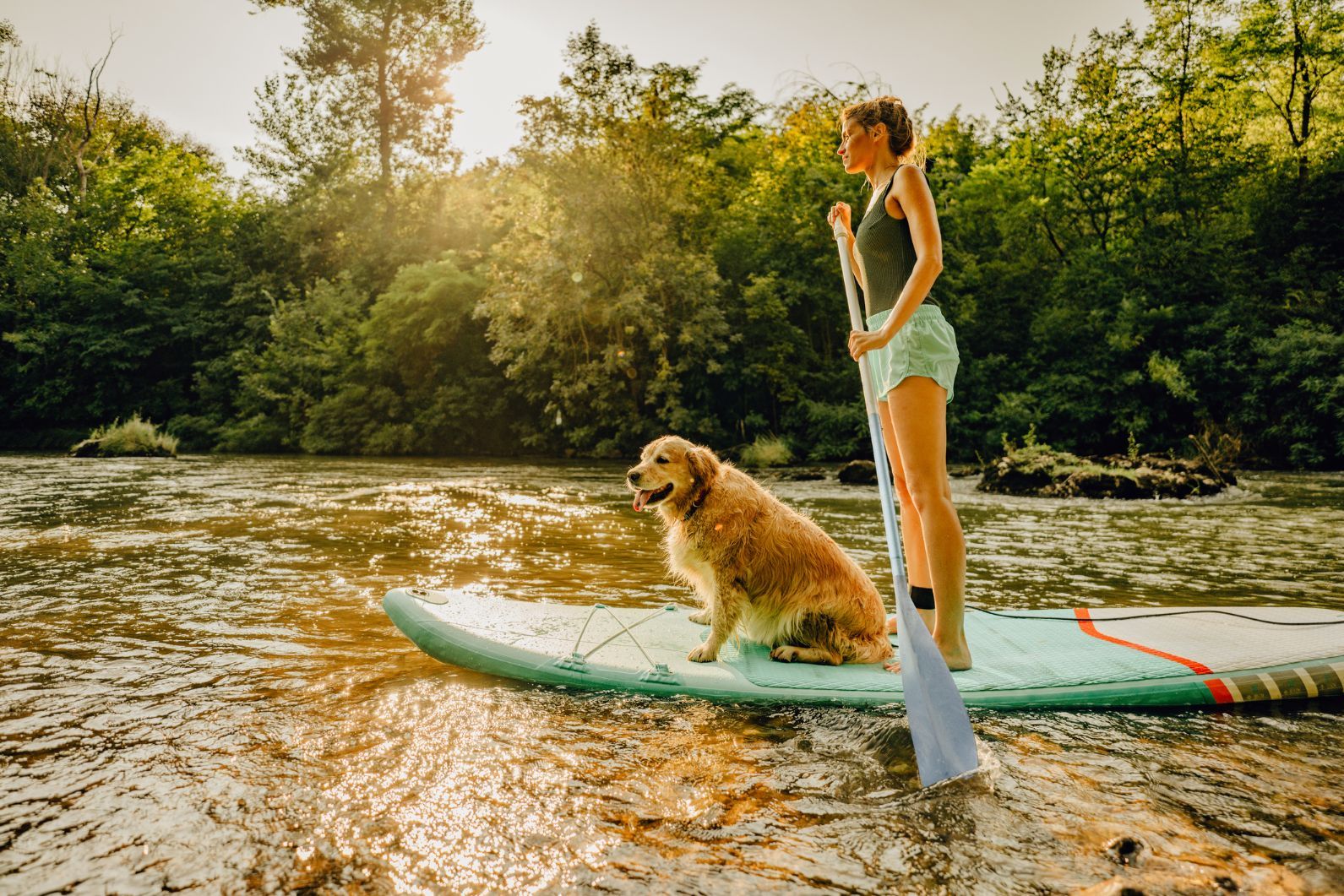 Thickness is the stat that will decide how much weight your SUP can take, so if you're a taller or heavier paddler, plan on hauling heavy stuff on your SUP, a six-inch SUP is a good option. If you're on a budget, you'll also find yourself looking more at six-inch SUPs, as five-inch SUPs tend to be made with higher-end, more expensive materials. Most inflatable SUPs that you'll see online will be six-inches.
For all-rounders though, or those with no top-end limit, the five-inch SUP is often the best way to go. SUPs at this thickness tend to have a better on-board feel, and actually tend to be built with better designs and materials. Still, if you're only going to be using your SUP for leisure and calm journeys, having a six-inch SUP isn't really a problem. It won't hamper you from doing anything you could do otherwise.
Inflatable SUP vs Hardboard SUP: Which Stand Up Paddleboard Should I Get?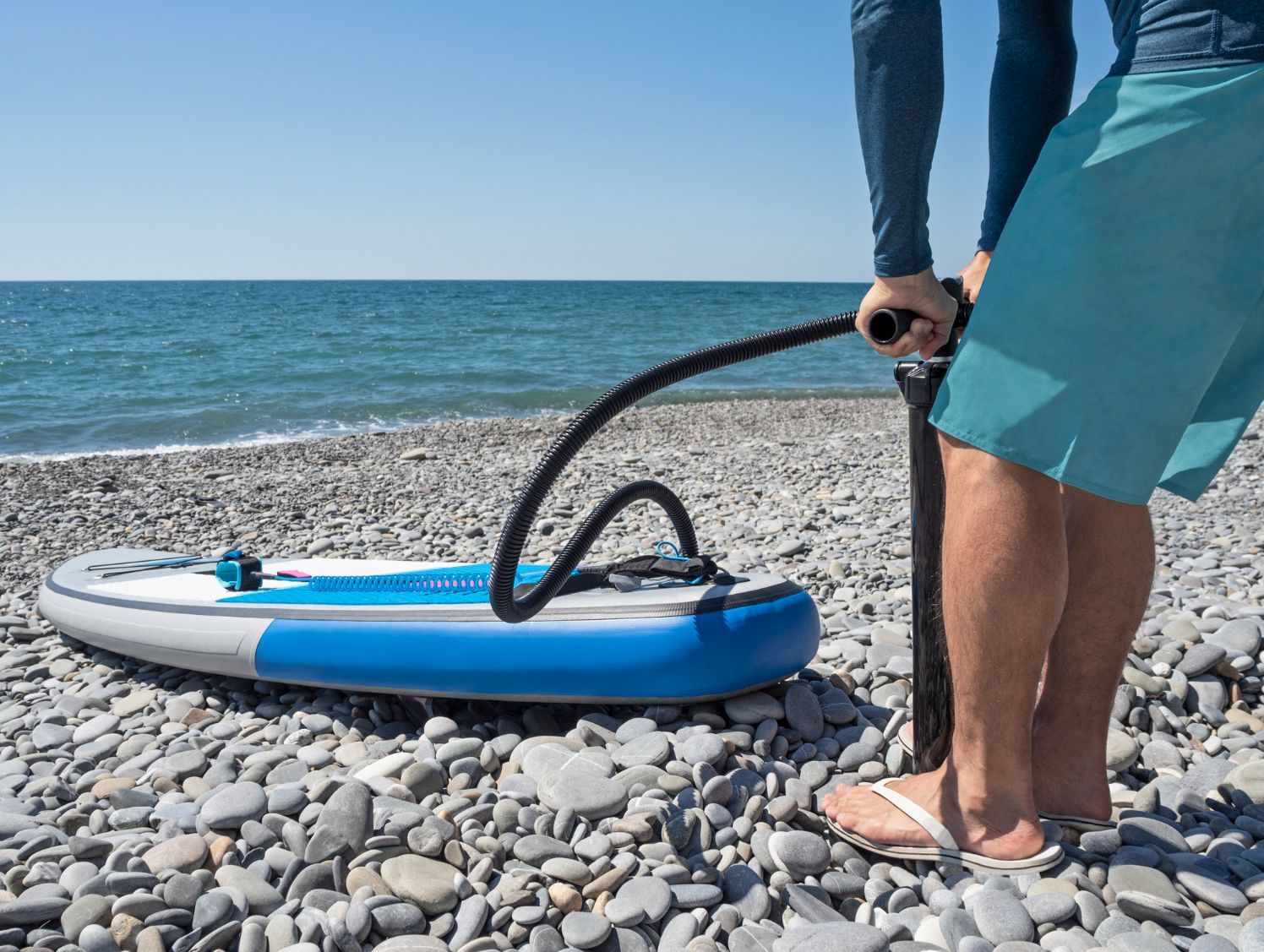 The most common question that I usually get from folk thinking about getting themselves a stand up paddleboard is: are inflatable boards actually any good? People seem to think "inflatable SUP" and then imagine themselves sailing on a flimsy bit of plastic, slowly de-inflating like a sad bouncy castle. It seems it's common misconception that just because they need pumped up, they're going to lose air as you paddle, or that it won't be very resilient. This is not the case.
Inflatable SUPs are much more convenient for everyday SUP users. They're a lot easier to store. They're a lot easier to transport (which means that you'll end up using them a lot more), because they pack down and will usually come accompanied with a bag to carry them in, plus, they're lighter and - contrary to popular belief - they're often actually more durable than hardboards as well.
If you get a chip, a crack or a hole in a hardboard, you've got a serious repair on your SUP. This very rarely happen with inflatable boards, as you've got more give, but if the worst does happen, this it's usually a simple patch job to fix.
There's also the added bonus of the fact that inflatable SUPs are softer, so can be a lot more comfortable than a hardboard. Hardboards are good for are experts. They're usually faster, deal with certain conditions better, and they're more responsive on the water.
What gear do I need to get started?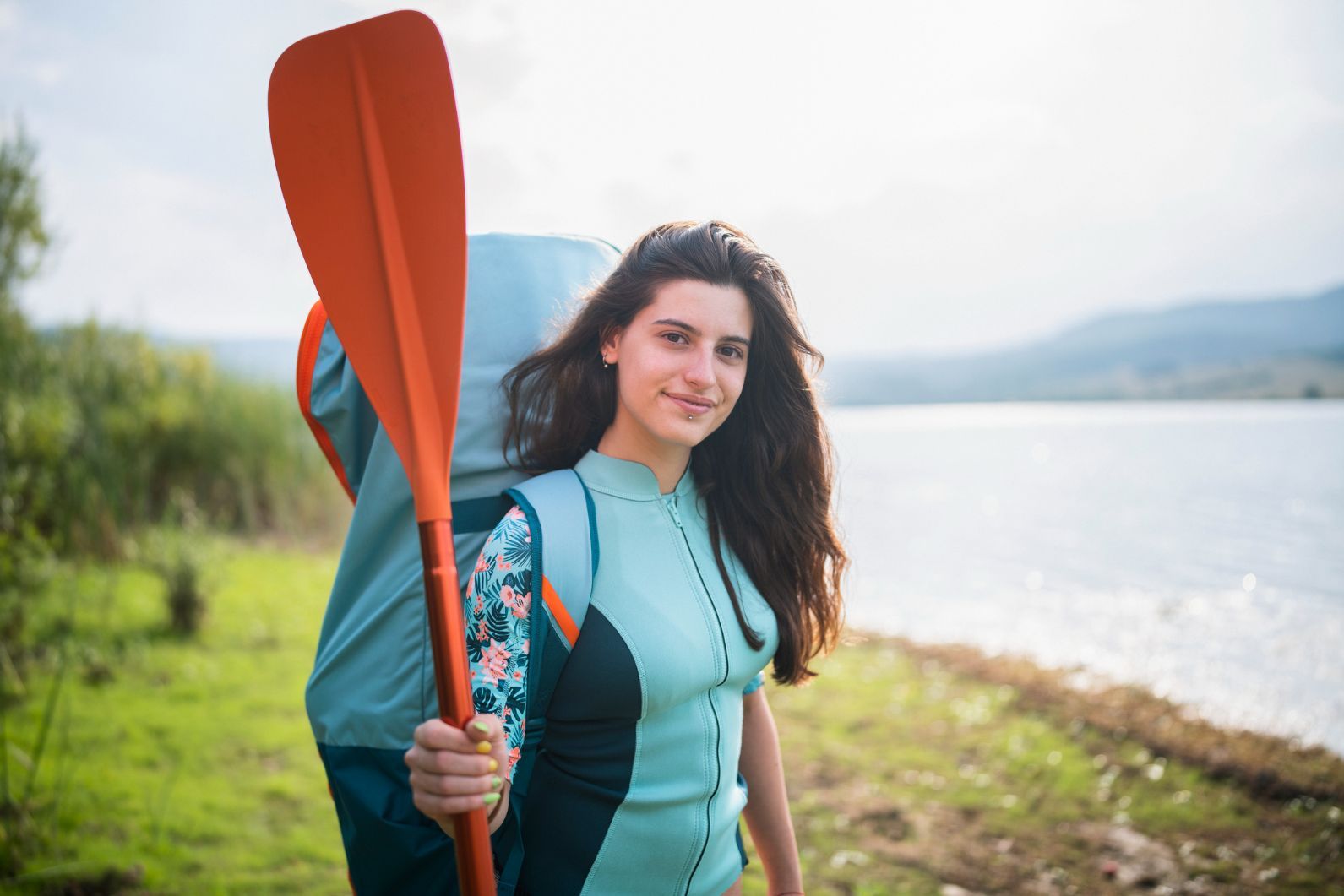 Not too much. You'll need a SUP of course, then if it's an inflatable SUP, a pump to blow it up with, a leash, a dry bag or flotation device, and a lifejacket or equivalent. Oh, and a paddle. You won't be getting very far without one of those. All of these accessories should be available from whichever SUP provider you choose to buy from. The best SUP's out there right now? We'd recommend checking out boards from Red Paddle Co., Earth River SUP, STX or Roxy to start.
You might also want a wetsuit, depending on where you're going to be paddling and in what conditions. Admittedly, this more applies to the UK than to Spain...
Inspired? Check out our stand up paddleboard adventure holidays now!
This article contains affiliate links. Which basically means we make a little commission if you click through and buy something. It doesn't cost you anything, and it just means we can do more good things in