Iceland and the northern lights go hand in hand like puppies and being cute. Though actually, puppies are cute year round, and you can only see the northern lights in Iceland from mid-August to mid-April, so that analogy doesn't really work. Let's start over. Iceland and the northern lights go hand in hand together like puppies (when viewed from mid-August to mid-April) and being cute. There you go. They're beautiful, they'll make your jaw drop, and a lot of people who see them feel compelled to stick a photo of them on Instagram.
The aurora borealis are the first thing a lot of people think of when they think of Iceland, along, perhaps, with that mountain in the photo above (it's called Kirkjufell Mountain by the way), and the infamously hard to pronounce Eyjafjallajökull volcano - which once grounded a whole lot of flights by erupting. So how and where do you see the northern lights in Iceland? Let's have a look.
When to See the Northern Lights in Iceland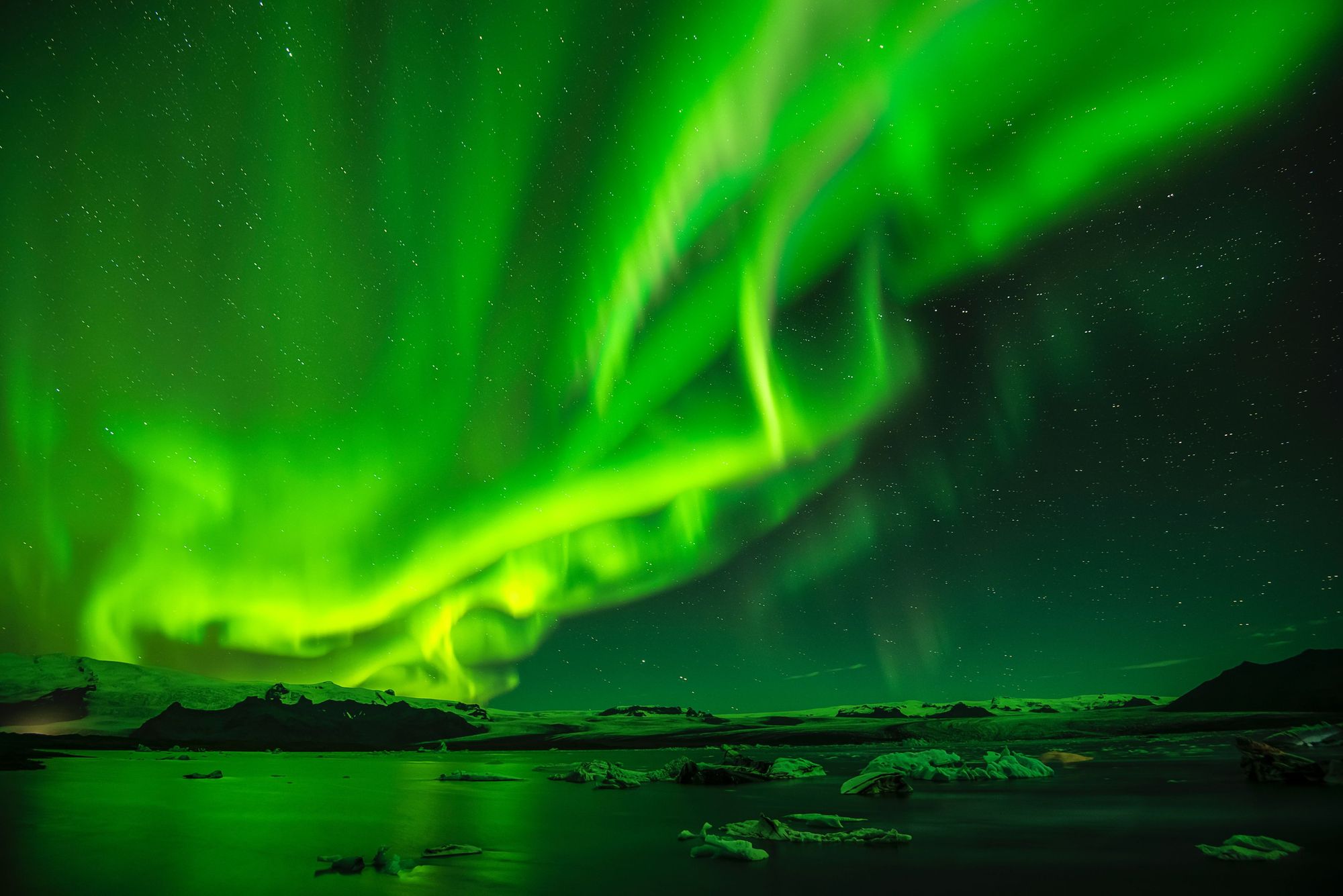 There are two frequently asked questions about going to see the aurora borealis. More important than where to go to see the northern lights in Iceland, is when. See, in order to see the northern lights, you need darkness. Not total, pitch-black darkness, but you need it to be dark. The reason you won't spot the northern lights in Iceland between late April and early August is because there's no darkness. Iceland is that far north. Every other time of year, you've got a chance.
Northern lights season is often said to run from late September to late March, the peak of which is those two months - September and March - due to the equinox. Obviously there are no guarantees - if storms come in and cloud up the skies, then the lights will be covered and you won't see them. This does happen, for sure, even during high season. But for best results? Visit in those months. The optimal time to see the lights tends to be around 9pm-1am, though they can be visible in the dark anytime, and in winter in Iceland, it's dark a lot of the time.
There's also a longer term Solar Cycle which runs over 11 years and dictates how strong the northern lights will be, in regards to perturbations of the sun. During solar minimum, the lights will be a lot weaker and less frequent than at solar maximum. The last solar maximum was in 2014, and the next solar maximum is set for 2024. That's when the aurora will be strongest, most visible and frequent.
The aurora borealis usually remains very strong two-three years each side of the solar maximum, so if you're thinking about travelling soon, your timing is good!
Iceland & Northern Lights: Where To Go To See Them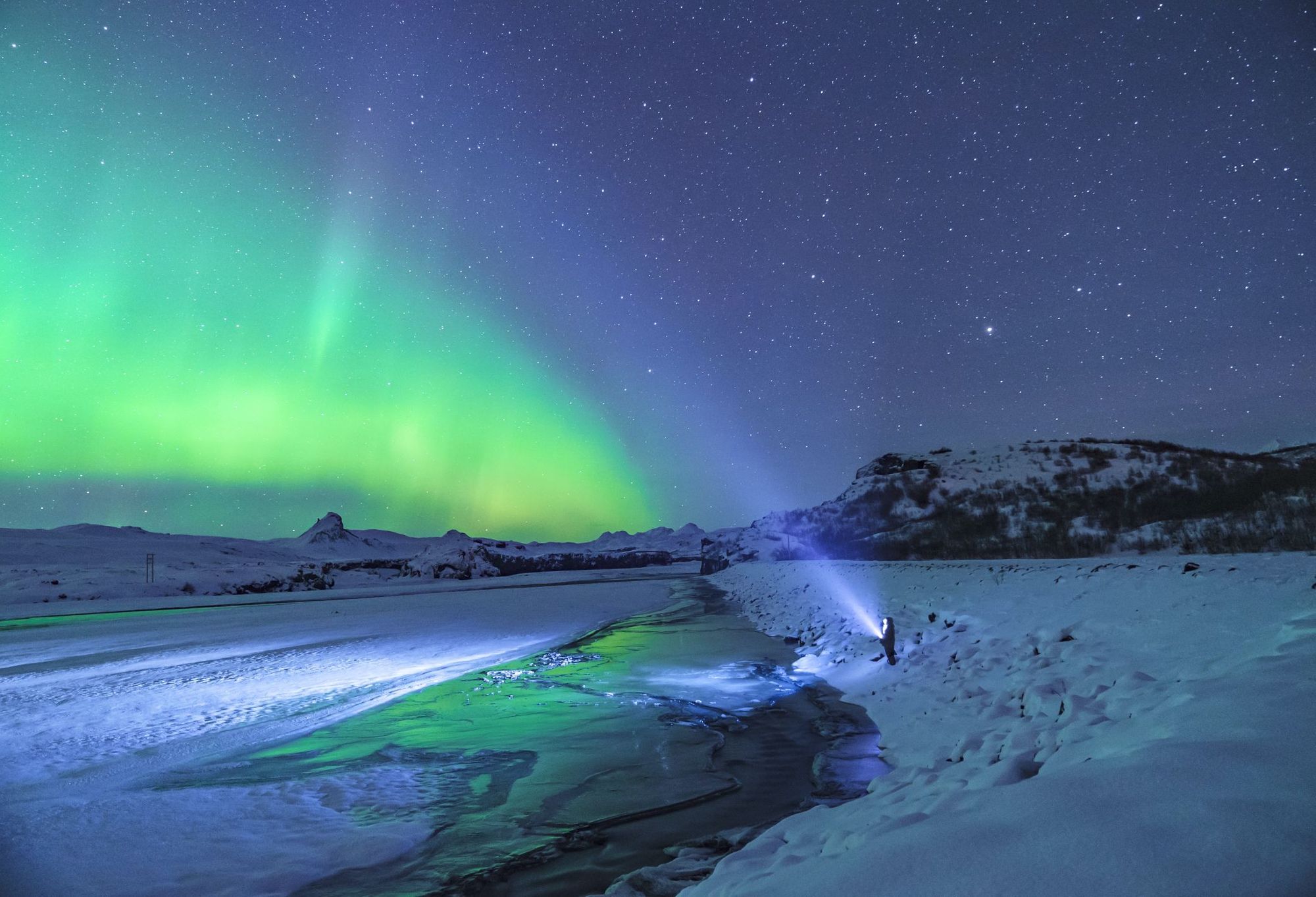 The diversity in Iceland is simply incredible. This country has everything from glaciers to geothermal hot springs, ice caves to black sandy beaches and enormous waterfalls to world-beating long-distance treks. If you're looking for the best places to spot the northern lights in Iceland, then you won't have to work hard. Even in the capital, Reykjavík, you can sometimes see the northern lights.
Obviously, the further you can get away from light pollution, the better, and in Iceland that's not hard to do
Of course, you can never, ever 100% guarantee that you're going to see the northern lights, no matter where you go. Hey, they've got stuff to do too, y'know? They've got to put a show on for the forests and the mountains and all the wonderful wildlife within it as well as us pesky humans - and you can go weeks where instead of flickering lights, you get cloudy skies. This is why it's always best to go somewhere for the destination rather than purely for the lights.
That said, there are some particularly good places to go in Iceland to see the northern lights. Obviously, the further you can get away from light pollution, the better, and in Iceland that's not hard to do. Even near to Reykjavík city centre you've got Grótta, right on the coast, and Öskjuhlíð, a forest with a hill and glass-domed restaurant. Feeling adventurous? Then let's get further out of the city.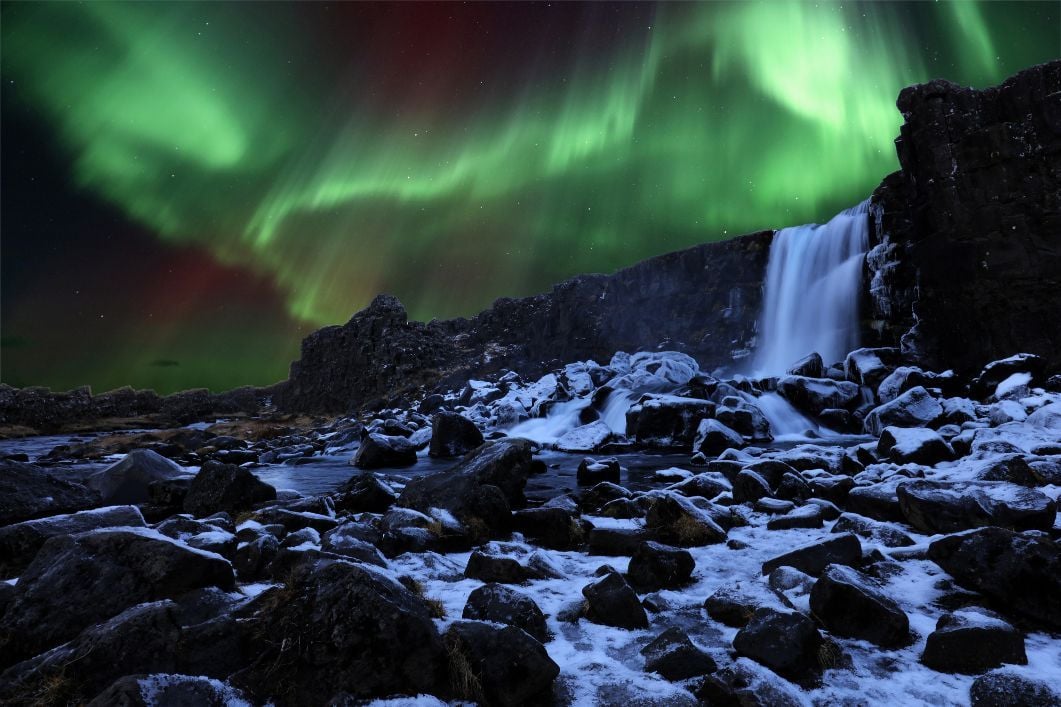 Laugarvatn is a hamlet of 200 people in the south of Iceland, and it's a real gateway hub for adventure in Iceland too, not far from Thingvellir National Park - a UNESCO protected site home to some of Iceland's most stunning scenery. Hiking out from accommodation at Laugarvatn can often provide a fantastic and accessible opportunity to see the aurora borealis. The geothermal baths of Fontana spa can be a great place to see them too, while chilling in a heated pool.
Ski over some lava fields, and on the beautiful Hnausar pass and you'll come to Landmannalaugar, home to thermal pools and a great lookout spot for the lights.
The Laugavegur Trail meanwhile was recently included in National Geographic's '20 Best Hikes in the World'. It's a 55km hut to hut trek passing through mountains, gorges, glaciers and the Eyjafjallajökull volcano. Take it on in September, and you might be able to combine it with a sighting of the aurora.
Iceland: A Quick Fact File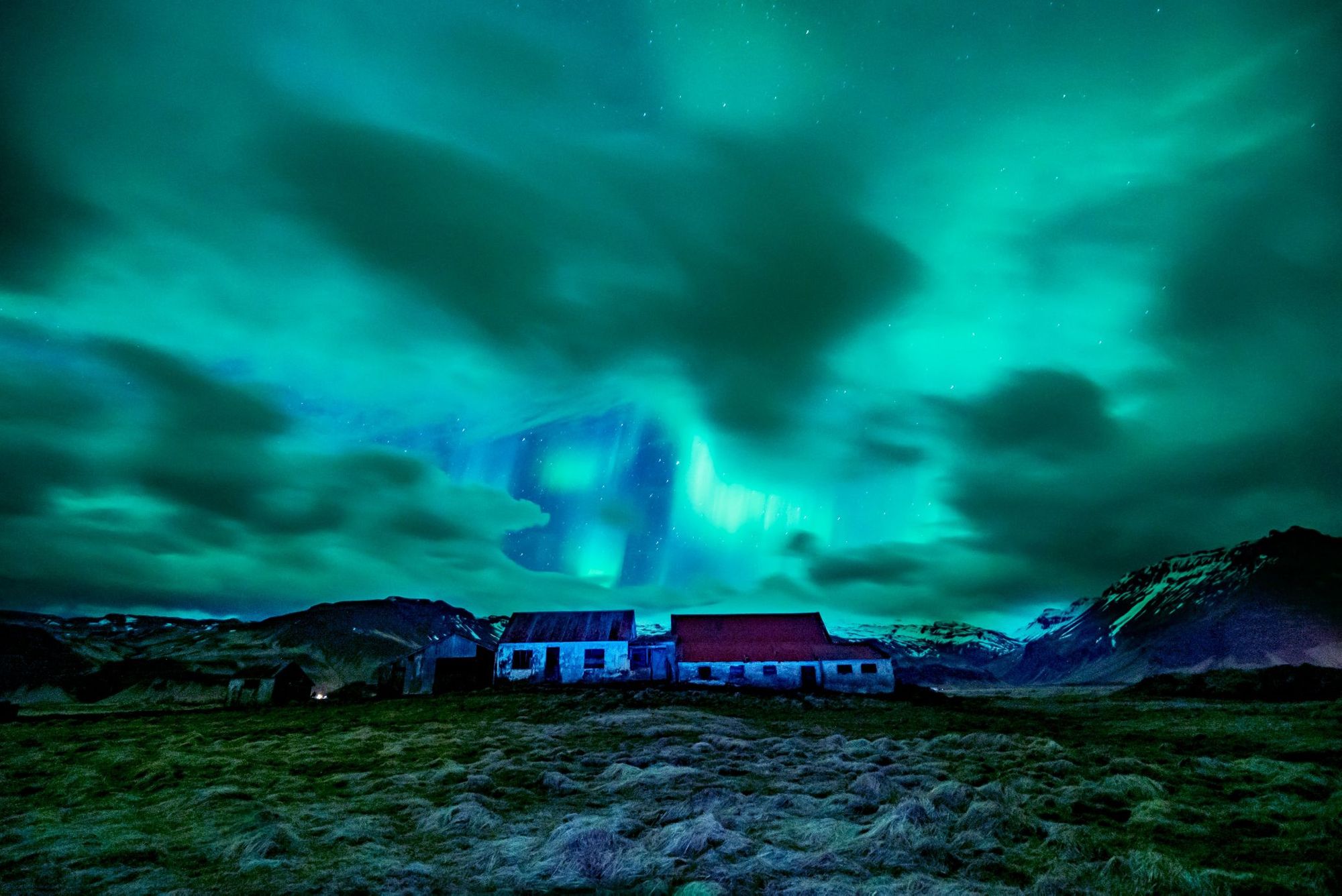 Where is it? Iceland is a European island located midway between North America and mainland Europe. It's up there in the Arctic Circle, which is what makes it so great for spotting the northern lights. It's between 64 and 66 degrees.
What's the capital? Reykjavík is the capital city of Iceland, and the northernmost capital in the world. It's also Iceland's largest city, home to 131,136 of the country's 356,991 population. The wider capital region, which includes Reykjavík is actually home to 233,034 of that count.
Currency? The currency of Iceland is the Icelandic króna.
Got an airport? Yes, sir. Keflavík Airport (KEF) is Iceland's largest international airport. There are also smaller airports - Ísafjörður, Egilsstaðir, Akureyri and the Reykjavík Domestic Airport.
Any good culture? You know it. There's a literary heritage, and Iceland's literacy rate is among the highest in the world. Read 'Independent People' by Halldór Laxness, a social realist piece of Icelandic fiction from the 1930s which helped Laxness win the Nobel Prize for Literature some years later. More recently, 'The Blue Fox' by Icelandic writer Sjón is an enchanting read.
On the musical front, the music of Sigur Rós matches the serene yet dramatic scenery of the Icelandic backcountry, as does that of Much Better Adventures' favourite and electronic artist Ólafur Arnalds. You might even see Bjork kicking about Reykjavík if you're lucky. Also, check out Dream Wife, an awesome all-female rock / riot grrrl band led by Icelandic vocalist Rakel Mjöll.
Oh, and by the way, Iceland is also rated the most gender-equal country in the world - something explored in Anne-Flore Marxer and Aline Bock's excellent snowboard and surf film 'A Land Shaped by Women'.
Okay, and err, what are these northern lights you speak of? A natural phenomenon also known as aurora borealis, the polar lights are colours and patterns formed from ions and atoms being energised as they collide with the atmosphere and are affected by lines of magnetic force. To us, that looks like hovering, flickering, shimmering, remarkable lights dancing in our night skies.
Inspired? Check out our range of adventure holidays in Iceland!
This article contains affiliate links. Which basically means we make a little commission if you click through and buy something. It doesn't cost you anything, and it just means we can do more good things in good places.