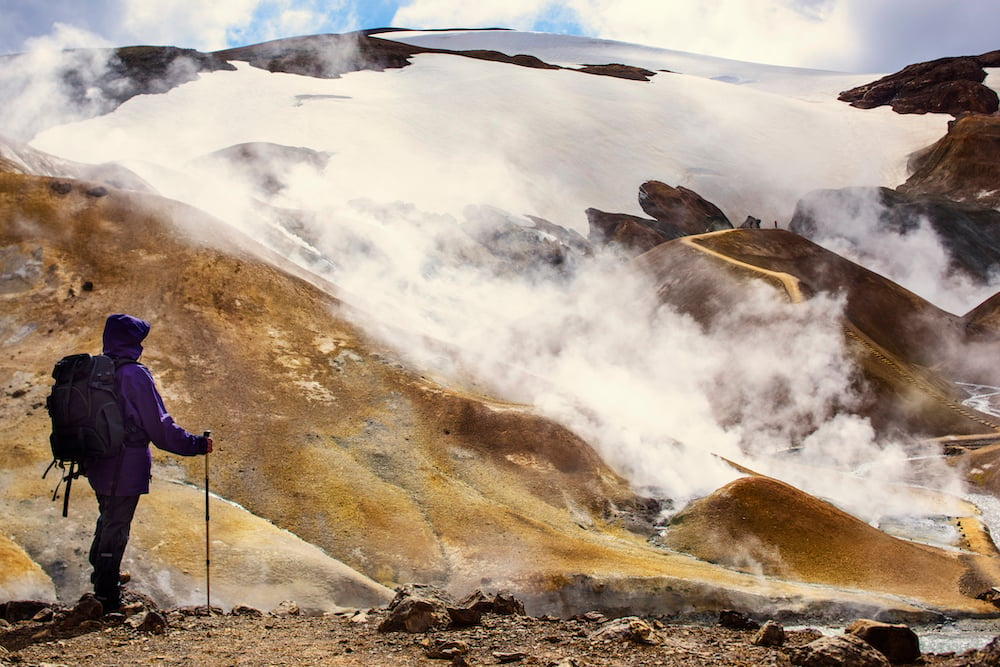 The best hikes in Iceland are the ones that take in the varying beauty of the country. Hiking Iceland can mean walking past volcanoes, waterfalls, fertile lowlands, deep fjords or glaciers - including the largest glacier in Europe, Vatnajökull. Basically, there's a reason that the hiking trails in Iceland and that hiking across Iceland has become increasingly popular in the past few years.
Before 2010, hiking in Iceland was not something many people had ever considered doing. It basically wasn't on the map for adventurers at all. Then, one of its volcanoes – the beautifully named, but famously difficult to pronounce Eyjafjallajökull – erupted. It seems like a pretty extreme PR stunt by the tourist board to disrupt air travel across the entire planet, but it did the job. Apparently, that pesky cloud of volcanic ash is what put hiking in Iceland on the map. Everyone turned around, looked at Iceland and went, "wow - that's beautiful!"
While I was researching hiking in Iceland for this article, I asked my Mum off-hand whether she'd ever been to Iceland. "Yes," she said, "I think I've been to the one in [insert name of town 30min away]." No Mum, I meant the country. That adds a whole different spin to hiking in Iceland. So, while you're imagining stomping up and down between the frozen fish and discount crisps, let's dive into hiking in Iceland – the country.
What's Iceland Like for Hiking?
Iceland was first named by Viking/9th-century influencer Hrafna-Flóki, who sailed over to the island, saw a bunch of fjords and glaciers, and called it 'Iceland'. Fair enough, right? But what now takes many people by surprise is just how green Iceland is for most of the year.
Glaciers cover 11% of the country, which compared to Greenland, which is 80% glacial, isn't actually so much. It's still a lot of course, just you'd think if one of those two islands was to be named 'Iceland', it might be the one which is 4/5th glacial.
If you're interested, Greenland was named by a chap called Erik the Red who got exiled from Iceland for killing a few folk, and then wanted to attract people to settle on his new island. We'd suggest the islands swap their names if it wouldn't cause so much admin work.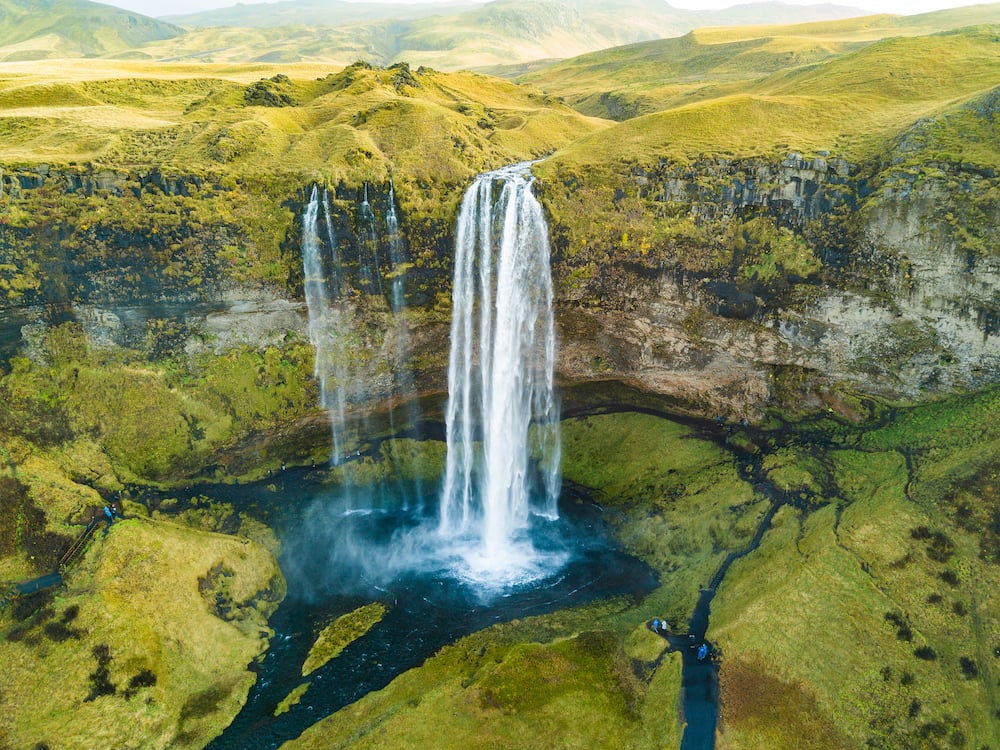 Iceland is famous for its mix of fire and ice, volcanic and polar. There's something pretty awesome about just being in a country with nature like that. Did we mention the black beaches with mini icebergs that wash up with the tide? Even if your hiking in Iceland is fairly pedestrian, you'll be in for a treat.
By the luck of the Adventure Gods, our team mate Dan has just got back from Iceland. Dan's usually working hard in the background, making sure our Facebook Ads seek out all the Much Better people on the planet, amongst other things. But we managed to catch him for a quick catch up about Iceland. He said, "Iceland is one of the most stunning places I've ever visited. A real adventurer's playground with astonishing scenery wherever you look. The fact that I visited in winter, when the whole country was covered in snow and ice, only enhanced the beauty of its wilderness." So hiking in Iceland has got Dan's vote at least!
Hiking Areas in Iceland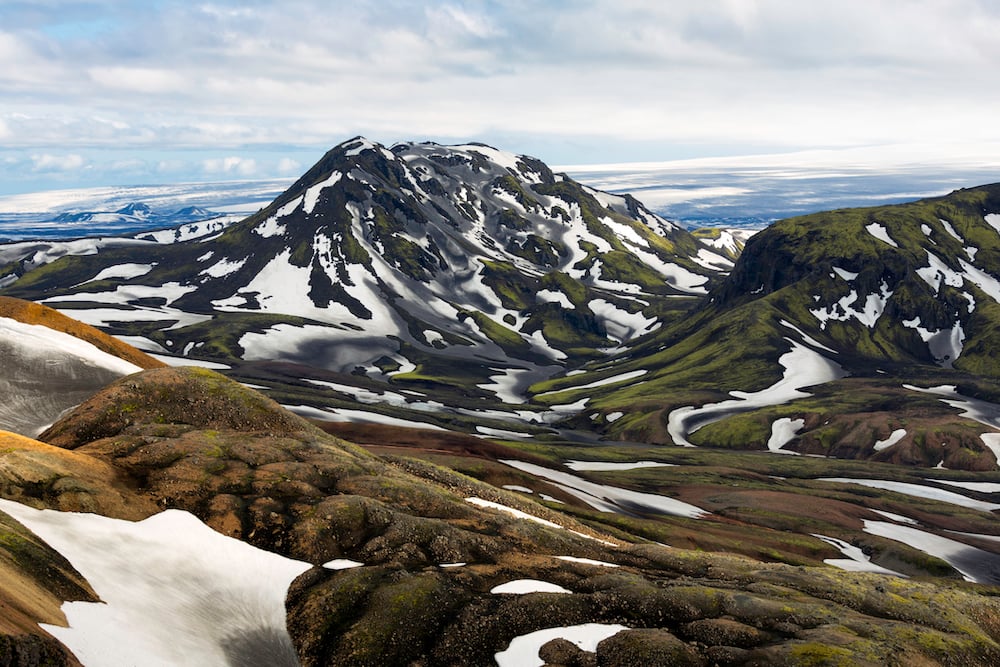 There are many places to go hiking in Iceland. There are now three main National Parks: Snæfellsjökull, Vatnajökull and Þingvellir. We've marked them roughly on a handy map for you below. There used to be five National Parks, but Jökulsárgljúfur, in the far north east, and Skaftafell, in the south east, were merged into Vatnajökull.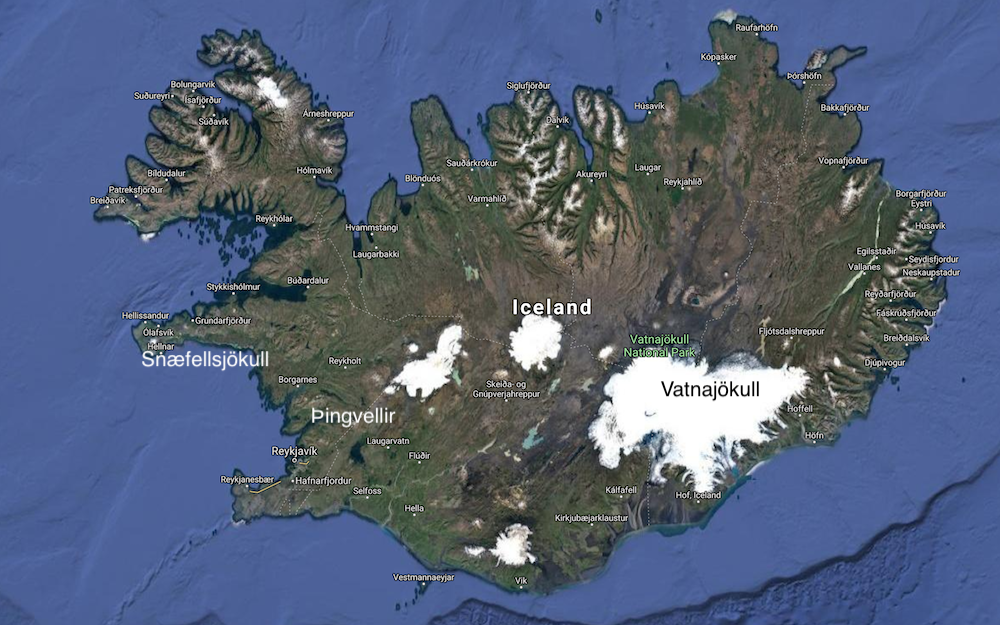 On top of this, there are a whole host of nature reserves which allow visitors to hike on designated trails.
5 of the Best Hikes in Iceland
Luckily, there are many well signed hiking trails in Iceland. Some of them form classic multi-day treks across landscapes that are the direct product of volcanic activity. You want a mix of ice and fire and hiking boots? Coming right up!
1. The Laugavegur Trail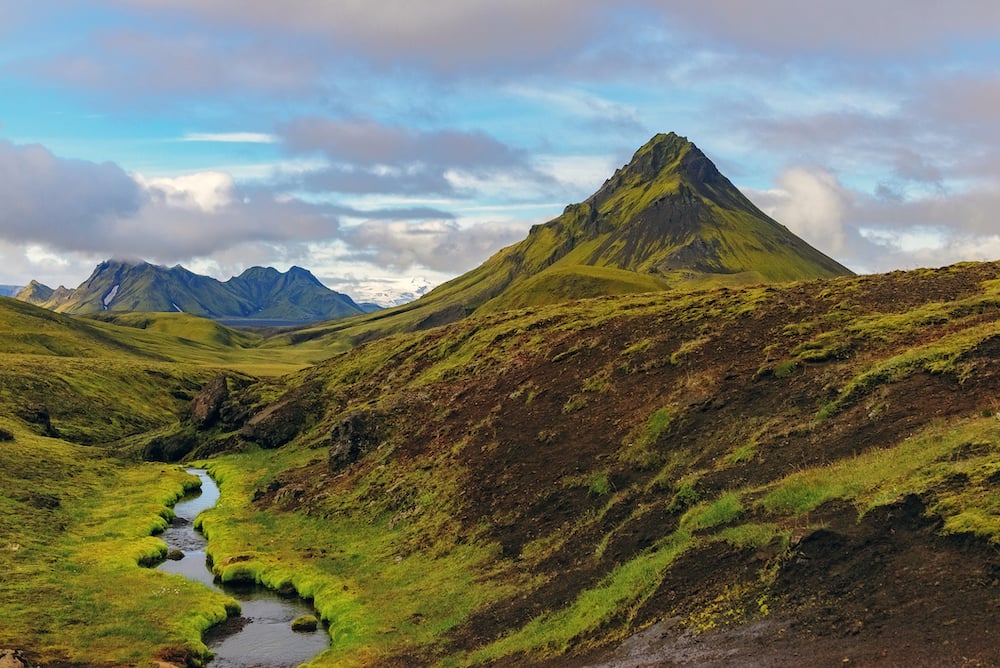 Most people take: 4 days, 4–7 hours per day
Distance: 34 miles (55 km)
Difficulty: Moderate
Path Conditions: A classic trek, well signed. Snow-covered in parts
Main Challenges: A lot of up and downhill. A chance of bad weather.
If you're going to do a multi-day hike in Iceland, the Laugavegur Trail is the one to do. If anything for the colours you'll experience as you travel through the country by foot. If hiking trails are a story, then the Laugavegur Trail tells of black lava fields and deserts, green moss covered land, red-yellow-orange rhyolite mountains and pale hot springs. It's the story of Iceland's volcanic origins. The paths are accessible from late June to early September every year. Out of season, the huts are closed because of the intense winter conditions.
> Check out our day-by-day itinerary for trekking the Laugavegur Trail.
2. The Fimmvörduháls Trek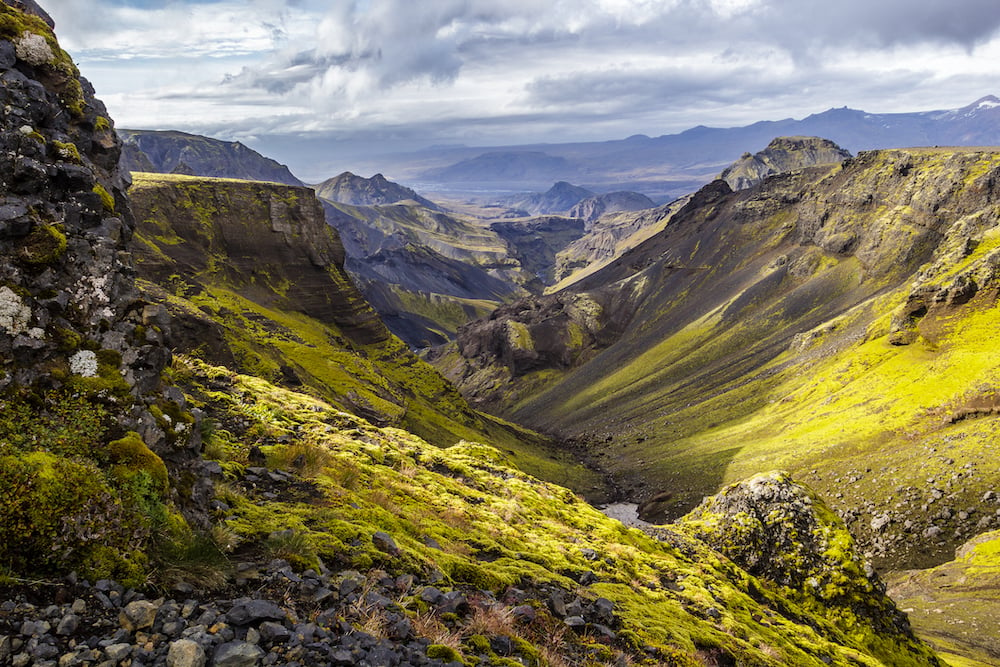 Most people take: 1–2 days
Distance: 15.5 miles (25 km)
Difficulty: Moderate
Path Conditions: A classic trek. Well signed but snow-covered in parts.
Main Challenges: A lot of up and down climbing. A chance of bad weather.
Fimmvörduháls Trek is the shorter brother of the Laugavegur. It is every bit as impressive but just in a smaller dose. So if you've only got a few days for hiking in Iceland, this might be the trek for you. You'll start off in Skógar at the top of the famous Skógafoss waterfall. Yes that one that everyone takes a picture in front of for Instagram. Preferably with a rainbow in the water. You'll hike past lesser known waterfalls galore on this trek and you are under no obligation to share them on Instagram.
If you're taking a couple of days over it, you can stay in a mountain hut near a pleasingly snow-capped mountain. Then on to some brand new volcanic activity: two craters Magni and Modi, created in the 2010 eruption. The hiking paths are accessible from late June to early September every year. Again, the huts are closed out of the summer season. It can get pretty snowy in Iceland…
For the super adventurous, with enough time on their hands, you can combine the Laugavegur and Fimmvörduháls treks to make one epic journey across Iceland.
3. The Hornstrandir Trek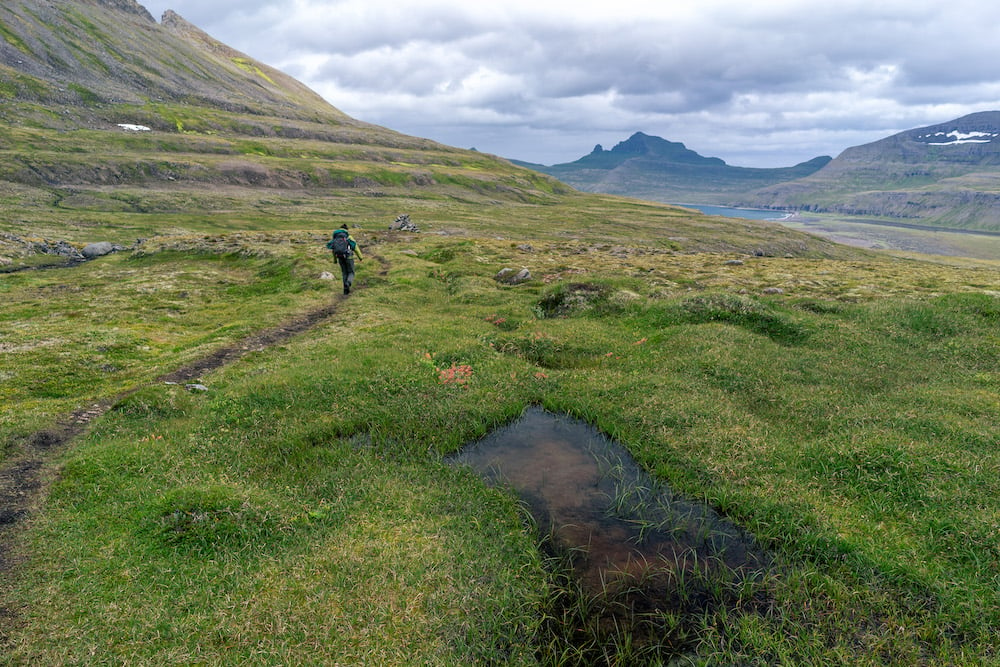 Most people take: 6 days, 4–7 hours per day
Distance: 53 mile (86 km)
Difficulty: Moderate to Challenging
Path Conditions: Less well travelled and without good signage.
Main Challenges: Remote trekking, with a lack of facilities. A chance of bad weather.
There are many places that claim to be Europe's last true wilderness area. Hornstrandir is one of them. We're not going to pick sides about where is really the last wilderness area – or indeed what constitutes a "true" wilderness area. But you get the picture: this trek is very remote. Expect no people and certainly no cars. The area is famously inaccessible to motorised vehicles. You'll be immersed in nature as you pass through the National Park – and completely isolated.
Great as it may be, that also means you'll need to think about things like carrying food for six days… and tents. And as if that wasn't enough of a challenge, the region is only accessible by boat during the mid-summer period. Yup. There are strict preservation rules and hiking is only allowed from late June to mid-August.
4. The Brennisteinsalda – Bláhnúkur Loop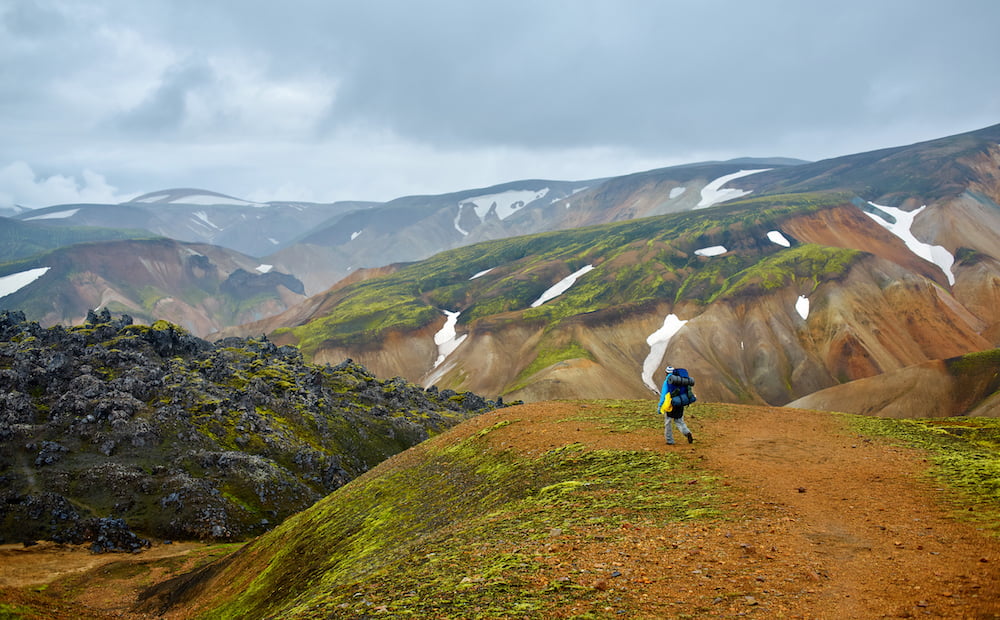 Most people take: 5–6 hours
Distance: 6 miles (10 km)
Difficulty: Moderate
Path Conditions: Well travelled and well signed.
Main Challenges: Steep climbs
So you want to do the Laugavegur, but you don't have the time for the whole lot. No problem. Just pick out the best bits and do the Brennisteinsalda-Bláhnúkur loop. You'll get all the panoramic views, multicoloured mountains and geothermal valleys – without having to take extra time off work.
This day hike starts from Landmannalaugar, where the full Laugavegur Trail starts. While others head out onto the trail, you can explore hiking in Iceland through the network of smaller trails in the areas. Even end the day by taking a dip in the natural pools, heated by hot springs. The huts in the Landmannalaugar area are open all year round, but it's going to be a bit difficult hiking when everything is covered with stacks of snow. Most people visit from mid-June until the end of September.
5. Hvannadalshnúkur Summit: Iceland's Highest Peak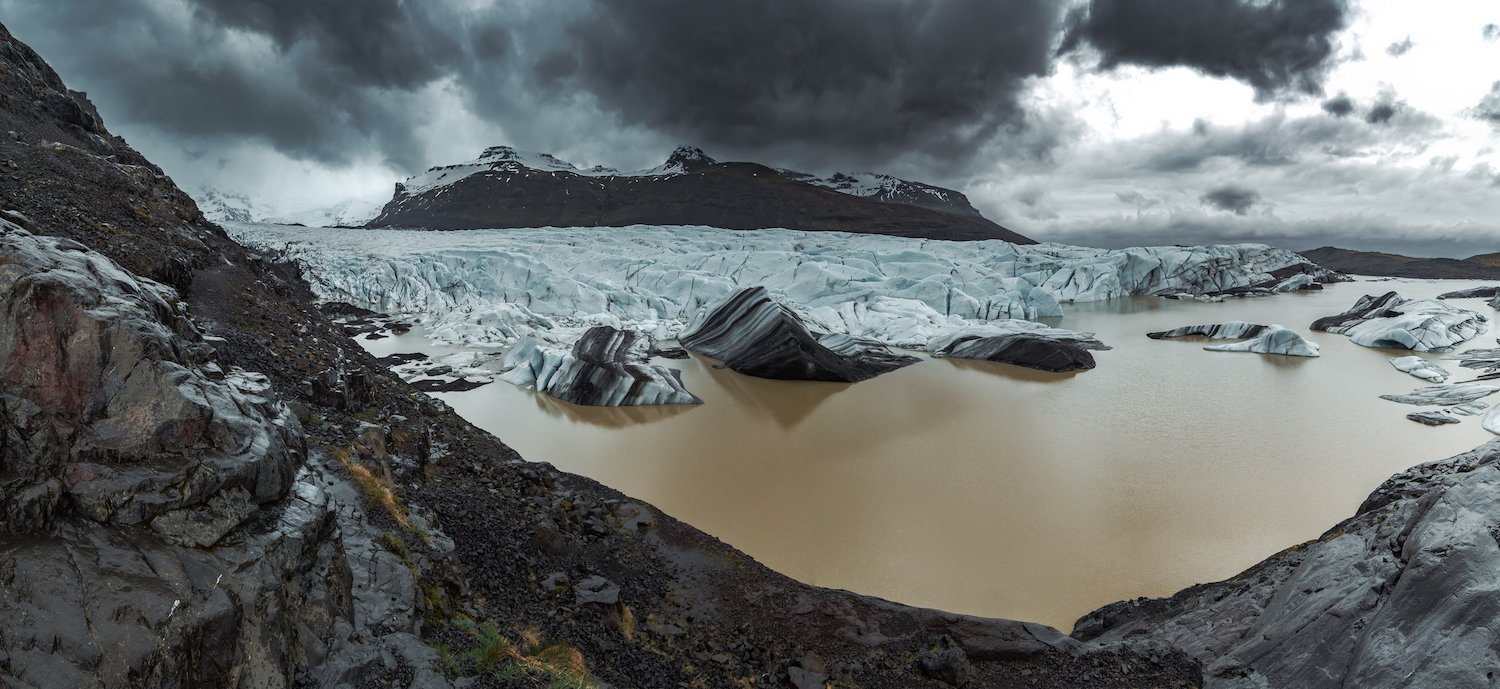 Most people take: 12–15 hours
Distance: 15 miles (24 km)
Difficulty: Extremely challenging
Path Conditions: Very difficult glacier terrain
Main Challenges: Physically and mentally demanding with deep crevasses and extremely steep sections. This is mountaineering, really, not hiking.
Okay, okay, you're not put off by snow. And, like us, you've got a bit of a thing for pointy snow-covered mountains that lurk in the distance screaming "Climb me! Climb me!" But, if you're thinking of climbing Hvannadalshnúkur (2110m), Iceland's highest peak, you're going to need to up your hiking game to more like mountaineering.
To get to Hvannadalshnúkur , you need to cross the Vatnajökull glacier, which happens to be the largest glacier in Iceland… and one of the largest in Europe. And if that wasn't enough to leave you feeling like you're walking to Mount Doom, it so happens that the highest peak isn't so much of a peak at all. It's actually the highest point of the crater rim of Öræfajökull: the largest active volcano in Iceland.
Still psyched? Well then we'll point you over to Summit Post for more detailed information. Apparently it's not "technically challenging" in mountaineering terms. Just a bit of a monster.
Inspired? Check out our adventure holidays in Iceland now!