Imagine a 34-mile hiking trail that introduces you to an astonishing diversity of landscapes: colourful rhyolite mountains, thermal pools, glaciers and volcanic slopes carpeted in emerald green moss. That's the Laugavegur trail, and it's one of Iceland's most popular multi-day hikes.
Located in Iceland's Southern Highlands, the trail begins in the colourful, geothermally-active Landmannalaugar Nature Reserve. You'll ascend the black obsidian slopes of Hrafntinnusker and cross the sparse black ash field of Mælifellssandur. From there you'll pass into Þórsmörk, 'The Valley of Thor', a surprisingly green area nestled between three glaciers.
How long does it take to walk the Laugavegur Trail?
The relatively-short length of the Laugavegur trail might lead you to believe that it's easily accomplished within a couple of days. And of course, there are people that do that. At last year's Laugavegur Ultramarathon, which follows the same route as the hiking path, the quickest completion time was just over four hours! We would not recommend you attempt this (without sufficient training, at least).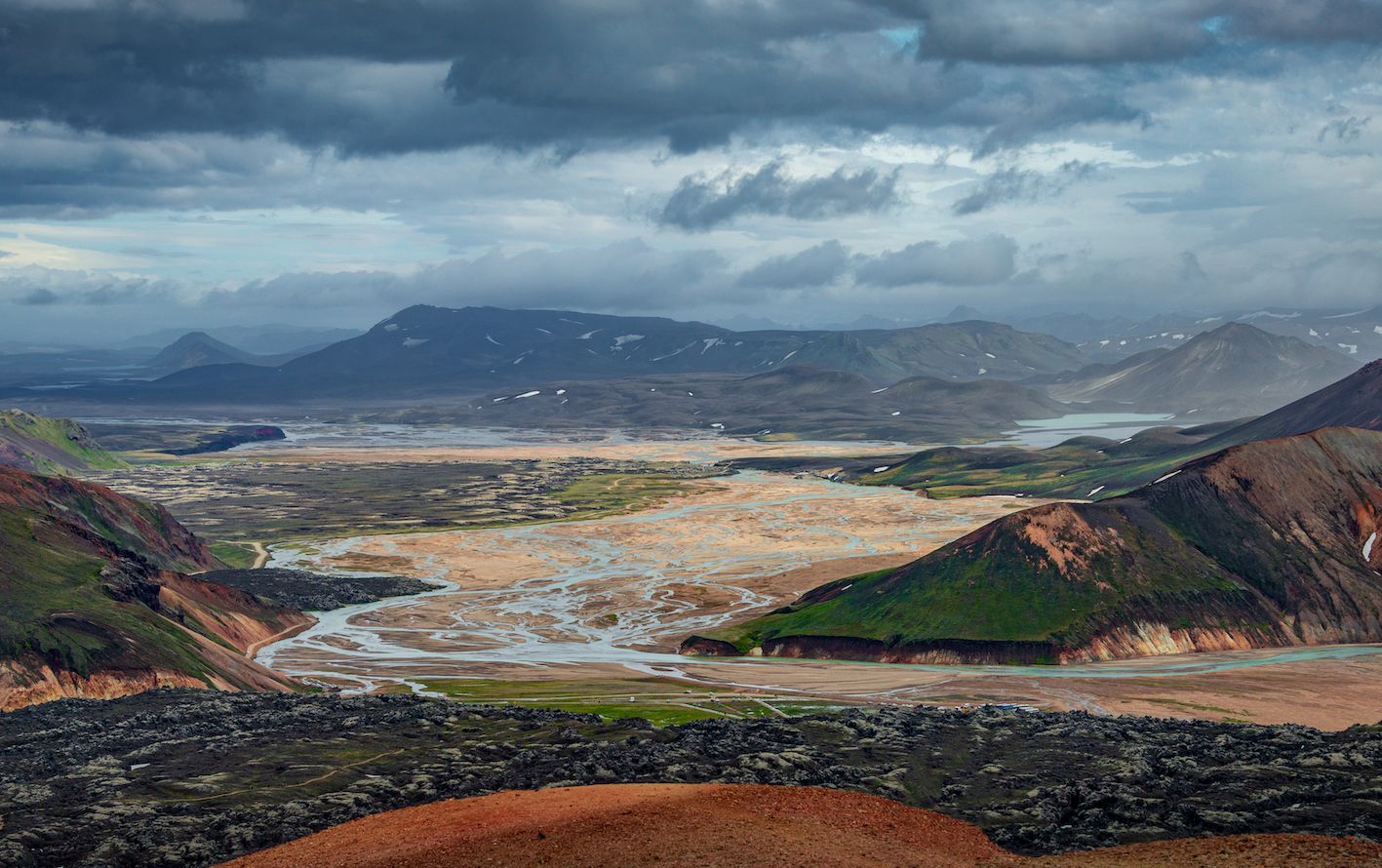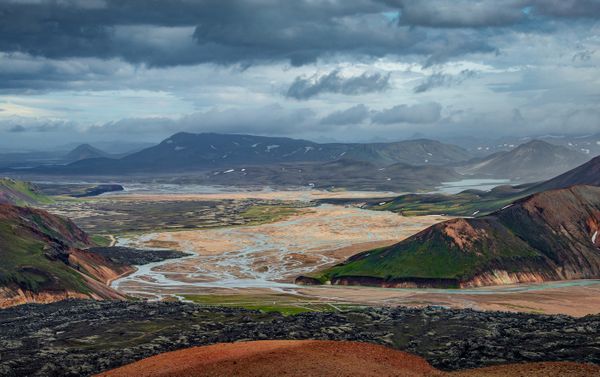 The vast majority of hikers divide the route into four segments, hiking between seven to 10 miles a day, which is what we recommend. It might not sound very far, but there are some steep climbs to contend with. And considering the route is entirely off-road, you'll need to carry all your food and other supplies with you.
Weather along the trail route is notoriously temperamental too. You might spend the morning hopefully waiting for the rain to abate before leaving camp. You'll be trudging through the snow, crossing icy rivers, finding your way through thick fog… tempted yet?
If this sounds like exactly the type of adventurous trek you're looking for, you can even make it a little bit longer. Add on the Fimmvörðuháls trail, a 13-mile route which leads from Þórsmörk, across two glaciers, to Skógafoss waterfall in Skógar.
You'll be trudging through the snow, crossing icy rivers, finding your way through thick fog… tempted yet?
Most people walk the route from north to south, as the trail slopes slightly downwards in that direction, and this is the order you have to book huts in. However, if you don't mind camping there's nothing to stop you from going the other way. You're likely to encounter fewer people, and you'll get to enjoy a dip in Landmannalaugar's thermal pools at the end of the walk rather than the beginning.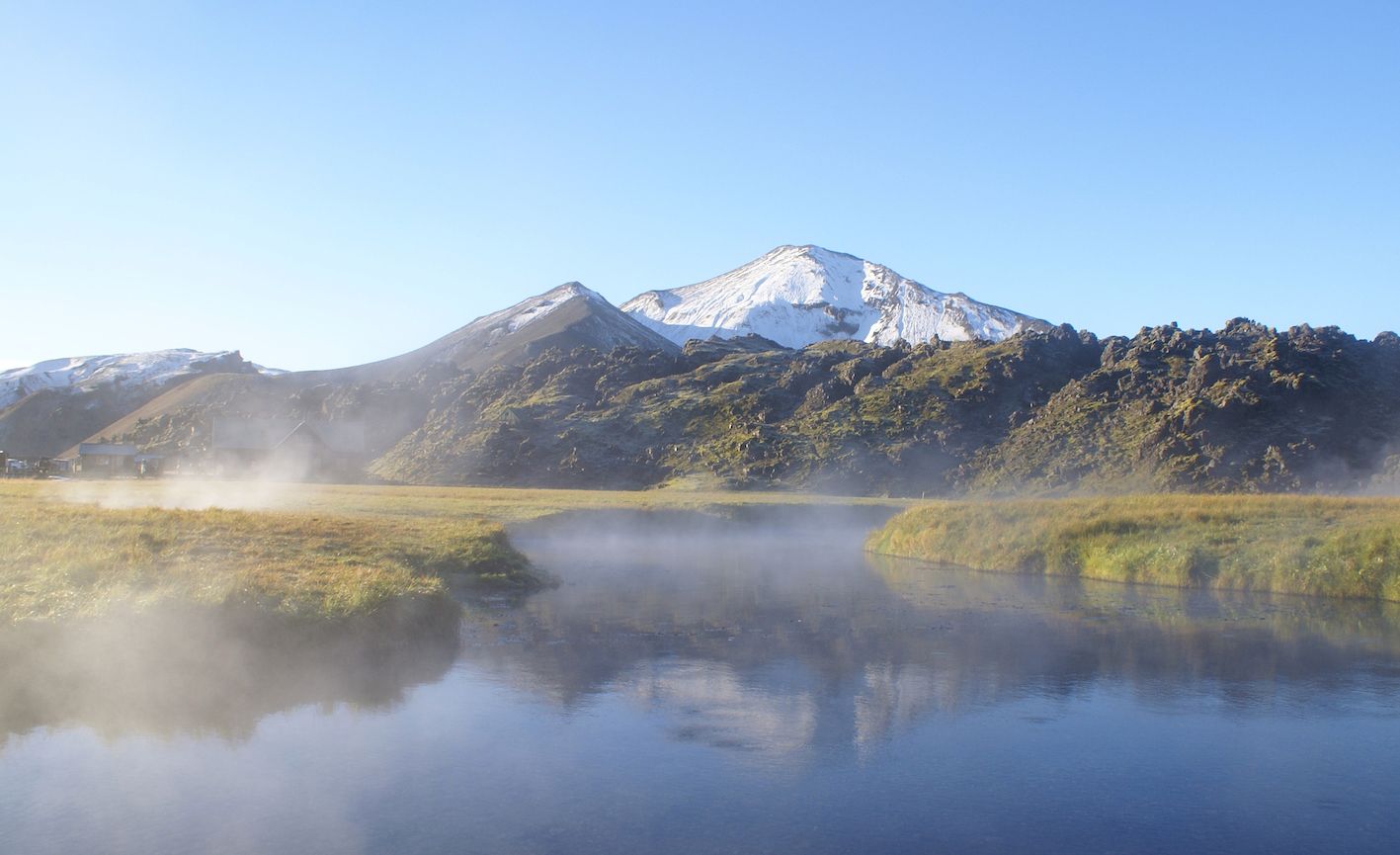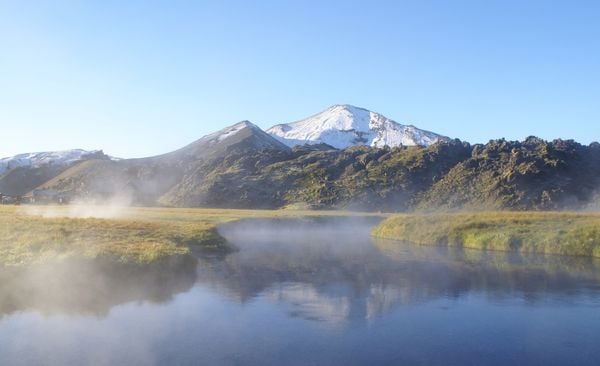 When does the Laugavegur Trail open?
Due to the unpredictable weather in the region, the Laugavegur trail is only open from late June to mid September. The exact dates are dependent on the weather, and also on Iceland's Road Authority. The trailhead, and some of the huts along the route, are accessed by gravel F-roads (roads that access the highlands of Iceland), which are closed during the winter months when conditions are too dangerous for driving.
It's for this reason that most hikers will plan a trip between July and August. Attempting it earlier or later than this means you run the risk of not being able to access the trail at all. However, you will encounter fewer hikers on your journey.
How to get there
Lots of people walk Laugavegur as part of a group tour. In these cases, transport is often provided to and from Reykjavík (and your evening meal miraculously turns up at the huts every night, which is an added bonus).
However, just as many people do the trip independently. Given that the trail is linear, rather than circular, driving yourself there is out of the question. Besides, contending with Iceland's bumpy gravel F-roads is not for the faint hearted. Your best option is to take a bus to the trailhead.
Various Icelandic companies offer a hiking passport. This is a flexible ticket that takes you out to your chosen start point (either Þórsmörk, Landmannalaugar or Skógar) and back to Reykjavík at your chosen end point. You'll need to ensure that you book a specific bus at the same time, as seats do fill up quickly.
Accommodation: Should I camp or use the Laugavegur hiking trail huts?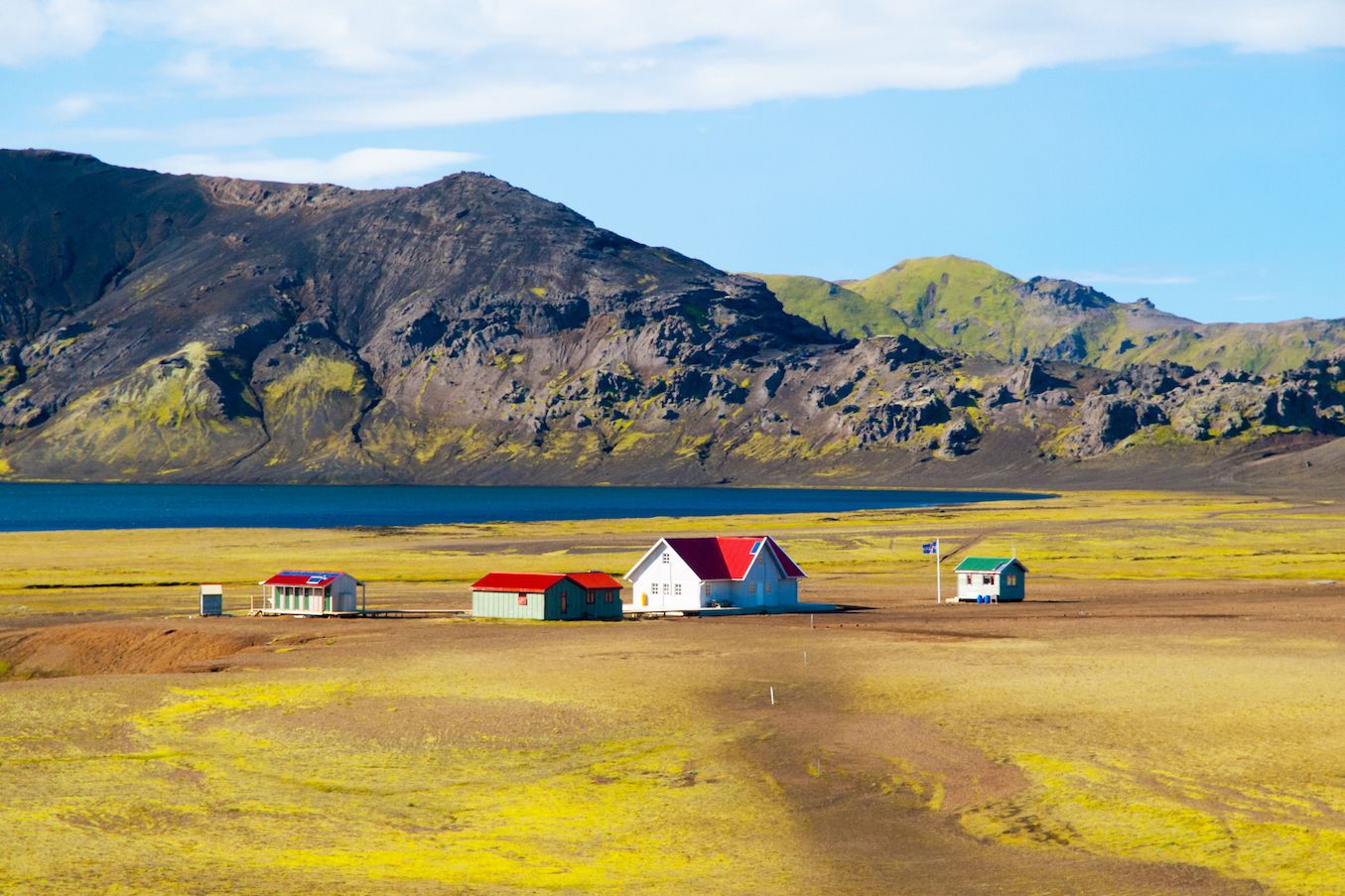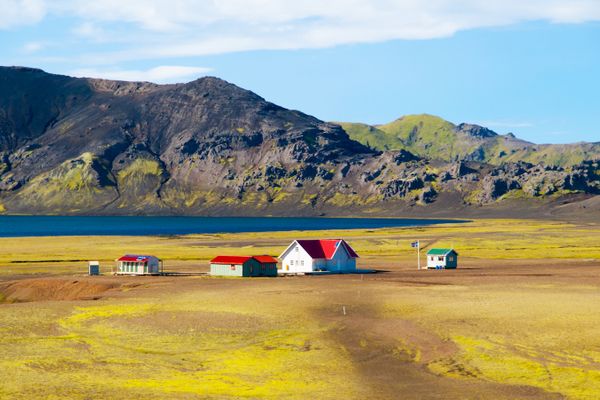 There are two accommodation options along the Laugavegur trail - to stay in one of six huts, or their adjacent campsites. Both of these are owned and maintained by FÍ (the Icelandic Touring Association). Wild camping is not permitted.
The huts are located in Landmannalaugar, Hrafntinnusker, Álftavatn, Hvanngil, Emstrur and Þórsmörk. Each varies in size and comfort, but all offer a mattress to sleep on, toilets, cold running water and a communal kitchen where you can cook your evening meal. What's more, they're all heated! Make sure to book them in advance - they fill up several months ahead of time.
If you decide to camp at one of the adjacent sites, you'll have access to the bathroom facilities, but not to any of the indoor space or cooking facilities.
When we walked the trail, an overnight storm caused such devastation to people's tents that most of them were evacuated back to Reykjavik. For this reason, we will always be firmly on the side of 'team hut'
Staying in a hut is the more comfortable option, but it's also the more expensive one. The cost of a hut is currently 10200 krone (around £61) per night, whereas camping costs 2500 krone (£15). Our small hiking group did a mixture of both, as there wasn't space in the huts for every night of our trip.
If you are going to camp, we'd recommend using an incredibly hard wearing tent. When we walked the trail, an overnight storm caused such devastation to people's tents that most of them were evacuated back to Reykjavik. For this reason, we will always be firmly on the side of 'team hut'.
What kit should I bring?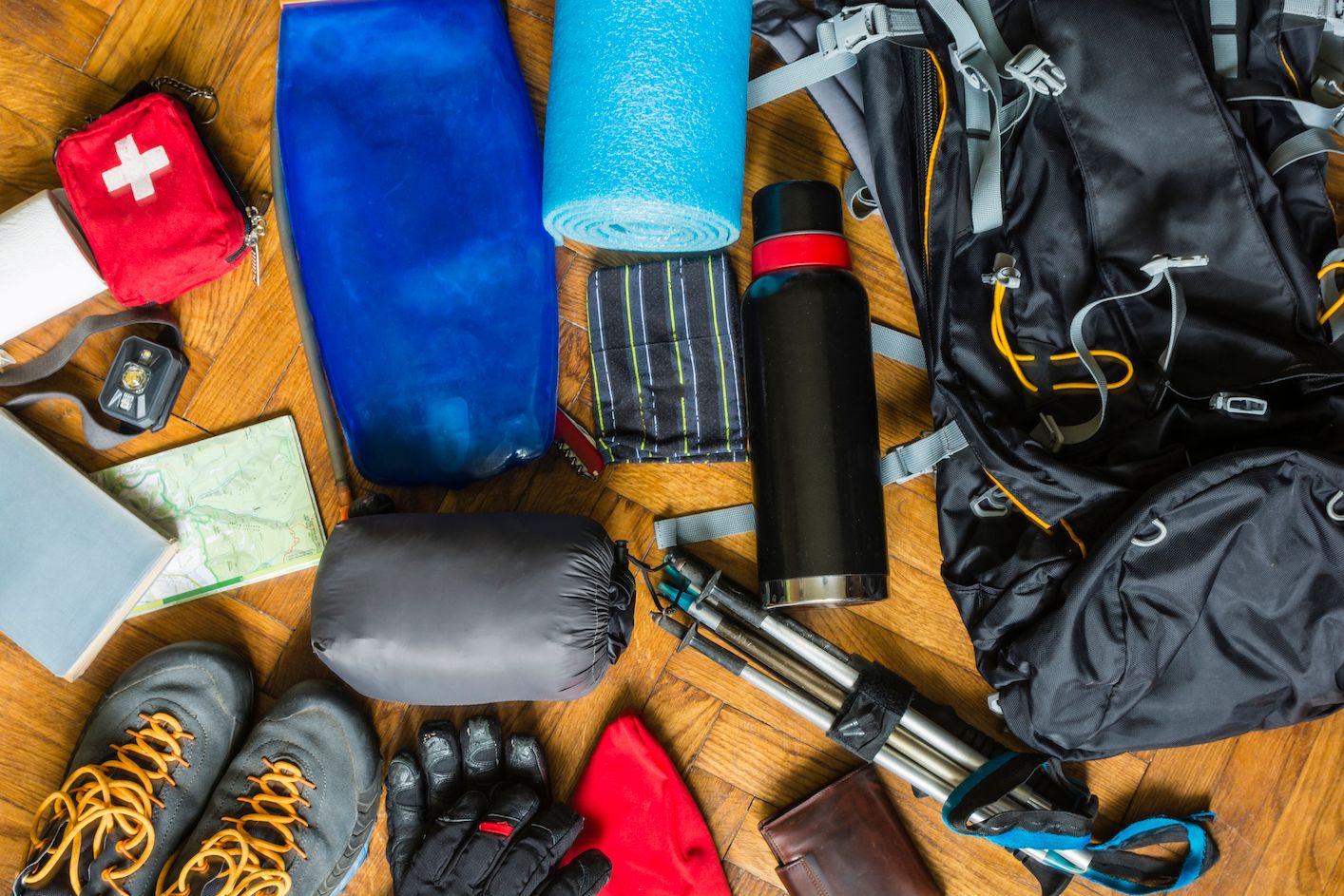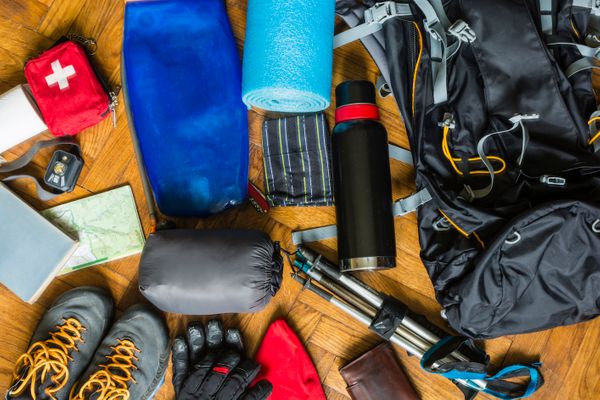 What kit you'll need to carry with you depends very much on whether you're camping or staying in the huts; if you're travelling independently or in a group. The kit list listed on our Trek the Laugavegur Trail adventure is a good starting point for the latter.
If you're camping you'll need to bring a durable four seasons tent, a heavier sleeping bag and a camping mattress (the ground's pretty stony). You'll also need to bring cooking equipment and utensils - a stove, a cooking pot, gas and utensils.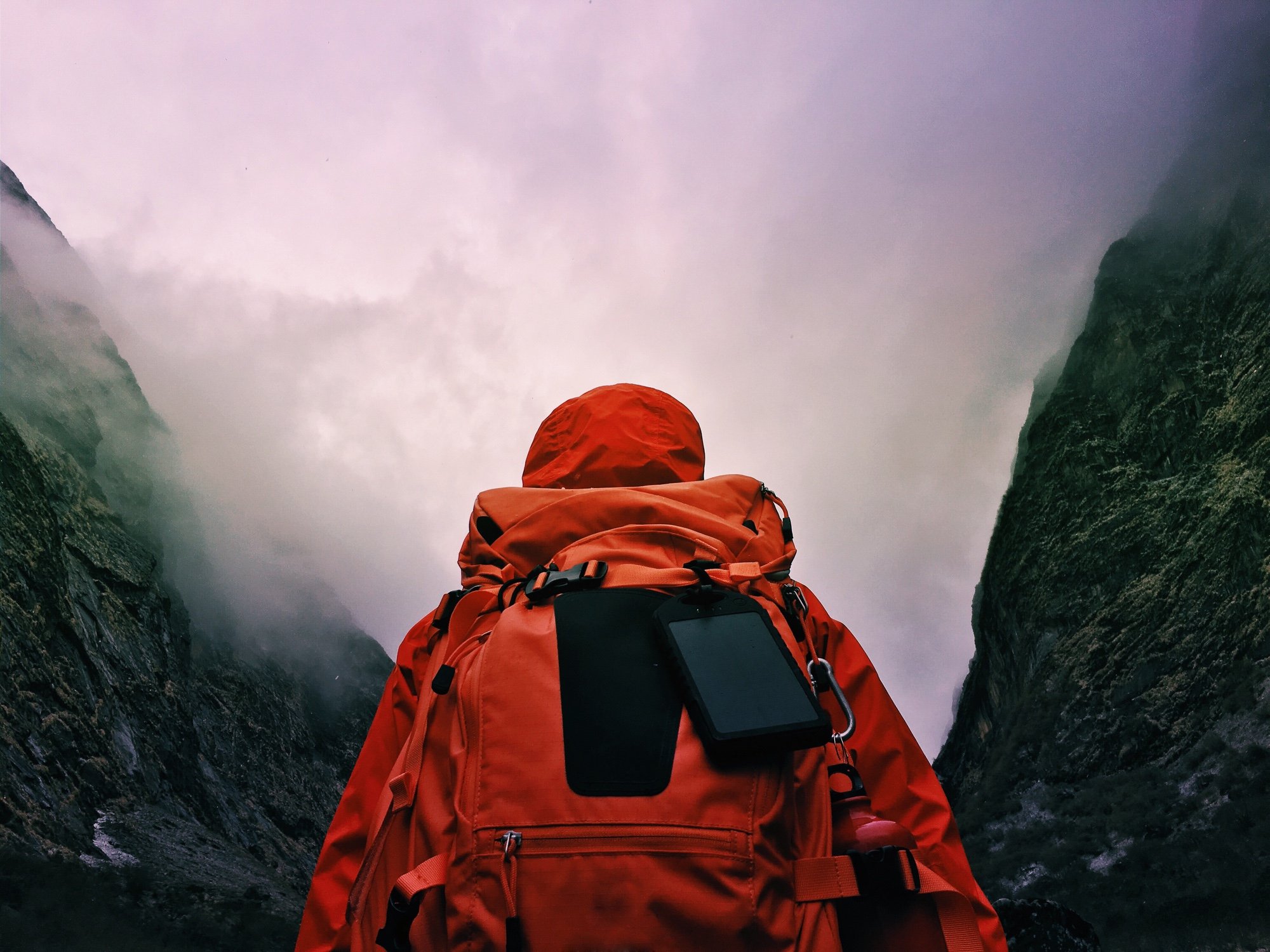 Travelling independently means you'll need to carry your own food with you. This includes energy bars and other hiking snacks (twice as many as you think you'll need!), as well as breakfast and evening meals. Dried food is much lighter than either fresh or canned produce, so can be a good option.
Even though the trail is clearly waymarked, make sure you bring a map. When fog, rain or snow descends on the mountains, visibility is significantly reduced
The huts do have a limited selection of food, drink and snacks for sale, alongside other products you might need (including plasters, power banks and camping gas). However, products do sell out, so it's best not to rely on them for your daily calorie intake!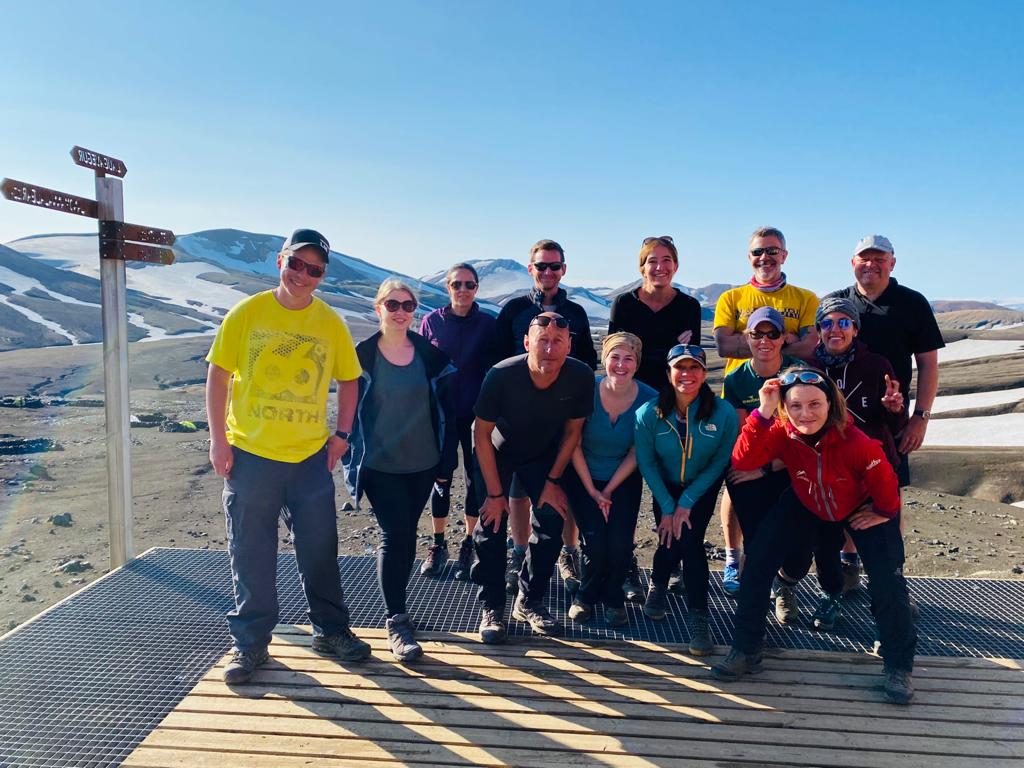 Even though the trail is clearly waymarked, make sure you bring a map. When fog, rain or snow descends on the mountains, visibility is significantly reduced.
The Laugavegur Trail: A 4 Day Itinerary
Day 1: Landmannalaugar to Hrafntinnusker

Distance: 7.4 miles
Time: 4-5 hours
You can either arrive at Landmannalaugar the day before and camp at the trailhead, or catch the early bus out of Reykjavik and get on the road. We'd recommend the former, if you have the time to do so.
The camp is located in the colourful volcanic hills of Fjallabak Nature Reserve, where there are plenty of short hikes to get you warmed up. Speaking of warming up, there are some geothermal hot springs which you can bathe in. The campsite at Landmannalaugar also has a charcoal grill, so you can kick off your adventure with a barbecue.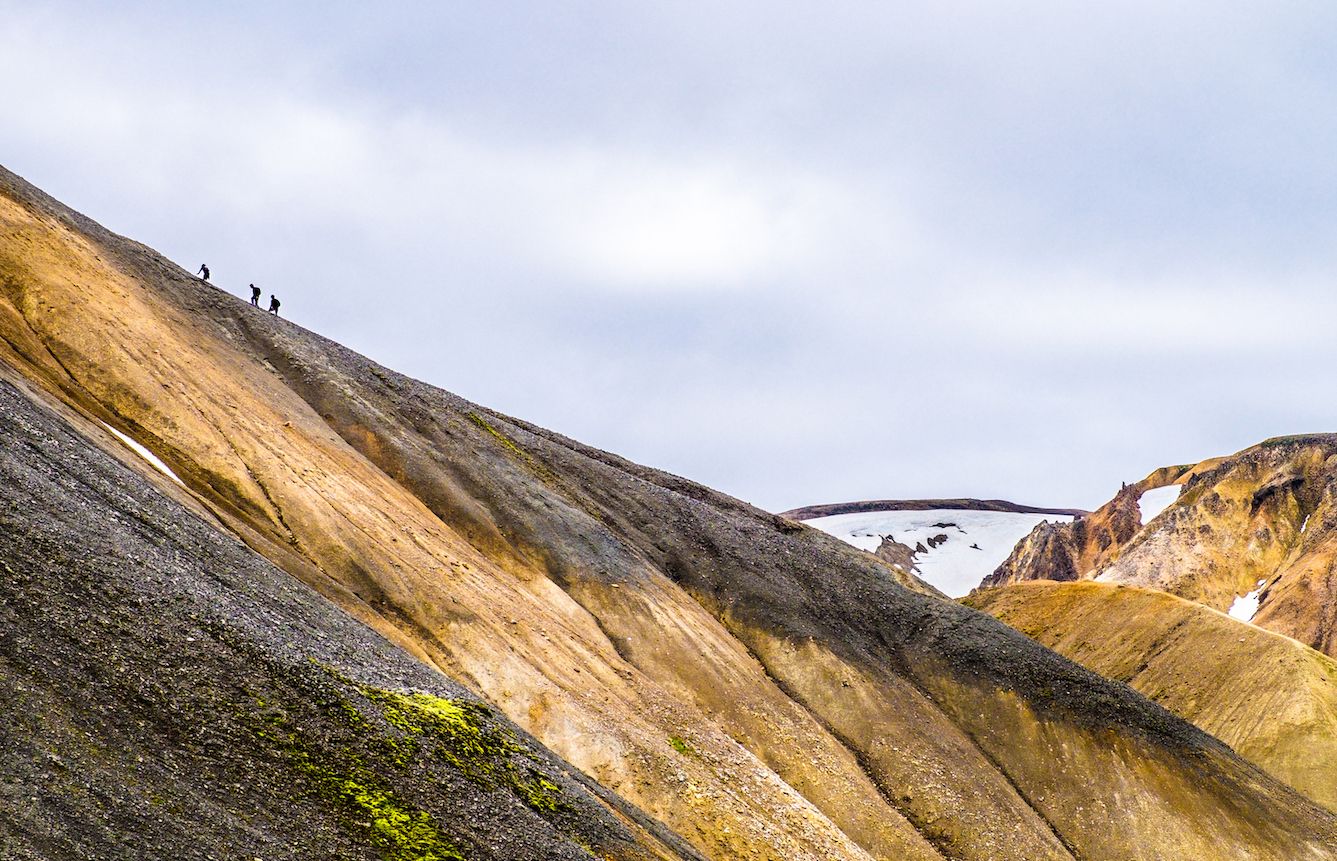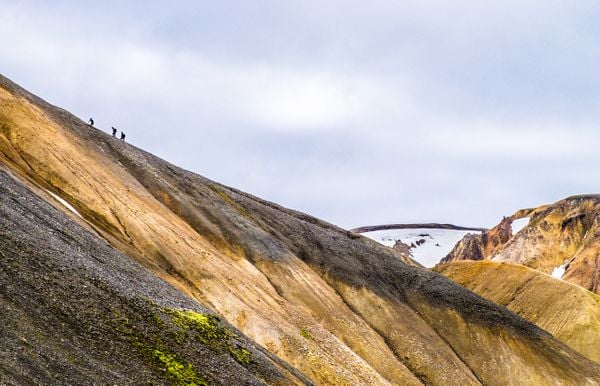 Once you're ready to strike out, you'll start off by climbing a waymarked path up to the lava field of Laugahraun. The path is steep and strenuous, especially when covered in snow, but it soon levels out.
The lava field consists of dark basalt, ossified into strange formations and dotted with green moss. As you walk, you'll see evidence of geothermal activity, including steam rising from vents in the ground, and puddles of bubbling mud.
Craggy volcanic mountains loom up on either side. You'll head downhill to a plateau, just below the mountain of Brennisteinsalda (also known as the 'Sulphur Wave'). This is a great spot for a snack break; take in the view of the multicoloured rhyolite mountains and gorges.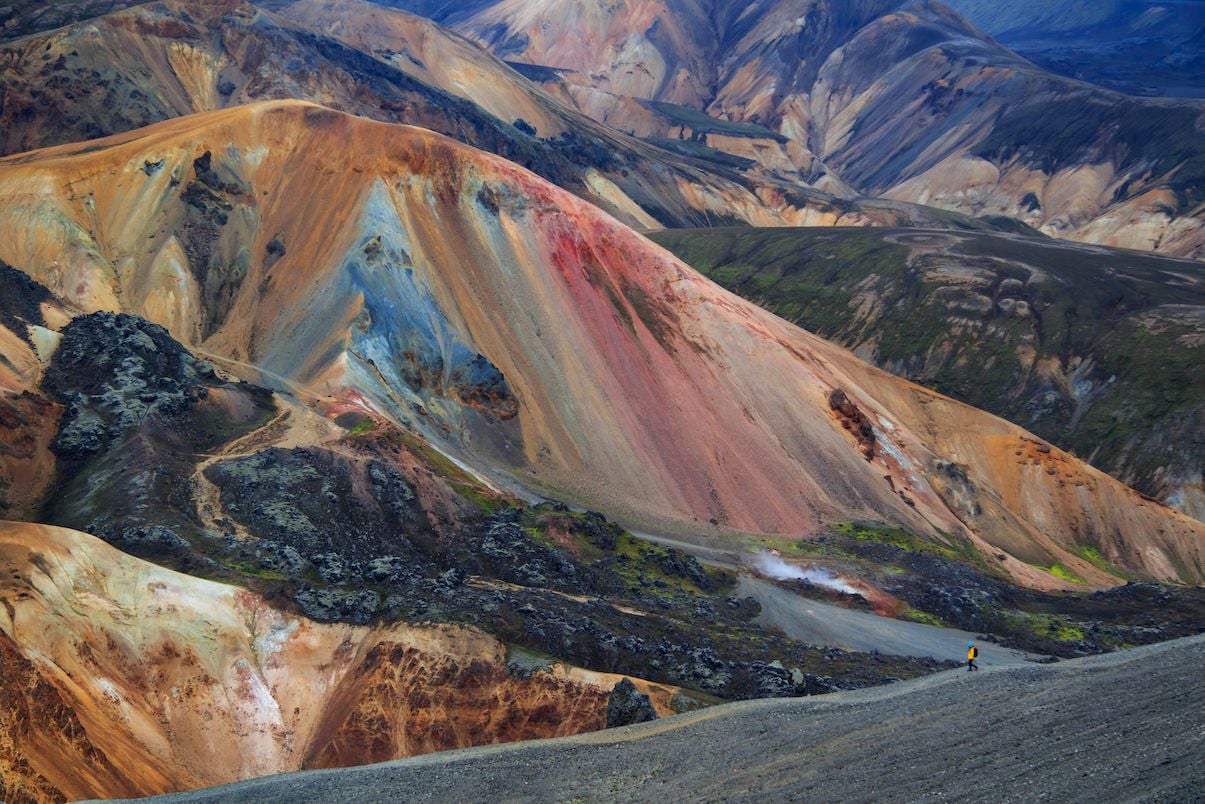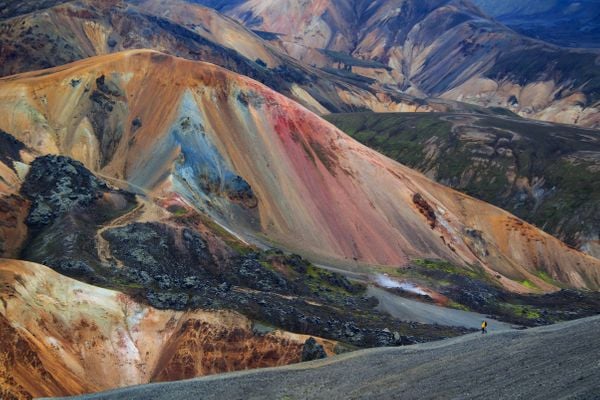 Continue on uphill to Stórihver, a green valley where a geyser pumps out steam across the landscape. We'd recommend a rest here, as the final part of the hike - to the hut in Hrafntinnusker - involves another elevation gain.
The scenery changes significantly as you walk; the colourful, undulating hills are replaced with stark black volcanic slopes. The higher peaks are striated with snow all year round; the temperature drops significantly as you make your way through slushy patches of snow. As you cross the slope of Söðull, you'll find a sobering memorial to a former trekker.
"In loving memory of Ido Keinan, who passed away in a blizzard so close to the safe hut nearby yet so far at only 25 years old," reads a metal plaque drilled into a basalt cairn.
Keep climbing up the bare obsidian mountainside until you reach the Hrafntinnusker hut. Located at an elevation of 1110m, it's the highest point on the trail, surrounded by snow and dark mountains streaked with ice.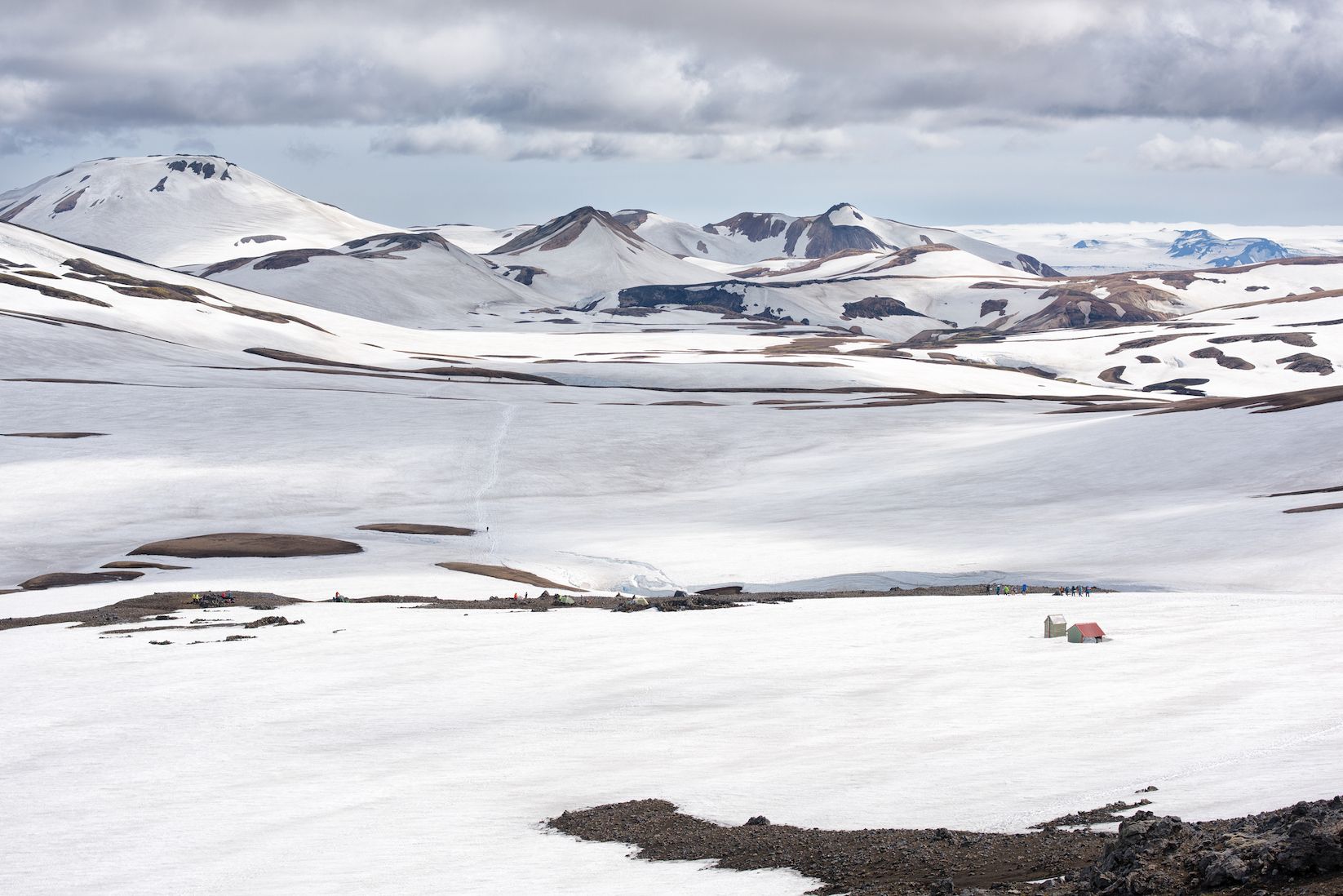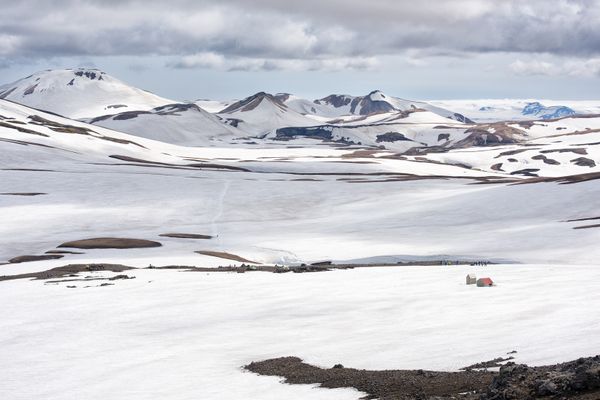 The campsite is on a bare, obsidian slope, consisting of a few horseshoe shaped windbreaks created from the volcanic rock. This was one of the nights where we camped, and we can tell you from bitter experience that it was really rather cold!
For this reason, some hikers choose to continue onto the next campsite, which is better equipped and less exposed. However, if you do that you'll be looking at a further four to five hours of hiking, which is a lot when you're carrying a heavy rucksack!
Day 2: Hrafntinnusker to Álftavatn
Distance: 7.4 miles
Time: 4-5 hours
You'll be able to see the trail that leads away from the campsite towards Álftavatn (and the hikers walking ahead of you). It leads across patches of snow and bare rock, curving over rolling basalt hills as it passes below Reykjafjoll Mountain. Although the terrain is relatively flat here, do tread carefully - there are several ravines covered with snow bridges.
The path meanders towards the west of Kaldaklofsfjöll, and there's a short but relatively steep climb up to the plateau of Jökultungur, where you're treated to an impressive view of the varied terrain you've hiked across, and the three surrounding glaciers: Tindfjallajökull, Eyjafjallajökull and Mýrdalsjökull. Well, unless it's obscured by clouds!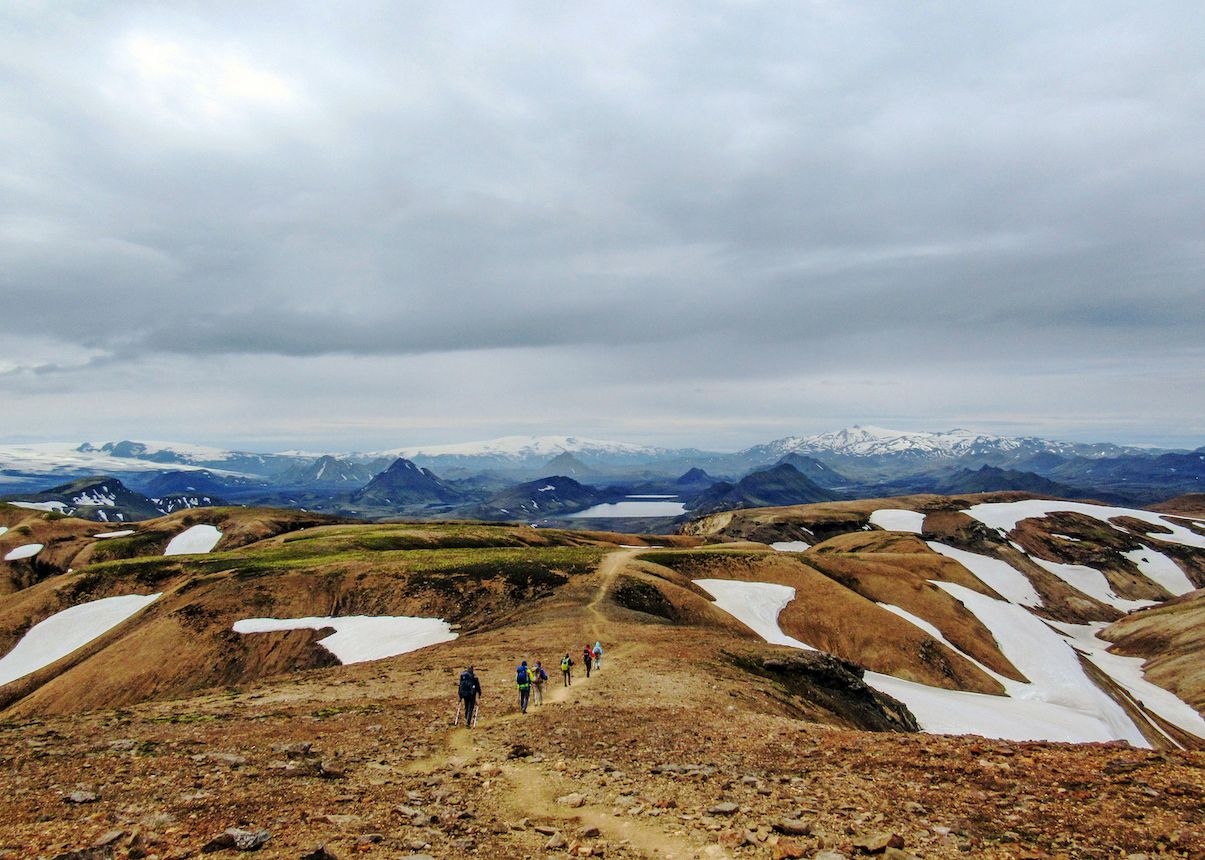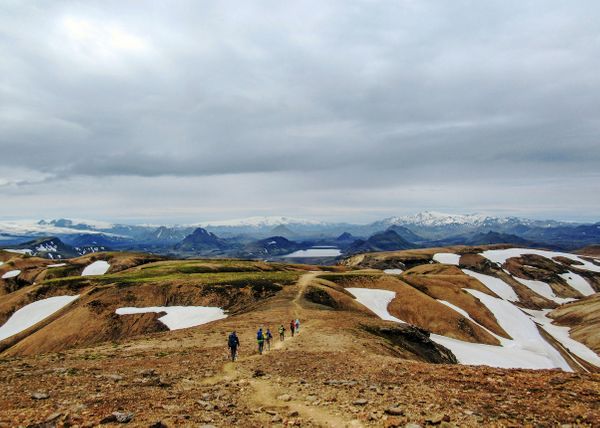 As you walk across Jökultungur, you'll see the Álftavatn Valley spread out below you. The terrain has changed again - Lake Álftavatn, with its gleaming gun-metal grey waters, is encircled by conical volcanic peaks carpeted in lime green moss. Rivers run through the green floor of the valley like silver threads. On a clear day, you should be able to see the faint blue and white silhouettes of the ice caps on the horizon.
There's a rocky, slightly steep descent into the valley. From there, it's a flat walk across the valley floor, which is carpeted with moss and grass. You'll need to cross the Grashagakvísl river to continue along the path.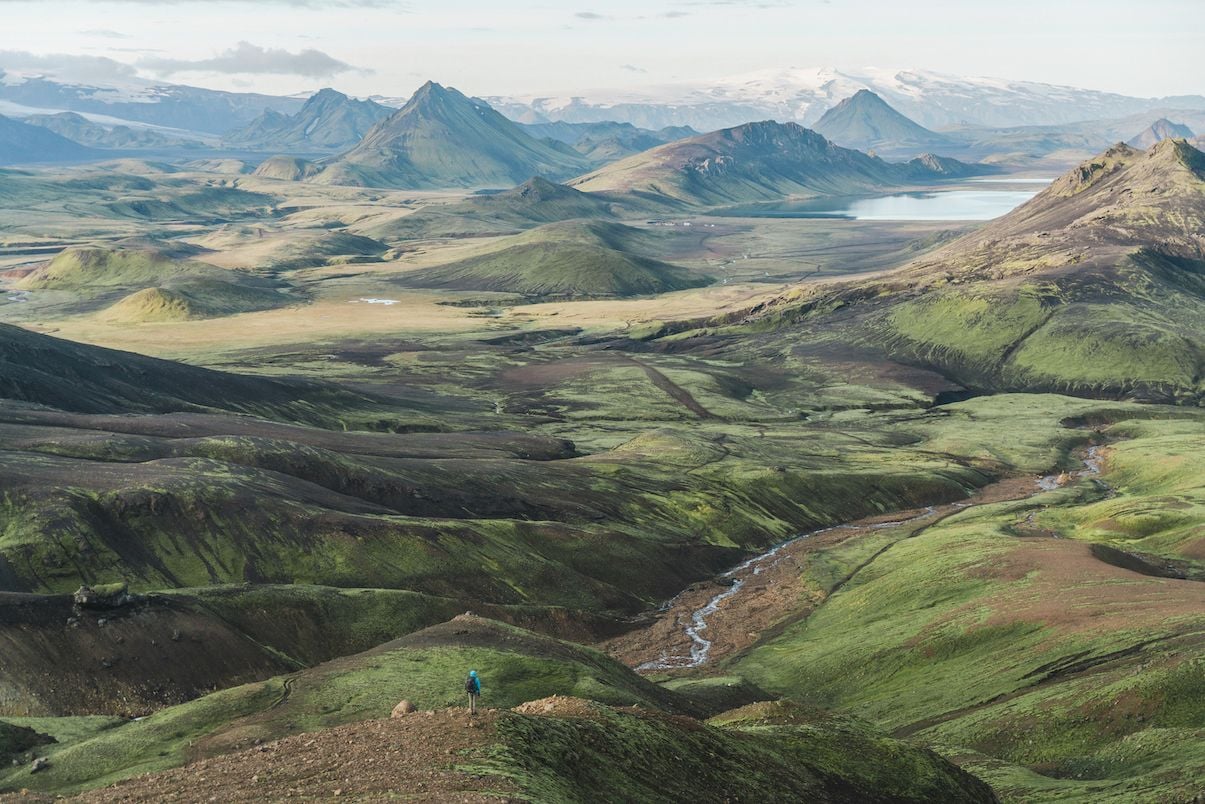 In some weather, you can do this via a snow bridge - otherwise you'll have to put on your waterproof shoes, roll up your trousers and wade across. The water is (literally) glacial! According to FÍ, the water is drinkable (but we'd always recommend purifying it).
The hut and campsite are located on flat land near Lake Álftavatn. The words 'Restaurant' and 'Bar' are painted on the side - a can of beer is definitely in order. This campsite has better amenities than the previous one, including hot showers (which you'll need to pay an extra fee for).
Day 3: Álftavatn to Emstrur
Distance: 10 miles
Time: 6-7 hours
Follow the trail in an easterly direction across the valley. After around 20 minutes of hiking you'll need to cross the Bratthálskvísl river. It's deeper and faster flowing than yesterday's, especially after heavy rain. You'll walk along Brattháls ridge on the way to Hvanngil, a green and volcanic valley where a further set of trekking huts are located (a useful toilet stop).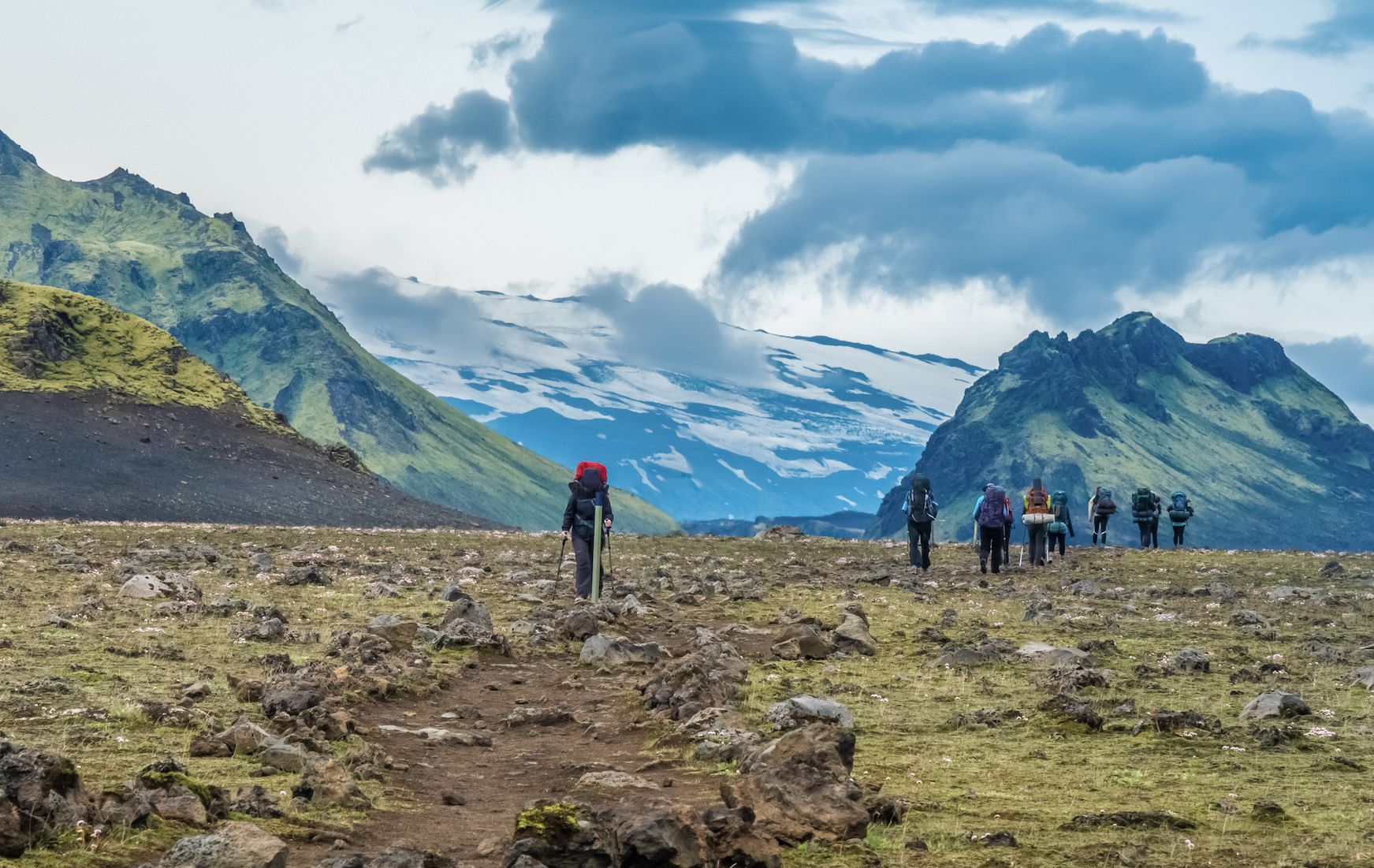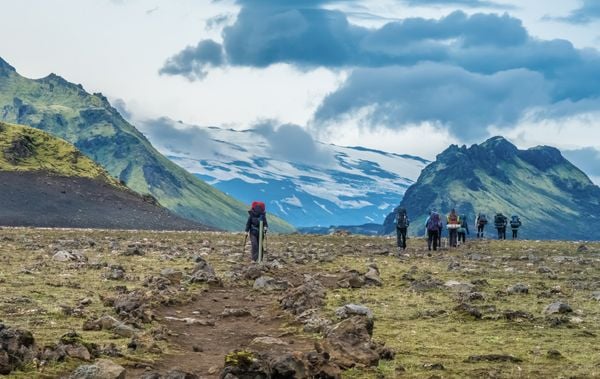 After Hvanngil, you'll cross the Kaldaklofskvísl river via footbridge, and a short while later, it's another cold crossing of the Bláfjallakvísl river. Your fourth and final crossing of the day is the Innri Emstruá river, using a wooden footbridge.
As you continue south towards Emstrur, the green valley is replaced by the sparse volcanic desert of Mælifellssandur. The black sand is littered with pumice boulders, and is almost entirely devoid of vegetation. After you've been walking for around an hour, you'll begin to descend into a small valley, where you'll catch sight of the huts.
Day 4: Emstrur to Þórsmörk
Distance: 9 miles
Time: 6-7 hours
Head east on the trail across the volcanic landscape. The path descends down to the Syðri-Emstruá river, which runs through a deep canyon (don't worry, there's a footbridge for this one). You'll climb back up on the other side, to a higher plateau above the gorge.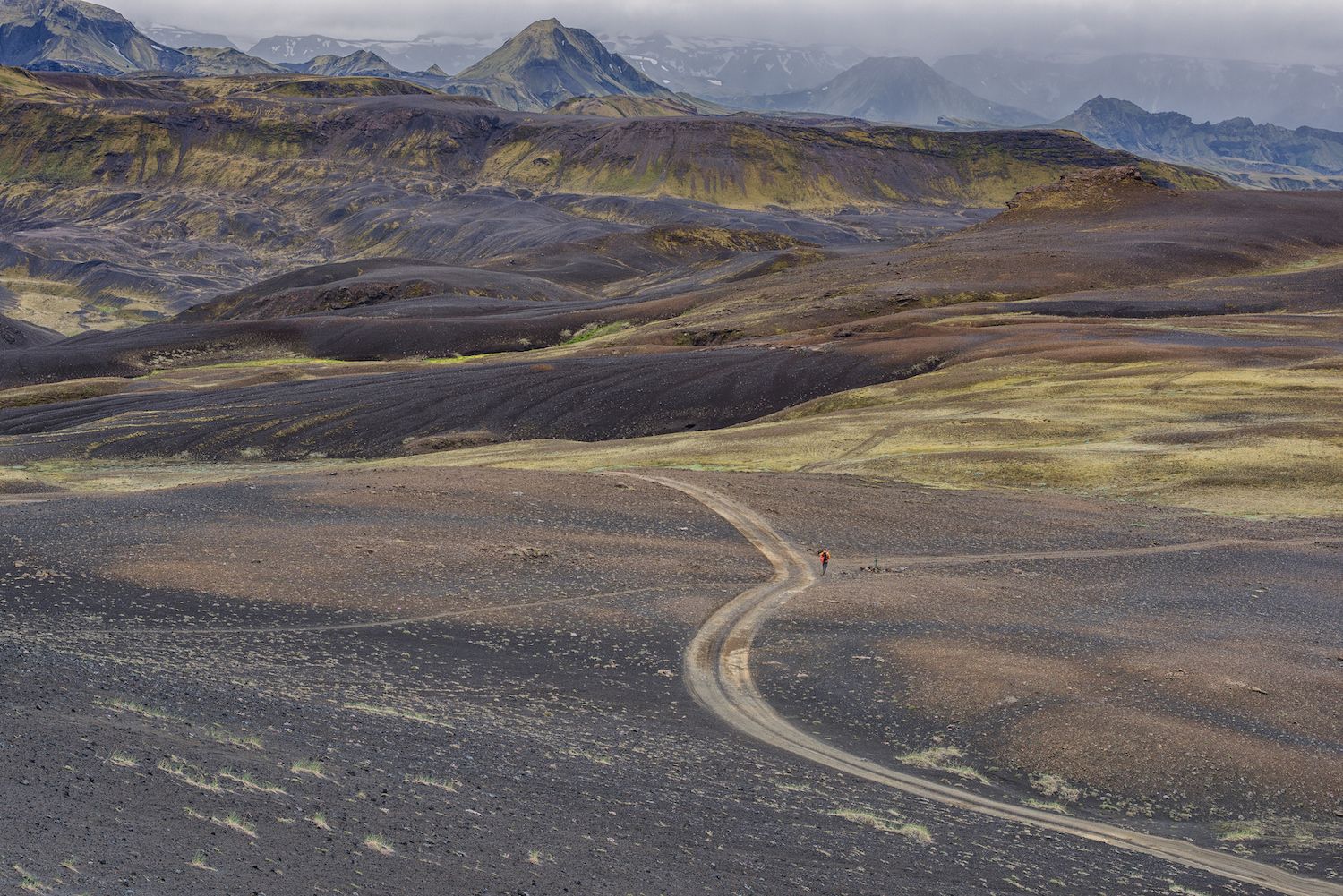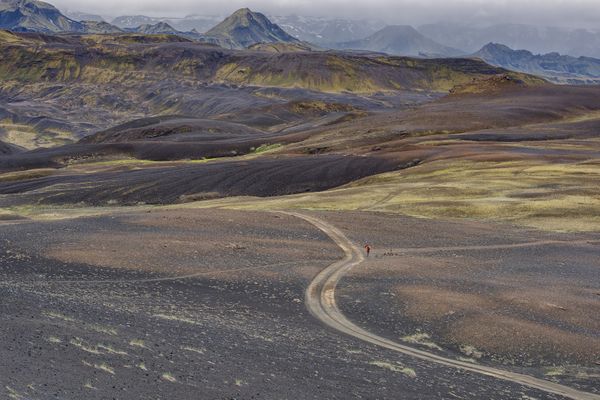 If you walk out (carefully) towards its edge, you'll be able to see the deep gorge where the Syðri-Emstruá and Markarfljót rivers meet. They're fast-flowing rivers which are fed by the meltwater running off the Mýrdalsjökull and Eyjafjallajökull glaciers.
Hike south through the hills of Almenningar. You'll cross two small ravines, Slyppugil and Bjórgil, both of which have creeks with drinkable water. Once you've left the ravines behind, you'll see that the landscape begins to get greener.
You'll soon reach the final steep climb of the day, up to the bare summit of Kápa. And shortly after that, your final river crossing, over the gravel outwash plain of the Þröngá. It might not be steep, but the ground is rocky.
You've now crossed over into Þórsmörk, which translates to 'Thor's Valley'. It's the greenest part of the walk - you'll even hike through your first woodland of the trip, Hamraskógar, where you'll find dainty, stunted trees and a carpet of wild herbs and flowers. Descend down through the wooded valley for around half an hour, until you reach the end of the trail.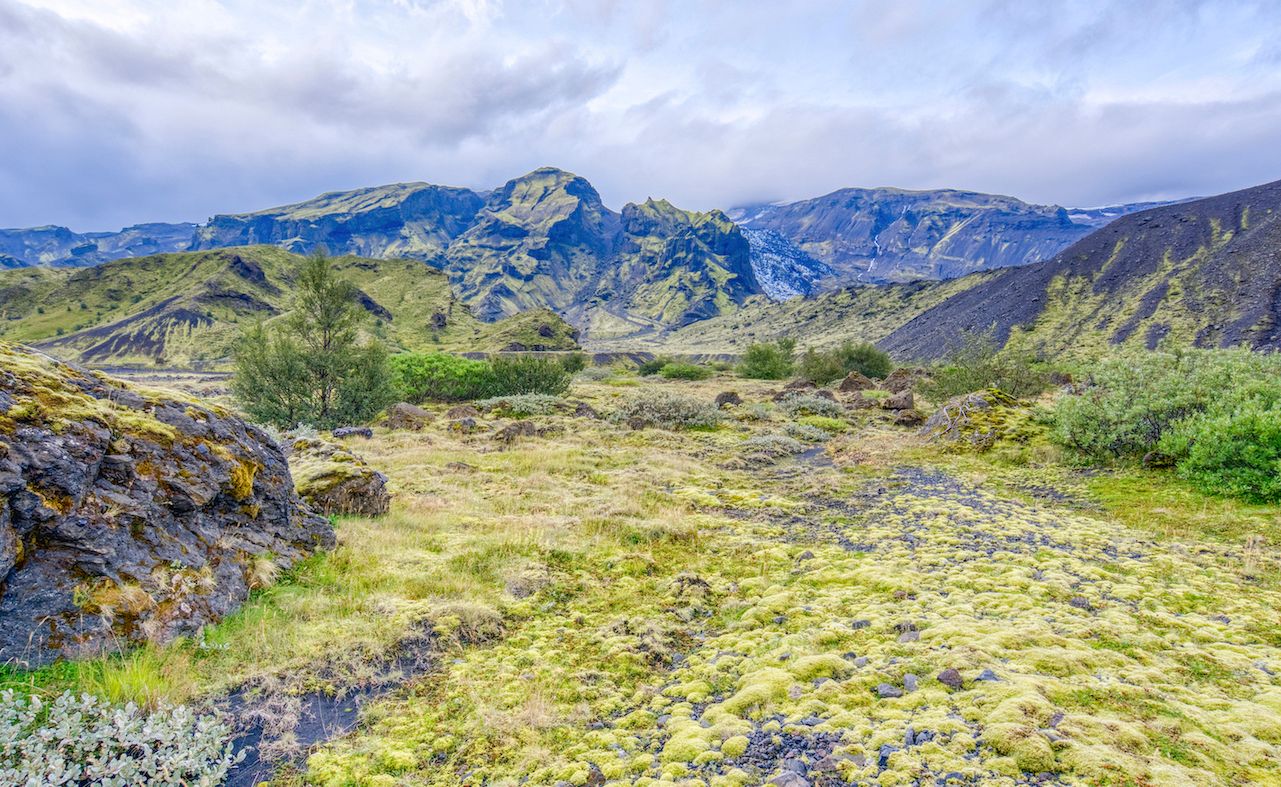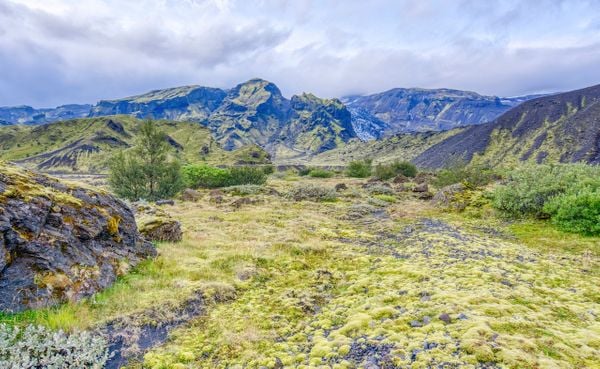 There are a few accommodation options available, if you aren't planning on going back to Reykjavik straight away. The most popular is the hut and campsite at Langidalur. But if you're adding on the Fimmvörðuháls trail to your trek, it's worth continuing on - you'll find the small Baldvinsskáli hut around 2.5 miles along the route.
If you've finished the walk, and want to treat yourself, we recommend the more upmarket private accommodation, Volcano Huts. There's a sauna and hot pool, plus a restaurant serving up a hearty dinner buffet.
Inspired? Check out our Trek the Laugavegur Trail adventure, and our other wild hikes!