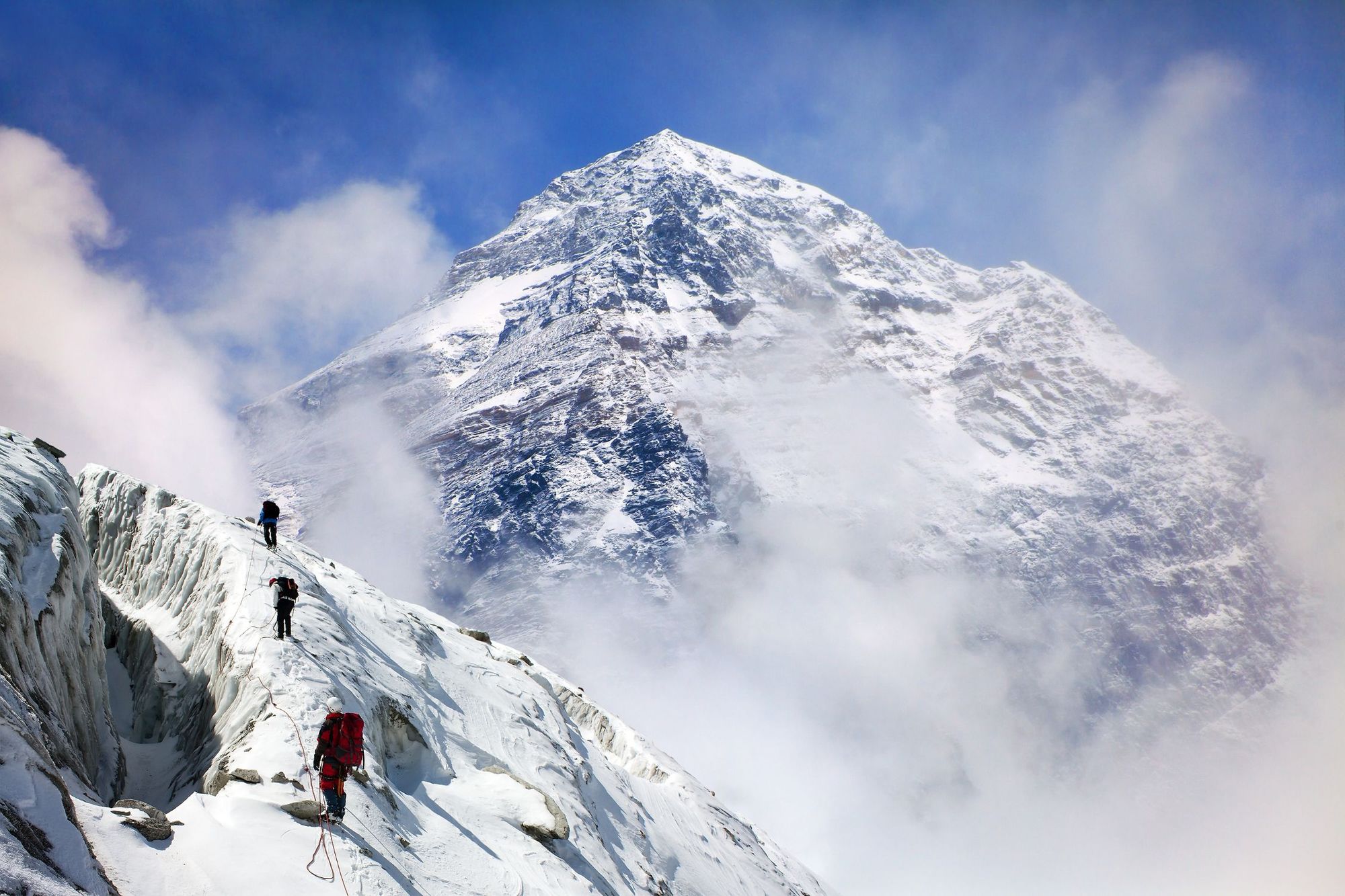 Sometimes, you need to satisfy your mountain-climbing itch when there aren't any mountains around. That's when it's time to turn to the best mountaineering documentaries you can find on the internet. Sure, you may not be able to pop down to the shops and pick up a mountain next to the instant noodles, but you can get a mountain on your laptop or TV screen pretty easily these days. The best mountain climbing movies can now be found widely, and usually at little cost.
Mountaineering documentaries are great. You get to watch someone else battle the elements, defy all the odds and make it to the summit (or suffer a rather more sinister finish, if you've opted for the mountaineering disasters sub-genre). You get to see ice axes and crampons in their natural environment. You get to experience the world's highest mountains through the best Everest documentaries or K2 documentaries, or visit another corner of the world you've never actually heard of before - and learn about a whole new culture and landscape. You can even convince yourself (maybe rightly) that this will improve your peak climbing skills.
Okay, so sometimes these films are overdramatised and sometimes there's more Hollywood pizazz than believable rope work. But the best mountaineering documentaries and the best mountain climbing documentaries can teach you a lot about surviving on mountains, never mind be an entertaining way to spend an evening, snuggled under a duvet and dreaming of snowy summits.
Note: due to regional variations, you might not be able to get these on all the listed streaming services where you are. Believe us, they're on there somewhere in the world!
Mountain Climbing Documentaries
1. Touching the Void
Release Date: 2003
Available on: Netflix, Amazon Prime
Let's start off with a classic of mountaineering documentaries. Touching the Void is a docu-drama that recounts the tale of Joe Simpson and Simon Yates' expedition in the Cordillera Huayhuash, Peru. Because there is no way a film crew could have come merrily along where these guys were going! Simpson and Yates attempt to climb Siula Grande – a lofty 6,344m peak – which ends with near-fatal consequences. And that classic mountaineering conundrum, that's much more comfortable to ask yourself on a sofa with popcorn: would you cut the rope?
2. Meru
Release Date: 2015
Available on: Netflix, Amazon Prime
The best mountaineering documentaries take on the unknown - and everybody loves the idea of an unclimbed mountain. It sings of explorers and the unknown, trail-breaking exploits of famous explorers. Mount Meru is often considered the hardest mountain in the world to climb (step aside K2, apparently). That's why, until fairly recently, this lofty peak in Northern India remained unclimbed.
The film Meru tracks the story of the first ascent of the mountain by Conrad Anker, Jimmy Chin and Renan Ozturk. It probably also helps that Jimmy Chin is a renowned adventure filmmaker in mountaineering circles. This mountaineering documentary follows their ascent of the Shark's Fin, returning to it after a badly failed attempt three years previously. The film won the U.S. Audience Documentary Award at the 2015 Sundance Film Festival.
3. Sherpa
Release Date: 2015
Available on: Google Play Movies, Netflix and Amazon Prime
Sherpa is a mountaineering documentary that took a wholly unexpected course, as it was being filmed. This 2015 documentary was shot in 2014 and focusses on Sherpa Phurba Tashi, a man who has climbed the highest mountain in the world Mount Everest 21 times. Sherpas are the often forgotten local porters of so many Everest expeditions. While it's often enough for their clients to haul themselves up to the highest summit on Earth, a sherpa could find themself summiting many times, all in a day's work – so to speak!
Sherps Phurba Tashi leads an expedition for a New Zealand expedition company, while the film explores the sacredness of mountains within Sherpa culture. However, when the unexpected Everest ice avalanche struck, the storyline shifts to focus on the tragedy and its aftermath. Sixteen sherpas died in the avalanche. This mountaineering documentary is a homage to sherpa guides and culture.
4. Mountaineering Documentaries: The North Face
Release Date: 2008
Available on: Netflix, Amazon Prime, Apple iTunes
The North Face is one of the older films from our selection (but still well past the millennium!). It's also one of the best mountain climbing documentaries of the past two decades.
The film is a work of historical fiction focussing on the 1936 attempt to climb the north face of the Eiger. Maybe historical fiction is a bit strong: it's based on fact, but just how sure of the facts anyone can be is up for debate. Fuelled by the encouragement of Nazi propaganda, two German alpinists set out on a competition to climb the infamous north face.  This film is about survival in high places when all the odds seem to turn against you. It's all the better for being a German-made film about German alpinists at a complicated time in the nation's history.
5. The Summit
Release Date: 2012
Available on: Netflix, Amazon Prime
There is a fine line between mountaineering documentaries and disaster movies. Because just like War of the Worlds, 2012 and Independence Day, you come into it knowing that something is probably going to go dramatically wrong. You then get the pleasure of watching the main characters struggle through the odds to success – or die trying. The Summit is one such movie, based around the tragic events on K2 in 2008.
K2 is notoriously the most dangerous of the Seven Summits to climb. There are far more deaths on its slopes than on Everest, for example. The Summit focusses in on one of K2's deadliest days, where over the course of 24 hours some 22 people tried to reach the summit – but only 11 survived. Probably not one to watch with your mum.
6. Beyond the Edge
Release Date: 2013
Available on: Netflix, Amazon Prime
Beyond the Edge is a mix of historical mountaineering gems and modern day reconstructions. It follows the story of the first ascent of Everest in 1953. Well duh, you're thinking, of course they have to do a reconstruction. It's not like anyone was there to film it. And you'd sort of be right. No one did whip out an iPhone at Everest Base Camp to record the team's feelings. But, the mountaineering documentary does include some original footage, photos, interviews and – most interestingly – voice recordings by John Hunt, the expedition leader.
7. Free Solo
Release Date: 2018
Available on: Netflix, Amazon Prime
Does this count as a mountaineering documentary? Certainly it's a documentary and it involves the ascent of a very big mountain: El Capitan in Yosemite. But can you call it mountaineering if there weren't any ropes used? Free Solo is the story of rock climber Alex Honnold's quest to free solo El Capitan's front face. For the uninitiated, free soloing is where you rock climb without any ropes, harnesses, helmets or other protection. It's just you and the rock face. One slip and it's goodbye.
This documentary tries to get inside the mind of Alex. What drives him, how he processes fear (to the extent that they scan his brain) and also the emotional side of the challenge. The film maker is his friend and – although they're keen to film the feat – they don't want to inadvertently cause Alex to plunge to his death by distracting him with camera men. Equally they don't really want to have a footage of their friend falling, even if they have nothing to do with it.
8. Mountain
Release Date: 2017
Available on: Netflix, Amazon Prime
Mountain is a film about the drive to climb mountains in the first place. If you've heard that quote from George Mallory who, when asked, "Why do you want to climb mountains?" answered, "Because it's there." And if that in any way resonated with you, you might quite like this film. Equally, if you're genuinely wondering why on earth people would want to risk life and limb to get to the top of a crinkle in the earth, you might like it too. Perhaps a viewing with a mixed group of friends could make a fun discussion point.
Mountain is co-written, co-produced and directed by Jennifer Peedom who also made Sherpa (a the movie mentioned above). Most of the footage is taken by Renan Ozturk, an acclaimed mountaineer, and narration is by Willem Dafoe – who you might know better as the Green Goblin from the pre-Avengers Spiderman trilogy. Much of the narration is taken from Robert McFarnlane's book "Mountains of the Mind" which explores this exact topic: why do we climb mountains?
9. Mountaineering Documentaries: Messner
Release Date: 2012
Available on: Netflix
Reinhold Messner is, in many circles, considered a king of mountaineering. Think what Roger Federer is to tennis. The film is biographical, as Messner looks back over his mountain climbing career with "surprising candour and self revelation". Don't be put off by the creepy film poster which makes Messner look like some sort of mountain monster out of The Witcher. It probably sounded like a great idea in the graphics department to merge the top of his head with a mountain… we're not so sure it worked out.
Either way, this is an interesting deep dive into the life of someone who started off in the Dolomites as a child with his dad and progressed to lofty heights. For full on fans (or the curious), the documentary includes hard to find footage of Messner's climbs. Including his many solo and without-bottled-oxygen feats.
10. The Wildest Dream
Release Date: 2010
Available on: Netflix, Amazon Prime
You can tell this one is a bit different from the rest. For a start, it's the only trailer with a thumbnail of, well, anything other than a great big mountain! Again, this is a mountaineering documentary about Everest. But it has a lovely past and present link to it. In 1999 Conrad Anker discovered George Mallory's body on Everest. Mallory and his partner disappeared on their Everest expedition in 1924 and their bodies were taken by the mountain. The film weaves together the stories of these two men: Mallory's historic expedition is told through the letters he sent to his wife. Anker decides to complete his Everest expedition in the fashion that Mallory and his partner would have had to – to see if Mallory would have made it to the top.
Feeling psyched to climb a mountain of your own? Check out our mountain climbing holidays and pick a peak from Mont Blanc to Kilimanjaro , Toubkal to Triglav!