If you're thinking about trekking to Everest Base Camp in Nepal then you, dear reader, have come to the right place. Hiking Everest Base Camp is a dream for many - and one more likely to be accomplished than standing on top of the highest mountain in the world.
The trek to Everest Base Camp is not to be confused with an expedition to summit Mount Everest. Mount Everest and Everest Base Camp are in roughly the same place geographically speaking, of course - the gorgeous Himalayas. But Everest Base Camp, being a base camp and all, is at the opposite end of the mountain to the 8,848m summit. It's at the (slightly) more manageable altitude of 5,380m above sea level. Hiking Everest region is much more achievable than summiting.
The trek to Base Camp kicks off in the town of Lukla in the Solukhumbu region of Nepal. From there, the camp is an approximate 130km, 11-day return trip. You don't have to be a serious mountaineer to take the trip, but you do need a good level of fitness. You also need enough wanderlust in your blood to eye up an 11-day hike in Nepal and think "that sounds like a good idea", which is certainly not the case for everyone on our lovely little planet.
"Trek along a tributary valley and take in dramatic mountain views of Nuptse, Lhotse, Ama Dablam and Mount Everest, the biggest mountain in the world…"
Of course, as most human beings from around four years old and up could tell you, the reason Mount Everest is so famous is mainly that it's the highest mountain in the world. So even when trekking to Everest Base Camp, acclimatisation is always going to be crucial. Days off for exactly that are included in the 11-day itinerary of the trek.
Travel with the right guides and they'll make sure you adapt to the altitude properly. The outward journey to Everest Base Camp tends to take longer than the return with that in mind. You rise slowly, and descend fast.
Please note: On the 1st April 2023, the Nepal Tourist Board (NTB) made changes to the trekking laws for all foreign trekkers, cyclists, and mountain climbers visiting Nepal's mountain regions and national parks. All trekkers (solo or in a group) must now be accompanied by a licensed guide. To learn more about what this means for you, read our update on the Nepal trekking requirements.
What is Everest Base Camp and where is Everest Base Camp?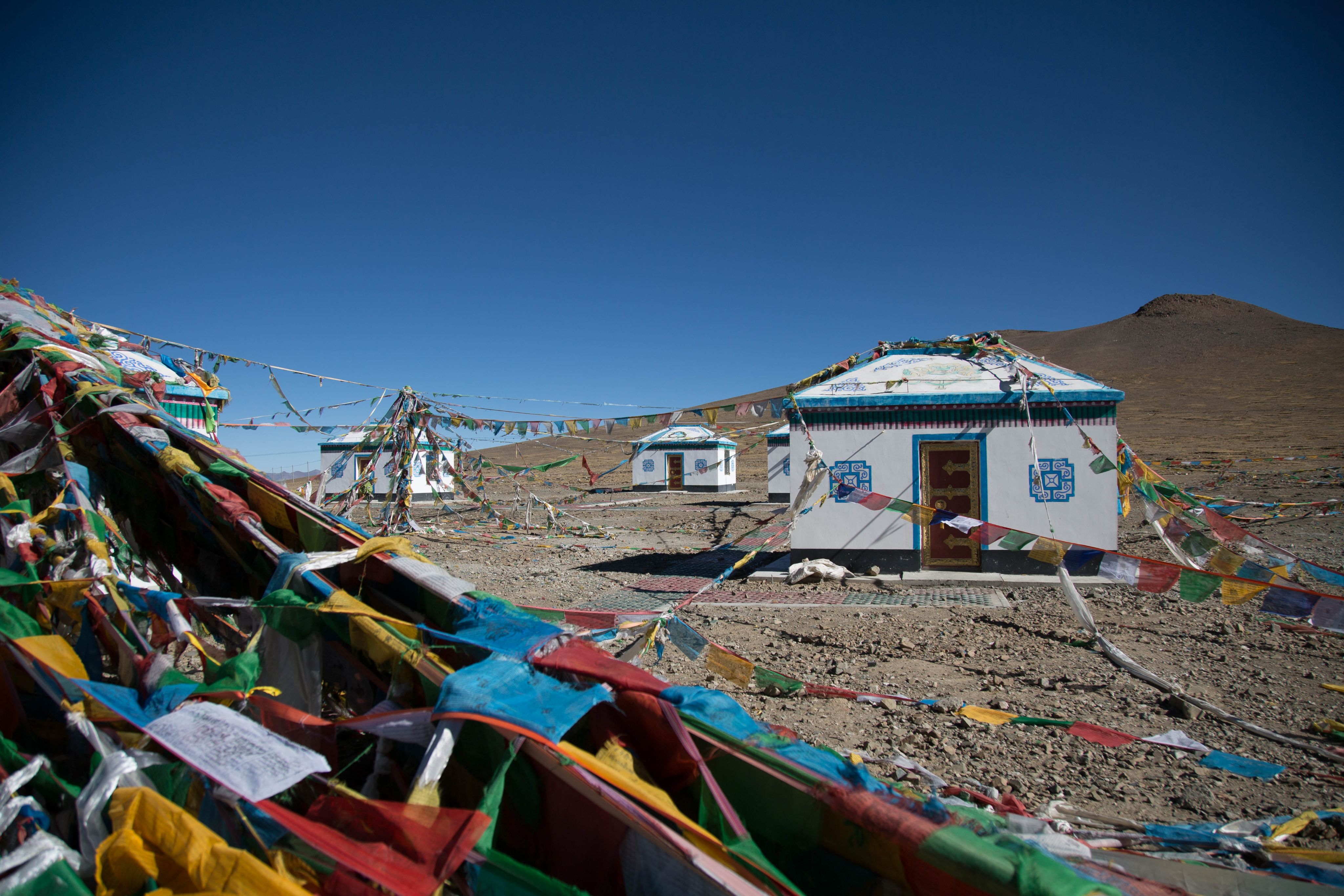 Everest Base Camp is just a term used to describe any camp at the base of Mount Everest. It's all in the name, really. Slightly more specifically, it's where climbers begin their quest to reach the summit of Mount Everest. In April and May, you'll likely find mountaineers waiting in Everest Base Camp for the right weather to launch their expedition. Mid and late May are the most popular times to ascend.
The aura of the world's highest peak extends to more than just those set on making it to the top, though. The Everest Base Camp trek has become legendary in its own right.
There are actually two Everest Base Camps, on opposite sides of Mount Everest. South Base Camp is in Nepal and is the one people normally mean when talking about "trekking to Everest Base Camp". The North Side Base Camp located in Tibet, and requires a permit from the Chinese government to use. That's on top of the permit required to visit Tibet itself. Both base camps are used by climbers ascending Mount Everest, with the Nepal Base Camp used by climbers aiming for the southeast ridge of Everest and the North Base Camp in Nepal used when climbing the northeast ridge. We're going to focus on the South Base Camp, in Nepal.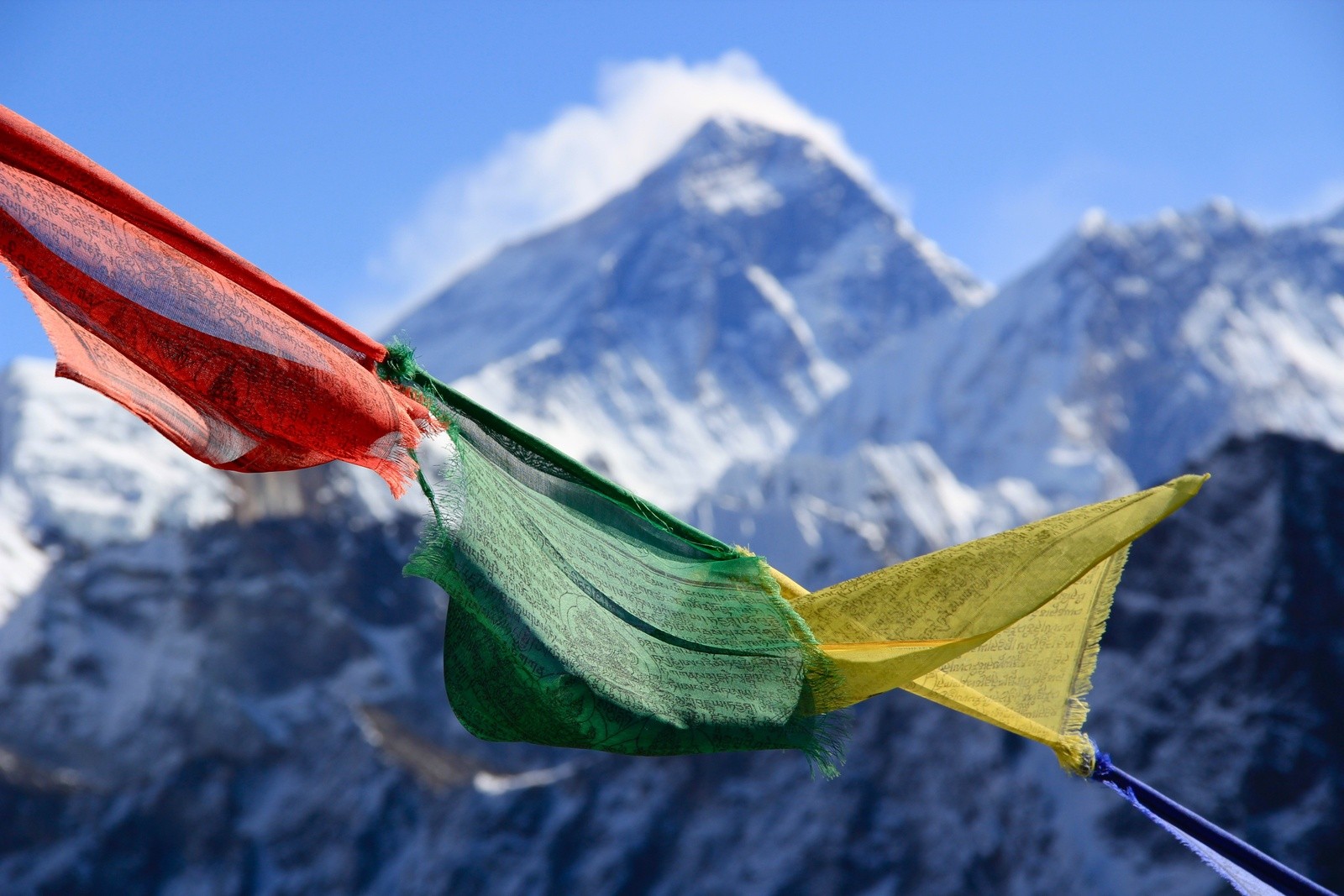 Mount Everest is in the Sagarmatha National Park in the northern part of the Solukhumbu District of the country. That's in the Mahalangur Himal sub-range of the Himalayas. 'Sagarmāthā' is the Nepali name for Mount Everest. The English name 'Mount Everest' only took hold in 1865. It comes from the former British Surveyor General of India 'Sir George Everest'. The name was suggested to the Royal Geographical Society, against Everest's objections, by his successor Andrew Waugh.
You'll meet people of all professions in Everest Base Camp, from all walks of life. People talk in languages from around the globe and there's a real buzz in the air. You can often hear avalanches drop down nearby mountains and the views of the 7,861m Nuptse and 8,516m Lhotse are just as – if not more – dramatic than that of Everest itself.
What Permits Do I Need for Everest Base Camp?
Everest Base Camp lies inside the protected zone in the Sagarmatha region, which means you need an entry permit to enter. Two, in fact. The first is the newly introduced Khumbu Pasang Lhamu Rural Municipality Entrance Permit, which costs NPR 2,000. This can be purchased in Lukla and is valid for four weeks.
There's also the Sagarmatha National Park Entry Permit (NPR 3000), available in Monjo or at the Department of National Park and Wildlife Conservation (DNPWC) counter at  Bhrikuti Mandap in Kathmandu.
You'll also need to obtain a TIMS card, for which you'll need a photograph of your passport and two passport-sized photographs. This costs NPR 1,000 and can be obtained from Tourist Service Center, Bhrikutimandap, alongside Government registered trekking companies in Kathmandu and Pokhara. Good trip hosts will prepare and apply for all the permits you need - the cost of which will likely be included in the trip price.
How long does it take to walk to Everest Base Camp and what's the route?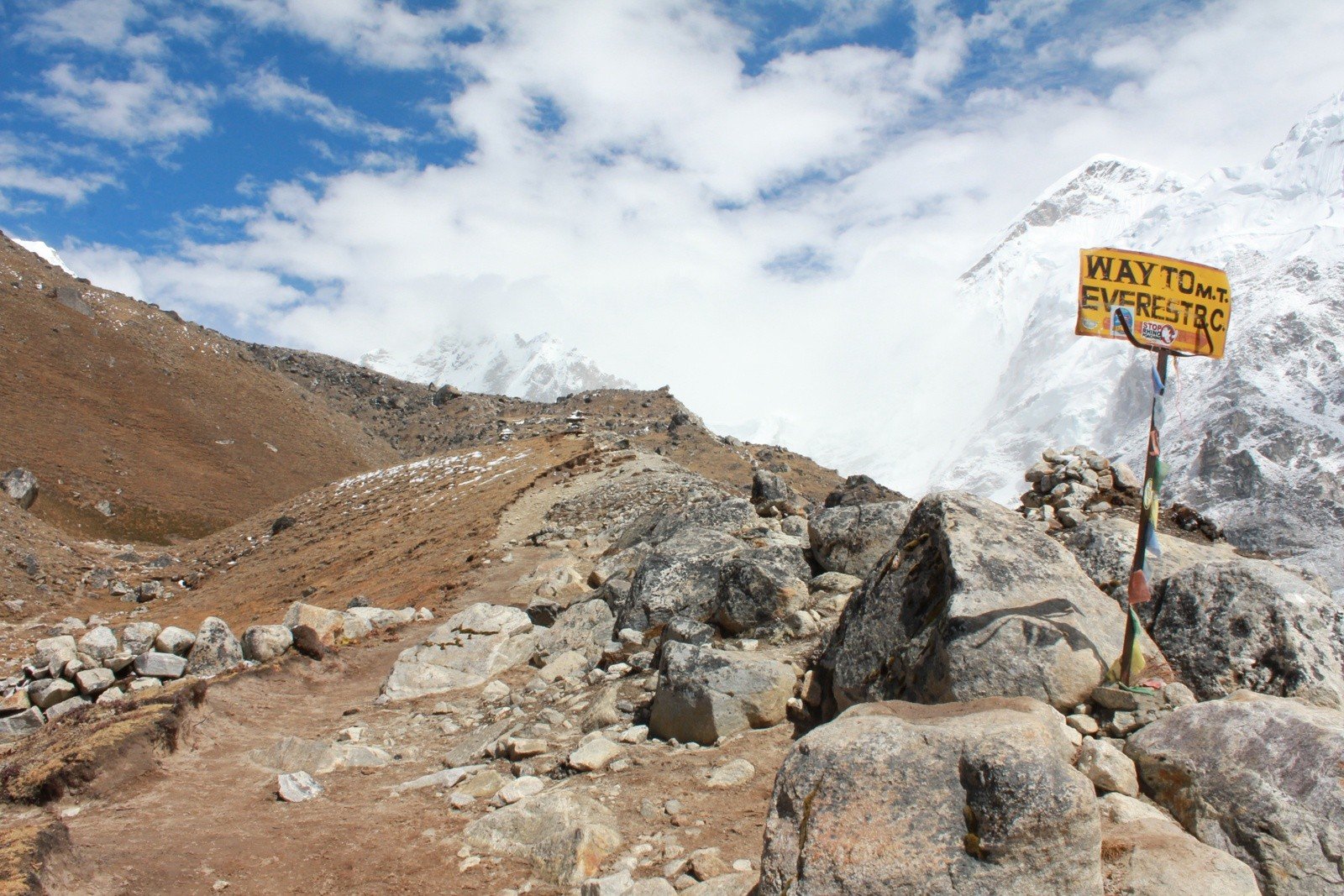 How long to hike to Everest Base Camp? We've mentioned the trek to Everest Base Camp is an 11-day expedition. That starts with your arrival in Lukla, which normally comes via a short flight from Kathmandu. It's worth remembering, then, that you're going to need more than 11 days in Nepal to complete it.
Now let's unpack that trek day by day. In order to get the most out the journey, you're going to want a reliable company, and a guide who knows their stuff. Good guides will avoid doubling back on themselves as much as possible. They'll also know when to trek to avoid the major crowds. Here's an awesome 11-day route from Lukla to Mount Everest which ticks all those boxes:
Day 1: Lukla Airport to Phakding – approximately four hours of hiking.
Day 2: Phakding to Namche. See the famous Hillary Suspension Bridge. Get a first glimpse of Everest. Approximately six hours of hiking.
Day 3: Acclimatisation and exploration in Namche at 3440m – rest day with optional hiking to a nearby view point.
Day 4: Namche to Tengboche. Trek along a tributary valley and enjoy dramatic mountain views of Nuptse, Lhotse, Ama Dablam and Everest. Approximately six hours of hiking.
Day 5: Tengboche to Dingboche, through summer yak pastures on a gentle gradient. Approximately six hours of hiking.
Day 6: Acclimatisation and exploration in Dingboche at 4410m. This is a rest day with optional hiking to Nagarjun Hill or Chukung Village. There are views of Ama Dablam, Makalu, lakes and glaciers.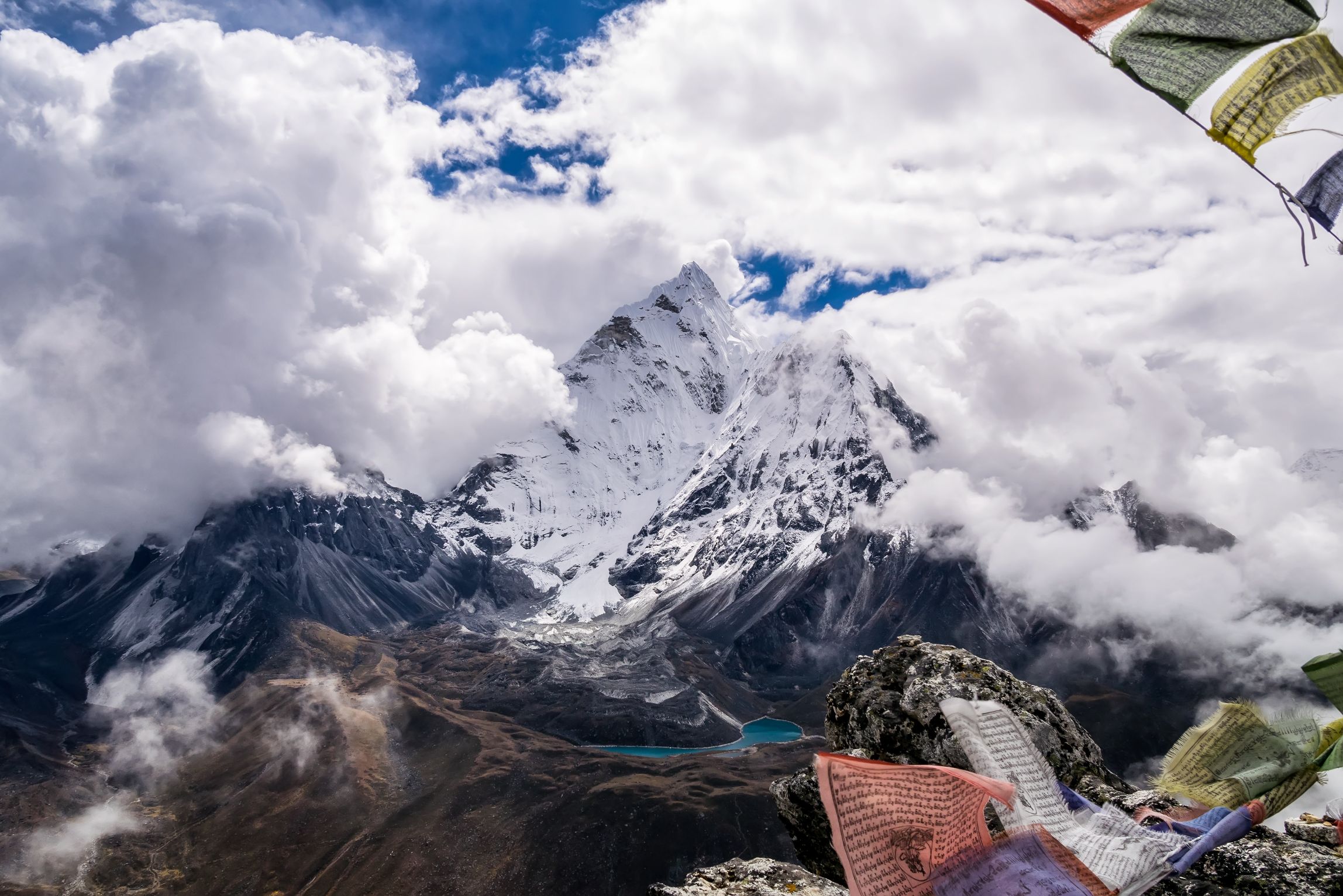 Day 7: Dingboche to Lobuche. Traverse ice covered torrents until reaching Lobuche at 4910m. This is an area with beautiful stone houses sitting amongst a frozen wilderness. Approximately five hours of hiking.
Day 8: Lobuche to Gorak Shep to Everest Base Camp at 5380m. Navigate the Khumbu Glacier and climb to Everest Base Camp - you've reached Everest Base Camp! - before heading back to Gorak Shep at 5364m for the night. Approximately six hours of hiking.
Day 9: Gorak Shep to Pangboche via Kala Patthar. Arguably the day with the best views of Mount Everest. Kala Patthar at 5550m is the highest point on the trip. Approximately eight hours of hiking.
Day 10: Pangboche to Namche, via the views from Tengboche. Approximately six hours of hiking.
Day 11: Namche to Lukla, the final descent.
Everest Base Camp: Trek difficulty and altitude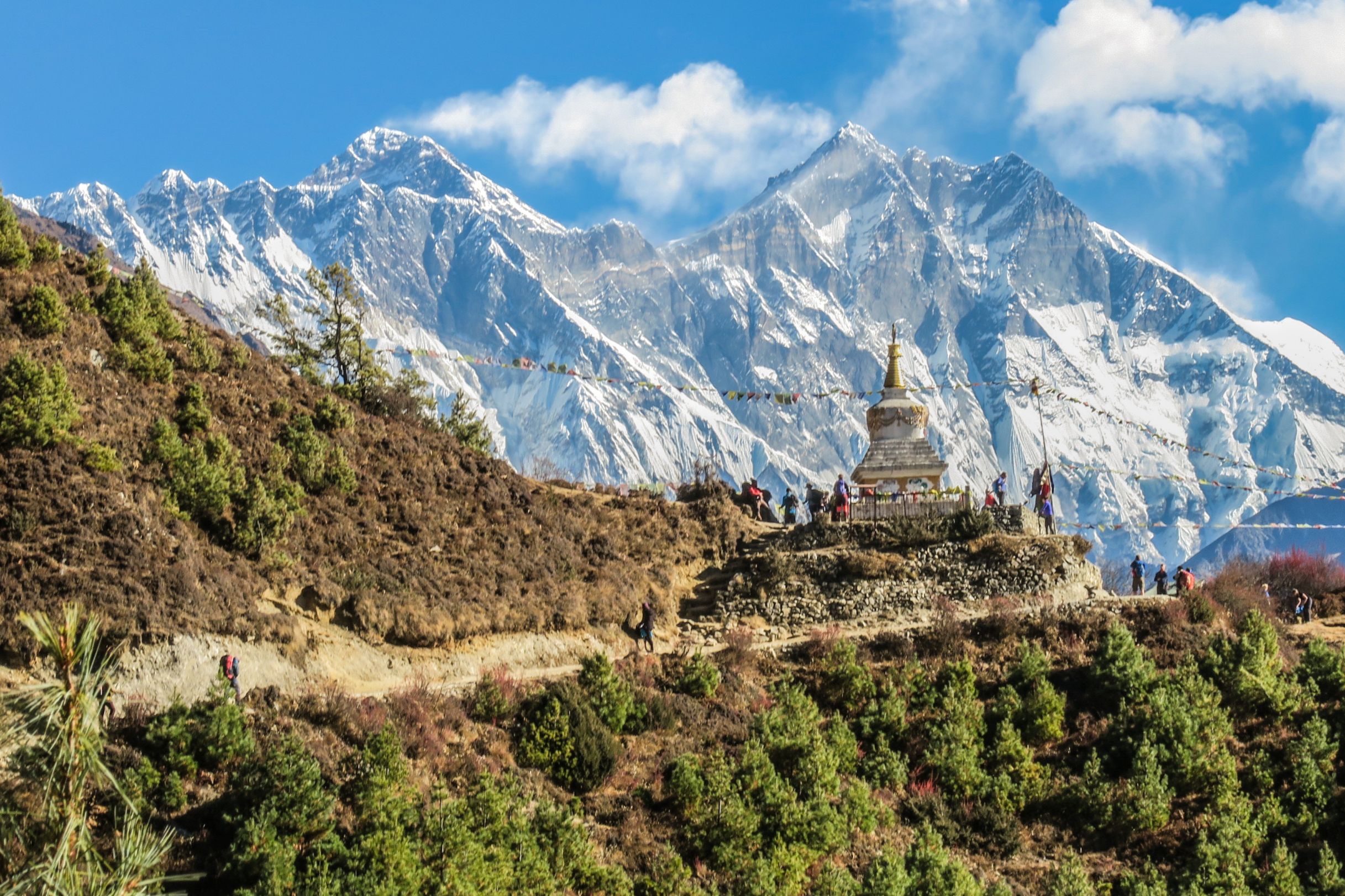 An average day of hiking on the Everest Base Camp trek will be around six hours long. Of course, that depends on your pace. While achievable without mountaineering experience, the trek is no walk in the park. Day two has a tough uphill to Namche Bazaar and day four can be challenging as you approach the holy ground of Tengboche.
Still, if you're fit enough, and you've got the appropriate gear and the attitude, then there's no reason you shouldn't be able to complete the trek to Everest Base Camp. It's not a particularly technical climb.
The altitude and acclimatisation of the trip is the most common concern for many trekkers. It's the reason that most who don't make it up to Everest Base Camp have to turn back early. The highest point on the Everest Base Camp trek is Kala Patthar at 5550m, with Everest Base Camp itself below that at 5380m. This is, of course, going to have an effect on trekkers as there will be significantly less oxygen in the air than down at the start.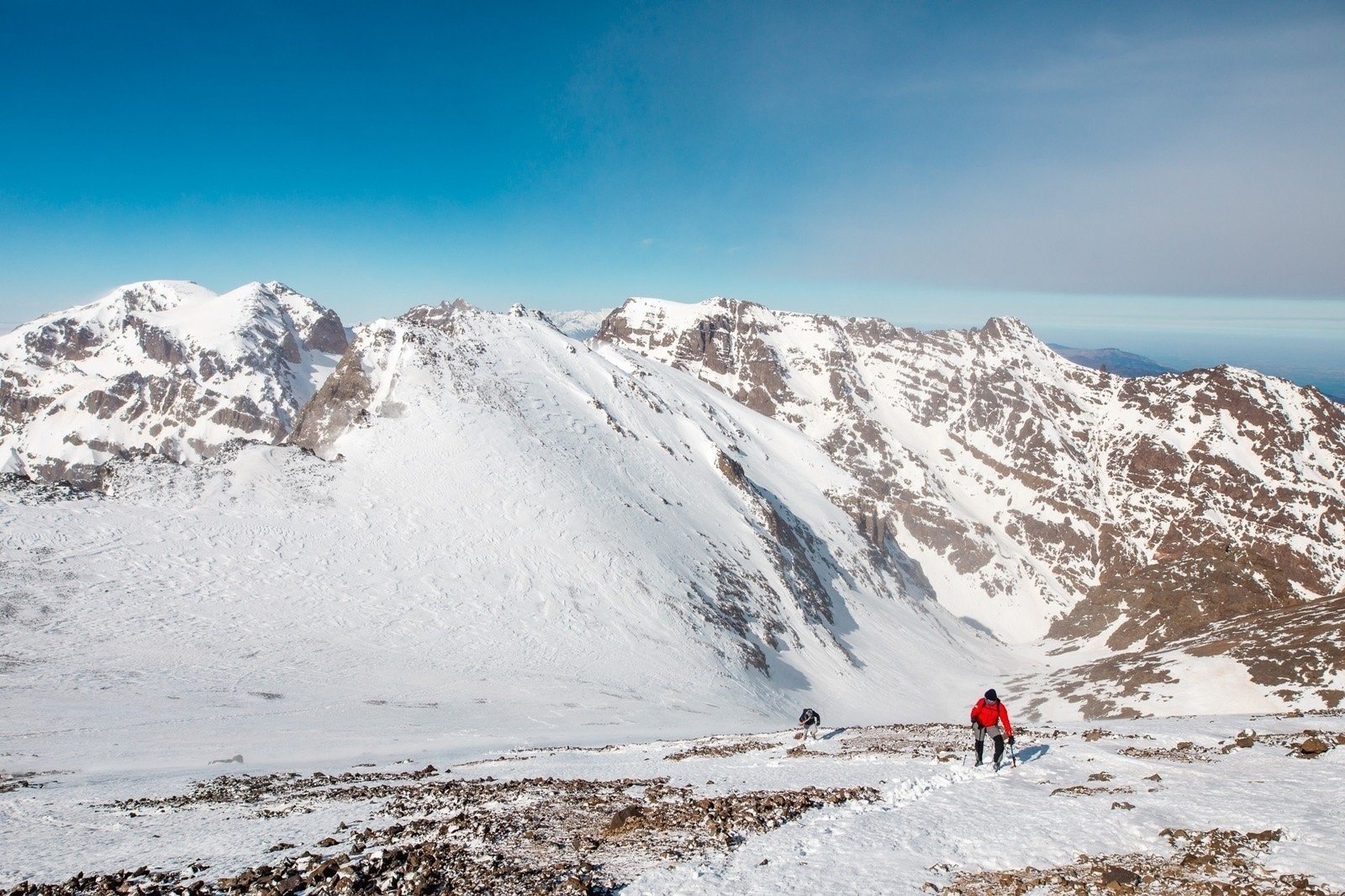 There isn't too much you can do in standard trekking preparation for the high altitudes. If you travel with a reputable company who have properly trained guides, though, they will make sure that you acclimatise properly. It's all about taking your time, and taking the appropriate days off as needed. As you ascend further up the mountains, good guides will know exactly how to look after you. They'll guide you to safety as best they can should the worst happen and something goes wrong while you're making your ascent, which is unfortunately possible on any high-altitude, long-distance trek or challenging hike.
When is the best time to trek to Everest Base Camp?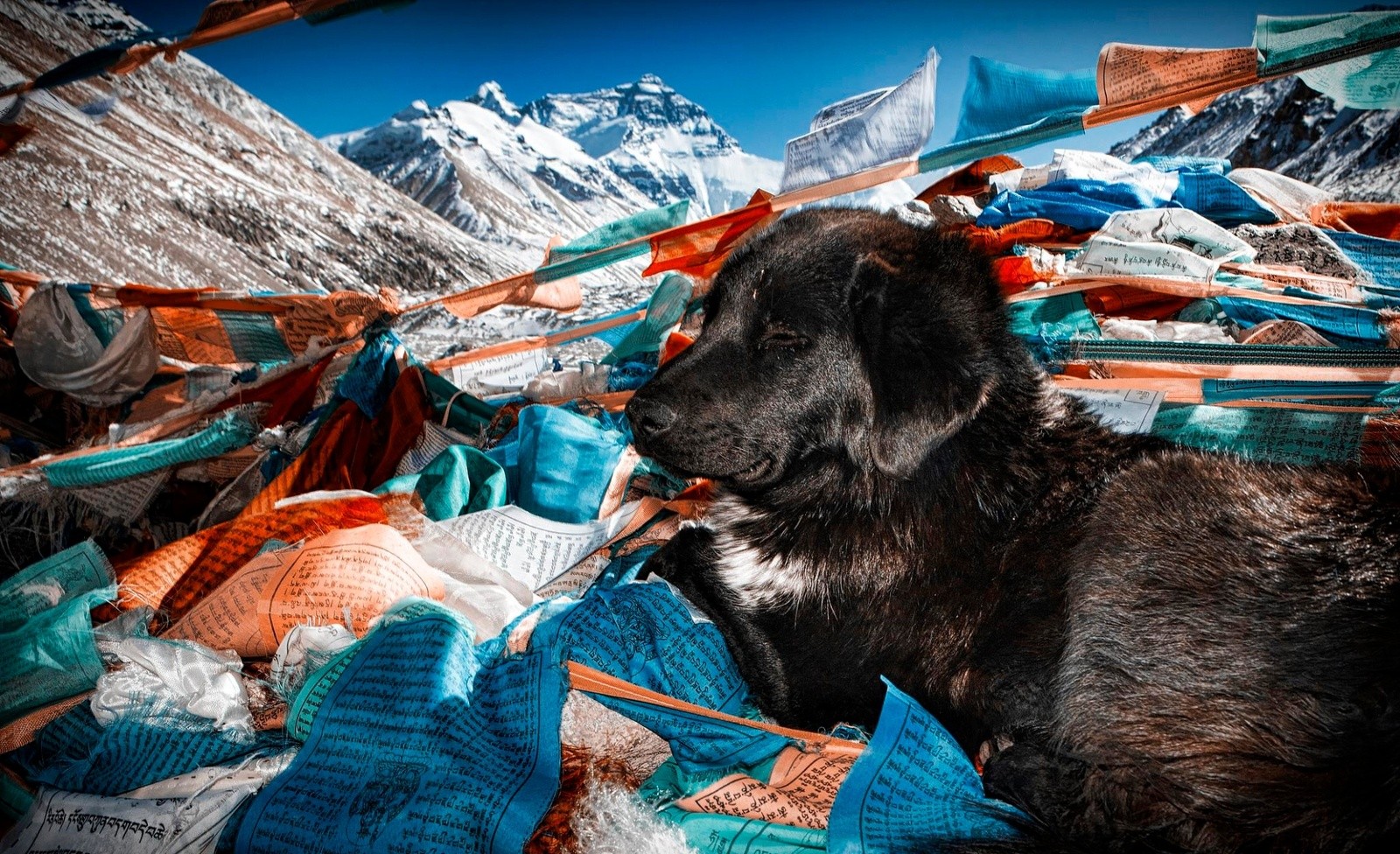 Apart from the obvious answer of "whenever the dog pictured above is there", the best time to take the trek to Everest Base Camp is typically the pre-monsoon season. This is from January-May. The other main alternative is trekking in the post-monsoon season, which is from September-December. Go in between that and – the detectives amongst you will already have worked out – you'll be hiking in monsoon season, which is not good.
If you travel in December, January or February then you'll miss out on a lot of the crowds on the Everest Base Camp trek. A good guide should tailor your route to ensure you don't spend much time in crowds anyway, though. That said, you'll also be tackling the hike at a much colder time, and so may face weather delays. Many of the teahouses may be shut as you travel, too.
The climbing season on Mount Everest is normally a window of around 10-15 days in May (or until the monsoons arrive in June). If you want to go to Everest Base Camp when the camp will be buzzing with people aiming to get to the summit, that's your window. May is normally the warmest month of the year on the Everest Base Camp trek. September-November are known to provide clearer skies, and more reliable views of the stunning scenery of the Himalayas.
An alternative route to Everest Base Camp: Gokyo to Everest Base Camp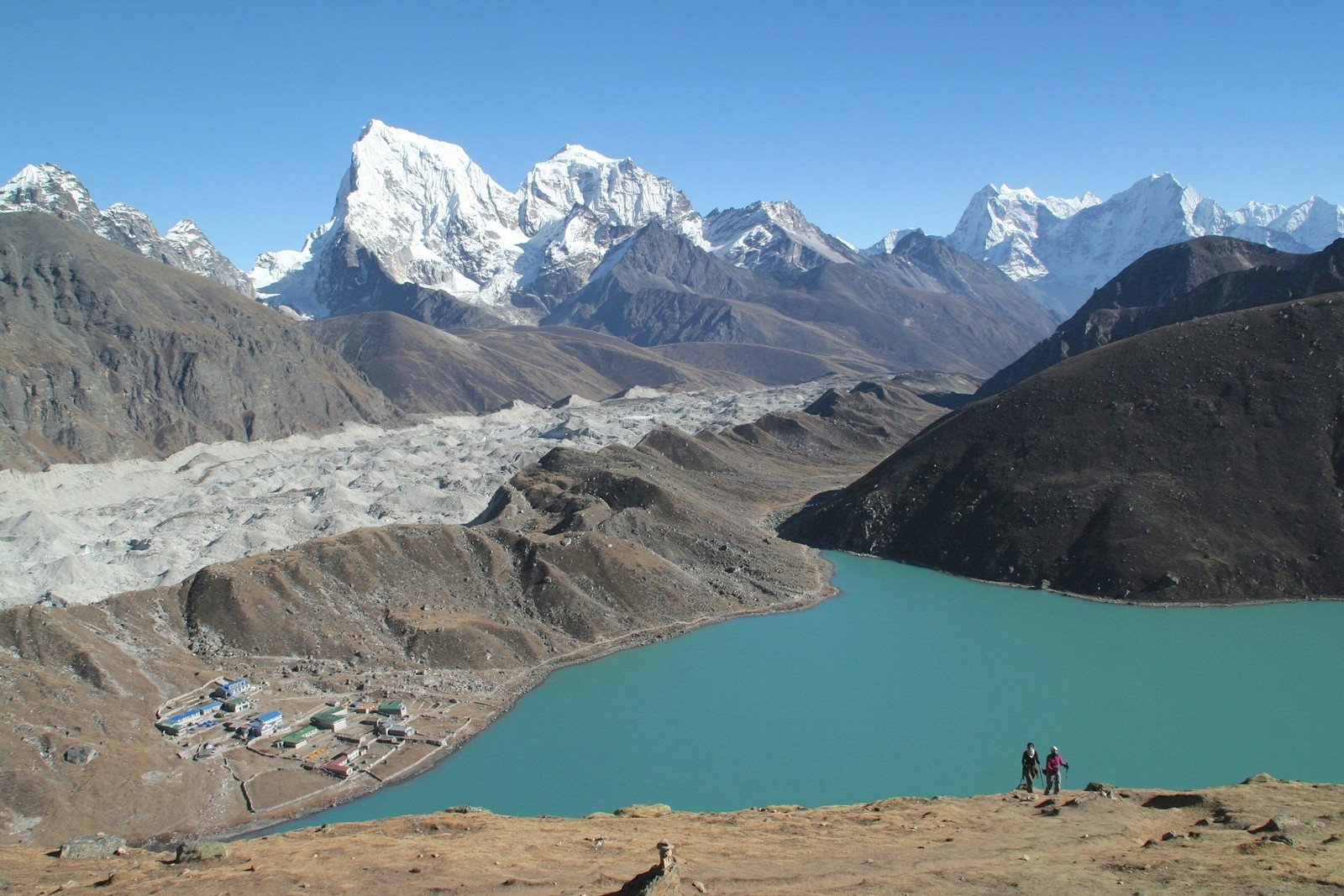 If you want to avoid the crowds altogether and take a less travelled route to Base Camp, then look no further than the route from Gokyo to Everest Base Camp. This route takes you past the famously scenic Gokyo Lakes. You'll be trekking a remote, hidden Nepali route to Everest Base Camp which takes 15 days (including two days of acclimatisation) rather than 11.
The journey traverses the Cho La Pass at 5330m, a steep climb which involves travelling over a glacier. You'll also see the remarkable Gokyo Valley, which is a real hiking treat.
Everest Base Camp to Summit: The route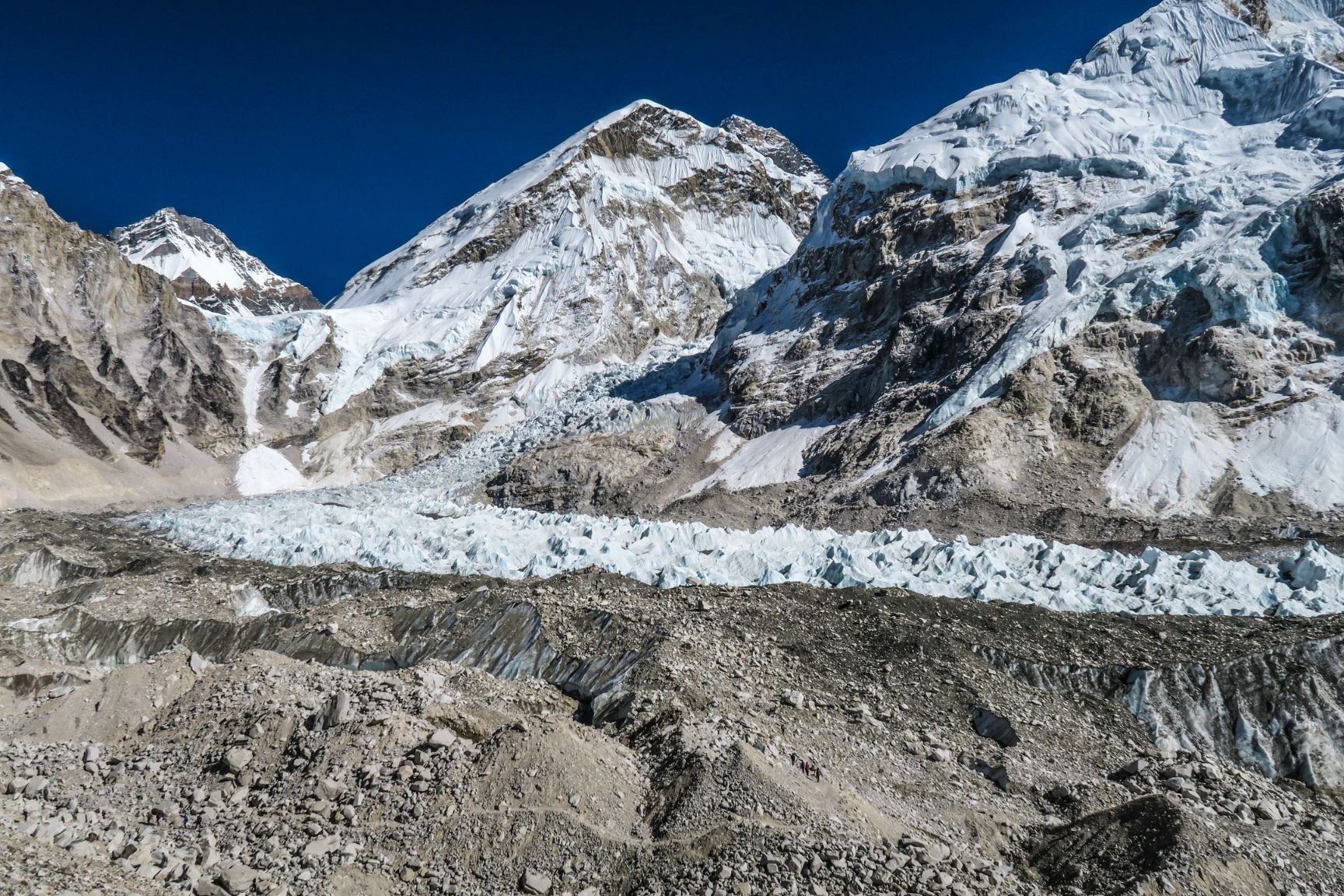 The vast majority of people who trek to Everest Base Camp don't try and summit Mount Everest. Just like the vast majority of people who visit NASA at Cape Canaveral don't end up flying into space. Nevertheless, that doesn't make looking at the route and then slowly backing away from the computer screen any less fascinating.
From Everest Base Camp to the summit of Mount Everest, things get serious pretty quickly. It's also worth noting that climbers will normally venture up to the first or second camps, and then return to Everest Base Camp at least once before trying to reach the top, in acclimatisation for their eventual attempt to summit Mount Everest. Here's the South route:
Everest Base Camp (5,380m) to the Khumbu Icefall (5,486m) to Camp 1 (6,000m)
The Mt Everest base camp elevation is 5380m above sea level. To get from Everest Base Camp to Camp 1, most climbers leave Base Camp for the Khumbu Icefall between 4-5 am and rarely after 6 am. This is because it's more solidly frozen in the morning, so ice is less likely to move.
Despite being so early in the South Col route up Mount Everest, the Khumbu Icefall is considered one of the most dangerous points on the Everest summit route due to the unpredictability of the terrain. Avalanches are not infrequent, there are hidden crevasses, and large blocks of ice have been known to fall down directly on top of climbers.
Camp 1 is on the plain at the head of the Khumbu Icefall. Most people arrive at camp one while it's still morning, which means climbers can spend up to 22 hours in their tent before the next climb.
Camp 1 (6,000m) to Camp 2 (6,400m)
Climbers set off from Camp 1 around 7.30am to tackle the Western Cwm, a broad glacier with a gentle gradient, named by George Mallory after the Welsh 'cwm', meaning 'valley'.
There are fixed ropes here to clip into, as there are crevasses are all around. The valley boasts stunning views of Everest, Lhotse and Nuptse, though it can be difficult in deep snow, poor visibility or excessive sun.
Camp 2 (6400m) to Camp 3 (7200m)
Climbers walk for around an hour, then the harnesses and crampons go on and they begin to climb the Lhotse Face. There are fixed ropes up the route but the face can be very stiff and rockfall is not uncommon. Camp 3 is carved into the Lhotse Face and has stunning views of the south summit. Climbers are often taking supplementary oxygen by the time they reach Camp 3.
Camp 3 (7200m) to Camp 4 (7950m)
Climbers complete their ascent of the Lhotse Face and head over the Geneva Spur, down to the South Col, a sharp-edged col (the lowest point on a mountain ridge between two peaks) between Mount Everest and Lhotse. The South Col is Camp 4. There are typically high winds on the South Col, but this does mean that it's normally free of any mass piles of snow.
Camp 4 (7950m) to Summit (8850m)
Climbers typically leave Camp 4 for the summit push to Mount Everest late at night or very, very early in the morning. The climb to the summit is steep and dark. It's icy, and the first ray of sunlight won't come until around 5 am. Not something you'll enjoy rolling out of your sleeping bag for.
This is the area known as "the Death Zone". The Death Zone is not one particular area on Everest, but rather any area over 8000m, where there is really not enough oxygen for humans to breathe. At the summit of Mount Everest, most people take in around 30% the oxygen they would at sea level. As such, a human only used to breathing at sea level could only stay on the summit a matter of minutes before collapsing. The body cannot acclimatise.
Climbers head to The Balcony and climb to the South Summit, just under 100m from the summit of Mount Everest. Next up is The Knife Ridge, a tough obstacle, and then climbers take on the Hillary Step. Two more white, snowy edges to climb and climbers reach the summit of Mount Everest. This final stage can take anywhere between 7-17 hours.
Most accidents happen on the way down Mount Everest, so this is very much only half of the journey. Now the nerves you see at Everest Base Camp might make a little more sense.
What to Pack For a Trip to Everest Base Camp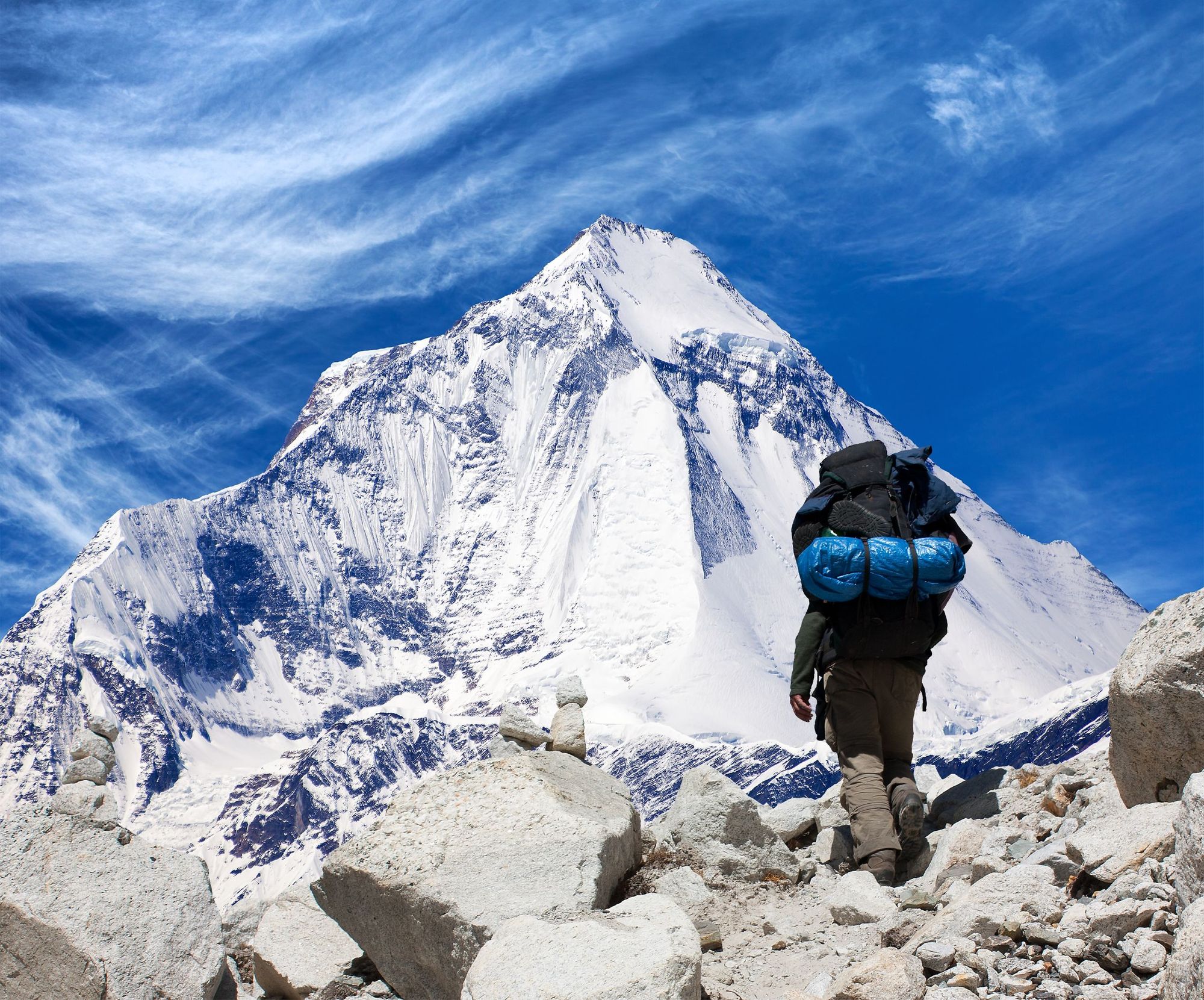 For a trip to Everest Base Camp, you'll need to make sure you're fully equipped to handle the cold mountain temperatures, the many kilometres of trekking, and camping outside. Chances are that your trip host will provide tents, a sleeping mat and a camping stove, but do double check in advance to make sure.
You'll need to make sure you're equipped with a four season sleeping bag, and everything else you might need to stay warm and dry, from waterproof trousers to a lightweight down jacket. We've published a full kit list for hiking Everest Base Camp if you'd like further details.
It's worth pointing out that many treks to Everest Base Camp will involve a small plane flight first. The flights out to Lukla Airport have a restriction of 10kg baggage and 5kg hand luggage, so you'll need to leave behind anything that isn't necessary (at your host's base in Kathmandu). Make sure you bring a day pack, which you can full with everything you need for the day's hike, and a rucksack or duffel which will be transported by your porter. Anything from 55-65 litres should be fine - too large and you risk it getting too heavy.
Inspired? Then check out our hand-picked trip to tackle Everest Base Camp yourself, and other trekking and hiking adventures in Nepal.