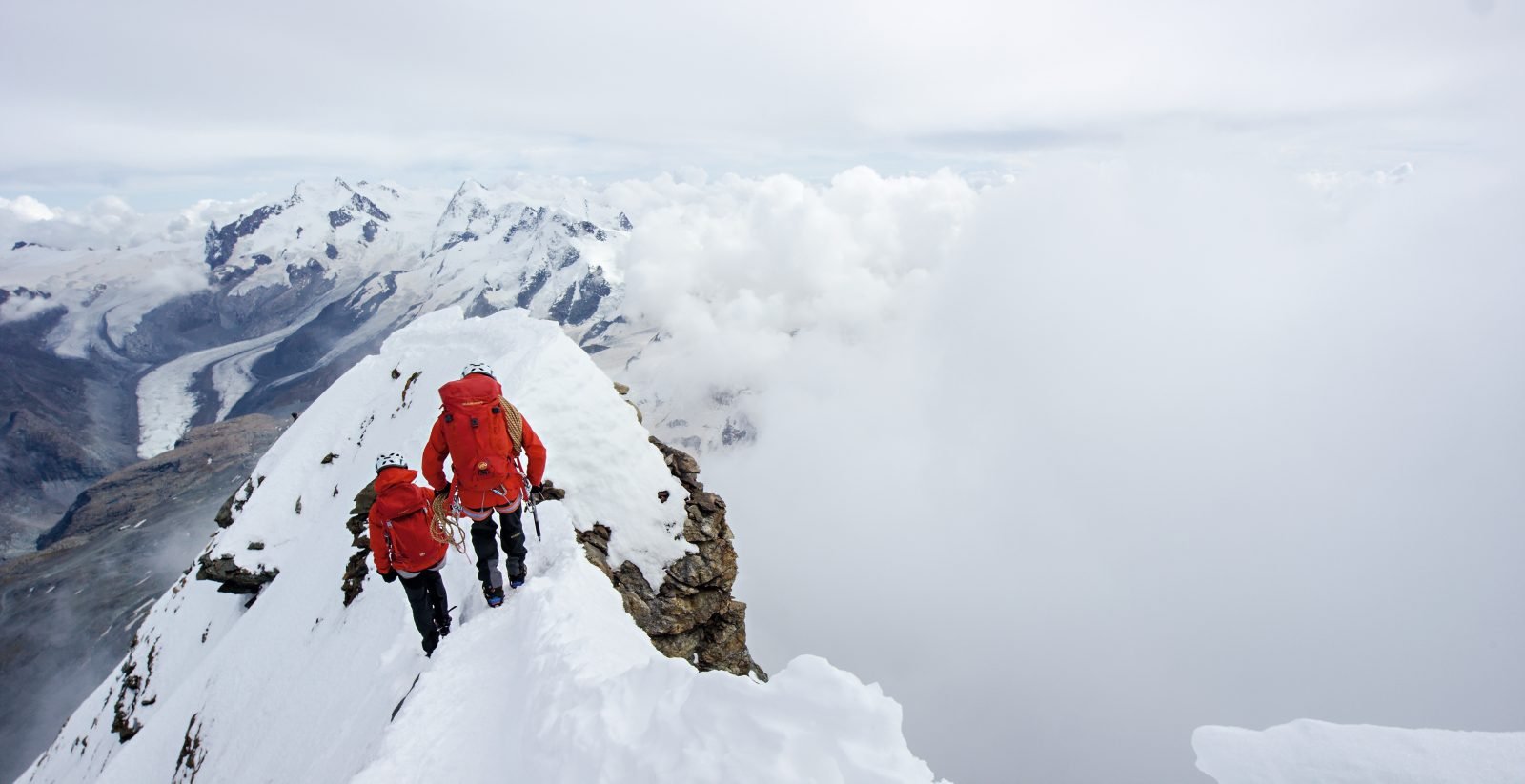 Many words in the world of adventure can be confusing. If I "climbed" a mountain – did I climb as in ascend on foot? Or did I climb as in shinnying up the rock face with ropes? Individuals can have very different ideas about what a word means to them. Take the word "adventure". We could start a fist fight over a precise definition of that.
Mountaineering is a bit like that – a hard word to put a strict definition on. It sits somewhere between hiking and… err, actually let's try again. Mountaineering involves going up a mountain. That's one thing we can be certain of at least! And a mountain is different from a vertical rock face, because of the angle of the ground. As the famous climber and mountaineer Andy Kirkpatrick says:
"If, on your way to the summit, you pass lots of dead bodies: that's mountaineering. In climbing all the bodies are at the bottom."
Now that's a slightly morbid and extreme way of putting it, but if you drop something on a mountain, it's unlikely to reach the bottom. If you drop something whilst you're climbing, it's likely to reach the bottom of your climb.
Here, however, the outdoor community divides. Some define mountaineering as technical – involving ropes or scrambling or ascending in some way that isn't walking. It might involve some walking but definitely needs the technical element too. For others, it's all about the word "mountain". If it's got a summit, it's mountaineering. We'll let the purists fight it out.
How do I start mountaineering?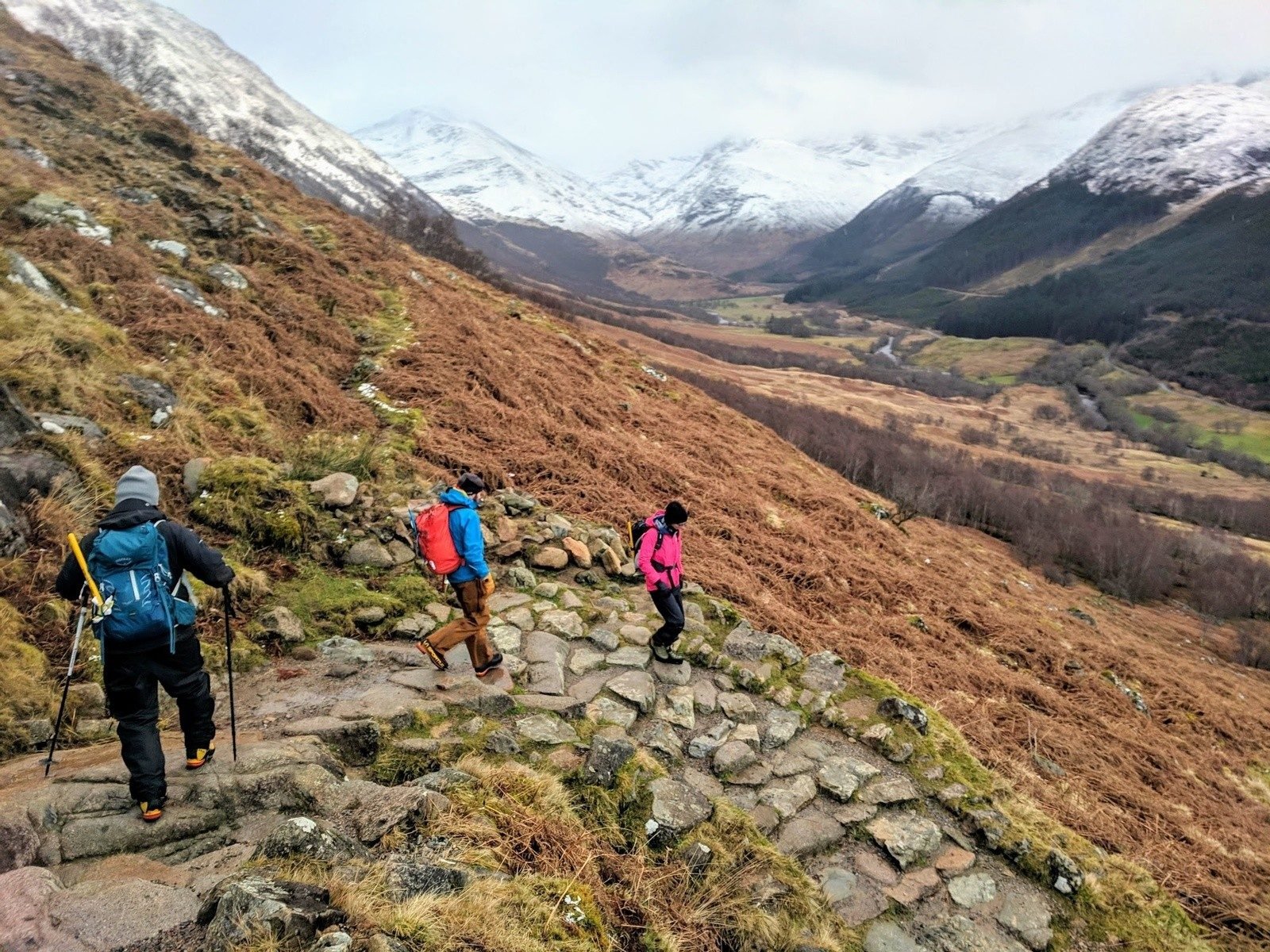 Part of the problem with mountaineering is that no one really wakes up and says, "I'm a mountaineer today." It's a slow process that you gently ascend in to – rather like the act of climbing a mountain itself. The types of mountains you climb will become bigger, steeper and more difficult until eventually, someone else describes you as a mountaineer. Then you think, "Oh right, I guess I must be!"
The best way to get started with mountaineering is with hiking. Makes sense right? If you want to climb a big mountain, first climb a smaller one. Go up a hill. Next, go up a bigger hill. Visit the Lake District, Snowdonia and the lower bits of Scotland. Then venture up into the Scottish Highlands. Basically, get yourself a strong foundation of hill skills, the knowledge and experience to be confident on a mountain when the weather's not snowing.
At this point, you probably want to try longer days out in the mountains. Carry all the kit you need to survive for several days and camp out overnight. You can also broaden your skillset into the more technical side of mountain climbing. Try your hand at scrambling (start at Grade 1 and work up), climbing (indoors and outdoors) and abseiling. This will build up your confidence moving on unstable ground and rock, plus you'll become competent using a rope. It's also well worth developing your navigation skills in remote areas.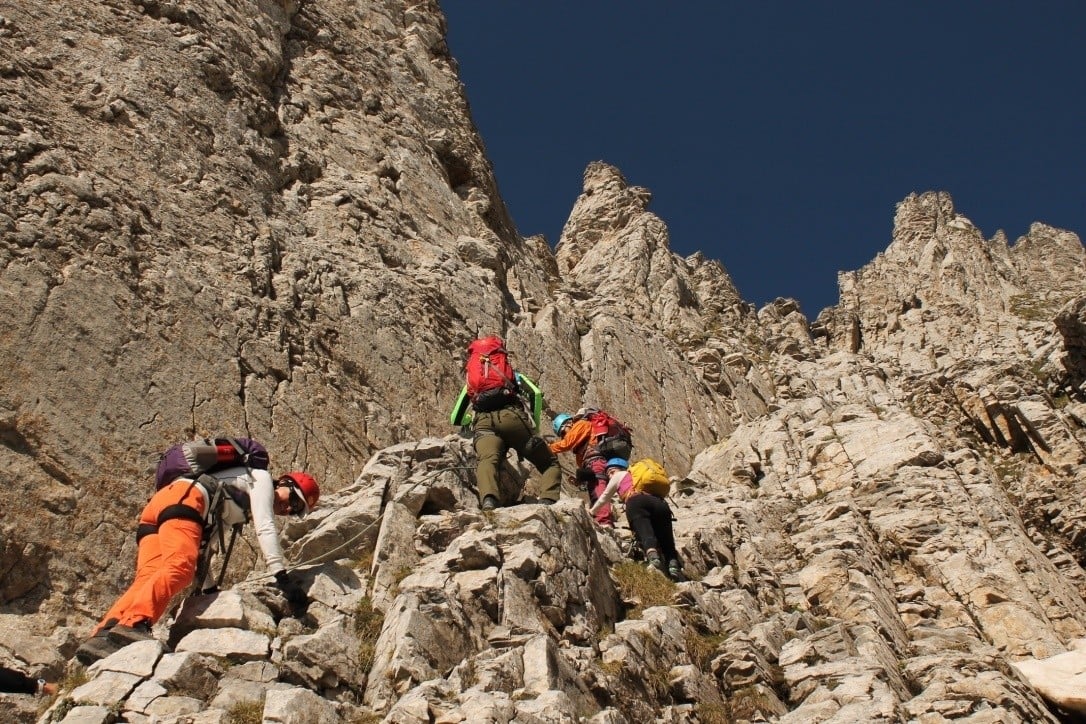 Now you can move on to winter. It's worth mentioning that in mountaineering circles, "summer" is anything when there isn't snow on the ground. As soon as there's snow, it becomes "winter". Go back to those places in the UK that you developed your summer mountain climbing skills in. Try the same routes that you know and love in the winter. Learn how to use crampons and an ice axe. Then branch out into new places and routes. Spend some time discovering Scottish winter and learning about avalanches. You might find yourself trying winter rock climbs and ice climbing too.
Once you feel ready, the rest of the world's mountains are calling!
Ease your way into mountaineering
Still want to pursue the path of mountaineering? Great. It sounds like a long process, but as what's important is that you've always got enough experience to be safe. Sometimes that means going out on trips with people who are more experienced than you. That way you're in a safe environment to try things a little bit out of your comfort zone. Many people find groups of friends to get into mountaineering with. There's something very satisfying in getting better as a group. But not everyone can do this.
If you're feeling low on adventurous friends, guided trips might be the answer. You'll be put in a group of like-minded people with a guide to keep you safe. Guided trips are also a great way to test out whether you're ready to move on up the mountaineering ladder. You can break into the unknown of something more challenging with a big safety net of an experienced guide.
Now, this is not a big sell: other providers are available! But if you'd like a pathway of ascension into mountaineering, here's a suggestion of the type of trips I'd go on.
Level 0: Mountain experience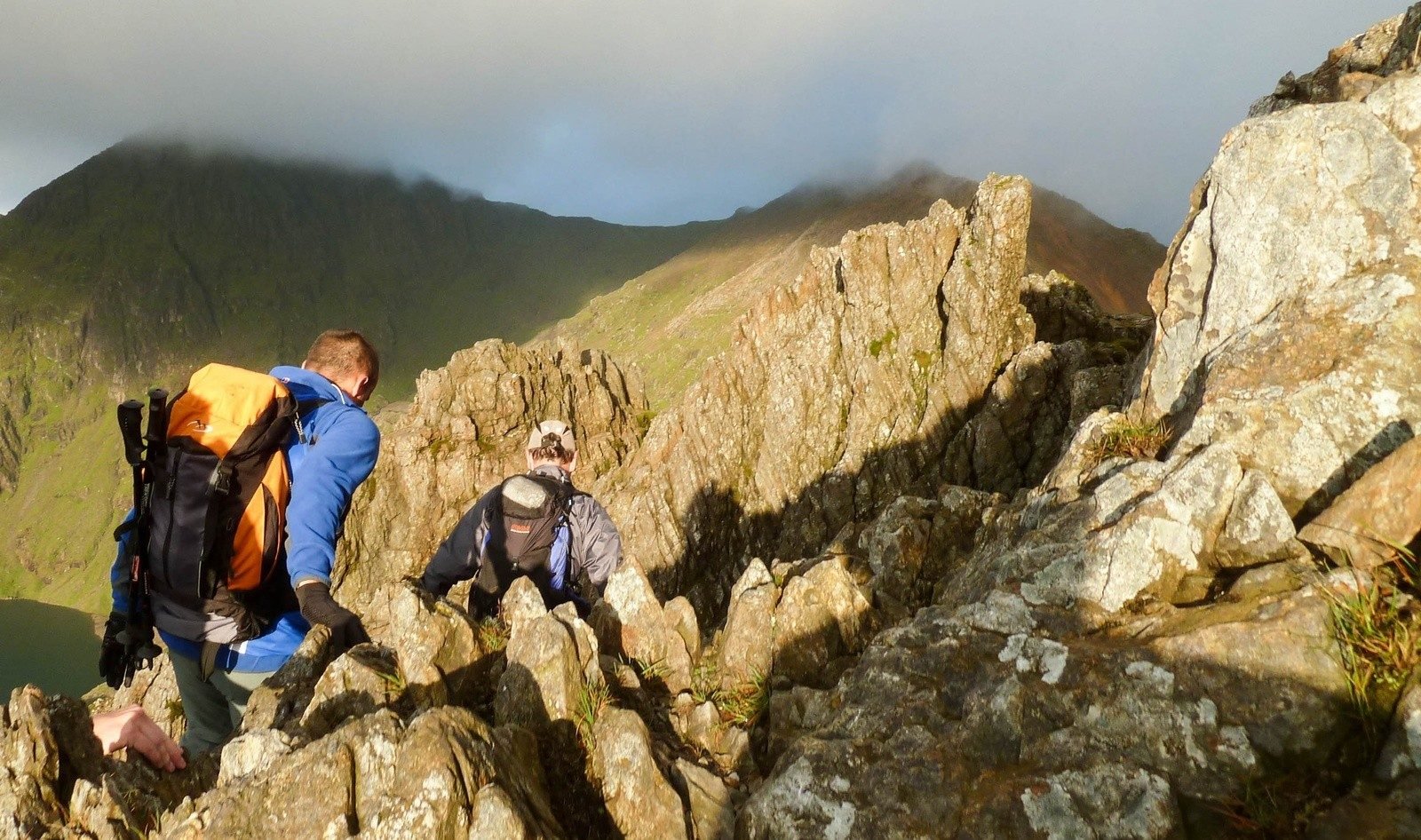 Go on trips closer to home to build up your experience in the mountains. Get your fitness up before going abroad by doing trips like the Welsh 15 Peak Challenge. If you don't want to get into winter (aka snowy peaks) just yet, then you can move on to Level 1. For learning winter skills close to home (a good idea before Level 2), try a Scottish winter skills course in the Scottish Highlands.
Level 1: Starter summits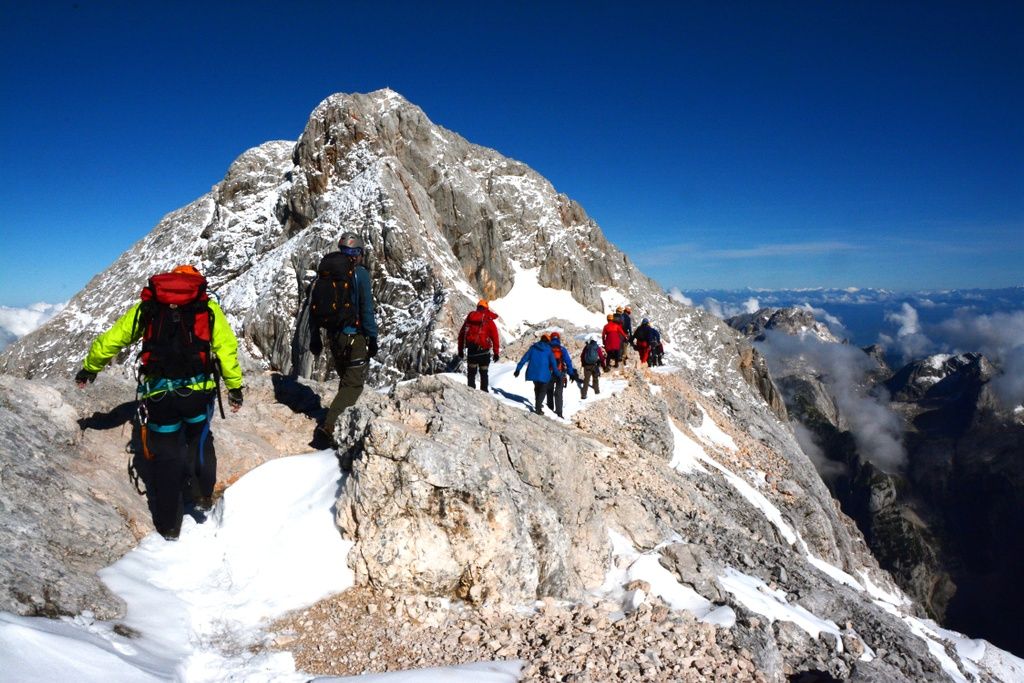 When you're feeling a bit more confident, it's now probably time to try some mountains outside the UK in summer conditions. These mountains will likely be between 1000-3000m high but don't worry, you won't be starting from sea level. For example, you might try:
Level 2: Getting into snow and ice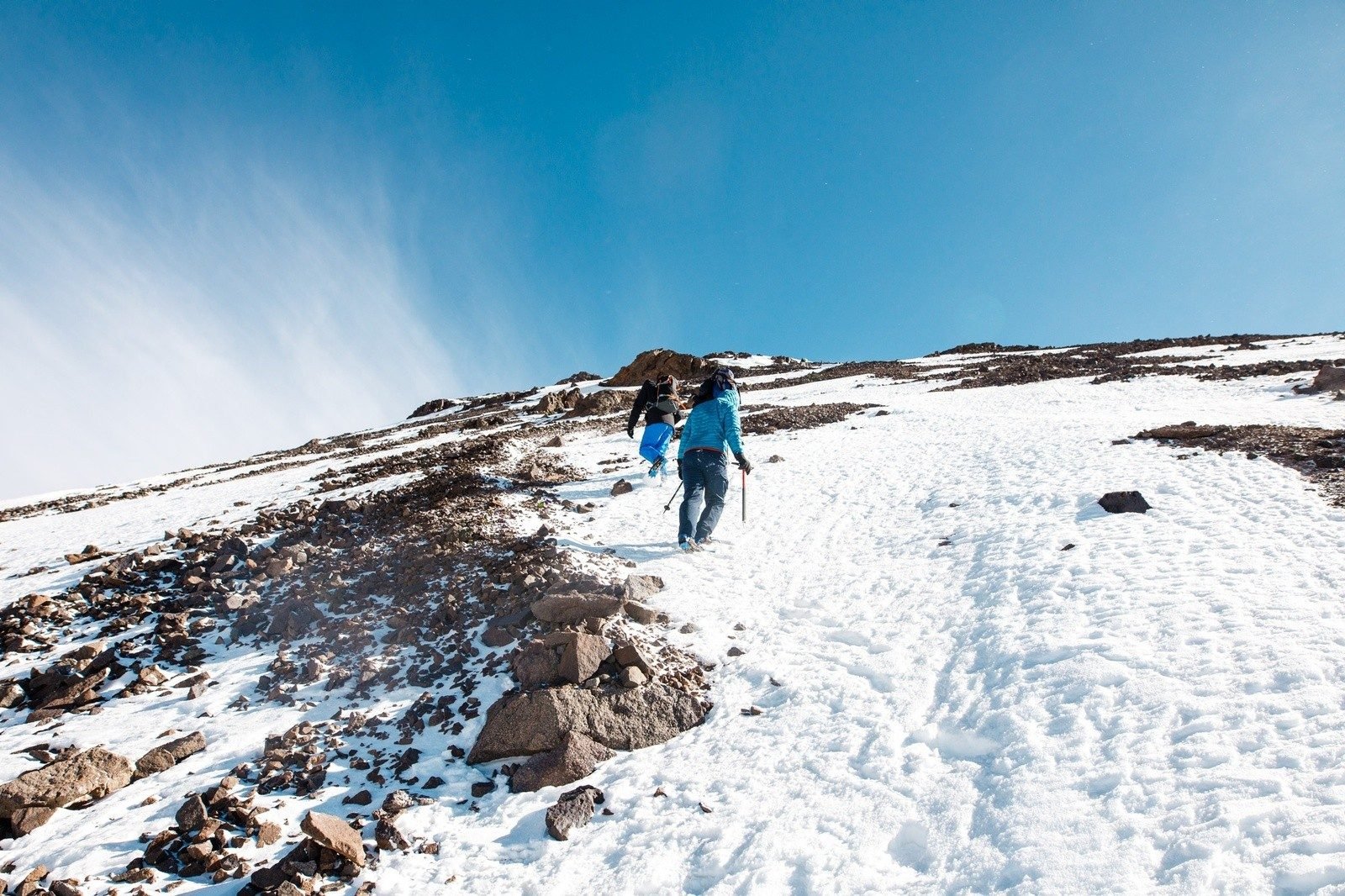 Next up, you'll want to get some snow under your boots. You're starting to use crampons and maybe even walk with a rope across glaciers. In rough order, you might try:
Morocco's Mount Toubkal (4167m) in summer because there will probably be a little snow at the top even then
Venture into Austria to climb the Grossglockner (3798m)
Go back to climb Toubkal in winter when the snow level will be much lower
Level 3: 4000m+ peaks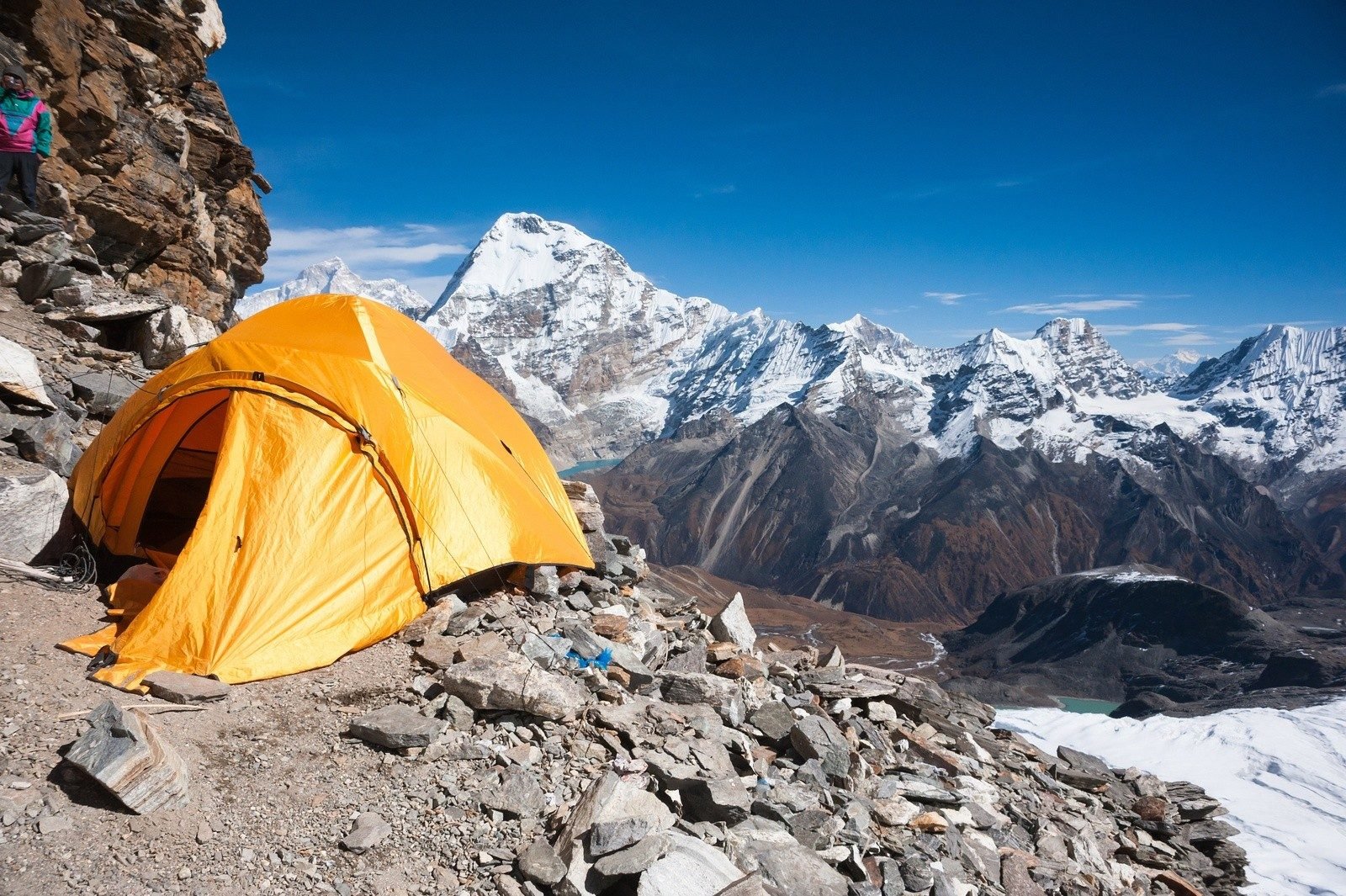 Now you're getting confident with big mountains and tough weather, you'll turn your head to some of the highest mountains in the world! Now you're after mountains that take days to climb, not hours. These really are quite a leap, and they might take you a few years to progress to, but you can definitely say you're mountaineering now. Some peaks you might try to ascend include:
But remember, it's not all about the height. Sometimes the wild, remote mountains are more rewarding than the famous ones.
Hopefully, you've found enough ideas in there to get you started on your mountaineering journey. But if you're still looking for inspiration, check out our entire collection of mountain adventures, led by local, experienced mountain guides.