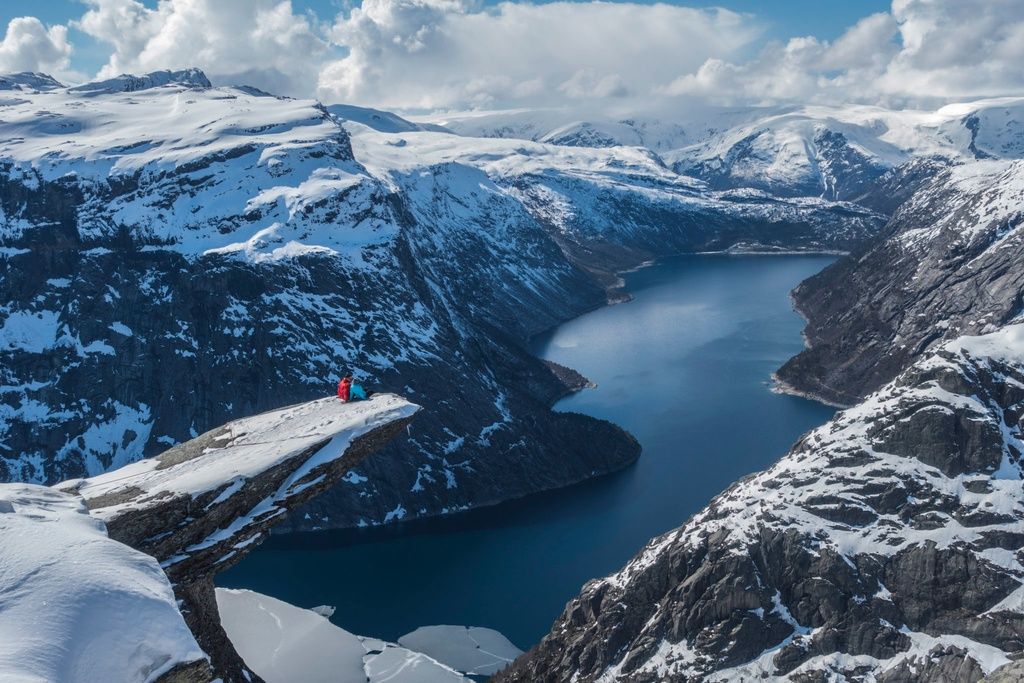 Norway has been at the top of many intrepid traveller's hit lists for some time now. The dynamic landscapes, massive seasonal variety and culture of outdoor living are probably to blame for that. Think about hiking in Norway, and most people think forests or fjords, with formidable coastal views. As a result, most people visit in summer, but there's a real beauty to visiting Norway in the winter too - whether it be to head to those same fjords, or further north, to the Arctic Circle.
Here, we'll explore three of the best winter hikes in Norway, each of which is along the famous Discovery Route. But before explaining a little bit more about the route, let's take a quick look at winter weather conditions in Norway.
When are the Winter Months in Norway?
Norway is located in the northern hemisphere, and so the winter months are December, January and February. Because Norway stretches from 57° to 78° north, there are variations in the climate. Along the coast, temperatures tend to hover around freezing, while weather inland and in the mountains might sink down to between -10°C and -20°C. In places like Svalbard, a Norwegian archipelago in the High Arctic, they'll sink even lower.
What that means is there'll be snow - lots and lots of snow! Winter in Norway is the perfect time for all sorts of snowsports, from skiing to dog-sledding, and even fatbike cycling! If you're hiking then you might need snowshoes - they'll distribute your weight evenly over the snow and make sure you don't sink too deeply into it. Some mountain hikes will require the use of crampons, which will help you keep your grip if you're crossing glaciers. If you go on a guided hike - and that's a good idea, considering the weather conditions - your guide will provide these items for you, and give you training on how to use them.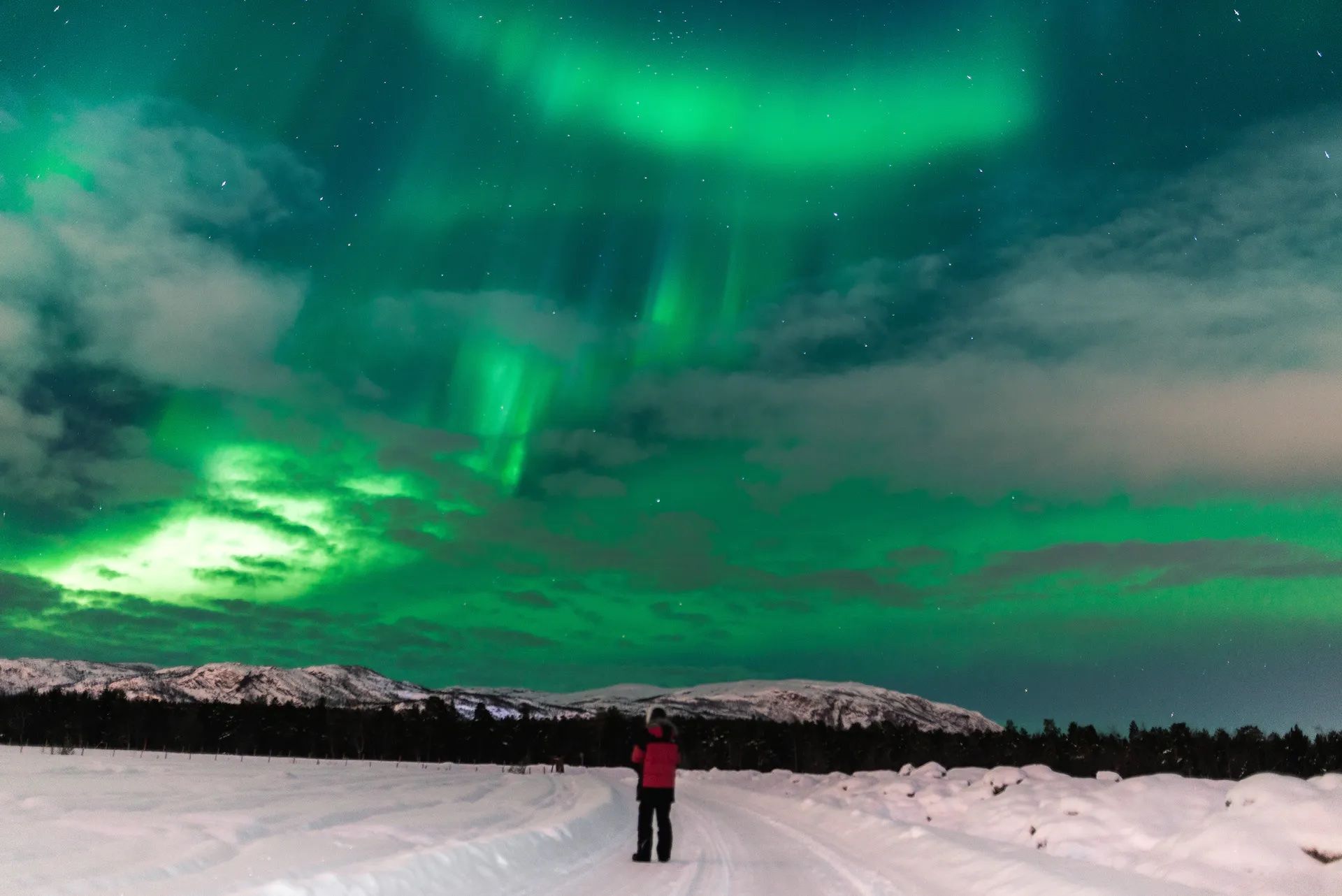 Winter in Norway is also characterised by mørketiden, or the 'winter darkness'. This refers to the period of time known as polar night when the sun doesn't rise above the horizon. This takes place within the Arctic Circle, but much of Norway will experience only a few short hours of daylight.
Polar night conjures up images of pitch darkness, but if you visit Norway in the winter, you'll experience a few hours of twilight before the sun rises in the middle of the day. This is a period known as the 'blue hour' and it has an eerie beauty to it. And winter is also the time when you'll be treated to the brightest and best display of the northern lights.
Tempted? Why not check out these three winter hikes in Norway, all of which can be found along Norway's Discovery Route.
The Discovery Route
The ever-popular Discovery Route connects the mighty Norwegian trio of Kjerag Boulder, Preikestolen and Trolltunga (the famous viewpoint out over the fjords, pictured above). During the summer months, you'll be treated to long days of hiking amongst beautiful green landscapes overlooking snaking fjords, waterfalls, salmon rivers and cliff faces plummeting into the sea. You'll also be sharing the views with hundreds of other tourists. But if you still want to do these places, without the hoards, there is another way...
In the winter the hikes on the Discovery Route take on a harsher, yet more serene, character. These hikes are also only doable in the winter with an experienced guide – essential to understanding your landscape. And because Norway does winter in a big way: expect more than a dusting of snow on the ground.
As rivers freeze up and green pastures turn to white, a real uncrowded winter adventure presents itself to those who care to look.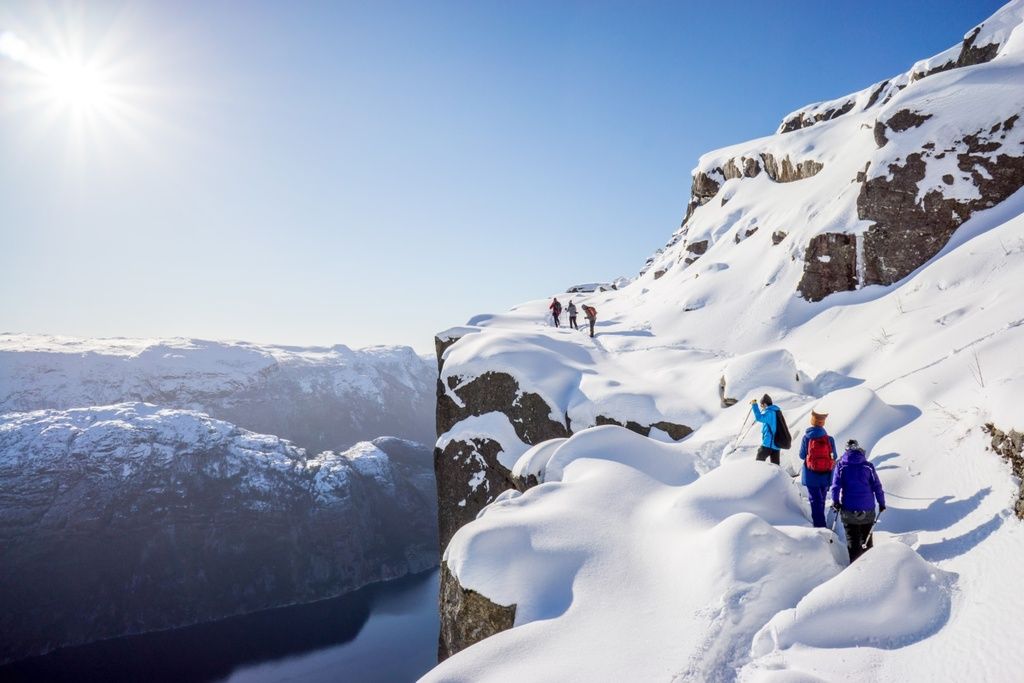 Getting to the Discovery Route Hike
You can start the Discovery Route from either Bergen or Stavanger, both of which have frequent, direct connections to major UK airports including Manchester, Gatwick, Heathrow, Edinburgh and Aberdeen via Norwegian, SAS airlines or LoganAir. (Do check for the most up to date routes though!)
To hit all three spots in winter, you'll probably need to hire a car. Here's some tips about driving in Norway:
Like most European countries, you'll need to drive on the right-hand side of the road.
Most car rental places will provide you with a manual car, so if you want to rent an automatic, make your request well known in advance.
Traffic is manageable and drivers are generally well-behaved due to stringent driving tests.
Roads are well gritted, generally, but keep a moderate speed and be careful.
It is mandatory to drive with the headlights on, even during daylight hours.
Allow a minimum of four seconds braking time, especially in winter.
When driving on steep descents, (which you will), use your gears to regulate your speed as braking fluid can boil. Uh oh.
Don't underestimate driving times and calculate time based on an average speed of 60km/h. This is especially important with limited daylight and often over-optimistic GPS systems.
1. Kjerag Boulder in the Winter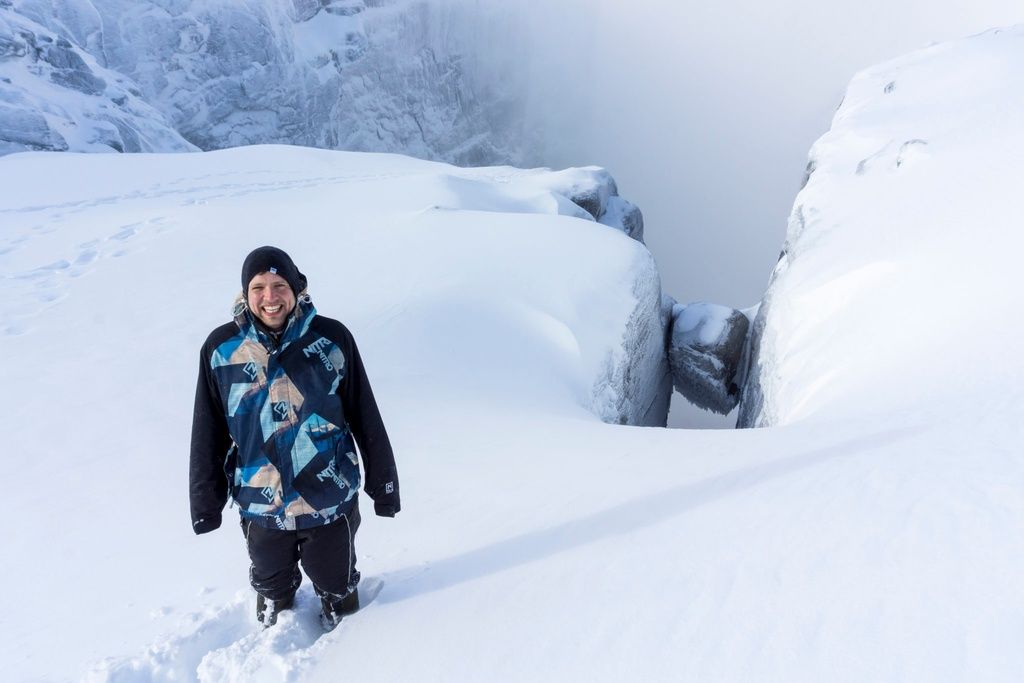 Your first stop on the Discovery Route will be Kjerag boulder. This curious boulder was lodged in this rock face around 50,000 years ago. As the last ice age ended and the climate warmed, this rock was jammed between these cliff faces as the glaciers melted. This is a truly peculiar feature and provides a glimpse into the region's geological history. Here's how to do it:
Head to Stavanger airport before and then across to the Stavanger ferry port.
Cruise the Lysefjord by ferry. This is one of the most famous fjords in the Stavanger and Ryfylke region.
Buckle up, layer up, and enjoy this ferry ride as this stretch of water will provide unprecedented views of your targets, and the fjords in winter. You'll spot the Kjerag boulder before ascending and gaining a totally different perspective of this mysterious phenomena.
When you land on the bank of the fjord, you'll embark on an eight-kilometre hike up to 825m above sea-level, zig-zagging up 26 hairpin turns from the Lysebotn village up to the Sirdal mountains, before staying at the sensational Kjerag base-camp. This section of hiking cannot be done in summer as the road is usually open.
Please be aware that you must not attempt this section of the hike by yourself in the winter in these conditions.
2. Preikestolen in the Winter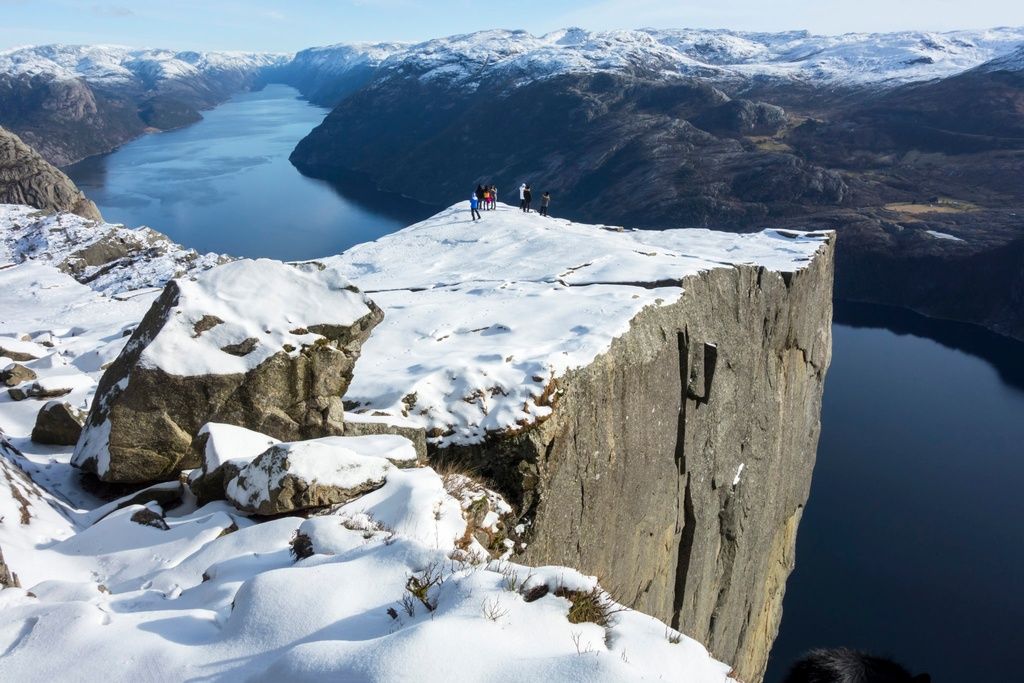 Preikestolen needs little introduction. Standing 604 meters above the Lysefjord and first visited as a tourist destination in 1900, the Pulpit rock is one of Europe's most famous natural icons and has been named by CNN and Lonely Planet as one of the most beautiful landscape views in the world. The view from the top will stay with you forever.
After descending the Nepalese sherpa-build stone staircase, you'll be dropped off in Stavanger city centre where you can pick up your hire car.
There is a 15-minute drive from your pick-up car location through to the ferry port, and you can see the directions here.
The ferry runs every 40 minutes and is less regular on the weekends. Tickets are relatively inexpensive, and cannot be reserved.
From the port in Tau, you'll have roughly a 20km drive to your accommodation at the Preikestolen Lodge. You should drive on the RV 13 via Jørpeland. Google maps might tell you 28 minutes, but allow much more for traffic conditions and photo stops, as there's plenty to see along the way.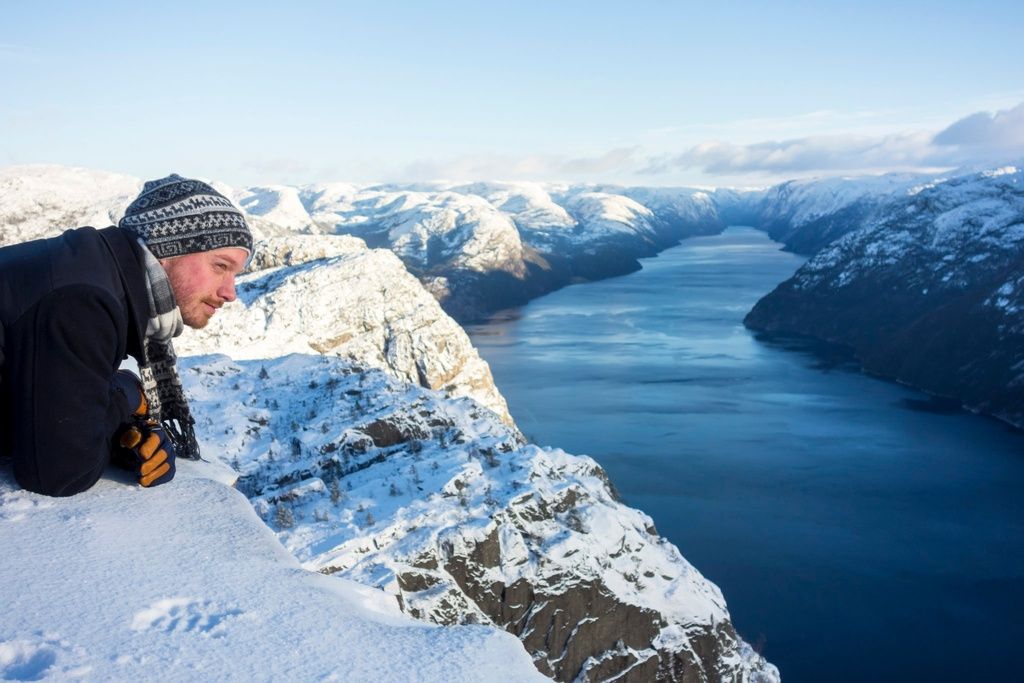 Here's some of the highlights...
The prehistoric rock carvings at Solbakk, by the strand in picturesque Ryfylke close to the shore. It depicts various boats and sun like-figures that are presumably Norse Gods. It dates back to 50bc, and are of Viking origin.
On the islet of Klungholmen near Jørpeland village is a stone circle which is a recent artwork by the Norwegian artist named Stian H. Skjæveland. At the centre of the eight-metre circle of 12 standing stones is a towering steel obelisk decorated with symbols, runes and ornaments, many derived from the Oseberg Viking ship. Klungholmen may be visited year round. Many consider it to be the Norwegian Stonehenge.
It is also worth stopping in Ryfylke. It is full of pokey cafes and various places to stay if you're looking to extend your stay for any amount of time.
You'll then be waking up in the beautiful Preikestolen lodge. Preikestolen lodge has a sensational view of the Ryfylke moorlands and looks out across the Refsvatn lake.
3. Trolltunga in the Winter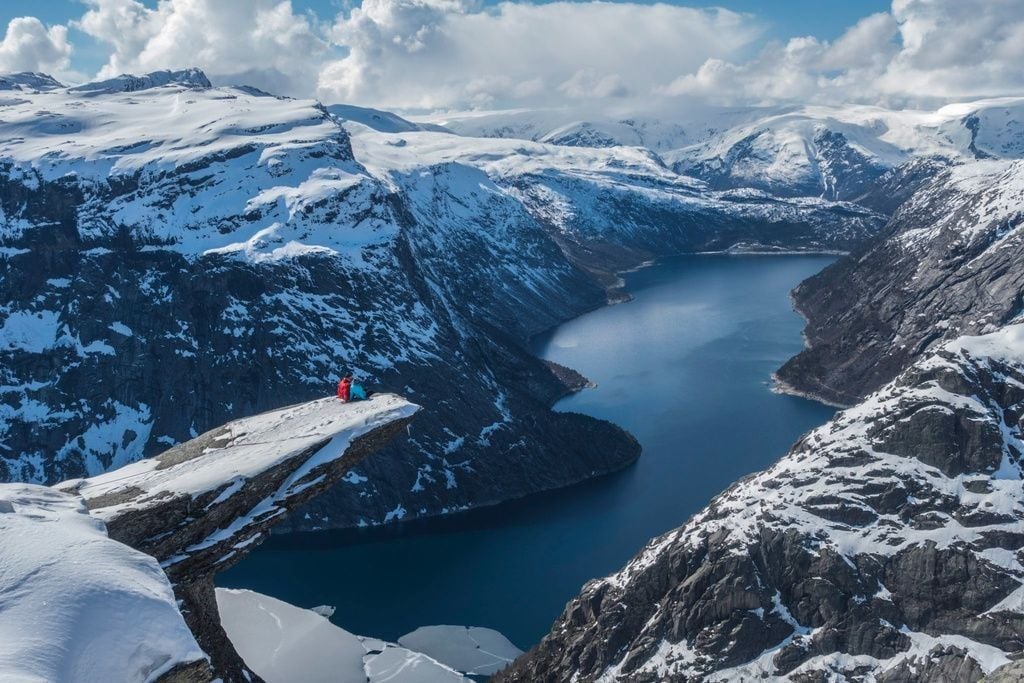 The next destination is the most famous, and for that reason, it is the most crowded in the summer. Meaning 'Troll's Tongue', the photo-op above summery green fjords is worth the trip, as hundreds have done before. But during winter, well, it's really something.
Situated on the Hardanger Plateau, a winter paradise used by explorers to train for arctic expeditions, this winter hike will truly get you into the wild. It, therefore, should only be done with a guide and requires a good level of fitness.
The drive from Preikestolen lodge to Trolltunga hotel is a real bonus. Yet again, whatever your GPS of choice, be prepared to be lied to. Allow your full amount of daylight to the drive, as it will be more than worth it. You might be told 4 hours, but allow for 6. You can see the route here.
Here's some of the highlights...
The Oyafossen falls are definitely worth a visit when they are frozen over. You can see a little more information on the directions and hike you can take here.
High up on the south side of Hylsfjorden in Ryfylke, you will find the old farm Litunet, approximately 285 meters above sea level. The Directorate of Cultural Heritage protected the characteristic old farm as a historical site in 1973 and is a glimpse into the lives of the Norwegian ancestors.
Sunnhordeland Museum is also worth a visit if you're keen on getting more of a fix of Norwegian history. You can see more information about that here.
The Return to Bergen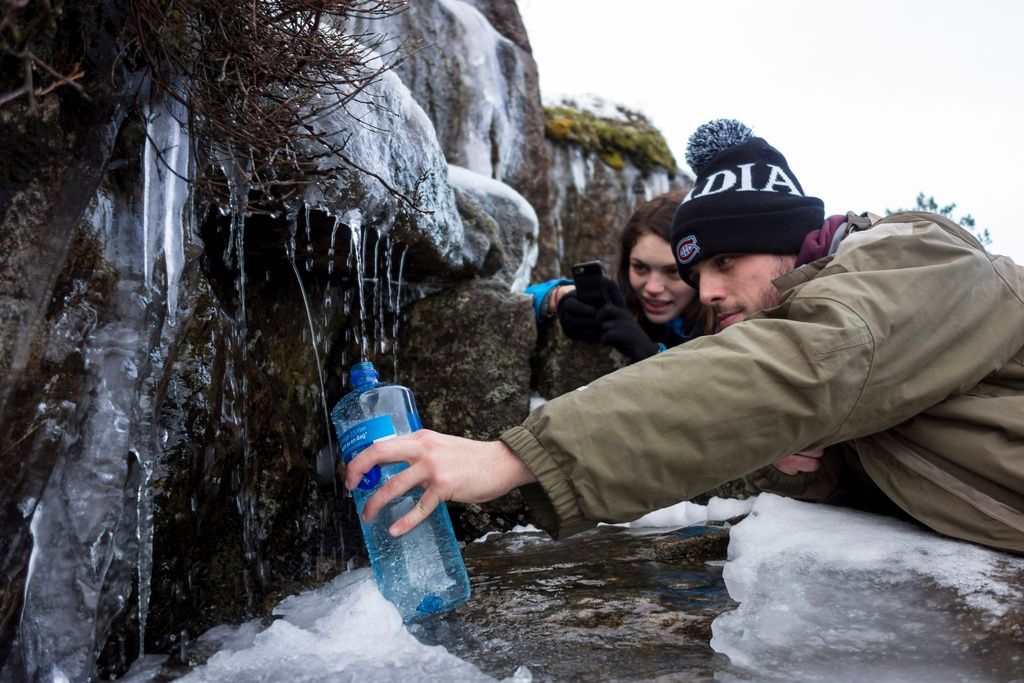 After you've finished this section of the trek, you'll have another sensational drive from Trolltunga lodge back to Bergen, where you'll finish your trip. There are plenty of activities in Bergen, if you wish to extend your stay.
You will have a choice of two routes back. Either you can continue on the RV13. You can see that route here.
RV13 Highlights
This beautiful route will take you predominantly past the Hardanger fjord on the left, and the Hardanger National Park on the right.
If you wish to extend your stay, there is a hotel called the Kinsarvik Hotel, which is a seriously idyllic spot.
Similarly, Hotel Ullensvang is also a fantastic place to stay on the way and is also where Ex Machina was filmed.
You'll then take a drive across the Hardanger bridge, which is a sensational photo opportunity.
There's also an opportunity to check out the Skjervossen Waterfall. Walking under a frozen waterfall is a real once in a lifetime opportunity.
This route will take you past Voss, which is an outdoor activity centre and is the base for our ever-popular kayaking, hiking and wild-camping trips.
This route will take marginally longer, but it will offer plenty of rewards as a result.
Alternatively, you can go via the FV7. This will be the most direct route but is still a stunning drive. You can see that route here.
FV7 Highlights
On this route, however, you'll get the opportunity to check out the Steinsdalsfossen waterfall. During the summer, you can walk directly under the waterfall. However, walking under a frozen waterfall is a seriously unique experience with no chance of splash-back.
Kvamskogen similarly is on this route. Kvamskogen is home to three ski resorts and 60km of prepared cross-country tracks if you're looking to squeeze in some skiing on the way home.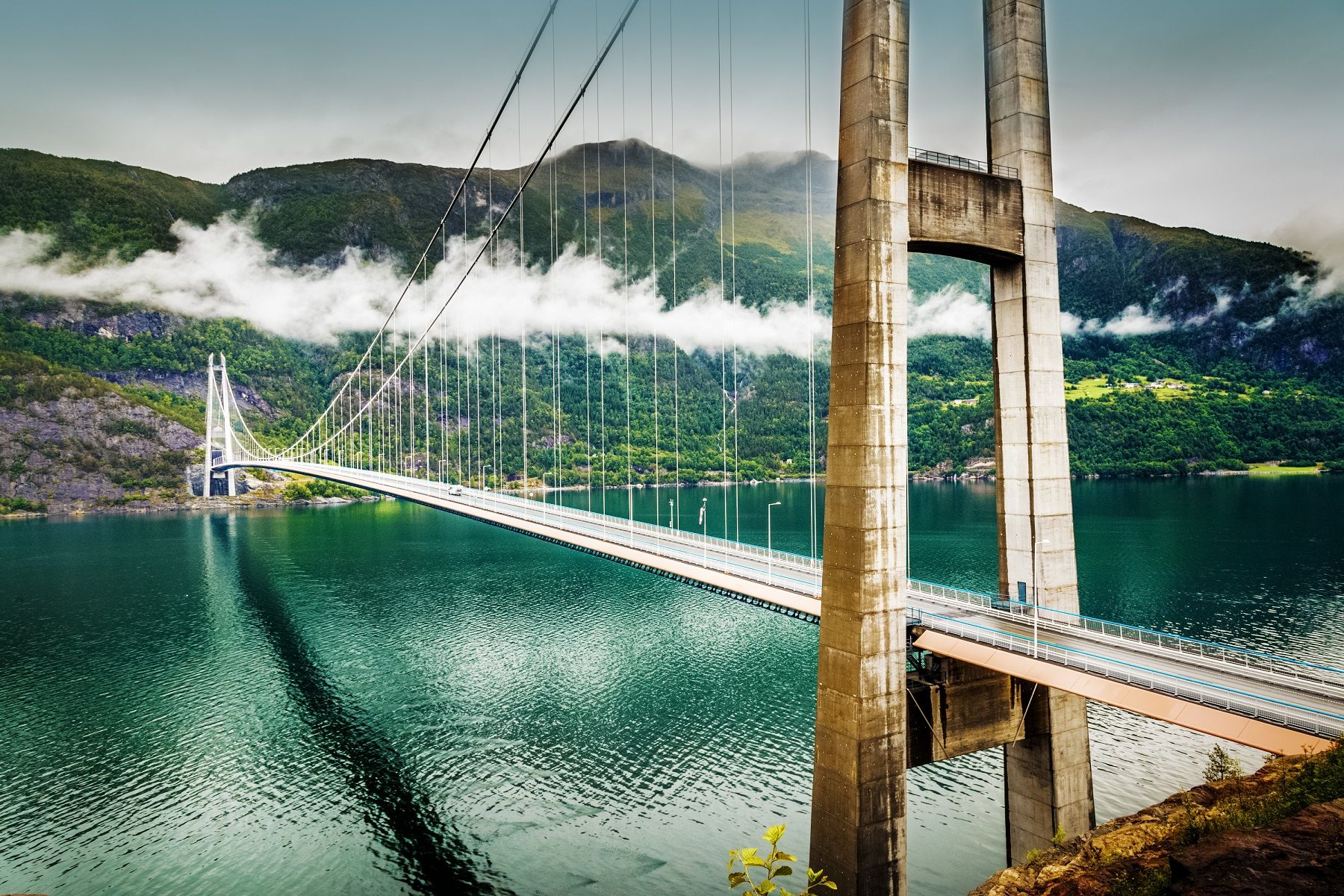 What to Pack for Your Winter Hike in Norway
All this will require some heavy-duty warm clothing and more layers than a Tarantino movie. This kit list for hiking suggests 35 essential and non-essential items, but as a bare minimum you should take:
Proper hiking boots/shoes
Outdoor clothing for winter: water-resistant/insulated trousers.
Rain-proof jacket, woollen sweater, hat, and gloves.
Small backpack with additional clothing layers/thermal underwear.
Bottled water/plenty of snacks.
But do you research to make sure you're equipped for the specific hikes and weather you'll encounter.
Prefer the easy life? Check out all our small group adventures in Norway far, far away from any crowds.