Rajasthan translates to 'Land of the Kings'. It's an Indian state renowned for its royal dynasties, who left an architectural legacy of palaces and forts. These rulers had a deeply embedded culture of 'shikaar' or hunting, which was used to demonstrate courage and skill. Then the British arrived in the country and took shooting for sport to an entirely new level - tigers were particularly prized.
In 1972, a government census uncovered a shocking fact: there were only 1,827 Bengal tigers remaining in India. The Wildlife Protection Act soon made hunting illegal - tigers, as Schedule I animals, attracted the highest penalty. Since habitat loss is another reason why the tiger population had dwindled, the government also created a series of national parks to conserve the environment.
One of these is Rajasthan's Ranthambore National Park. A former royal hunting ground, it now supports a population of 80 tigers, and is a popular ecotourism destination. We spoke to naturalist and guide Ashlesh Sharma to find out more.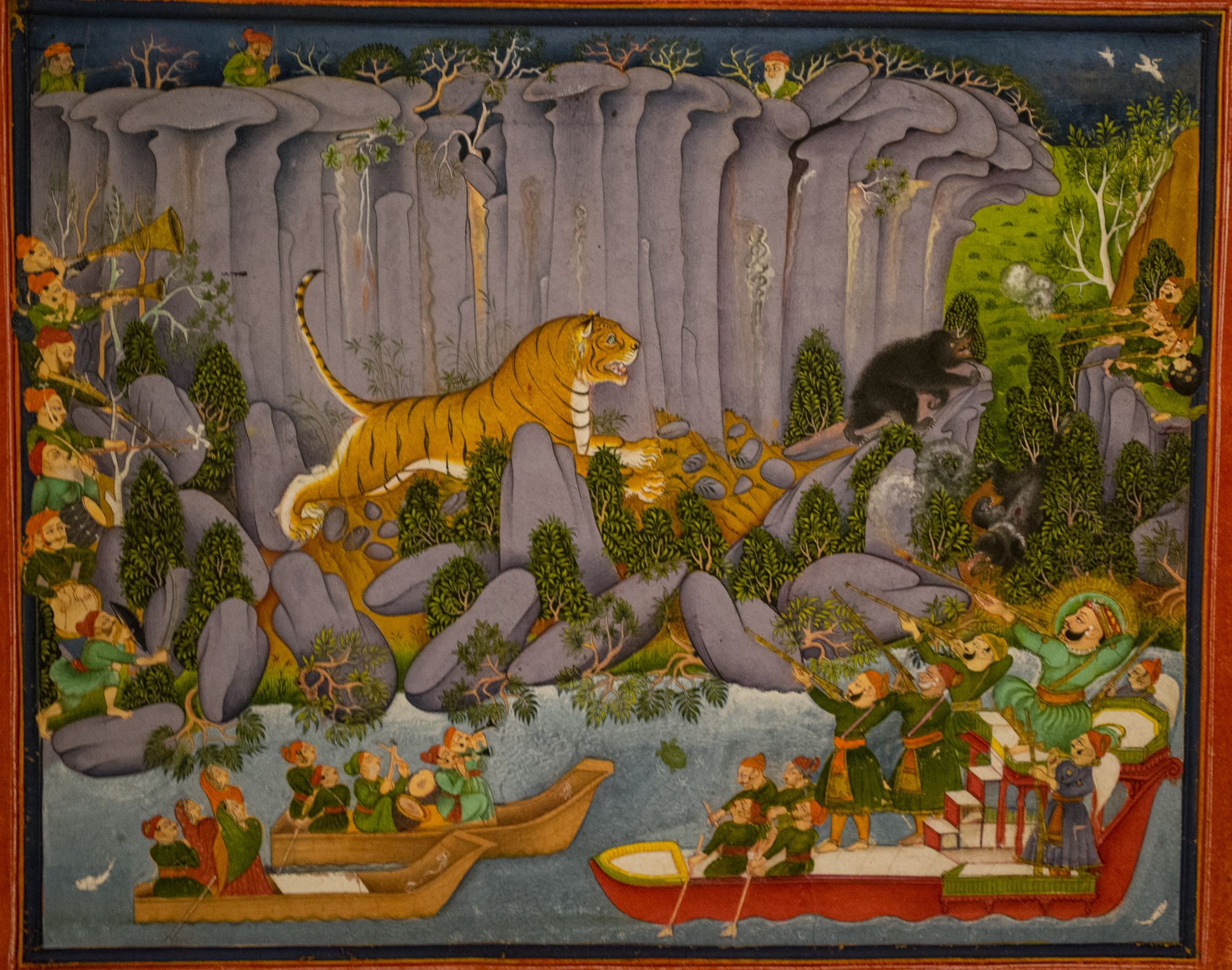 From Royal Hunting Grounds to Ranthambore Tiger Reserve
Ashlesh Sharma has been working in Ranthambore since 1987. His passion and knowledge of the park runs deep.
"I think it's a truly beautiful area. It's a dry deciduous forest located between two mountain ranges, Aravalli and Vindhya. There are the ruins of an old fort in the park, which is now a unique habitat, providing shade and shelter for the animals," he says.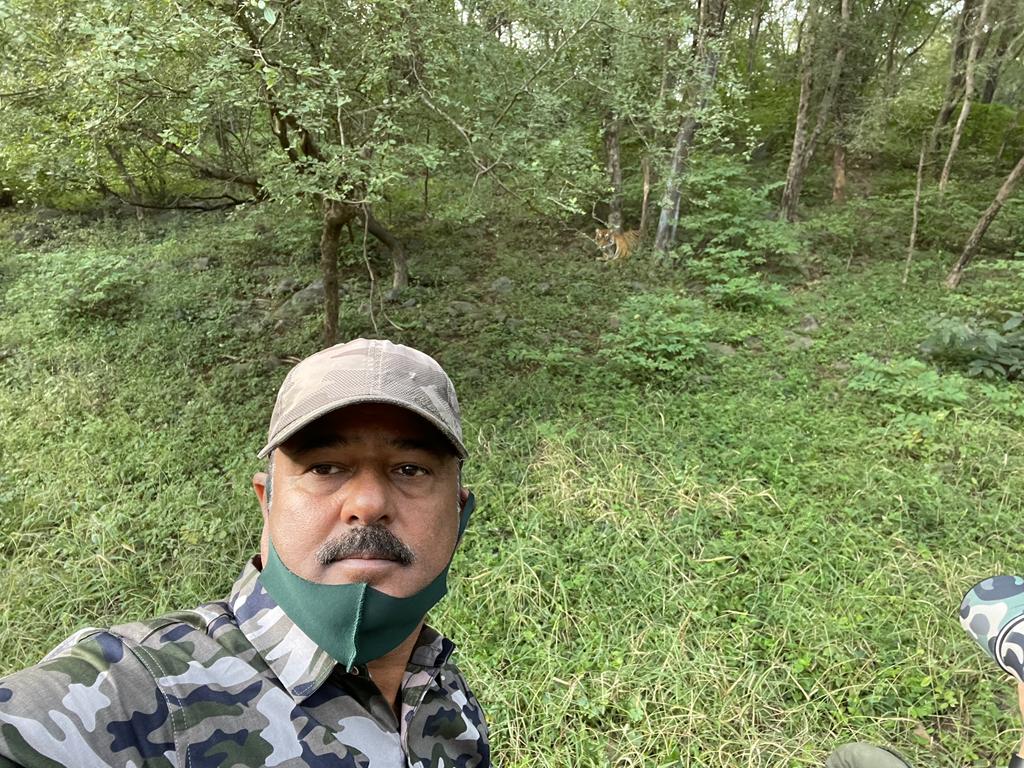 The foundations for Ranthambore Fort were laid by King Sapaldaksha of the Chauhan Dynasty in 944AD, and it was added to by successive rulers. It's a vast complex containing palaces, temples and courtyards, connected by a maze of stone pathways. The fortress was captured by the Mughal Emperor Akbar in 1568. It stayed under the control of the Mughals till the end of the 17th century, when it passed to the Maharajas of Jaipur until independence in 1947. It's now abandoned - langurs scamper across its battlements and birds circle in the sky above.
"The forest around the fort was once used as royal hunting grounds. But in 1966 the fort and palace was handed over to the Indian government. President Indira Gandhi started Project Tiger in 1973, and Ranthambore then became an area for tiger conservation," Ashlesh explains.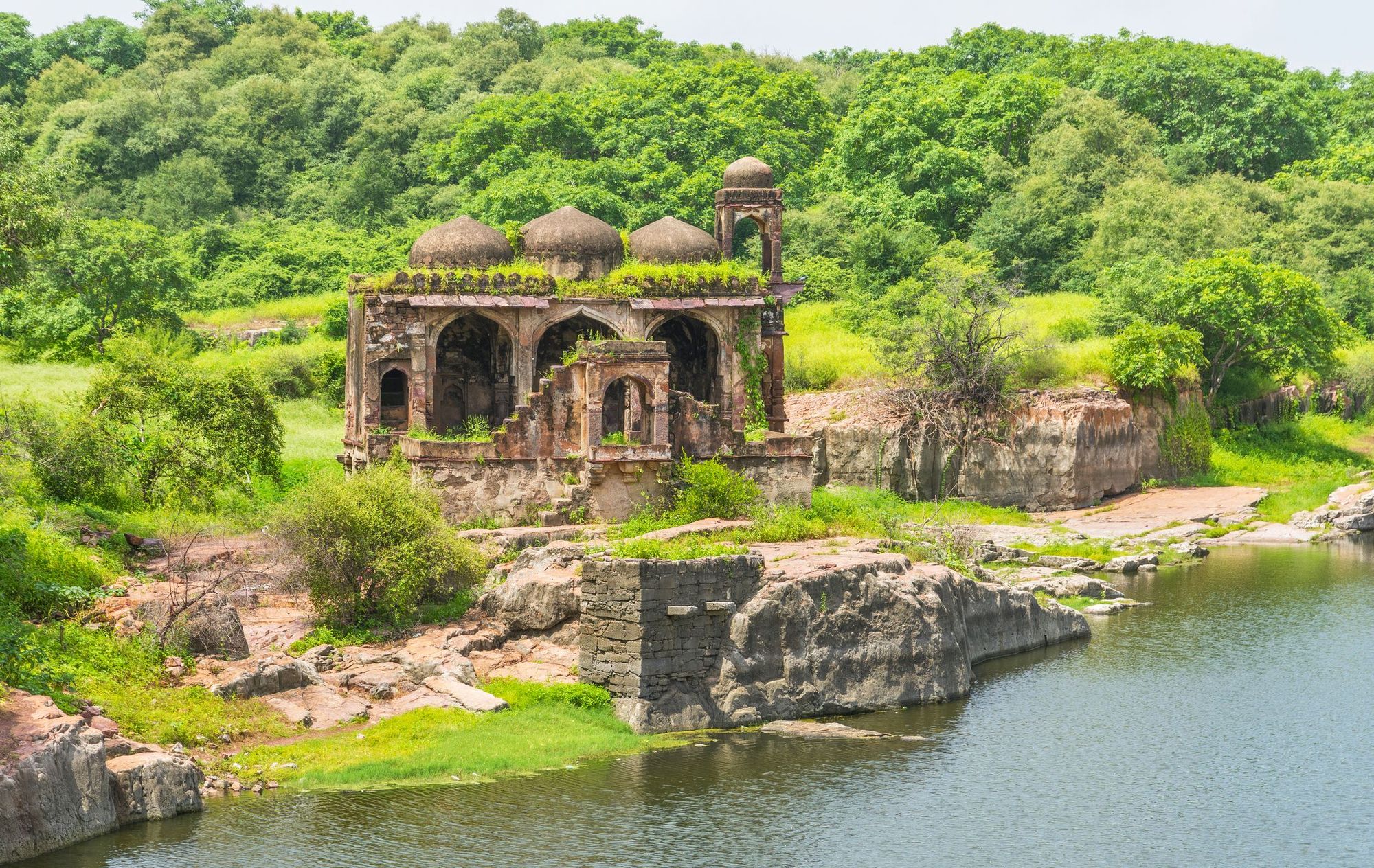 Project Tiger: Challenges and Successes

Project Tiger was started by the Indian government after the 1972 tiger census discovered how much numbers had dwindled, and that other animal species were disappearing at an alarming rate. Alongside hunting and poaching, the country's rising population had led to deforestation for agricultural and settlement purposes. Deforestation created a scarcity of food for the tiger population, who would then prey on villagers' cattle and sometimes attack humans - in return, they'd be attacked and sometimes killed.
To combat this, Project Tiger involved the creation of core areas, such as Ranthambore National Park, isolated from human encroachment. The surrounding areas were to be made into buffer zones, where animals and humans can coexist, and where activities such as ecotourism and sustainable agriculture can take place.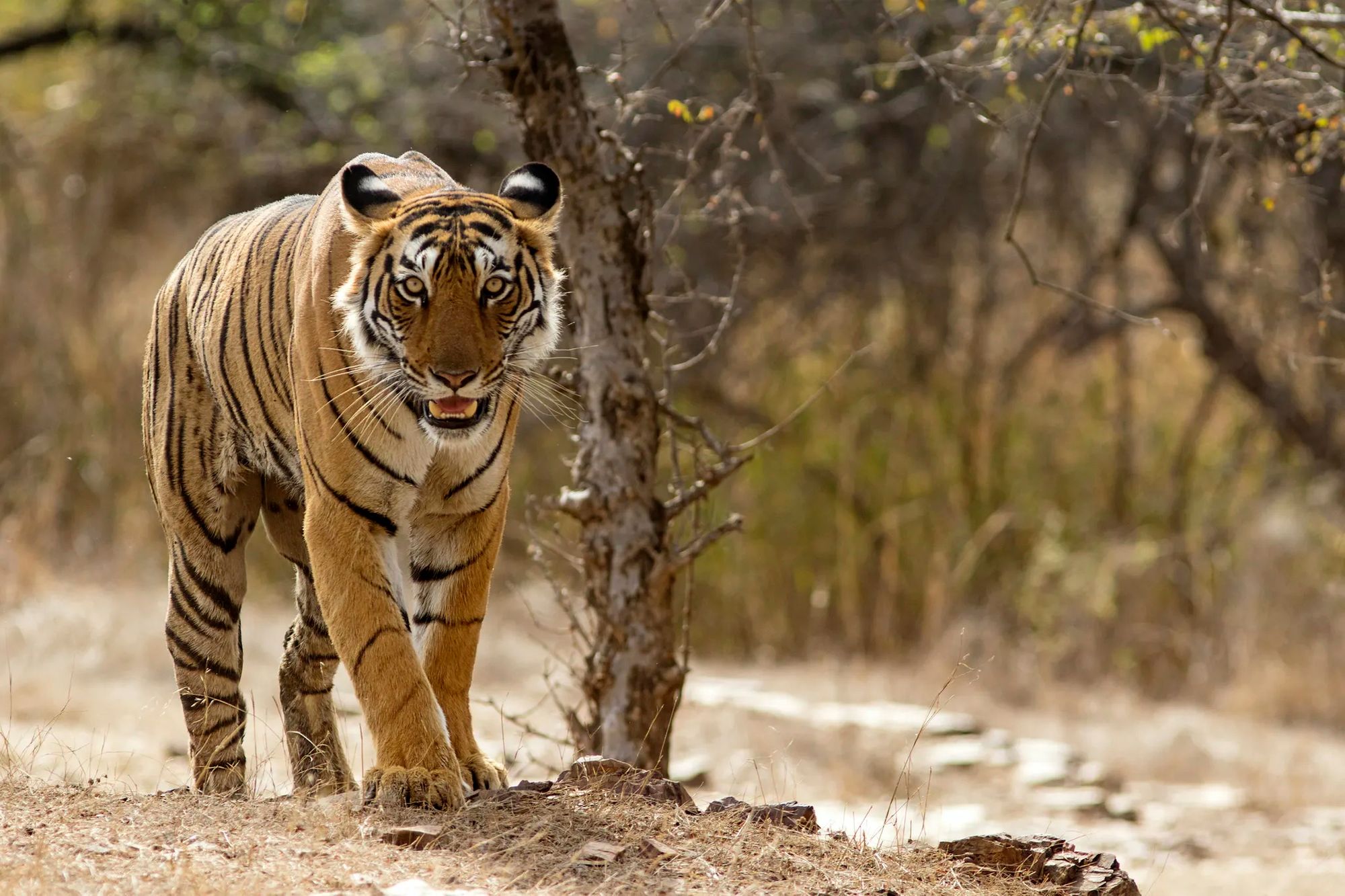 This is a process that is yet to be completed, as it involves the complex issue of relocating villages in core areas to the buffer zones or beyond. As villagers' rights are protected by India's Scheduled Tribes and Scheduled Castes Act, relocation must be voluntary. While some villages do refuse, in 2016 the villagers of Marmadi requested relocation due to a lack of infrastructure and employment opportunities.
"They are given a very good relocation package. It includes a house with electricity, land, or a sum of 10 lakhs," Ashlesh reassures me.
The sum has actually recently been upped to 15 lakhs (around £15,000). Although it's a generous amount, the process has challenges such as slow financial compensation, and the need for the villagers to adopt a different way of making a living. But there are success stories. One example is Dastkar Ranthambore, a social enterprise selling block printed textiles and traditional ceramics - it has enabled 300 women across five resettled villages to become financially autonomous.
The communities around Ranthambore National Park have benefited significantly from tiger tourism. A 2018 report showed that tourism to Ranthambore National Park generates around £28.23 million in the nearby district, and provides significant employment opportunities for local people. And benefits are more than just financial. Project Tiger has also succeeded in increasing the number of tigers in the country to around 2,937 (according to the National Tiger Conservation Authority's 2018 census).
Tigers in Ranthambore National Park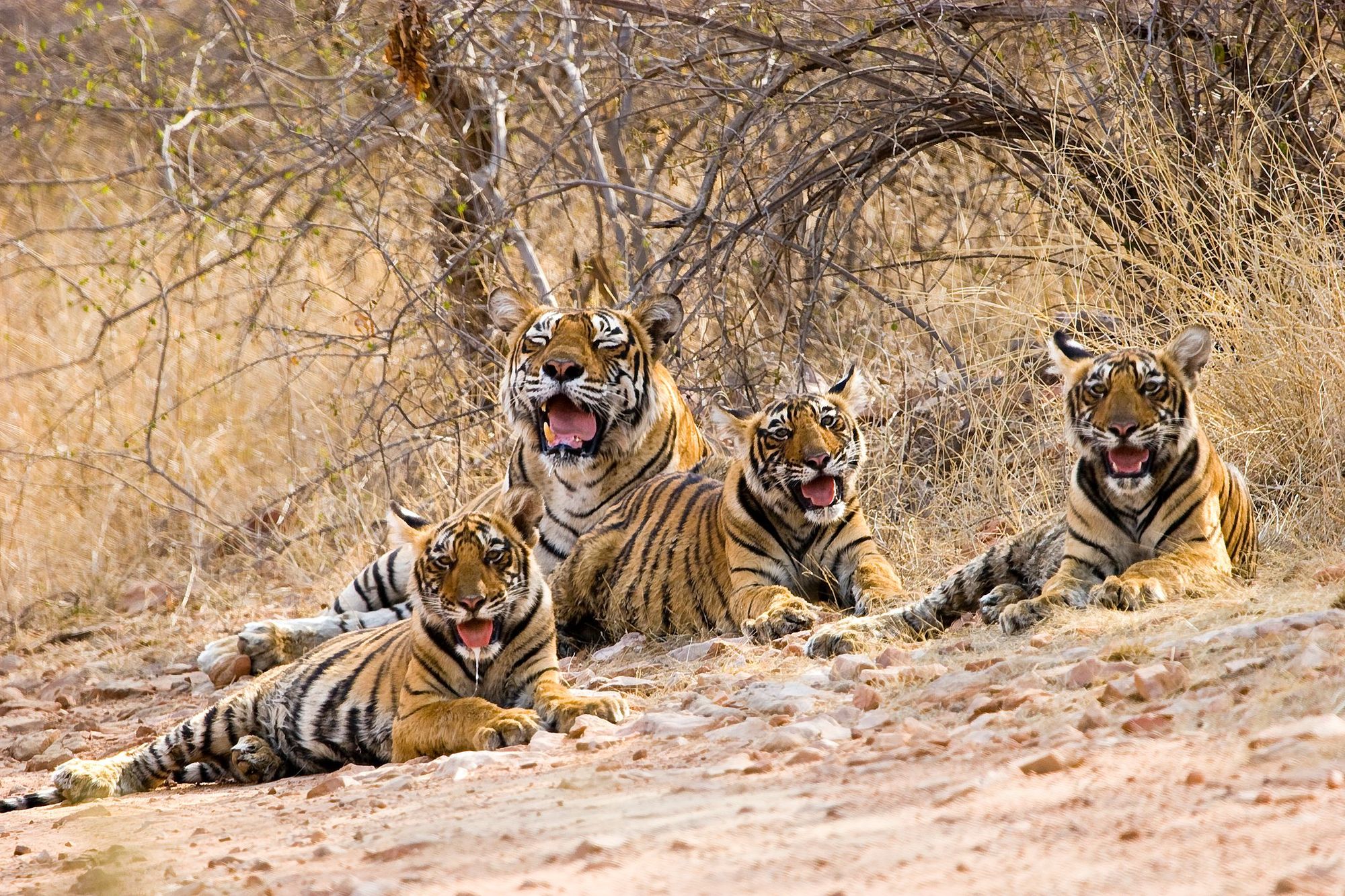 There are now 80 Bengal tigers living in Ranthambore National Park, across an area of 1,334 square kilometres. This actually means that the park is quite densely populated - tigers are solitary creatures, with males requiring a home range of 60-150 square kilometres, and females 20-60. Territorial fights can ensue if these space requirements are not met.
"The cubs live with their mothers at first. But as soon as they separate from their mothers then they require their own territory. To make sure they have enough space, the government has to relocate the tigers to a different national park," Ashlesh explains.
"Two weeks ago, we relocated a couple to Mukundra National Park. A special team from the air force has to come and tranquillise the tigers, and then transport them," he adds.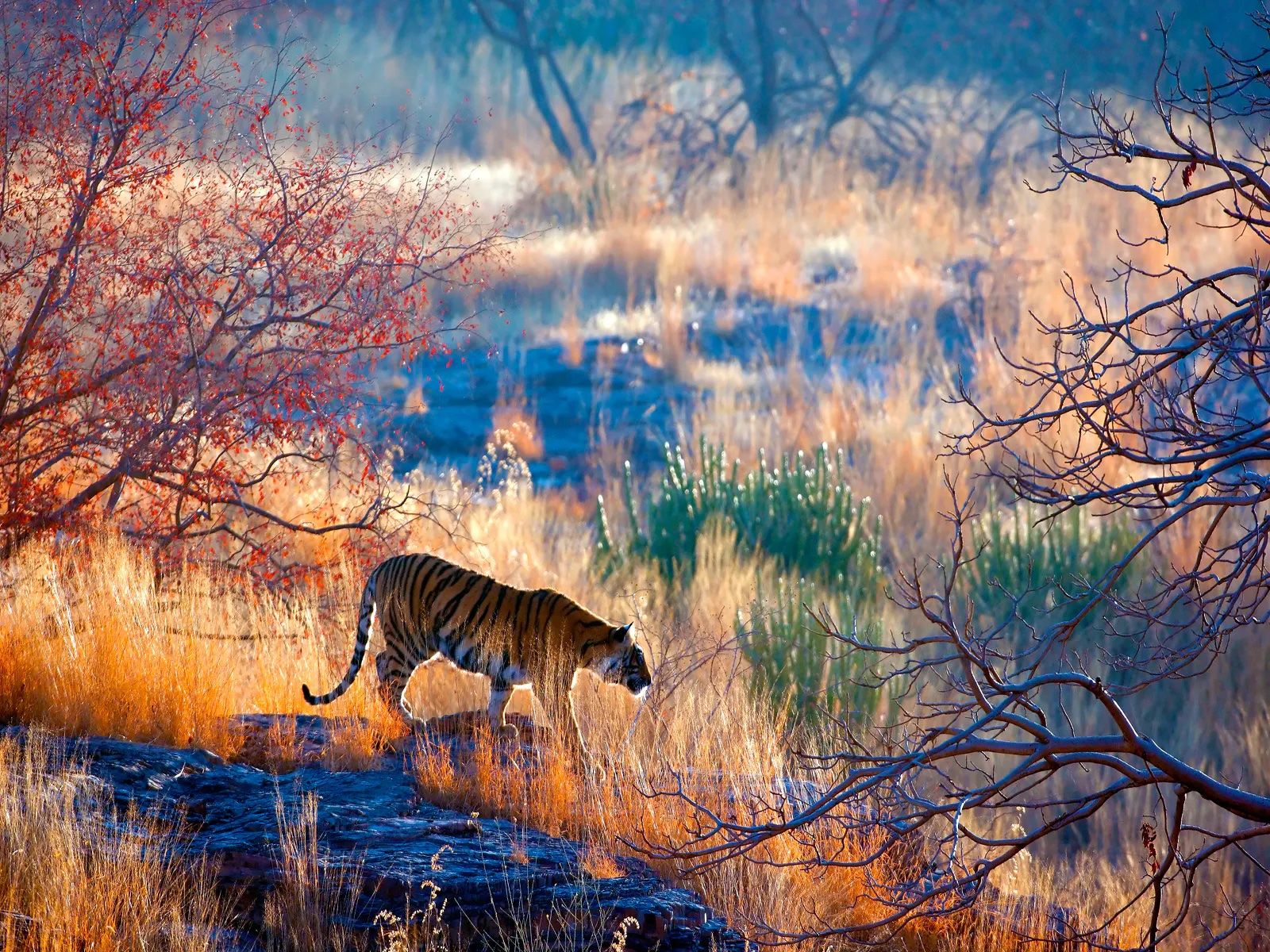 Tigers also migrate without human intervention, in search of more space or richer habitats.
"Once we found one of our tigers in Conoor, in Madya Pradesh. In Ranthambore, the tigers will walk down the dried river bed to leave the park. But there was a cub that was killed by a train recently - the railway line is a natural path that gives shelter," Ashlesh says.
The solution is the creation of dedicated tiger corridors, a clear stretch of land that links suitable habitats together. There are plans in place to create a tiger corridor linking Ranthambore with two other nature reserves in the state, allowing freer movement for the animals.
When is the Best Time for Tiger Spotting in Ranthambore?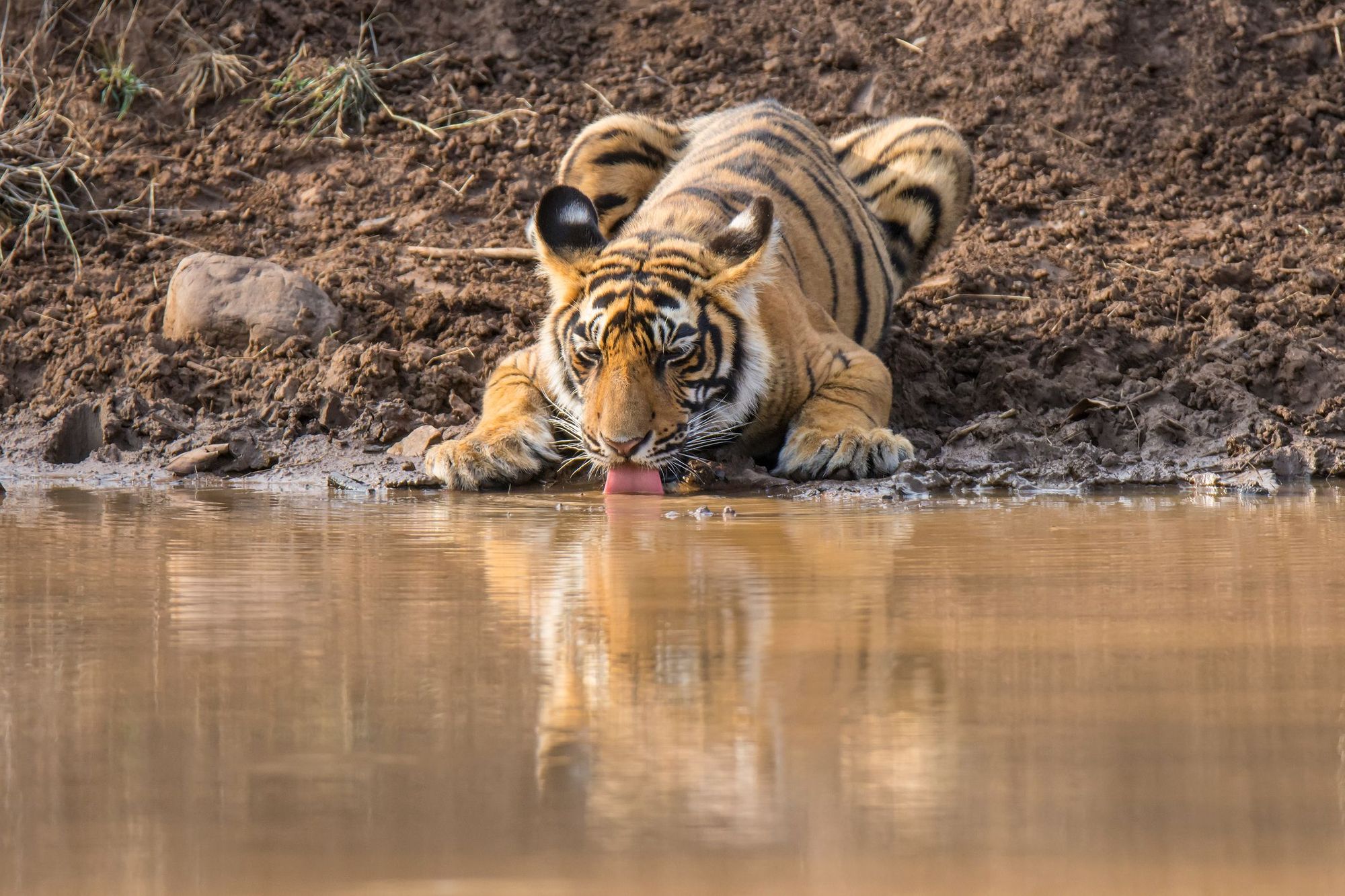 According to Ashlesh, if you want to do a tiger safari at Ranthambore National Park, it's best to book months in advance - there are limited opportunities to enter the safari zones.
"Private vehicles are not allowed in. You can either do a jeep safari or a canter safari - that's a truck which seats up to 20 people. It's best to do a jeep safari because the group is much smaller, and you get the best routes through the park. But the places are quite limited, " he says.
The best time for a tiger sighting is during the summer time.
"In summer, the visibility is much better. The number of waterholes is limited, so if you wait close to one you should see a tiger. They have to get in the water to cool down, because they can't sweat," he says.
Even if you don't see tigers on your trip, there are plenty of other animals to look out for within the park.
"Ranthambore has six different cat species - the largest is the Bengal tiger, but we also have leopards, caracal cats and rusty spotted cats. There are also 350 species of bird, including migratory and endemic species. These include raptors, larks, and scops owl," Ashlesh says.
Feeling inspired? You can visit Ranthambore as part of our Cycle the Backroads of Rajasthan adventure.