Much Better Adventurer Tom Wynne Willson recently headed to Iceland with us to trek the famed Laugavegur Trail - a 55km hut-to-hut trek of mountains, gorges, glaciers, and mind-boggling volcanic activity. He gives us the lowdown on his trip and shares a few of his best bits along the way...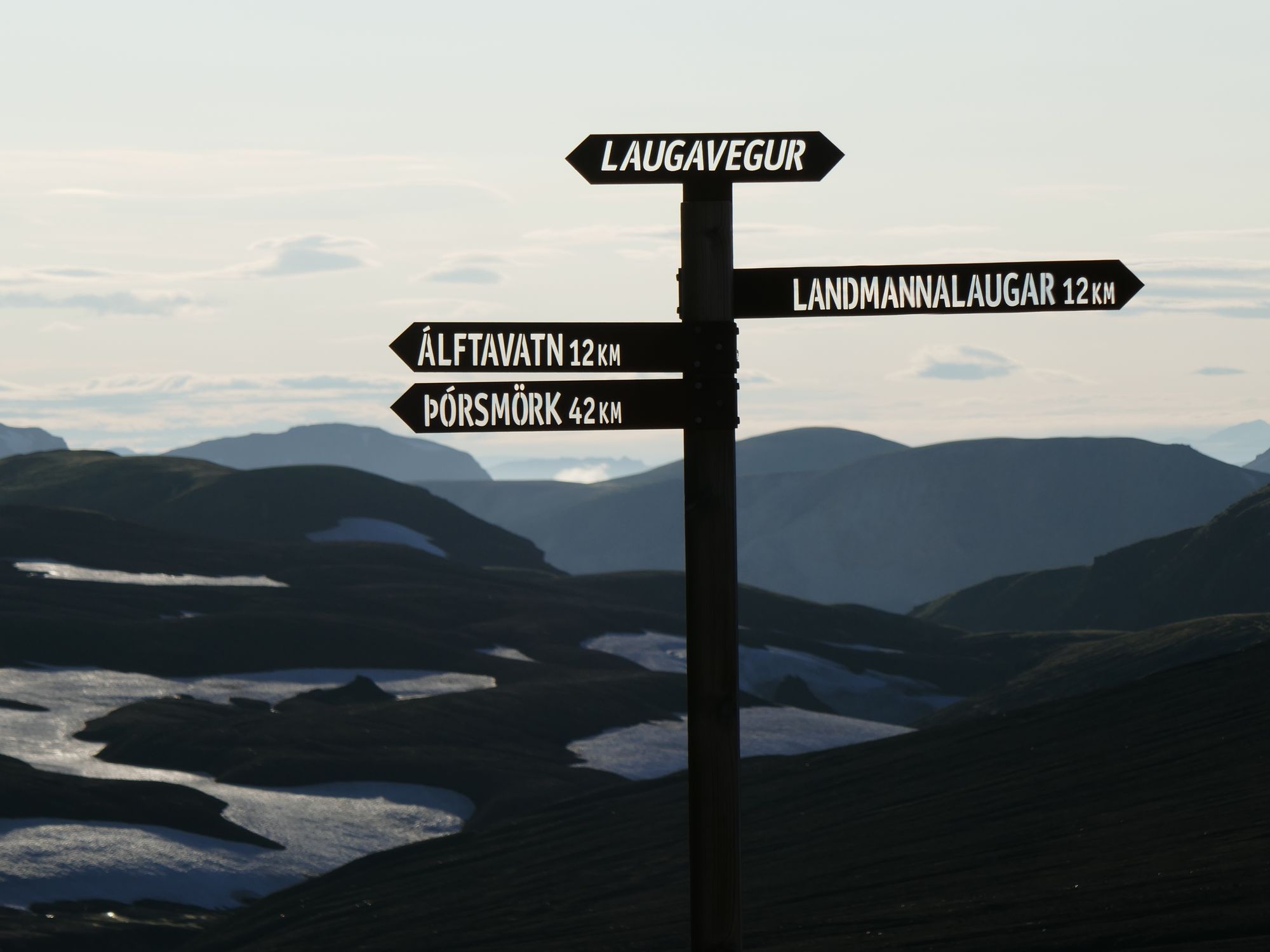 The Laugavegurinn is one of National Geographic's top 20 trails in the world. For most of the year it can't be accessed, but from July to September the relatively mild conditions allow trekkers to experience this amazing other-worldly wilderness. Although even in summer the weather in Iceland is famously unpredictable. The kit list was long. It seemed likely that during our four days we would need the waterproof gear and a few layers to stay warm in the evenings. But sunglasses and suntan lotion were also recommended, along with the all-important water-shoes (for fording the glacial rivers along the way).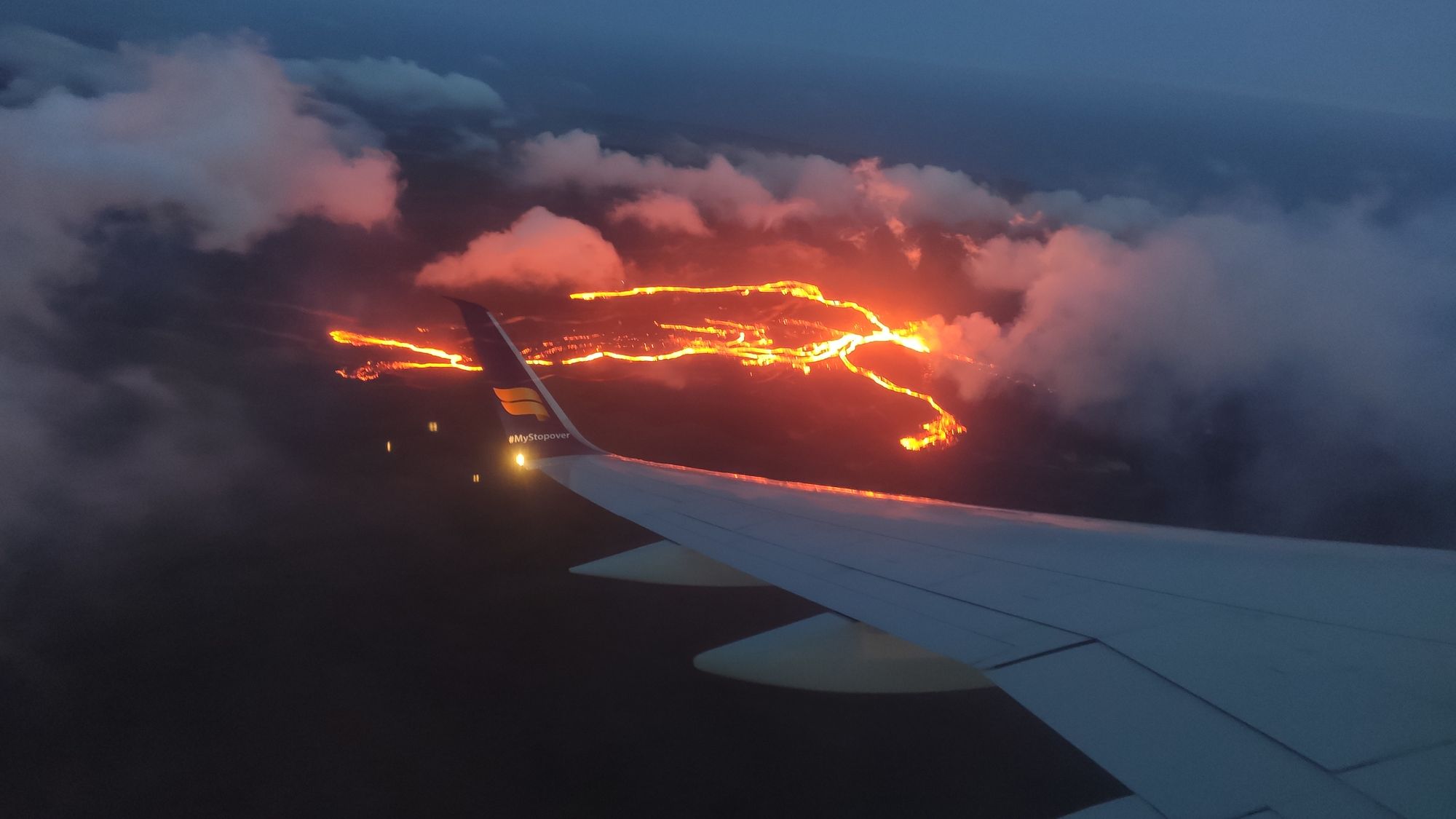 Flying into Reykjavik a couple of days ahead of our guided trek, we passed over the active volcano at Fagradalsfjall. It was midnight and the deep orange lava-glow made for a dramatic introduction to the adventure ahead. Our Icelandair pilot flew out over the eruption and back again so that people on both sides of the plane could get their photos.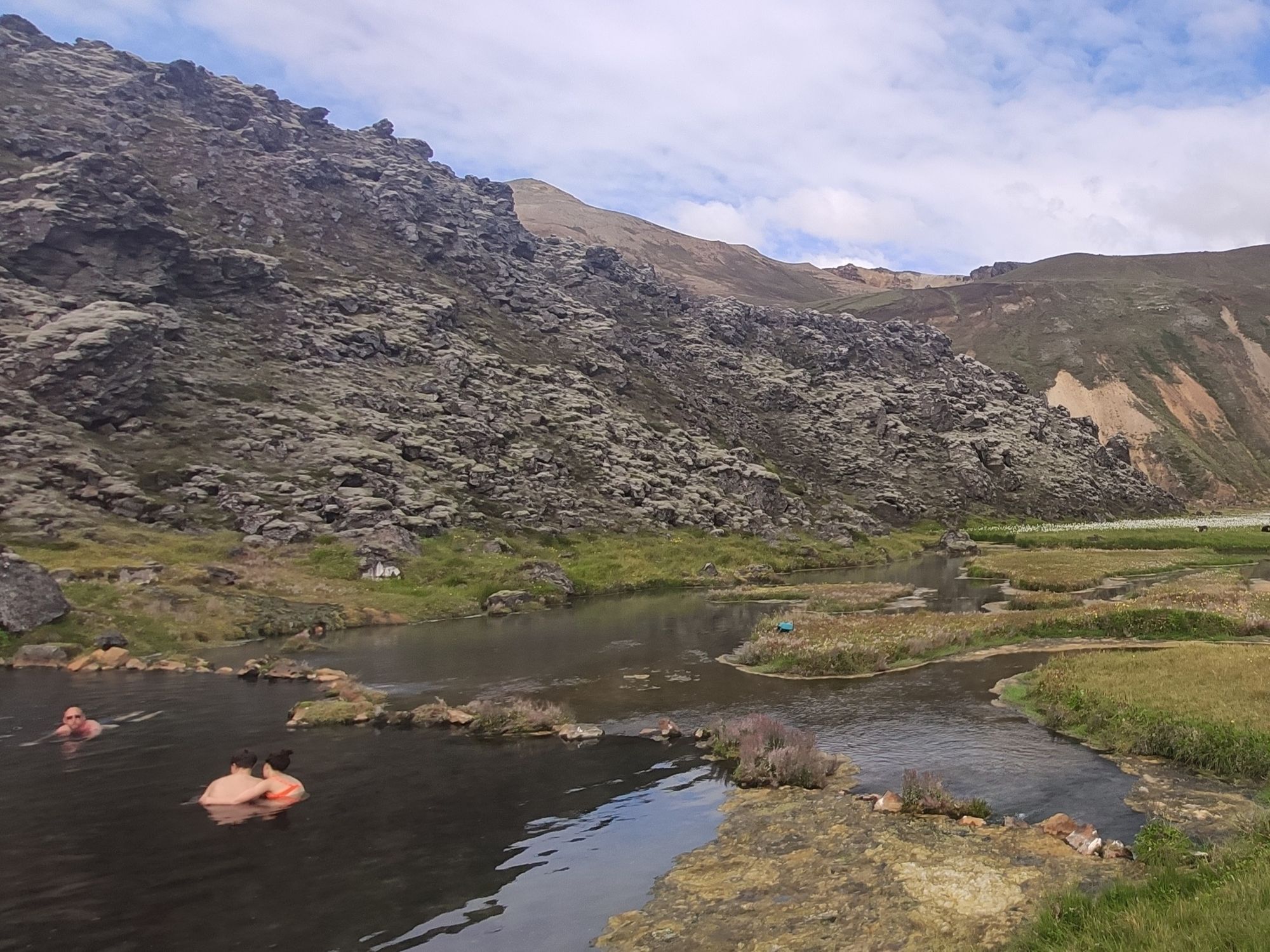 The first day of our trek started with a three-hour coach trip from Reykjavik to the starting point for our trek. The Laugavegurinn is a popular route and there were several coaches laid on – all, I noticed, with chunky oversized tyres. Sure enough, it was a pretty bumpy ride – at one point, our guide asked the driver to stop so that she could be sick. At Landmannalaugar, our guide introduced herself as Gunnur. We took it in turns to say our names and nationalities. But before we were to start walking, we had two hours to have lunch and also to experience the geothermal pools there. This would be our one opportunity on the trek to do so.
As an icebreaker, it felt a bit odd, being in our swim-wear. But no-one seemed at all phased by the situation. So, we wallowed and chatted and started to get to know each other. There was some amusement from the Americans in our group at the expression "swimming costumes". "Why costumes? Are you going to do a performance?" Laughed Ashley from Oregon.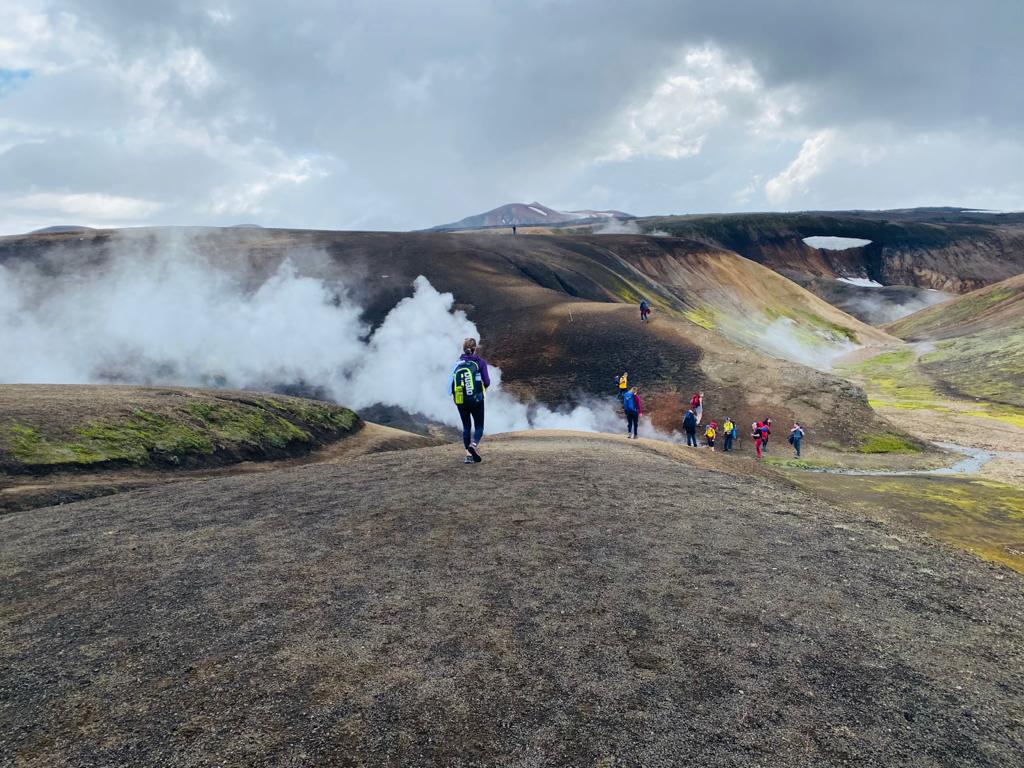 After lunch, we were finally on our way, getting used to walking together, alternating between taking in the scenery and falling into conversation with those alongside us. The landscape was bleak but strangely beautiful. At times it felt almost lunar – no wonder that the Apollo astronauts trained here! A crazy combination of multi-coloured rhyolite mountains, black lava fields and steaming fumaroles!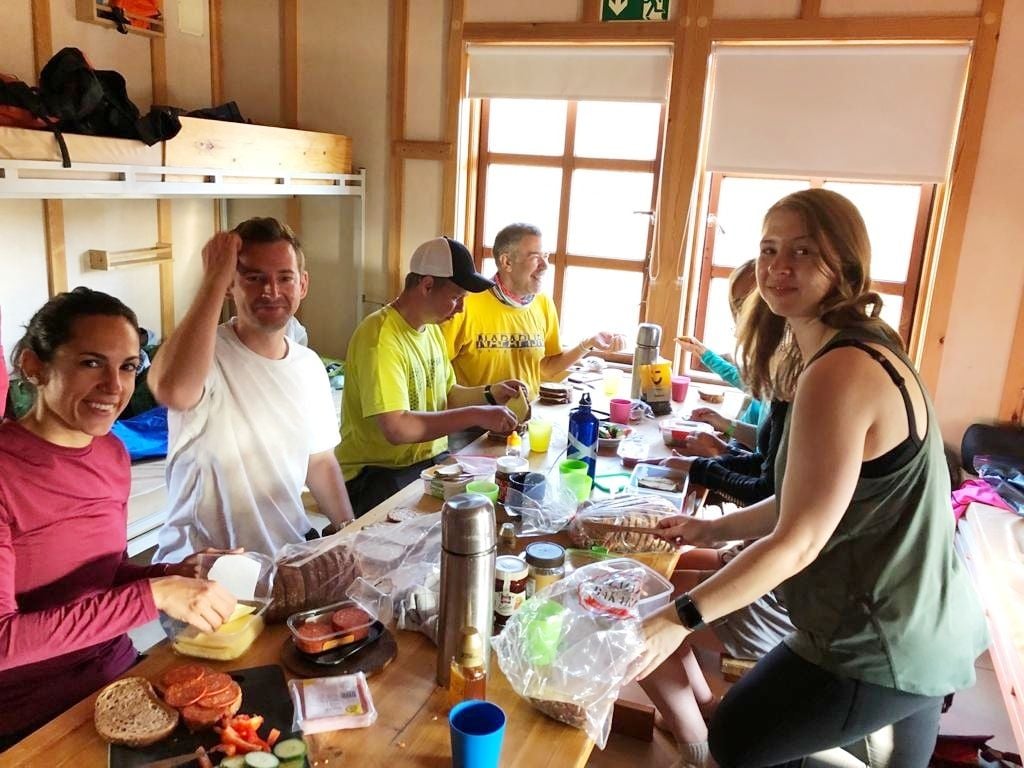 Gunnur had been clear that we would be living very closely together over the four days and that the first hut/bunkhouse (Hrafntinnusker) was particularly basic. In the event, there were eight mattresses available for the 12 of us! The marginally wider beds were described as "doubles". On the plus side, Gunnur produced some good food and two boxes of wine. Lorna provided some playing cards and a dram of whisky. The next morning, after breakfast we made sandwiches and set off in glorious sunshine!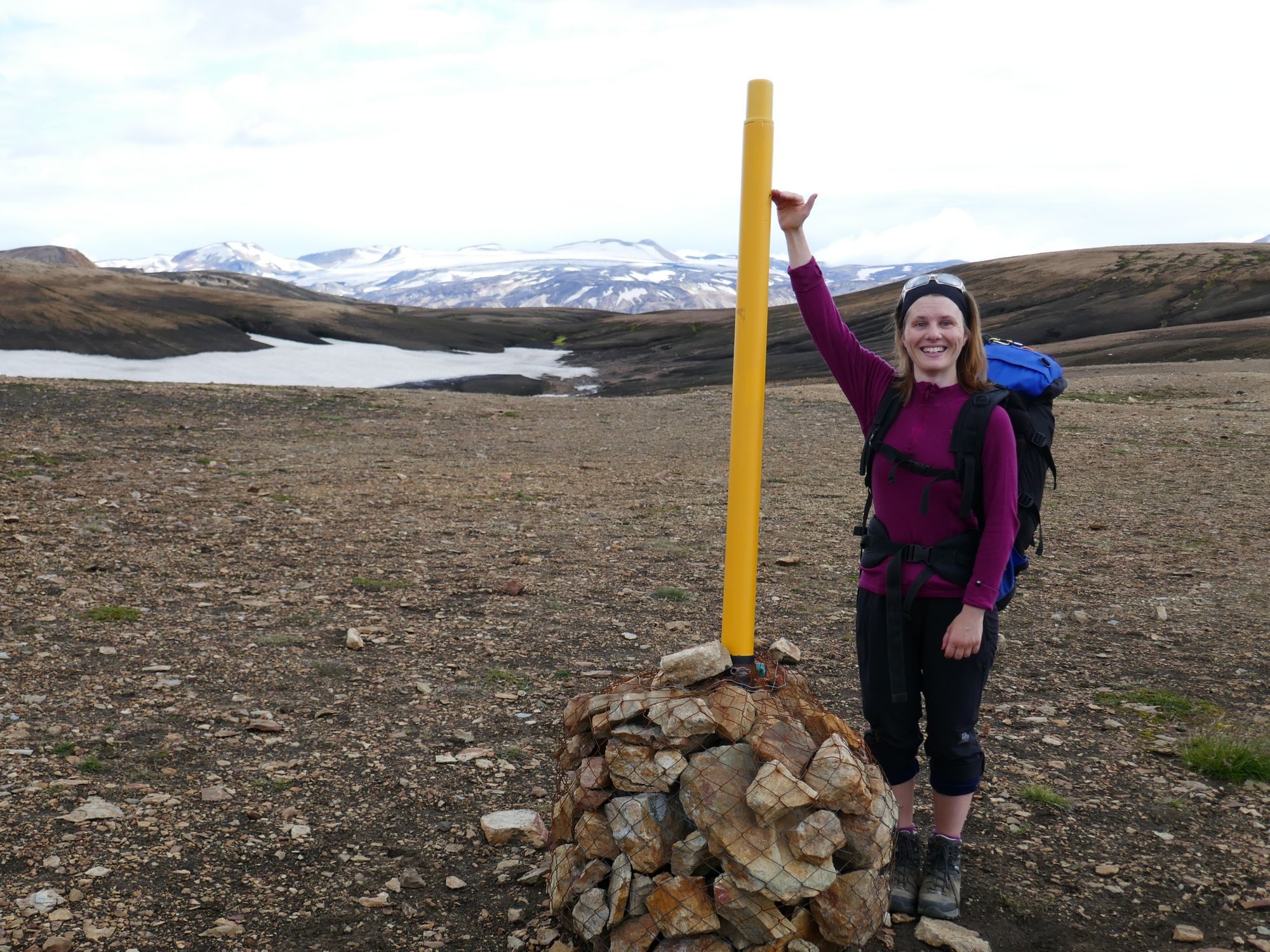 Our rucksacks were laden with layers and layers of clothing but most of us were in shorts and T-shirts. We passed a memorial to a young walker who had died of exposure in a blizzard. It was easy to imagine how harsh and unforgiving this place could be in different weather conditions. Gunnur regularly reminded us how lucky we were.
We stopped by a tall yellow pole, marking the trail. "It has to be this big because sometimes the snow comes up to here", Gunnur reached above her head to demonstrate. No-one can be a full-time mountain guide here because the walking season is so short. There is some work leading Northern Lights trips later in the year but that is limited so, when she isn't leading groups across the Icelandic interior,  Gunnur works as a stage and film director!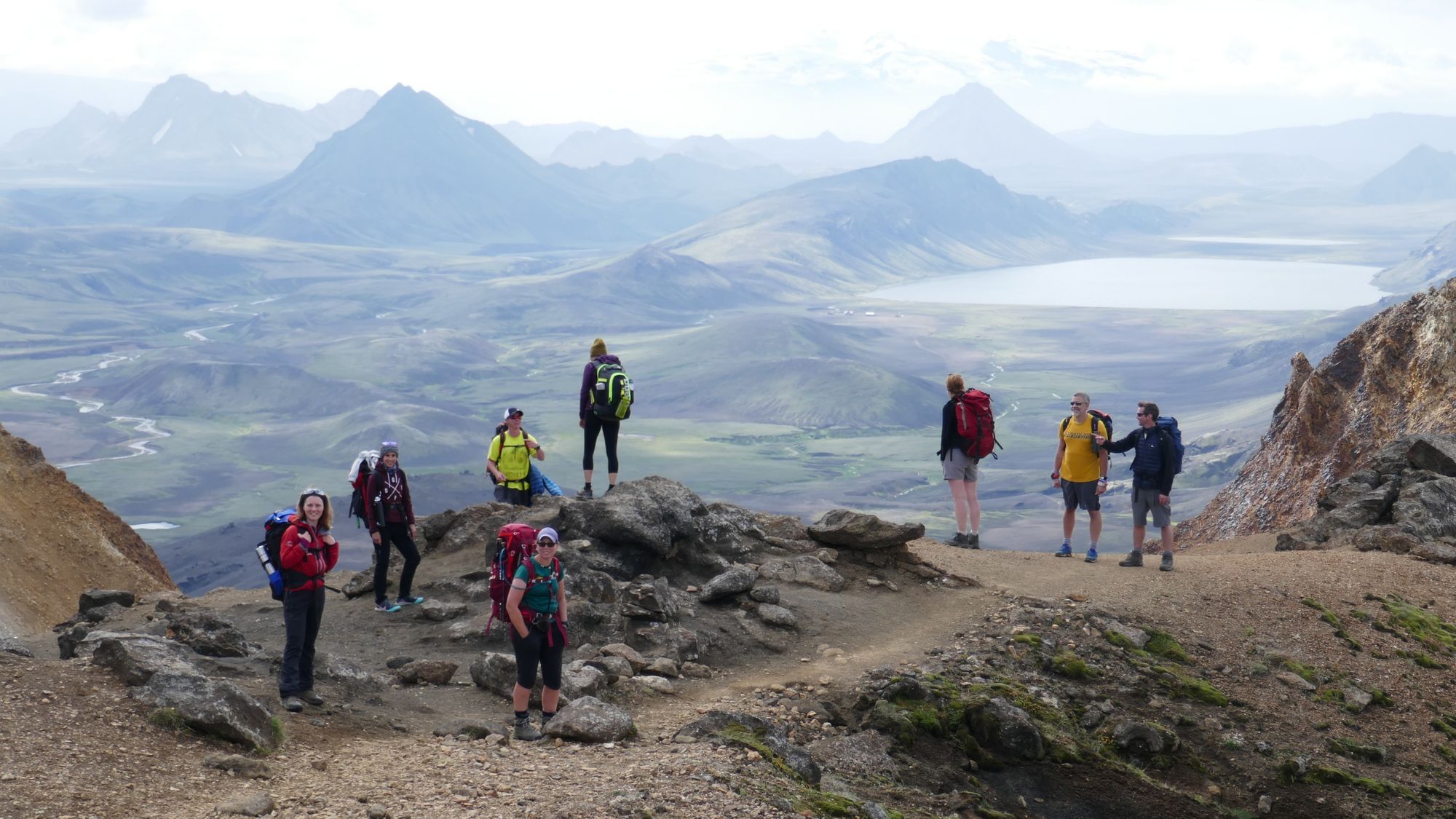 The second group of mountain huts was in a spectacular location, next to Álftavatn (Swan Lake). A real step up, in terms of luxury: there were cans of beer for sale, showers, a mattress each and even phone signal! We had arrived in plenty of time so Gunnur took a group on an extra walk while others relaxed or braved the dark but shallow water of Swan Lake.
This is Ildi striding in. It turned out that Ildi is a competitive swimmer and has been since the age of 5. In normal conditions she can swim 200 metres butterfly faster than anyone else of her age in the world!!! Here, she braved the icy waters for a full 20 seconds before heading for the hot showers! For me, swimming here was my personal highlight of what was an extraordinary and wonderful trip. You could call it the "cherry on the cake", Icelanders prefer "the raisin at the end of the hotdog!"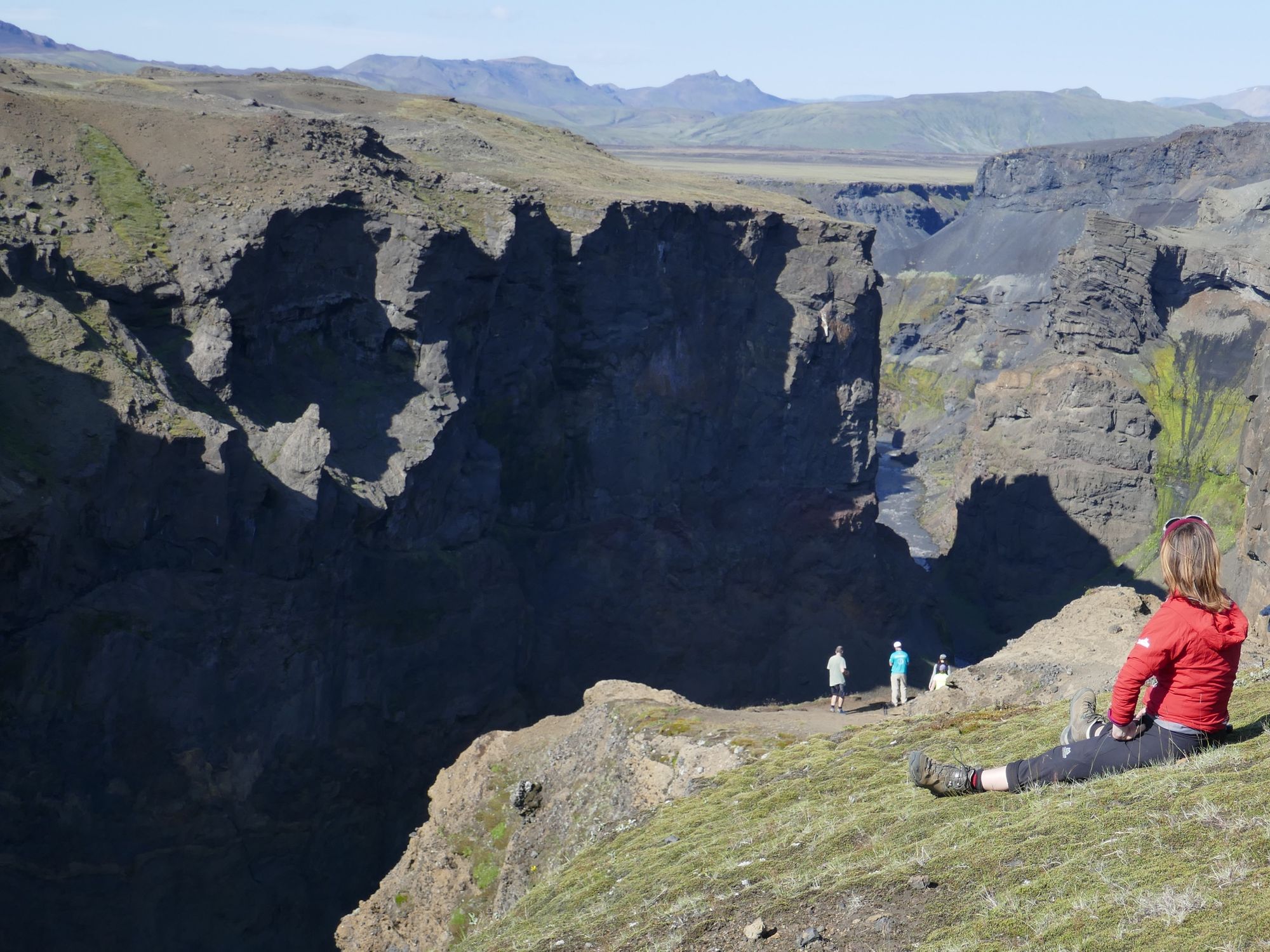 On day three we set off in mist, but it gradually burned away and the looming mountains reappeared. Again, we had plenty of time to spare so Gunnur took us on a small diversion to the amazing Markarfljótsgljúfur Canyon – much more dramatic and stunning than it appears in this photo! Gunnur looked on slightly uneasily as some of the group ventured to the edge of the precipice. "This is difficult for me," she confided. We arrived at our last bunkhouse (Botnar Huts at Emstrur) bathed in late afternoon sunshine.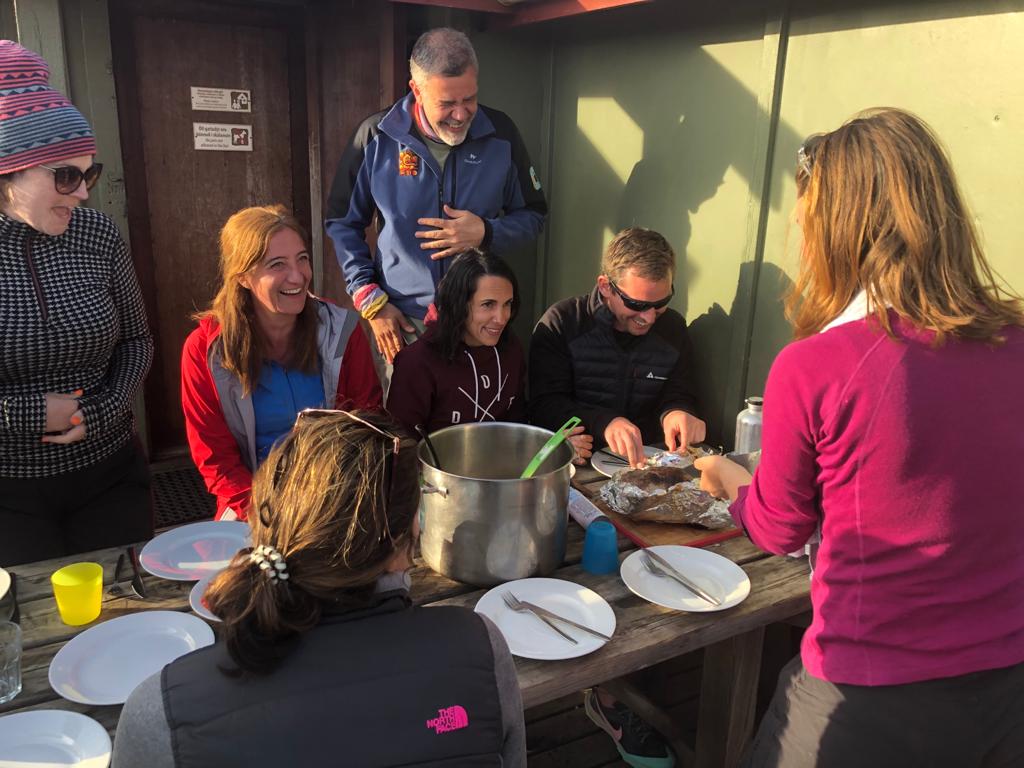 For our last meal, Gunnur cooked a leg of lamb on the barbecue outside the hut. We had a bottle of Brennivín, the Icelandic spirit flavoured with caraway seeds. Various people turned up to use the hut – some more Americans, a German couple and a French couple. Apparently, everybody fitted in. I chose to sleep out under the stars. Beautiful.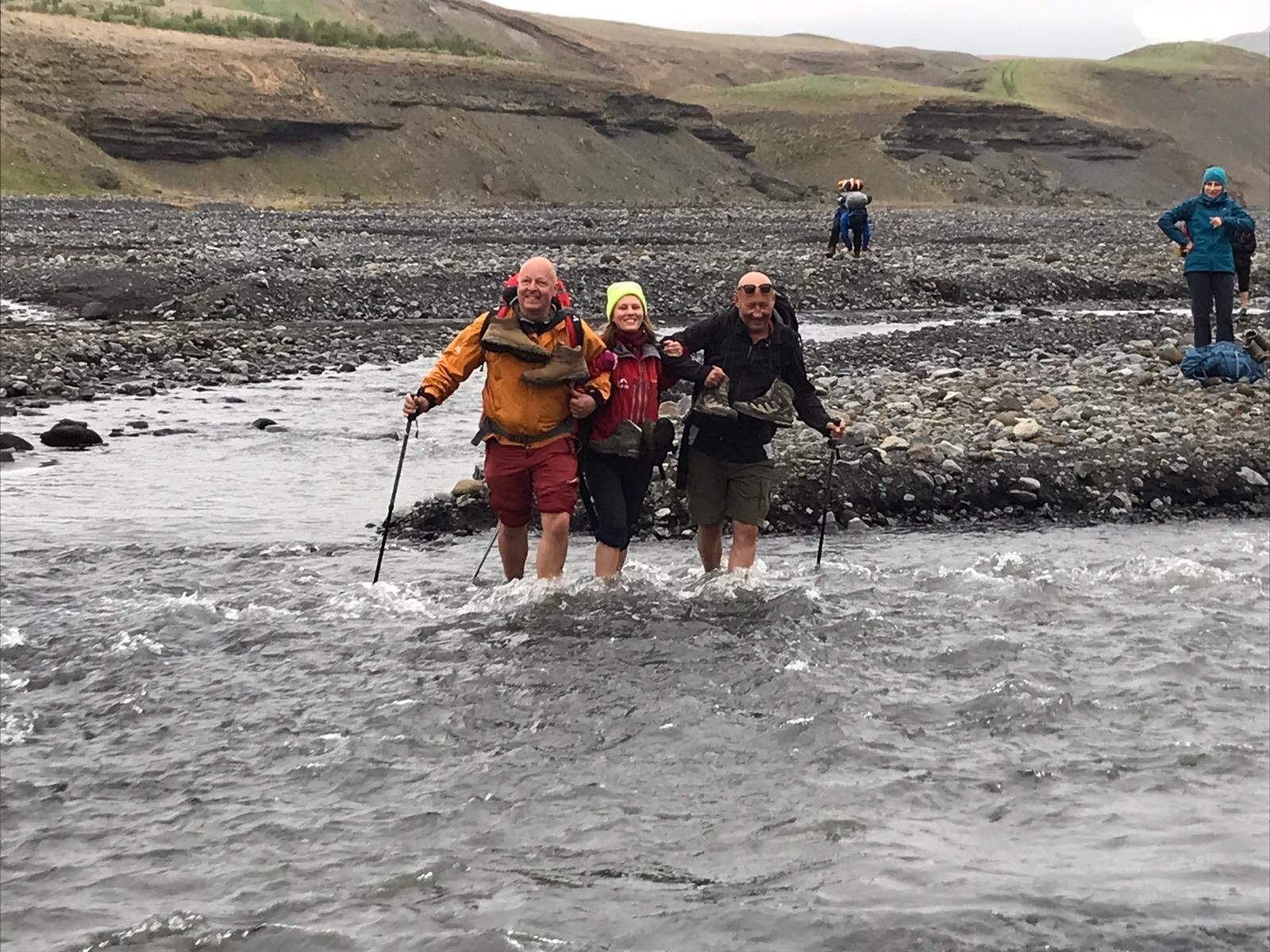 Day four. The last day of our walk. Our final destination was the comparatively lush valley known as Þórsmörk (Thor's Wood). But there was one last river to cross – the Markárfljót. On day one, Gunnur had told us the correct technique for river crossings (three abreast with elbows linked) but up until this point no one had taken any notice of her advice. So, Gary and I decided to put that right! Not long after that, we had arrived at the Volcano Huts at Þórsmörk.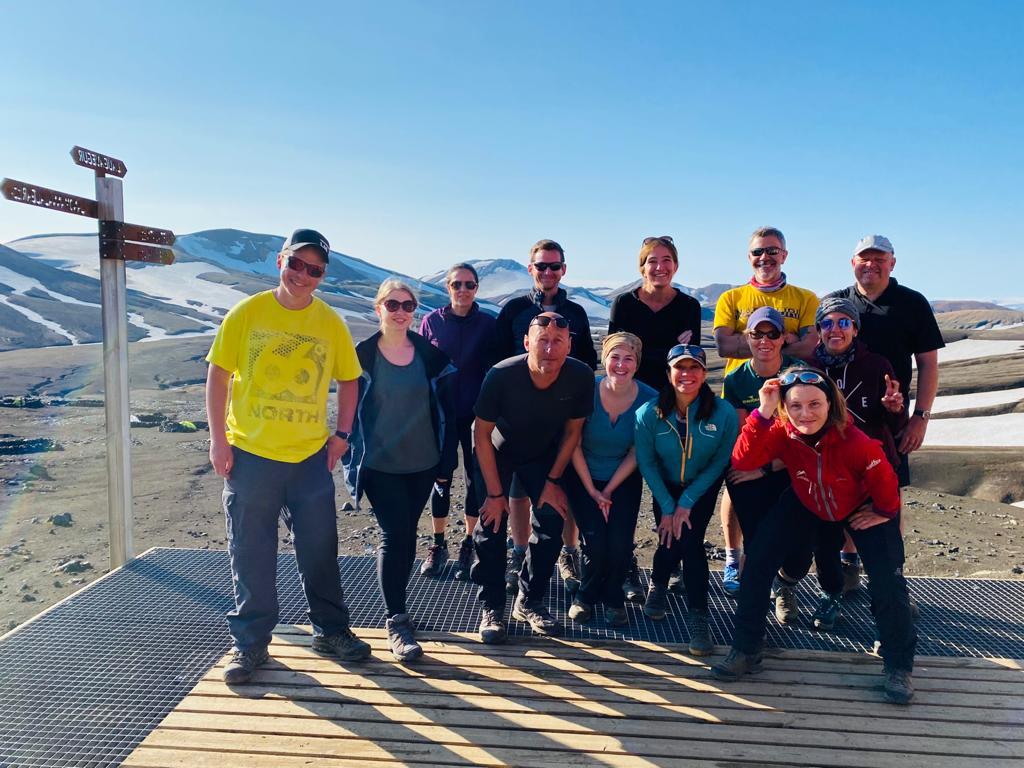 Our gorge diversion meant that we had completed 56.5 km. There was time to enjoy the feeling of satisfaction of having completed this epic trail (and a leisurely couple of beers) before the rollercoaster ride back to Reykjavik.
Fancy walking in Tom's footsteps? You too could be trekking the Laugavegur Trail, or any other of our hiking and trekking adventures for that matter.