There's something memorable and multi-faceted about going white water rafting. It's the teamwork involved in getting the raft into the perfect position. The adrenaline rush of navigating the rapids, being carried along by the river and feeling the cold splash of glacial water on your face. Then there's the calm that comes afterwards, drifting gently downstream and waiting eagerly for the next section of white water.
Europe offers a variety of breathtaking locations for white water rafting. There's the wild Vjosa river in Albania, where activists have successfully fought to prevent it from being dammed. Then there's the Voidomatis River, which meanders through an unspoilt corner of mountainous northern Greece. Europe is also an ideal destination for packrafting, where light, portable rafts are carried from one body of water to another.
We've selected seven of the best places to go white water rafting and packrafting in Europe, serving up spectacular scenery and some thrilling white-knuckle rapids. So grab your paddle and get ready to take to the water.
1. Vjosa River, Albania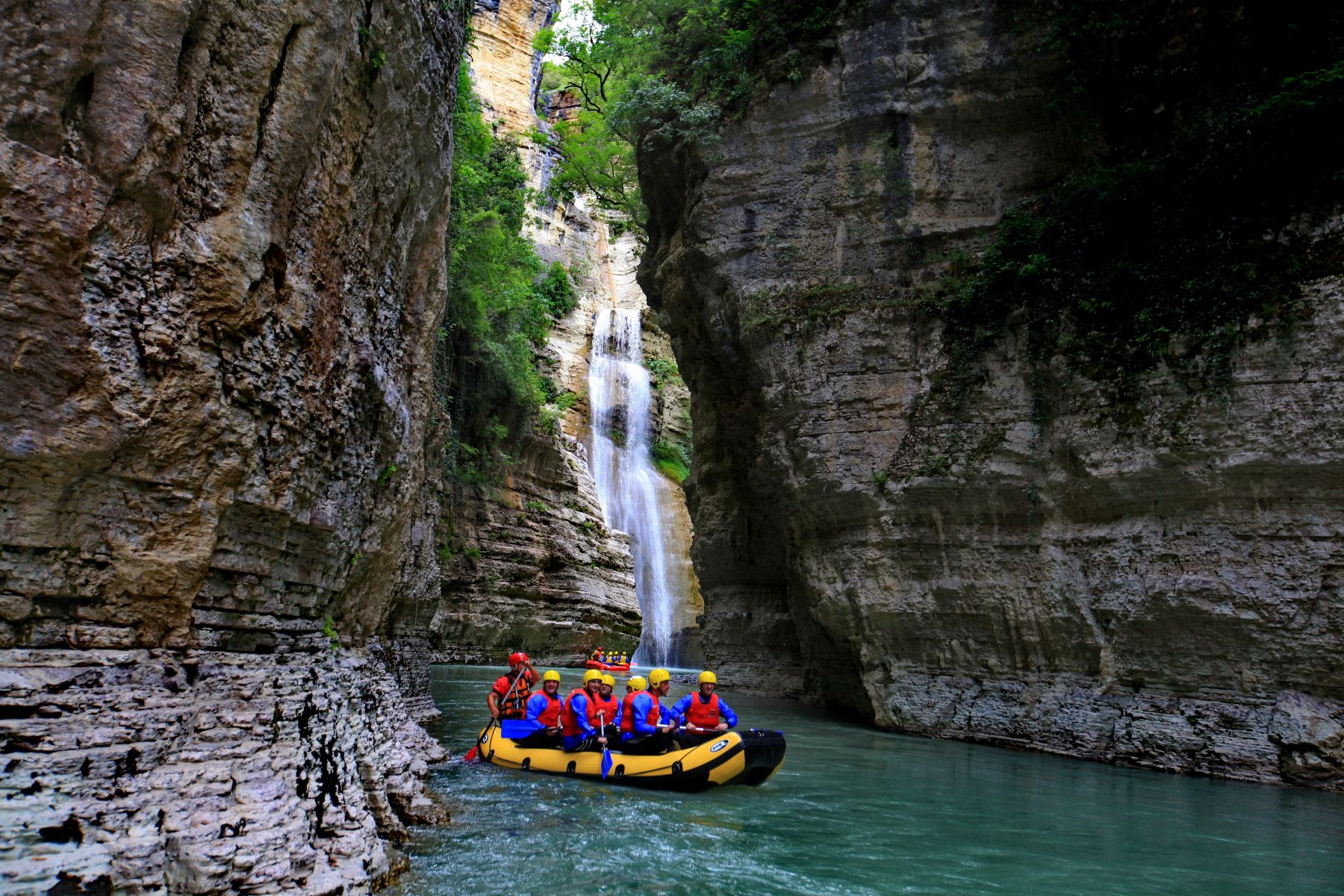 Best for: untamed rivers and spectacular scenery
Other reasons to visit: hiking and wild swimming in the Osumi Canyon
The Vjosa is one of Europe's last wild, free-flowing rivers - its 169-mile length is completely undammed, as activists fought hard and won a battle against the implementation of hydropower projects. It has also recently been designated as a national park, ensuring the conservation of its pristine environment. The Vjosa's fast-flowing waters make it an ideal location for white water rafting, but there are also calmer stretches where you can drift and enjoy the scenery.
We'd particularly recommend rafting the stretch of the Vjosa that passes through Permet Valley. The clear turquoise river is surrounded on both sides by forested mountains, and there are also some fun grade three rapids to tackle. The Osumi Canyon is also a great spot for rafting, with high limestone cliffs rising up steeply on either side of the river, and adding to your sense of adventure.
2. Voidomatis River, Greece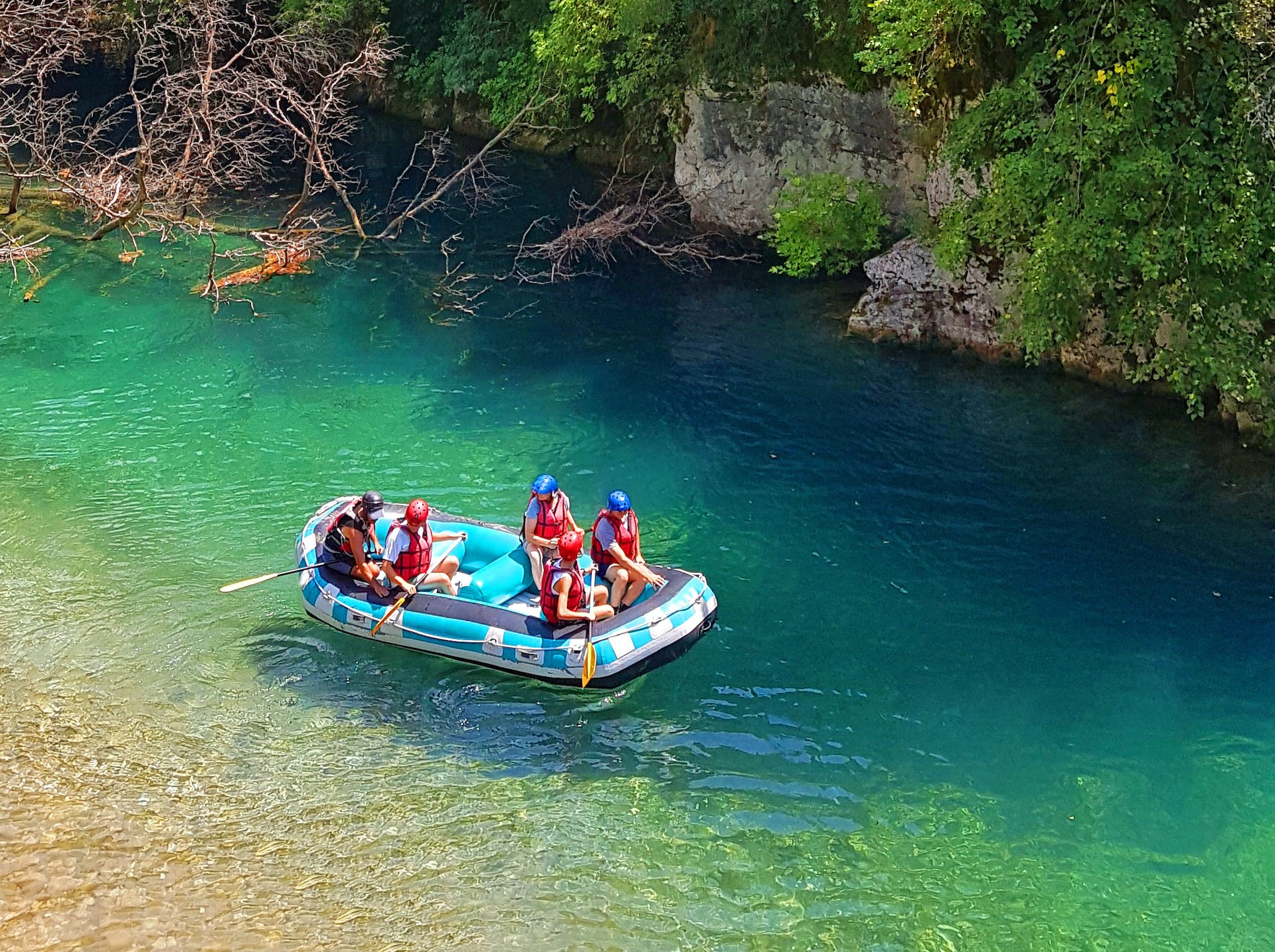 Best for: fairytale scenery
Other reasons to visit: hiking in the ​​Vikos Aoos National Park, and exploring the idyllic Zagorohoria.
The Voidomatis River is a tributary of the Vjosa (called Aoös in Greece). It rises up in the beautiful Vikos Gorge, in the heart of the remote Pindos Mountains, and flows past the fairytale stone villages known as Zagorohoria. The Voidomatis is a relatively calm river, renowned for the cleanliness of its clear, turquoise waters.
There are plenty of good spots for rafting along the river, but we recommend launching from the bank near the Bridge of Aristi. You'll raft through the heart of the Vikos-Aoös National Park, passing through verdant woodland, small waterfalls and carefully carved stone bridges, and can stop for a refreshing swim if you wish. Halfway through the trip, you'll pass the deserted Agioi Anargyroi monastery, located precipitously on the edge of a cliff. Your trip will finish at the Bridge of Kleidonia.
3. Soča River, Slovenia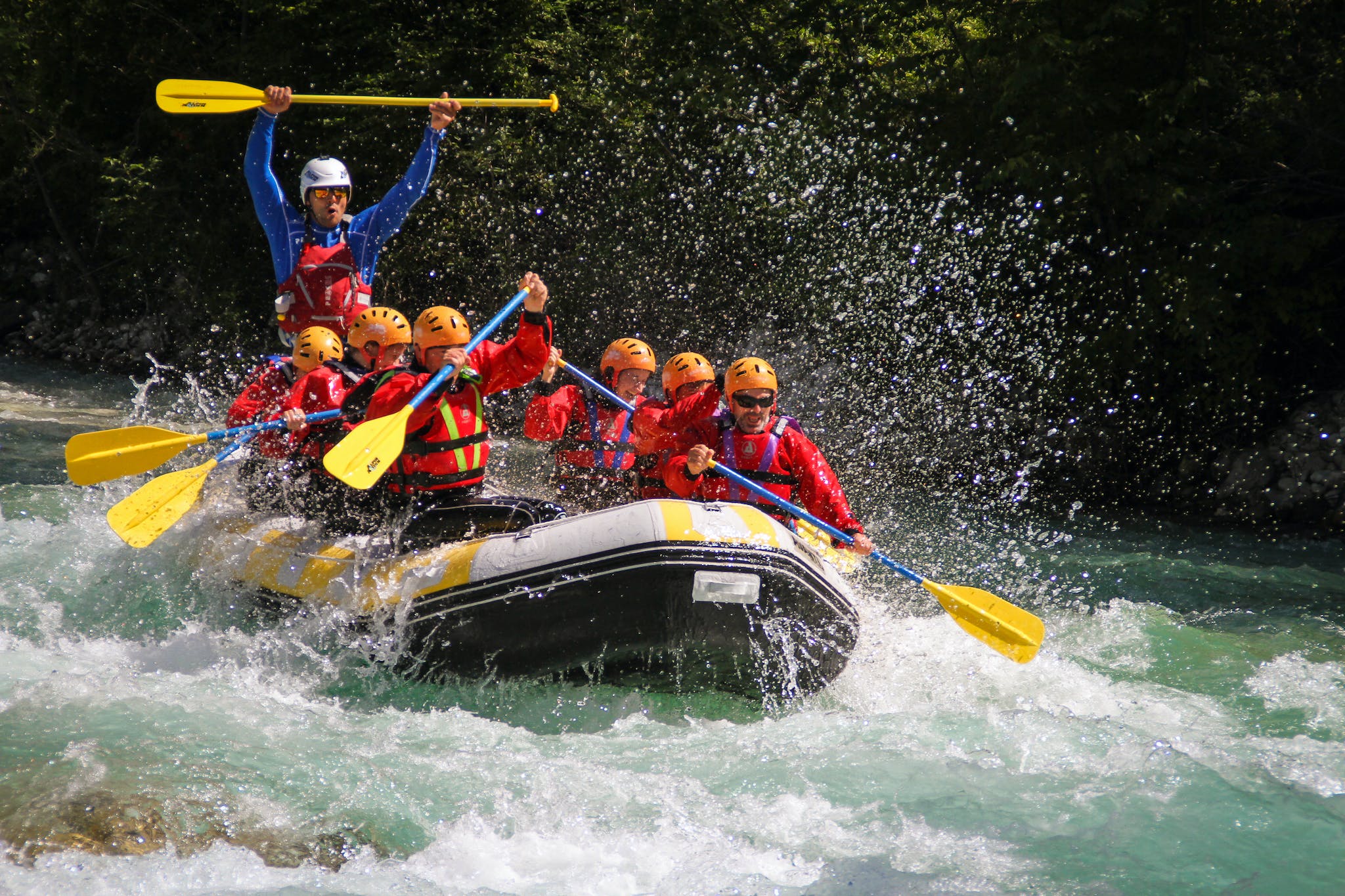 Best for: exhilarating white water rapids
Other reasons to visit: canyoning and cliff jumping in Triglav National Park.
The Soča River is a vibrant, emerald green colour, due to small particles of bedrock which are reflected blue or green in the light. It runs through western Slovenia and across the border into northeastern Italy. One of the most scenic areas it passes through is in Slovenia's Triglav National Park, where you'll find the snowcapped Julian Alps that slope down to forested valleys.
The Soča River has some class II, class III and class III+ rapids, meaning you can be sure of an adrenaline-fuelled rafting experience. One of the most popular stretches of river is the 10 kilometre-stretch from the bridge near Boka Waterfall to the small village of Trnovo ob Soči.
4. Tara River Canyon, Bosnia and Herzegovina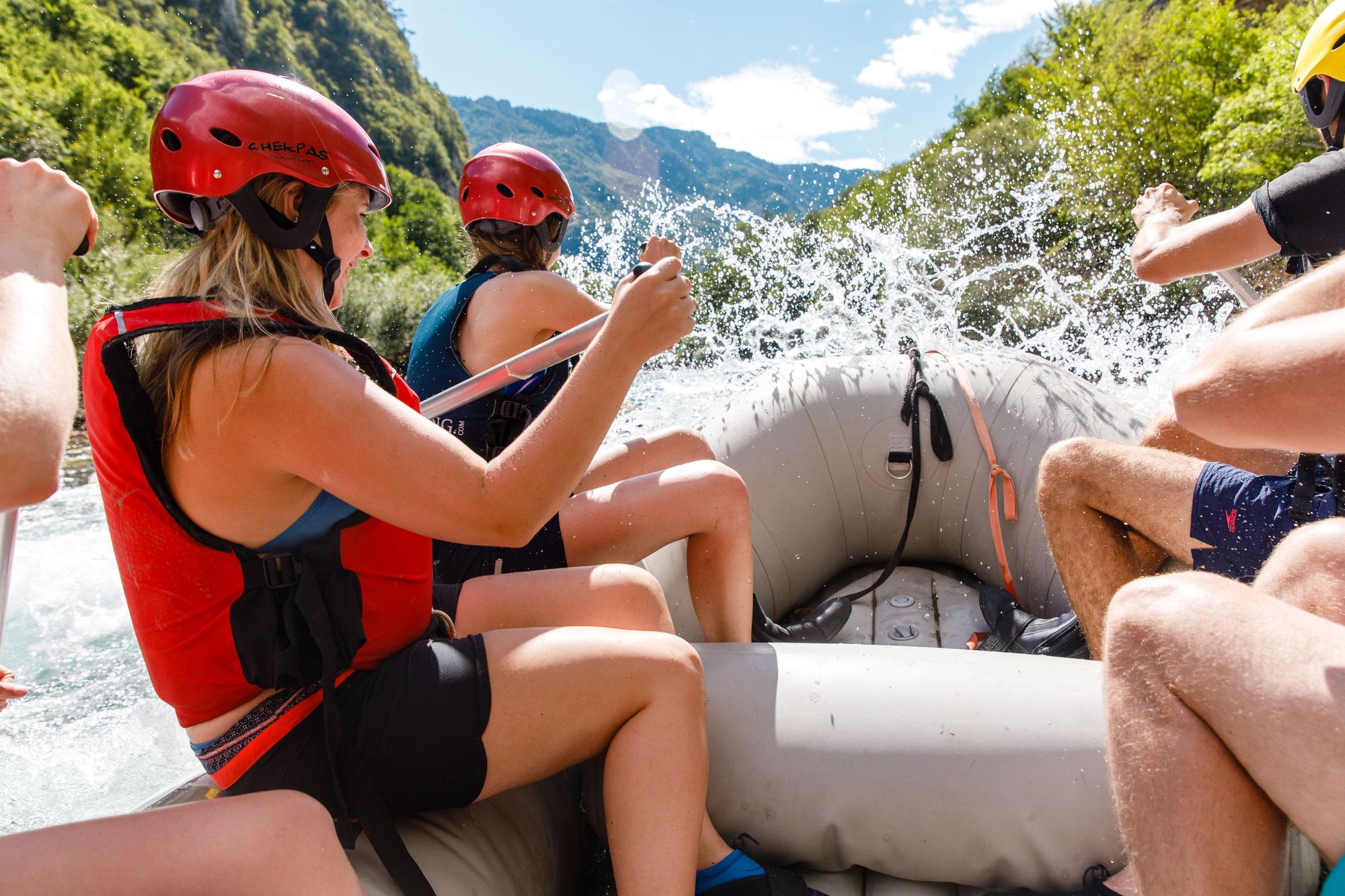 Best for: fast-flowing whitewater
Other reasons to visit: hikes along the Via Dinarica, sightseeing in Mostar and Blagaj
The Tara River originates in the Dinaric Alps of Montenegro, and flows along, then across its border into Bosnia and Herzegovina. Around half of its 91 mile length runs through the Tara River Canyon, the longest in Europe and now a UNESCO World Heritage Site - in some places, the sheer limestone walls are over 1,300 metres high.
But it's not just the epic scenery that makes the Tara Canyon an excellent rafting spot - it also has some exhilarating rapids (up to class V in April, when the water is high). In Bosnia, head to Durmitor National Park to raft a stretch of the Tara River Canyon - a white knuckle ride down a series of rapids.
5. Tara River, Montenegro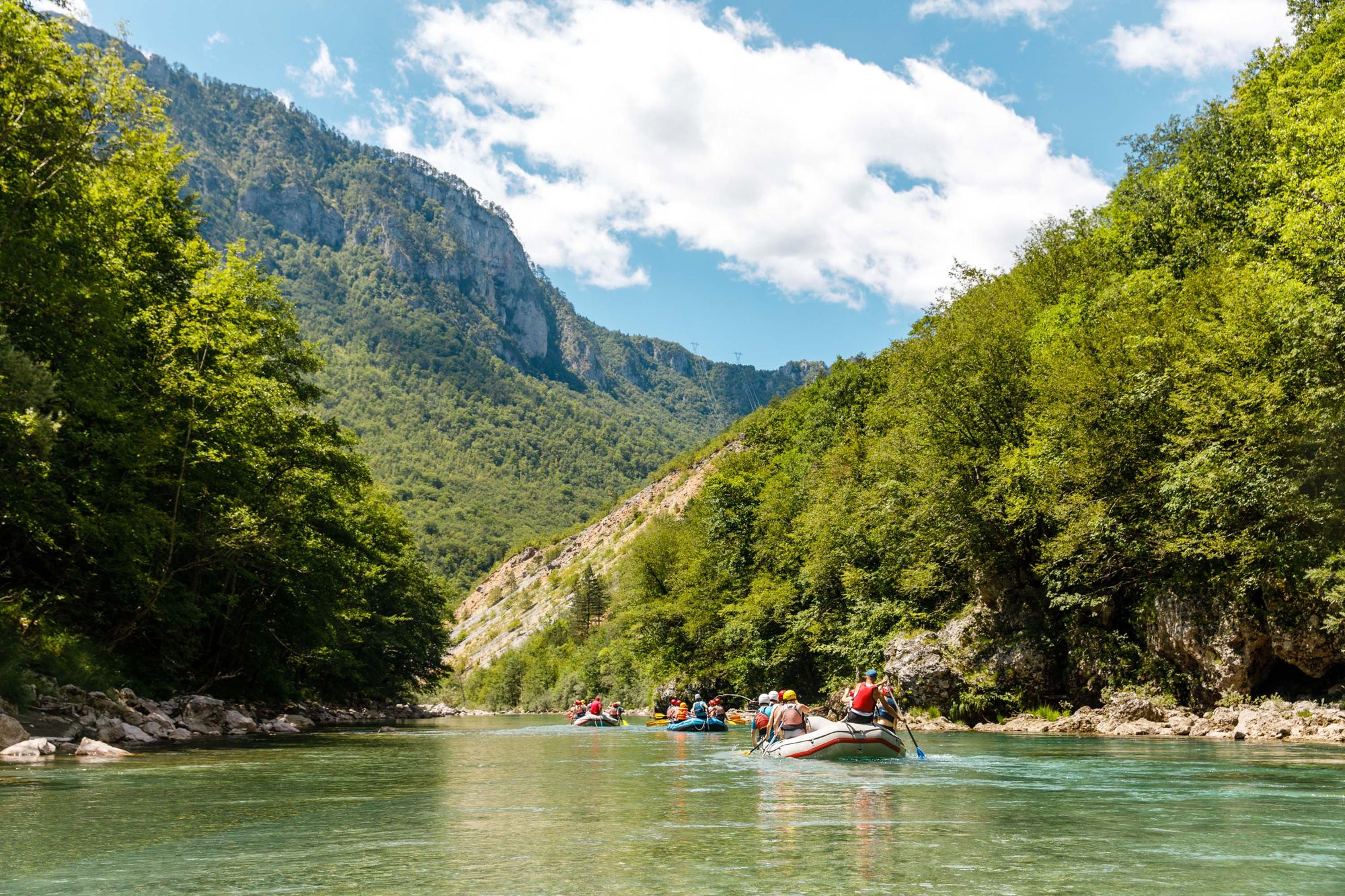 Best for: calm sections of river
Other reasons to visit: to climb Mount Maglic (2386m), Bosnia's highest mountain
Yup, this is the exact same Tara River as in the previous entry. It's such a good spot it gets a second mention, only this time in Montenegro, where you'll find 87 of its 91 mile length.
We particularly like the stretch of river near the Montenegrin border, which flows past forested hills and calm pools, fringed with waterfalls. But as you glide through this idyllic environment, you'll hear the roar of rapids downstream. You'll tackle around 17 rapids between grade II and III before pulling ashore at the riverside town of Šćepan Polje.
6. Mrežnica River, Croatia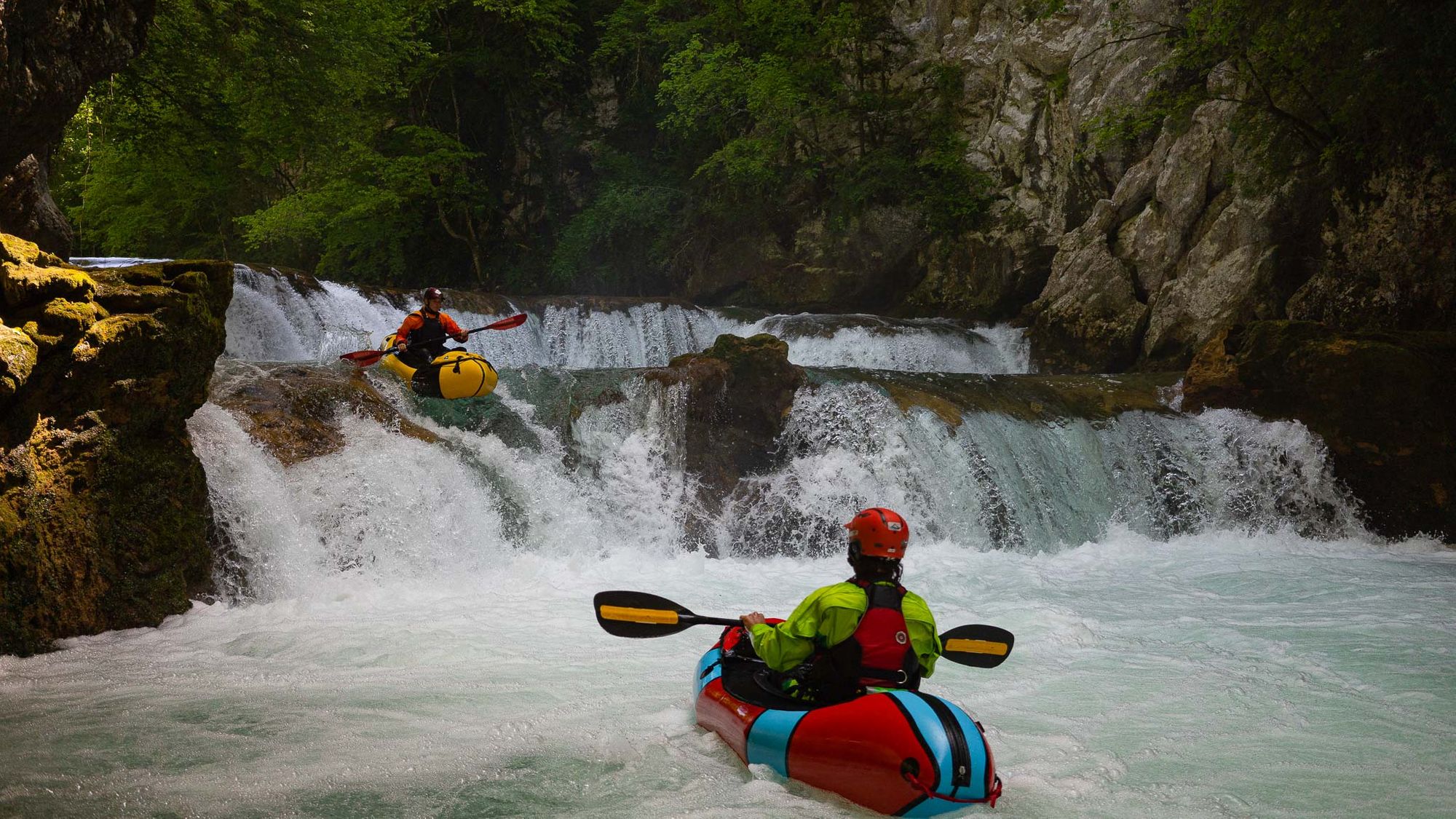 Best for: chasing waterfalls
Other reasons to visit: hiking the Krupa River Canyon
The Mrežnica River in Croatia is known for having 93 waterfalls along its 39 mile length. It's rare to encounter a long stretch of open water without a waterfall - making it the perfect destination for packrafting (where you pack up your raft and carry it in your backpack to avoid obstacles).
Head to the town of Zvecaj, situated on a calm stretch of the Mrežnica River. It's here you can have a packrafting 'bootcamp', learning how to pump and pack your raft, paddling and self-rescue techniques. Start off from Zvecaj packrafting across a flat and easy section of the river, before graduating to the wilder upper stretch of the Mrežnica. You'll weave through narrow channels, take on some rapids, and even paddle down one of the waterfalls.
7. Lake Kovero, Finland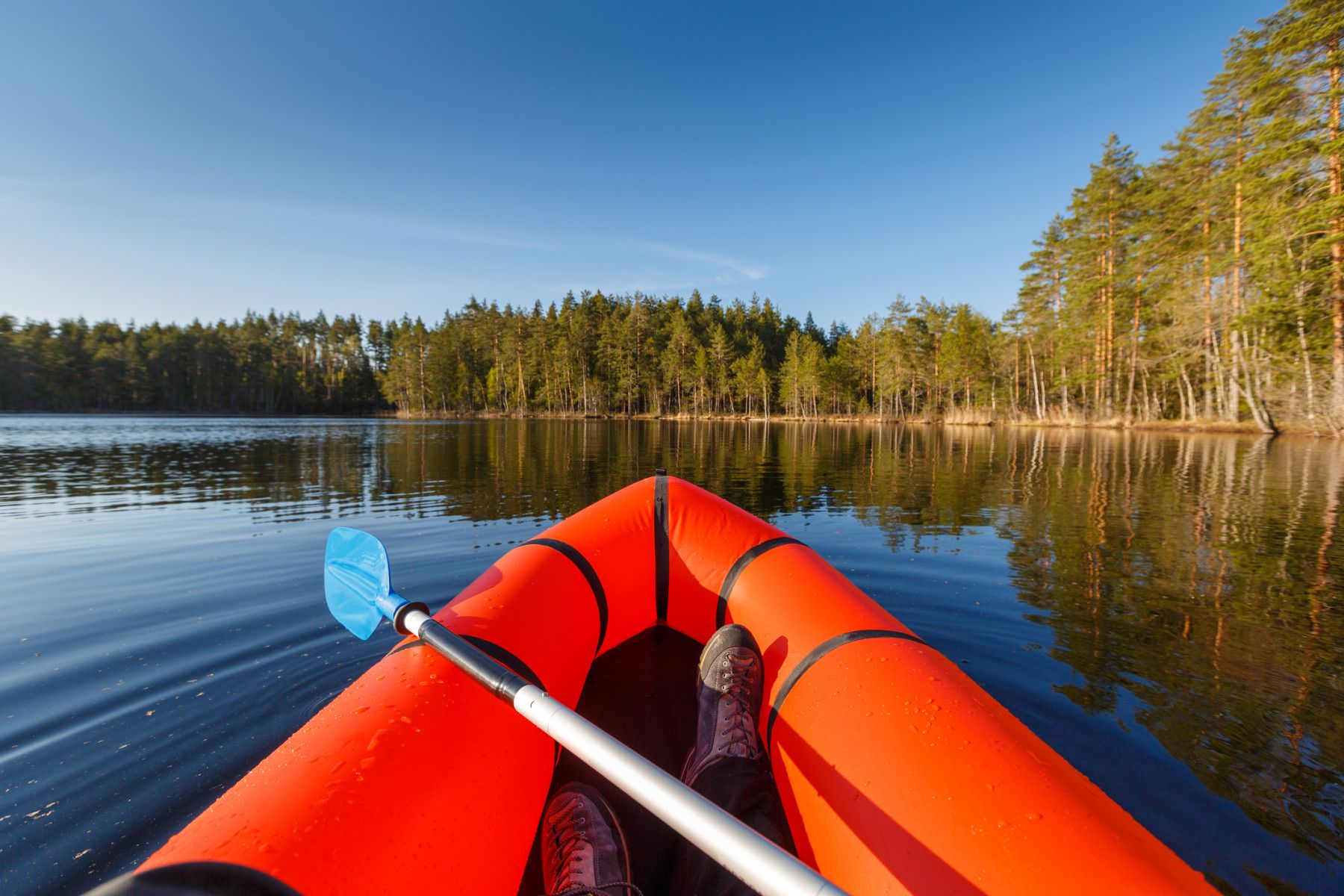 Best for: exploring peaceful lakes in the Finnish wilderness
Other reasons to visit: wild camping on remote lake shores
Finland is nicknamed the 'Land of a Thousand Lakes', which makes it an ideal destination for packrafting - paddle the length of one, then carry your raft to the next. Lake Kovero, its shores surrounded by dense forest, is a brilliant place to start off a lake-hopping adventure.
Due to Finland's permissive attitude towards wild camping, you can set up camp on the lake shore too. If you fancy a longer journey, from Lake Kovero you can portage across a narrow isthmus to the adjacent Lake Luoma. From Luoma you can hike along a chain of small lakes to Helvetinkolu – an ancient crevasse that splits the forest. Paddle its length and you'll end up at serene Lake Haukkajärvi.
Inspired? Check out our rafting adventures through some of the most unspoilt locations in Europe.