Scrambling is like parkour on rock. Okay, well it feels like parkour in rock: you're moving fast and flowing across sweeping mountain ridgelines. That's the kind of scrambling that makes it all worthwhile. Although, now we think about it, there is also more than enough scrambling that feels completely inelegant. Like you're a walrus trying to rock climb, flopping around on the route and using every part of your body to try to wiggle up.
Once you're consistently performing more like the Prince of Persia than a sad walrus, you might like to have a go at a full day's scrambling route. By that we mean, not just showing up at a short section of scrambling, doing it and going home. We mean tying one or more extended scrambling routes together with a day's hiking - creating a day out to remember.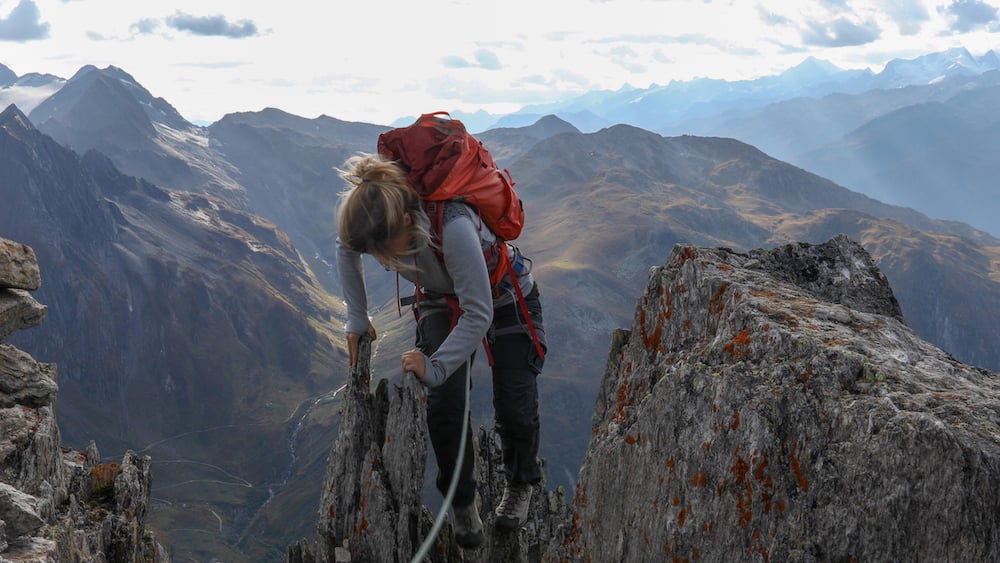 A Note on Safety
We're assuming that you're already pretty confident moving on rock and spending long days out in the mountains before you try any of these scrambling routes independently. With more technical terrain comes a higher risk of things going wrong (if you want to scare yourself, take a look back at Mountain Rescue reports for Crib Goch, for example). That doesn't mean your scramble will go wrong, but if they do, things could get worse and much quicker than on a regular hike. It's very important to get good weather conditions, for the same reason.
Each of the scrambles mentioned are graded, from one to three. Revisit the beginner's guide to scrambling for a recap on what those grades mean. We've also included maps to give you a better idea of the routes we're talking about. But these really are for illustration purposes only. If you try downloading the gpx file and following it, you're going to get into a whole world of trouble. So please don't! A scrambling guidebook or an experienced friend and guide is required to get the exact route. The estimated times listed don't take terrain into account either - expect scrambling to take you much longer than hiking.
Great. Now that's all said done, let's get into the exciting part. Here are five full days out in the mountains, filled with scrambling.
Lake District: Swirral Edge and Striding Edge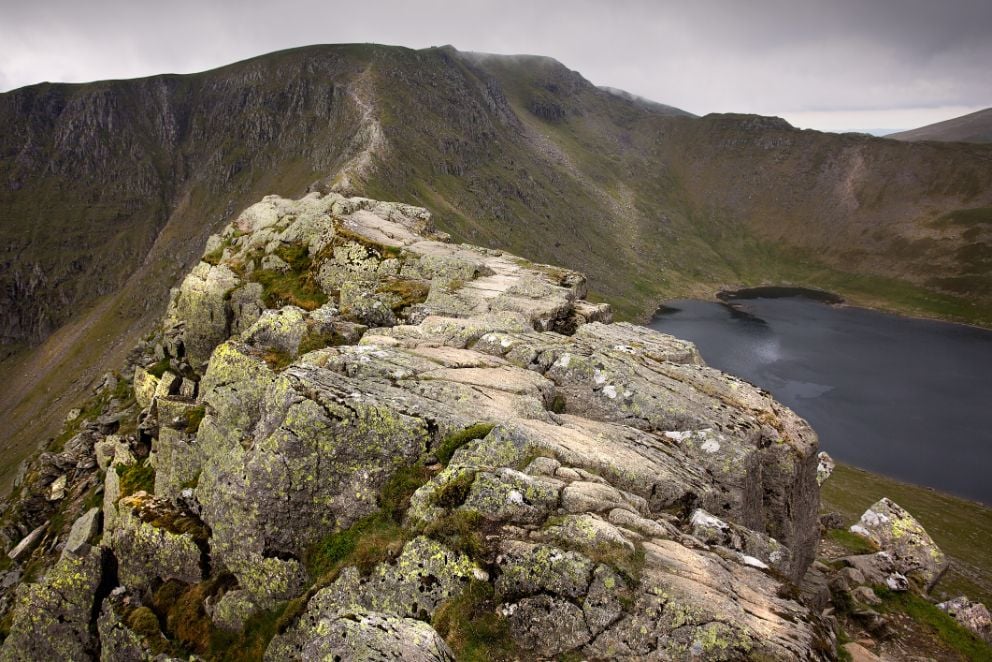 Helvellyn is consistently voted as a top favourite in lists of British mountains. Maybe that's because of Julia Bradbury and Alfred Wainwright, but although it might not be our favourite we have to agree that they're onto something. Sure, it's not the highest peak in England. But it's the top of a long and pleasing ridge that undulates from north to south in the heart of the Lake District.
But the thing about ridges is they have an easy way to hike (along the length) and a hard way: across them. The eastern side of the Helvellyn ridge is rocky and steep, with a series of edges that lead up between the cliffs. You can climb Helvellyn while taking in two of these edges, both scrambling routes. It's a fun day out - assuming the weather is nice - and a good place to start a scrambling journey.
Route Description
Start from Glenridding and take the footpath through the woods and up to Lanty's Tarn. Cross into the Grisedale valley and take the long, gentle path up the slope to Hole-in-the-Wall. This isn't an actual hole exactly, at least not any more. As you climb, there are great views across to St. Sunday Crag and the southern end of the Helvellyn range.
From here, cross the stile and stay high on the leftmost path to reach the bottom of Striding Edge (Grade 1). The slopes either side of you will drop away, leaving you on an exposed and jagged edge of rock, with Red Tarn below. Although it's not as narrow as it looks from distant photos. It's possible to avoid a lot of the difficult bits by walking around on a path, although there is at least one awkward step down. Before you know it, you'll be on top of Helvellyn. From the top of the scramble, head right on the plateau to find the summit shelter.
To descend, find the cairn that marks the top of Swirral Edge (Grade 1). People often find down-scrambling less straightforward than ascending. Luckily, Swirral Edge is not as sheer sided as Striding Edge, although it's still a Grade 1 scramble. Most of the scrambling sections can be walked around if you prefer. Just make sure you don't accidentally take the path down to Red Tarn. You're heading for Catstycam instead, the peak at the tip of Swirral Edge.
From this summit, descend down the very steep slope into the valley beside Glenridding Beck. Looking across from the Helvellyn ridge, Catstycam looks like a child's drawing of a mountain. But there is a tiny path down the edge of the pyramid, that leads you down to the valley bottom. There are places to cross the river here. Then it's a long but pleasant descent back into Glenridding, on a good path beside the river. If you've got extra time, you could explore the old mine below Sheffield Pike that you'll pass on the way back down.
Snowdonia: Tryfan and Bristly Ridge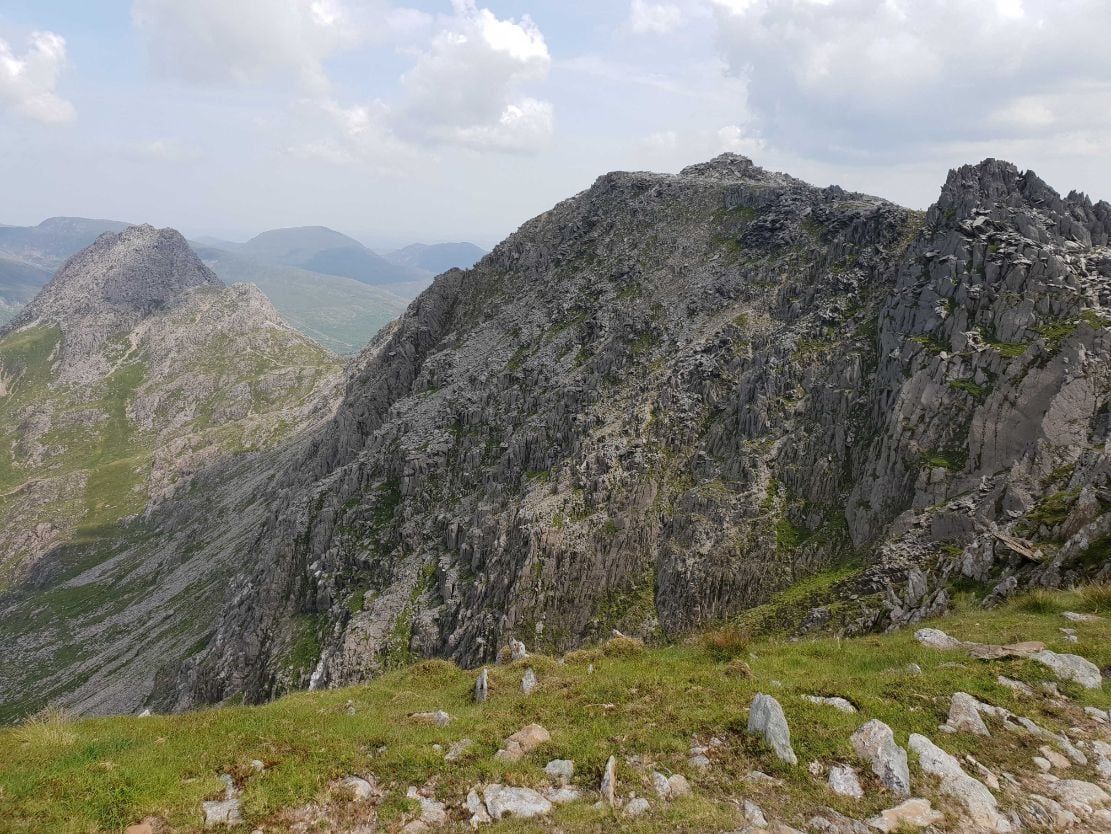 Looking at the imposing bulk of Tryfan from Ogwen Valley, it's hard not to find it compelling. This monstrous wedge of mountain is just asking to be climbed. And since it's composed almost entirely of rock, not grass, there are plenty of options. The same goes for the Glyderau, the ridge that Tryfan falls off the back from. Glyder means 'heap of stones' in Welsh, making for an unoriginal but completely accurate name. Everywhere is just huge piles of rocks.
We'll use the North Ridge of Tryfan, Bristly Ridge and a descent beside Devil's Kitchen in this route. However, you could easily choose from the plethora of route options to climb Tryfan at any grade - including rock climbing routes. Not that we're suggesting you go climbing, but just be careful not to stray off the route. Guidebooks, mountain guides and experienced friends are well worth it here.
And finally, before we jump into the route, just note that this is a big step up from the Lake District route above. Especially in terms of length. Luckily there are ways to cut short, but it's harder to avoid the scrambling once you're on it.
Route Description
From one of the layby carparks on the Ogwen Valley road, head to the base of Tryfan on small paths through the heather. The North Ridge (Grade 1) scramble starts where the nose of the mountain reaches the heather. Your route takes you straight up the front of the mountain. You'll pick your way up through the rock, whichever way looks easiest, past the Cannon Stone and up to Adam and Eve. These are two large, flat stones that people jump between.
On from Tryfan, there is a short descent, on or above the path, before you start the next scramble: Bristly Ridge (Grade 1). Start this by choosing the gully between the wall and the path, at the last stile where the wall meets the crag. This scramble starts with a gully and takes you through chimneys and on ridges, winding up and up through the rock. You'll be able to see little scratches on the rock, made by crampons in the winter. There are a few sections of Bristly Ridge that can be avoided, but really you want to decide and commit at the bottom. There is a path up Glyder Fach as an alternative.
Eventually, the ridge will flatten and you will top out on the north slope of Glyder Fach. It's a short walk on a slate-strewn hillside to Glyder Fach and the Castle of the Wind, with Glyder Fawr behind. You should have a wide view out towards Snowdon on your left, if the weather is being kind. Continue over both Glyders and down the path to Llyn y Cwn (literally: lake in the valley). From here turn right and descend on the path with Devil's Kitchen to your left. It is steep and loose, so be careful in damp weather. Back out on spongy grass, go around Llyn Idwal and take the best path back to your start point.
Glen Shiel: Forcan Ridge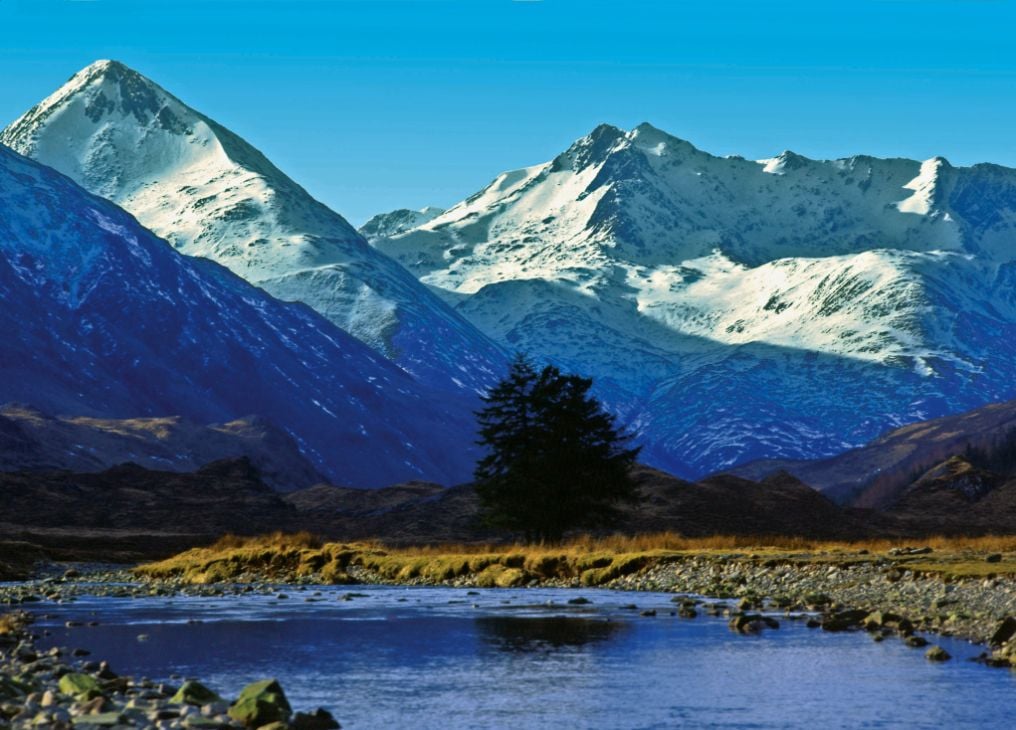 Glen Shiel is a Munro bagger's paradise. With a long seven peak ridgeline on one side and the Five Sisters on the other, there is more than enough to keep you busy. And then there's The Saddle. The peak all out on its own, surrounded by more than its fair share of crags. It overlooks the sea lochs and out across to Skye - seeming not that far away at all.
The best way to do The Saddle, if you're a happy scrambler who likes technical ground, is via the Forcan Ridge. This is a very narrow scrambling edge connecting Sgurr nan Forcan, 'The peak of the little fork', with The Saddle. Sure, it's not as famous as some of the other names in this list. But it's easily as good. There's nothing like a knife-edge scramble ridge in the morning.
Route Description
Start from the car park at Malagan, just over the bridge (use your wizardly wiles and promises of remunerative cupcakes to get there - this is a linear hike). Take the broad track over the river and up the side of Cnoch Dubh Achadh Arsgalain, until you reach a col between two peaks. From here, turn left and take the path up towards Meallan Odhar, continuing along the crest of the hill as the path disappears. Things are starting to get scrambly.
Very soon, you'll be at the foot of the Forcan Ridge (Grade 2). This is your last chance to bail. If you choose the ridge, you'll get a bit of a warm up before the scrambling gets more and more exposed. It really is a knife edge, with a notorious "bad step" of about 10 metres of descent before you reach The Saddle's summit.
From The Saddle, continue around the horseshoe west and north. You will be on a very narrow ridge, but the most involved scrambling is now over. Past Sgurr Leac nan Each, the ridge broadens into a grassy slope with a huge view across the loch to Skye. Stick to the main ridge until you can drop down to the small loch and pick up a path again. This will take you all the way along the river and into Shiel Bridge.
Glen Coe: The Aonach Eagach
The Aonach Eagach is an absolutely classic day out in the Scottish Highlands. This jagged ridgeline looms over Glen Coe. Its name means "notched ridge" and it definitely lives up to it: a series of pinnacles, lumps and bumps along a high and narrow ridge. A full four kilometres of uninterrupted scrambling, it's something you need to be very sure about attempting. Once you commit to the scramble, there is no escape except to carry on or go back the way you came. You'll also need a decent head for heights - or wear blinkers to stop yourself from looking down at the 850 metre drop to your left. Look at those teeny tiny cars driving down that little road... oh wait, we were down there a minute ago. That's a big old drop!
Most people do the Aonach Eagach as a linear route, using puppy eyes and charisma to get a lift to the start. The other alternative is to start in Glen Coe and finish at the pub at the Kingshouse Hotel, just off the West Highland Way. If that looks like a bit too far to go to end in a pub, you could always do a there and back again, ending in the Clachaig Inn... Maybe only for eccentrics. The Aonach Eagach is a Grade 2 scramble and you will often see people doing it roped up - although that's a choice for you to make. As ever, if you're at all uncomfortable there are always local guides who can help you have a fantastic day out - rather than a sketchy epic.
Route Description
Start from the base of the Devil's Staircase and use it to climb slowly up onto the ridge. It's possible to go straight up the side of Am Bodach, if you're impatient or short of time, but it's an extreme amount of ascent over a very short distance. What a way to start the day.
Whether you take the swooping ridgeline or the steep ascent, you'll arrive at the top of Am Bodach and the start of the Aonach Eagach (Grade 2). This next section, down-scrambling from Am Bodach, is often described as the hardest part. You might want to have a rope so you can abseil. After that, you'll get to Meall Dearg... and then the Pinnacles start.
Imagine scrambling over a series of small rocky spires, on a long narrow ridge with almost a thousand metres drop to one side. Hundreds of mountains - it feels like the whole Scottish Highlands - around you. Incredible and, possibly, slightly terrifying. Because you need to go up and over these spikes to get to the next section of the ridge. This is, in our opinion, the best bit. But it's not for the faint hearted.
From Stob Coire Leith, the way becomes easier until it is simply an incredible ridge walk, without the scrambling difficulties. You can continue all the way along it to the Pap of Glencoe, gazing out over the sea loch and row upon row of mountains to the horizon. Then it's downhill to the road and back to civilisation.
Skye: The Cuillin Ridge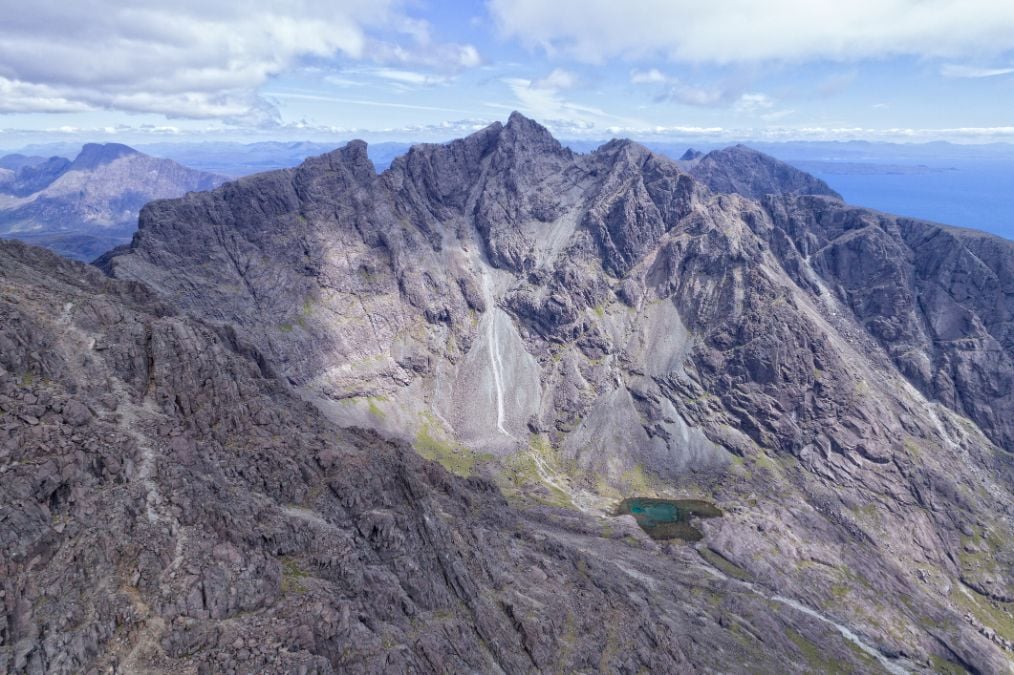 Now we're really upping the ante. The Cuillin Ridge is a - well, the - scrambling ridge of Skye. It's a remote alpine ridge, with sea and mountain views all around. And we need to be 100% honest with you: this is hard. It requires great route finding skills, sound technique and a lot of stamina to get through. The classic route involves a few rock climbs, especially if you're including the Inaccessible Pinnacle - often said to be the hardest Munro summit to reach in Scotland. Even if you take on the scrambling version of the route, it's still just as tough. You'll have Grade 3 and above to deal with all day long. This is more of a sufferfest than a pleasant day out in the mountains.
Route Description
This is definitely not going to be enough information for you to head straight out to Skye and do the ridge. That's like popping over to try and summit K2 because you read about it online. But we'll whet your appetite. There's a whole rabbit warren of guides and route reports for you to fall down later.
Most people trying to do the Cuillin Ridge in one go would bivvy at the start of the ridge, at the most southerly point. Otherwise, you have a ridiculously early start. Or you behave like a sensible person and do the ridge in enjoyable sections over several hikes, rather than a sadistic scrambling binge. To do it in 24 hours is the kind of thing you would hear someone boasting about in a university mountaineering club.
You'll start from Gars-bheinn and tick off multiple peaks, clocking up some 4000m of ascent and descent, until Sgurr nan Gillean. Only 12 kilometres apart, but with a whole lot of scrambling in between them. The most difficult sections are between TD Gap and the Inaccessible Pinnacle; the section around Bidean Druim nan Ramh; and then the ascent of Am Basteir.
Very Important: Really... ignore komoot's estimated times here. It hopelessly underestimates the terrain. You're more likely to complete the route in two days than two hours. The fastest completion ever was a minute off three hours. To do it in a day is a huge achievement.
Ready to try your hand at scrambling? Take a look at our adventure holidays in the UK.