Climbing Mount Kazbek is an epic introduction to mountaineering. You'll ascend upwards through alpine meadows, watching as the white-topped summit gets ever closer. Above the treeline you'll encounter an environment of sparse, jagged peaks and ancient glaciers, with birds of prey riding the thermals overhead. Summit day involves an epic trek to the top, negotiating rocky slopes and icy crevasses. But the view is worth it - on a clear day you can see across the jagged spine of Georgia's Caucasus Mountains.
"When you are in the closest village and you look up at it, it's really something special," says David Chichinadze, manager of tour operator M Plus. "In Georgian, Kazbek is called Mkinvartsveri, which means 'white top'. We also call it the Bride of Kazbegi."
According to David, there are several reasons why climbing Mount Kazbek is becoming increasingly popular.
"This is the only mountain in or near Europe where you can go up to 5000 metres without having technical climbing skills," he says. "That's not to downgrade the hazards you encounter there. Kazbek is still a very high mountain - you have to be fit and confident on your crampons. But climbing it is possible, which is what makes it attractive for a lot of people."
In other words, Mount Kazbek (5054m) is ideal for experienced trekkers who are ready to tackle their first 5000 metre peak. But although technical knowledge isn't necessary, you do need to be prepared for the challenge - and to ensure your safety, to go with a guide. Here's what you need to know to get started.
Where is Mount Kazbek?
Mount Kazbek straddles the border between southern Russia and north Georgia. It's part of the Khokh Range, in the Caucasus Mountains. The closest town to the peak is Stepantsminda, on the Georgian side, which lies to the east of the summit.
"There used to be two routes up the mountain, one from the Russian side and one from the Georgian side," David says. "But in 2002 a big part of the Karmadon Glacier broke and there was a big mudflow. Now you need to be really, really technically advanced to climb the mountain from the Russian side."
How Hard is it to Climb Mount Kazbek?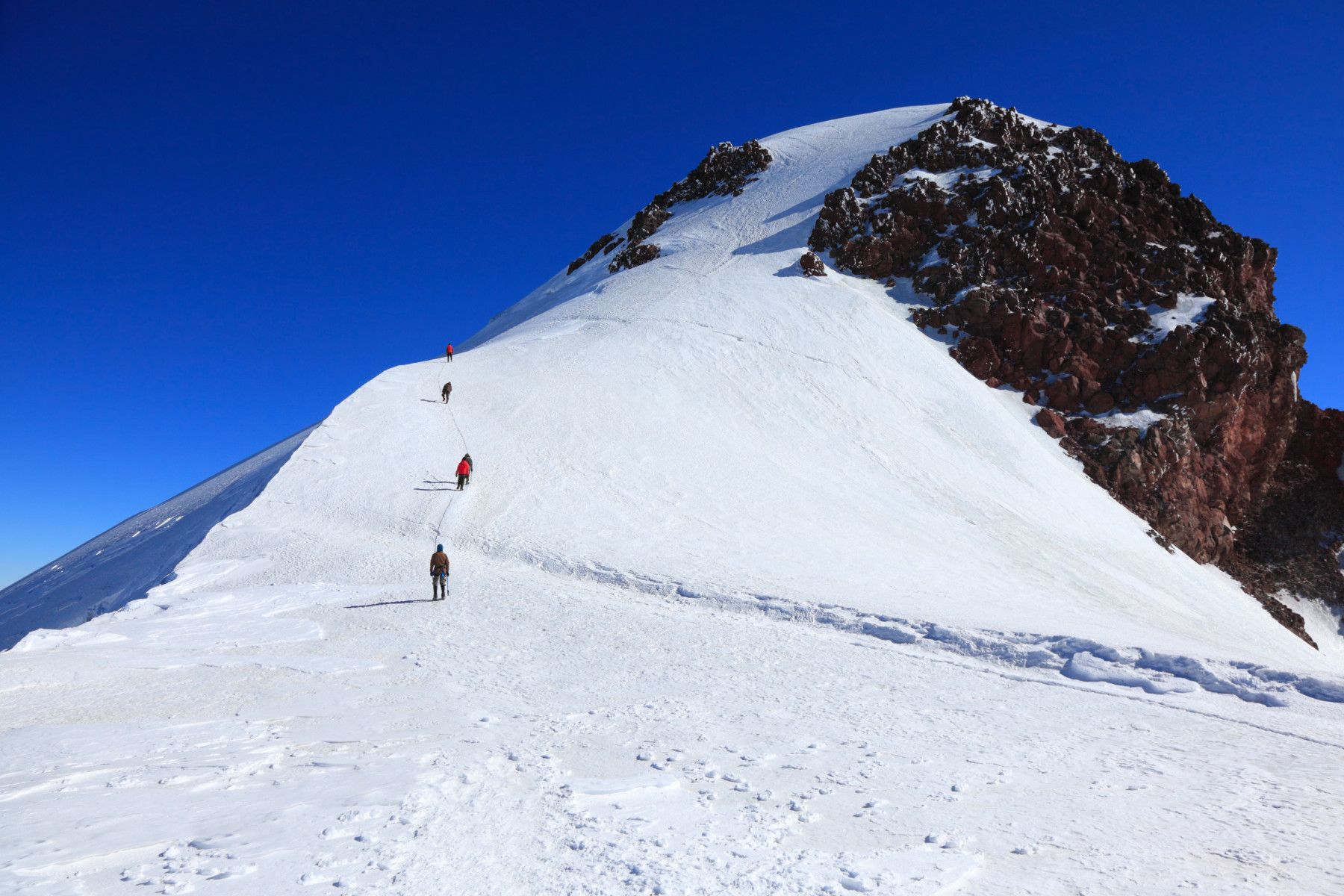 The Success Rate For Summiting Mount Kazbek
There aren't any official statistics about the summit success rate for Mount Kazbek, and David doesn't have one for his company.
"I cannot tell you the number, because it also depends on how you document it," he explains. "You can have a failed attempt because there's bad weather, or because somebody can't walk anymore."
There tend to be two main reasons for the latter: someone isn't fit enough to continue, or they've been affected by altitude sickness.
If this happens, it can prove difficult to send just one person back down from the mountain. "Normally we have a maximum ratio of one guide to three climbers. At the top, you'll be roped together in these groups," David says. "If one person turns back at least the two others must go, because they can't stay with the other guides. You could have a one to one ratio, but then it will be very expensive.
"If you have a group where everyone has just met, you might get someone who says 'but I want to go - why should I turn back?' Once you are on a rope you are in a team. You can't leave someone to suffer and go to the summit - there's a compromise you have to make. Our guides pay very close attention to this. They observe how fit everyone is, and create the groups according to the fitness level. Even so, it can be tricky."
Being Physically and Mentally Prepared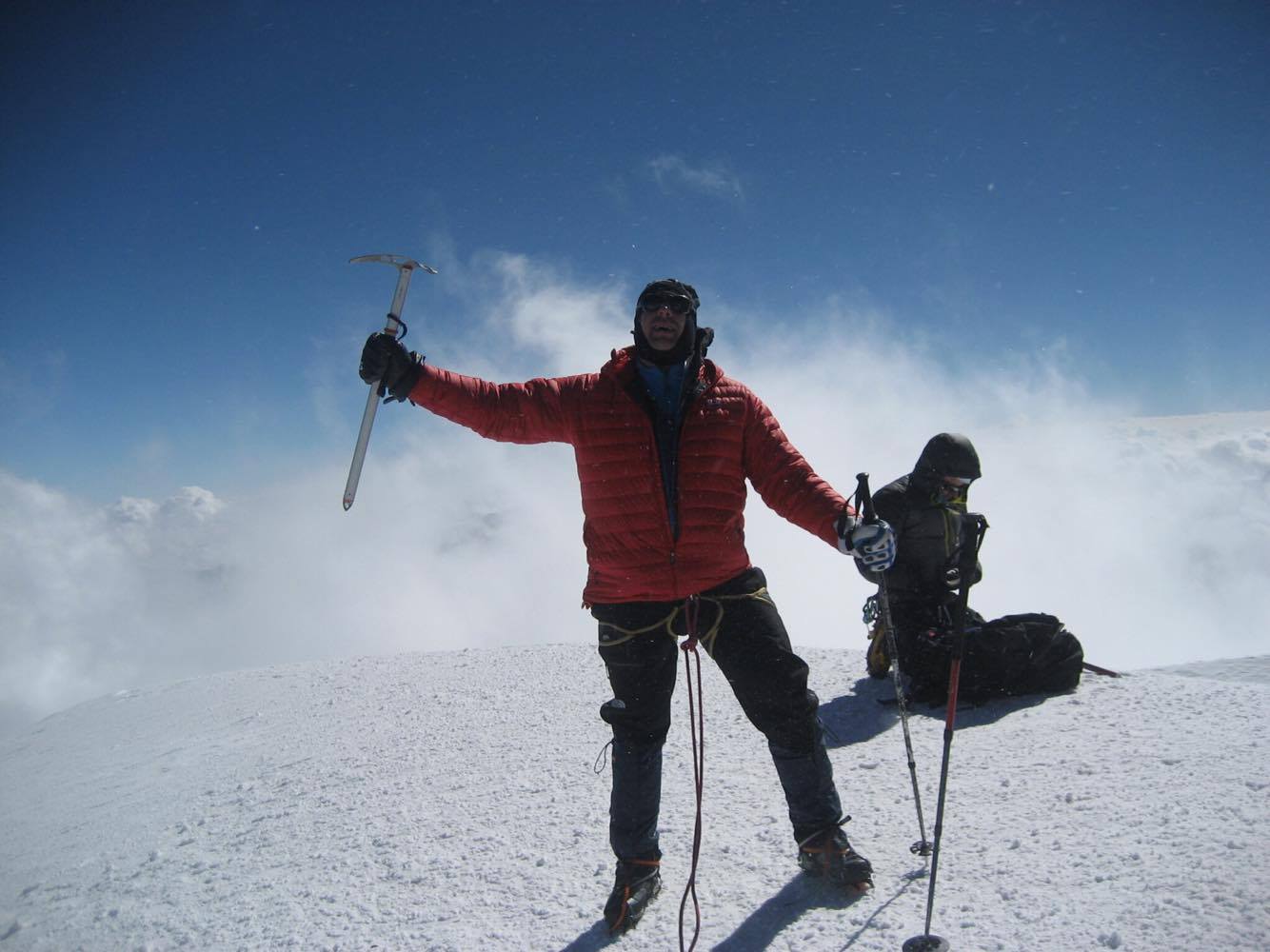 Sometimes, turning back is the best option for you at the time. But if you want to maximise your chances of a successful ascent, it's important to make sure that you are fit enough to do the climb. There are plenty of ways to train for a trek like this - strengthening your leg muscles and slowly building up to longer and longer hikes are key. According to David, learning to pace yourself is also a necessary skill.
"With walking and hiking, the pacing is very important. Some people start very fast and they cannot keep it up. So you have to distribute your energy wisely," he says. "Some people might think 'I'm fit, I will go faster', but you need to listen to your guide's advice if they tell you to slow down. Our guides are incredibly well qualified and have a lot of experience in this area."
Practice hikes also aid mental preparation. You'll get insight into issues that might come up on your Kazbek climb - like getting tired, feeling tired - and will be better equipped at overcoming discomfort.
It's very important to change this mindset so that your target is not the summit. It's just a milestone on your way to get back to base camp
David also has some advice on the mindset you need to adopt when climbing Mount Kazbek: don't consider the summit the goal.
"Going up takes many hours, and the descent to Altihut does as well. The trek is anything from 10 to 16 hours in total. Psychologically, you don't have as much motivation -  you have already done your summit," he says. "This is always what we are telling our guests. Our aim is not the summit, it's to come back down safely. It's very important to change this mindset so that your target is not the summit. It's just a milestone on your way to get back to base camp."
Dealing with High Altitude
One of the main difficulties of climbing Mount Kazbek is the high altitude. It affects everyone differently, and it's not related to how fit you are. Some people might be unlucky and get altitude sickness, but at 5000 metres everyone is going to be feeling the effects of having less oxygen in the air.
You might get breathless really quickly, and have to stop for many more breaks than you would at lower elevations. You might get a headache. You'll find you need to pee a lot (here's why) but you'll need to keep drinking water. If you start to feel dizzy, disoriented or nauseous, then tell your guide.
"The good thing is that in the Caucasus you don't have to walk very far to lose elevation," David says. "The guide will keep an eye out and if he sees you are really suffering, he will send you down. There's also a rescue team at Meteo Station, and if there's a severe case they have medication to help you."
It's easy to lessen the effects of altitude sickness by descending Kazbek. Far harder is to make the decision to miss out on the summit. But your health is more important than your pride and it's worth remembering that climbing a mountain isn't just about getting to the top - it's about immersing yourself in nature, pushing yourself to your limits and enjoying the views.
Climbing Mount Kazbek: The Route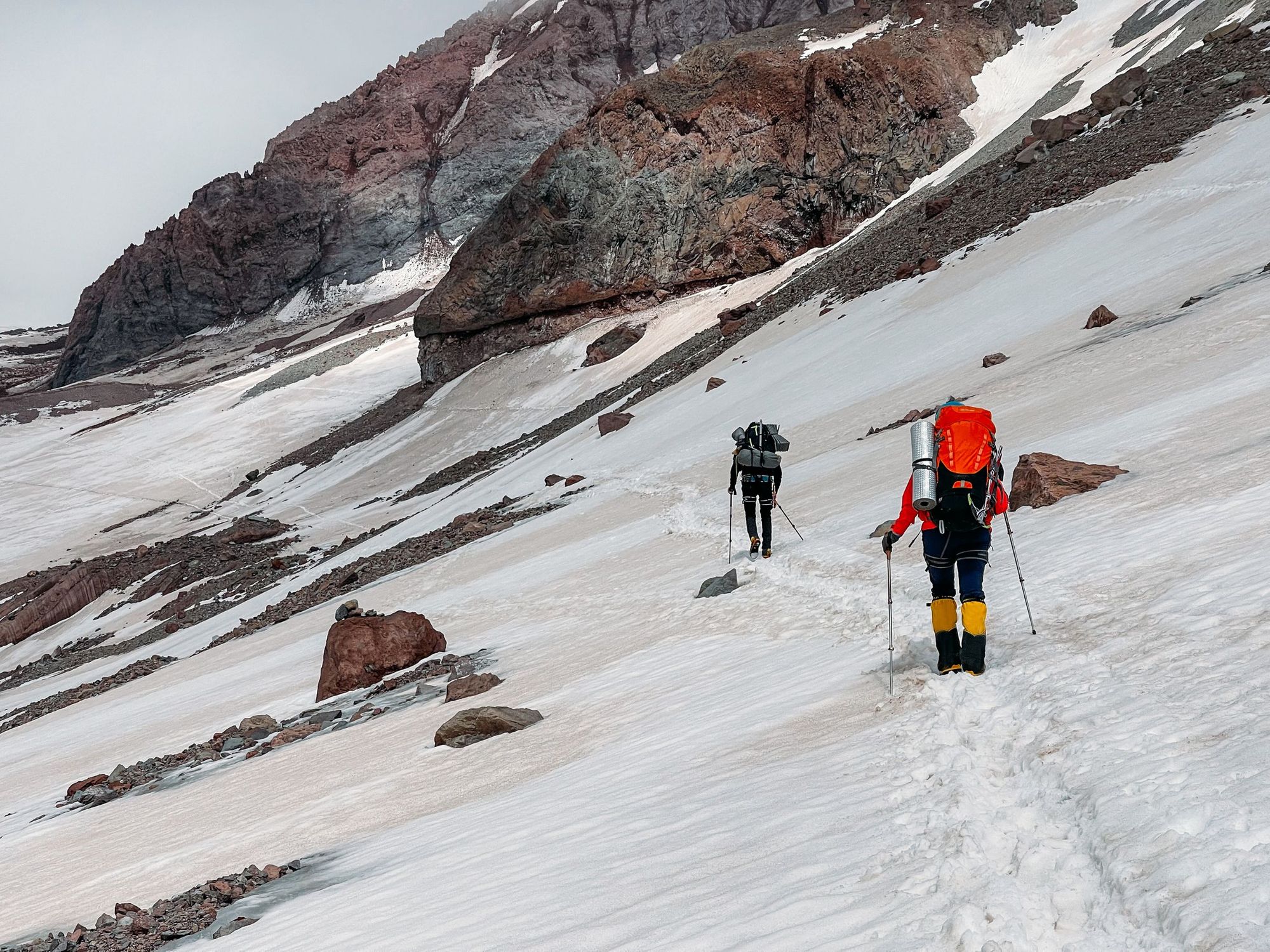 Although there are several routes from the village of Stepantsminda to the summit of Mount Kazbek, David says that only one is suitable for inexperienced climbers.
"The route that we take with clients is a 2B, which means that you can climb it without really climbing it. So, you go, there is a steep part of about 150 metres at the top, which is a no-fall zone and you will be roped up," he says.
"There are also a couple of others. So, there is the direct route from the Meteo Station, for which you need to be a professional climber. There is also an ascent from the east side. So there are a couple of routes, but only the one that we are taking is possible to climb without those technical aspects."
This route begins at the town of Stepantsminda and then climbs up to Altihut (3014m), a newly-built refuge. From there you can ascend to Meteo Station (3650m) and then push onto the summit. Some groups head directly to Meteo Station. But David's company uses Altihut as the base camp and adds in an acclimatisation hike before heading up to the summit.
"When you sleep at 3,000 metres your acclimatisation process goes much smoother, and you recover much better," he says. "According to the guidelines, you should not really climb more than 800 vertical metres in one day if you want to acclimatise. After Meteo Station there is no way you can do this; it's around 1,400 metres of climbing. But from Stepantsminda to Altihut is 800 metres, and it's around 600 metres from the Altihut to Meteo Station. With our itinerary, the success rate of climbing to the top is much higher than if you go directly to Meteo Station."
If you'd like more details on the experience of climbing Mount Kazbek, check out Between The Mountains Podcast, where Chris Kilworth recounts this exact journey.
Day One: Stepantsminda to Altihut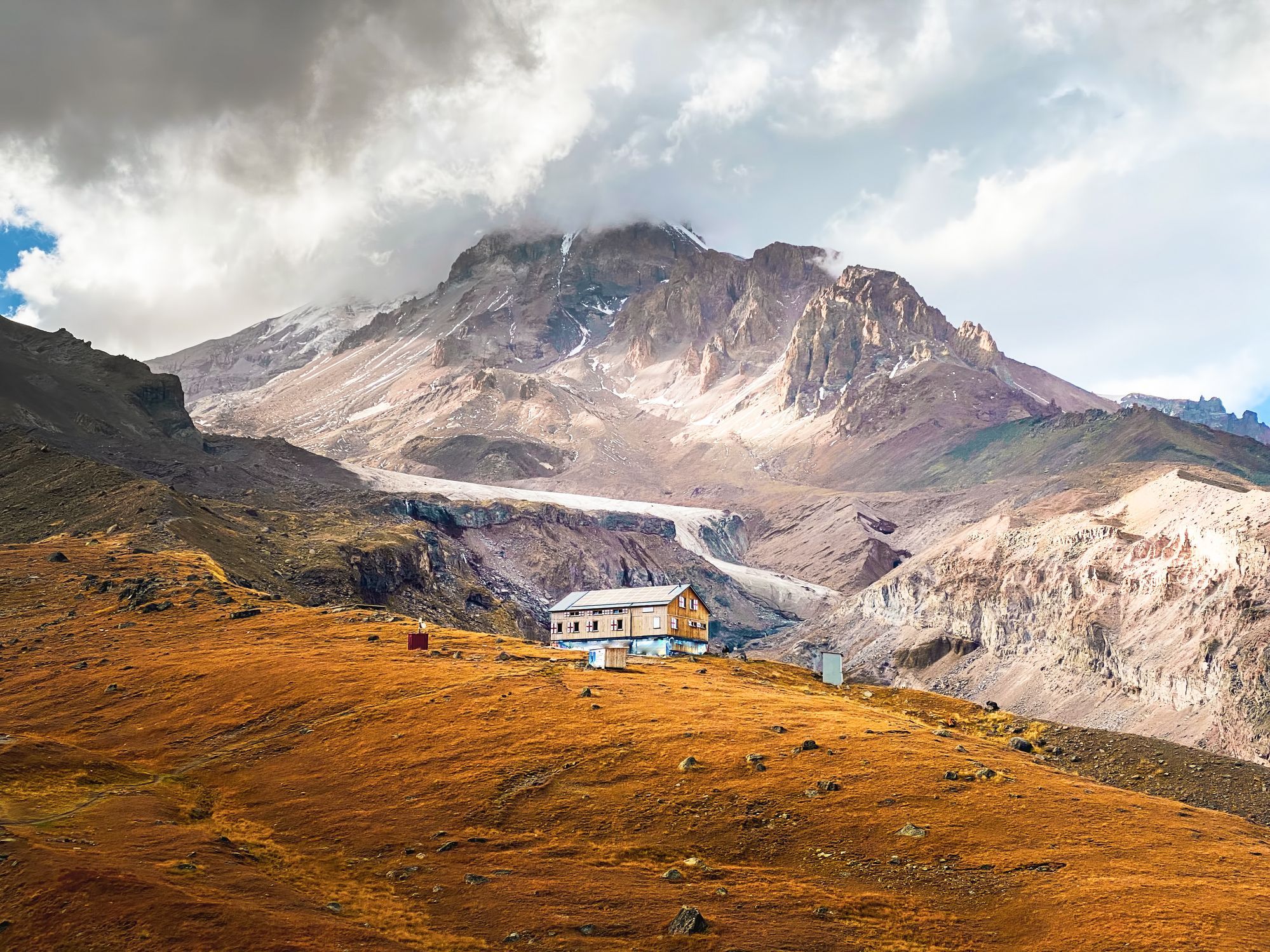 Hiking time: 3 hours
Elevation gain: 800 metres
Kilometres hiked: 7
The trail begins near Gergeti Trinity Church, in the small Georgian town of Stepantsminda. You'll follow it up through the forest and into the high alpine zone above the treeline. There's a short but steep climb to the ridgeline where Altihut is located.
"At the hut there is a terrace with an incredible view. Mount Kazbek is in front of you,  and you see the glacier. We have this photo documentation of how the glacier has retreated. In the 1960s it was almost at the level of the Altihut and now it's a kilometre away," David says.
"You're surrounded by mountains - it's amazing. At night there's no light pollution and when the skies are clear the stars are incomparable."
It was David and several others who designed and commissioned the Altihut. They did so in large part to help create a waste management system for the mountain, which was becoming increasingly dirty.
"The hut itself is of great quality. Having a flushing toilet at 3000 metres is a luxury comparable to a five star hotel. In Altihut we provide bedding. There's a restaurant and a bar. There is no shower - but at 3,000 metres, that's normal for people used to mountaineering," David says.
"The Altihut is a social project - it's cheaper and easier to transport things by helicopter, but we try to still use the horses because it allows the local population to get some income. If we use a helicopter, that's owned by an Austrian company. We try to invest to build value chains, allowing the money that tourism brings to stay longer within the region."
Day Two: Acclimatisation Hike to Arsha Pass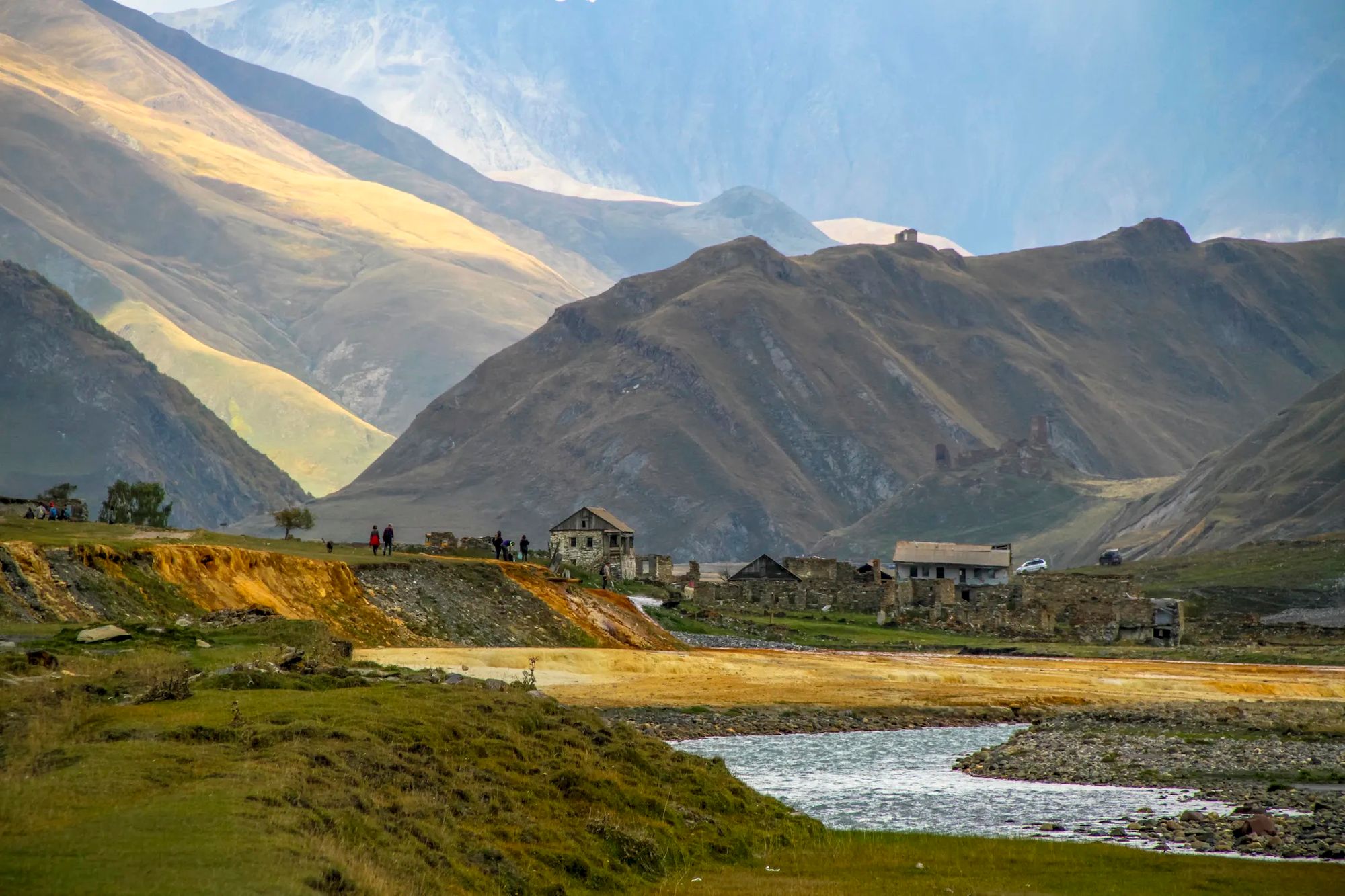 Hiking time: 3 hours
Elevation gain: 800 metres
Descent: 800 metres
Kilometres hiked: 7
You'll spend today on an acclimatisation hike up to the top of Arsha Pass (3800m), passing through high altitude meadows while surrounded by rocky limestone mountains.
"You climb 800 metres approximately until you reach the pass. There's a great view of the Trousa Valley and the Chaukhi Mountains, which are like the Dolomites of Georgia," David says.
Once you've taken in the sights, you will return to Altihut. Although this is a short hike, you'll appreciate taking it easy before the challenging trek to the summit.
Day Three: Altihut to Meteo Station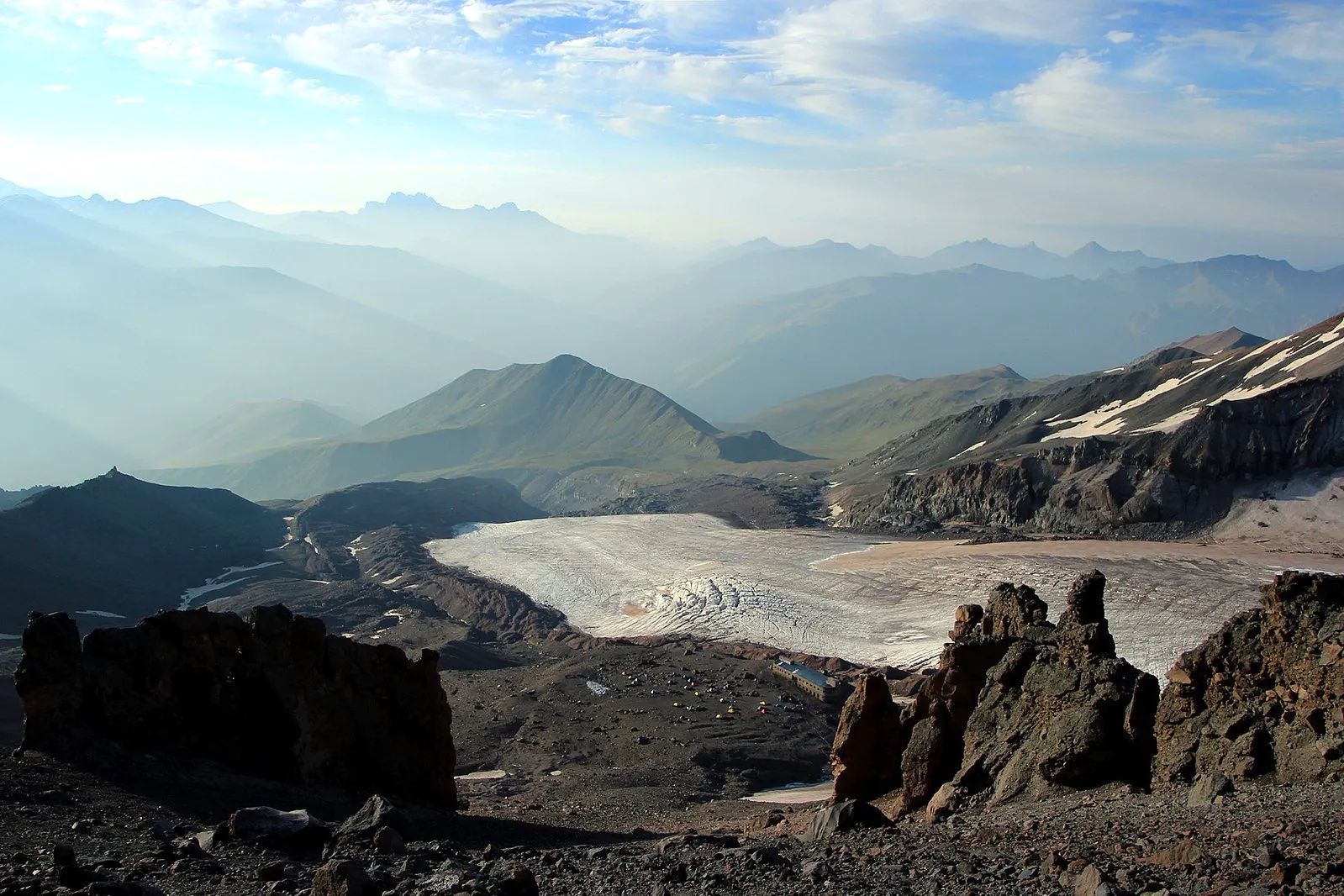 Hiking time: 5 hours
Elevation gain: 900 metres
Descent: 300 metres
Kilometres hiked: 6
Today you have a final acclimatisation hike before heading to the summit. You'll cross the glacier and head up to Betlemi Church. It's the highest church in Georgia and is fastened to the ground with iron ropes to prevent it from blowing away.
You'll descend to Meteo Station where you'll have dinner and rest up for a few hours, and gather some energy for summit day, which begins very early in the morning!
Day Four: Summit Day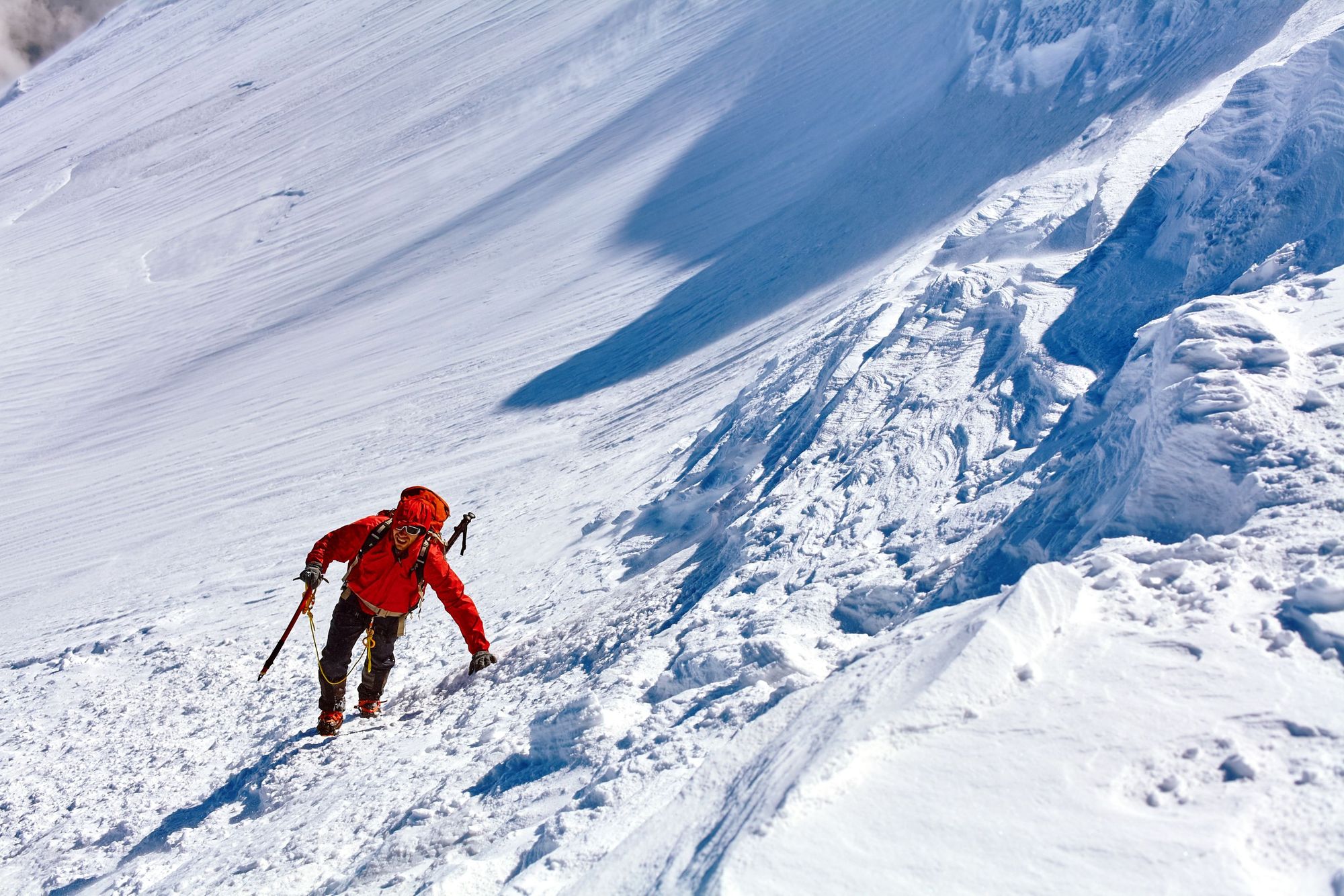 Hiking time: 10-15 hours (depending on weather and group fitness)
Elevation gain: 1400 metres
Descent: 2040 metres
Kilometres hiked: 16
The big one. You'll wake up early - when you leave depends on the weather and the group's fitness levels. In general, it'll be between two and three am. After a hasty breakfast you'll grab your gear, turn on your headlamp and embark on the journey.
"You walk for three or four hours. From my personal experience, this is the hardest part of the climb because it's night; you don't see a lot," David says. "But at around five thirty the sun starts to come up and you realise that you are in a magical environment. You have those mountains around you and the glacier - it's very special. Then your motivation grows dramatically because you want to reach the summit.
"Around this time you'll reach a plateau which is at 4,400 metres. From this plateau, you start climbing to the top. Approximately 150 metres before the summit there is a saddle, where you make another stop. Normally we leave our backpacks at the saddle to be as light as possible. You continue to the top, roped up to your guide.
At around five thirty the sun starts to come up and you realise that you are in a magical environment
"The last part can be very easy or quite tricky, depending on the snow condition. If it's blue ice then the guide has to install the fixed rope. If there's snow it becomes like a set of stairs - you'll go up these on the short rope. You'll reach the top anywhere from six to nine hours after leaving Meteo Station. If you are lucky with the weather and the view you actually see the whole Caucasus - Elbrus and Ushba and more. It's amazing for Georgians, because sometimes it takes eight hours driving to reach these places, but from the top it's very near."
After spending some time on the summit, it's time for the descent back to Altihut. You'll be tired by this point, and less motivated - but remember there's a hot meal and a celebratory beer for you back at the hut.
Day Five: Altihut to Stepantsminda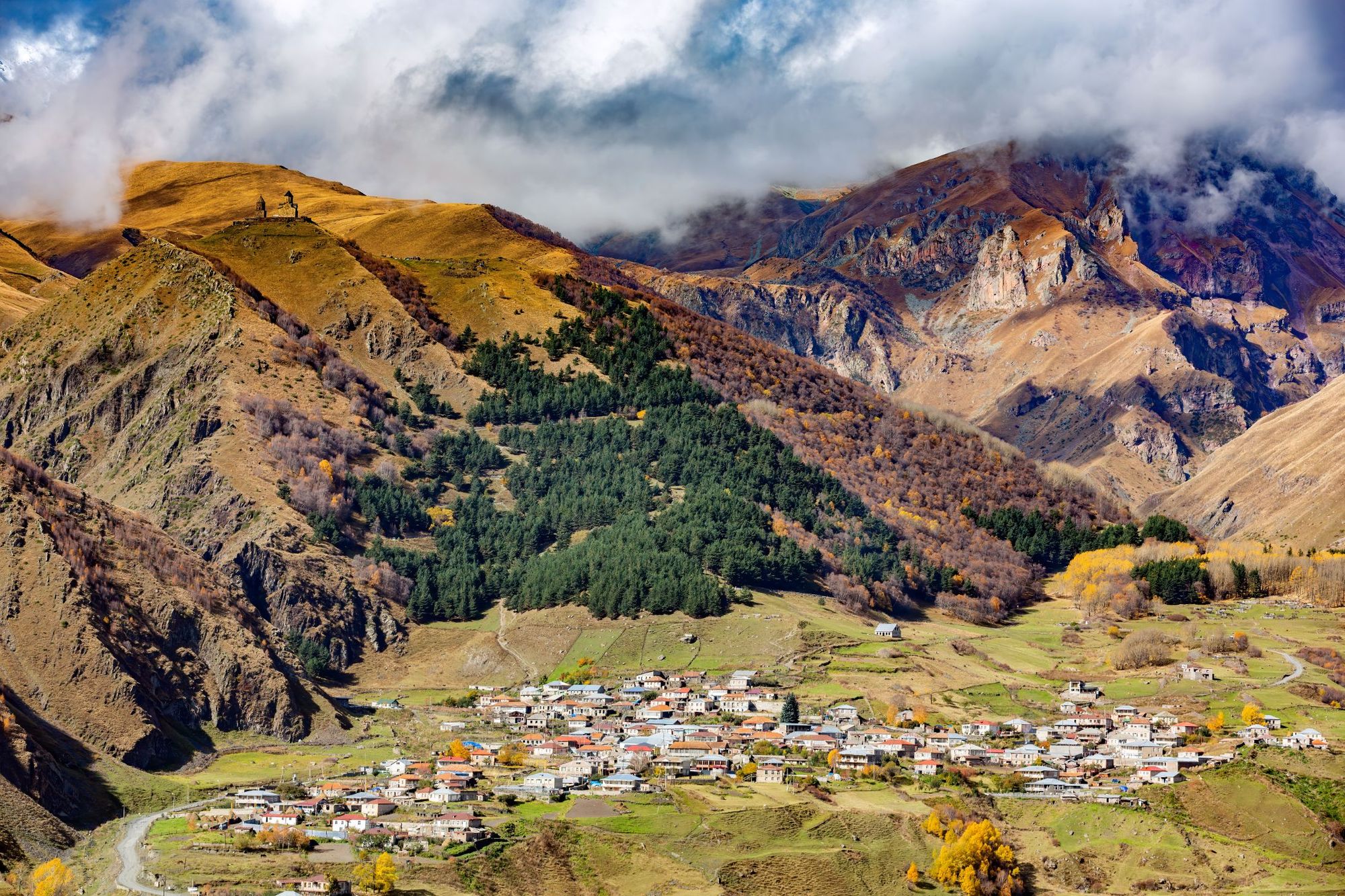 Hiking time: 4 hours
Elevation gain: 1400 metres
Descent: 1130 metres
Kilometres hiked: 7
If you managed to summit on day four, you'll descend the trail to Stepantsminda, a picturesque valley town. You'll be able to look up at the towering peak you've ascended, and congratulate yourself on how far you've walked.
It's good to factor in this extra day, just in case poor weather prevented a summit attempt the day before - you'll get a chance at another go!
When is the Best Time of Year to Climb Mount Kazbek?
The peak season for climbing Mount Kazbek is from the beginning of June until the end of September - this is when it's a non technical ascent. There's also a season for ski-mountaineering on Kazbek that lasts from the end of March to the end of May, when there's more snow on the slopes. You climb to the top and then ski back down.
It's sometimes possible to climb Kazbek in December or January if you're very experienced. David does not recommend it.
"There are very high winds. It blows the snow off the mountain so you basically just have a glacier," he says. "You have to walk in the wind on the glacier; you have this danger of crevasses. There's a big wind chill effect  -  if it's minus 15 and there is a wind of a hundred kilometres per hour, then it's really, really cold. I would not take somebody with no experience - very few can climb it."

Inspired? Check out our Climb Mount Kazbek trek, which follows David's suggested itinerary for time for acclimatisation.