Georgia Adventure Holidays
Georgia sits on the border between Eastern Europe and Western Asia. With Russia on one side, Turkey, Armenia and Azerbaijan on the other, it's a real mixing pot of cultures. It has seen Christian, Ottoman, Iranian and Russian influences over the centuries and each has left a mark on the country. The Black Sea borders Georgia to the west and the Caucasus Mountain range runs all the way along the top edge of the country: the range separating Russia from Europe.
Adventure holidays in Georgia are about getting remote in the sparsely populated countryside. There are sweeping valleys and deciduous forests, snowy peaks and deep gorges. The country's capital, Tbilisi, is in an area of natural hot springs and geothermal activity. You can take a dip in one of many natural sulphur baths.
Culture and history is a big part of adventure in Georgia too. You could be exploring a network of cave towns, cut into great cliffs, or hilltop fortresses. Follow the route of the ancient Silk Road, a trade route that once connected China with the Mediterranean. Or hike through the foothills of the Great Caucasus.
Georgia adventure travel would not be complete without giving Georigan wine a mention. It's considered by many that Georgia was the birthplace of wine - with a history that can be traced back 8000 years. You'll very likely see it being given out by locals in recycled plastic bottles, alongside a stronger home brew!
The Caucasus Mountains
The Caucasus Mountains span the northern edge of Georgia and continue through Russia and Azerbaijan, to the Caspian Sea. These wild frontiers are the perfect setting for an adventure holiday. There are many peaks over 4000 and 5000m that are snow covered all year around.
Svaneti Region
The Svaneti Region is in the north west part of the country, on the slopes of the Caucasus. It's best known for its outdoor adventures, in particular trekking. You can hike through lush green valleys, passing tower house villages. But it's also where you'll find the highest mountain in Georgia.
Tbilisi
Tbilisi is the capital of Georgia, founded in the fifth century. It's home to the famous Sioni Cathedral and traditional Georgian architecture from the waves of empires and dynasties that have shaped it. The name Tbilisi means "warm place" because of the numerous sulphuric hot springs in the area. There are plenty of sulphur baths in the city.
Climb Mount Kazbek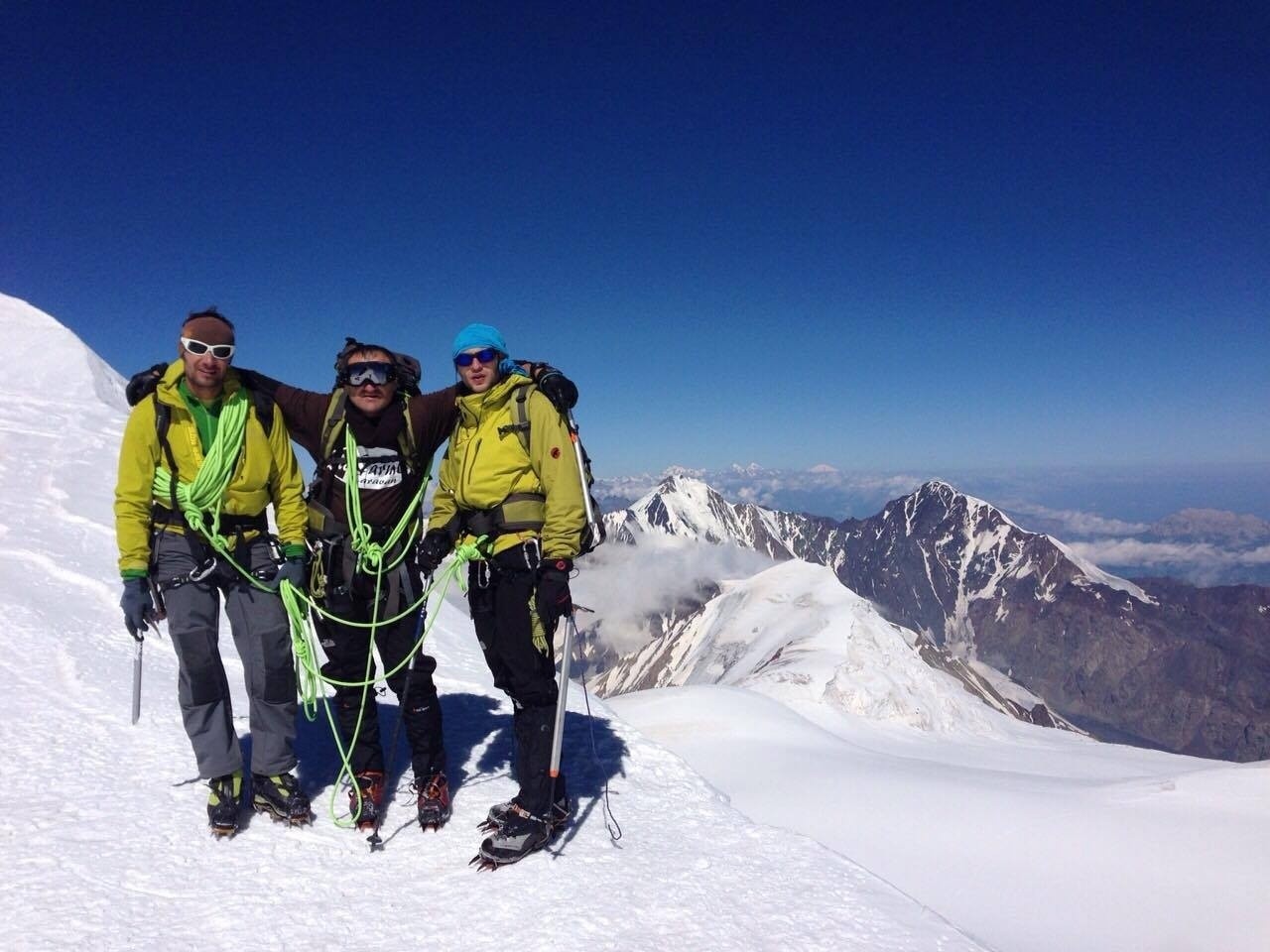 Mount Kazbek (5047m) is not the highest mountain in Georgia. It's the third highest. But with the top two spots being serious mountaineering undertakings, it's no wonder people choose Mount Kazbek instead. The mountain is the centre of many local myths and folklore. Prometheus, of Greek legend, was chained to a mountain to have his liver pecked out by a raven. Nice, eh? It's thought that that mountain was Kazbek. The gated Cave of Bethlehem, said to contain the treasures of Tamar, was legend until the 1940s when some mountaineers actually found it.
Mount Kazbek is a dormant stratovolcano. It's an ultra-prominent peak (technical term there, not hyperbole), standing 1500m above everything else in the surrounding area. Which makes for a very satisfying mountain objective: that enormous lone peak in the distance.
To climb Mount Kazbek, a small group expedition would typically approach from Kazbegi (Stepantsminda) village. You'll trek up and out of the valley, through pastures and past a classic Georgian hilltop church. It's very distinctive as you look back down the valley from above.
The terrain becomes barren and cold as you climb. You have to cross the glacier to reach Bethlemi Hut. This is where most people spend the night on their ascent. It's base camp for the summit push: a small converted meteo station, with plenty of room for camping beside it. It can get very windy on the plateau, so you'll be glad if you've managed to nab a place inside.
The next day, bleary-eyed from the early start, you'll trek up the snowy flank of Mount Kazbek. Bethlemi Hut is at 3653m, so you're really at altitude now and might be feeling its effects. On the ascent, you'll be walking roped together, alpine style, for safety. At the top of the summit cone, pose for a team photo and enjoy your view over Georgia - or possibly a cloud inversion. Then dust off your crampons and start your descent back to civilisation, warmth and celebratory dinner.
Trekking and Hiking in Remote Georgia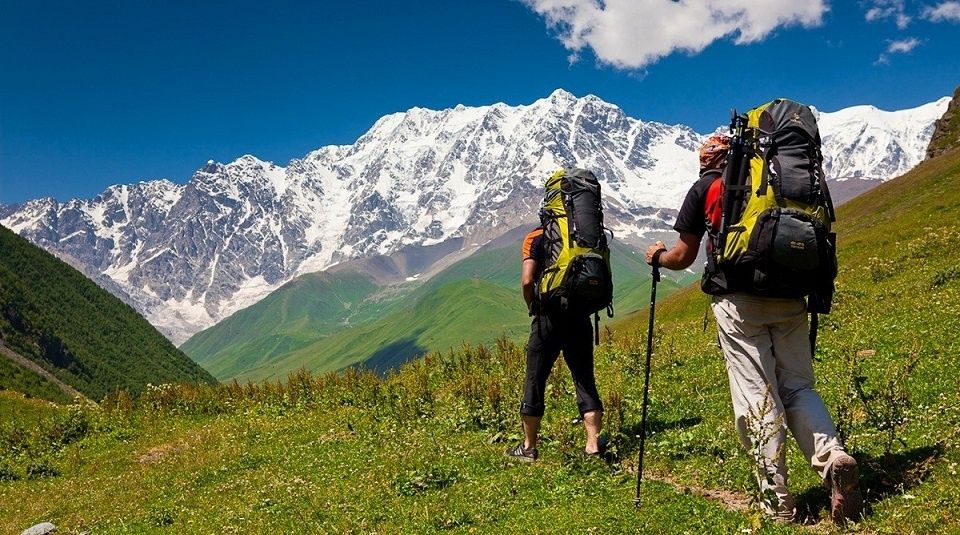 There is nothing quite like exploring Georgia on foot. With 12 National Parks and many more protected areas and reserves, Georgia is an oasis for a trekking or walking holiday. There are hiking trails across most of the country - whether official and waymarked or simply a local path. Hiking in Georgia, adventures could take you to any corner of the country. You could be crossing through mountainous terrain, below wide glaciers or passing ancient villages with iconic Svan towers.
Although much of the Georgian countryside is very wild and remote, there are waymarked hiking trails near Tbilisi, with bilingual signs and information boards. These are rolling out to more areas. For longer distance, the Transcaucasian Trail is being created - aiming to connect Georgia, Armenia and Azerbaijan for some 3000km along the length of the Caucasus Mountains. Some stretches of the route have already been created and the rest is being constructed by volunteers. You might find it interesting to read our interview with Leon McCarron about how and why new long distance walking trails are created.
Adventure Cycling in Georgia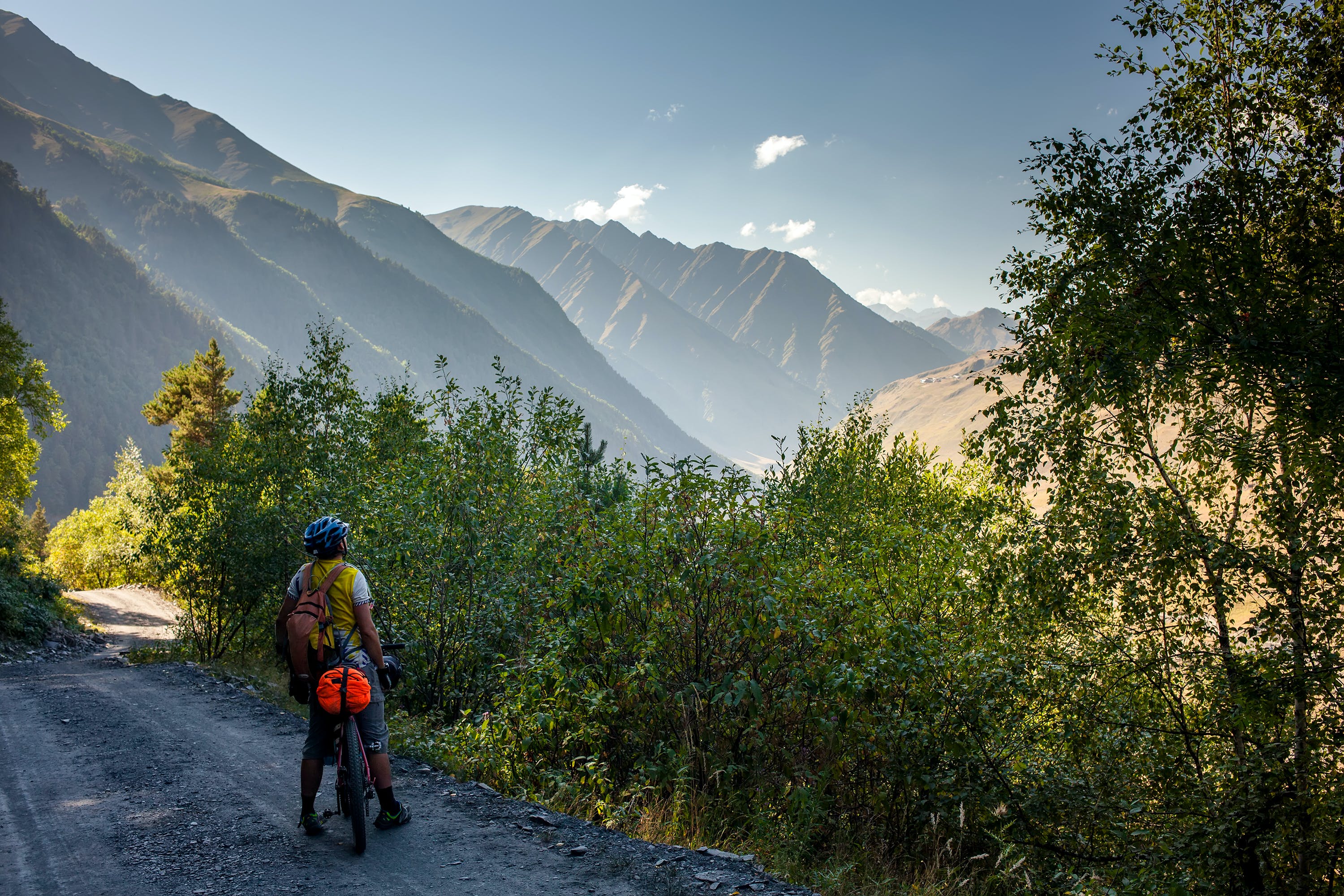 Cycling in Georgia is a fantastic way to see the country's highlights. You'll be self-powered, but quicker than on foot, giving you a chance to cover more of the country. Never mind take advantage of those downhills. Roads range from tarmac to gravel to dirt depending on where you are and what sort of adventure Georgia is providing you.
Cycling adventure tours could take in some of the most interesting cultural sites. For example, the cave monastery of Vardzia. It was built in the twelfth century but largely abandoned by the sixteenth, leaving rows of empty apartments and terraces carved out of the wall of a cliff. You can explore the stone caverns and a painted church inside the rock. It's a real life Helm's Deep.
Bikepacking is possible in the shadow of the Caucasus range, but it's still pretty exploratory. Expect to be 100% self-sufficient and make sure your route won't be covered by snow in any of the high passes. Or cycle with a small group tour and let your cycle tour leader look after the logistics and navigation.