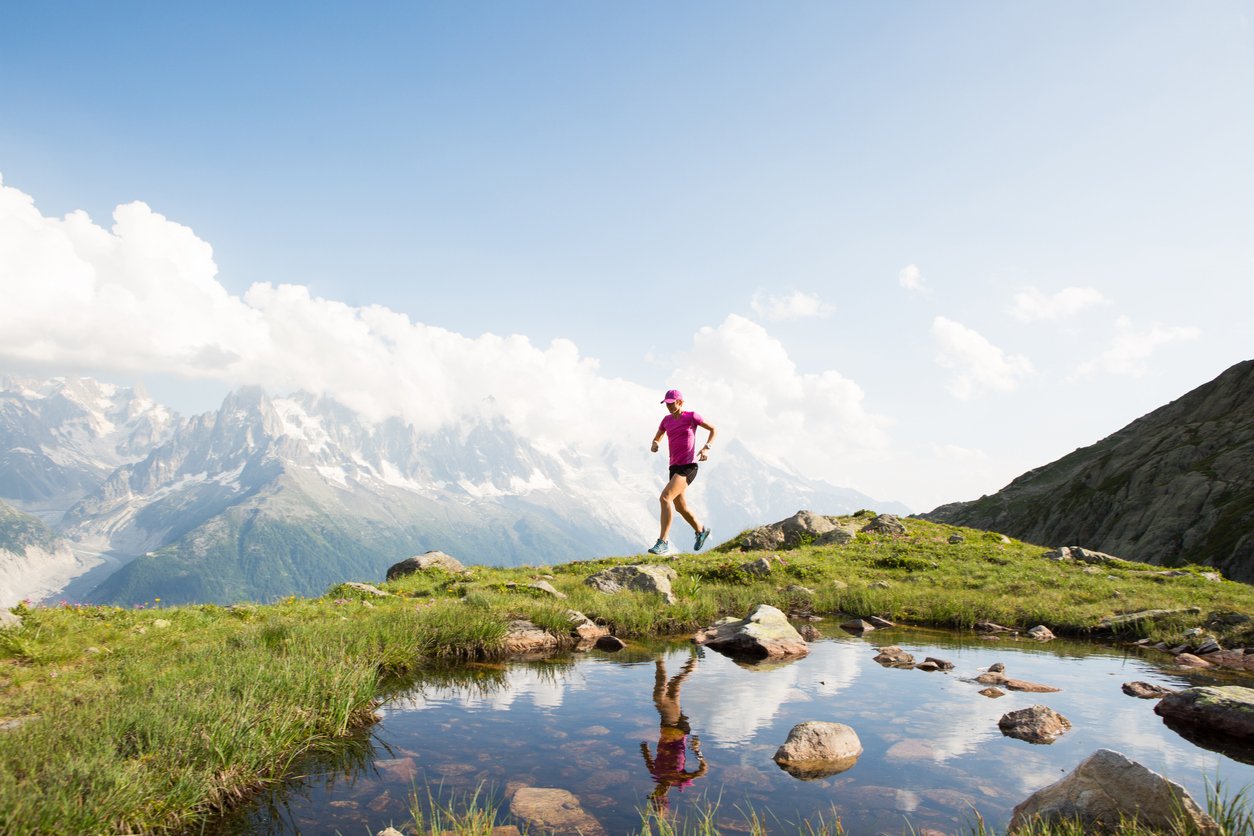 If you've been hanging around in outdoor circles recently, you might have heard whisper of a new word: fastpacking. It fits into the trail running scene, but adds an element of expedition travel. We will reveal all about this mysterious new activity in a minute. Plus give you some ideas for how and where to go on your first fastpacking adventure.
What is Fastpacking?
Fastpacking is a portmanteau of fast and backpacking. Basically, the word fast was travelling so fast that it crashed straight into backpacking and knocked some letters out in the collision. By the law of conservation of momentum, if fast (going at running speed) and backpacking (going at walking pace in the same direction) collide, then the combined fastpacking would still be travelling at faster than walking pace.
Physics of portmanteaus aside, that's really what fastpacking is: a hybrid of backpacking and trail running. You go for an off-road run along what would normally be a multi day hike. You take minimal lightweight backpacking gear, wear trainers and either camp or stay in mountain huts overnight.
Fastpacking is a fairly new term to the UK, pioneered by writer Lily Dyu – author of the Cicerone Guide to Fastpacking. It's a word she came across in the US magazine Trail Runner for the niche of multi-day running adventures. Many people who would have said previously, in self-effacing adventurer style, that they were "going for a long run" could legitimately say they're going fastpacking. For example, Anna McNuff ran the length of New Zealand along the Te Araroa trail over the course of several months, staying in a tent or huts on the trail. That's fastpacking.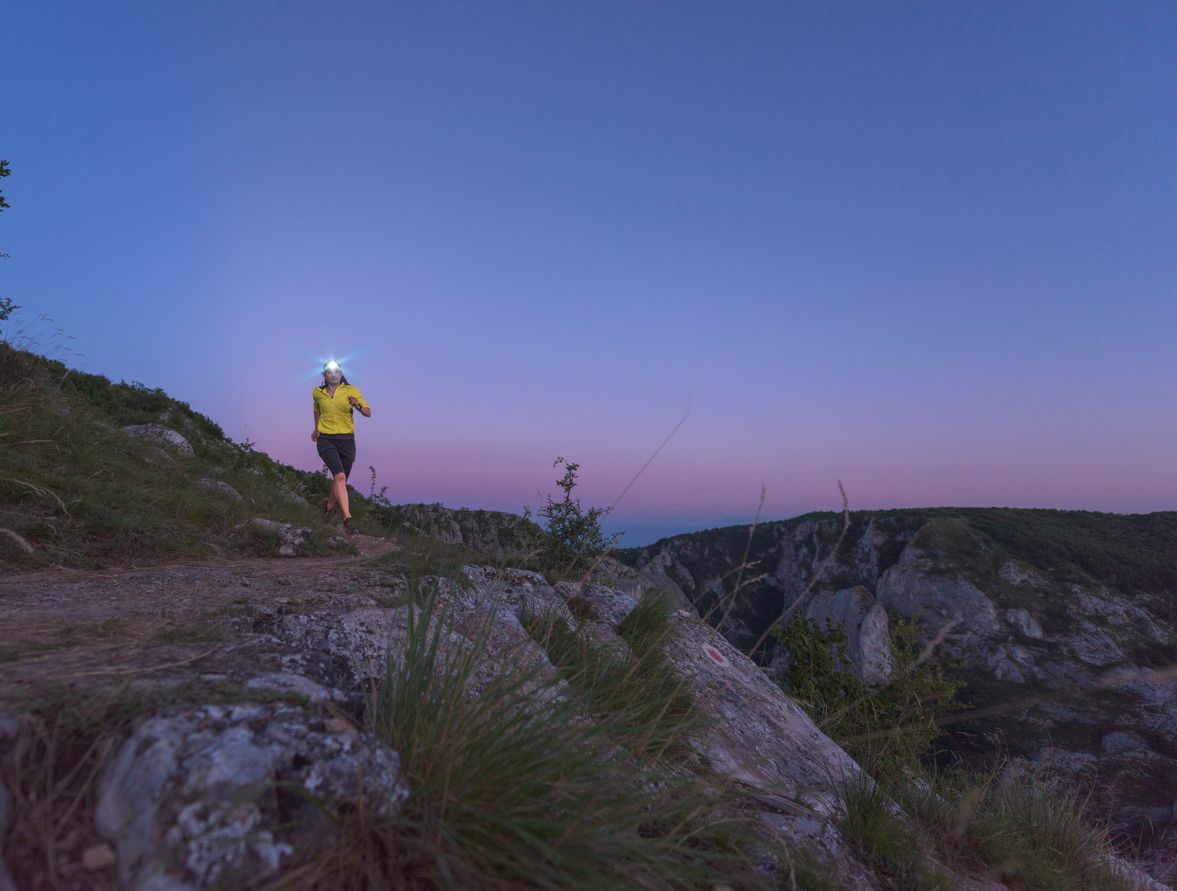 Isn't that just a Fast Hike?
I have to confess that when I first heard of fastpacking, I thought it sounded very much like going for a quick hike with a light backpack. Particularly when I heard it was 100% acceptable to walk uphill. I tend to run downhill on a hike anyway because… well, gravity.
So I asked fastpacker Lily Dyu where the true difference lies. Here's what she said:
"I'm often asked: 'So what's the difference between fastpacking and lightweight backpacking if it's walked at a fast pace?' In my view, the two activities have many similarities but with important differences. The gear approach is similar: you carry a lightweight backpack and your base weight is from your shelter and sleeping bag. But clothing and footwear choices are different: in fastpacking you'll be in running kit, carrying the requisite overnight gear (used interchangeably as warm hill gear) and full waterproofs for mountain weather. Your footwear is trail running shoes which, along with a lightweight pack, allows you to run and jog where ever the terrain permits. This is the key difference between fastpacking and lightweight backpacking."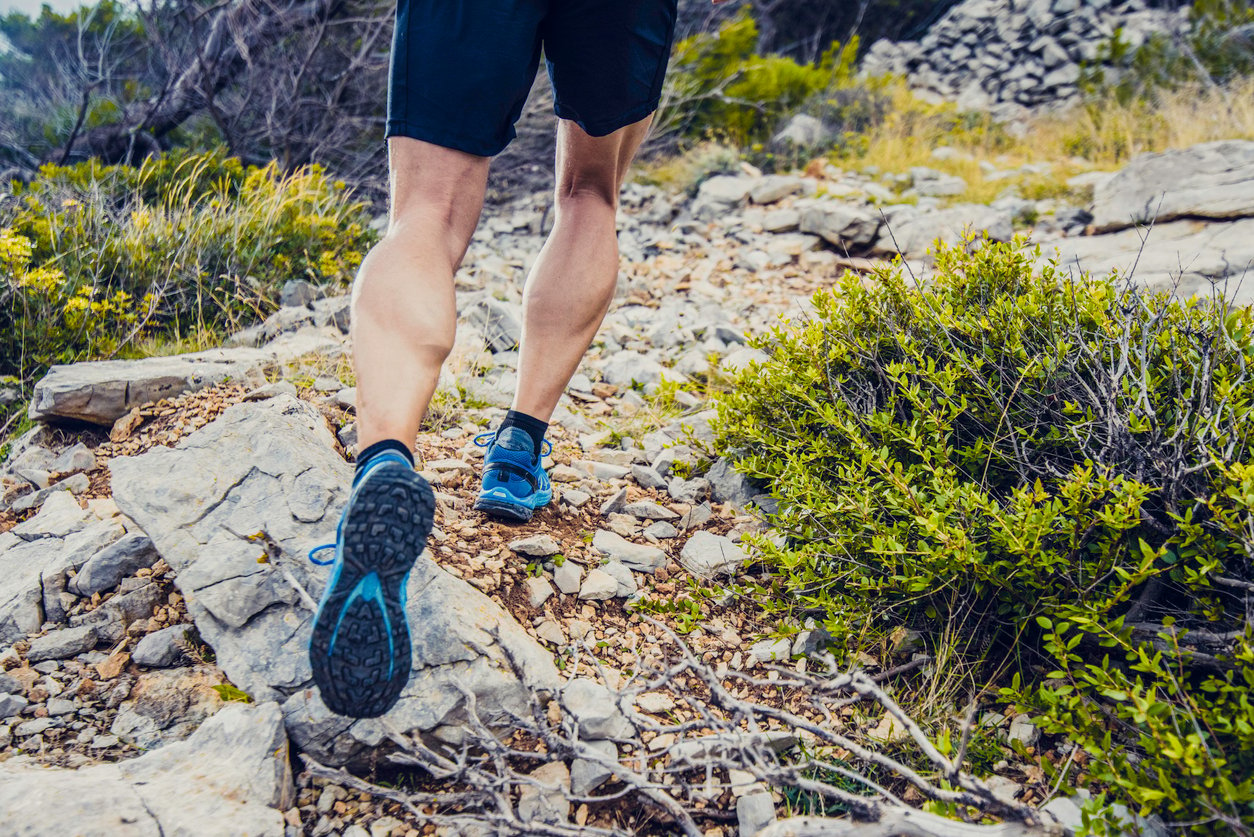 "This approach allows you to move faster than you would walking (terrain permitting) and thus you have options to go further, visit more places en route or perhaps finish earlier in the day. In all likelihood, unless you are a very strong mountain runner, many fastpackers may only cover the same daily distance as the fastest of the ultra lightweight backpackers. 'Why bother fastpacking then?' you may well ask! The reason is running. Anyone who enjoys the endorphins and thrill of running through wild places will know the urge to break into a faster pace while on a hiking trail. Backpacking is great, but fastpacking is perfect for people who love multi-day journeys and the sensation and buzz of running."
Why go Fastpacking?
Other than the endorphins, the appeal of fastpacking in an increasingly busy world is obvious. You might not have enough holiday to book off the five to eight days needed to hike the West Highland Way in Scotland, for example. But you could squeeze it down and fastpack it in a long weekend. Sounds much more reasonable. Of course, this only works in practice if you don't get to the top of the first hill, have a heart attack and crawl to the nearest cafe…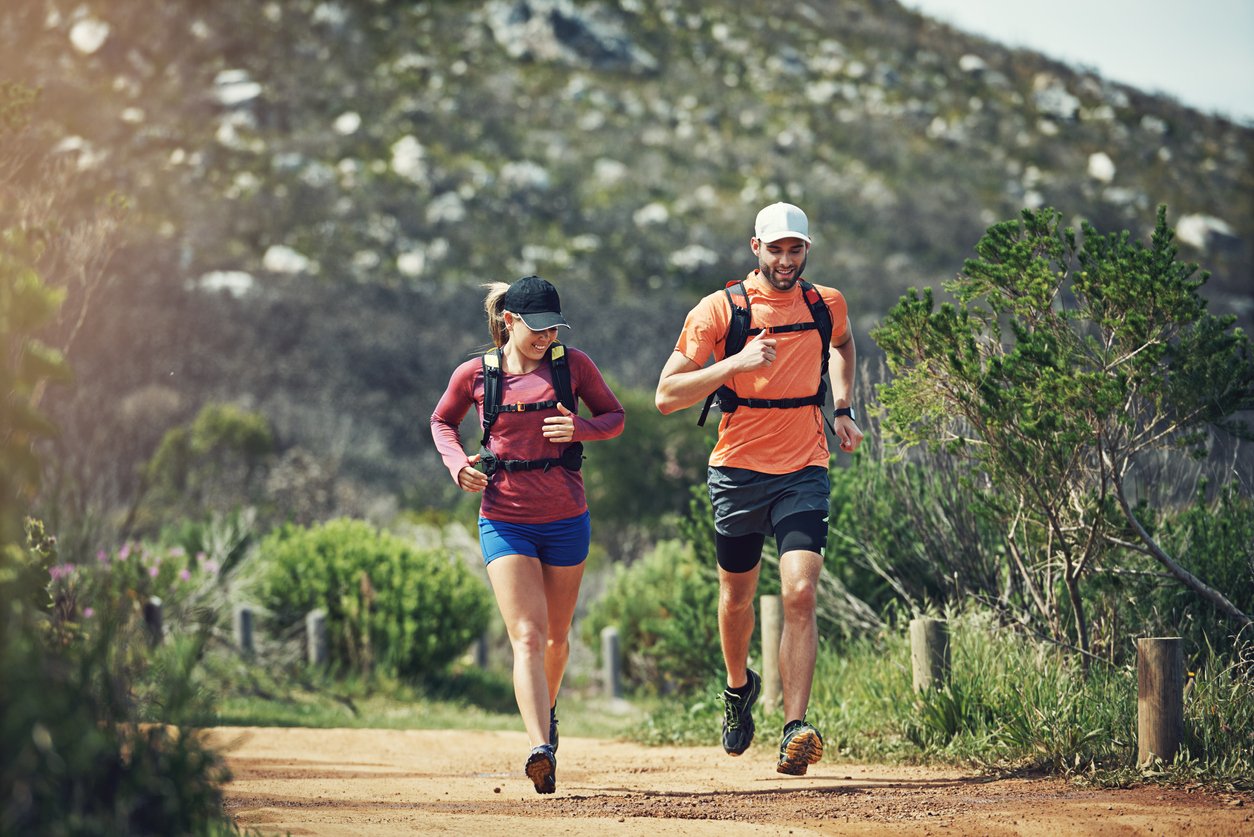 Fastpacking does require a good level of fitness, but you don't have to be superhuman. Remember it is apparently very acceptable to walk the uphill and only run the flats and downhills. But, what you do need is some experience in the type of terrain you'll be running in. Due to the fast and light nature of fastpacking, you won't be carrying the 60L rucksack's worth of kit that you might otherwise have for a multi day expedition. You need to be competent enough to deal with whatever the route throws at you.
We won't go into a full list of what you might need. There are essentials (like, er, a rucksack and shoes) and then there are things that only you will know to bring. For example, Lily says she always takes a journal and pen on her travels, "I use blank Moleskine cahier journals (which have a lightweight card cover but the same gorgeous paper inside). Keeping these provides material for future writing but more importantly they hold precious memories, scribbles and sketches from the trip."
4 Routes in the UK to Try Fastpacking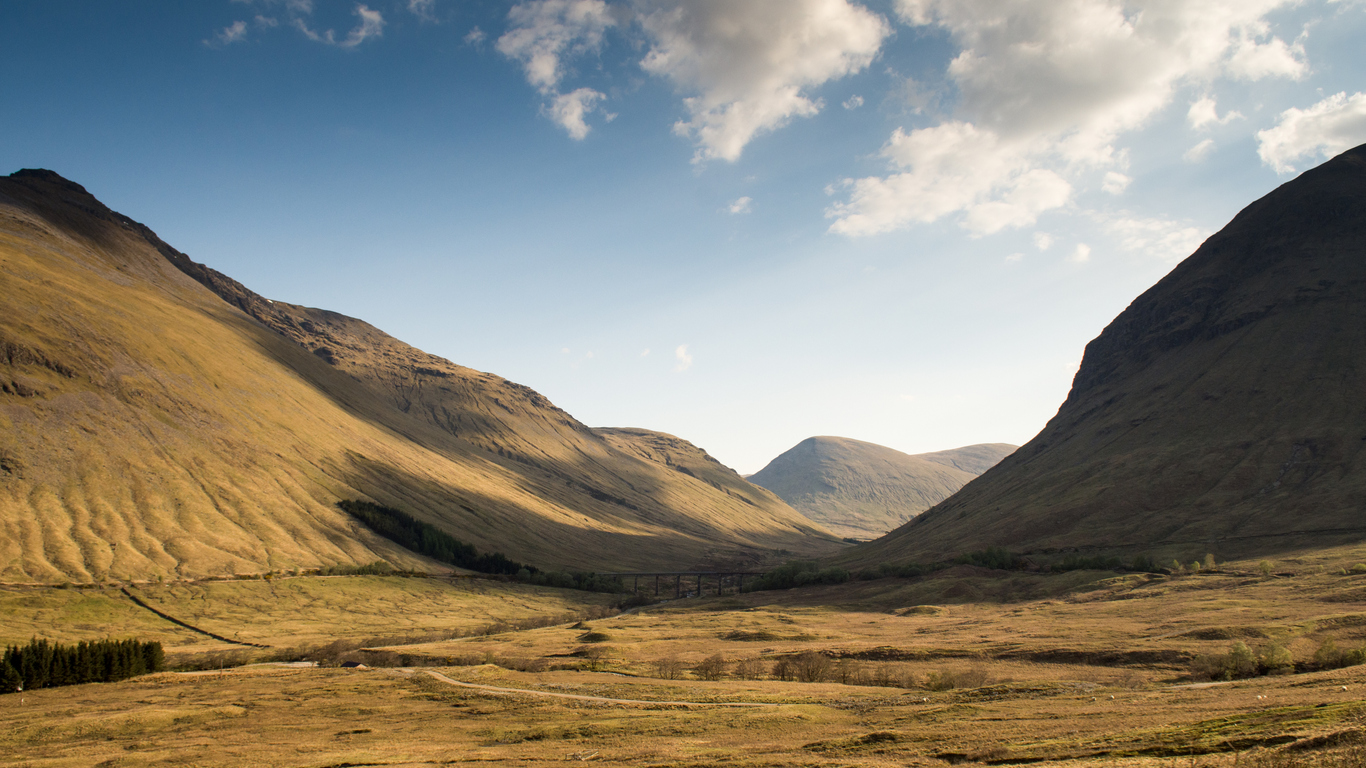 1. West Highland Way
The West Highland Way is a 96 miles (154 km) trail through the Scottish Highlands, from Milngavie to Fort William. Most people hike the route over a week, but this is a perfect example of a route that could be turned into a fastpacking adventure. In fact because people hike it, the accommodation infrastructure is already there – you might not have to carry a tent!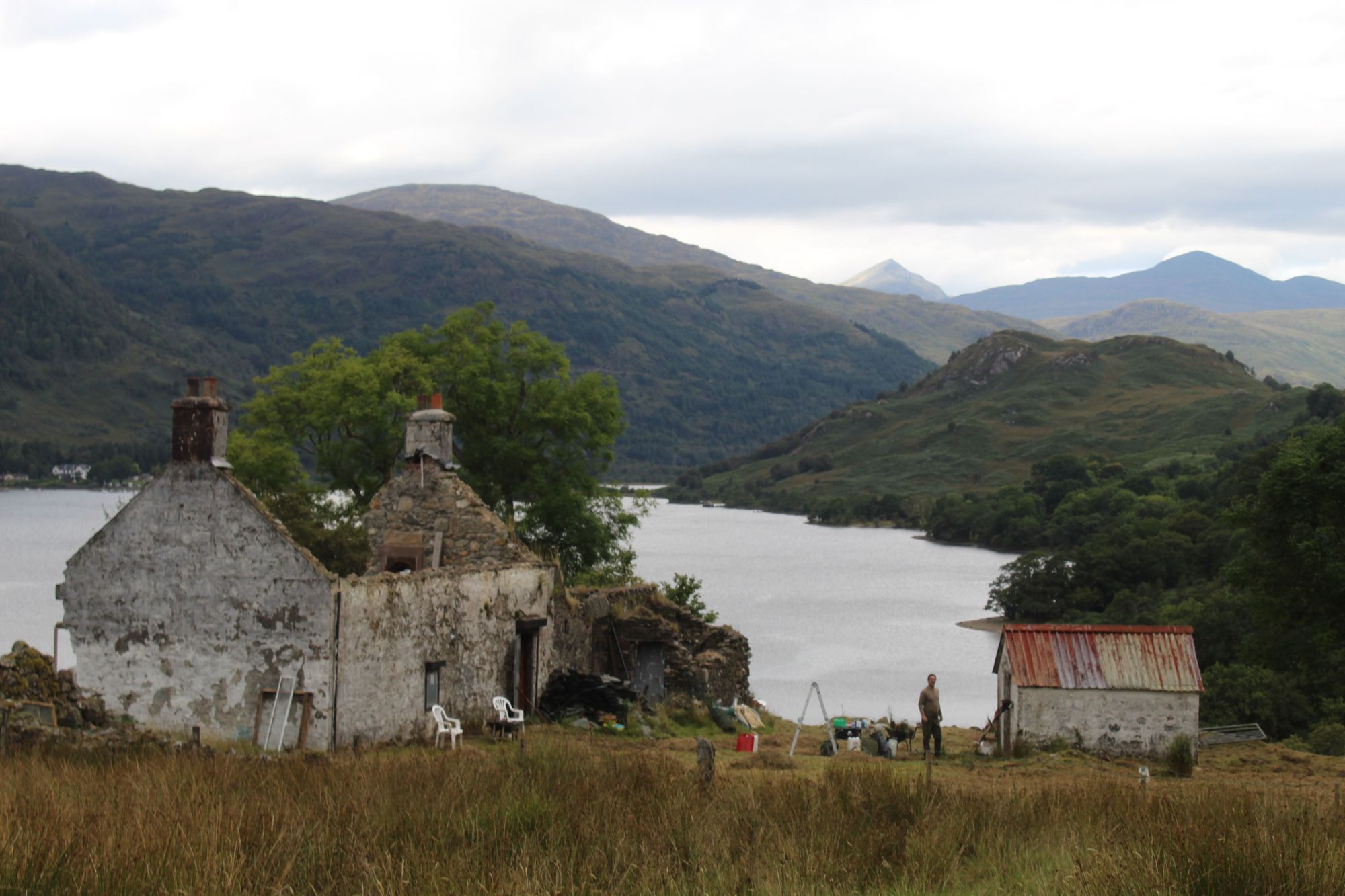 The trail is waymarked from start to finish and the recommended stages (split into eight) are a maximum of 16 miles long. Sure, Scotland is hilly, but I bet you could clump some of those days together into a fastpack.
More information can be found on the official West Highland Way website.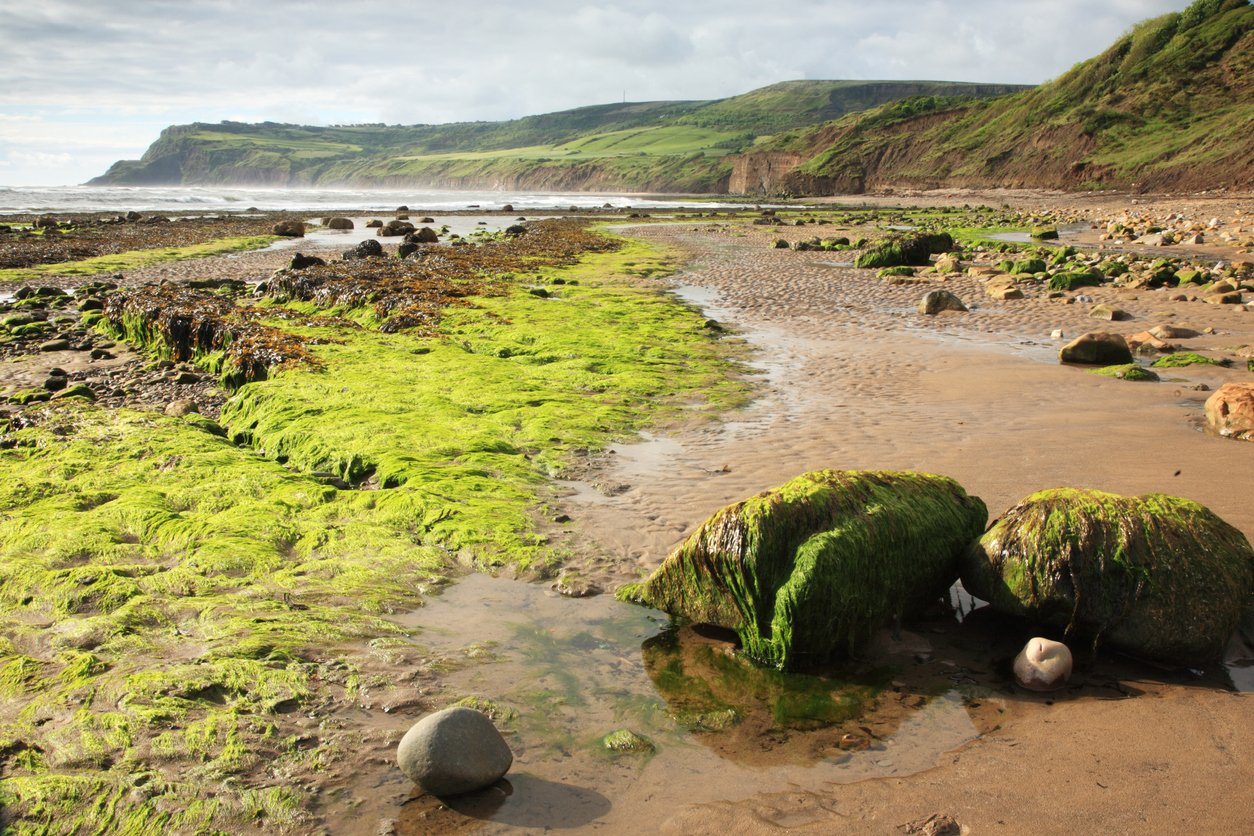 2. Coast to Coast
Ever heard of that chap Wainwright? Well, when he wasn't out drawing hills in the Lake District (or at home writing about them) he quite liked inventing hiking routes. One of his most famous long distance routes is the Coast to Coast Walk – from St Bees in Cumbria on the West coast of England to Robin Hood's Bay, North Yorkshire, on the East coast. It is a 182 miles (293km) long footpath and is waymarked the whole way.
Poor Mr Wainwright never realised quite how popular his route would be. He left a tab behind the bar at the finish in Whitby for anyone who completed the route. Sadly this tab has long been expended. However, you'd certainly be allowed to treat yourself to a drink if you fastpacked the whole way!
More information is available from the Long Distance Walking Association.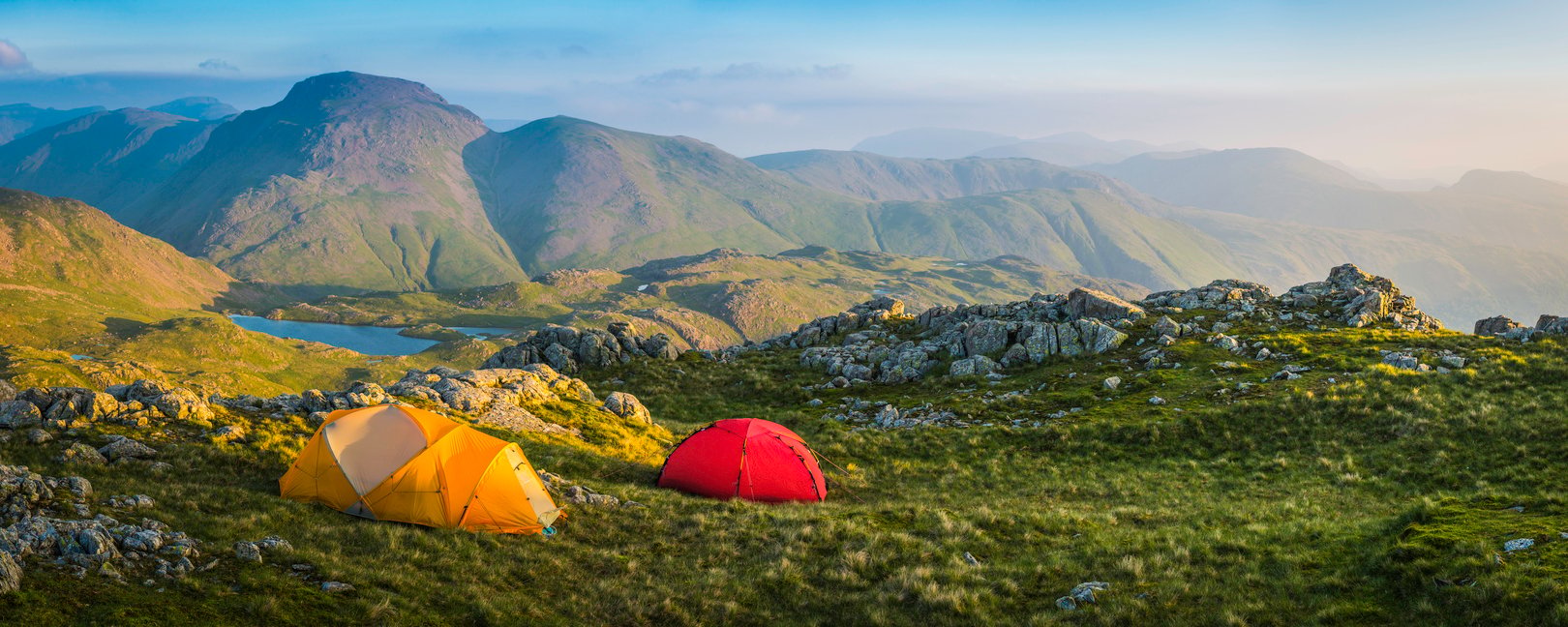 3. A Wainwright Round
On the subject of Mr Wainwright – and at an extreme change of pace – it is possible to connect all of the so-named mountains into one continuous route. People have been bagging Wainwrights (the mountains, that is) pretty much since his Lake District guidebooks were published. Whilst some people take years over visiting each peak, others try to complete a Wainwright Round in the shortest time possible.
The current record was set by Paul Tierney. He ran all 214 Wainwrights in 6 days, 6 hours and 5 mins. The news says, "Paul ran and fast-hiked approximately 318 miles and scaled the equivalent ascent of four times Mt Everest." Fast-hiked sounds a lot like fastpacked… You know what we're thinking.
For an incredible challenge, the route from his tracker is still live for you to copy. This comes with a you-are-completely-bonkers warning.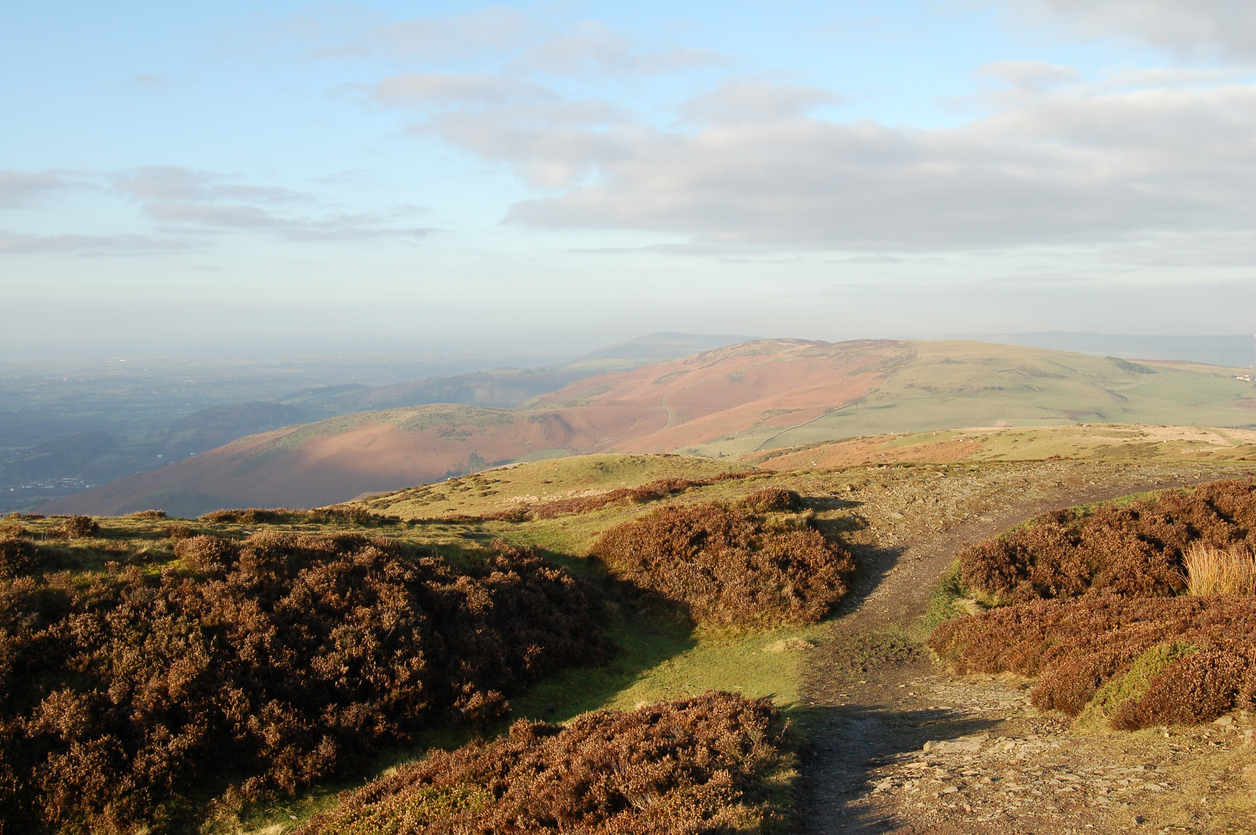 4. Offa's Dyke Path
Aaaand back to a more normal suggestion. Or at least one that won't have everyone you know calling you mental. Offa's Dyke Path is a long distance footpath in Wales that follows the English-Welsh border. Offa's Dyke is the Hadrian's Wall of Wales… although a dyke isn't quite as grand as a wall, it still did the job in the 8th Century. The Offa's Dyke Path is 177 miles long with a nice mix of hills and history. Again, many people walk it so it's easy to find accommodation or campsites along the way.
The Offa's Dyke Association provide lots of information about the route and historical significance.
Fastpacking Worldwide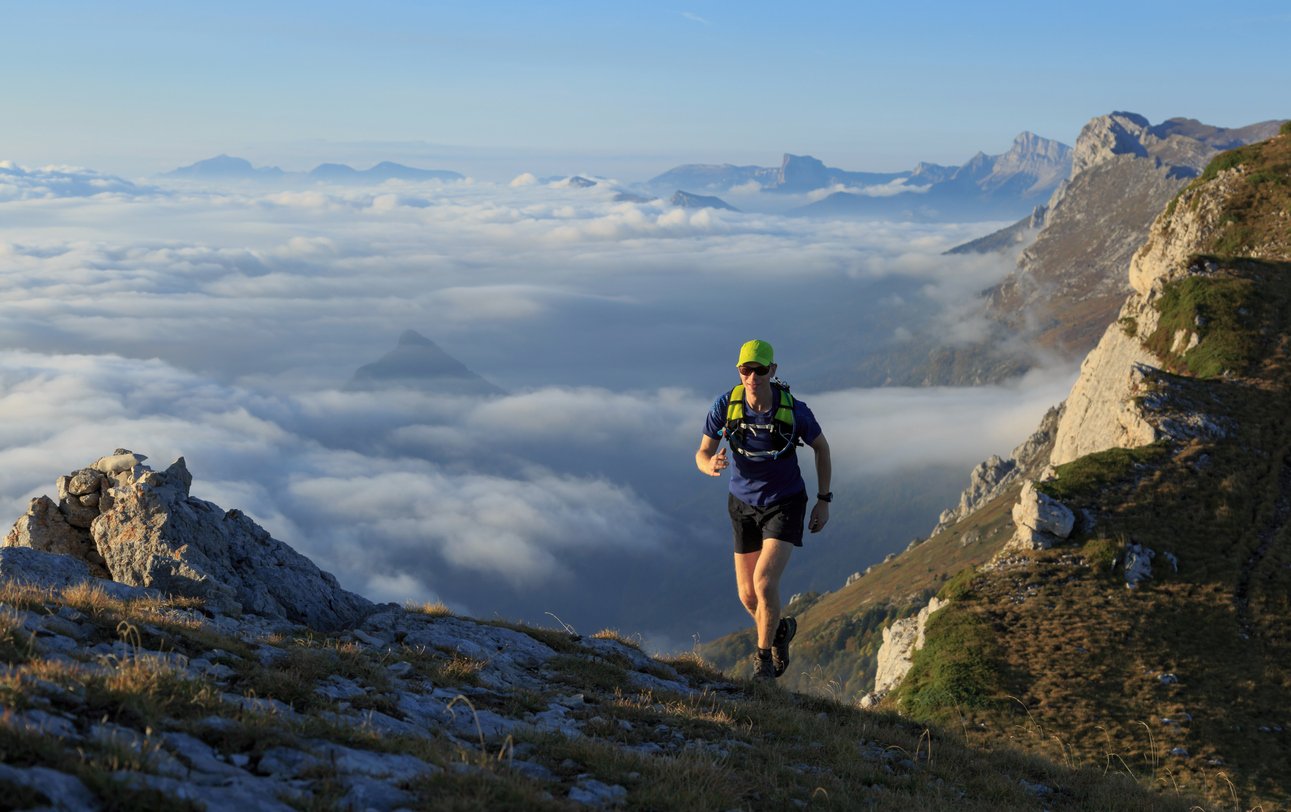 Of course your fastpacking endeavours don't have to be restricted to the UK. If you'd like some more international adventure inspiration, have a look at Anna McNuff's New Zealand run, Jenny Tough's Run the World's Mountains and Kilian Jornet's running adventures. Or, there's always the complete list of long distance walking paths across the world. You can thank me in advance.
Lily Dyu's bucket list just keeps getting longer. "There are many places I'd love to go fastpacking," she says, "and too many to list! For example tackling the Slovene Mountain Trail, doing more stages of the epic GTA (Grand Traversata delle Alpi) in Italy, routes in the Pyrenees, the GR20 in Corsica and a thru-hiking trail in the States, such as the John Muir. Closer to home I'd love to do the Southern Upland Way, Pennine Way and Cape Wrath Trail. And since I live in Wales, my bucket list also includes the Beacons Way and completing a run from Conwy Castle to the Gower, which I'm a third of the way through."
Lack of ideas can no longer be an excuse for you.
If that hasn't got you dashing for the hills already, you can check out our hiking adventure holidays for more route inspiration.
For more from Lily Dyu, check out her books like Fastpacking and Fantastic Female Adventurers.